14 Top Attractions & Things to Do in the Dominican Republic
We may earn a commission from affiliate links ()
Postcard-perfect beaches, luxury resorts, and a solid tourism infrastructure are what draw many tourists to the Dominican Republic. The diverse geography, which ranges from lush forests and mountains to semi-desert areas, also creates unique opportunities for travelers who want more than a simple beach vacation.
The beach resorts of Punta Cana, Puerto Plata, and La Romana offer what many packaged vacationers are looking for: a tropical escape designed for relaxation. This is where you'll find most of the Dominican Republic's all-inclusive resorts.
Independent travelers who want to escape from this scene can head to remote areas of the country, like the Samaná Peninsula, the mountainous interior, or the less tourist-focused towns and cities. Surfers and kiteboarders will find exactly what they're looking for in places like Cabarete. And no place in the Caribbean delivers on history quite like the colonial zone in Santo Domingo.
Immerse yourself in nature, find secluded beaches, and learn about the culture with our list of the top attractions and things to do in the Dominican Republic.
1. Plan a Vacation to the Resort Destination of Punta Cana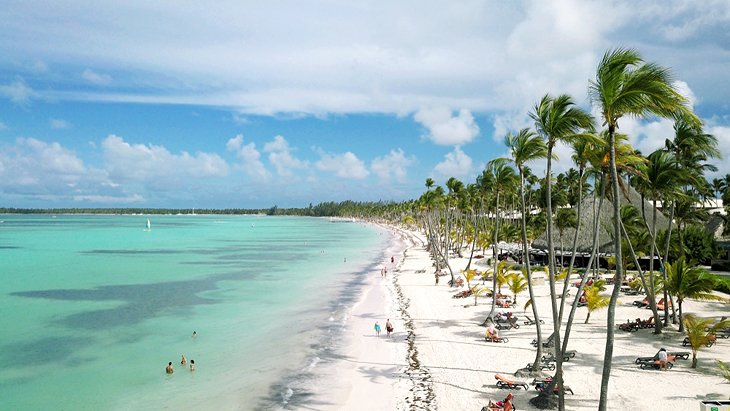 Where an endless stretch of beautiful white-sand beach meets the emerald waters of the Caribbean is Punta Cana, the Dominican Republic's premiere resort destination. If you are looking for luxury all-inclusive resorts, a couple's retreat, or family-friendly accommodation combined with an unending list of water-based activities for entertainment, this is the best place to visit in the Dominican Republic.
Bavaro Beach is Punta Cana's most impressive stretch of beach, where you can wade into the water or walk for hours along the sand. Resorts line the beach and offer easy access to all the activities. This is not a place to come for a quiet getaway.
The ocean is a flurry of activity, with boats, parasailers, and tour boats coming and going. Roped-off areas offer safe places to swim. Inland from the beach are a smattering of restaurants and retail, most of which are very modern, especially by Dominican Republic standards.
Accommodation: Where to Stay in Punta Cana
2. Walk through Santo Domingo's Zona Colonial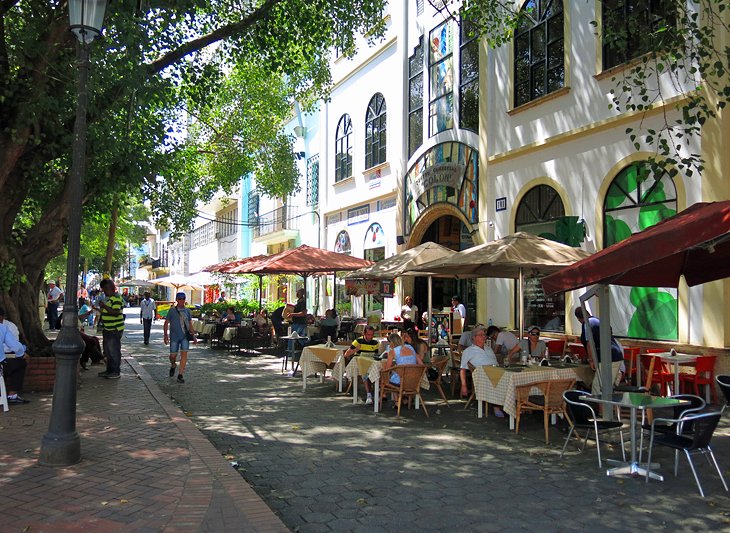 In this city, where Christopher Columbus first landed in the America's, you'll find the hustle and bustle of modern day life being played out against the backdrop of centuries-old buildings. The colonial architecture, much of which today houses museums, restaurants, shops, and quaint hotels, lines the streets and squares, and takes you back to another era in mind-blowing fashion.
Much of the activity focuses around Calle El Conde, the main thoroughfare and a popular street for shopping or dining el fresco. Wandering around the various streets, you'll see crumbling ruins, like those of Monesterio de San Francisco; beautifully preserved buildings, such as the Catedral Primada de América (First Cathedral in the Americas), which is still in use today; and residential areas, offering a glimpse into local life.
3. Visit Puerto Plata & Playa Dorada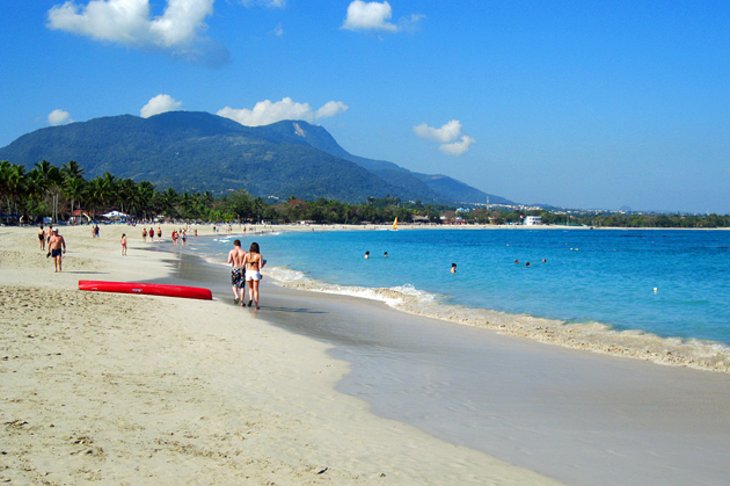 Along the north coast, looking out over the Atlantic Ocean, the resort destination of Puerto Plata and the beautiful stretch of beach known as Playa Dorada is one of the Dominican Republic's biggest tourist draws. This golden-sand beach is lined with luxury resorts, although much less densely packed than what you'll find in Punta Cana.
This area is also much more subdued and has more of a tranquil feel. The beaches are not busy with boats and water sports, although it's a beautiful area for swimming or snorkeling. You can walk beyond the resorts to undeveloped beaches backed by palm trees and forest.
Accommodation: Where to Stay in Puerto Plata
4. Enjoy the Beaches and Beachside Restaurants in Cabarete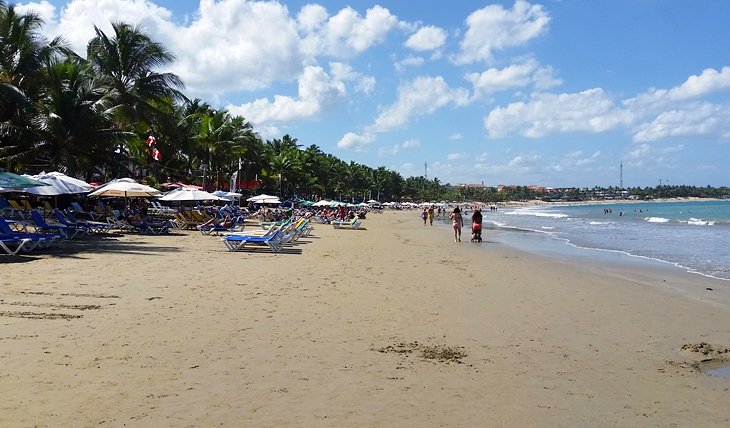 Cabarete is a laid-back beach town. It's known for its relaxed atmosphere and huge, crescent-shaped beach lined with casual restaurants where visitors can dine right on the sand.
Unlike the Dominican Republic's resort destinations like Punta Cana or Puerto Plata, this town is not full of all-inclusive resorts and packaged-vacation tourists. Instead, Cabarete attracts free spirits, backpackers, retirees, and kiteboarders and surfers who come here to spend a few weeks or months, particularly during the winter.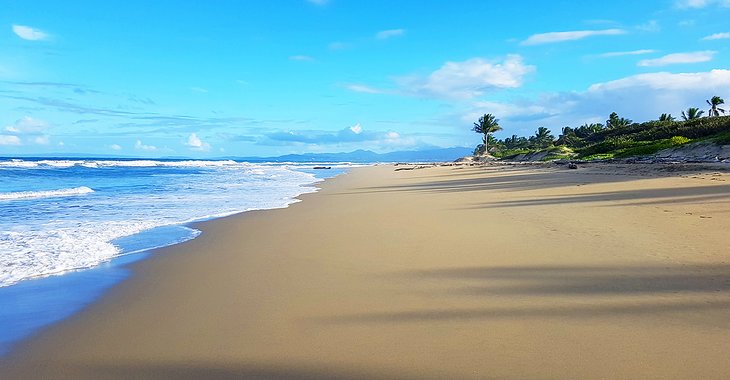 If you are staying in nearby Puerto Plata you can day trip to Cabarete to spend a day on the beach, enjoy a meal, or do some shopping. In the early evenings, especially on weekends and Tuesdays, musicians often perform in the local beachfront restaurants and provide entertainment as the sun sets.
To the east and west of town are long stretches of beautiful beaches lined by palm trees. This natural setting is perfect for peaceful walks.
Accommodation: Where to Stay in Cabarete
5. Lounge on the Beaches in Las Galeras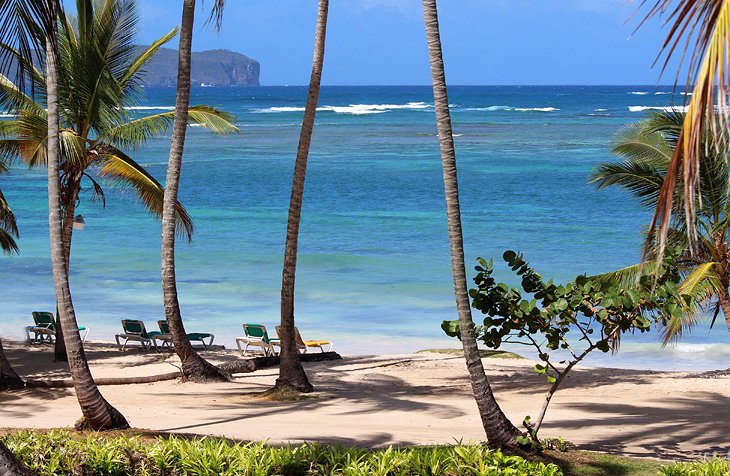 At the farthest tip of the Samaná Peninsula, where the road dead ends at the ocean, looking out over one of the area's many beautiful beaches, is the small town of Las Galeras. Its remote location will appeal to independent travelers looking for an off-the-beaten-path experience. Palm-lined, white-sand beaches and turquoise water create an idyllic scene.
Beaches like Playa Rincon, La Playita, Playa Fronton, and other unnamed stretches of undeveloped beaches in the area are some of the best beaches in the Dominican Republic and offer the polar opposite experience of the major resort destinations on the island. Here, you can hire a boat to take you to a remote beach for a morning or afternoon, or walk from town to several beautiful sandy coves in the surrounding area.
The town itself has only one main street but restaurants along here, many operated by French expats, offer outstanding cuisine at backpacker prices. Restaurants in the surrounding mountains or along the oceanfront cliffs, which require a drive from town, provide more great options.
Las Galeras is the perfect place to get away from busy streets and the tourist scene, while still offering enough infrastructure to make you comfortable.
6. Kiteboard on Cabarete's Kite Beach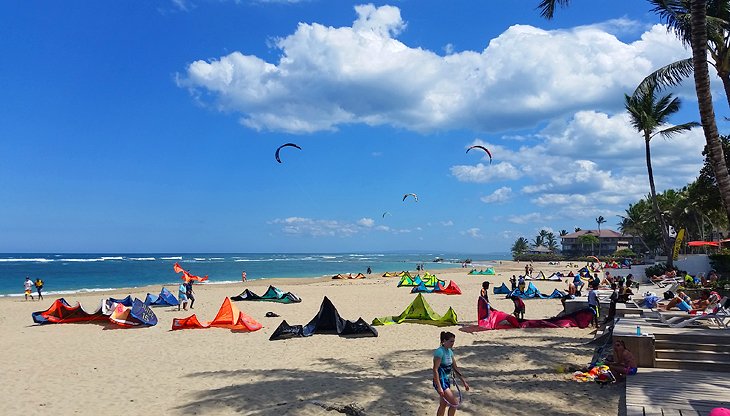 Cabarete is known around the world as a kiteboarding destination. The center of the action is on Kite Beach, just around a headland from Cabarete's main beach. It's about a 20-minute walk along the beach from the center of town to Kite Beach.
This small area of Cabarete has its own unique vibe. In the mornings, the beach is quiet, with the exception of walkers and runners or people swimming and stand up paddleboarding. In the afternoon, when the winds pick up, kiteboarders descend on the beach, and the sky fills with kites.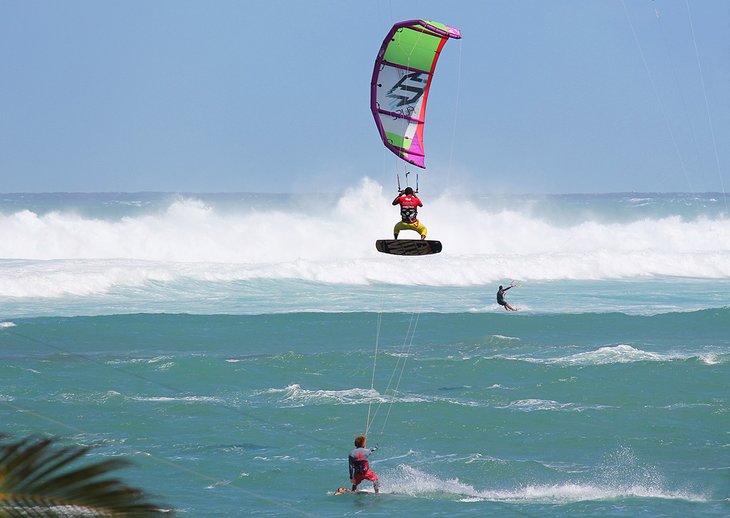 The sand is a riot of colors with kites waiting for the best winds to materialize. A few restaurants along here offer casual food, many with a particular focus on vegetarian food and other healthy offerings. On Friday afternoons, a free circus offers entertainment at the end of the beach. Even if you are not a kiter, it's worth coming to see the spectacle.
Cabarete hosts the annual Master of the Ocean competition in February, where the best in the world come to compete in kitesurfing, windsurfing, surfing, and stand up paddleboarding. This is a great time to see some incredible kiting on Kite Beach.
If you are interested in taking up this sport yourself, numerous schools offer lessons and hotels cater to kiters. See our article on learning to kiteboard: lessons, schools, and where to stay on Kite Beach.
Surfing is another popular activity in Cabarete. Most of the surfing is centered at Encuentro, another beautiful stretch of beach just outside town. Many people head out to Encuentro for surfing in the morning, then move down to Kite Beach for kiteboarding in the afternoon, and eventually end up on Cabarete's main beach for a little nightlife.
7. Go Whale Watching in Samaná Bay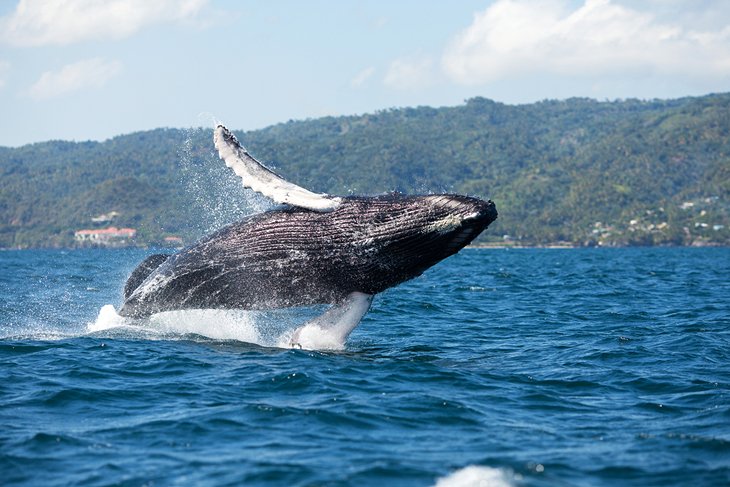 Each winter, from December through March, thousands of humpback whales enter Samaná Bay to mate and give birth, making this one of the best places to see these beautiful giants in the wild. The city of Samaná, on the Samaná Peninsula, is the main departure point for Whale Watching trips.
8. Visit Las Terrenas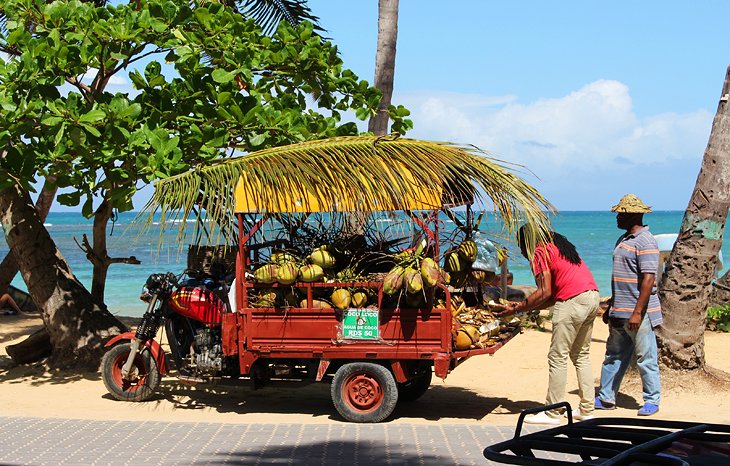 On the north coast, Las Terrenas is a busy Dominican city with a peaceful and laid-back beachfront area, where winding, single-lane dirt roads meander past small French cafés and lookout over palms, beaches, and the aquamarine ocean. Just a short stroll inland takes you to the motorbike-filled streets, where Dominicans are going about work and everyday life.
This is one of the best places to visit if you want a taste of Dominican culture and all the conveniences of a city, combined with a great beach destination. Like Las Galeras, many French people have made Las Terrenas their home and have set up restaurants and inns.
9. 27 Waterfalls of Damajagua (27 Charcos)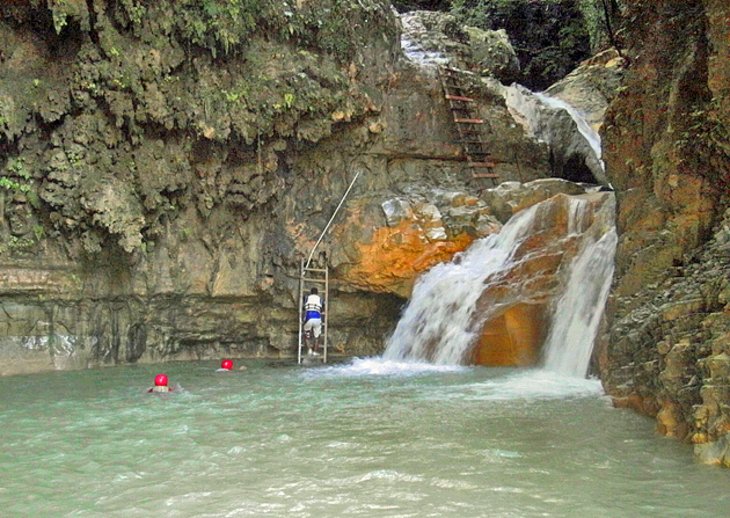 If you are looking for adventure, one of the most interesting things to do in the Dominican Republic, is to climb up a narrow gorge of waterfalls and then jump off the top of each one into the pools below. This attraction is not for the faint of heart, it's a serious undertaking, but incredibly fun.
You'll be outfitted with a lifejacket and a helmet and led by a qualified guide who will take you up a series of ladders. As you ascend, you'll be able to watch other visitors fly past you on their descent. It's nonstop action and mayhem. Some of the drops are quite high, but you can always change your mind in any given section and take the ladder back down.
The falls are near Puerto Plata, and most people go on an organized 27 Waterfalls of Damajagua Tour from Cabarete, Sosua, and Puerto Plata.
If you have your own transport, you can also do this on your own, but guides are mandatory and can be arranged at the falls. You need to be able to swim and not be afraid of heights.
10. Bahia de Las Aguilas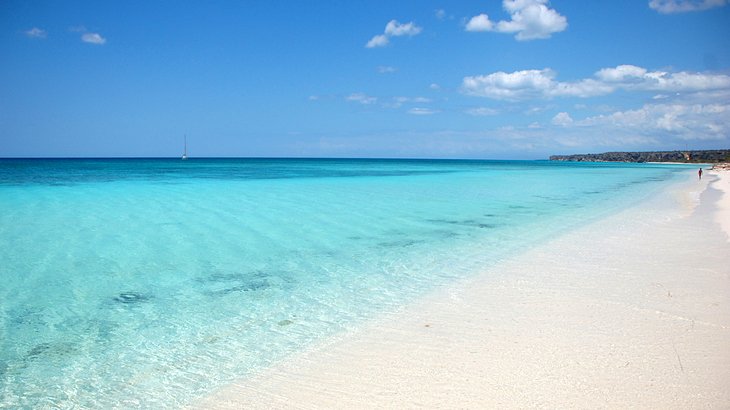 Well off the major tourist route, the remote Bahia de Las Aguillas in Jaragua National Park is a glorious eight-kilometer stretch of beach, which you may have all to yourself on any given day. The shallow, clear, calm water and white-sand bottom, combined with a distinct lack of tourism and development, make this one of the most pristine beaches in the Dominican Republic.
Located on the southwestern coast of the country, close to the border with Haiti, this area is isolated, to say the least. From Santo Domingo, the drive time is at least six hours. The nearest town to the beach is Pedernales, almost an hour away by car, and the tourism infrastructure in this part of the Dominican is some of the least developed in the country.
You won't find luxury resorts, but you will find tranquility, solitude, and unique experiences if you come out this way. The climate here is semi-arid, and the landscape, which consists largely of cactus and scrub, is much different than other areas of the country.
11. Isla Saona and Parque Nacional de Este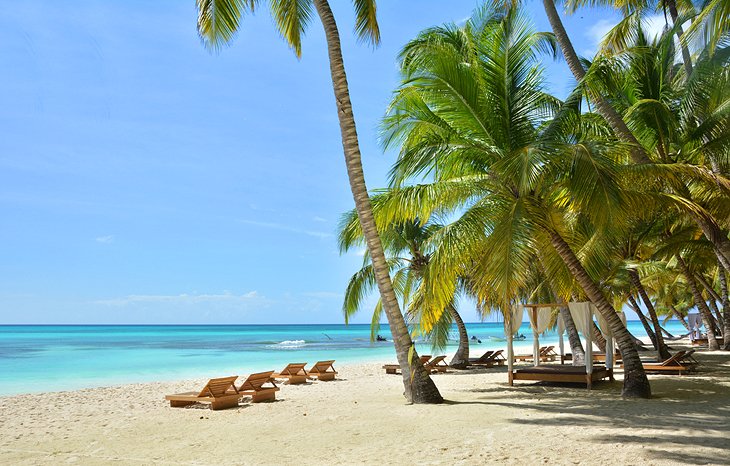 While Parque Nacional del Este, a UNESCO World Heritage Site, is a serene place of natural beauty and habitat for countless plants, animals, and birds, most people know the park for the beaches of Isla Saona. This island is a tourist magnet, with all kinds of day trippers from the nearby resort destinations of Punta Cana and La Romana.
The soft-sand beach and turquoise water is what most people would imagine if they were to picture a tropical island paradise. But, despite the fact that there are no resorts on the island, it is a lively destination during the day as catamarans and speedboats drop tourists on the beaches to relax in lounge chairs and soak up the sun.
If you are tired of the scene in Punta Cana and looking for an outing, you can hop on a Saona Island Day Trip from Punta Cana. A small speedboat will whisk you over to the island for a day of relaxing on the beach and playing in the shallow waters.
12. Jarabacoa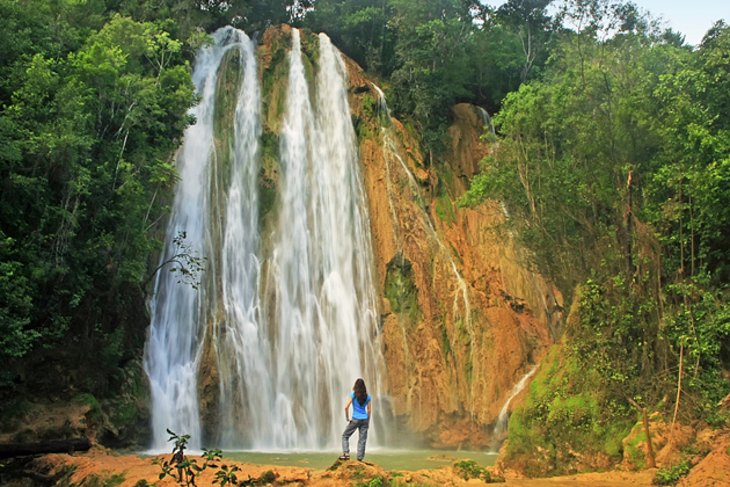 While many Dominican vacationers consider Jarabacoa a summer retreat destination, foreign travelers tend to see it as an outdoor adventure playground in the mountains of the Dominican Republic's interior. In the vicinity are opportunities for rafting, hiking, biking, and other types of exploration.
At an elevation of over 500 meters, the climate here is much milder than the coast and nights are often cool. If you are spending more than just a week or two in the country, it's worth venturing up to Jarabacoa. This town also makes a convenient stop for a couple of nights if you are traveling between Santo Domingo and either Puerto Plata or Cabarete.
13. La Romana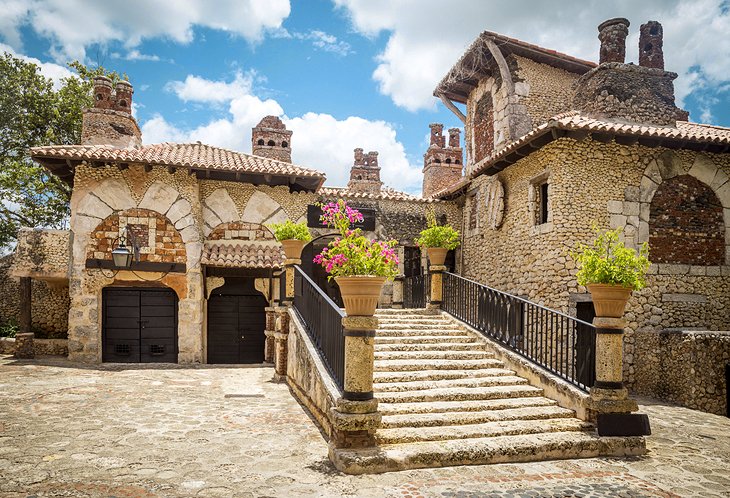 Not far from Punta Cana, La Romana is one of the Dominican's resort destinations. This area has a number of large resorts, some of which are geared towards more independent travelers looking to self-cater. However, the number of resorts here is not nearly on the same scale as Punta Cana. Beautiful beaches in the area are the main draw.
One of the most popular things to do here is visit the Altos de Chavón, where you can shop for crafters and souvenirs in a replica of a 16th-century artisan's village. The village is set off on its own, but you can join an organized shopping trip if you don't have your own transportation.
Not far from La Romana is Bayahibe, a fishing town with a public beach and the departure point for trips to Isla Saona. You can also day trip from La Romana to Santo Domingo, about 1.5 hours away. Golfing is another popular activity in the area.
Accommodation: Where to Stay in La Romana
14. Cable Car (Teleferico) in Puerto Plata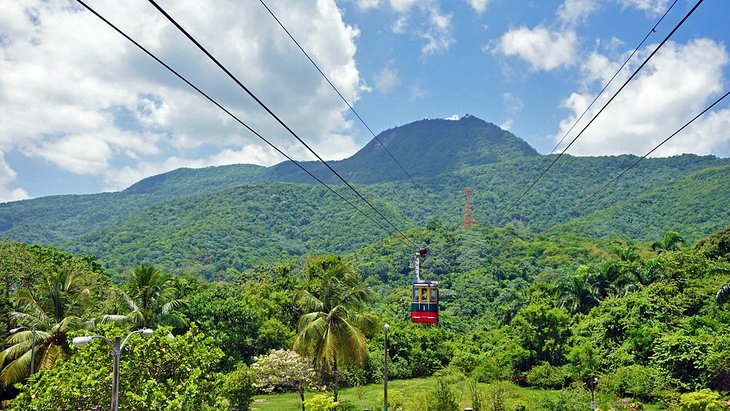 An ideal way to get a bird's-eye view of the northern coast of the Dominican Republic is to take a ride up the cable car in Puerto Plata. Ascending nearly 800 meters from the steamy heat of sea level, the cable car whisks you up to the top of Pico Isabel de Torres where you'll find the air pleasantly cool.
Take a little while to wander around the top and see the statue of Christ the Redeemer. It's best to go early in the day, as it tends to get cloudy as the day progresses.