12 Best Beaches in Puerto Rico
Home to miles of golden and white-sand beaches backed by striped emerald, turquoise, and deep blue hues, Puerto Rico and its surrounding islands boasts some of the prettiest beaches in the Caribbean.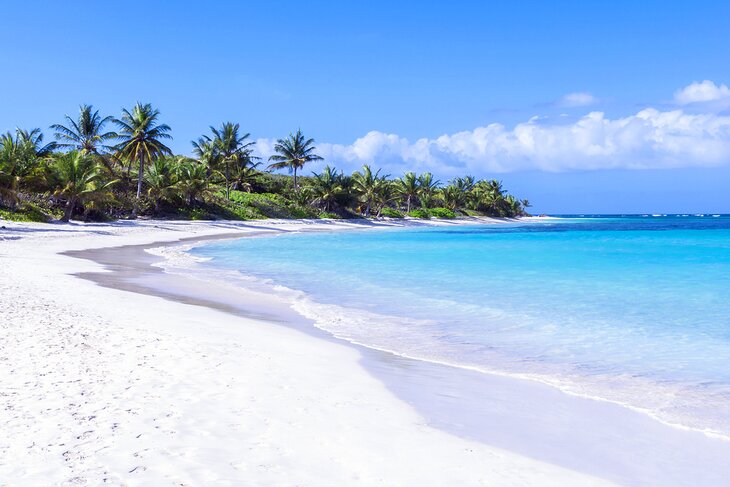 Even the capital city of San Juan features some gorgeous stretches of sand, as well as beach resorts for all budgets and styles of traveler. The hip Condado District in San Juan is similar to Miami's South Beach in style, with a stunning beach backed by a lively neighborhood filled with shops.
But some of the most beautiful beaches are found outside the city, including three on the nearby Isla Verde coastline. If surfing is on your agenda, head to the area around Rincon. About 30 minutes from Rincon, you'll also find the gorgeous Playa Crash Beach. Or head to the southwest coast, where you'll discover beaches like Boqueron Beach in Cabo Rojo.
And then there are islands like Culebra and Isla de Vieques, which are home not only to amazing stretches of white sand and turquoise sea, but also excellent snorkeling and diving thanks to a still thriving coral reef system. Plan your visit with our list of the best beaches in Puerto Rico.
1. Playa Flamenco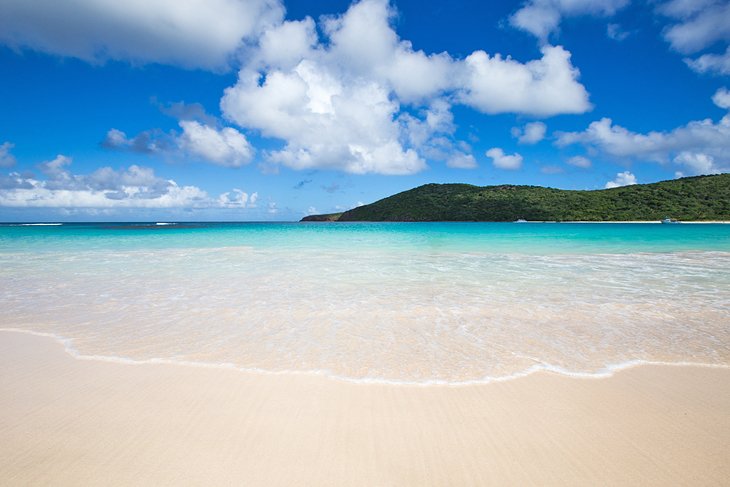 Highlights: Clear, calm water against a horseshoe-shaped white-sand beach, it is a tropical paradise
On Culebra Island, which is located about 17 miles east of Puerto Rico and 12 miles west of St. Thomas, Playa Flamenco is about as close to a tropical paradise beach as you get. The clear and calm water juxtaposed against the China white sand, shaped like a horseshoe, is a brilliant sight.
Beyond the Flamenco beach, Culebra is well worth exploring. The island is just seven miles long and three miles wide and has a laid-back vibe and a big focus on eco-tourism with lots of expat operations located here. The coral reefs around Culebra are also considered some of the Caribbean's very best, so a diving or snorkeling excursion is recommended.
More than a third of the island is also designated as the Isla de Culebra National Wildlife Refuge, which also includes some 20 offshore cays. If you're interested in hiking, there is some excellent terrain to explore in the reserve.
2. Sun Bay Beach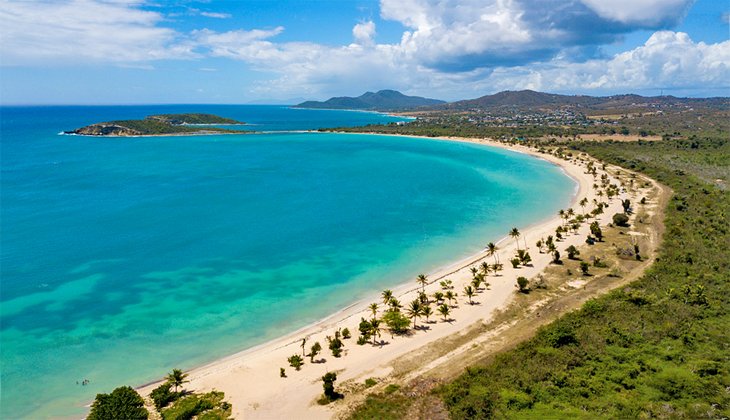 Highlight: Escape the crowds by heading to this beach eight miles off the mainland; Isla Vieques is only 21 miles long and five miles wide
Like Culebra, Isla Vieques (Vieques Island) is another Spanish Virgin Island destination ringed by gorgeous stretches of beach. Just eight miles from Puerto Rico's mainland, Isla Vieques is 21 miles long and five miles wide and is home to beautiful Sun Bay Beach.
Easily accessible, with plenty of parking, as well as public toilets and showers, Sun Bay Beach is one of the island's most popular beaches on Vieques, with a wide stretch of sand.
The island is also known for a unique phenomenon that happens on certain nights at a place known as Bioluminescent Bay (Mosquito Bay). When conditions are right, the water in the bay glows from the movement of a large concentration of phosphorescent dinoflagellates. To experience this natural wonder, you can join an after-dark tour in a boat, canoe, or kayak.
3. Luquillo Beach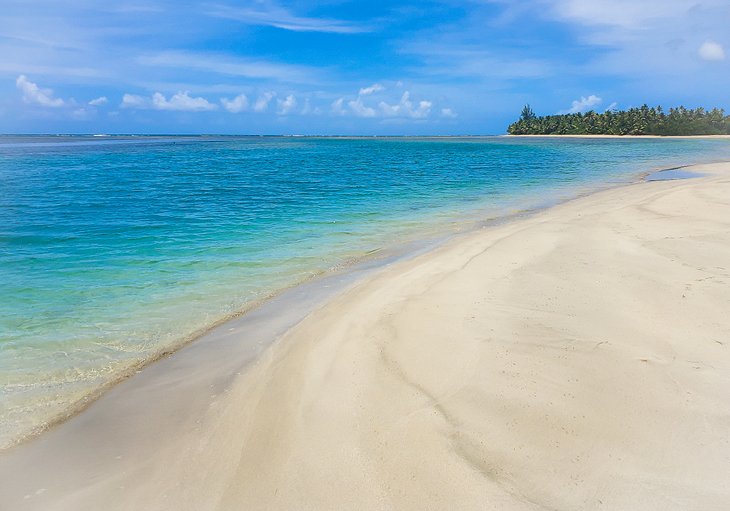 Highlights: One of Puerto Rico's prettiest beaches, it is crescent-shaped, and the turquoise sea is calm and great for swimmers
Just 30 miles east of San Juan, Luquillo Beach is one of the prettiest on Puerto Rico itself. The long crescent-shaped stretch of golden-kissed sand is lined with swaying coconut palms and backed by a usually calm stretch of turquoise sea that is great for swimming-there are lifeguards on duty during the day. The beach runs for nearly a mile and is popular with joggers and walkers as well.
The beach also has public restrooms, as well as showers and changing rooms with lockers. There are also local food vendors to be found just outside the entrance. There is even a camping area.
If you want to get in the ocean but prefer not to swim, you can rent a kayak or try out fly-boarding. The El Yunque National Forest, one of Puerto Rico's top natural attractions, is also located just beyond the beach and makes for a great combined day trip.
4. Playa Crash Boat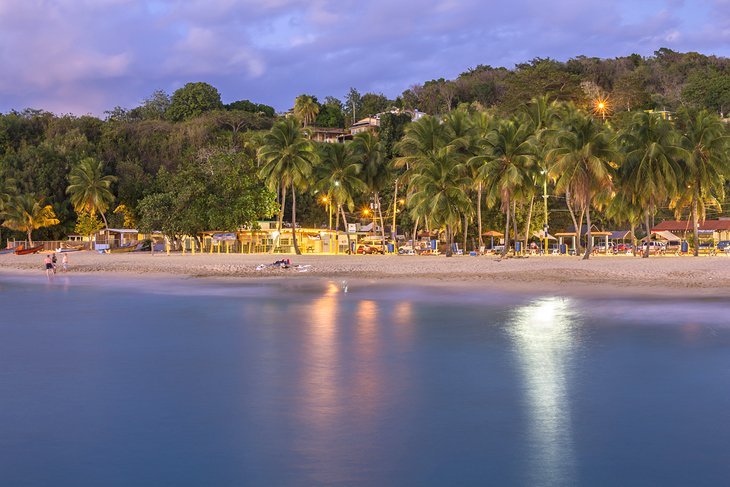 Highlights: A top swimming beach, it also has good snorkeling just north of its pier and around its bridge
In Aquadilla, which is on Puerto Rico's west coast about 30 minutes' drive from Rincón, Playa Crash Boat (also spelled Playa Crashboat) is a great beach for surfers of all levels — although the surf here is not as consistent as some other area beaches. However, on days with wind and a west or northwest swell, it is a top-notch spot that attracts large crowds.
The beach is also popular with swimmers, with specifically designated areas for doing so. If you are looking for good snorkeling or diving there are opportunities north of the pier and around the bridge. If you would rather just chill in the turquoise sea or on the sand, there are restrooms, showers, and a parking lot.
Accommodation: Best Beach Resorts in Puerto Rico
5. Playa Sucia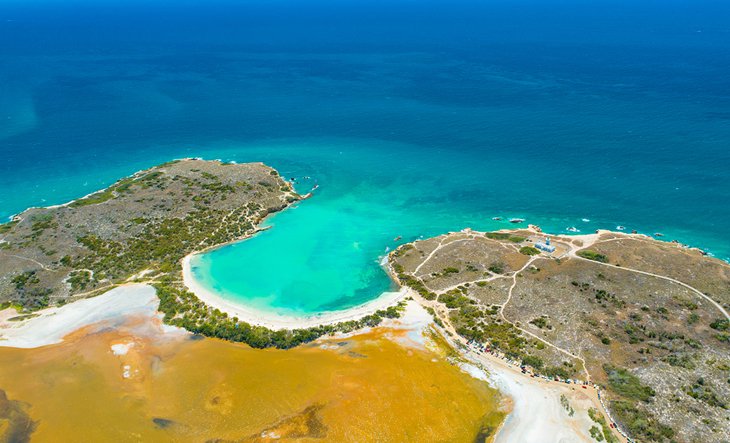 Highlights: White sand and clear turquoise water, perfect for swimming, and less crowded than other beaches
Located on Puerto Rico's southwestern tip, Cabo Rojo, Playa Sucia is the most beautiful beach in this area. It takes about 10 minutes walking from the parking lot to reach to this gorgeous strip of sand and clear turquoise water that is calm and perfect for swimming. And as such it doesn't get quite as crowded as other beaches, especially during the week.
Also in this area is Cabo Rojo's famed lighthouse. From here, the views are particularly stunning. Especially if you visit around sunset. While in the Cabo Rojo area, another top beach to explore is Buye Beach. It has a very local vibe and the same calm, clear water.
6. Isla Verde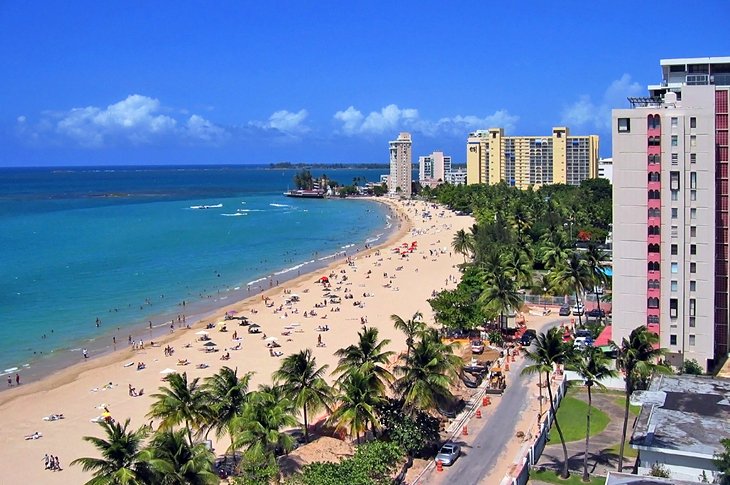 Highlights: Long, sun-kissed stretch of sand; good for swimming; lifeguards on duty; beachfront restaurants abound
A suburb of San Juan (it's just a short taxi ride to Old San Juan from here), Isla Verde is a beach resort area that hosts some of Puerto Rico's best high-end hotels. The long stretch of sun-kissed sand beach has a relatively calm blue sea, and you can swim here.
This public beach has lifeguards, as well as toilet and shower facilities and there are a number of beachfront restaurants to grab a bite to eat at.
If you're not staying at one of the resorts, you can rent beach chairs on the sand. There are also a number of water sports on offer, from jet skiing to parasailing. The beach has some decent surfing as well, and if you don't know what you are doing, a local surf school offers lessons.
7. Condado Beach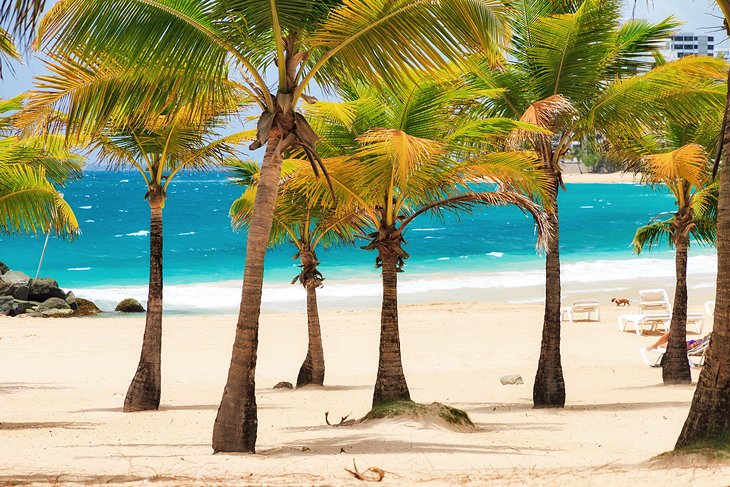 Highlight: Puerto Rico's trendiest beach, it has a Miami vibe and is always a scene!
For a little bit of Miami in Puerto Rico, head on down to Condado Beach in San Juan's hip Condado District. Filled with everyone from celebrities to families with little kids and honeymooning couples, it is always a scene and great for people-watching.
Condado's proximity to San Juan is one of its top assets-exploring the old city in the morning followed by an afternoon at the beach is an easy reality here.
If you're not staying at one of the hotels lining this stretch of sparkling golden sand then you'll need to rent a sun-lounger and/or an umbrella if you want shade and a seat.
Note before getting into the Atlantic Ocean that the current here is strong, and unless you are a good swimmer, it's best not to venture out far. You'll also find the usual gamut of paid water sports on offer here, and should you get hungry there are restaurants by the beach and in the neighborhood beyond.
Accommodation: Top-Rated Resorts in San Juan, Puerto Rico
8. Ocean Park Beach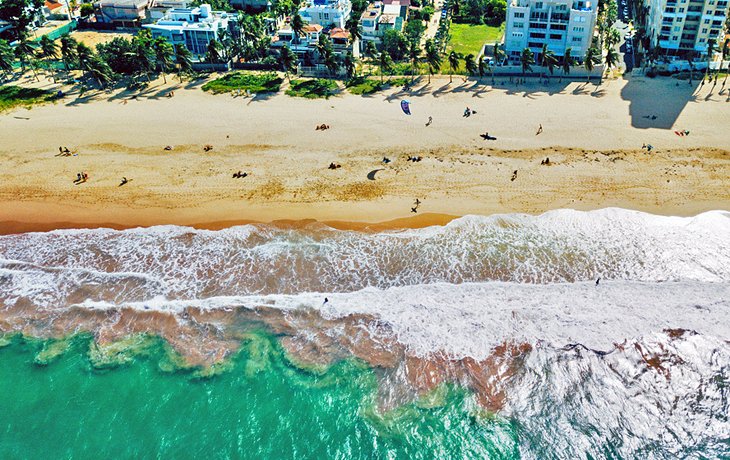 Highlights: Offers a less-crowded experience than Condado Beach, but in the same area; it has white sand juxtaposed against deep blue and aquamarine water
Another Condado District beach that is a bit more secluded than Condado Beach proper is Ocean Park Beach. Located at the eastern edge of the district, which was originally developed in the 1950s as a Miami Beach-style area and San Juan's first tourist zone, Ocean Park Beach is a white-sand affair that is popular with locals.
The beach runs for one mile and does not have bathrooms, changing rooms, or showers, so it draws fewer day-tripping tourists than other area beaches. On the Atlantic Ocean side of the island, the water here is a pretty deep blue with stripes of aquamarine.
9. Balneario de Boqueron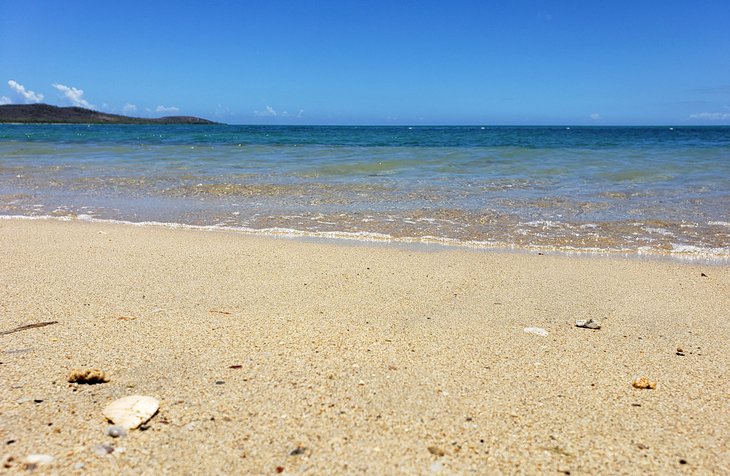 Highlights: Gold-sand beach that runs for three miles; water is super calm and clear; great for families and swimmers
Also on Puerto Rico's southwestern coast in Cabo Rojo is beautiful Balneario de Boqueron. Running for three miles, the golden sand beach is accented by almond trees and coconut palms. The water here is very clear, calm, and shallow to start, which makes it popular with families, as well as swimmers.
The beach has a local vibe and on weekends there are often concerts and festivals held on it. There are also restrooms, showers, and snack bars scattered along the beach, and you can grab fresh seafood from local vendors. One of the most popular water sports adventures around here is a one-, two-, or four-hour Jet Ski tour along the coastline.
10. Tortuga Beach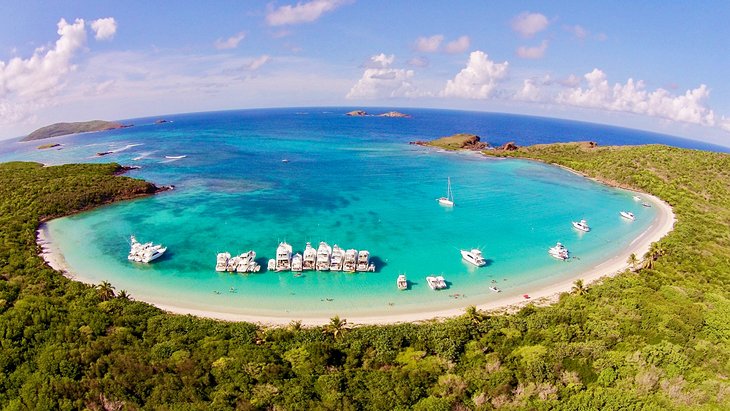 Highlights: Robinson Crusoe-style vibe thanks to only being accessible by boat
On Culebrita Island, which is close to Culebra Island, Tortuga Beach is only accessible by water taxi or boat, which is what gives it a Robinson Crusoe-style allure. The wild beach is quite spectacular and a great option for anyone looking to just disconnect for a day and read a book on the sand. There are few facilities, and you'll want to pack a lunch, but that is all part of the draw.
11. Domes Beach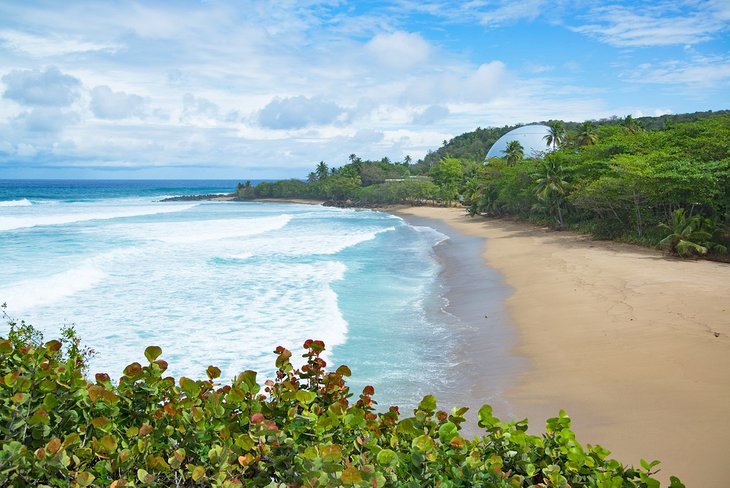 Highlight: Famous for its big-wave surfing during winter; 15-foot-high waves have been recorded in the area
The area around Rincón on Puerto Rico's west coast became famous for surfing after hosting the 1968 World Surfing Championships, when footage of surfers conquering the frequent 15-foot-high-waves were beamed to TVs across the world. The waves are still consistently big on many beaches around here, and surfing is still sacred.
Domes Beach, also called Lighthouse Beach and Maria's Beach, on the point in Rincón is famous for big wave surfing during winter. Note, this is not a beginner beach, and swimming here is not recommended due to dangerous rip currents.
Whale watching is also popular in Rincon between mid-January and March, when humpback whales are in the area. Tours can be arranged in the town.
12. Playa Colara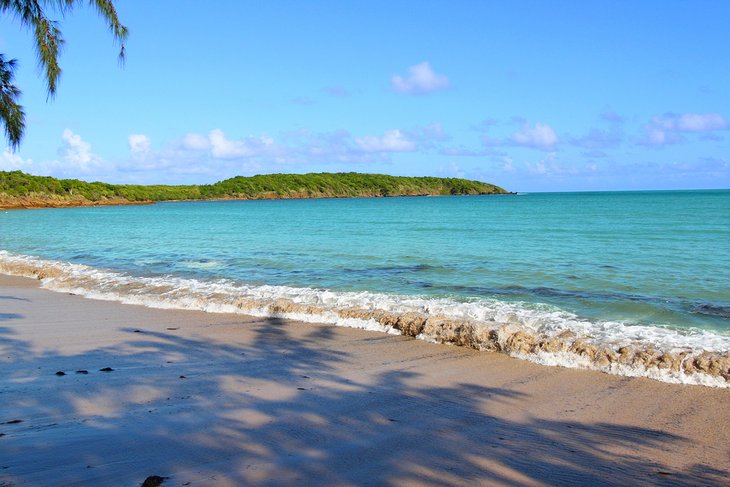 Highlight: Only accessible by foot, it takes 20 minutes to hike here, which means you'll have a long stretch of sand and turquoise sea largely to yourself
You have to hike about 20 minutes from Seven Seas Beach on Puerto Rico's northeast coast to reach Playa Colara, but once you show up, you'll likely be rewarded with the beach to yourself. It features a long stretch of gold sand and clear turquoise-tinged sea in a pretty cove backed by lots of lush greenery.
There are no bathrooms here, and please make sure to pack out all your trash. You'll want to pack a lunch or snacks and whatever you want to drink, as there are no venues whatsoever. The current here can be strong, and swimming isn't recommended but some visitors report swimming without issue. The rocks to the left of the beach are good for climbing on.
More Related Articles on PlanetWare.com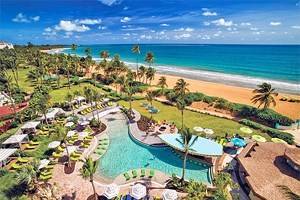 Resorts in Puerto Rico: If you are looking for family-friendly accommodation for your vacation, be sure to see our guide to the Top Family Resorts in Puerto Rico. Some resorts come with all-inclusive packages to make things even easier for families.