13 Top-Rated Tourist Attractions in Anguilla
We may earn a commission from affiliate links ()
Alluring and unassuming, Anguilla is a Caribbean gem. Dazzling beaches are the island's biggest draw, mixed with friendly locals and an authentic island vibe that package tourism has diluted on other Caribbean islands.
Serenity seekers come here to sprawl on the island's silky strands, swim in luminous water, play Robinson Crusoe on Anguilla's offshore islands, and snorkel or dive the fish-filled reefs and wrecks. Other popular things to do in Anguilla include dining at the island's fine restaurants and browsing the art galleries and museums. You can also hop aboard a ferry or small plane and take a day trip to explore the nearby island of St. Barts.
If you're interested in history, follow the island's heritage trail in The Valley, Anguilla's sleepy capital. In the summer, peaceful Anguilla comes alive during the Anguilla Summer Festival, with boat races, dancing, beauty pageants, and parades.
Need help with your Anguilla itinerary? Learn about the best places to visit on this stunningly beautiful island with our list of the top tourist attractions and things to do in Anguilla.
1. Shoal Bay East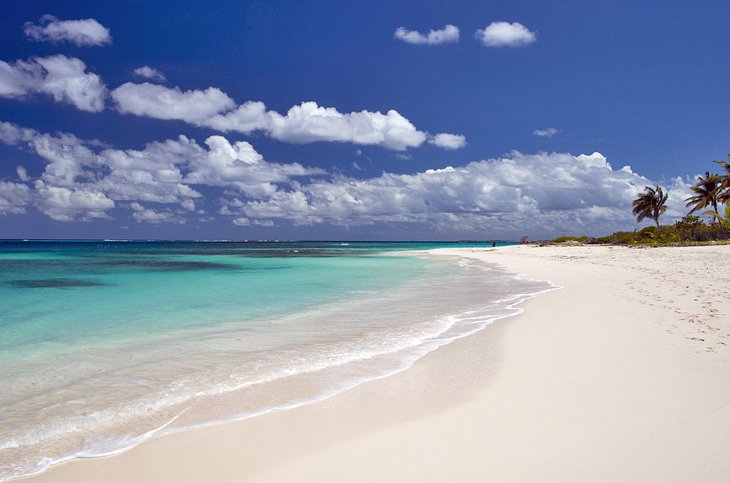 A broad and long sweep of radiant white sand, Shoal Bay East is one of the best beaches in the Caribbean. Ideal for swimming and snorkeling, the waters offer some of Anguilla's most beautiful coral gardens, inhabited by hundreds of tiny iridescent fish, and the sand is soft and squeaky clean.
Umbrellas and lounge chairs are available for rent, and if you're looking for Anguilla hotels in this area, you'll find a few upscale properties here, like Shoal Bay Villas and The Manoah Boutique Hotel Anguilla. Restaurants also fringe the shore.
2. Meads Bay Beach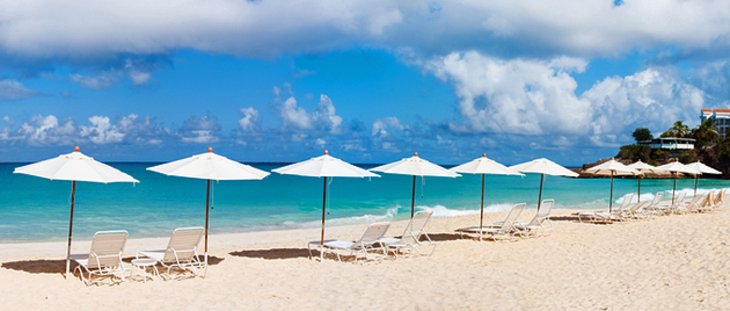 Meads Bay is one of the most popular Anguilla beaches on the island's west end. The stunning one-and-a-half-kilometer stretch of white sand with clear, calm waters is a perfect place for a refreshing dip.
Dig your toes in the silky sand here, and it feels like soft, finely ground flour. You can rent beach chairs and umbrellas and spend the day swimming in the luminous blue sea. Luxury villas and resorts line the shores, tucked back in the tropical foliage.
If you're wondering where to eat in Anguilla, you'll find some excellent restaurants along this stretch. Blanchards is famous and among the Caribbean's best fine-dining restaurants, but if you're looking for a more casual option, you can grab a bite to eat at its sister restaurant, Blanchards Beach Shack, next door.
3. Rendezvous Bay Beach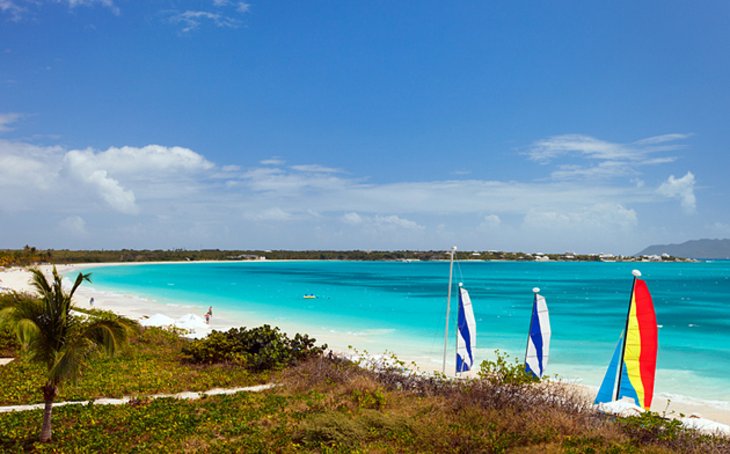 Rendezvous Bay is a dazzling four-kilometer crescent of powdery sand and translucent sea, fringed by coconut palms. Calm and shallow, this peaceful stretch of coast is great for families with small children. Sunbathers, swimmers, and shell collectors will also be impressed.
Small beach shacks dot the sand, and you can see Saint Martin from the shore. This is also a lovely beach for a sunset stroll.
4. Maundays Bay Beach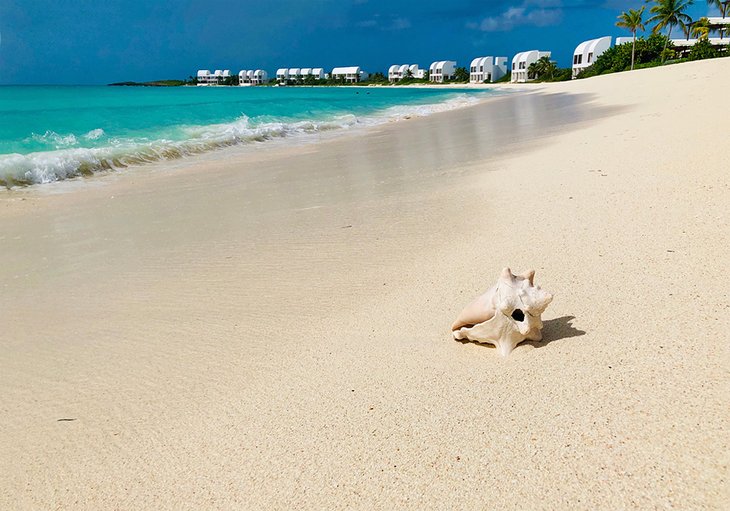 Stretching for one and a half kilometers, Maundays Bay Beach is a sublime stretch of soft, powdery sand and aqua sea. The famous Moorish-themed Cap Juluca luxury resort is an eye-catching landmark along this beach, welcoming guests and day visitors alike.
In calm conditions, beach lovers can enjoy great snorkeling and swimming in the clear water. On windy days, sailboats and windsurfers skim the bay.
This magnificent beach is also a popular spot for weddings, with a glimpse of Saint Martin across the water.
5. Sandy Ground Village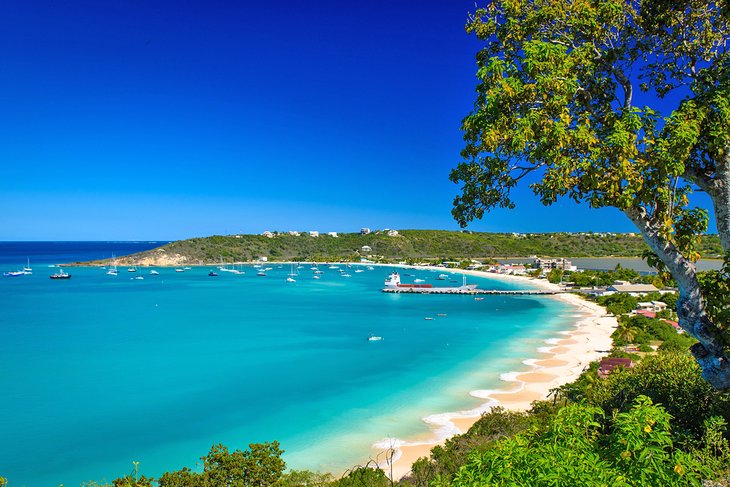 To soak up the local island vibe, head to Sandy Ground Village. It's also one of the best spots for nightlife in Anguilla.
Sandy Ground's fishhook-shaped bay is one of the most protected on the island, and it's Anguilla's main port of entry for yachts. The ferry to Sandy Island, a popular day trip destination, departs from the pier, and most of the onshore activities of the popular three-day Anguilla Regatta in May take place at Sandy Ground, with entertainment at the small family-owned restaurants and other venues.
Popular with local children, the white-sand beach is lined with restaurants, a dive shop, and a few low-key places to stay.
Birders should take a peek at Road Salt Pond behind the village, where egrets, stilts, herons, and other wading birds stalk the shallows.
The Old Salt Factory and Pumphouse restaurant here is also one of Anguilla's historical attractions. Salt was a main industry in Anguilla and one of the country's primary exports until the early 1980s.
6. Island Harbour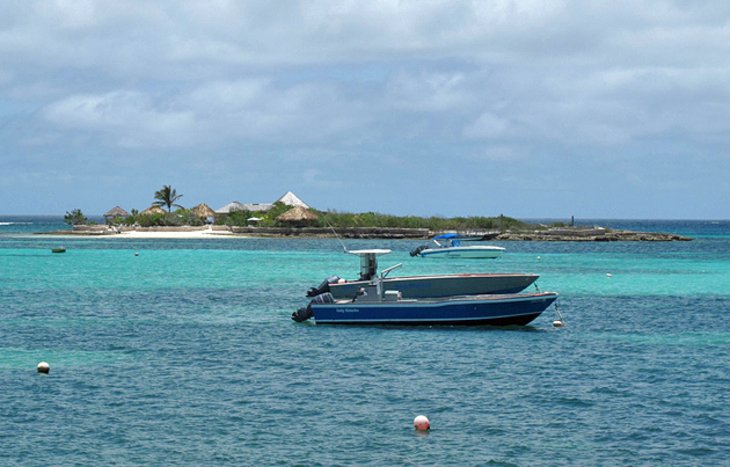 On the island's northeastern side, the sheltered fishing village of Island Harbour is the launching point for local fishermen. This a great spot to catch a slice of local life. Stop by late in the afternoon to watch the fishermen park their brightly colored boats along the narrow beach and unload the day's catch.
A few tourist attractions are sprinkled around Island Harbour. Just off the main road in the village, Big Spring National Park protects a partially collapsed cave containing 28 Amerindian petroglyphs dating from the 9th to the 15th centuries. Ask about tours at the Anguilla National Trust.
In late March or April, Island Harbour's Festival Del Mar is a two-day "celebration of the sea," with a mix of entertainment, competitions, food, music, activities, and (of course) a fishing contest.
Nearby Scrub Island flaunts a beautiful beach on its western side, with great snorkeling, but you might have to negotiate some rough seas to get there.
7. Anguilla Dive Sites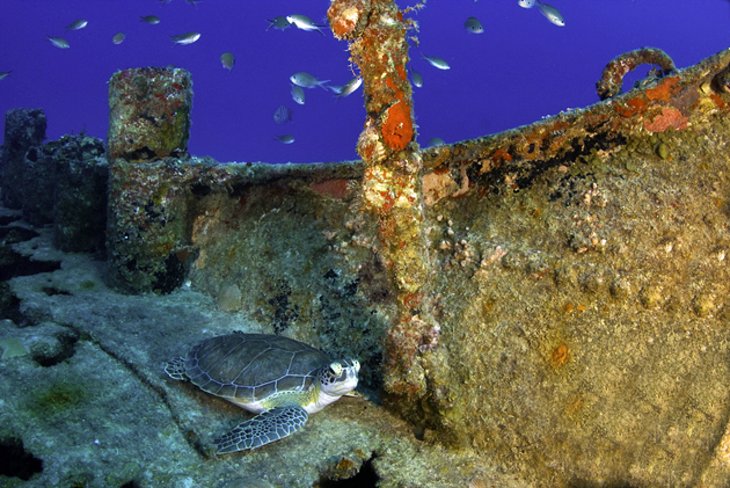 Divers will be pleased to know that a double reef system wreaths Anguilla, with a large variety of corals. The island is also known for its wrecks, including intentionally sunken ships that become thriving artificial reefs.
Seven marine parks surround the island: Dog Island, Prickly Pear, Seal Island Reef System, Little Bay, Sandy Island, Shoal Bay Harbour Reef System, and Stoney Bay Marine Park. Turtles, stingrays, and garden eels inhabit many of the dive sites, and at Scrub Island, you can regularly see sharks and barracuda.
Stoney Bay Marine Park is the resting place of the El Buen Consejo, an 18th-century Spanish galleon that shipwrecked off the southeastern shores of Anguilla in 1772. The site is an award-winning underwater park, open to certified scuba divers.
8. Fountain Cavern National Park
Close to Shoal Bay, the Fountain Cavern is Anguilla's top archaeological site. This natural and cultural wonder is home to two freshwater pools and many Amerindian petroglyphs, which lie 15 meters below ground in a cave. The most significant of these is a tall stalagmite carved in the shape of "Jocahu," the supreme God of the Taino Indians.
9. Day Trips to Anguillita, Sandy, and Prickly Pear Islands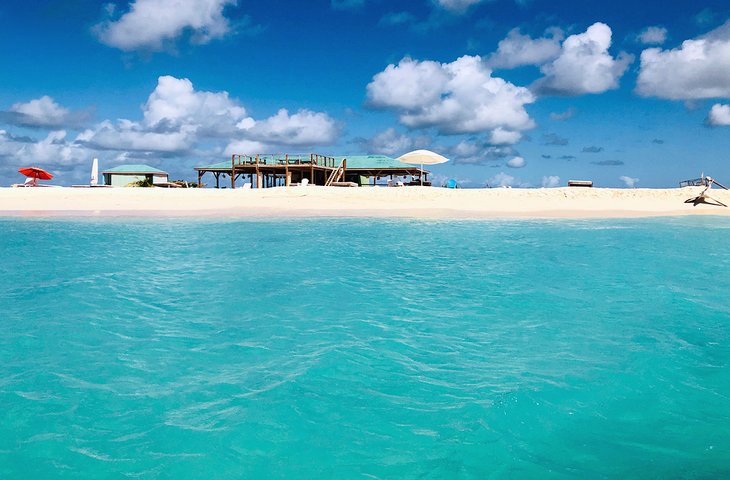 Anguilla's offshore islands of Anguillita, Sandy, and Prickly Pear are popular day trips for scuba divers and snorkelers.
You won't find much of a beach along these rugged shores, but Anguillita is a great spot for snorkeling and diving. It offers mini walls and caves, where divers often see barracudas, nurse sharks, stingrays, eels, and turtles.
Popular Prickly Pear can be packed when boatloads of visitors arrive from nearby St. Martin/St. Maarten. Basking on the sublime beach and swimming and snorkeling in the turquoise water are popular things to do here. Sun loungers and umbrellas line the soft sands.
Visitors also love hand-feeding the banaquits. These friendly yellow and gray birds will swoop down and perch right on your outstretched hand. A restaurant serves up fresh seafood and refreshments.
Castaways love Sandy Island, a tiny sliver of sand with excellent snorkeling in its aqua lagoon. You'll even find a restaurant on this petite spit, as well as sun loungers and umbrellas along the shore.
Trips to Sandy Island and Prickly Pear depart from the pier at Sandy Ground.
10. The Valley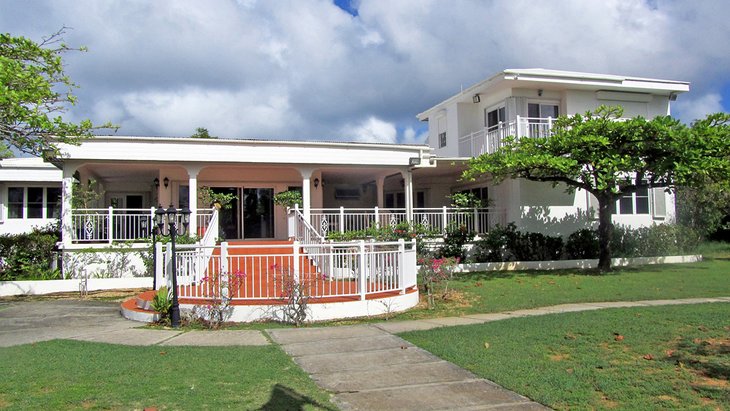 The small, rambling Valley is Anguilla's capital and the geographic, commercial, and political center of the island. A good place to start a sightseeing tour is the Anguilla National Trust, with exhibits on the island's natural and cultural history. You can also organize other tours here such as the Anguilla Heritage Tour, birding tours, and nature hikes.
One of the main tourist attractions on the Heritage Trail is Wallblake House, a plantation home built in 1787 – advance notice is required to organize a tour inside.
Art lovers will enjoy browsing some of the colorful Caribbean art in The Valley's small galleries, and if you want to go shopping in Anguilla, you can often buy unique souvenirs in these galleries.
Traveling with the kids? They can burn off steam at Anguilla Watersports on one of the largest inflatable aqua parks in the Caribbean. You can also organize kitesurfing lessons, as well as glass-bottom kayak and stand up paddleboarding tours and rentals here.
For beautiful views over the city and Anguilla, head to the top of Crocus Hill, the highest point on the island. And if you're pining for a dip in the cool sea, a great place to visit is nearby Crocus Bay Beach, where you'll find soft sands and clear waters, as well as a restaurant along the shore with sun loungers.
11. Wallblake House
One of the main attractions on the Anguilla Heritage Tour, Wallblake House is a plantation home built in 1787 by sugar planter, Will Blake (Wallblake is probably a corruption of his name). It's one of only a small number of plantation houses in the Caribbean where the entire complex of buildings, including the stable, slave quarters, and kitchen have survived almost intact.
The spacious rooms contain interesting exhibits illustrating Anguilla's history. Tours must be arranged in advance.
Address: Wallblake Road, The Valley
12. Heritage Collection Museum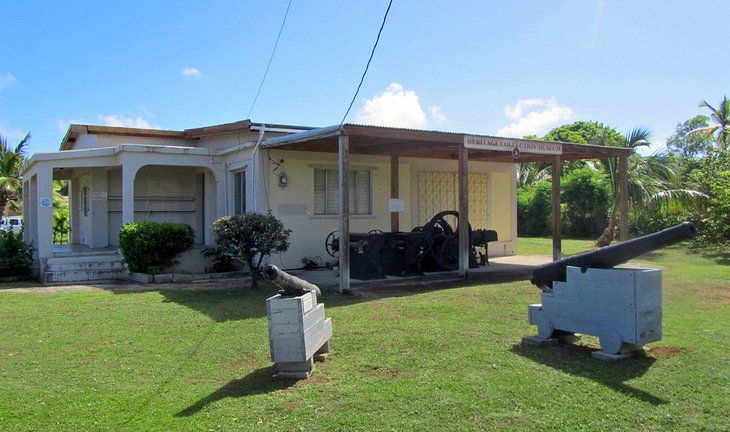 The Heritage Collection Museum is a great place to learn more about the history of Anguilla. Island artifacts, early 20th-century photographs, old postage stamps, and important documents trace the island's history, from the days of the Taino to the present.
The museum's convivial curator, Colville Petty, is an authority on Anguilla's history and an author on the subject.
13. Day Trip to Saint Barthélemy (St. Barts)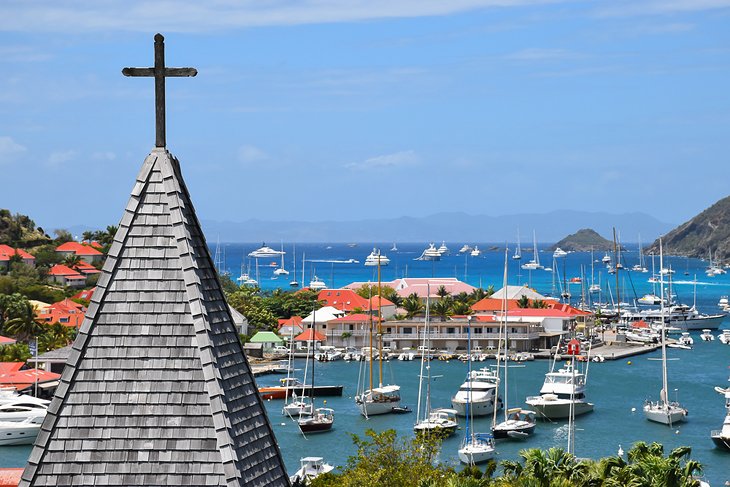 Chic and stylish, Saint Barthélemy sits just south of Anguilla, and you can soak up some of its European-style charm on a day trip. Famous as a playground for movie stars and moguls, St. Barts (or St. Barths) is part of the French West Indies, and its pretty red-roofed capital of Gustavia, secluded beaches, and gourmet restaurants are among the island's top tourist attractions.
To get here, you have two options: Calypso Charters offers a weekly 45-minute speed boat shuttle, departing at 9am from Anguilla and returning from St. Barts at 5pm. Note that the seas can often be rough on this crossing, so the service depends on the weather.
The other option is to hop aboard a 15-minute flight with Anguilla Air Services. However you choose to travel here, glamorous St. Barts offers an interesting contrast to the sleepy charm of Anguilla.
More Related Articles on PlanetWare.com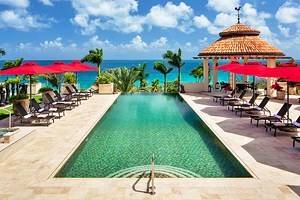 Where to Stay in Anguilla: Looking for a luxurious place to stay in Anguilla? This laid-back island is home to world-class resorts, from the Four Seasons to the stunning Moorish-inspired Belmond Cap Juluca. Traveling with the family? Opt for a condo or villa-style property, and if you're looking for some couple time, you'll find several intimate boutique hideaways for a truly romantic vacation.