Anguilla in Pictures: 13 Beautiful Places to Photograph
Picture-perfect Anguilla is still a relatively untouched tropical paradise without a lot of big commercial development, making it a wonderful Caribbean destination for deserted-island-style photo shoots. Anguilla is home to some 33 sugary white-sand beaches, surrounded by a calm, clear and electric-blue sea, that need no social media filters to shine. Here are the best places in Anguilla to photograph:
1. Shoal Bay East Beach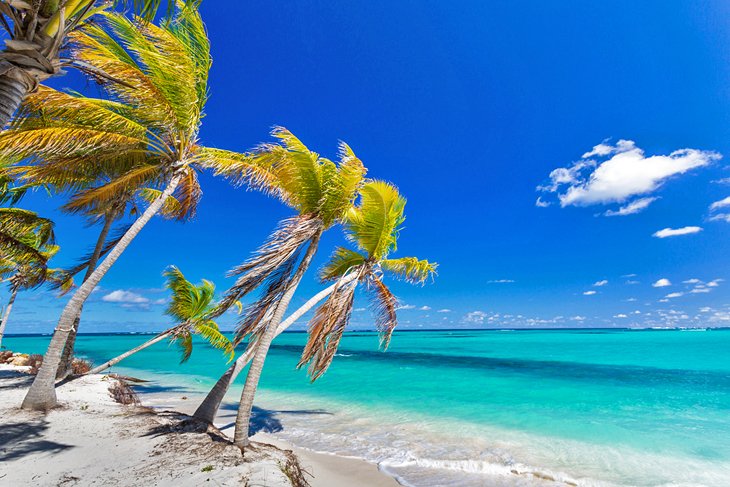 The hue of the water on Shoal Bay East Beach is absolutely stunning with its mix of turquoise and deep ocean blue juxtaposed against a clear blue sky and swaying palms right at the water's edge. Whether you want to photograph a person or just the landscape, the palms make a great focal point in the sea of blue at what some consider the best beach in Anguilla. It is also great for snorkeling, with coral gardens just offshore.
Accommodation: Top-Rated Resorts in Anguilla
2. Sandy Ground Beach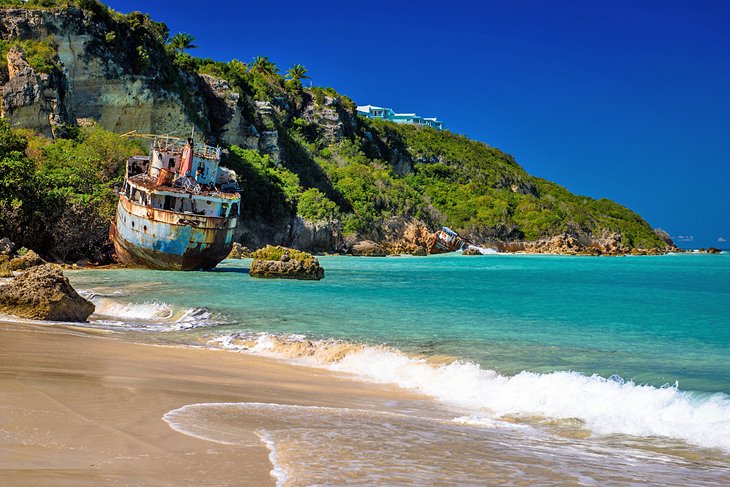 With a wrecked ship slowly rusting away at one end, Sandy Ground Beach makes a great photograph. The ship provides a focal point in the frothy turquoise sea and gold-sand backdrop. The beach is one of the most popular in Anguilla, and you'll find a number of restaurants along it, often with live music.
3. Barnes Bay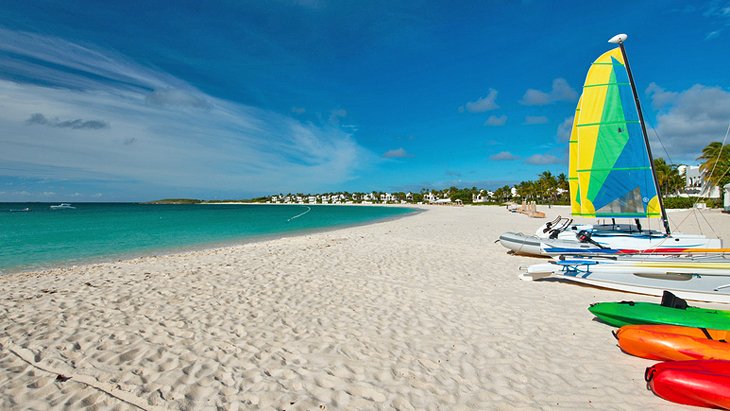 A wide sugar-white sandy beach meets a dark turquoise sea at photogenic Barnes Bay, which is one of Anguilla's top beaches. A number of upscale hotels are set along this pretty half-mile-long stretch of sand, including the posh Four Seasons Resort and Residences Anguilla.
4. Meads Bay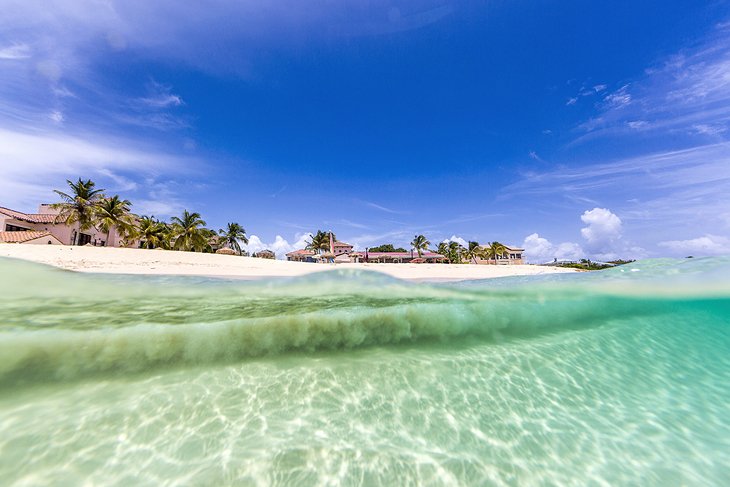 Grab a different angle and step into the super shallow, almost green-hued water at Meads Bay to point your camera back at shore like the photographer does in this shot.
Meads Bay is one of the most popular beaches on Anguilla's west end. The white-sand beach here runs for 1.5 kilometers, and while the water is shallow to begin, it eventually gets deep enough to swim.
5. Little Bay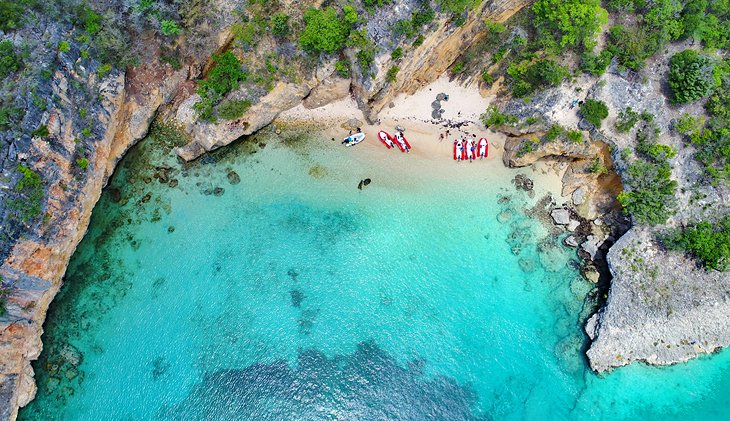 Only accessible by boat or by rappelling down a cliffside, Little Bay is another one of the most picture-perfect beaches on Anguilla. The white-sand beach is small but stunning, with clear azure water juxtaposed against the white sand all surrounded by craggy cliffs. Most people visit on a day trip by boat from Crocus Bay.
6. Rendezvous Bay Beach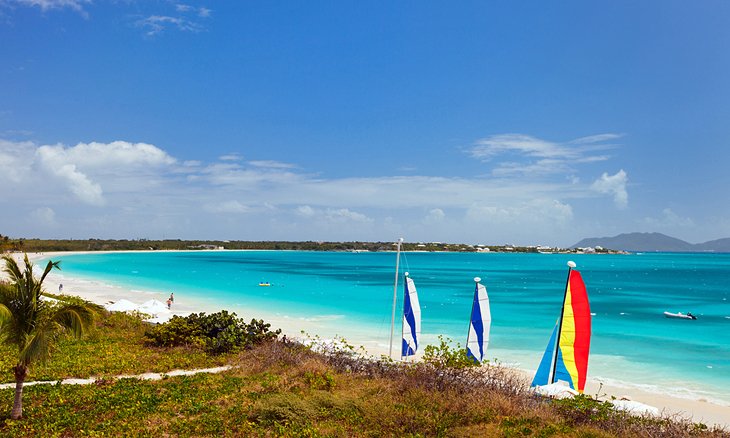 Running for a few miles, Rendezvous Bay Beach is another gorgeous stretch of white sand and clear blue sea framed by coconut palms. This is a favorite beach for families with little kids, as the water here is calm and shallow. Look across the ocean from Rendezvous Bay, and you'll see the island of Saint Martin.
7. Prickly Pear Island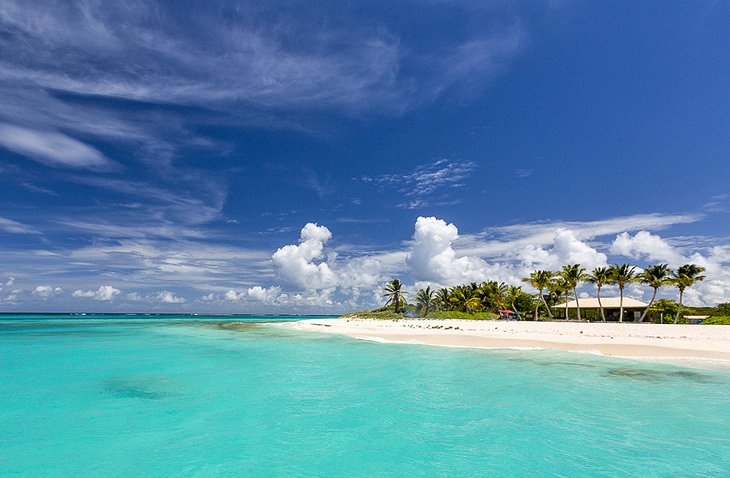 Take a boat out to Prickly Pear Island, pictured here, and spend a day diving or snorkeling in the clear water and reefs surrounding it. The island is not inhabited, so you'll have to visit on a day trip, which usually includes lunch and time to chill on the sand here as well. Trips to Prickly Pear depart from the Sandy Ground pier.
8. Maundays Bay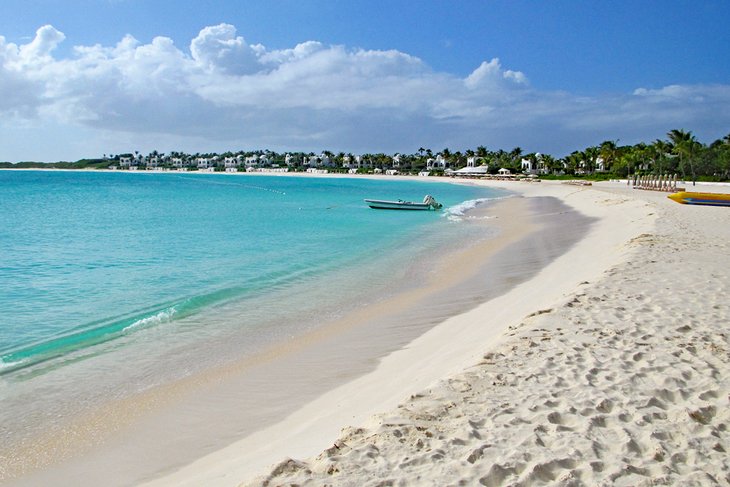 Picture-perfect Maundays Bay is a small, crescent-shaped, white-sand-meets-turquoise-water stretch of shoreline. There are just two hotels near this beach, the luxe Belmond Cap Juluca on the beach itself and the equally swanky, but smaller, Villas at Sheriva, which is just a short golf cart ride away from the sand.
9. Cove Bay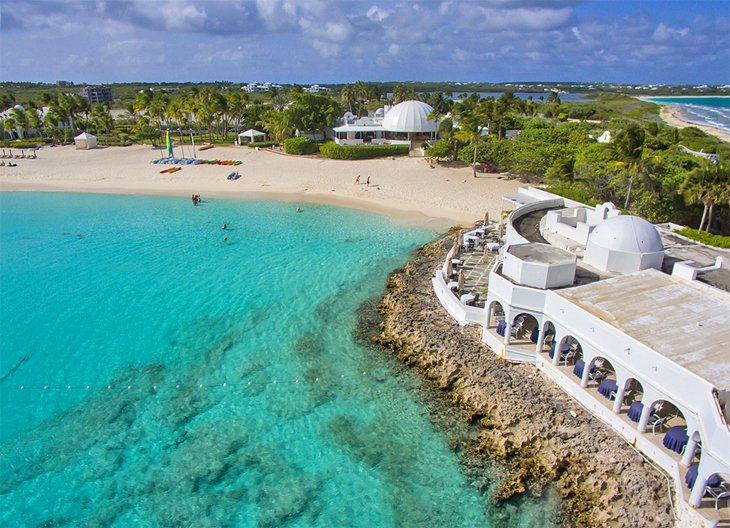 Still undeveloped, Cove Bay Beach has just one restaurant, Smokey's, which cooks up delicious gourmet fare. The beach is on Anguilla's west end and is gorgeous for sunset walks. It also has good snorkeling and swimming, and you may even have this beautiful spot all to yourself.
10. Island Harbour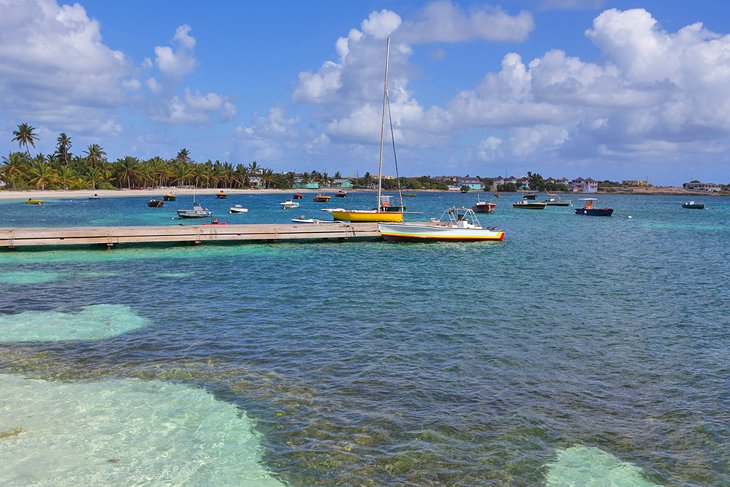 Anguillian families have been fishing Island Harbour, on the island's east side, for generations now. And this charming fishing village is a great place to get a feel for local life. There are a few local restaurants with tasty food to try out, and you can also just pass an afternoon sitting around watching the day languidly slide by.
11. Sandy Island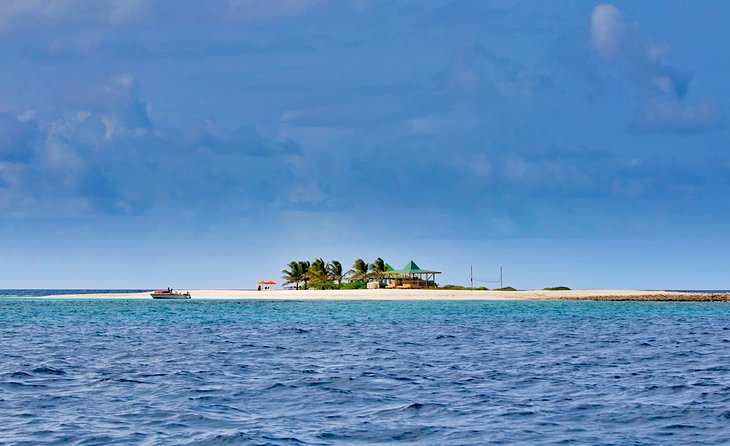 Off the coast of Anguilla, Sandy Island is a great place to spend the day just chilling on a white-sand beach; swimming in the calm blue sea; and maybe grabbing lunch at the island's only establishment, a restaurant. You can't spend the night here, but you can hop over for the day on a ferry boat from Sandy Ground.
12. Savannah Bay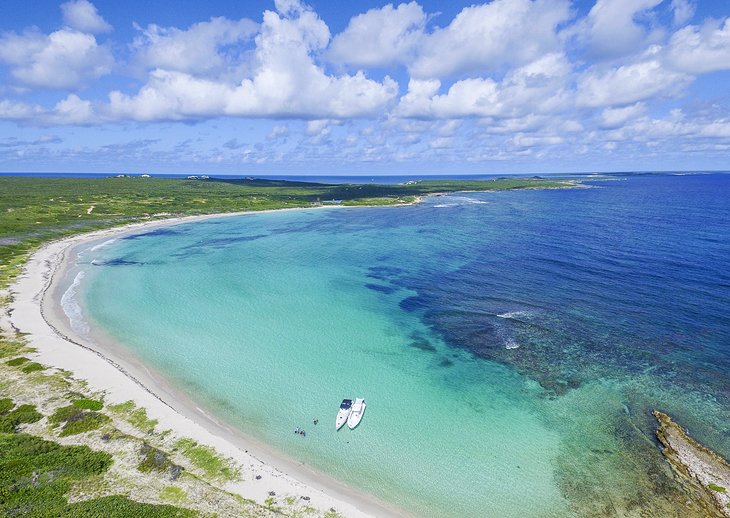 On Anguilla's east side, Savannah Bay is a beautiful place to escape. Anguilla's least commercial stretch of sand, it is perfect for a chill day of walking on the beach; swimming; and grabbing lunch at the only restaurant here, Nat's.
13. MV Commerce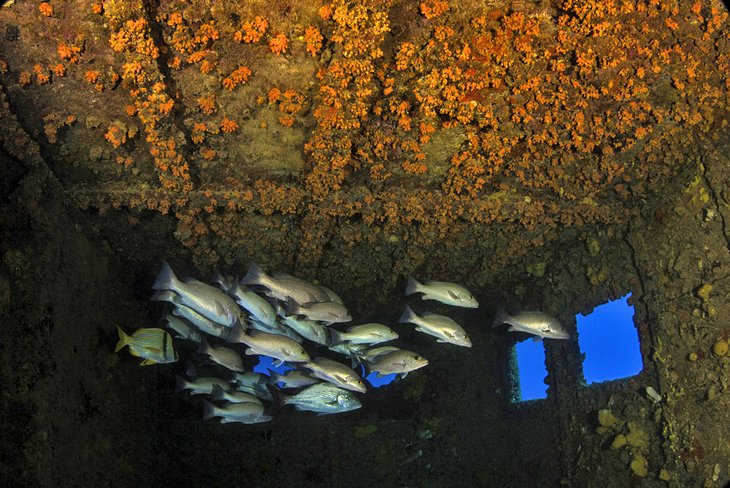 Some of Anguilla's best places to photograph are found under the sea. Many a ship has wrecked off Anguilla's coast over the centuries, and the MV Commerce, pictured above, is one. You can explore and photograph the rusted skeleton and its fishy residents - like these snappers hiding out in the wheel house of the ship - on a scuba diving excursion.