12 Best Beaches in Aruba (with Map)
Aruba is famous throughout the Caribbean for its glamorous beaches with gleaming white sand and clear jade waters. Thanks to its arid climate, the sea is typically unclouded by runoff and offers great diving and snorkeling, with a scattering of shipwrecks to explore a short distance from shore.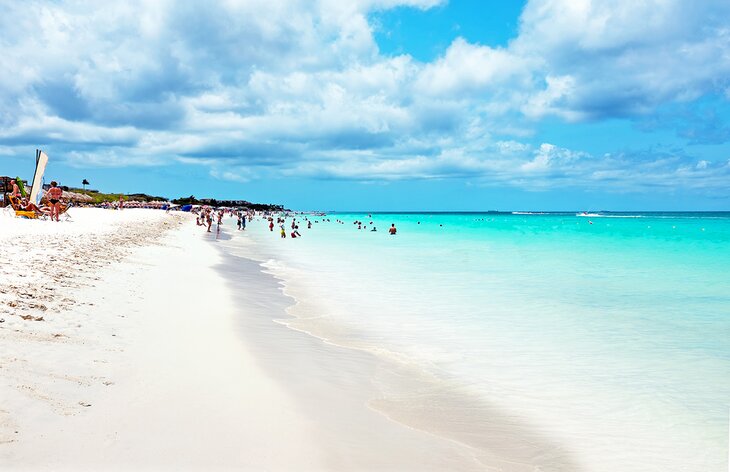 Twisted, wind-sculpted fofoti trees fringe the shores, always leaning to the southwest due to the predominant northeast tradewinds, the same winds that lure windsurfers and kiteboarders from around the world.
The most touristy beaches rim the western and southern shores of the island and offer favorite spots for swimming, snorkeling, sunbathing, and windsurfing.
Venture over to the island's northeastern side to see the ocean's power in full force. Here, rubbly cactus-cloaked landscapes stretch to the wave-thrashed shores. The winds howl, whipping up froth-topped waves, and swimming is not recommended.
Almost all beaches are public in Aruba, and many offer palapas (thatched umbrellas) for shade. While strolling along these sun-soaked shores, take care not to disturb any cordoned-off turtle nests. Leatherback turtles are among the species that lay their eggs here, and if you're lucky, you might see them hatch after sunset.
Pinpoint the top slices of coast on this sun-soaked island with our list of the best beaches in Aruba.
1. Eagle Beach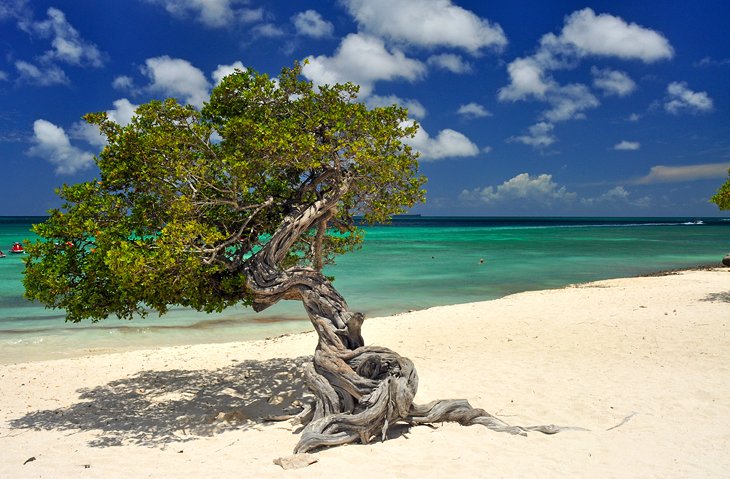 Fringed by coconut palms, sea grapes, and fofoti trees, Eagle Beach is one of the most enticing of Aruba's touristy strands. Thatched palapas dot the soft white sands, and low-rise apartment blocks and restaurants lie across the street from the beach.
The water is beautiful. Clear jade shallows drop off quickly to the deep blue waters, but it's relatively calm and safe for swimming — even on windy days. Jet Skis zip along the northern end of the beach, but you can stake a spot down the other end of the beach where it's quieter and calmer.
Sitting right along the sand here is one of Aruba's top luxury resorts, the adults-only, eco-friendly Bucuti & Tara Beach Resort, with a romantic oceanfront restaurant.
Turtle nests are often cordoned off here, so be sure to give them a wide berth. Hatching usually takes place around sunset and during the night.
At its northern end, Eagle Beach is home to the two iconic fofoti trees that regularly appear on Aruba tourist brochures.
Author's Tip: Beach equipment rental can be expensive — bring your own chair and umbrella to save money.
2. Palm Beach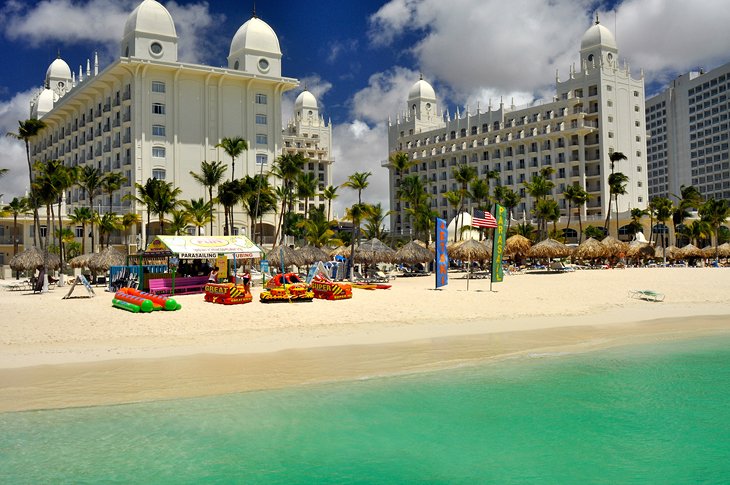 Backed by high-rise hotels, like The Ritz-Carlton, Aruba, Palm Beach, just north of Eagle Beach, is one of the most popular and tourist-packed beaches on the island. If you want to be in the heart of the action, this is the place to plant yourself.
Restaurants and souvenir stalls abound here, as well as a busy lineup of water sports. This is one of the best places to visit for banana boat rides; wakeboarding; water skiing; parasailing; and even flyboarding, where you launch above the water with jet packs attached to your feet.
Many of the palapas and lounge chairs here are monopolized by the big hotels, and you have to be quick to snag a prized spot. But you'll find plenty of shops, restaurants, and Aruba tourist attractions within walking distance, and the palm-studded hotel gardens fringing the beach add a tropical feel.
If you want to stay close to Palm Beach, but prefer a smaller, more intimate hotel, the mid-range, boutique Boardwalk Hotel Aruba is only a few minutes' stroll away, with cute self-contained casitas in tropical gardens.
3. Manchebo Beach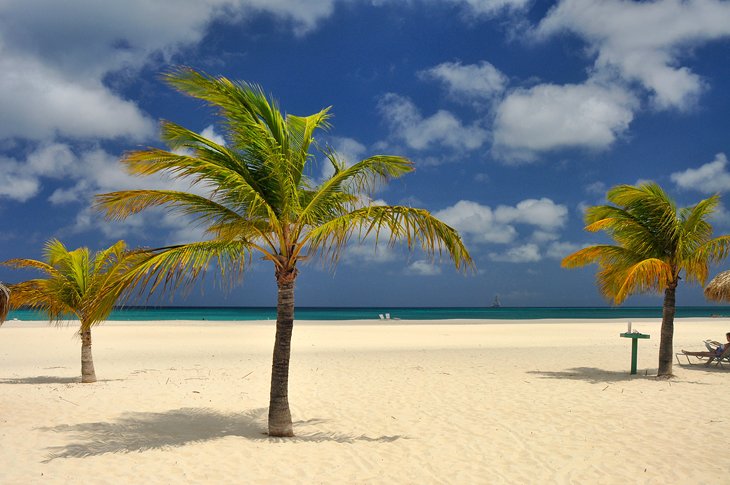 A short stumble south from Eagle Beach, Manchebo Beach offers a little more seclusion and fewer crowds than its more famous neighboring beaches.
Rimmed by a few smaller low-rise resorts, this pretty palapa-studded stretch of white sand and turquoise water is one of the widest beaches on the island. It's also a little more peaceful than Palm Beach and Eagle Beach due to the absence of motorized water sports.
Author's Tip: Manchebo Beach is one of the best beaches in Aruba to watch the sunset. You can capture fiery images of the sun sinking into the sea framed by palm trees and palapas.
Food and drinks are available from resorts along the beach, like the peaceful Manchebo Beach Resort & Spa, with an oceanfront dining terrace and thatched palapas sprinkled along the sand.
4. Arashi Beach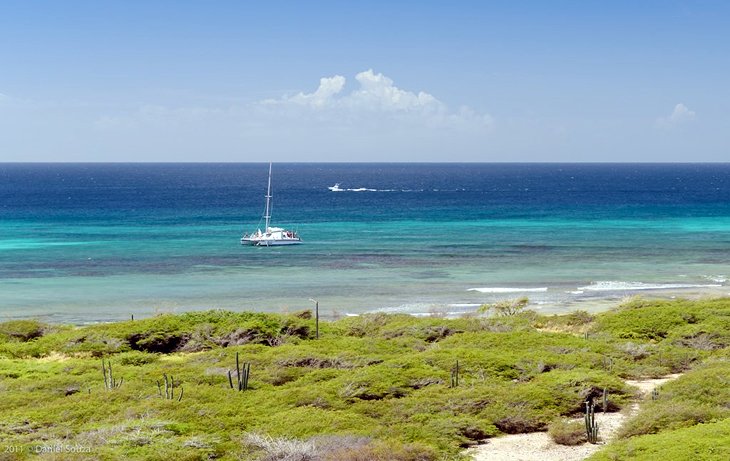 North of Boca Catalina, Arashi Beach is the last stretch of sand before California Lighthouse. With its calm waters and clear seas, it's a lovely spot for a swim, and it also offers some of the island's best snorkeling from shore.
Blue tangs, filefish, and butterfly fish dart among the rocks and soft corals, and the sandy bottom in the middle of the beach is a popular swimming area.
Other things to do at Arashi Beach include windsurfing, sailing, and fishing, and watersports rentals are available, including Seabob rentals.
Recently added restrooms and showers, make it much more convenient to spend a day at Arashi, plus you can purchase bites and refreshments at the Arashi Beach Shack. Live music adds to the fun vibe during peak times.
Palapas are limited on these shell-flecked sands, but you can rent beach chairs and umbrellas.
North from here, the shore transforms into a wild and rugged lunar-like landscape peppered with cactus.
5. Druif Beach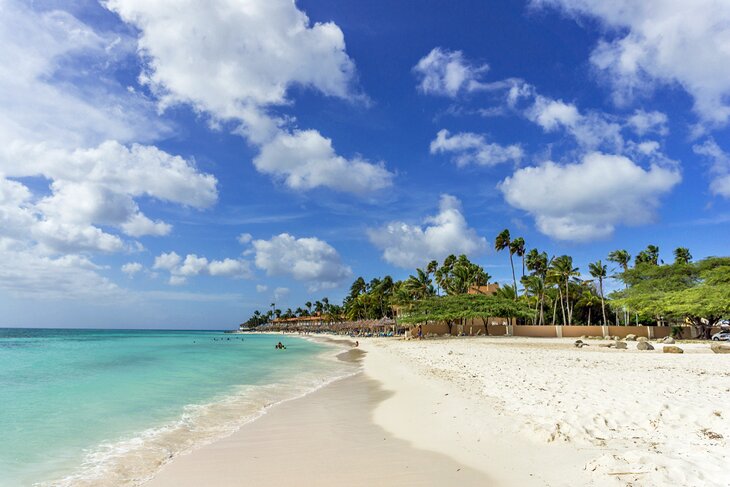 Snow-white sands rim radiant turquoise water at this stunner south of Divi Beach. This is part of seven miles of prime coast stretching south of Eagle Beach about a four-minute drive from Oranjestad, but these shores tend to be a little less crowded.
You won't find high-rise resorts here. Instead; just a few low-rise all-inclusive resorts are located nearby.
Sunbathing, swimming, sunset watching, and beach volleyball are the most popular activities, as well as beach walks on the flour-soft sand. You'll find plenty of sun loungers here, too. Coconut palms and palapas back the beach, providing plenty of shade.
If you want to stay close to these striking shores, Tamarijn Aruba All-Inclusive and Divi Aruba All Inclusive resorts are just a short stroll away. Feeling hungry? Hop across to the resorts for a bite to eat or wander over to one of the nearby restaurants.
Author's Tip: Parts of the shore are strewn with rocks — take care when you enter the water. Water shoes are also recommended.
6. Baby Beach
About a 45-minute drive from the main tourist area of Palm Beach, Baby Beach, on the southern tip of the island, is a beautiful crescent-shaped slice of white sand curving around a turquoise lagoon.
This is a great choice for families with small children due to the calm, shallow waters — with the caveat that dangerous currents occur outside the lagoon.
Snorkelers will find small fish, such as blue tang, around the breakwaters, and this is a good spot for kids to practice their snorkeling skills. Bright yellow sun tents line the shores during peak months, as well as plenty of palapas, and a funky thatched snack bar fronts the beach.
Turn away from the water, and you will see the silhouette of an oil refinery, but the views toward the bay are beautiful. Bring your camera, as the water is a striking palette of aquamarine and turquoise. Locals gather along this strand on the weekends, but the end towards Rodger's Beach tends to be a little less crowded.
A few minutes' drive north of Baby Beach, Boca Grandi is a popular spot for windsurfers and kiteboarders, but the wild, wind-whipped waters are unsafe for swimming.
7. Boca Catalina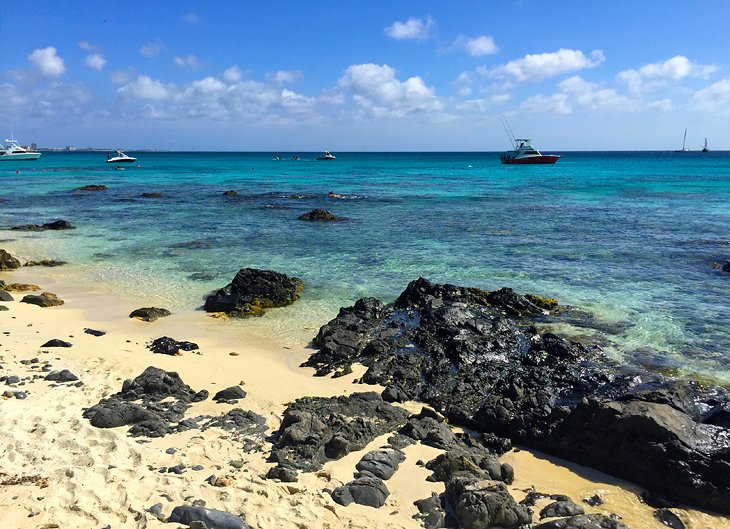 A short hop south from Arashi Beach towards the California Lighthouse, Boca Catalina is a popular snorkeling spot that graces the itinerary of most of the pleasure cruises.
The pebbly sand beach is small here and not far from the busy road, but snorkelers will find schools of tropical fish and colorful starfish a short kick from shore. You'll probably see the tourist boats anchored just offshore.
The beach has no facilities except a sprinkling of palapas, so make sure you bring food and water if you plan to linger.
8. Malmok Beach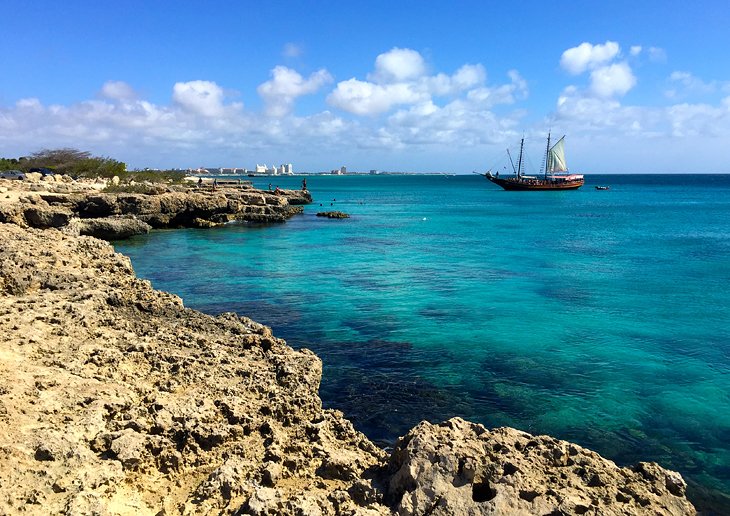 North of the high-rise tourist strip along Palm Beach, Malmok is more a series of rocky ledges and hard-packed sand than a beach, with a strip of pricey villas across the road.
The most dominant feature is the rusted hull of the Baboo shipwreck jutting out of the water. This purpose-sunk ship once lay farther offshore as a dive site, but in 1999, a storm lifted the boat and washed it closer to shore.
North of the wreck lies one of the island's most popular snorkeling spots, with clear shallow water and schools of small fish. Tourist-packed sailboats anchor offshore here during the day for snorkeling stops. These snorkeling tours are one of the top things to do in Aruba.
Malmok Beach has no restaurants or big hotels; however, the luxurious and intimate OCEANZ Boutique Hotel Aruba, with stylish and light-filled suites, lies a four-minute stroll away. Palm Beach, with its many amenities, is only a few minutes away by car.
Windsurfers skim across the waters just south of here at Hadicurari Beach (also known as Fisherman's Huts), which plays host to the largest windsurfing event in the Caribbean, Aruba Hi-Winds, during June or July.
9. Savaneta Beach & Mangel Halto Beach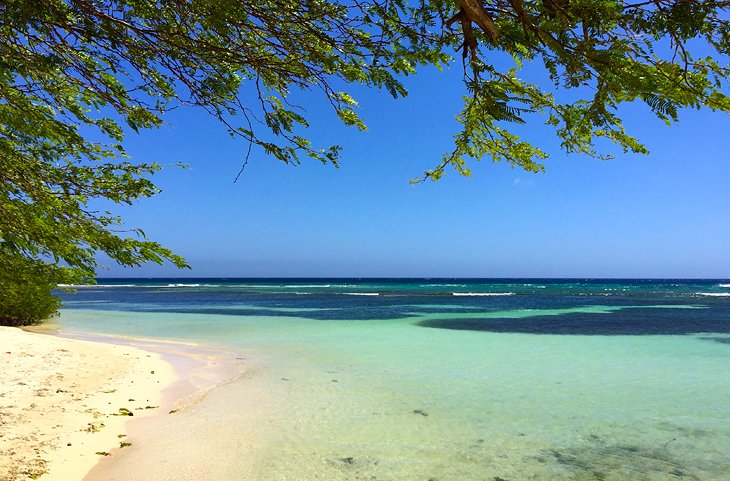 About 30 minutes' drive from the high-rise strip, on the way to Baby Beach, Savaneta Beach is a relatively peaceful little arc of white sand and crystalline flats fringed by fofoti trees and sea grapes.
Fishermen often stalk this area, and few tourists find this tiny tucked-away strand. This is a locals' neighborhood, but you'll also find a few smaller guesthouses, as well as popular seafood restaurants in the area. Zeerovers is a favorite. Grab a table overlooking the water, watch the fishermen bring in their catch, and enjoy some of the freshest seafood in Aruba.
A few minutes' drive northwest from Savaneta, Mangel Halto Beach is another quiet locals' favorite, with mangrove-fringed shallows. Snorkelers might spot blue tangs, snapper, and parrotfish here, as well as sea sponges.
10. Boca Prins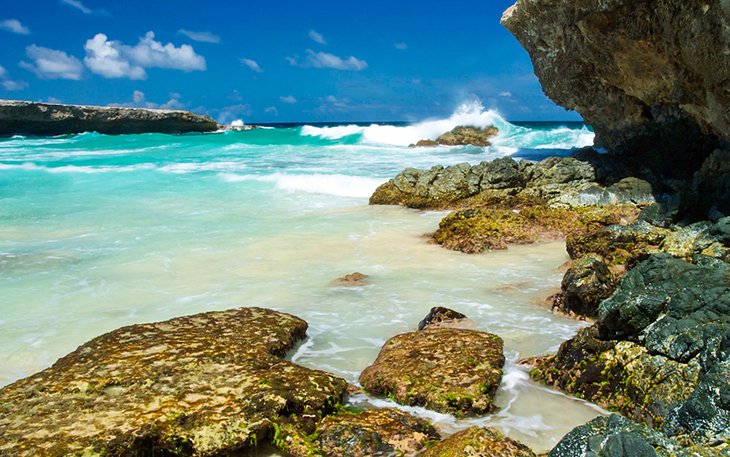 Wild and windswept, Boca Prins Beach, on the northeast coast of Aruba in Arikok National Park, offers a dramatic counterpoint to the calm crystalline waters along the tourist strip.
A 4WD vehicle is recommended for accessing this rocky dune-backed beach, but once you're here, it's inspiring to sit and watch the sheer power of the ocean thrashing against the rocks. Many visitors also come here to enjoy a picnic or dine at the restaurant and admire the view from atop the limestone cliffs.
You can also walk down the stairs to the sandy shore, but swimming is off-limits here due to the dangerous surf.
Daimari and Boca Keto are other wild beaches worth visiting in Arikok National Park.
11. Flamingo Beach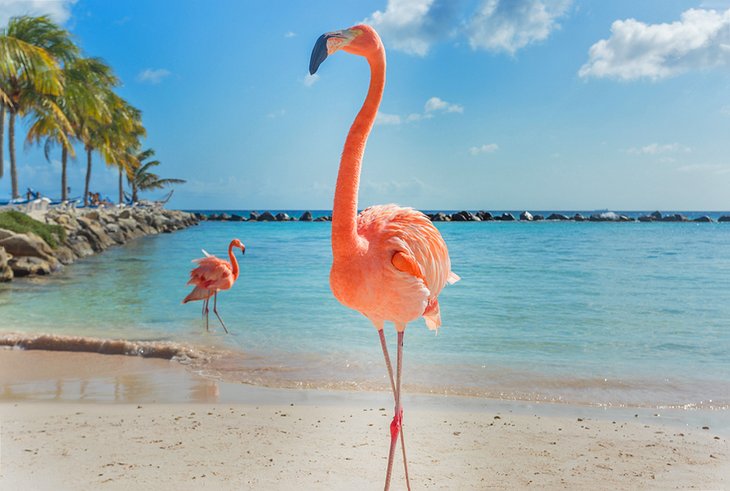 Ever seen shots of smiling tourists mingling with flamingos in Aruba? They're taken on one of the gleaming white-sand beaches on Renaissance Aruba's private island. This is one of only two places you can see these pink-plumed beauties in Aruba, strutting against the backdrop of the turquoise sea, and if you want to visit, it requires some planning.
The first option is to book a stay at the Renaissance Wind Creek Aruba Resort; guests have free access to the resort's private island every day of their stay.
The second option is to purchase a day pass. Spaces fill up quickly though, so you have to buy your ticket early the day before you wish to go. It's also a good idea to try and book the trip early during your visit to Aruba in case you don't make it on your first attempt.
Tickets include the eight-minute water taxi to the island, lunch, and a refreshment. It might seem pricey for a beach day visit, but if you have your heart set on capturing that iconic flamingo vacation shot, it's worth it.
Note that Flamingo Beach, Aruba is adults-only, except between 9 to 10am, when children are allowed to get up close to these elegant avian residents. But families can visit the island's Iguana Beach all day.
Snorkeling, scuba diving, stand up paddleboarding, sailing, and kayaking are other popular things to do on the island, and you can also spot iguanas, hermit crabs, and other birds and lizards.
For a more exclusive island experience, book a private cabana or sign up for some pampering treatments at Spa Cove.
12. De Palm Island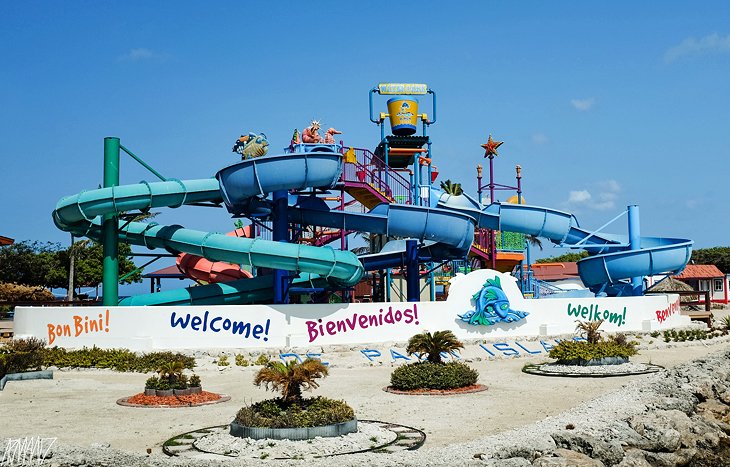 A five-minute zip across the sea from the mainland on a ferry, De Palm Island offers a few small white-sand beaches and an enticing array of activities for an all-inclusive price.
This is one of the most popular Aruba tours for families with young children, who come here for the spiral waterslides and splash pools, as well as banana boat rides, beach volleyball, bingo, salsa lessons, and snorkeling. Unlimited food and drink are also included in the set fee.
For an extra charge, you can try the Sea Trek underwater helmet walk and SNUBA, while those seeking to unwind can opt for a soothing massage. Half-day and one-day packages are available.
Flamingo fans will be happy to know that you can now snap a picture of these rosy birds on De Palm Island. Previously, they were only found at Flamingo Beach on Renaissance Aruba's private island. Note, though, that you need to rent a beach cabana or pay for premium seating to get up close and capture photos with the birds. But if you don't want to upgrade, you can still see them from a distance.
Aruba - Climate Chart
Average minimum and maximum temperatures for Oranjestad, Aruba in °C
J
F
M
A
M
J
J
A
S
O
N
D

29

24

29

24

30

25

31

26

31

26

32

27

31

26

32

27

32

27

32

27

31

26

29

25

PlanetWare.com
Average minimum and maximum temperatures for Oranjestad, Aruba in °F
J
F
M
A
M
J
J
A
S
O
N
D

85

76

85

76

86

77

87

78

88

79

89

80

88

79

89

80

89

80

89

80

87

79

85

77

PlanetWare.com
Map of Best Beaches in Aruba