11 Best All-Inclusive Resorts in Aruba
Located in the southern Caribbean, the Dutch island of Aruba is a beloved destination for couples and families alike, who flock here for the miles of powder-white-sand beaches framing picture-perfect turquoise waters, along with a full slate of relaxing island amenities sure to melt away the stresses of daily life.
And Aruba's wealth of resorts ranging from expansive 4- and 5-star luxury properties to boutique hotels and mid-range properties means that you won't have a problem finding something to fit your budget.
For the best value, check out one of the island's all-inclusive resorts, which fold the cost of all your meals and entertainment options into the price of your vacation. There are all-inclusive resorts dedicated to families, with on-site babysitting and kids' clubs, as well as adults-only options for the ultimate romantic getaway.
This can be a very economical (and stress-free) approach to enjoying the best of Aruba. Read on for more information on the top all-inclusive Aruba resorts.
1. Barcelo Aruba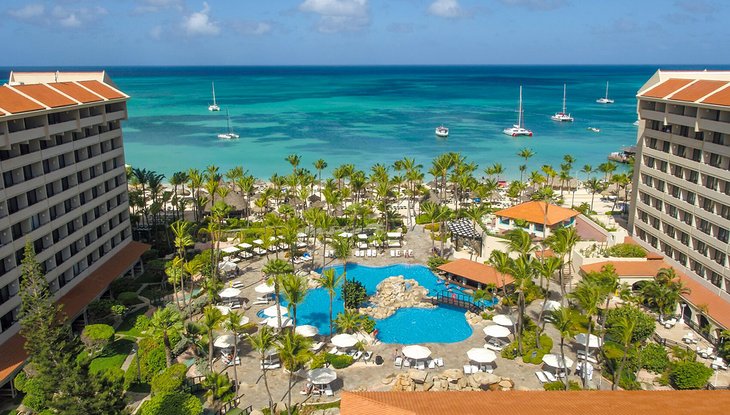 Accommodation: Barcelo Aruba
Relax on the white sands of Palm Beach at Barcelo Aruba, an all-inclusive resort offering 373 rooms geared towards families and couples alike. Each room features a private balcony, allowing guests to savor the sunrises and sunsets over the ocean. The resort is situated around a spacious, lagoon-style swimming pool and two hot tubs.
An all-inclusive stay includes meals at your choice of seven different restaurants, from a casual beachy grill and a buffet restaurant to Japanese, Tex-Mex, and fine Italian dining.
In the mood for a workout? Check out the gym or challenge your partner to a tennis match at one of two on-site courts. Water polo, kayaking, and scuba equipment rentals are available.
Children can play the day away at the on-site supervised kids' club, suitable for 4- to 12-year-olds. In the evenings, enjoy live shows and musical entertainment.
The resort is located near Aruba's only golf course, and it's within a short walk of the Palm Beach Mall.
Address: J.E. Irausquin Blvd 83, Noord, Aruba
2. Hotel Riu Palace Antillas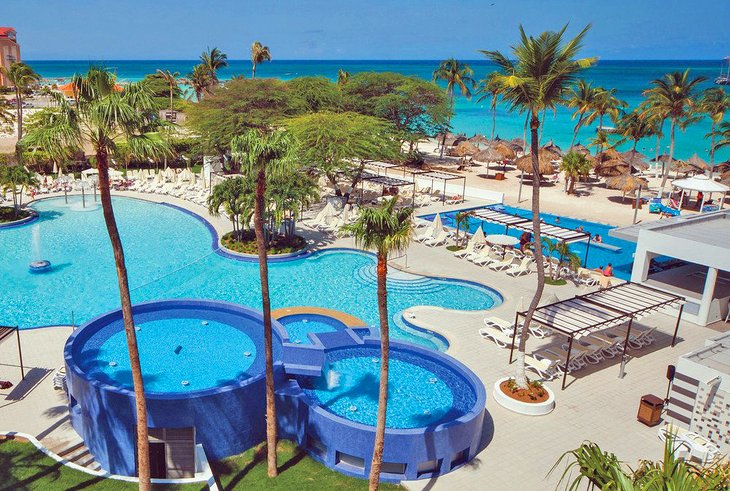 Accommodation: Hotel Riu Palace Antillas
For an elegant, adults-only all-inclusive option, head to Hotel Riu Palace Antillas, a 16-story hotel located on Aruba's Palm Beach, next to sister property Hotel Riu Palace Aruba. Rooms are styled as suites or junior suites, offering either a balcony or a garden terrace—many with views of the sparkling Caribbean Sea. The resort also provides free Wi-Fi to guests.

Spend the day soaking up the sun underneath a shade umbrella while lounging on a beach chair (complimentary for guest use), or take advantage of the resort's on-site spa, salons, and gym for pampering and fitness.
On-site resort activities include windsurfing, kayaking, snorkeling, and diving lessons. For even more adventure, guests can also rent bicycles, go hiking, and check out the nearby golf course.

Hungry? Check out the Caribbean-themed buffet restaurant showcasing local Aruban cuisine or three specialty restaurants. Evening entertainment options dazzle, with live shows and music for dancing the night away.
Address: J.E. Irausquin Blvd 77, Noord, Aruba
3. Hotel Riu Palace Aruba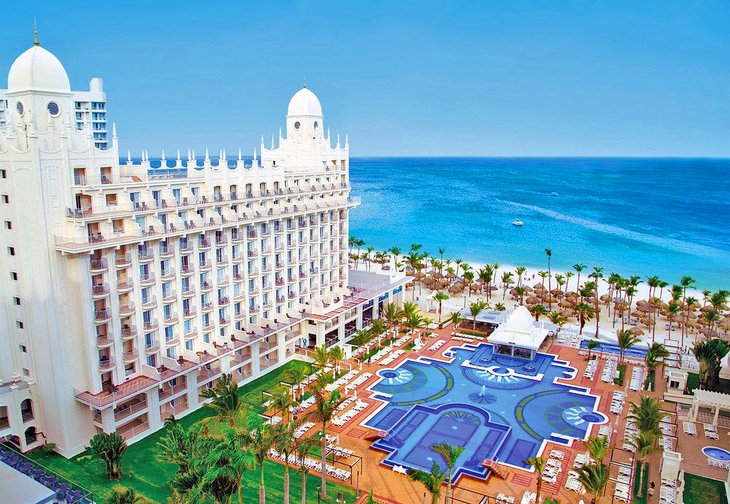 Accommodation: Hotel Riu Palace Aruba
For the ultimate family-friendly resort experience in Aruba, book your stay at Hotel Riu Palace Aruba on Palm Beach.
This dramatic white-spired building houses more than 400 rooms appointed with dark wood, tile floors, and luxurious amenities. Choose a suite or junior suite for expanded privacy and plenty of room to spread out while traveling with children.
Guests can refresh themselves in two outdoor swimming pools, plus one dedicated pool for children. The hotel's beachfront property offers private sun loungers and umbrellas for guests.
For breakfast, lunch, dinner, and snacks 24 hours a day, take your pick of five restaurants, including buffets, a steakhouse, plus Italian and Japanese restaurants—or order up room service. Enjoy a sweet treat at the on-site ice cream parlor or pick up some new tricks at a cooking demonstration.
The Hotel Riu Palace offers beach volleyball courts, an aquagym, and a full-service fitness center. Guests can also try stand up paddleboarding, snorkeling, or kayaking—or simply relax on a floating mat on the ocean. Introductory scuba diving lessons are offered in the pool.
Kids ages 4 to 12 can participate in daily supervised entertainment, and there are shows, live music, and evening entertainment for adults and families, as well.
Address: J.E. Irausquin Blvd 79, Noord, Aruba
4. Manchebo Beach Resort & Spa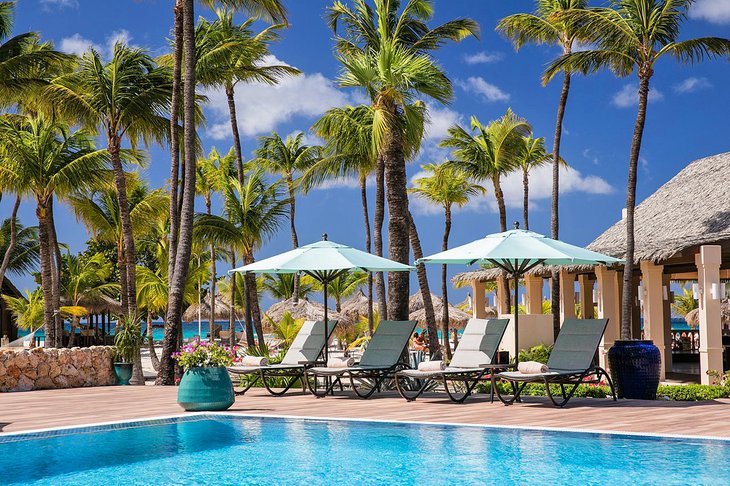 Accommodation: Manchebo Beach Resort & Spa
Set away from the high-rise hotels on Aruba, you'll find Manchebo Beach Resort & Spa on a wide expanse of beachfront property on Eagle Beach, complete with swaying palm trees and palapa huts. The resort prides itself on its focus on wellness and environmental preservation.

This boutique resort offers 72 rooms and an all-inclusive option for guests who choose it. Pick from ocean- or garden-view rooms, each appointed with a private balcony or patio. Updated bathrooms include zero-entry showers and rainfall shower heads.

Guests can relax at Spa del Sol, located on the beach, and participate in wellness programs in the on-site gym, such as complimentary yoga and Pilates classes, plus personal trainer sessions and health retreat options. Relax at the beach or pull up a lounge by the pool.
The resort boasts four restaurants: a Caribbean grill, a steakhouse, a Japanese restaurant, and a Mediterranean bistro. For health-conscious guests, there are many vegan and vegetarian options, and chefs are happy to accommodate specific dietary requests.

The resort features an electric car to transport guests to locations around town, and there is a small shop on-site.
Address: J.E. Irausquin Blvd 55, Oranjestad, Aruba
5. Amsterdam Manor Beach Resort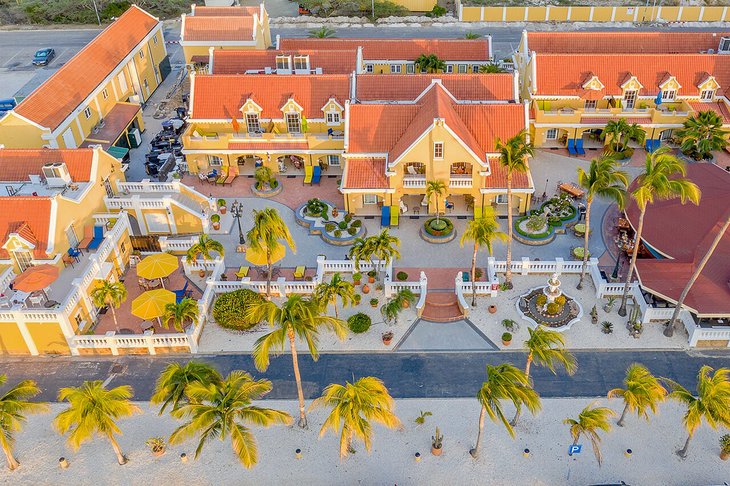 Accommodation: Amsterdam Manor Beach Resort
Families, singles, couples, and friends will find something to enjoy at Amsterdam Manor Beach Resort, a 72-room resort in Aruba's Low Rise Hotel Zone located across from Eagle Beach.
The resort's Dutch Colonial-style architecture, with its cheerful golden facade and tangerine roof, invites guests to stay in six different types of studio or suite accommodations, all with kitchenettes, and many offer separate sleeping spaces for families. Amsterdam Manor Beach Resort is also pet-friendly, so you won't need to leave your best friend at home.
The resort offers a pool with a waterfall feature and a separate kids' pool, and guests can use the complimentary beach and pool lounge chairs, as well as floats for the beach, which is located just a few steps away.

Your all-inclusive experience grants you access to two on-site restaurants, including one right on the beach. Guests also enjoy turndown service, bicycle rentals, and complimentary snorkeling gear. There is a small market and gift shop, as well as on-site laundry services and room service.
Address: J.E. Irausquin Blvd 252, Oranjestad, Aruba
6. Divi Aruba Phoenix Beach Resort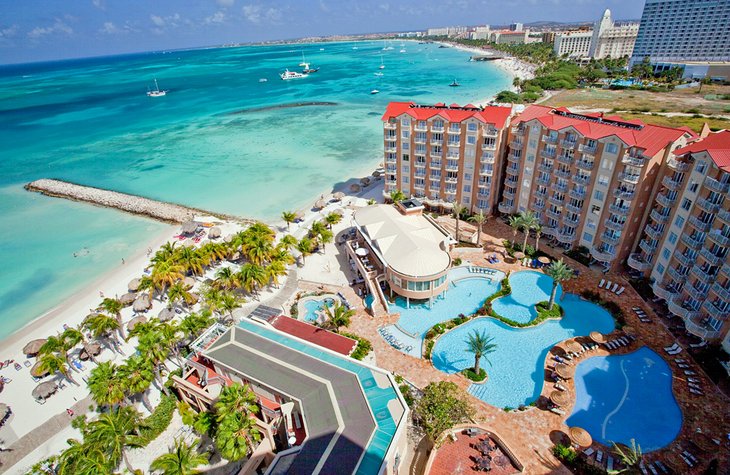 Accommodation: Divi Aruba Phoenix Beach Resort
Hugging the turquoise waters of the Caribbean coast with a wildlife sanctuary in the back, this four-star all-inclusive resort provides a memorable Aruba vacation for families and couples.
Guests may select from accommodations including studios or suites with one, two, or three bedrooms, each with a kitchen, large windows, and either patios or private balconies overlooking the sea.

Beach lovers will enjoy the palapa-style cabanas and hammocks that sway in the ocean breeze. Divi Aruba Phoenix Beach Resort offers two pools and hot tubs, plus a children's pool.
Your all-inclusive package grants you access to two on-site open-air restaurants, and additionally a deli for a quick snack or treat, as well as limited room service. Pool and beachside entertainment is always on the menu.

Adventure-minded travelers will enjoy the multitude of sports, poolside games, bicycle rentals, a nine-hole golf course at Divi Golf Village, lighted tennis and basketball courts, and a fitness center. There are regularly scheduled kids' and family activities, too.
Address: J.E. Irausquin Blvd 75, Noord, Aruba
7. Divi Dutch Village Beach Resort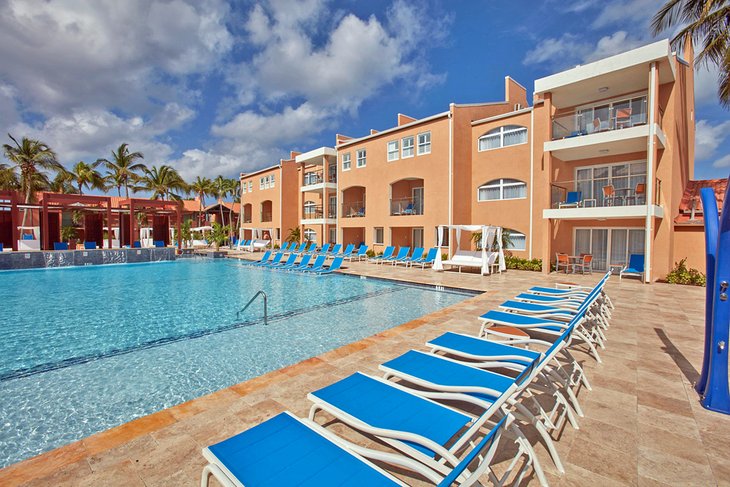 Accommodation: Divi Dutch Village Beach Resort
Divi Dutch Village Beach Resort is a mid-range, family-friendly resort with an all-inclusive option, located near the Palm and Eagle beach area in Aruba.
The resort has recently been updated and includes four suite options: king efficiencies, studio suites, or one- or two-bedroom suites. Most of these accommodations have kitchens equipped with refrigerators and microwaves, as well as a private deck or balcony. Wi-Fi access is free.
An all-inclusive plan includes the use of amenities not only at Divi Dutch Village Beach Resort, but also at Divi Aruba All Inclusive Resort, including swimming at a variety of pools and hot tubs; free golf at The Links at Divi Aruba; and the use of snorkeling and windsurfing equipment, catamarans, and kayaks.
There are regularly scheduled fitness classes, including yoga, Zumba, and water aerobics; a 30-foot rock climbing wall; a tennis court; a beachfront fitness center; and a shuttle service to local sites.
All-inclusive dining grants guests access to the on-site American beach grill restaurant at the resort, as well as four additional restaurants at the sister property.
Address: J.E. Irausquin Blvd 47, Oranjestad, Aruba
8. Tamarijn Aruba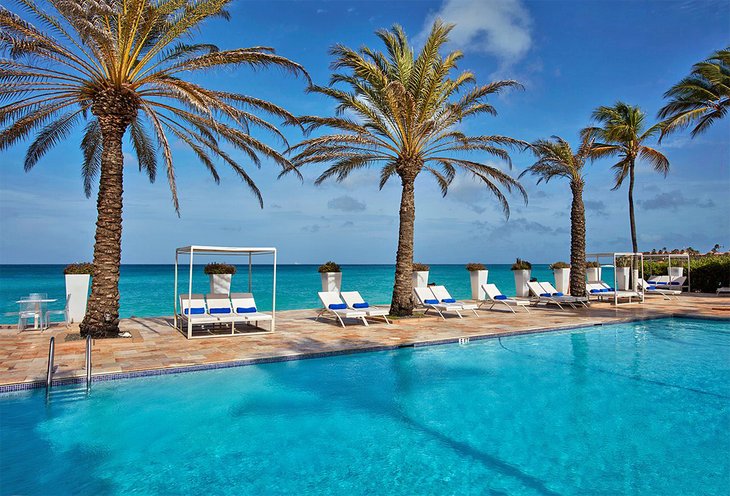 Accommodation: Tamarijn Aruba
The newly renovated Tamarijn is a two-story all-inclusive resort fronting Aruba's mile-long Druif Beach, on the island's west coast. The resort's updated rooms are appointed with modern furnishings in a honey-toned and Caribbean blue color palette. Each room offers a balcony or patio with oceanfront views. Free Wi-Fi is available.
Guests can sample their way through 10 separate dining options, swim at four separate freshwater pools, and treat themselves to a beachfront full-service fitness center offering regular fitness classes.
Or, partake in water sports such as snorkeling, catamaran sailing, kayaking, and windsurfing (clinics are offered for beginners hoping to learn these skills while on vacation). You can also arrange for electric mountain bike (e-bike) tours, and more.
The resort also boasts a 30-foot climbing wall, from the sandy beach to the sky. Entertainment is scheduled nightly, from music to themed shows.
For families traveling with children, there's a supervised Sea Turtles Club for kids ages 5 to 12, including activities like face painting, arts and crafts, and games ideal for introducing kids to new friends.
Address: J.E. Irausquin Blvd 41, Oranjestad, Aruba
9. Holiday Inn Resort Aruba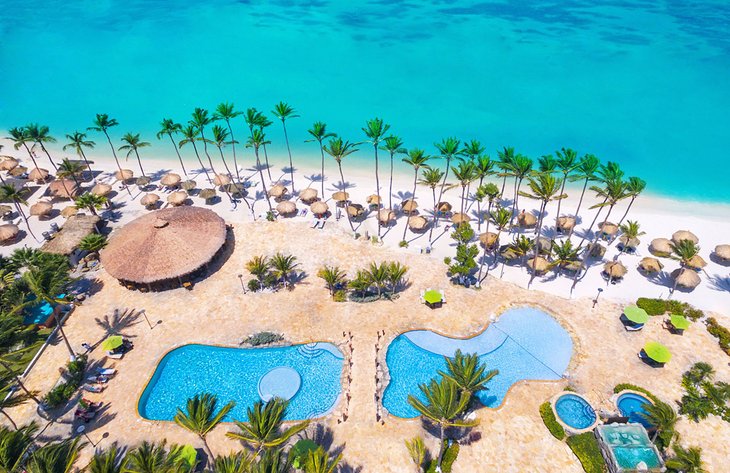 Accommodation: Holiday Inn Resort Aruba
Lush green lawns, picture-perfect palms, and crisp linen sheets welcome visitors to Aruba at this familiar and beloved international hotel brand: the Holiday Inn Resort Aruba on Palm Beach.
This resort, which offers an all-inclusive option, features nearly 600 guest rooms in three towers situated on a quarter mile of white-sand beaches and is frequently selected by families, couples, and group travelers.

Rooms include pillow-top mattresses with private patios and balconies, some overlooking the beach. Wi-Fi access is complimentary.

The resort has a coffee bar, buffet, beachside and open-air grills for casual dining, pizza shop, as well as an upscale Italian restaurant and in-room dining. Your all-inclusive option includes three daily meals in the on-site restaurants.

The Holiday Inn offers an on-site spa, as well as sailing and snorkeling cruises, beach safaris, and kayak and paddleboat rentals. There are four tennis courts, a basketball half-court, a 24-hour fitness center, complimentary bike rentals, three pools, and an on-site gift shop.
Enjoy daily planned activities—both for adults and for kids at the dedicated kids' club on-site.
Address: J.E. Irausquin Blvd 230, Noord, Aruba
10. Divi Aruba All Inclusive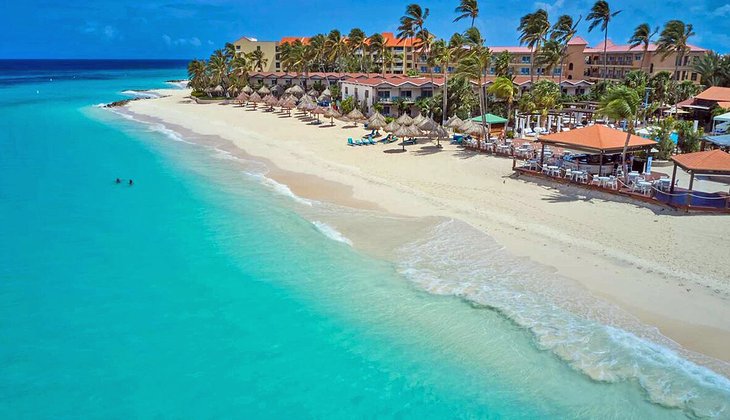 Accommodation: Divi Aruba All Inclusive
Pull up a chair on the mile-long Druif Beach at Divi Aruba All Inclusive and let the vacation vibes wash over you.
Divi Aruba caters to couples and families throughout its programming, where you can style your vacation as relaxing or as exciting as you'd like. Your all-inclusive package means you'll choose from 10 different restaurants for all your meals and snacks.

Guest rooms include balconies or patios, many with ocean views. Complimentary Wi-Fi is included with your stay.

Resort amenities include four freshwater pools plus non-motorized water sports like snorkeling, catamaran sailing, and windsurfing. Guests can use the lighted tennis courts at its sister property, Tamarijn Aruba.
Enjoy the new oceanfront fitness center, and challenge yourself with a 30-foot rock climbing wall right on the beach. Electric mountain bikes (e-bikes) and private tours are available for booking.
Enjoy evening entertainment like theme shows, participate in limbo contests, or take salsa dancing lessons.
Address: J.E. Irausquin Blvd 45, Oranjestad, Aruba
11. Divi Village Golf and Beach Resort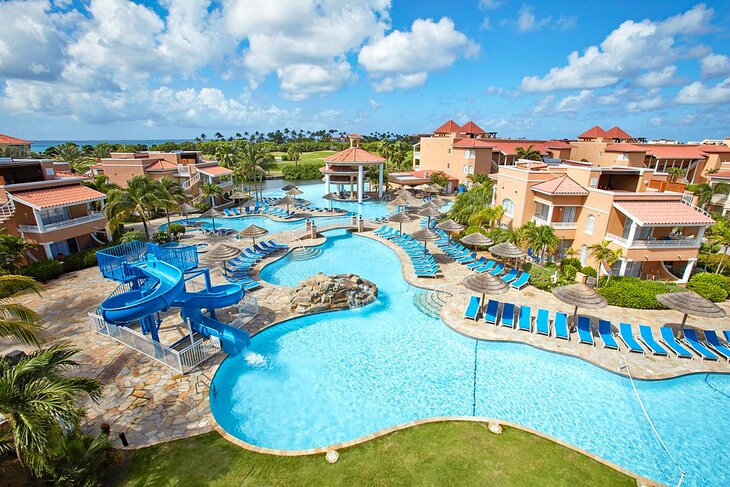 Accommodation: Divi Village Golf and Beach Resort
Offering an all-inclusive package that shares amenities with the neighboring Divi Resorts, the Divi Village Golf and Beach Resort is a 4-star, all-suite property. Many guests like the size of the rooms here combined with the ability to take free shuttles to the restaurants at the other Divi properties for more variety when it comes to dining.
Accommodations come in several configurations. There are oversized studio suites as well as one- and- two-bedroom suites with full kitchens that are great for families. There are also villas available. Rooms have a contemporary Caribbean-style vibe with tile floors and large windows.
Amenities on-site are also plentiful. There is a 9-hole golf course on-site, and guests have free access to it before 3pm. This hotel is not directly on the beach, but it is just across the road from a white sand beach and guests have access to palapas and sun-loungers here.
The resort also has three freshwater swimming pools, tennis courts, a water sports center, and a gym. If you are traveling with the family, there is a kids' club. The spa has a full range of services.
Grab a meal at one of the three on-site restaurants.
Address: J.E. Irausquin Blvd 93, Oranjestad, Aruba
Best Times to Visit Aruba
Unlike many Caribbean vacation destinations, Aruba sits outside the hurricane belt, so you don't have to worry about storms. In fact, the island doesn't even have a rainy season. It is just 15 miles off the coast of Venezuela, and despite having stunning beaches, is also a desert climate that sees only 15 inches of rain per year.
This ideal climate makes it a perfect vacation destination, as you'll be unlikely to have much more than a passing shower, if any rain at all, on your holiday. Aruba also doesn't get the sweltering summer heat of other Caribbean isles. It is graced by nearly constant trade winds, so you get the warmth of the sun without the intense humidity. As such, Aruba is a great year-round travel destination.
Rates vary throughout the year. Like most places, you'll pay more around holidays including Christmas, Thanksgiving, and Spring Break. And prices don't drop as much in the summer as in other destinations because of the lack of hurricanes.