Aruba in Pictures: 15 Beautiful Places to Photograph
Rugged and rocky in parts, sedate and serene in others, Aruba offers photographers many moods to capture with their cameras. Head to the island's east coast for pictures of weathered shores and wind-whipped waves, or venture deep into its red-earthed heart, where the colors and textures of the cactus-studded desert come alive for the camera.
If it's idyllic beaches and tropical beauty you seek, you'll find it along the island's west and south coast, where Aruba's best beaches shine for the lens. Here, turquoise, jade, and aqua seas slosh gently upon the gleaming white shores, and sculptural divi divi trees tell the story of the trade winds.
You'll find that many of Aruba's top attractions also make perfect photo subjects, from Oranjestad's colorful Dutch-colonial architecture to the glistening, green Natural Pool. Wherever you point your camera in Aruba, you'll find beautiful places to photograph.
1. Eagle Beach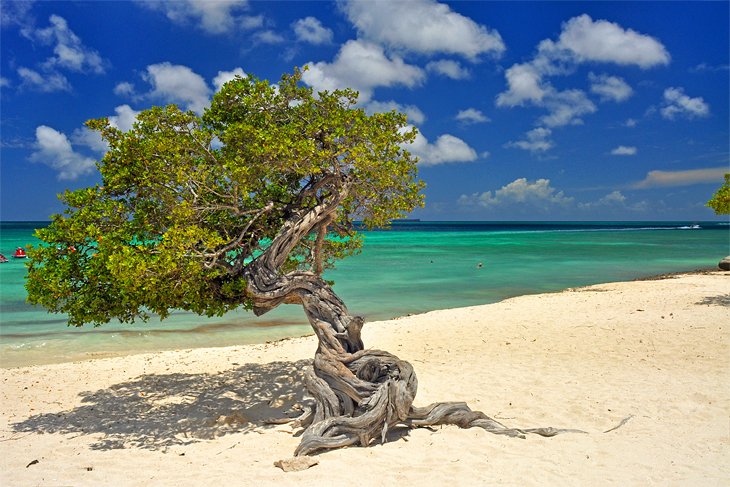 Always leaning in a southwesterly direction due to the island's trade winds, the contorted divi divi trees at the northern end of Eagle Beach star on many of Aruba's tourist brochures. Their sculptural beauty makes an excellent photographic subject. For the best shot, focus on one of the trees, placing it in the foreground, with the white sand and jade-green sea in the background.
Accommodation: Top-Rated Beach Resorts in Aruba
2. Oranjestad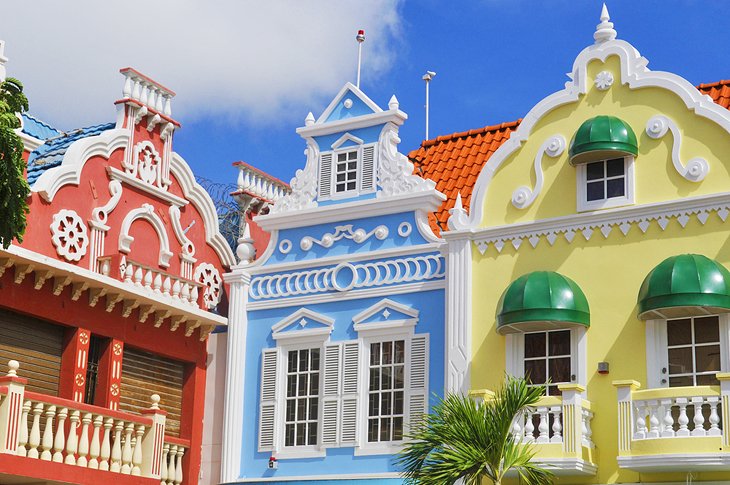 It's hard not to take a great photo of the quaint Dutch-style buildings in Aruba's capital Oranjestad. Trimmed in white, their pretty periwinkle blue, lemon, and pink facades pop against the blue Caribbean sky.
3. Pink Flamingo Island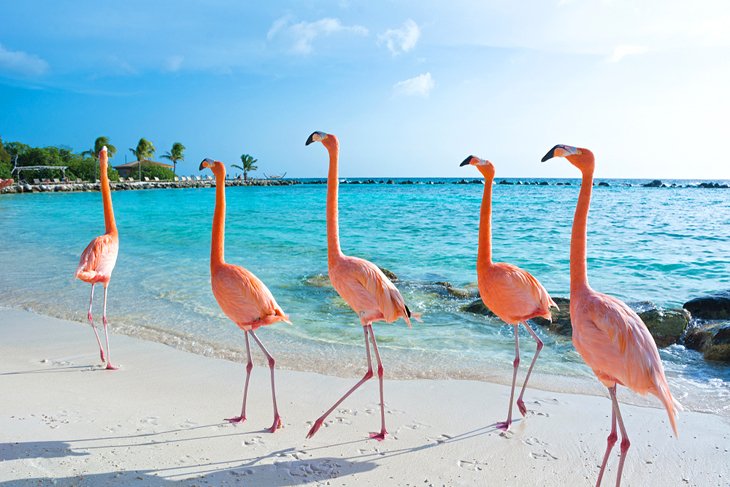 Salmon pink flamingos strutting along the sand is not something you expect to see in the Caribbean. But head to Flamingo Beach on the Renaissance Hotel's private island, and you can capture pics of these flamboyant creatures all day. The island is only a short boat ride away from the capital, Oranjestad, but you'll need a day pass to access the island unless you're a paying guest.
4. Casibari Rock Formation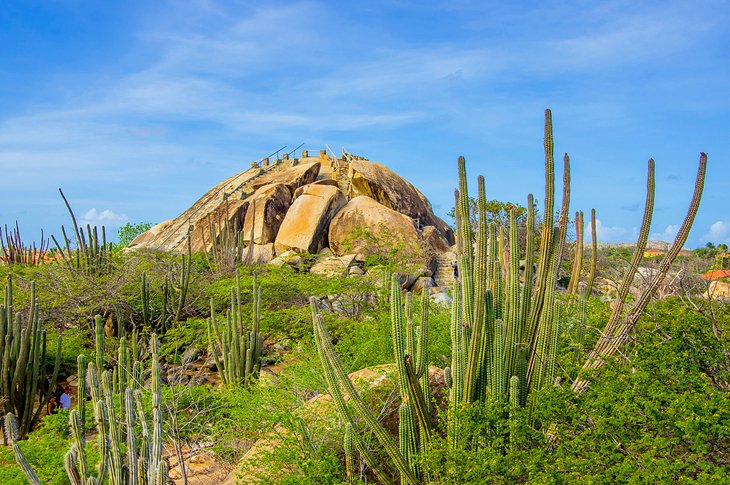 Smooth, golden, and weathered by trade winds, these giant rock formations resemble huge domes cracked into pieces. Photographed against a brilliant blue sky, these bizarre landforms make a beautiful photo, framed by cactus and apple-green foliage. Climb to the top of the rocks for panoramic photos of the surrounding landscape.
5. Alto Vista Chapel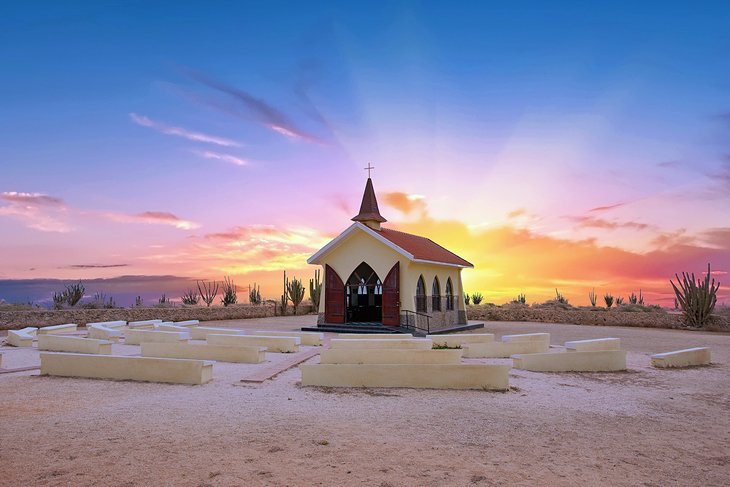 Known as the golden hour, the last blush of light just before sunset is a magical time for photographs. It's also a beautiful time to capture an image of Aruba's Alto Vista Chapel, perched high above the sea. Aim your camera towards the setting sun as the late rays of light cast their glow over the pink sky. Once you snap a shot, soak up the serene setting and stay a while to wander through the Peace Labyrinth.
6. Malmok Beach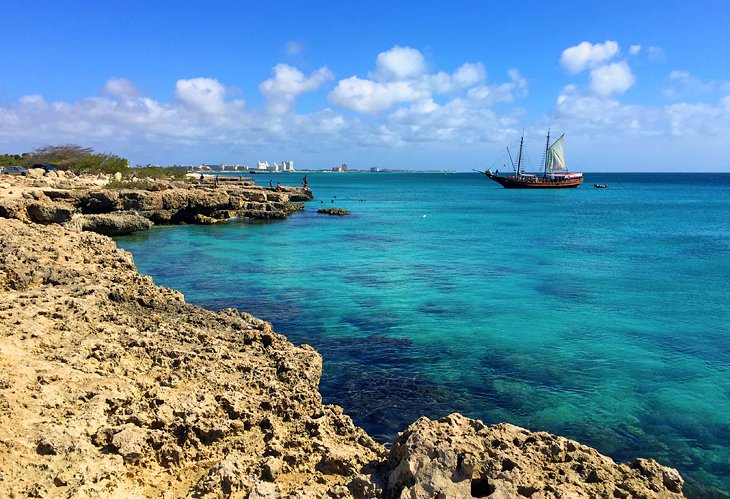 Ahoy, maties! Head to rocky Malmok Beach to capture photos of the Jolly Pirates cruise gliding by the craggy shore and crystal-clear water. Snorkeling and sightseeing cruises on this pirate ship replica are one of the top tours on Aruba. Don't forget to bring your underwater camera - Malmok is also one of the top snorkeling spots on the island. You can also explore the rusted hull of the Baboo shipwreck just offshore.
7. California Lighthouse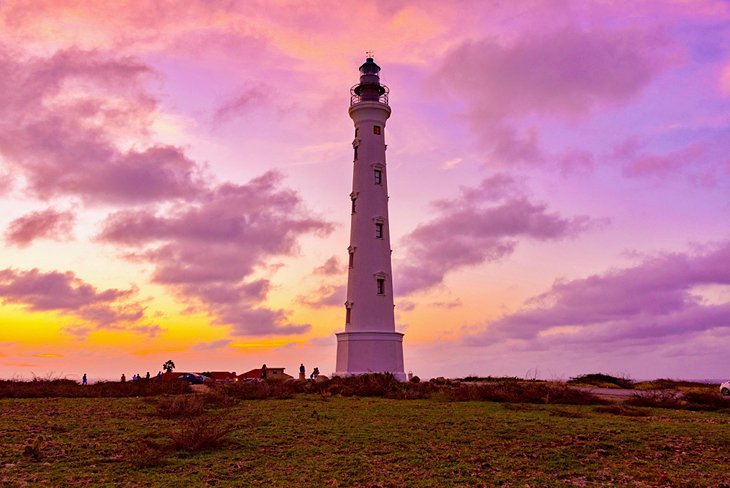 At sunset, the pink, purple, and orange sky steals the show in this photo of the California Lighthouse. By day, the white structure pops against a blue sky, but the dwindling light of dusk imbues the scene with drama, as the lighthouse stands in silhouette against the moody sky.
8. Snorkeling Sites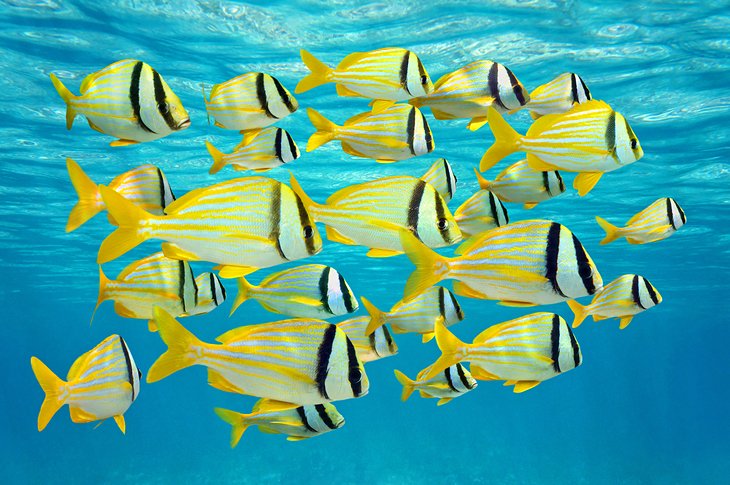 Nature's subaquatic color palette paints a striking scene, and this image of yellow-striped porkfish against the cerulean sea is beautiful in its simplicity. Bring your underwater camera to capture some of Aruba's most colorful scenery. Macro photographs of marine life can be beautiful, and patterns on the colorful fish also make an interesting photographic subject.
9. Arikok National Park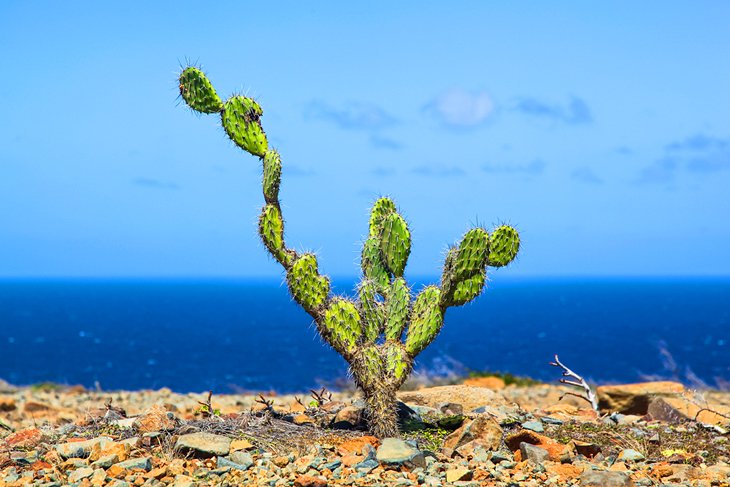 Head into the wilderness to snap photos of the island's wilder side. Red-earthed desert makes a vivid contrast against a cobalt sea and blue sky on Aruba's rugged east coast, where Arikok National Park comprises more than 20 percent of the island. Waves thrash on windswept beaches, and the rubbly red roads lead to cactus-studded deserts that are best explored in 4WD vehicles.
10. Druif Beach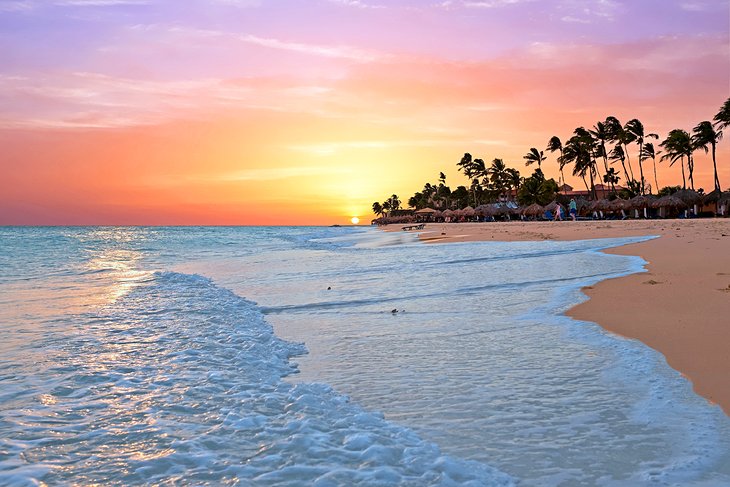 Sunset imbues a scene with a whole new color palette. In this image, Druif Beach glows in the last light, the sky washed in shades of lavender, orange, and gold. Sunset photography also creates shadows; here the palms are silhouetted against a fiery sky, standing like sentinels as the lacy sea foams on the shore. With calm, clear waters, Druif Beach is a perfect spot for swimming, beach volleyball, and a sunset stroll.
11. Aruba Aloes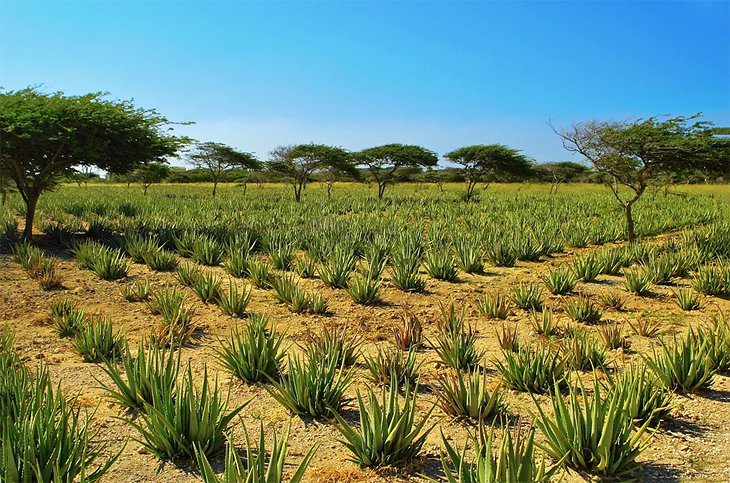 Patterns in nature make an intriguing photographic subject. At the Aruba Aloe farm, you can capture the repetition of aloe plants lined up in rows, or zoom in tightly to snap a close-up of the leaves. During a factory tour, you can watch staff extract the gooey gel, learn about aloe's health benefits, and purchase soothing aloe-based products.
12. One Happy Island Sign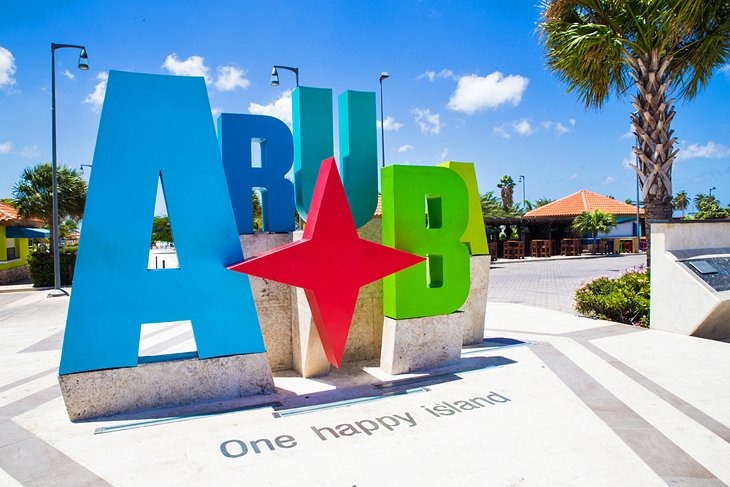 Bursting with bright colors, the iconic Aruba tourism sign captures the colorful vibe of the island. Chartreuse, red, turquoise, sky blue, and electric green make a striking color combination, and the giant letters are a popular backdrop for family vacation pics.
13. Natural Pool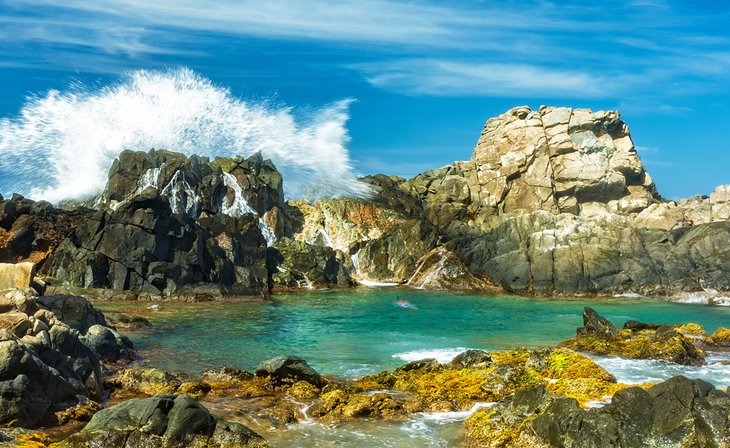 Embraced by weather-beaten rocks, the natural pool is a popular attraction in Arikok National Park. It's also a beautiful spot to photograph on a sunny day, when the emerald-green water glistens in the bright light, and foamy surf splashes against the rugged rocks. You can access the pool down a rocky dirt road - 4WD tours here are one of the top excursions in Aruba.
14. Manchebo Beach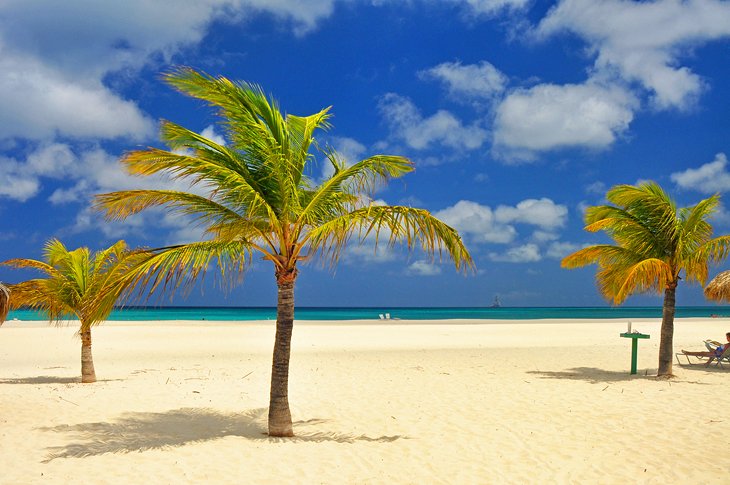 More secluded than busy Eagle Beach nearby, Manchebo Beach is the perfect spot to photograph classic scenes of coconut palms sprouting from powdery blond sands. Jade-green water and puffy clouds scudding across a deep blue sky complete the idyllic scene.
15. Guadirikiri Cave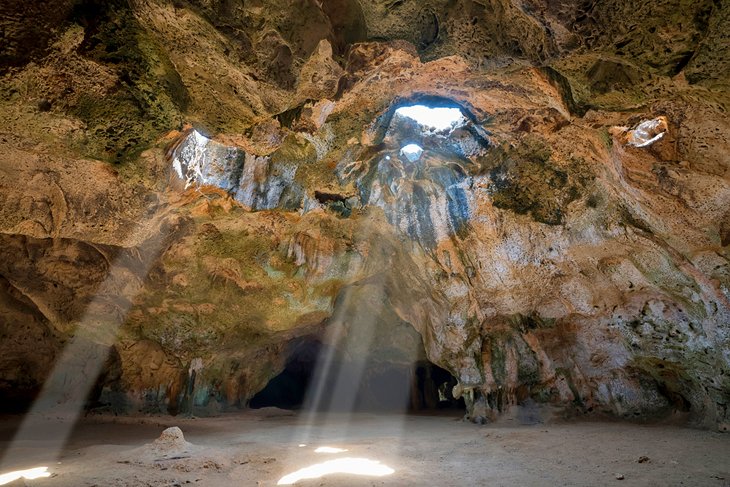 Tired of photographing beaches? Head to Guadirikiri Cave (also known as Quadirikiki Caves), where rays of light beam through the roof, illuminating the interior with a heavenly glow. One of three such caves in Arikok National Park, 100-foot Guadirikiri Cave's comprises two chambers and is a nesting site for colonies of small bats.