16 Top-Rated Tourist Attractions in Antigua and Barbuda
Antigua and Barbuda boast some of the most beautiful beaches in the Caribbean. Antigua proudly proclaims it has "a beach for every day of the year," and Barbuda, Antigua's sleepy sister island, is also blessed with some pristine stretches of pink-tinged sand sprinkled with chic resorts.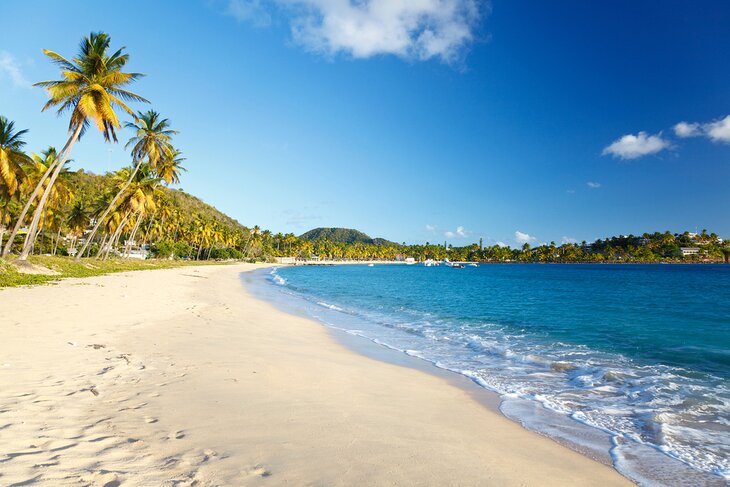 Antigua draws the majority of visitors and has a plentiful selection of beautiful resorts. Many tourists arrive at the cruise ship port in the colorful capital of St. John's, where shopping, museums, and historic buildings are the prime attractions. Animal lovers can swim with friendly stingrays.
Peaceful Barbuda has less than two percent of the islands' combined population. Seclusion seekers and nature lovers cherish the tranquility, while birders love the fabled frigate sanctuary.
Water sports abound on both islands; diving, swimming, fishing, sailing, and windsurfing are all popular things to do, and golfers will find a couple of scenic courses on Antigua.
Plan your perfect Caribbean getaway with our list of the top tourist attractions and places to visit in Antigua and Barbuda.
1. Shirley Heights Lookout, Antigua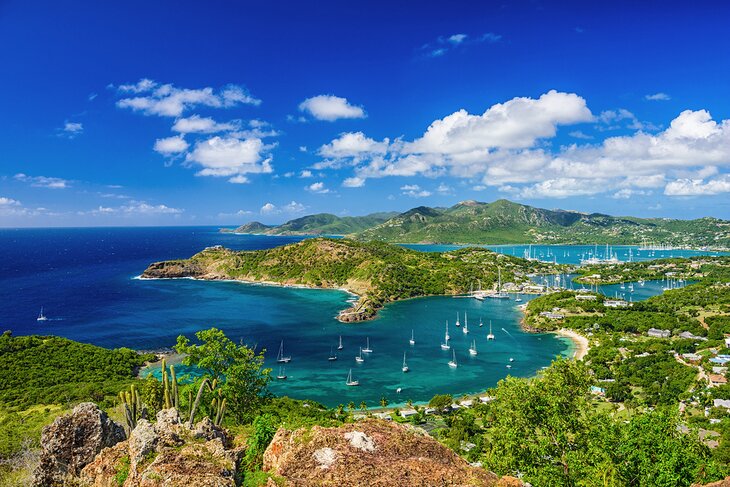 The best view of Antigua is from Shirley Heights Lookout, which towers above the island's southernmost point. A former military lookout, this picturesque attraction lies 490 feet above sea level, rewarding tourists with panoramic vistas of the "best view in Antigua." Both English and Falmouth Harbors can be glimpsed below.
This is also home to a restored gun battery, guardhouse, parade grounds, officers' quarters, and other interesting reminders of the area's past. The restaurant is a real draw for those who enjoy the taste of fresh local dishes while being serenaded by steel drum music.
If you're looking for romance during your couples' vacation, head here before dusk. This is the best place to watch a sunset.
Visiting Shirley Heights Lookout on a Sunday evening is one of the best things to do in Antigua, especially for families. Live music, fabulous food, and endless fun help locals and tourists welcome the new week ahead from 4pm to 10pm. It's so popular that they've added Reggae Heights, a dinner and music event on Thursday afternoons.
Address: English Harbour, Antigua
2. Stingray City, Antigua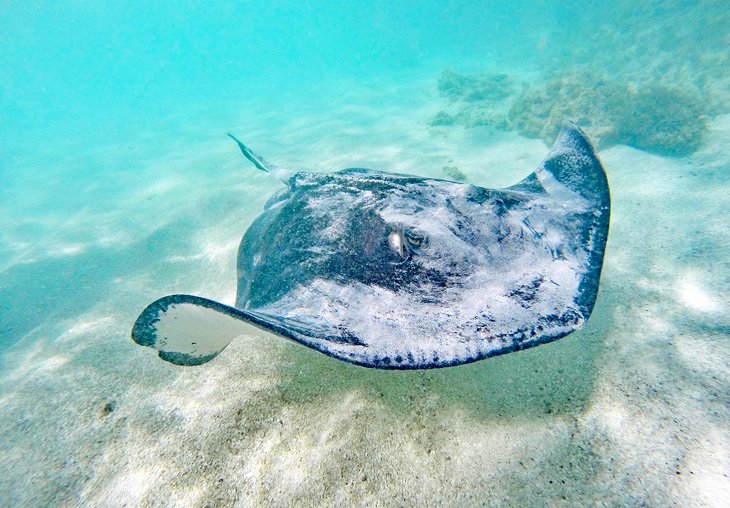 If you have a lifelong fear of stingrays, this fun face-to-face adventure should banish those fears forever.
A five-minute speedboat ride off the island's east coast, Stingray City is a shallow pool with a sandy bottom amid a tropical reef, where hundreds of friendly southern stingrays glide through the crystal-clear waters waiting to be fed by visitors. The trip to Stingray City is one of the most popular things to do in Antigua.
Depending on your comfort level, you can stand, swim, or snorkel with stingrays, and after your encounter, you can explore the surrounding coral reefs. Feeling their smooth, satiny bodies brush against your skin is a highlight of this exhilarating adventure.
Be sure to bring the kids along for this adventure, as this is one of the best attractions for families.
3. Nelson's Dockyard National Park, Antigua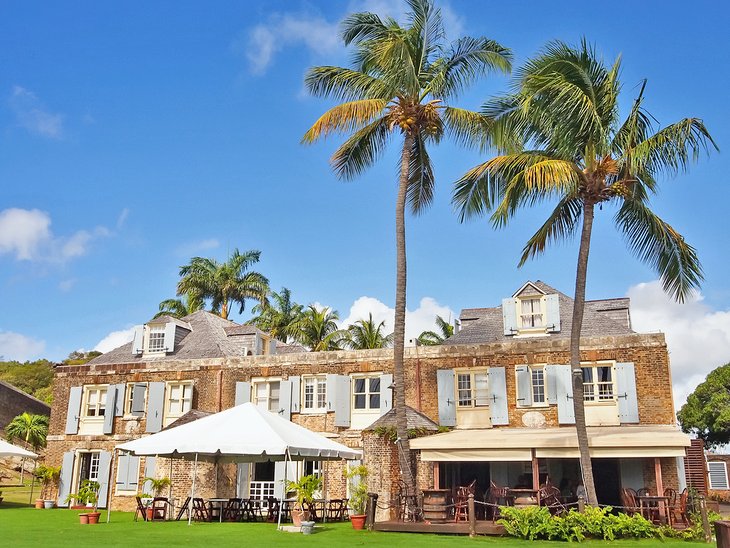 Nelson's Dockyard National Park, in English Harbour, is a hot spot for tourists, packed with multiple attractions. Its main claim to fame is that it remains the only continuously operating Georgian dockyard in the world — it's home to Antigua's former 18th-century British Naval Dockyard, which was inscribed on UNESCO's World Heritage List in July, 2016.
During a visit, you can learn more about the dockyard's rich history at The Dockyard Museum in the former Admiral's House Museum. But you can also soak up the ambience by wandering around all the beautifully restored stone warehouses, which contrast strikingly with the glitzy superyachts in the marina. Most of these old buildings are now home to hotels, restaurants, shops, and galleries.
If you want to explore a little further afield, the area is also home to some of the island's best nature trails, which lead to historic forts with panoramic views. Perched on the hilltop at Shirley Heights, Fort Shirley, offers the best vistas (bring your camera), and you can also hike to Fort Berkeley, at the west entrance to the harbor.
The park is also home to 18th-century Clarence House, originally built for the future King William IV, and you can watch a fascinating multimedia presentation on the island's history at the Dow's Hill Interpretation Centre, along the Lookout Trail near Shirley Heights.
4. Valley Church Beach, Antigua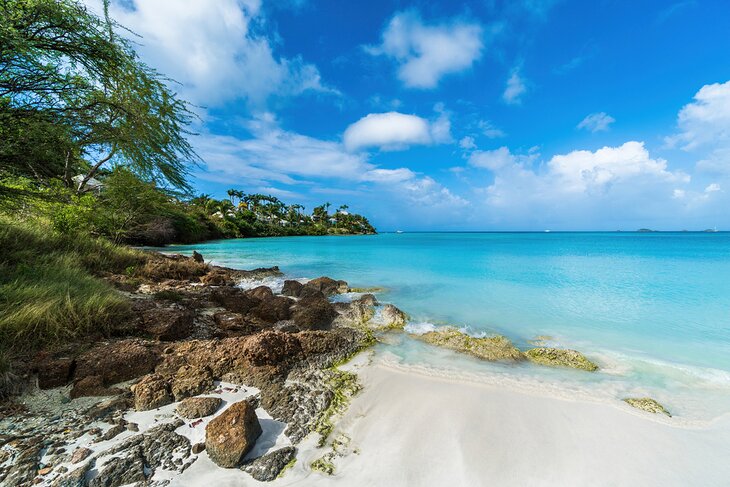 It's easy to see why Valley Church Beach is deemed one of the best places to visit in Antigua. Based on the edge of Jolly Harbour on Antigua's southwest coast, this fab beach boasts everything you'd hope for in a dream beach vacation: sugar-white sand, turquoise waves, and tall palm trees whose leaves provide much-needed shade on hot afternoons.
Tourists love to swim in the warm and crystalline sea, lounge on the sand, or enjoy a meal at one of the beachside restaurants. Restrooms, as well as chair and umbrella rentals, are available on-site, making it easy to spend an entire day here.
Add some romance to your couples' beach vacation by visiting at a quieter, off-peak time. You can avoid the cruise ship clientele by arriving early in the day (ideally before 11am) or after 4pm.
5. Devil's Bridge: Indian Town National Park, Antigua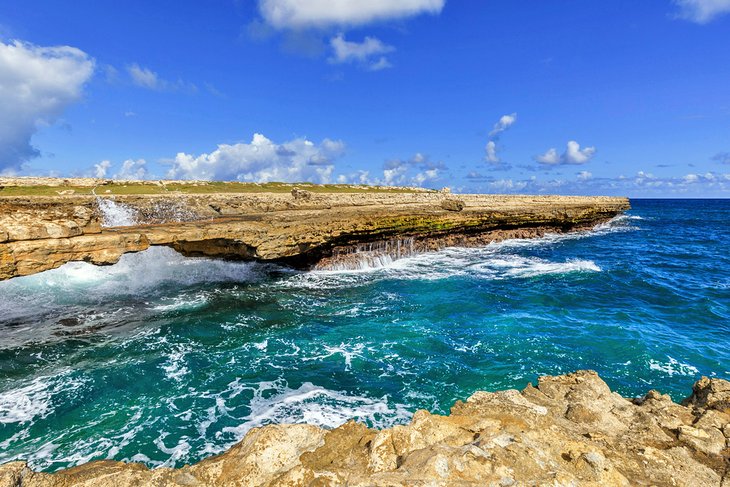 Along the rugged northeast coast, the dramatic scenery of Indian Town National Park features the natural limestone Devil's Bridge, sculpted over the centuries by the pounding surf. At high tide, waves force geysers of water through blowholes in the nearby rock.
The park also offers some rewarding hikes and excellent birding. More than 36 avian species roost in the park among the acacia trees, and the eastern point of the park is believed to have been an Arawak campsite.
Be careful if you're traveling as a family, as there are no safeguards set up in this locale. You'll have to hold on tightly to your children's hands.
You should expect to spend about 30 minutes admiring the view and wandering around this small but captivating point of interest.
Location: Northeast shore, Antigua
6. Betty's Hope, Antigua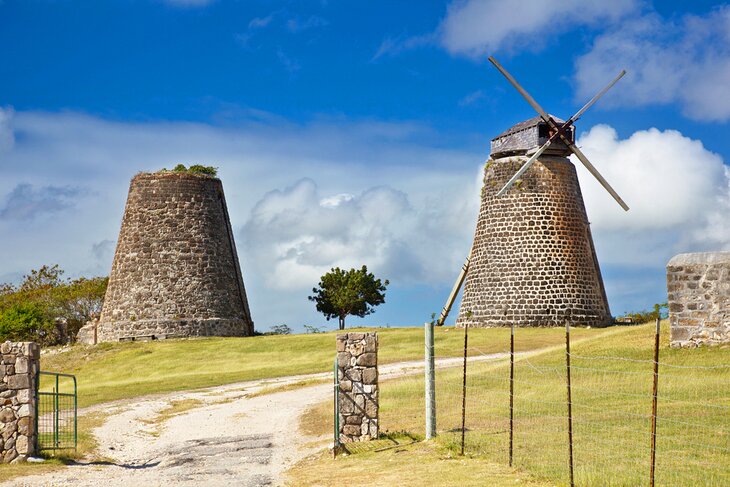 History buffs will drool over a visit to Betty's Hope. A former sugar plantation, this attraction is peppered with ruins that date to the mid 1600s.
These include a set of two stone windmills, one of which has been fully restored to its sugar mill state, with updated sails. This was once the largest sugar plantation on the island, and visitors will be amazed by the sheer size of some of the remaining structures.
Today, these buildings and their accompanying museum stand as monuments honoring the hundreds of slaves who worked here prior to their emancipation. A visit will enlighten tourists about the area's colonial past.
The museum, which is housed in the former cotton house storeroom, is interesting and worthy of a visit. It lies atop a hill, just outside Pares Village.
Note: The museum is closed Sundays.
Address: Pares Village, St. Peter's, Antigua
7. Half Moon Bay, Antigua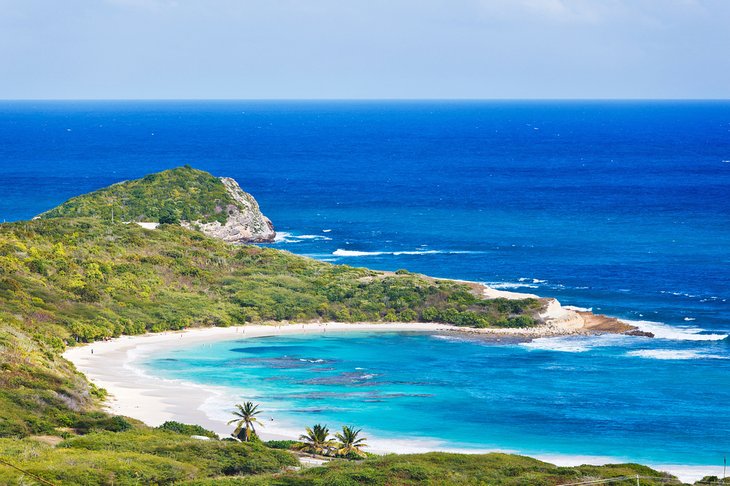 At the southeastern end of Antigua, Half Moon Bay is fringed by one of the Caribbean's most beautiful beaches. Protected by a reef, this idyllic crescent of fine white sand and azure sea resembles a crescent moon, hence its name.
The beach is backed by natural foliage and offers excellent snorkeling on calm days, making it a great spot for families. That said, when the wind is up, the surf can be rough, so keep hold of children.
This pretty area boasts 132 acres of oceanfront and 3,200 feet of soft, white sand, not to mention a lush national park. A small restaurant serves snacks just off the beach, and you can rent chairs and umbrellas here, too.
Note that the beach is difficult to find, so a GPS will come in handy. Its secluded status means you won't have to share the beach with too many tourists, adding to its relaxing and romantic allure. Leave before sunset to ensure you can return to your hotel safely.
8. Darkwood Beach, Antigua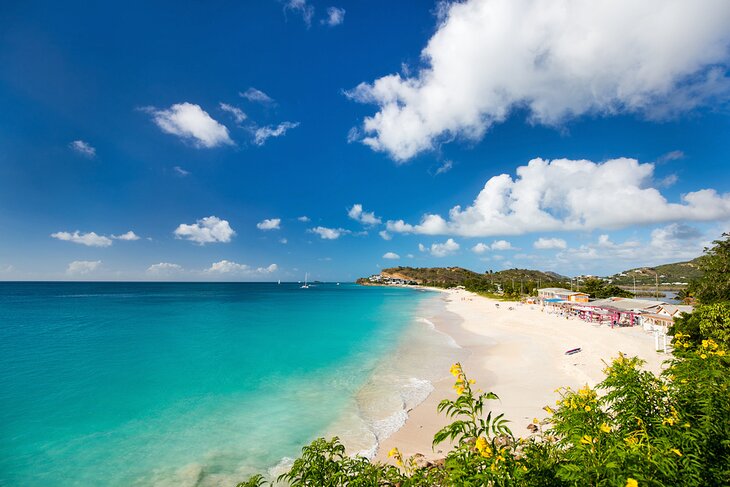 If you're hoping to spend an entire day by the shore, we've found the perfect place to visit: Darkwood Beach. It's one of the largest beaches on Antigua's southwest coast, and the soft tan sand and offshore coral reef make this one of the most sought-after beaches, too.
There is plenty of room to stretch out for a day, as well as a restaurant serving up refreshing drinks and tasty meals. Sun loungers and umbrellas can also be rented on-site. If you're expecting to eat quickly, don't. This is the Caribbean after all; things happen at a more relaxed pace.

Kids will love the inflatables course in the water, as well as the multitude of sea creatures on show while snorkeling close to shore. Couples will enjoy the peaceful environment and silky soft sand. Arrive in the morning, and you'll have the beach pretty much to yourselves.
Insider's tip: Weekends tend to get busier, with locals vying for a spot on this idyllic beach, so if you're looking for a quieter, more romantic experience, visit during the week.
9. Dickenson Bay, Antigua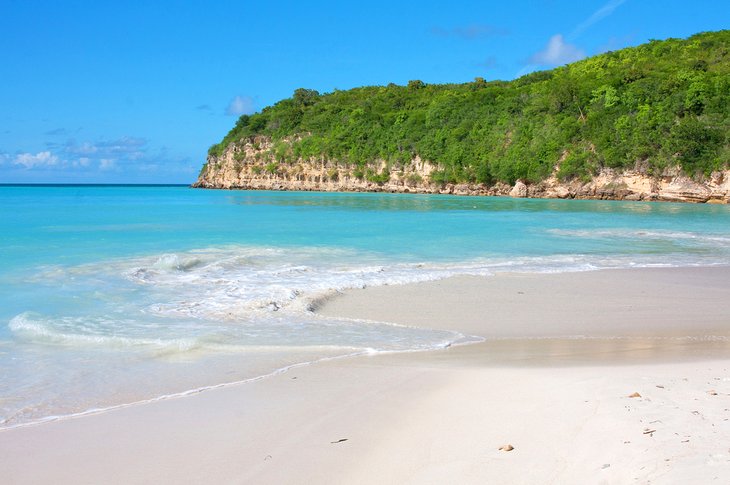 In the far northwest of Antigua, Dickenson Bay is one of the most popular and beautiful beaches in Antigua. You'll find everything you need here for a relaxing — or invigorating — day by the sea.
Resorts and restaurants line this mile-long stretch of powdery white sand, and you can try your hand at a full range of water sports. Protected by an offshore reef, the bay is great for swimming, and you'll find activity booths along the sand renting everything you need for other aquatic activities, including jet skiing, snorkeling, and kayaking. The bay is also the hub for Antigua's windsurfing scene.
If you just want to stake a spot on the sand and stare out at the mesmerizing blue sea, you can rent sun loungers and umbrellas. Dickenson Bay is also home to the iconic red phone booth, which features in many a tourist's Instagram photo op.
After a day in the sun, you can feast on fresh seafood at one of the restaurants overlooking the beach or book a relaxing massage along the shore.
Dickenson Bay is also home to some of the island's most popular resorts, including Sandals Grande Antigua Resort & Spa and Siboney Beach Club.
10. Museum of Antigua and Barbuda, Antigua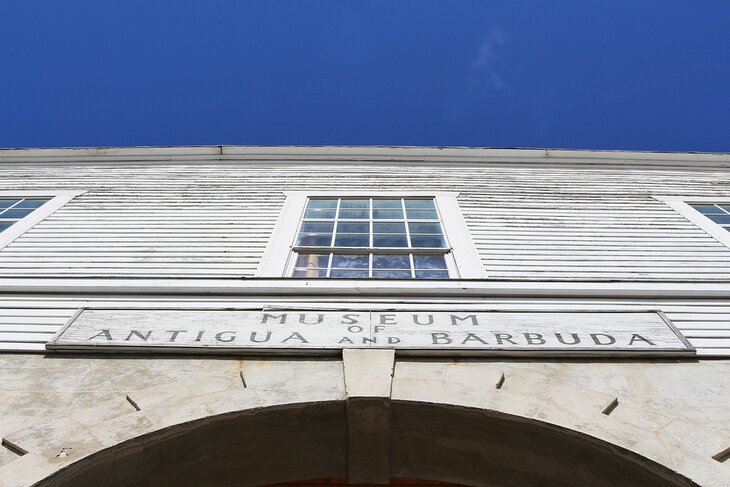 The Museum of Antigua and Barbuda is a great place to visit to get a feel for the history of these beautiful islands.
You don't need much time here. The exhibits are all contained in one room, and they cover topics such as the island's geological origins, colonial history, slavery, archeology, sports, and political independence in 1981.
Highlights include a full-scale replica of an Arawak dwelling, as well as pottery, weaving, tools, and exhibits on the islands' different ecosystems. The museum is located in the former 18th-century Courthouse in St. John's.
Address: Long Street, St. John's, Antigua
11. St. John's, Antigua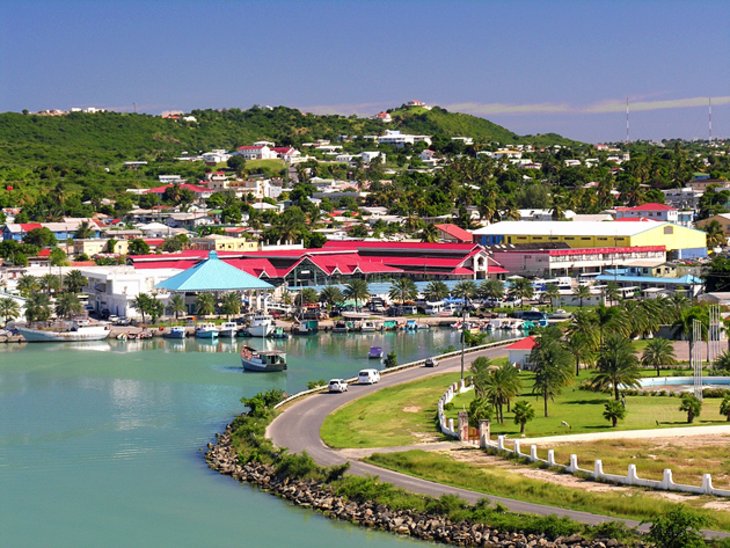 St. John's, the capital city and cruise ship port of Antigua and Barbuda, is a kaleidoscope of candy-hued colonial cottages and market stalls piled high with tropical fruits and flowers.
Looming above the skyline are the white neo-Baroque towers of St. John's Cathedral, one of the city's most distinctive buildings. It is currently undergoing a thorough restoration.
For an overview of the island's history, head to the petite Museum of Antigua and Barbuda in the 18th-century former Court House, and to soak up more stories from Antigua's past, take a stroll around Betty's Hope, the 17th-century ruins of the island's largest sugar plantation. A small museum here highlights the lives of the slaves who built it.
Since the capital is a popular cruise ship stop, it's no surprise that shopping is one of the most popular things to do in St. John's, Antigua. Duty-free shops abound at Heritage Quay, souvenir stalls beckon from touristy Redcliffe Quay, and the lively harborside public markets are the place to be on Fridays and Saturdays.
For beautiful city and harbor views hike the steep trail to Fort Barrington, built to protect St. John's from the French.
12. Frigate Bird Sanctuary, Barbuda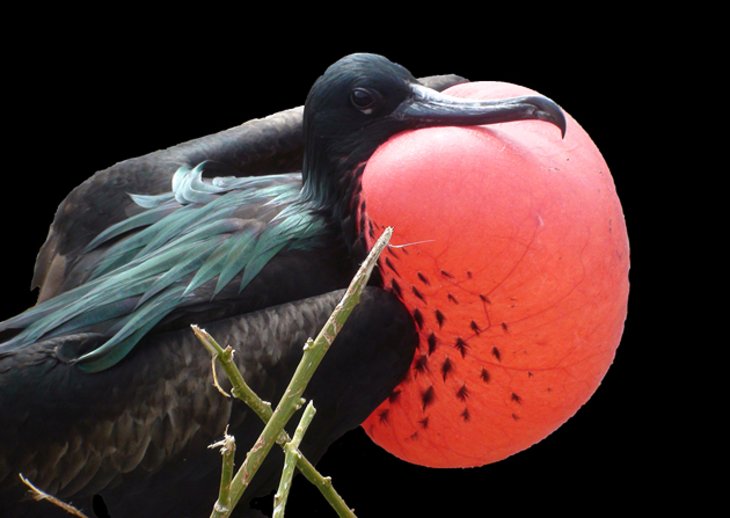 Barbuda's Frigate Bird Sanctuary is a haven for birders. Accessible only by boat, the bird sanctuary lies in Barbuda's northwest lagoon and is home to one of the largest nesting colonies of frigate birds in the Caribbean.
These large sea birds are known for their bright red gullets and one-and-a-half-meter wingspan. The reserve also attracts about 150 other species of birds such as herons, cormorants, and pelicans.
13. Fig Tree Drive, Antigua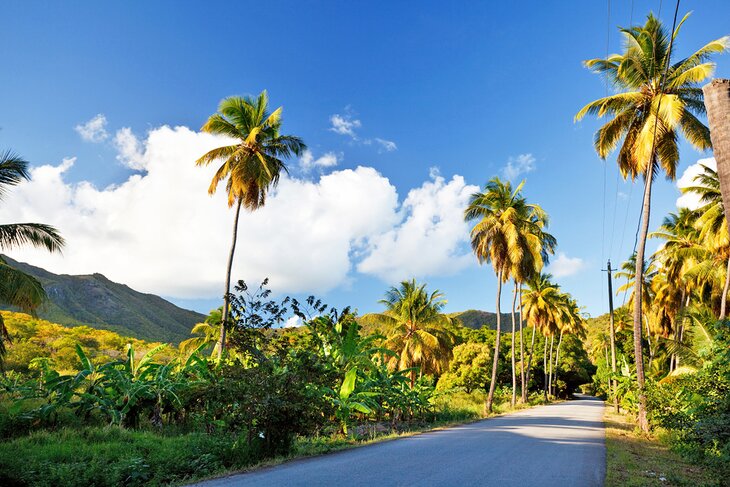 Along Antigua's southern coast, Fig Tree Drive winds through rainforest, farmlands, and fishing villages. This picturesque drive offers a glimpse of local life. Banana trees (called "figs" by the locals), mango trees, and coconut palms dot the landscape, as well as the ruins of sugar mills. Look for the roadside stands selling fresh-picked fruit — especially the super juicy pineapples.
Along the route, the Fig Tree Studio Art Gallery sells vibrant local art, and if you're looking for something more active, stop by Antigua Rainforest Zipline Tours for an exhilarating canopy tour.
14. 17 Mile Beach, Barbuda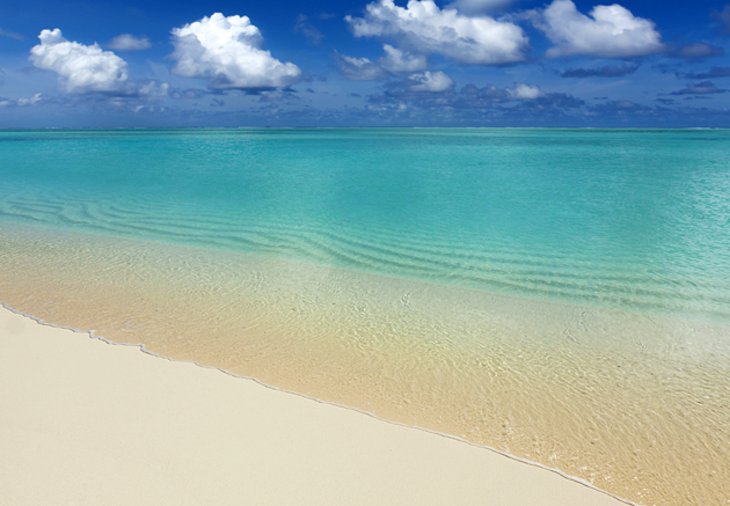 Those who lay eyes on Barbuda's 17 Mile Beach, will probably never see a more ravishing stretch of coast. Lapped by pale aqua seas, this stunning stretch of pink-tinged sand separates the Barbuda lagoon from the Caribbean Sea and impresses even the most jaded of beach connoisseurs.
Strolling along these sublime shores is one of the most popular things to do in Barbuda. The sand here is soft as flour, and its remote location means you can walk for miles and not see another soul.
Getting to 17 Mile Beach: You can either access the beach by boat, or if you prefer a bird's-eye view, fly over it in a helicopter. Tours often include a delicious lunch on the beach. You can also combine a visit here with a stop at a nearby frigate bird colony. Both these attractions are popular Antigua day trips.
Insider's Tip: This beach has no facilities — and no shade — so if you're not on an organized tour, you should bring your own food and water, as well as plenty of sun protection.
15. Martello Tower, Barbuda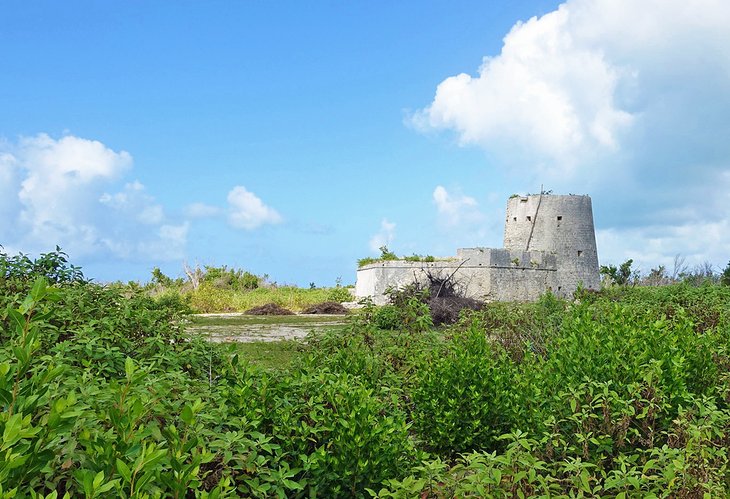 The 17-meter-high Martello Tower is the tallest building in Barbuda and an important landmark on the island. The British constructed these defensive buildings all over the British Empire, and this particular structure is thought to be the oldest of its kind in the Caribbean.
The tower lies on the beach at River, a few miles south of the village, and was built by the British in the early 19th century on the site of a previous fort that was probably constructed by the Spanish.
In 2017, the tower's strength was tested, when Hurricane Irma walloped the island, destroying 90 percent of Barbuda's structures. The Martello Tower was one of the few left standing.
Today, the thick stone walls and gun platform of this small defensive fort are mostly intact, and the ruins are attached to the remains of the previous fort. You can't climb the tower, but you can scale the back section and soak up sweeping views along the coast.
16. Darby Cave, Barbuda
Darby Cave, caused by dissolution of the limestone, is one of Barbuda's most intriguing natural features. Although it is often described as a cave, the site is actually a sinkhole more than 100 meters in diameter.
In contrast to the dry surrounding brush, the lush vegetation flourishing inside resembles a rain forest, with ferns, tall palmetto palms, and thick lianas lacing around the tree trunks. Many birds can be spotted amid the foliage. Dripping water has also created stalagmites under the overhang.