Antigua and Barbuda in Pictures: 18 Beautiful Places to Photograph
The islands of Antigua and Barbuda in the Caribbean are home to hundreds of picture-perfect beaches. Backed by stunning turquoise seas and ringed with coral, they make for memorable photos. Fig Tree Drive, Nelson's Dockyard National Park, and Devil's Bridge are other top attractions in Antigua and Barbuda, and they, too, offer opportunities for beautiful images.
You could spend a year photographing a beach a day in Antigua – there are 365 beaches on that island alone. Barbuda is known for its pink-sand beaches and totally secluded vibe – there is just one village on the 62-square-mile island!
Be inspired to take gorgeous pictures with our list of the most beautiful places to photograph on Antigua and Barbuda.
1. English Harbour, Antigua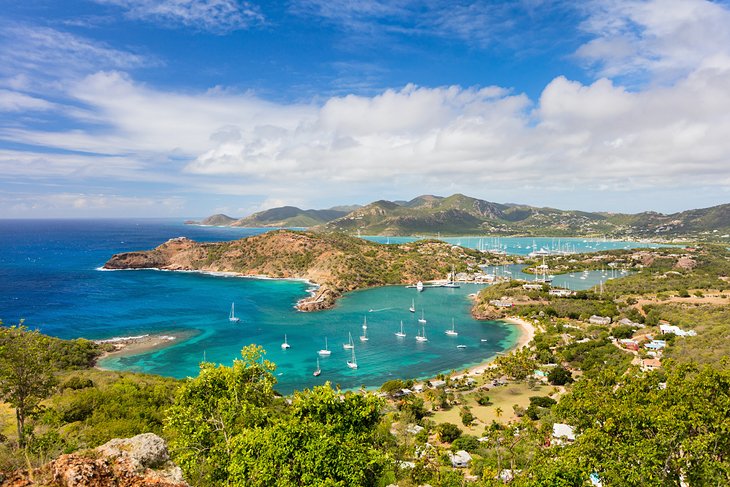 This photo depicts picture-perfect English Harbour in Antigua as photographed from the Shirley Heights lookout above. The restored old British military lookout is at a high point of 149 meters, and the harbor views below are simply stunning. Stay through sunset, when the lights of the harbor below add an extra twinkle to your photograph.
Accommodation: Best All-Inclusive Resorts in Antigua
2. St. John's, Antigua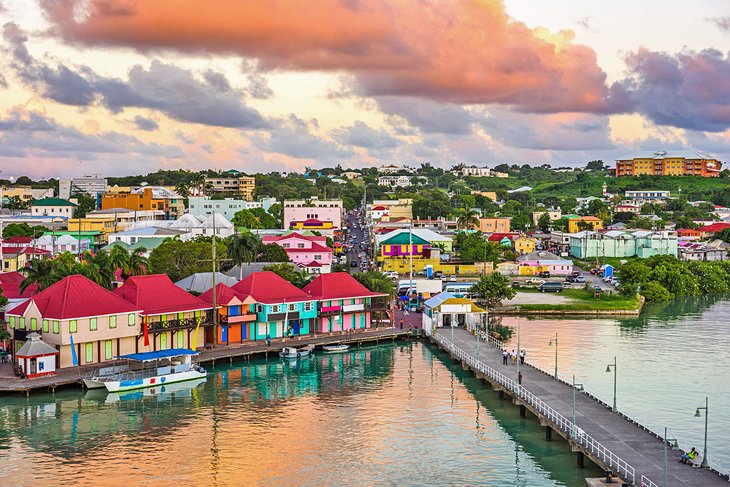 Head to the Antigua port of St. John's at dusk to watch the setting sun and colorful fishing village's reflection mirrored in the sea below. This is the magic hour for photography. For a shot like the one in the above photograph, head to the end of the fishing pier.
3. Pink Sand Beach, Barbuda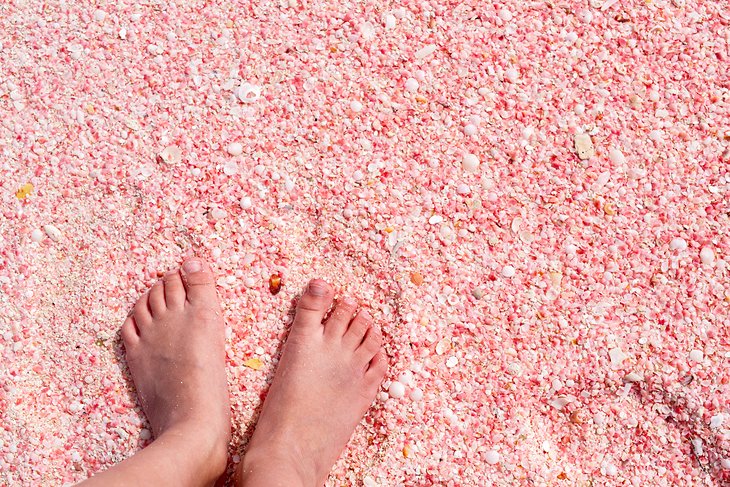 Tiny Barbuda, Antigua's sister island, is home to just one village and a number of pink-sand beaches, like the one pictured above. The color comes from hundreds of thousands of pieces of crushed red and pink coral and shells that live in the reef just offshore from the beach. Contrasted with the turquoise sea, it is a special image indeed.
Antigua's rosy-hued shores are among the best pink sand beaches in the world.
4. Galley Bay, Antigua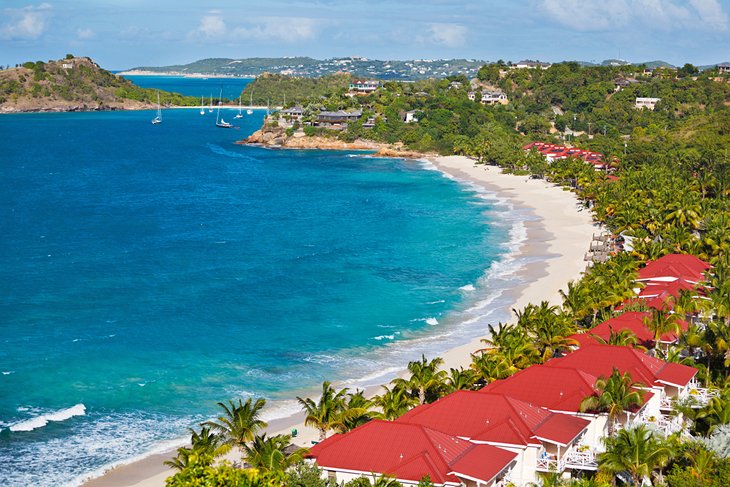 Galley Bay is one of Antigua's most popular beaches and where you'll find a number of Antigua's best resorts. Yet despite the development, Galley Bay still maintains a serene vibe. The turquoise sea is fringed by coconut palms, and as long as the winds are calm, the swimming is good. When the wind kicks up, the kitesurfers play. This is also a great spot to watch the sunset.
5. Ffryes Beach, Antigua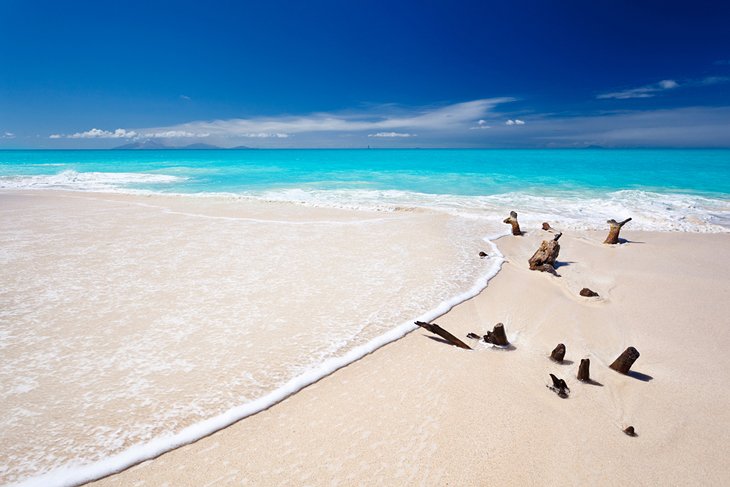 During stormy weather, Antigua's Ffryes Beach, which is strewn with driftwood, makes for a dramatically contrasting image. Under sunny skies, it is equally gorgeous and known for its long stretch of white sand and clear, azure turquoise sea.
6. Betty's Hope Historic Sugar Plantation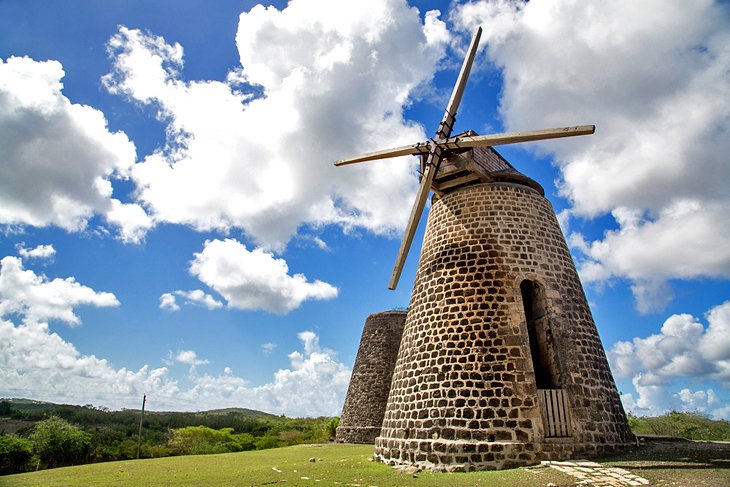 Resembling a windmill, the above photo is actually one of two restored sugar mill towers, complete with a sail, that date back to Antigua's sugar plantation days in the mid 1600s. Today, it has been preserved as the Betty's Hope Historic Sugar Plantation, which is now an educational tourist attraction.
7. Pigeon Beach, Antigua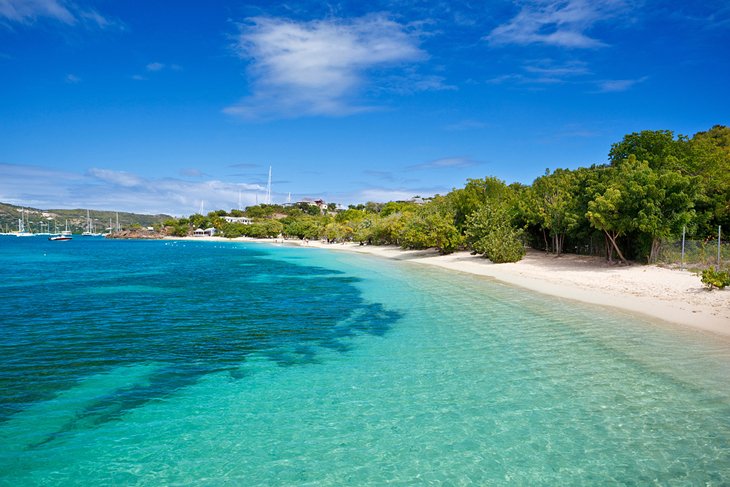 White sand meets clear turquoise water at Pigeon Beach, which is one of Antigua's main public beaches. Locals, especially families with kids, like it here because the water is protected by a reef and quite shallow, making it ideal for little ones to splash around in. The sugary white-sand beach also hosts a couple of laid-back restaurants on the sand to grab a meal at.
8. Fort James, Antigua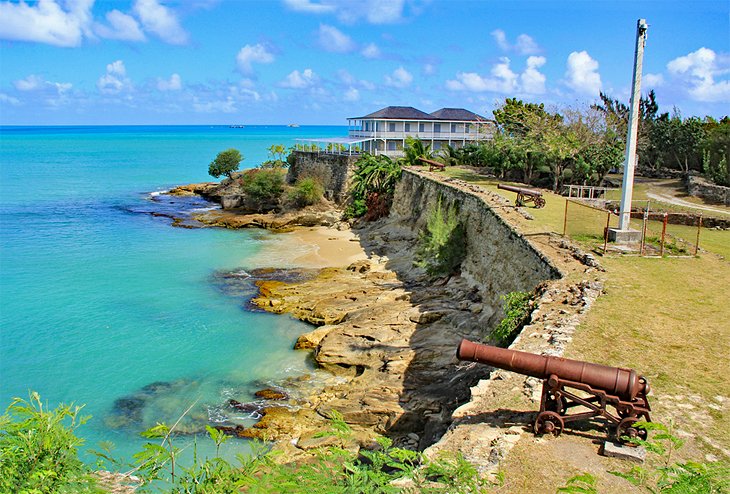 The fire power at historic Fort James, pictured here, was constructed to protect St. John's Harbor in Antigua from invasion. Fort James is one of a number of forts the British constructed on the island in the 1700s, mainly to protect themselves from feared French invasion.
9. Turner's Beach, Antigua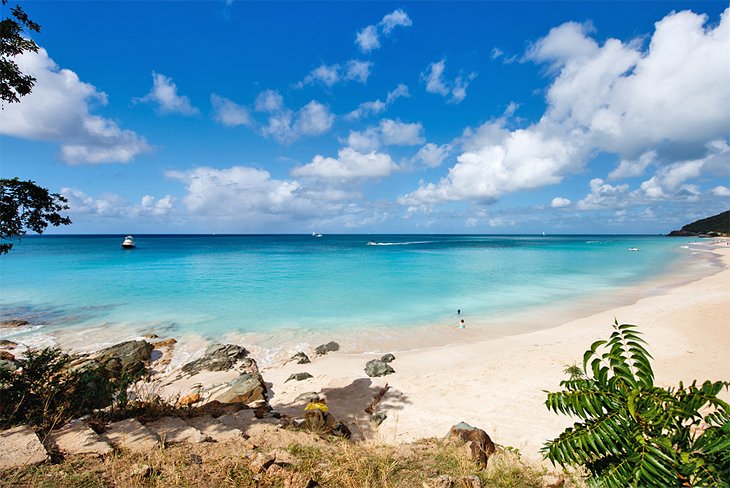 On Antigua's southwest coast near Johnsons Point, Turners Beach is stunning from dawn until after dusk. The location makes for stunning purple-tinged sunsets, but during the day, the beach is just a chilled out place to lay out on the sand or grab a bite to eat at a laid-back restaurant. There are a few places to stay near this beach as well.
10. Nelson's Dockyard, Antigua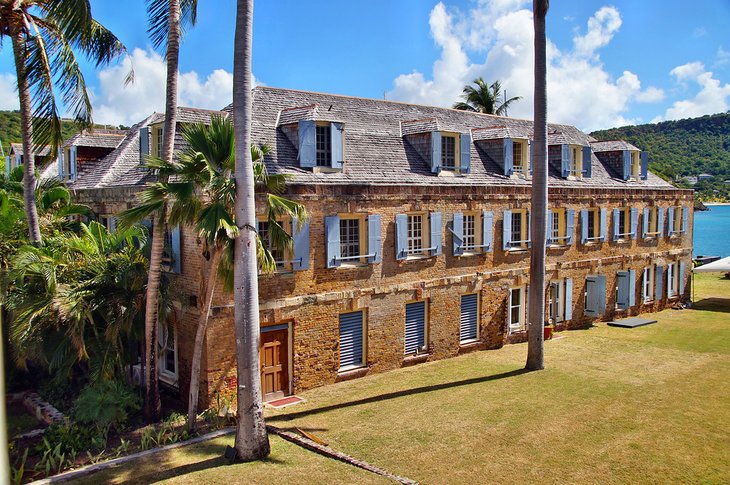 Nelson's Dockyard in English Harbour is a preserved cultural heritage site in Antigua. The dockyard, along with the Clarence House and Shirley Heights, is part of the Nelson's Dockyard National Park, which has also been declared a UNESCO World Heritage Site.
11. Darkwood Beach, Antigua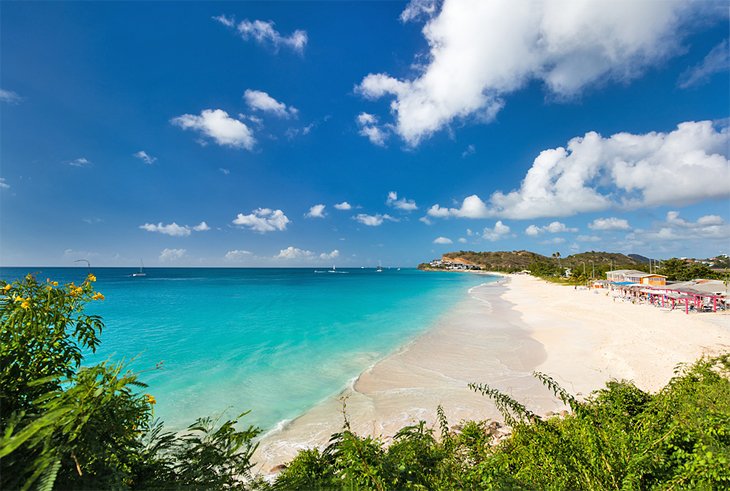 Idyllic Darkwood Beach is best visited in the afternoon, after any cruise ship visitors depart. Then you'll have this gorgeous stretch of white-sand-meets-turquoise-sea coastline mostly to yourself. There is a small restaurant here and also places to rent sun-loungers and umbrellas.
12. Half Moon Bay, Antigua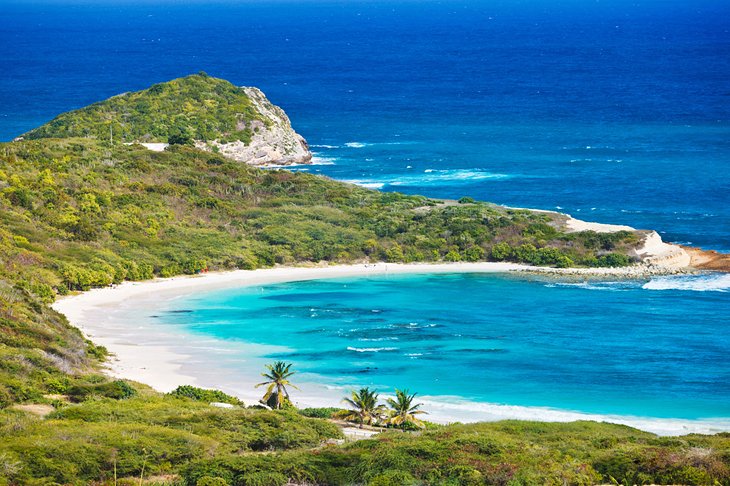 In Antigua, this gorgeous sweeping bay features an almost mile-long, pink-sand beach that is mostly protected by an offshore coral reef. It's about a 45-minute drive from St. John on the Atlantic Ocean side of the isle, and you'll often have the beach to yourself. There are no amenities here, so you'll need to pack a snack and beverages if you visit.
13. Jolly Beach, Antigua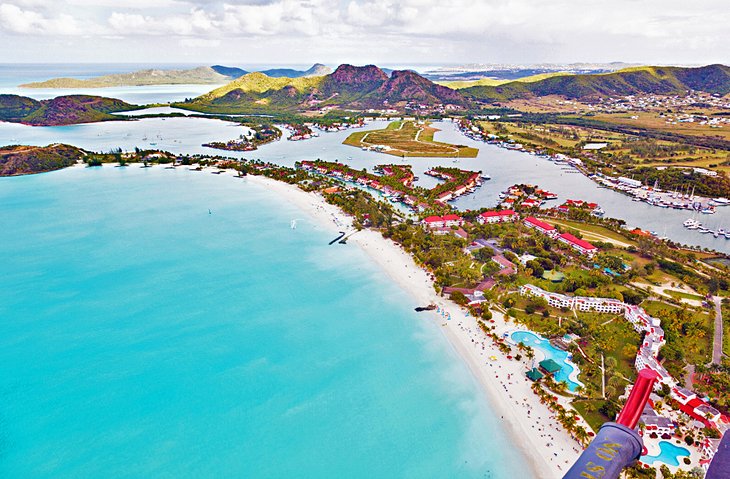 You can reach Jolly Beach and adjacent Jolly Harbour in Antigua by helicopter, as depicted in the photo here, or you can get here just as easily by land. Jolly Beach faces west, which makes this long and wide stretch of white-sand beach an awesome place to photograph at sunset.
14. Dickenson Bay, Antigua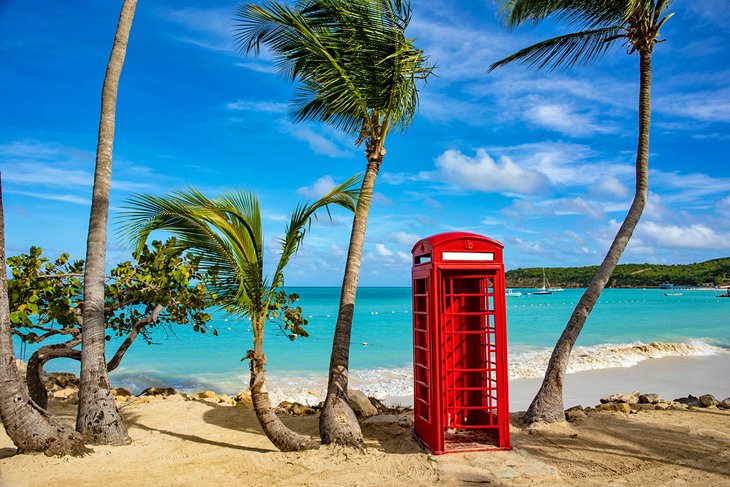 Head to Dickensen Bay on Antigua to snap a photo by the bright red telephone booth pictured above. It makes for quite the contrast against the gold-tinged sand, swaying coconut palms, and turquoise sea. It's definitely an Instagram-worthy snap that is popular with couples on a romantic getaway.
15. Princess Diana Beach, Barbuda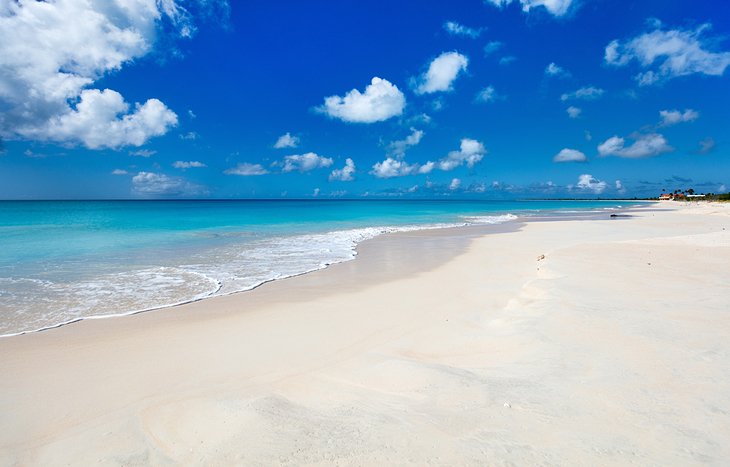 Another gorgeous stretch of pink-tinged sand, Princess Diana Beach in Barbuda is home to sand so soft, it has been described as similar to walking on marshmallows, backed by a warm, clear, turquoise sea. You'll often have the beach to yourself as well.
16. Causeway in English Harbour, Antigua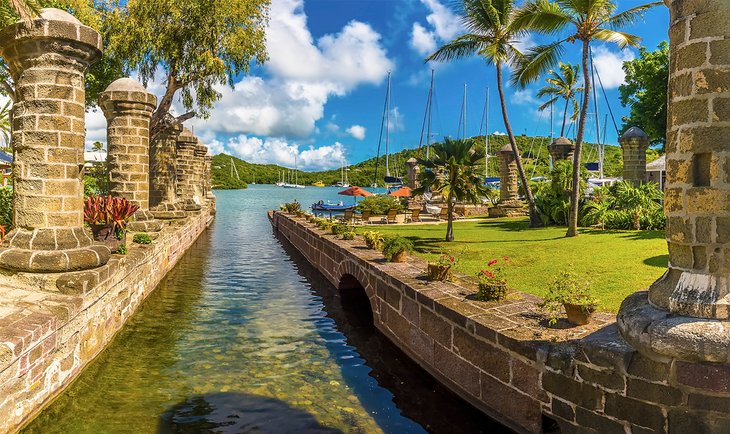 There are so many great spots to photograph around English Harbour in Antigua. We love the panoramic perspective from this causeway leading out to sea. While this photo doesn't have any people in it, the brick columns running along the causeway would also be a great place to pose for an Instagram-perfect picture.
Consider arriving at sunset for even more spectacular colors for with your photo.
17. In a Helicopter Hovering over the Harbor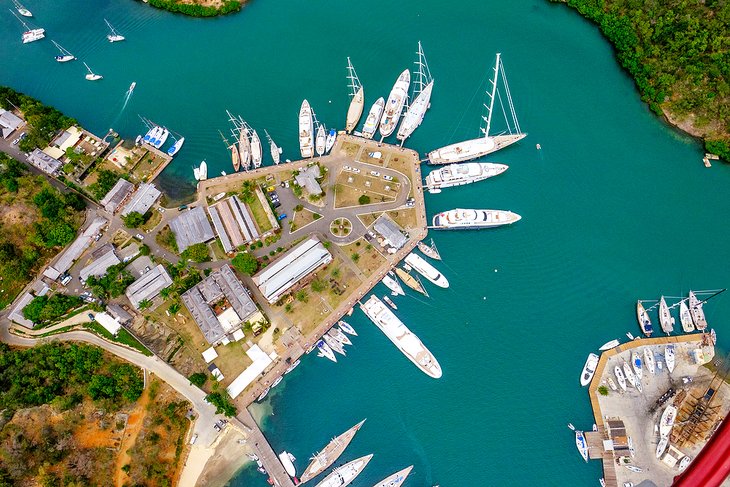 Book a helicopter tour of Antigua to get some awesome island photographs from above, like the harbor and yachts pictured here. Many tours depart from St. John's and consist of a 45-minute flight that includes flying over the Montserrat volcano. There are usually several flight times to choose from, and trips often combine the chopper ride with a 20- or 30-minute island tour.
18. Horseback Riding on the Beach at St. John's, Antigua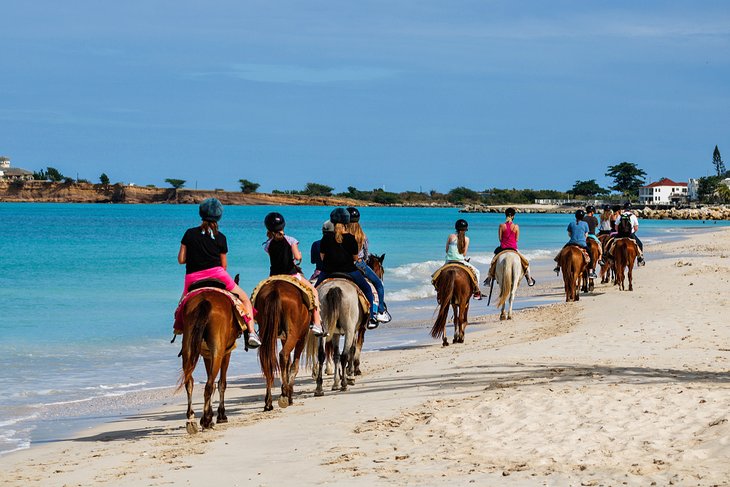 While it is a little harder to snap photos from the back of a horse, a horseback ride along the beach is also beautiful to photograph. This picture is from a ride along the sand at a beach near the port at St. John's.
For the best images, try to either be near the front of the pack but far enough back that you can capture a few horses in front of you, or at the very back, so you can also take photos of the landscape without any other horses in the frame.
Horseback rides usually go along the beach, with opportunities for the horses to dip their hooves into the turquoise water.