Guadeloupe in Pictures: 16 Beautiful Places to Photograph
An archipelago, Guadeloupe is a beautiful Caribbean destination filled with tropical beaches and lush mountainous interiors that all make for picture-perfect photographs.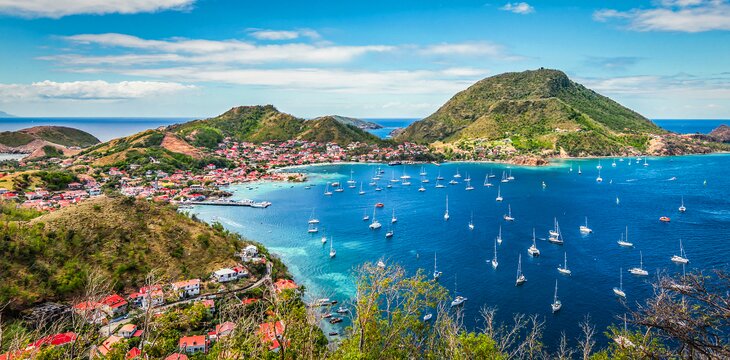 A French oversees territory, this island group is made up of two main islands: Grande-Terre in the east and Basse-Terre, located to the west, where you'll find many of Guadeloupe's tourist attractions and lodging.
There are also photogenic smaller islands like Les Saintes and La Desirade, which offer more natural attractions.
Here are our picks for the best places to take pictures in gorgeous Guadeloupe.
1. Caravelle Beach, Grande-Terre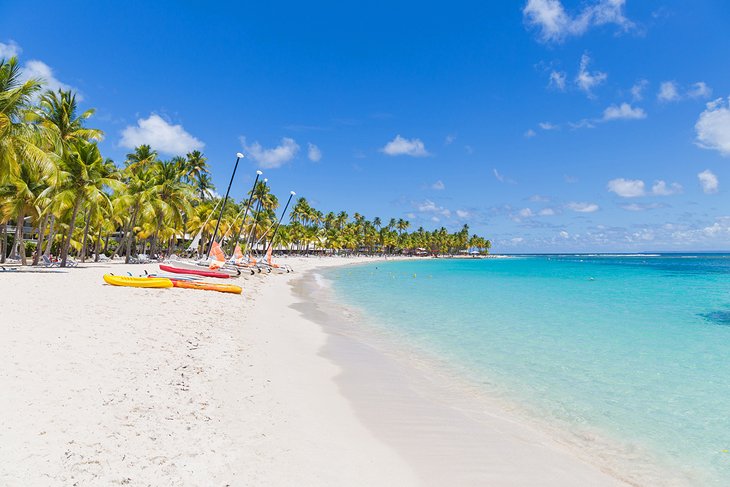 Located just west of palm-fringed Sainte-Anne Beach on Grande-Terre, which is one of Guadeloupe's most popular beaches, is the equally lovely Caravelle Beach, pictured above. It features clear turquoise water and white sand for beautiful images. If you have an underwater camera, you can capture pictures of marine life while you snorkel around the reef just offshore.
2. Jacques Cousteau Underwater Reserve, Basse-Terre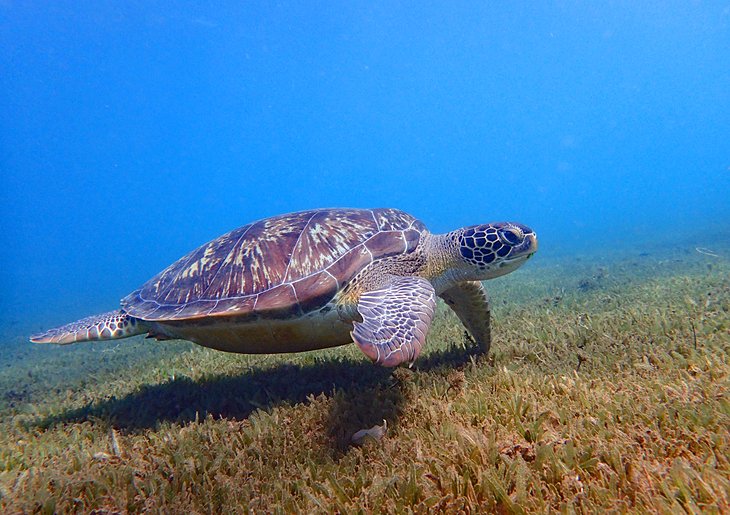 For top underwater photographs, head to Jacques Cousteau's Underwater Reserve, located in the coral reefs around Pigeon Island off the coast of Basse-Terre. Here, you can snorkel through shallow-water reefs and coral gardens or do a deeper scuba dive. There are also glass-bottom boat excursions. It is likely you will see turtles, as well as large schools of tropical fish.
3. Anse Champagne Beach, Grand-Terre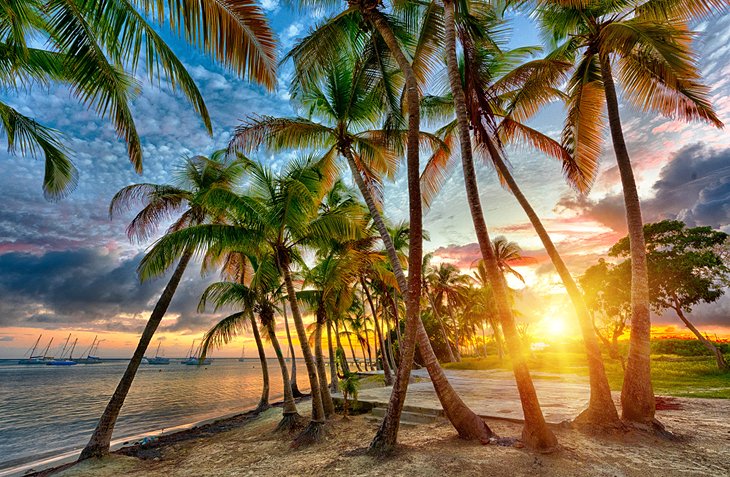 Watch the sunset from Anse Champagne Beach (pictured above) at the eastern end of Saint-Francois on Grand-Terre Island's southeastern coast. The beach is easy to access, with a parking lot right in front of it. There used to be a hotel here, but only a skeleton of the abandoned property remains today.
4. La Cascade aux Ecrevisses, Basse-Terre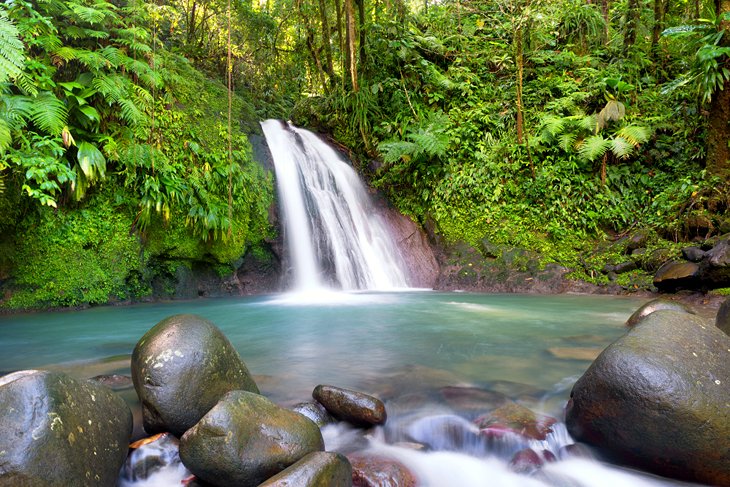 Inside the magnificent Guadeloupe National Park, La Cascade aux Ecrevisses (Crayfish Waterfall) drops into a pool that is perfect for a swim. The park, on Basse-Terre Island, has been designated a World biosphere Reserve by UNESCO and is one of Guadeloupe's top tourist attractions.
5. Bois Jolan Beach, Grande-Terre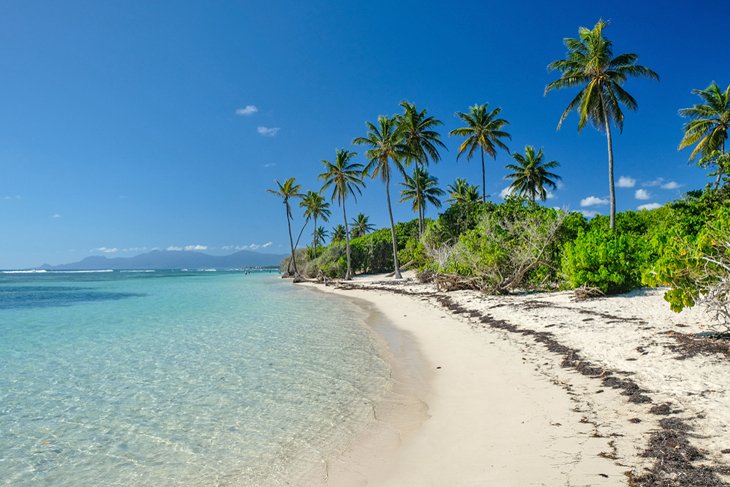 Translucent lime meets turquoise-blue water at gorgeous Bois Jolan Beach, which is a beautiful spot to snap some romantic photographs. The strip of sand is located east of Sainte-Anne Beach and is less crowded. It is lined by coconut palms, and while this photo was taken during the day, the beach is also splendid at sunset, when the sky turns a myriad of colors that are reflected down onto the sea.
6. Pointe de la Grande-Vigie, Grande-Terre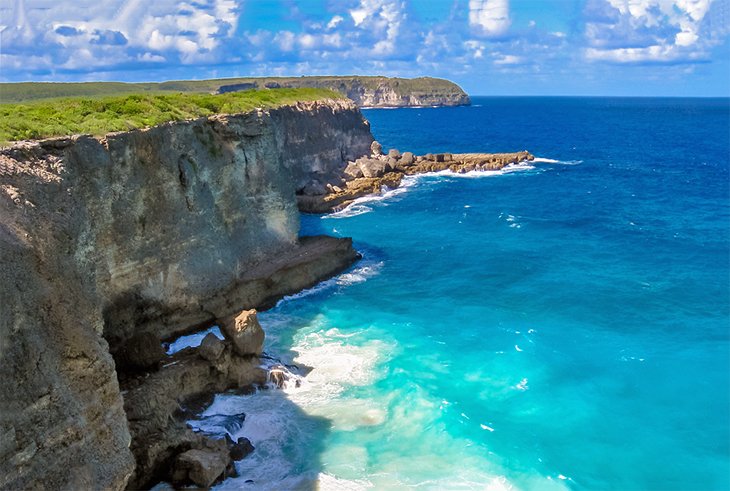 Take a drive from Port-Louis to Pointe de la Grande-Vigie at the northernmost point of Grande-Terre (and Guadeloupe for that matter) for a wild landscape photograph. The cliffs here drop off 80 meters, and there are panoramic views across the sea to nearby islands on clear days.
7. Grand Anse Beach, Basse-Terre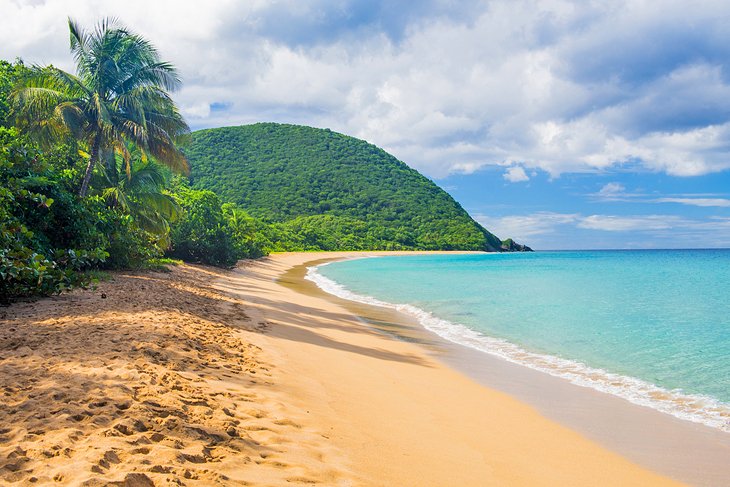 Pictured above, Grand Anse Beach, on Basse-Terre's northeast coast near the village of Deshaies, is a pretty stretch of golden sand backed by lush green hills. The beach here runs for more than a kilometer and is great for long walks. The water is good for swimming once you get past the sometimes rough surf.
8. Le Soufriere Volcano, Basse-Terre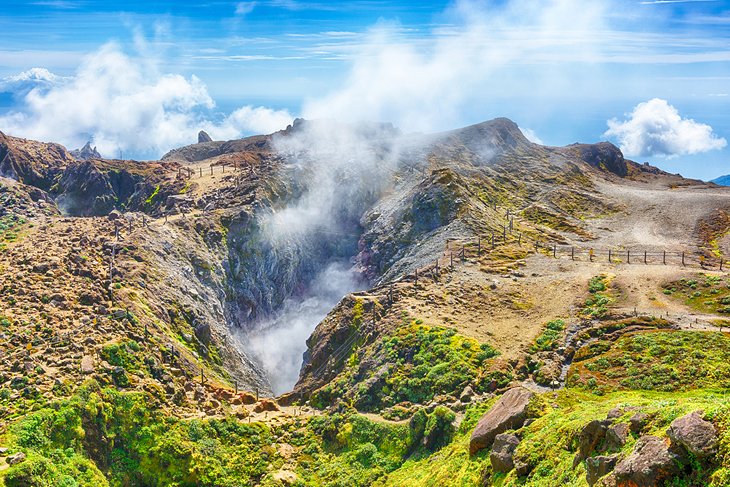 Guadeloupe's highest mountain is Le Soufriere, which is also an active volcano. This photo shows steam rising from its crater, which is located inside the UNESCO-designated World Biosphere Reserve, Guadeloupe National Park, on Basse-Terre.
9. Pearl Beach, Basse-Terre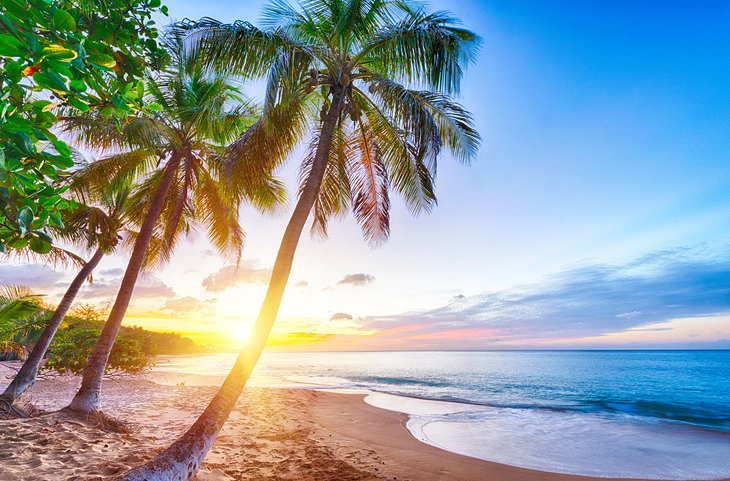 Spend the day at beautiful Pearl Beach in Deshaies on Basse-Terre, then stay for the stunning sunsets (pictured above). There are small local restaurants right on the beach if you get hungry. This beach is popular with local families.
10. Jardin Botanique de Deshaies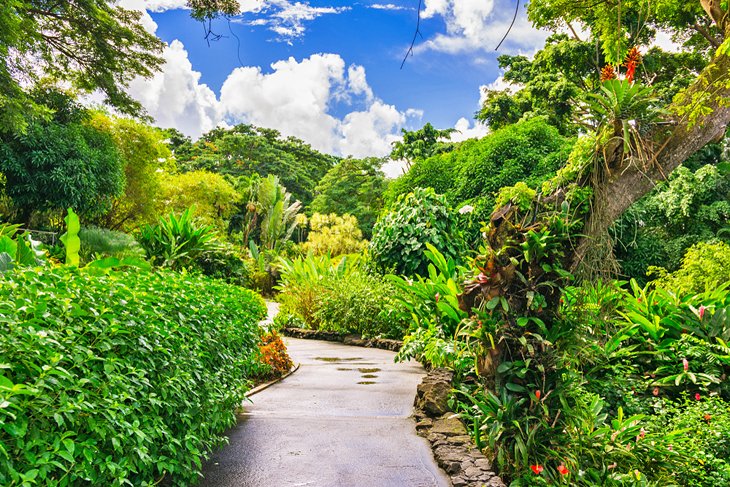 The Jardin Botanique de Deshaies is a tranquil botanical garden on the northwest coast of Basse-Terre in the village of Deshaies. Paths, like the one pictured above, wind through a lush landscape, where you can see many species of colorful, tropical birds. There is a hilltop restaurant to grab a bite with beautiful views.
11. Souffleur Beach, La Desirade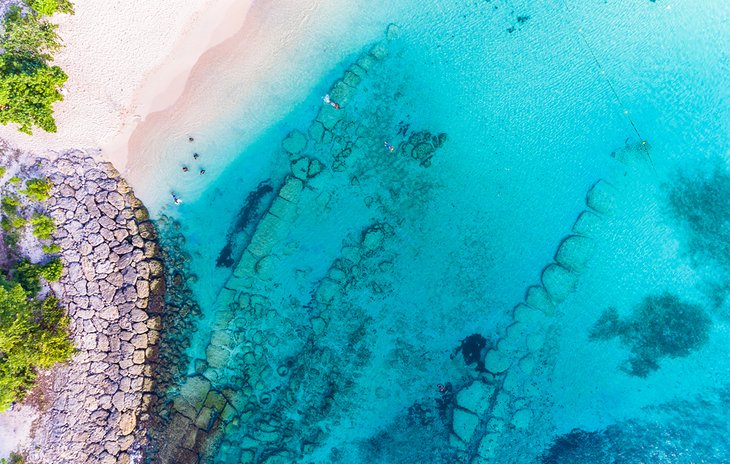 Snap a photo on pretty Souffleur Beach, pictured above. It is on peaceful La Desirade Island, which is about a 45-minute boat ride on choppy water from Saint-Francois on Grande-Terre, and sees few crowds. There is good swimming, snorkeling, and even a hiking trail with awesome views on La Desirade.
12. Guadeloupe Aquarium, Grand-Terre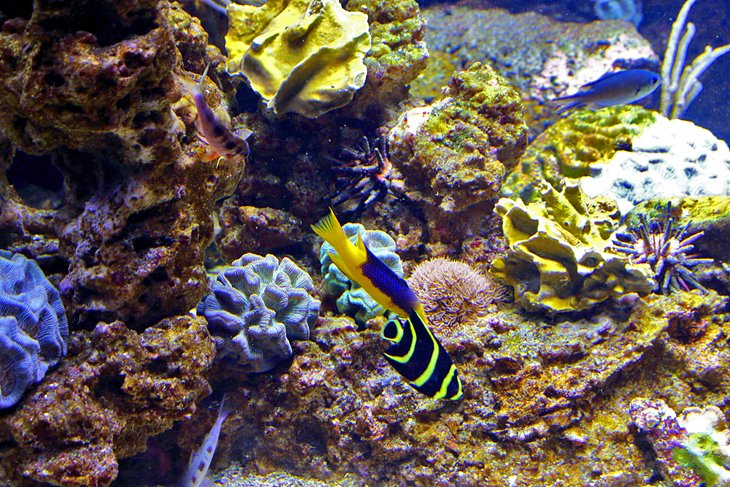 Just south of the cruise port of Pointe-a-Pitre, the Guadeloupe Aquarium is home to more than 60 species of tropical fish, sharks, and sea turtles, like the one pictured above. The aquarium is recently renovated and considered one of the best in France (Guadeloupe is a French territory).
13. Fort Napoleon des Saintes, Terra-de-Haut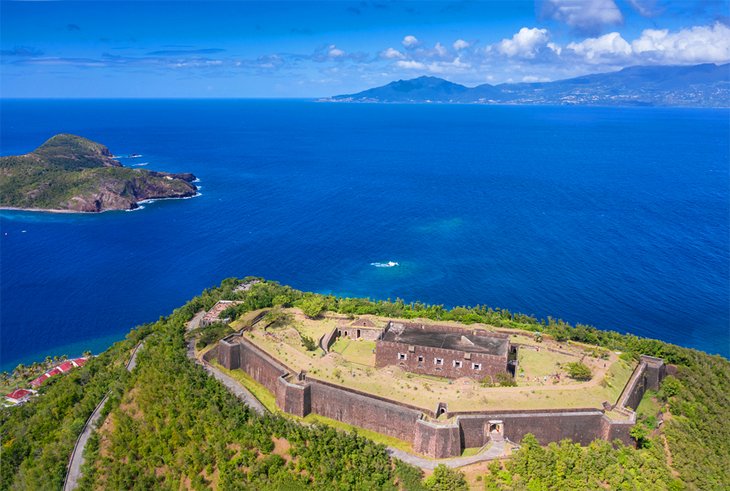 This hilltop battlement is what is left of Fort Napoleon on Terra-de-Haut in the Les-Saintes island group. Originally called Fort Louis, it was destroyed in 1809 by the British forces.
14. Terre-de-Haut Island, Les Saintes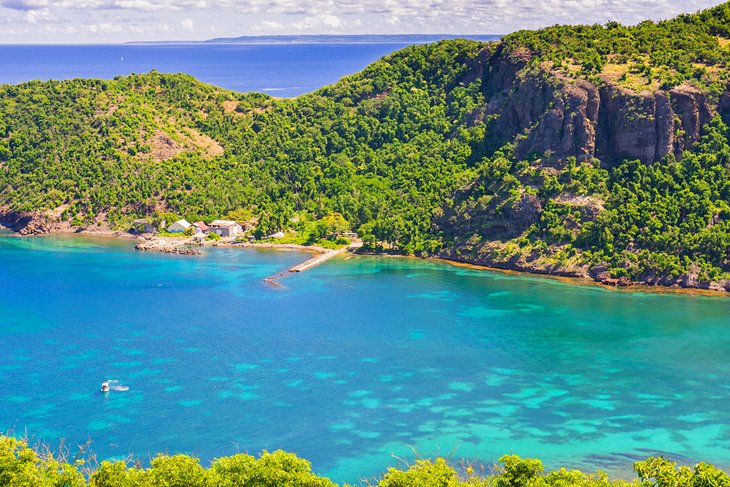 The eastern Les Saintes island, Terre-de-Haut, pictured here, has a European vibe throughout. The pastel-colored homes and colorful fishing boats here all make for picture-perfect photo ops. The island's main village is Bourg des Saints, which overlooks a beautiful crescent-shaped, blue bay.
15. Bergevin Market in Pointe a Pitre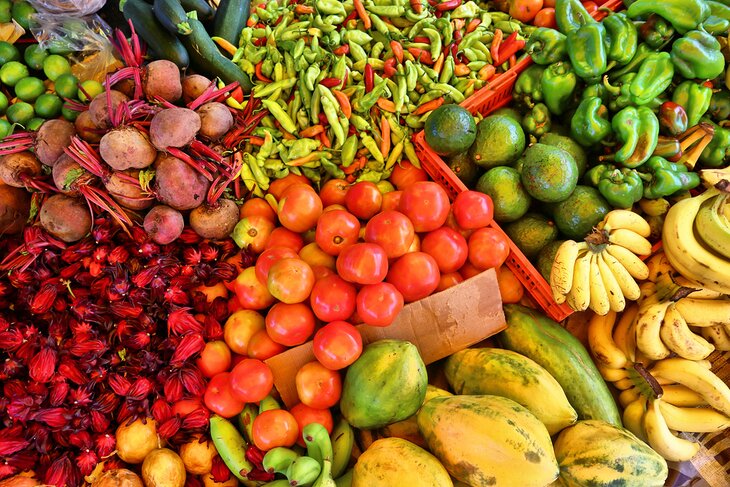 With a rainbow of fruits and vegetables for sale, Bergevin is the vegetable market in Guadeloupe's largest city, Pointe a Pitre, and it's a great spot to capture colorful images.
The city is home to a number of markets, and you will find many locals at all of them stocking up on produce and spices.
Bergevin market is the largest vegetable market in the city. But it also sells locally caught fish. Look for it on Mondays, Wednesdays, and Saturdays at the corner of boulevard de l'Amitié-des-Peuples-da-la-Caraïbes and quai Lefèvre.
While in town, also check out Saint-Antoine market. It is the oldest market in the city, built in the 1850s, and has a tantalizing layout of spices.
16. Jungle Landscape in Guadeloupe National Park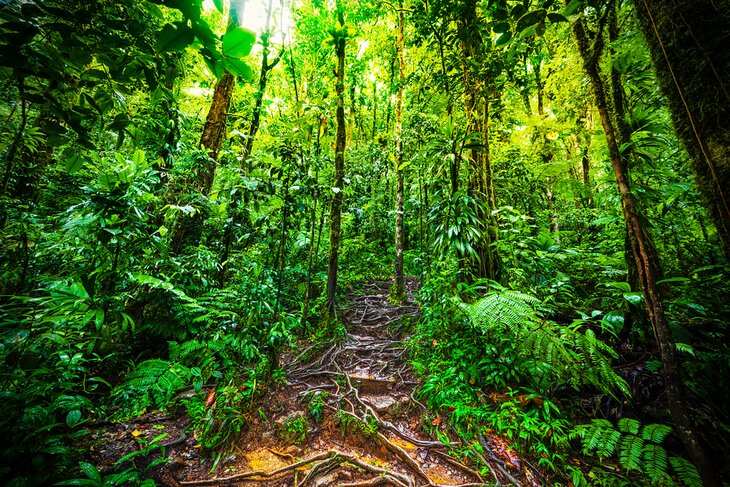 The lush green jungle landscape of Guadeloupe National Park on Basse-Terre Island makes another amazing spot to take images of the scenery. The greens here just pop and there are so many cool angles to snap photos from, including of the tree's gnarled root systems pictured above.
Wear bold colors, and this is a great spot to take social media photos of yourself as well.
This is the largest rainforest in the Lesser Antilles, known for its biodiversity. There are numerous hiking trails through the thick jungle here.