11 Top-Rated Tourist Attractions in Fort Lauderdale, FL
With seven miles of beachfront and a year-round average temperature of 75 degrees Fahrenheit, Fort Lauderdale is a favorite for those who love sun, sand, and surf. The main attraction for most tourists are the beaches, but you can find a full assortment of things to do here.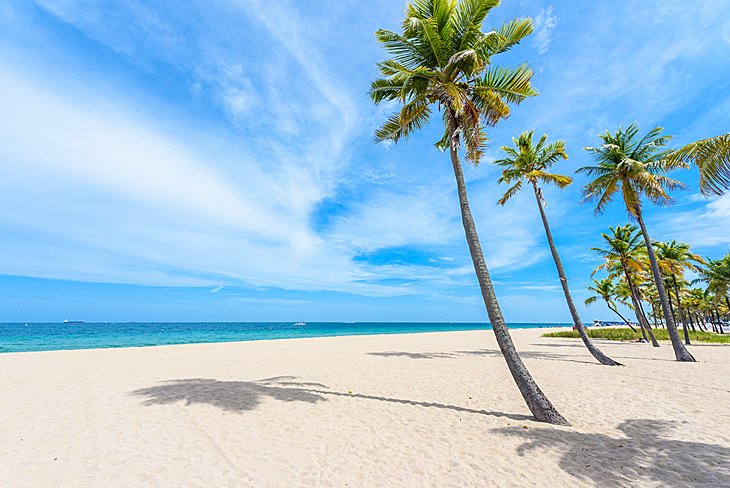 Located on the Atlantic coast, 23 miles north of Miami, Fort Lauderdale is a predominantly residential resort city with a Venice-like series of canals and waterways.
Today's Fort Lauderdale has become a sophisticated urban destination. The city's wide boardwalks and seemingly endless restaurants and shops give it the laid-back atmosphere that sun-starved northerners crave in a Florida vacation.
Fort Lauderdale has far more to offer than just sand and sun, with a surprising amount of history, a lively art scene, and a unique ecology as part of the Everglades. Looking for something a bit more refined and quiet? Head to the upscale Las Olas neighborhood with its restaurants, shops, galleries, and museums.
Learn about the beaches, parks, museums, and more with our list of the top attractions and things to do in Fort Lauderdale.
1. Fort Lauderdale Beaches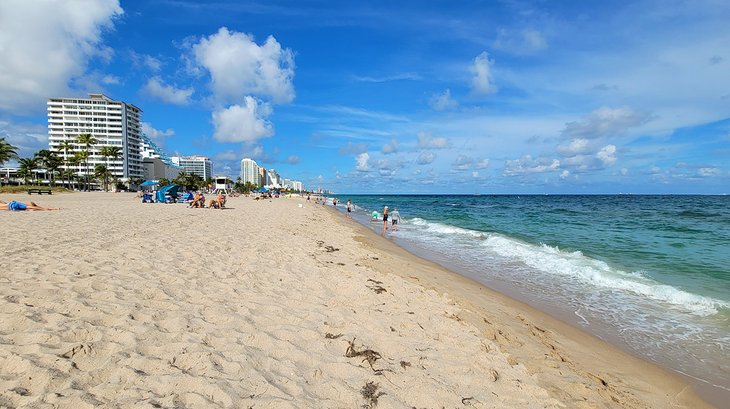 Fort Lauderdale beaches lies at the heart of the tourist area in Fort Lauderdale. Once known for spring break madness, when thousands of college students descended on the beach, the Fort Lauderdale beach area is now more sedate but still an entertaining stretch of sand and one of the best beaches in Florida.
Knowing where to go to make the most of Fort Lauderdale's seven miles of beach is important. One of the best access points is Fort Lauderdale Beach Park. Located just south of where famous Las Olas Boulevard intersects with Florida State Road A1A, this wonderful stretch of sand has one of the best features of any beach in Fort Lauderdale: extensive parking.
You'll generally be able to find a spot here, except on the busiest of days, and from the parking lot to the sand is a very short stroll. The beach is well equipped with facilities that include restrooms, changerooms, showers, volleyball courts, basketball courts, BBQ grills, picnic tables, and a playground.
Other major beach areas include Las Olas Beach; Sebastian Street Beach; and the area north of here, known simply as Fort Lauderdale Beach.
No matter where you choose to access the beach, you'll find that it is backed by a pedestrian walk that runs for miles and miles. Numerous condo towers and hotels are just across the street from the beach, as are restaurants, and shops. In the streets leading away from the beach, visitors can still find smaller, more economical hotels and motels.
2. Las Olas Boulevard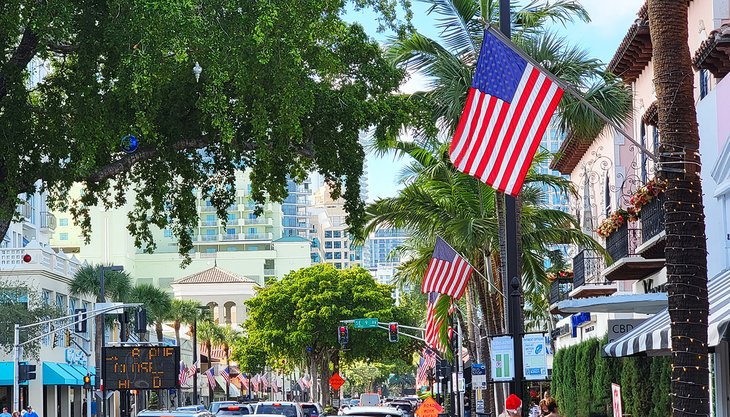 Las Olas Boulevard stretches from downtown Fort Lauderdale to the ocean and is the place to see and be seen. Here, you'll find plenty of tourist attractions and things to do, including shopping at more than 100 stores and restaurants. The stores, some of Fort Lauderdale's best, include high-end clothing shops, art galleries, and jewelry stores.
Las Olas Boulevard is also a popular place to visit for dining; the street is packed with cafés and bistros, many with patios. A popular pastime is to grab a prime seat on a comfy patio and prepare to engage in some serious people watching. Or, after the heat of the day, have a candlelit dinner under the fairy lights in the palm trees that line the roadway.
The area with the most shops and restaurants runs from South Andrews Avenue to SE 15th Avenue. Once you get east of SE 15th, the retail shops peter out until you reach the beach area. Paid parking is generally easy to find, either right on Las Olas Boulevard, or on one of the side streets at meters, or in commercial parking lots.
3. Fort Lauderdale Riverwalk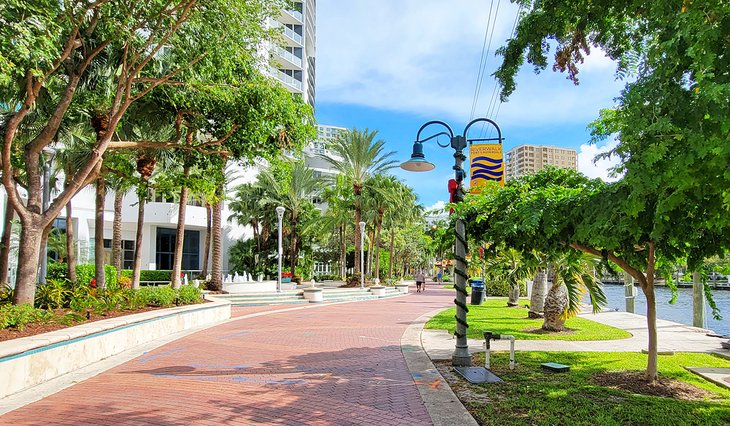 Hidden from view and overlooked by most visitors, the Fort Lauderdale Riverwalk is well worth seeking out if you have the time. Off the traditional tourist route, this sedate and lovely 2.5-mile-long trail follows the New River as it makes its way towards the ocean past historical homes and condos.
The Riverwalk passes by 10 parks along its route, and each park has attractions all their own. Some have beautiful gardens, others workout stations, and some playground structures for the kids. Walk the route, or if you'd rather, just hop on the free Riverwalk Water Trolley plying the waters on a daily basis. A variety of restaurants with shady patios line the river and are the perfect place for a leisurely lunch or pleasant evening dinner.
The Riverwalk has been in existence for over 30 years and has been a gathering spot for locals and tourists alike. For the latest events and happenings, pick up the Go Riverwalk magazine the group publishes every month.
Access to the Riverwalk is easy from any one of the cross streets, like SE 3rd Avenue, South Andrews Avenue, or South Avenue of the Arts. One of the largest parking structures is off SE 3rd Avenue by the Broward Judicial Center.
Official site: https://www.goriverwalk.com/
4. Bonnet House Museum & Gardens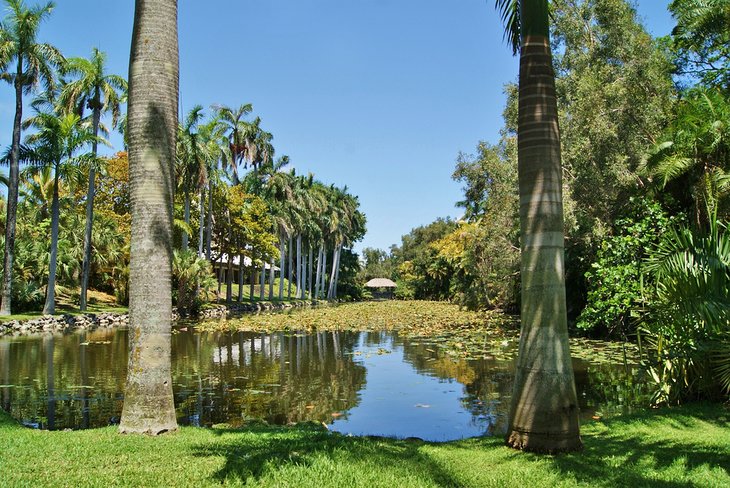 Listed on the National Register of Historic Places and designated a Fort Lauderdale landmark, Bonnet House Museum & Gardens is a mix of art, architecture, history, and ecology.
The historic house was designed by Frederic Clay Bartlett and built in 1920. On display are collections of art and personal treasures.
The estate covers 36 acres and was once the winter retreat of the Birch/Bartlett family. The surrounding grounds of the estate remain a virtual oasis of coastal wilderness, nestled amid the commercial development of the Fort Lauderdale beachfront.
Containing five ecosystems, the grounds serve as a barrier island habitat that includes a beach, dunes, a maritime forest, freshwater slough, and delicate mangrove wetlands. The formal gardens include a hibiscus garden, desert garden, and the Orchid Display House.
Address: 900 North Birch Road, Fort Lauderdale, Florida
Official site: http://bonnethouse.org/
5. Historic Stranahan House Museum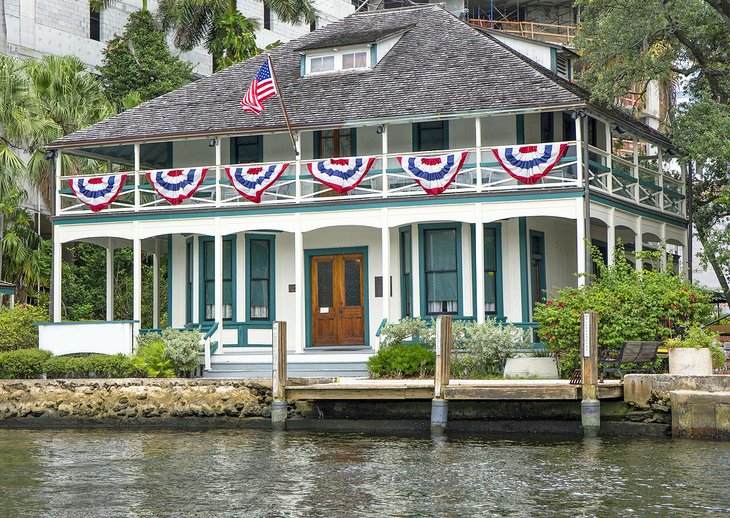 Ohio businessman and trader Frank Stranahan built this pine pioneer's home in 1901, at the site where he operated his barge ferry business. It was expanded several times over the years and now features wide verandas, bay windows, a Victorian parlor, and tropical gardens.
Guided tours showcase period Victorian furniture and decorative pieces on display throughout the house. Built to serve as a trading post, Stranahan House also served as the post office, community center, and town hall, and has been used at different times as a restaurant and boarding house. The museum's gift shop features handmade items crafted by local artists.
Address: 335 SE Sixth Street, Fort Lauderdale, Florida
Official site: http://www.stranahanhouse.org/
6. Museum of Discovery and Science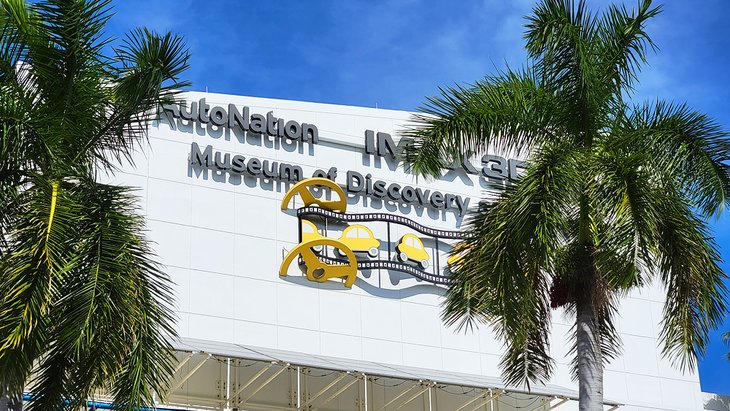 The Museum of Discovery and Science is home to permanent and rotating exhibits and programs that will entertain and educate the whole family. You can meet dinosaurs and look at real fossils in the Prehistoric Florida exhibit or explore present-day Florida's ecosystems, including a look at one of the largest living coral reefs on display.
Both the Storm Center and the Wall of Wind explore hurricanes and their effect on all aspects of life. Immersive experiences include the Everglades Airboat Adventure and a variety of nature and feature films at the IMAX theater.
Other exhibits include the eco-conscious singing robot Harry the Heap, who talks about recycling; the Keller Science Theater, with live demonstrations; and a two-story otter habitat. There is also a dedicated Discovery Center for children under seven years old to play and learn.
Address: 401 SW Second Street, Fort Lauderdale, Florida
Official site: https://mods.org/
7. Dr. Von D. Mizell-Eula Johnson State Park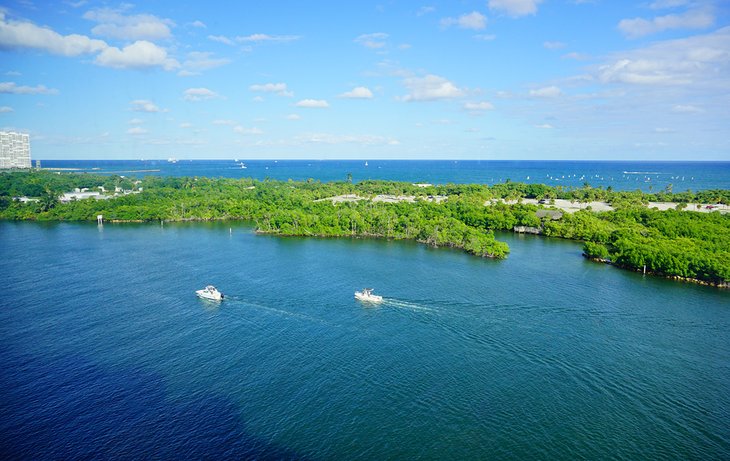 This wonderful state park features a 2.5-mile stretch of beach on the Atlantic Ocean. It's an ideal place to set up your beach chairs and umbrella and gaze out at the ocean.
If you have your own boat, the state park's excellent launch facilities are one of the best places to get your boat in the water. This is due to the park's proximity to Port Everglades Inlet; from here, access to the Atlantic Ocean is fast and easy.
Scuba diving is a popular pastime here on the three reef systems offshore. One is reachable by swimming 300 yards, the other is half a mile, the third is two miles out.
Dr. Von D. Mizell-Eula Johnson State Park is also a local birding hot spot. Warblers, sparrows, pelicans, and various shorebirds can be spotted by the keen observer.
Address: 6503 North Ocean Drive, Dania Beach, Florida
Official site: https://www.floridastateparks.org/mizell
8. Hugh Taylor Birch State Park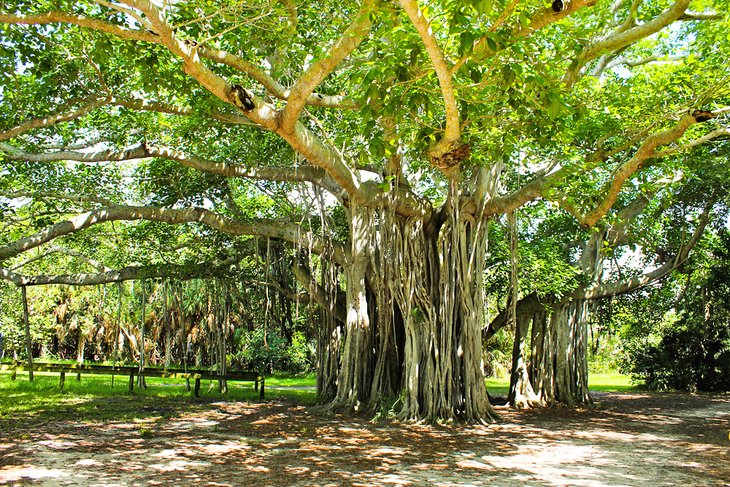 This state park was a gift from Hugh Taylor Birch to residents of Florida. His former estate is a 180-acre park that sits between the Intracoastal Waterway and the Atlantic Ocean.
This green space is a welcome oasis, perfect for a quiet walk on the trails or an afternoon picnic. Canoes are available for rent, or bring your own stand up paddleboard and head onto the freshwater lagoon to view the wildlife or even do some fishing.
The park has beach access, as well as paved trails for cycling and rollerblading. Guests should not miss the Birch House Museum, where you can learn about the history of the park and its benefactor, as well as the ecological significance of its position as a barrier island.
Address: 3109 East Sunrise Boulevard, Fort Lauderdale, Florida
Official site: https://www.floridastateparks.org/park/Hugh-Taylor-Birch
9. NSU Art Museum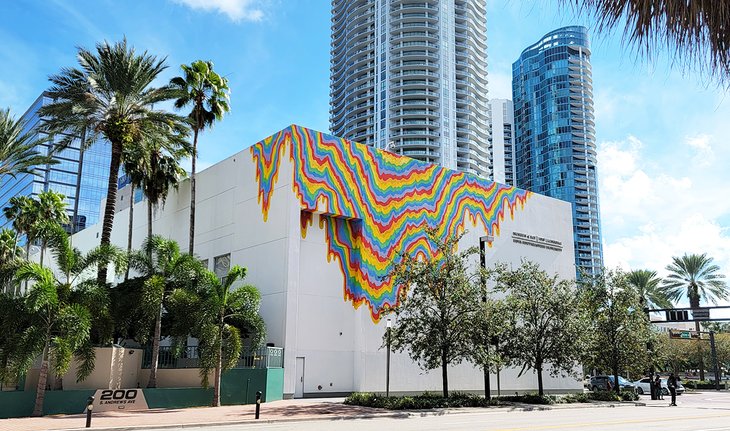 The NSU Art Museum in Fort Lauderdale is a modern, unique three-story building in the city's upscale Las Olas neighborhood. It features more than 7,000 works of art in its permanent collections, including significant exhibits focusing on the work of multicultural and female artists, Latin American and Cuban art, and African and Oceanic Tribal Arts.
The NSU Art Museum has recently come into possession of over 100 items from the collection of David Horvitz and Francie Bishop Good. Highlights include works by Cecily Brown, Catherine Opie, and Kiki Smith among many others.
The museum also offers educational programming and hosts special events and traveling exhibits year-round.
Address: One East Las Olas Boulevard, Fort Lauderdale, Florida
Official site: http://nsuartmuseum.org
10. Everglades Holiday Park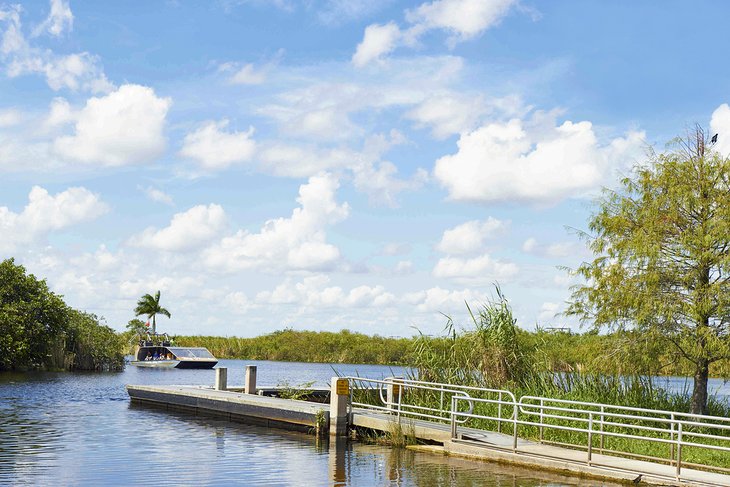 Everglades Holiday Park has gained fame in recent years as the frequent set of Animal Planet's "Gator Boys," and now features daily live gator shows hosted by cast members.
The shows are not only entertaining - staff members introduce visitors to the world of the Everglades' most notorious residents and educate the audience about the habitat and lives of the alligators. The park also runs airboat tours of the surrounding wetlands, where you will learn about the ecosystem's plants and animals that are unique to the Everglades.
Address: 21940 Griffin Road, Fort Lauderdale, Florida
Official site: https://www.evergladesholidaypark.com/
11. Flamingo Gardens and Wildlife Sanctuary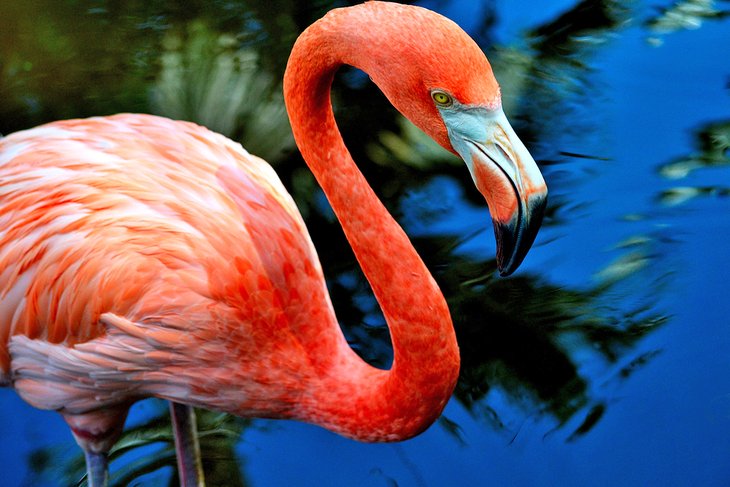 If you were wondering what sort of plants and animals populate the wilderness areas of Florida, plan for a trip to Flamingo Gardens. Spread out over 60 acres, the park has flora, fauna, and historical components.
The fauna component is a botanical garden with over 3,000 plants from the tropics and subtropics. A highlight of the garden is the arboretum, home of Florida's largest trees. Take some time to wander through the 11 different gardens, ranging from beautiful orchids to a live oak hammock.
The flora consists of a wildlife sanctuary, Florida's largest of native species, with non-releasable residents including bobcats, eagles, alligators, and bears. One of the highlights, of course, is the Flamingo Pond, where these colorful birds go about their daily lives. For an additional fee, you can feed them by hand.
The historical component is the Wray Home. This one-time weekend residence of Floyd L. and Jane Wray has been lovingly restored to its 1930s glory.
Address: 3750 S. Flamingo Road, Davie, Florida
Official site: https://www.flamingogardens.org/
Where to Stay in Fort Lauderdale for Sightseeing
If you are coming to Fort Lauderdale to enjoy the sun and sand, the best place to stay is near the beach. A wide swath of beautiful soft sand is backed by hotels and restaurants along Atlantic Boulevard. Additional restaurants and shopping can be found clustered inland on East Las Olas Boulevard, a five-minute drive away. Below is a list of highly rated hotels in convenient locations:
Luxury Hotels:
With a prime location in the center of the action along the beach, Hilton Fort Lauderdale Beach

Resort

features multiple restaurants and rooms with balconies looking out over the ocean.
At the far south end of the beach, close to downtown Fort Lauderdale, Lago Mar Resort and

Club

is nicely tucked away with a private, 500-foot stretch of beach.
A smaller, exclusive boutique property, the Pillars

Hotel

is a converted Caribbean-colonial house with 18 rooms in a spectacular garden setting, only a three-minute walk from the hustle and bustle of the beachfront.
Mid-Range Hotels:
Budget Hotels:
All the budget hotels are set back from the beach, and the price decreases as you move away from the oceanfront. Many of the budget hotels are smaller, older properties, and some have been fully renovated. Two blocks off the beach, the Tropi

Rock

offers decent rooms, some with kitchens, and a lovely pool area surrounded by lush gardens.
A little further back from the beach, La Casa

Hotel

has a pool and rooms with small kitchens.
Beyond walking distance, La Quinta Inn by Wyndham Ft. Lauderdale

Northeast

is two miles from the beach and offers comfortable rooms, a pool, and free breakfast.
Best Time to Visit Fort Lauderdale, FL - Historical Climate Averages
Average minimum and maximum temperatures for Fort Lauderdale, FL in °C
J
F
M
A
M
J
J
A
S
O
N
D

24

15

25

16

26

17

28

19

30

22

31

23

32

24

32

24

32

24

30

22

27

19

25

17

PlanetWare.com
Average monthly precipitation totals for Fort Lauderdale, FL in mm.

75

69

71

99

161

254

170

175

210

164

116

67