11 Top-Rated Beaches in Dubai
Author Freddy Sherman has visited Dubai numerous times, often relaxing on its beautiful beaches.
Dubai is home to miles and miles of snowy-white, fine-sand beaches. These lie on the warm, aqua-blue Persian Gulf (known locally as the Arabic Gulf), turning the area into a true beach resort destination.
Although many beaches in Dubai are private and associated with luxury residential communities or resort hotels, a large number are public beaches. Most beaches in Dubai are man-made, so they're flat and wide, with soft white sand. Many are cleaned and groomed with machines each day and some have special days designated for ladies and children only.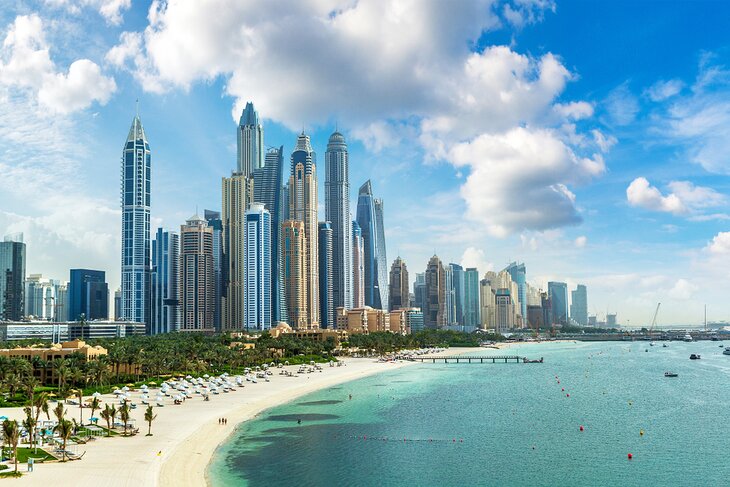 You may also want to visit a Dubai beach club. Beach clubs occupy private areas of the sand and feature sunbeds, cabanas, and sun loungers, which you can reserve. They also have restaurants and waiter service right to your lounger. Many have swimming pools and other recreational facilities. Some of these are adults-only and others are family oriented.
Dubai's intense summer temperatures mean many people go to the beach after dinner and into the night. The busy season is during winter, when many tourists come from Europe to escape the cold.
Most beaches in Dubai have basic services: bathrooms, changing rooms, and showers, and most of the official beach parks also have lifeguards. Some beaches even offer free public Wi-Fi hot spots, some with solar-powered device charging stations.
Choose the best place to relax along the shore with our list of the top beaches in Dubai.
1. JBR Open Beach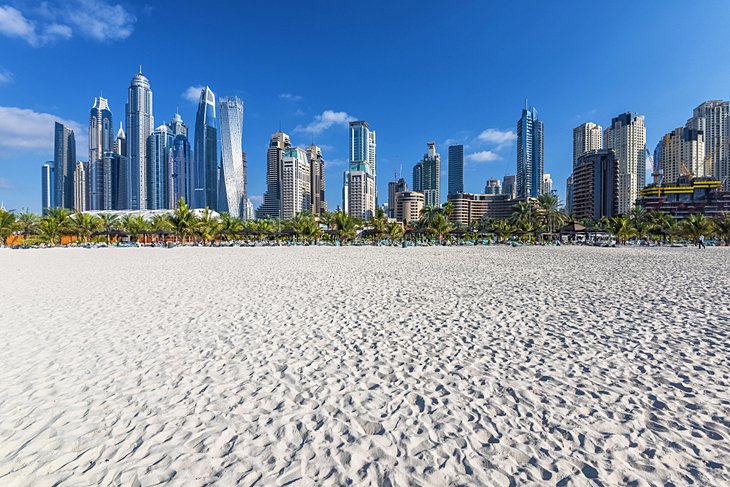 The biggest beach in Dubai is still the best. The massive JBR (Jumeirah Beach Residence) Open Beach extends the full length of the JBR area. Although some parts are designated for hotels, most are wide open. There are full facilities every few hundred yards (kept spotlessly clean) and places to buy food and snacks.
There are also places to rent beach toys and water sports equipment, as well as places to rent powered fun like WaveRunners or Jet Skis. You can also rent land toys like scooters and e-bikes.
The sand is fluffy white and powdery soft, and the water is warm and a beautiful blue-green color. There are lifeguards on duty, and designated swimming areas are roped off with buoys. A large part of the beach faces the massive Ain Dubai observation wheel.
You can also walk steps off the sand to enjoy a beachfront open-air mall called, appropriately enough, The Beach. The Beach is a massive shopping and entertainment complex on the sand at JBR, which includes play areas for kids and adults along with areas of cabanas and beach chairs that you can reserve.
There is no real surf or current, and the shallow area, about four feet deep, extends out far from the sand, perfect for wading and just relaxing in the warm water. JBR Open Beach (like all public beaches in Dubai) is open 24 hours a day, seven days a week. Even though the beach is open all night, swimming is not permitted after sunset.
2. La Mer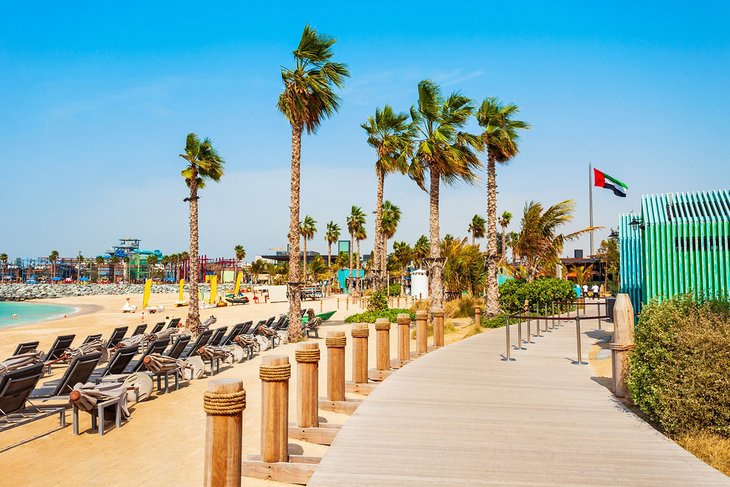 A man-made beach development, La Mer offers a safe, curated family-friendly beach experience complete with water sports, as well as beachfront shopping and dining. Beyond the beautiful sandy beach, which is cleaned each morning, there is an open-air mall with a wide range of shops and restaurants.
There is a water park to cool off from the heat, and if you want to get off the beach for a while and watch a movie, there's a cinema.
The beach area at La Mer, which is groomed several times a day, is flat but not very wide. The tan sand is compacted, and there are palm trees along the edge. The beach has lifeguards and some sections of lounge chairs.
There are also a few beach clubs, the best one being Sea Level. Here, you will find a range of sun lounge rental options, as well as four luxury mini beach houses that can also be rented. These air conditioned, enclosed little houses on the sand are a great way to enjoy the beach in style and comfort. They have their own wood deck and a mini fridge inside for snacks and drinks. Sea Level also has showers, and several dining options are available, which deliver right to your sun lounge.
Entry to La Mer beach is free, but there is a charge for parking. You can usually get validation for free parking with a minimum spend at any of the shops, restaurants, or beach clubs.
La Mer's beachfront water sports provider offers a wide range of motorized and non-motorized things to float or sail on. They even offer Flyboarding, where you shoot up to 70 feet into the air on a jet blast of water. La Mer beach is a great place for water sports, as the water is very gentle. The beach is really a bay, protected on both sides by development.
3. Umm Suqeim Beach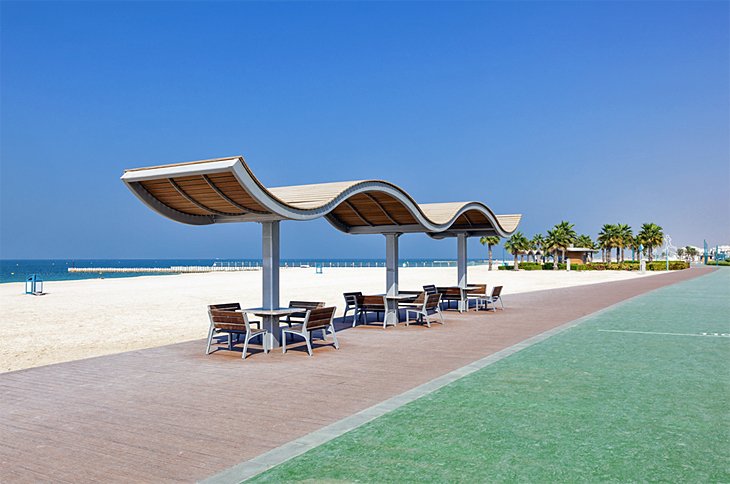 If you want those Instagram-worthy pics of the Burj Al Arab, Dubai's photogenic seven-star ultra-luxury hotel, Umm Suqeim Beach is the place to go. This is another wide, flat beach along the coastline, right where the Burj is located (it's on its own little peninsula jutting out in the sea).
The area is just a beach with few services, except for lifeguard stands and basic facilities (toilets, showers, and changing rooms). There are a few areas of green lawn, some covered picnic areas, and playgrounds. Unique to Umm Seqeim, there is a beach library here. There is a selection of books you can borrow and a reading area with bean bags for relaxing.
As a public beach, Umm Suqeim is open 24 hours a day. The beach is one of only a few in Dubai that is lighted at night and allows night swimming. The Smart Power lights (which are powered only by solar energy and small windmills) turn on at sunset and turn off at midnight. Swimming is not allowed after midnight.
The beach is also one of the only surf breaks in Dubai. The waves aren't huge, but they're here, and you can usually find other surfers enjoying the water. Once you're done playing in the Persian Gulf, you can have even more wet fun at the giant Wild Wadi Waterpark, located a few minutes away in Umm Suqeim.
4. Kite Beach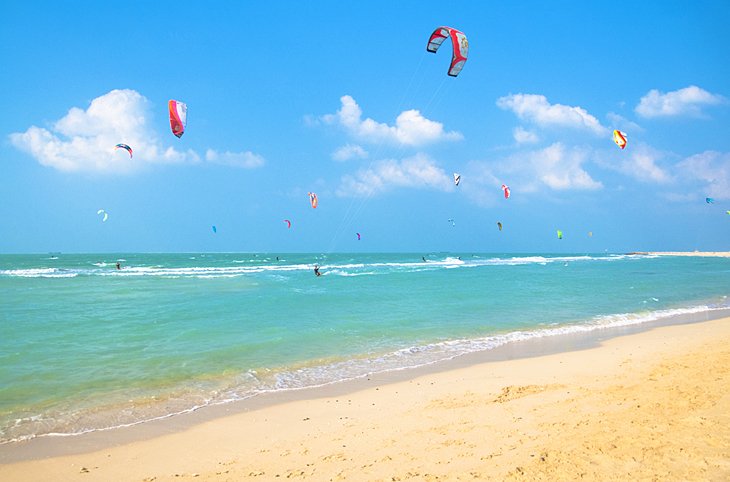 Kite Beach is a section of Umm Suqeim beach, near the northern end. It's a wide, flat beach, and this is where to go for kayak and paddleboard rentals. The exposed beach is windy and popular with kitesurfers and kite flyers.
The sand here is a bit coarser than other beaches, with many shells. For off-beach fun, there's a skate park and many little ice-cream stalls. Sole Mio is a family-friendly beach club located right on Kite Beach. You can rent sun beds, umbrellas, and towels and spend the day on the white sand with a view of the Burj Al Arab. The beach club works with all the local Kite Beach restaurants and offers complimentary beach delivery right to your umbrella.
Kite Beach is also popular with Dubai foodies for the many food trucks that assemble here both during the day and evening. If you don't find something you like here, little restaurants and cafés line Jumeirah Beach Road, which runs along the beach.
The Jumeirah Beach Hotel is a beautiful, family-focused luxury resort, also designed to look like a sail (like the Burj). It's on Jumeirah Beach Road in Umm Suqeim, across from the beach. It's a great destination for families, as all guests get free access to the Wild Wadi Waterpark.
The hotel is also close to other attractions, like Ski Dubai, the indoor ski resort located inside the Mall of the Emirates. Jumeirah Beach Hotel guests have access to a special private area of Jumeirah Beach.
5. Al Mamzar Beach Park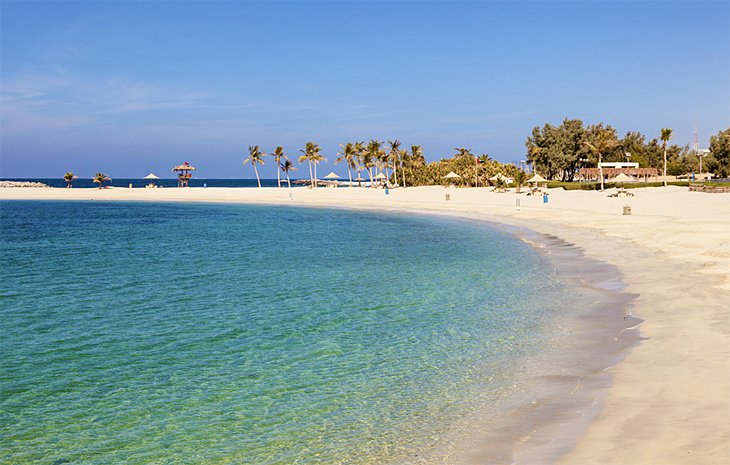 Al Mamzar is a great family beach. The public park area has four beach areas, all staffed with lifeguards. There's a picnic area, a playground for kids, and two large swimming pools. All are free and open to the public.
Mondays and Wednesdays are ladies' days—only women, girls, and boys under four years old are allowed. Al Mamzar does have an entry fee, AED 5 (about $1.50) per person. Entry is free for those with special needs and kids under two.
The park gets crowded on Fridays (weekends in Dubai are Fridays and Saturdays). Facilities here include showers, bathrooms, and changing rooms along with sun bed and umbrella rentals. You can even rent little air-conditioned beach tents with barbecues and make a day of it. There is a charge to use the parking inside the park, or you can park for free in the lot outside the park gate.
Another beach area called Al Mamzar Open Beach (as opposed to Al Mamzar Beach Park) offers a more natural beach experience with less people (and no entry fee). Al Mamzar is near the Deira area, a great place for sightseeing as it's the original heart of Dubai. It's also near the border of Sharjah, the neighboring emirate.
6. The Palm Jumeirah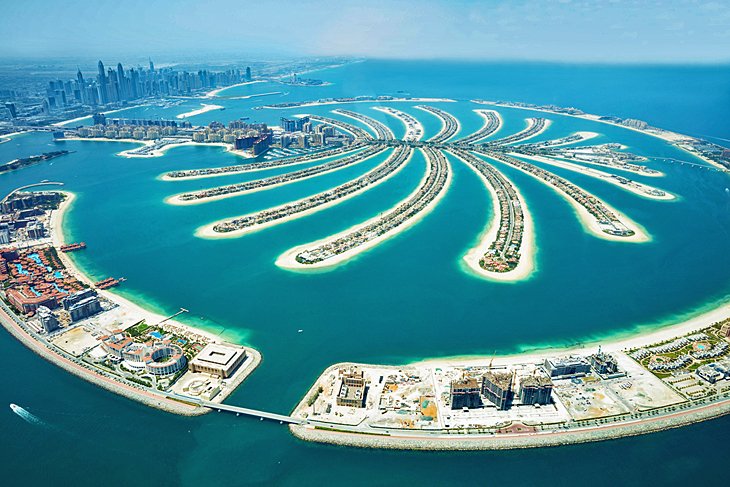 The Palm Jumeirah is the amazing palm-frond-shaped artificial archipelago development that projects out into the Persian Gulf. While there are some public areas of the rocky perimeter shoreline, there are no public beaches on The Palm.
All the beaches are either part of the luxury residential neighborhoods or apartment buildings on some of the "fronds," or associated with a luxury hotel. WHITE Beach, an upscale beach club at the Atlantis resort, is open to the public.
There is an admission charge, which is usually 50 percent redeemable against your food and beverage bill (there is a restaurant on-site). Guests have access to several pools and a private beach area with cabanas, sunbeds, and luxury hotel-level service.
RIVA Beach Club is a mid-range beach club on the Palm Jumeirah that sells the public daily passes to its beach on the Palm for around $25 daily per person mid-week, and $35 per person on the weekends (fully redeemable against your food bill). In addition to the private beach, there is a restaurant and several swimming pools.
The best option to access a beach on the Palm is to stay there. The Waldorf Astoria Dubai Palm Jumeirah is at the top of The Palm and offers a wonderful, luxury experience.
Their large beach includes every kind of water sport imaginable; the beach also has beautiful views of downtown Dubai and the skyline of JBR. Every one of the hotel's luxurious rooms and suites has a water view, either towards JBR or out towards the Arabian Sea.
7. Marina Beach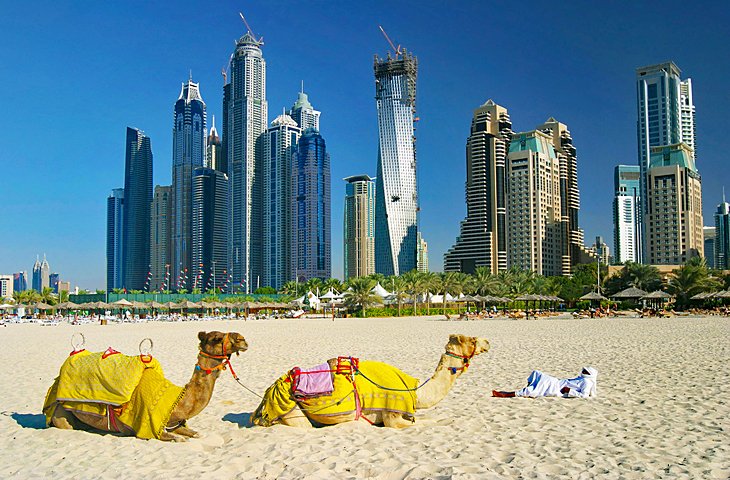 The Dubai Marina is a luxury residential area, near JBR. Marina Beach is the last section of sandy beach along The Walk, the boardwalk that runs in front of The Beach JBR beachfront mall. It's a wide, flat, beautiful beach with Dubai's typical soft white sand. The water is warm, and lifeguards are on duty.
You're also only steps from the restaurants, shops, little cafés, and ice-cream shops that line The Walk beachfront restaurant and shopping area. Marina Beach faces Dubai's newest artificial island, Bluewaters.
This new residential, retail, hospitality, and entertainment zone is home to Ain Dubai, the world's tallest and largest observation wheel. It's easily accessible via a pedestrian footbridge.
8. Jebel Ali Beach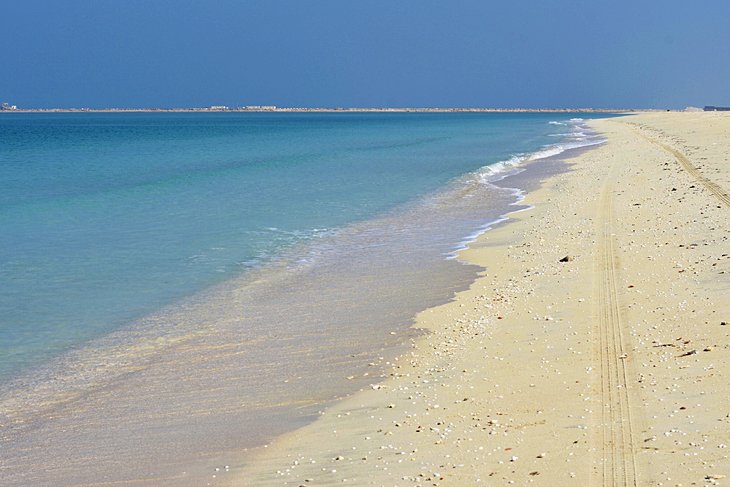 Jebel Ali is about 30 minutes south of downtown Dubai and the emirate's newest recreational development area. Already known as an industrial zone with the world's largest man-made harbor, the area is home to many long, sandy, free public beaches where you can find yourself virtually alone.
Aside from the beaches, it's a popular dive area. The wide, flat Jebel Ali Beach area is right in front of the second of the three palm-shaped artificial islands, Palm Jebel Ali.
Because it's never crowded, the Jebel Ali beach area is also a great beach for kitesurfing, kayaking, and paddleboarding, although you need to bring your own equipment, as there aren't many rental options in the area.
9. Black Palace Beach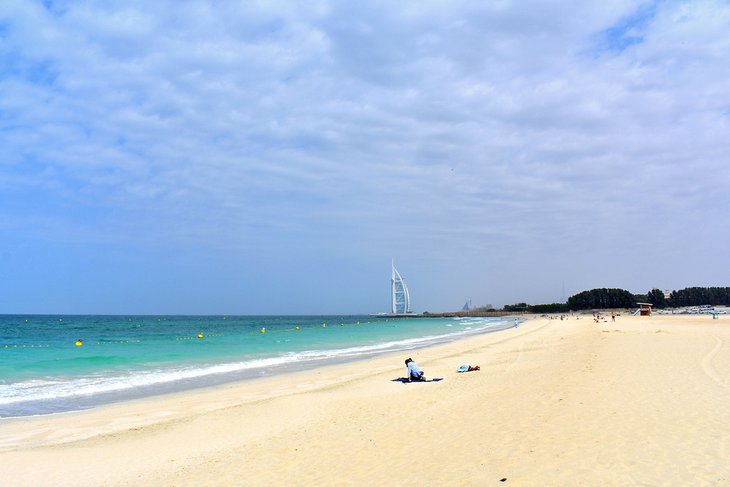 Also called Secret Beach and Al Sufouh Beach, Black Palace Beach is a beautiful stretch of raw, wild beach located right between the Burj Al Arab hotel and the Palm Jumeirah development. It's in an area called Al Sufouh, and it's just a beach—no vendors, sun loungers, or even bathrooms (there are lifeguards).
The beach is wide, with golden sand that gently slopes down into the aqua blue water. You even get a view of the Burj Al Arab as the backdrop for your beach fun. You also get some royal neighbors, as the beach is between two palace compounds.
To get to Black Palace Beach, take Al Sufouh Street to Madinat Jumeirah. Drive a few minutes more, and there's a path in the row of palm trees that leads first to a parking area, then the beach. Parking is free.
10. Open Beach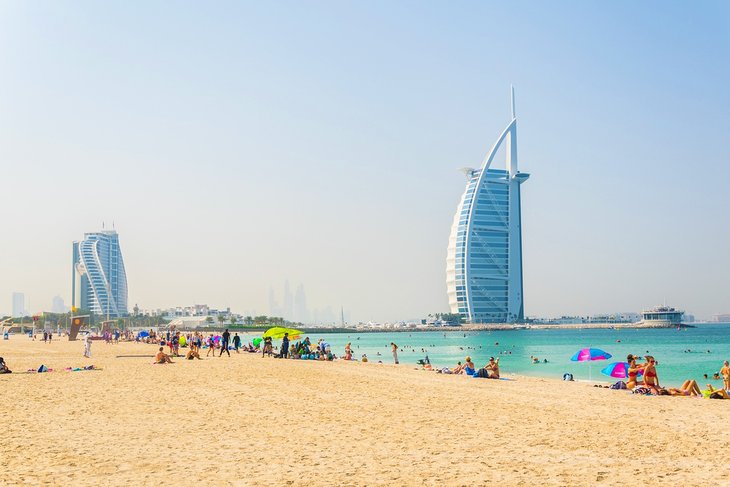 This beautiful beach area, also known as Jumeirah Public Beach, is in the Jumeirah area, near La Mer. Open Beach is known as more of a local's beach, as it's undeveloped yet has good facilities (bathrooms, showers, and changing rooms).
This is a popular place for Emiratis to come picnic and watch the sunset in the evening. The beach has a lot of benches for sitting and enjoying the view and a big, modern playground for kids.
There are no places to eat at Open Beach, but the Mercato Mall is close by and has a lot of dining options. There are some cool little cafés inside the mall, which is designed to replicate Venice's St. Mark's Square, similar to Las Vegas' Venetian Resort mall.
11. Mercato Beach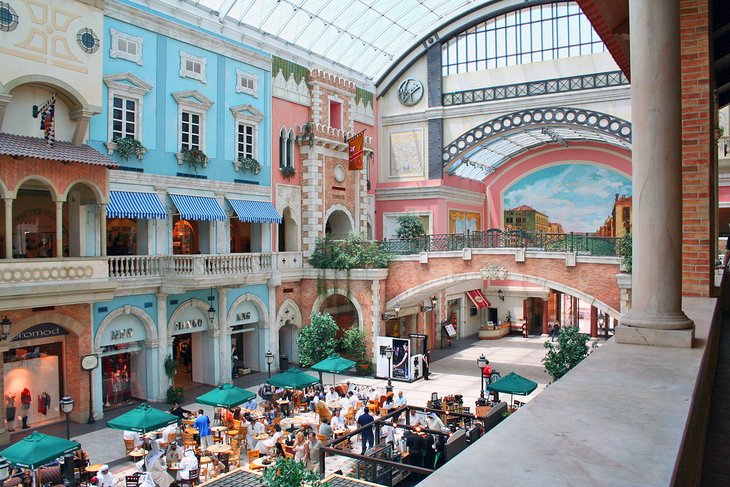 Mercato Beach, with its boardwalk lined with small houses and low-rise apartment buildings, has a Southern California feel, like an Arabic Redondo Beach. This beach is more popular with locals because it's not fancy and lacks shops and restaurants.
The beach is wide with a gentle curve and gentle slope into the water. As an unprotected beach, Mercato can see some waves and undertows, so swimmers should be extra careful here. There are lifeguards on duty. The beach is open 24 hours a day, seven days a week, but like all beaches in Dubai, swimming in the water after sunset is against the law.
The beach is right across the street from the Mercato Mall, which has lots of shopping and food options, including a large supermarket. The supermarket is a great place to stock up on supplies to have a picnic lunch on the beach.
Map of Beaches in Dubai
Frequently Asked Questions
When is the best time of the year to visit the beaches of Dubai?
Average minimum and maximum temperatures for Dubai, United Arab Emirates in °C
J
F
M
A
M
J
J
A
S
O
N
D

23

14

23

15

27

17

31

21

36

24

38

27

39

29

39

30

38

27

34

23

30

19

25

16

PlanetWare.com
Average minimum and maximum temperatures for Dubai, United Arab Emirates in °F
J
F
M
A
M
J
J
A
S
O
N
D

73

58

74

59

80

63

88

69

97

76

100

80

103

85

103

86

100

81

93

74

86

67

77

61

PlanetWare.com
When it's cold in Europe and other areas of the world, it's a good time to head to the beaches in Dubai. During the summer months, from June through September, the extreme heat means you'll probably want to visit in the very early morning or even the early evening.
What should I wear to the beach in Dubai?
Visitors should be respectful of Dubai's culture. Men should wear boardshorts-type bathing suits, and women should consider wearing a one-piece, not a bikini. Bring a change of clothes or cover-up as beachwear and bathing suits are not acceptable to be worn off the beach.