14 Top-Rated Tourist Attractions in Al Ain
We may earn a commission from affiliate links ()
The oasis city of Al Ain has a dramatic setting, overlooked by the craggy mountain range of Jebel Hafeet. It's a pretty and ordered town that is easy to get around and is popular with visiting families for its zoo and many relaxing public parks.
Historically, Al Ain has been settled since at least 3000 BC, and the museum here does a good job of tracing that long history. It's this history that has made the Al Ain area the only site in the United Arab Emirates to be inscribed on UNESCO's World Heritage List.
This is also an excellent destination for tourists interested in local culture. Top things to do include excursions to the camel market and regular camel racing events. Those with an adventurous streak will enjoy a drive trip up to Jebel Hafeet's summit or a day spent among the wave pools and white water rafting facilities of Wadi Adventure waterpark. Find out more about the best places to visit with our list of the top attractions in Al Ain.
See also: Where to Stay in Al Ain
Note: Some businesses may be temporarily closed due to recent global health and safety issues.
1. Jebel Hafeet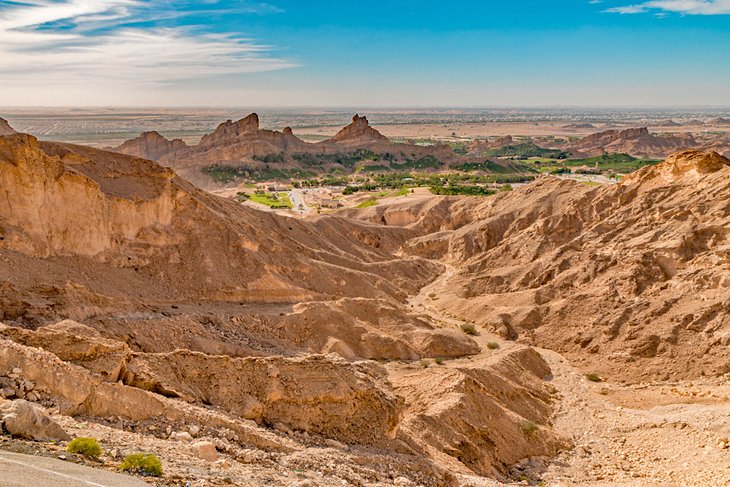 The craggy contours of Jebel Hafeet (Hafeet Mountain) rise up inland from Al Ain. If you're looking for panoramic photos over the city and surrounding desert then a trip to the summit should be at the top of your sightseeing list. It's approximately 56 kilometers from central Al Ain to the summit.
At 1,240 meters, this is the second highest peak in the United Arab Emirates (the highest is Jebel Jais in Ras Al-Khaimah) and the highest in Abu Dhabi. The drive up here, following a winding mountain road, has plenty of scenic viewpoints, and from the summit, the entire region is spread out beneath you.
The Al Ain Full-Day Tour offers a chance to see this and other Al Ain highlights in a single day if you're staying in Dubai. The tour includes a drive up to the summit of Jebel Hafeet for its scenic views, as well as visits to the city's main historical attractions of Al-Jahili Fort and Hili Archaeological Park and cultural sites, including the camel market. There are also photo stops at the Al Ain oasis and the hot springs of Mubazzarah Park. Transport from Dubai, as well as pickup and drop-off from your hotel is included.
2. Al Ain Zoo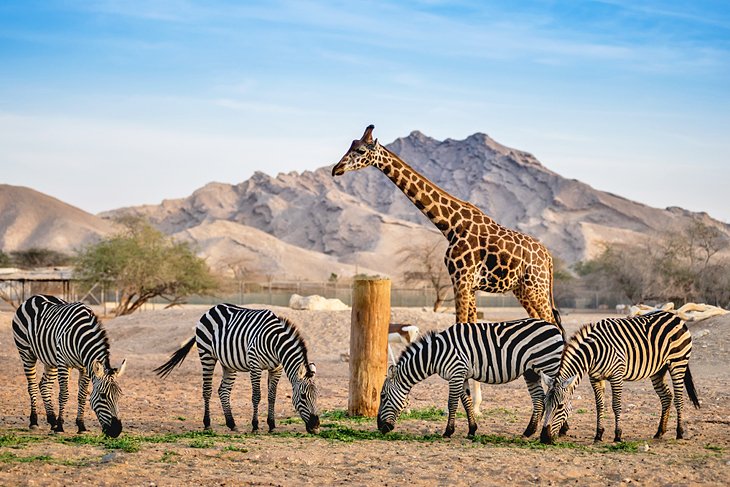 Opened in 1969, Al Ain Zoo is the United Arab Emirates' largest zoo. Endemic mammals such as the Arabian antelope and Arabian oryx can be seen, as well as African gazelles, giraffes, and eland. The big cat enclosures feature lions, tigers, pumas, black and spotted leopards, and jaguars. There is also a monkey compound, aviary section, and reptile house.
The zoo is famous for its research facilities, particularly the breeding program for endangered native animals, with more than 30 percent of the species that can be seen here currently on the endangered list. The zoo's latest venture is the Al Ain Safari, a 217-hectare extension, where African and Arabian Gulf animals (including some critically endangered species) live in a more natural environment. Visiting this section of the zoo is by jeep or truck tour only.
There are plenty of family-friendly features, including a petting zoo; giraffe feeding activities; camel rides; and a children's garden, which encourages biodiversity learning. Inside the zoo, you'll also find the Sheikh Zayed Desert Learning Center, with exhibits focused on the Arabian Gulf's desert environment and ecology.
Address: Nahyan al Awwal Street, Al Ain
Official site: www.alainzoo.ae
3. Al-Jahili Fort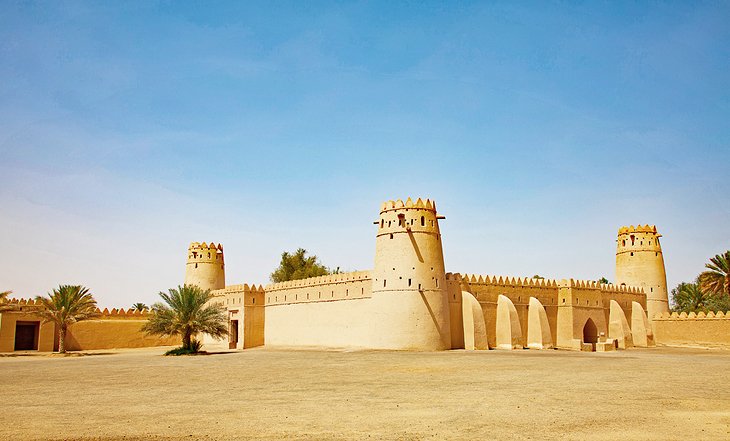 This much restored fortress, surrounded by some tranquil, shaded gardens in the central city, dates back to 1891 and was once an important defensive feature protecting the town from attack. Today, it's one of Al Ain's major points of interest, and inside its stocky golden-bricked bulk, you'll find an exhibit devoted to photographs depicting the life and work of British adventurer, desert explorer, and writer Wilfred Thesiger, with a particular focus on his journeys into the Empty Quarter during the 1940s.
The fort's ramparts and towers can be climbed for views, and a video explains all about the fort's restoration in the information center.
Address: Sultan bin Zayed I Street, Al Ain
4. Al Ain Oasis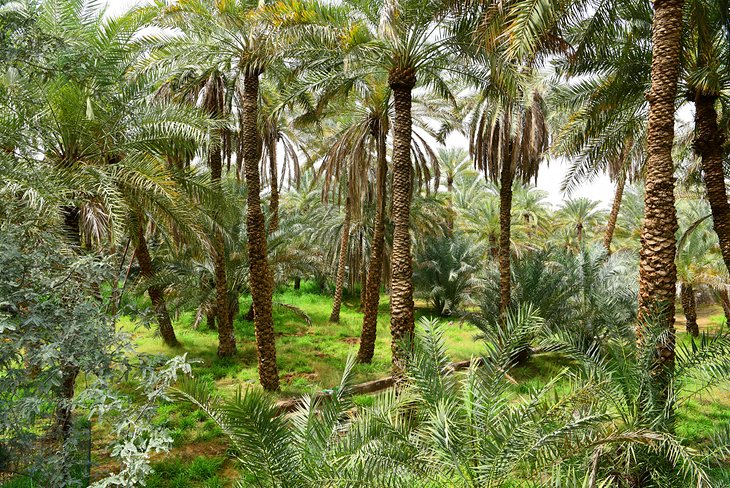 A tranquil respite from the hot sun, and a refreshingly natural diversion from the city streets, Al Ain Oasis is a vast series of date palm plantations linked by footpaths right in the heart of the city. A small museum near the main entrance does a good job of explaining the importance of date palms to traditional life, while the oasis itself contains nearly 150,000 date palm trees. The palm groves are still fed by water channels using the traditional falaj irrigation system, which has been in use in the United Arab Emirates for 3,000 years.
This is a great option for anyone seeking some downtime and a relaxing stroll. Horse rides and buggy ride tours of the oasis are available at the main entrance.
5. Wadi Adventure Park
This surfing, kayaking, and white water rafting water park contains the world's largest artificial surfing wave (measuring 3.3 meters); three levels of white water rafting rapids catering to absolute beginners, as well as experienced rafters; and a long kayaking channel. As well as a fun day out for adventure seekers, this is the top spot in the UAE to learn how to surf, kayak, or white water raft.
As well as the three main activities, there's an Air Park with ziplines, balance beams, and a giant swing; a climbing wall; wake boarding facilities; and a family pool area for when you just want to relax.
Address: Hazza bin Sultan Street, Al Ain
Official site: www.wadiadventure.ae
6. Al Ain National Museum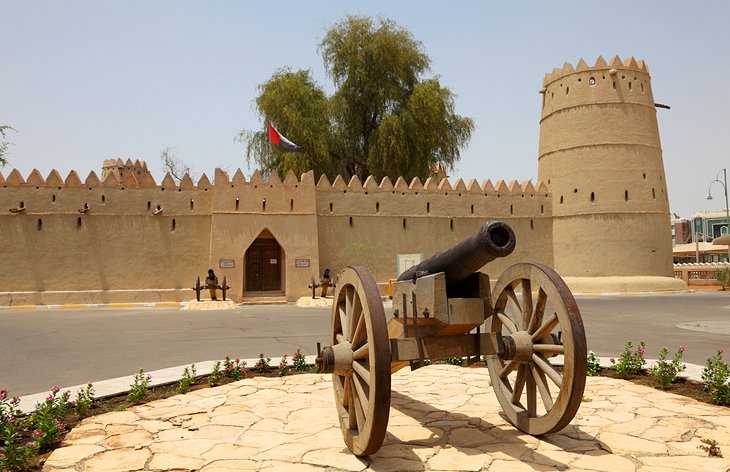 The Al Ain National Museum, housed in the Sultan Bin Zayed Fort, does a good job of bringing the heritage, culture, and history of the United Arab Emirates alive. There is a particularly interesting ethnographic section reflecting the daily life of the region's people, with a reconstructed traditional majlis and exhibits of traditional garments and Bedouin jewelry.
In the archaeological section are displays of local artifact discoveries that date back to the Bronze and Iron Ages, including pendants and an important coin collection. The main attraction of this section, though, are the exhibits from the nearby Hili Archaeological Park, including the restored Grand Hili tomb unearthed at the site.
Address: Khalid bin Sultan Street, Al Ain
7. Al Ain Palace Museum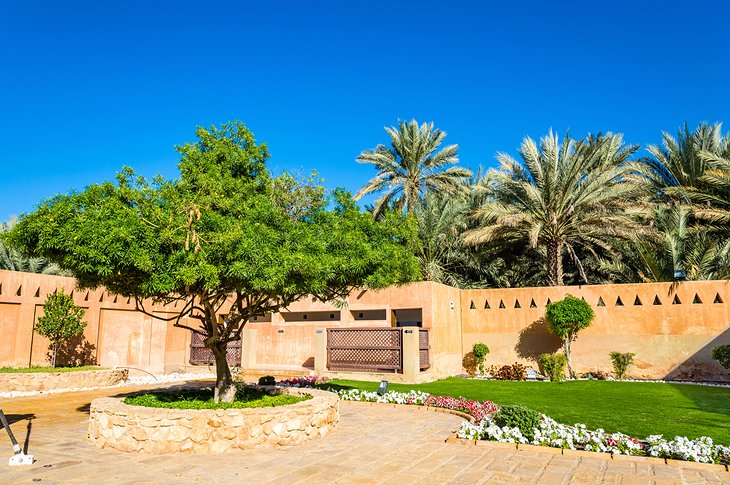 The Al Ain Palace Museum is the former residence of Sheikh Zayed bin Sultan and his family, who went on to become the first ruler of the Emirate of Abu Dhabi. The interior has been finely restored to reflect what the palace would have looked like when the Sheikh called it home. Unfortunately, information throughout the rooms is sparse for those who don't speak Arabic. Nevertheless, the interior decoration really does give you a good idea of the style of life that was led here.
Address: Sultan bin Zayed I Street, Al Ain
8. Qasr al Muwaiji
This fort has been recently restored to its former glory and offers a good chance to appreciate Emirati fortification architecture. It was built during the early years of the 20th century and was home to Sheikh Zayed bin Sultan and his family between the years of 1946 and 1966, before he became ruler of the Emirate of Abu Dhabi. Inside, as well as admiring the building itself, you can visit a small museum dedicated to the history of the fort and the people who lived there.
Address: Khalifa bin Zayed Street, Al Ain
Official site: www.qasralmuwaiji.ae/en
9. Hili Archaeological Park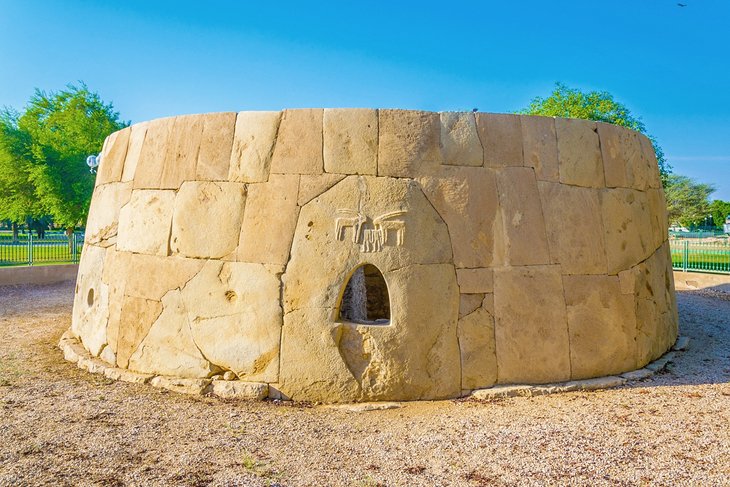 At Hili Archaeological Park, archaeologists have excavated finds dating back to the Bronze and Iron ages. Although many casual visitors will struggle to comprehend the site, archaeology fiends will enjoy the vast sense of history here. It is mostly because of the important discoveries that Al Ain has been inscribed as a World Heritage Site by UNESCO.
The park lies amid a protected area and is surrounded by a palm tree oasis. Most of the finds from the site are on display at Al Ain National Museum, which does a great job of putting the site into context.
Address: Aroh al Jaw Street, Al Ain
10. Public Gardens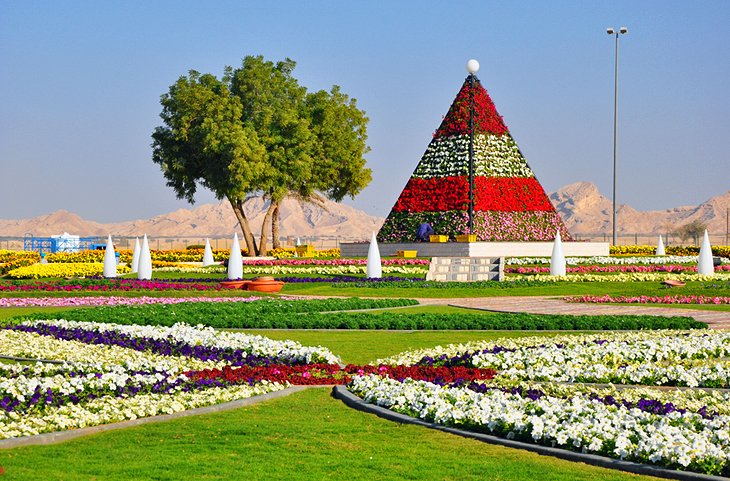 Nicknamed "garden city," Al Ain lives up to its reputation. Throughout the area, you'll find lush greenery, which contrasts vibrantly with the dry and parched desert surroundings. Many public gardens and parks offer welcome shade on long, hot summer days. Several are endowed with weird (and slightly over-the-top) landscaping elements, impressive fountains with lighting displays at night, and playground facilities for children. The Central Public Garden in the center of town is one of the best for a stroll.
11. Camel Market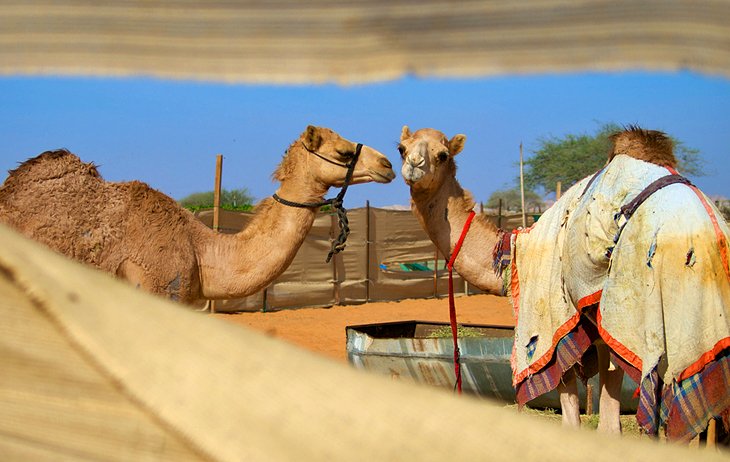 Al Ain's camel market is an excellent chance for travelers to experience a taste of traditional local culture. The market is a little stinky (unsurprisingly), but if you can handle the smell, a visit here is a truly fascinating experience that has yet to be trussed up for the tourists. This is the last remaining camel market in the United Arab Emirates, and people from across the region head here to buy and sell.
You are free to wander around at will and watch people bartering over the camels; don't take any notice of men who may approach you on entering and insist that you need a guide.
Location: Off Zayed bin Sultan Street, Al Ain
12. Hili Fun City
Hili Fun City is one of the largest and most popular theme parks in the United Arab Emirates. The park features more than 40 rides, including a roller coaster and an elevated sky-flyer. An annual festival, celebrating the culture and history of the Emirates, attracts thousands of visitors from across the region. As with most of the theme parks in the country, Hili Fun City has excellent facilities and caters for families extremely well.
Just adjacent to the theme park is the Al Ain Ice Rink, an Olympic-sized facility offering skating and numerous children's games.
Location: Off Aroh al Jaw Street, Al Ain
13. Camel Racing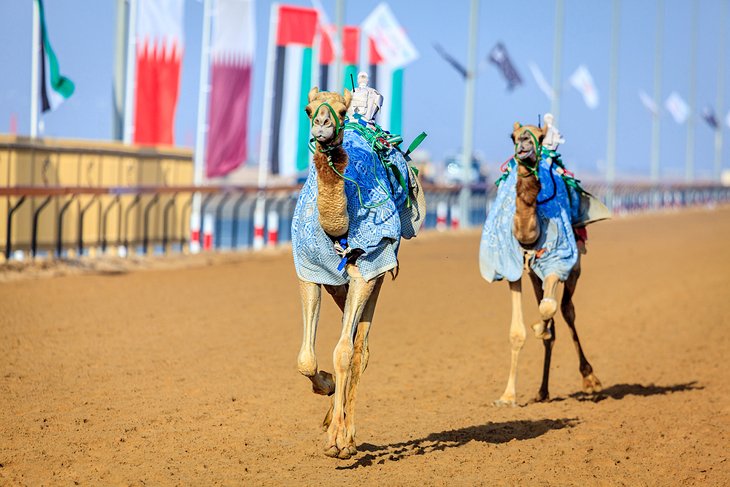 Camel racing has taken place in the United Arab Emirates for centuries, and the large 10-kilometer track at Al Ain hosts regular races. Watching the racing is a rare opportunity to see a slice of traditional Emirati culture, which has not faded away as the high-rises rose.
If you happen to be in town when the racing is on, it shouldn't be missed. Certain breeds of camel are used for racing due to their slender size, including the white or golden "Anafi" breed and the brown or black "Boushahri" breed.
14. Mubazzarah Park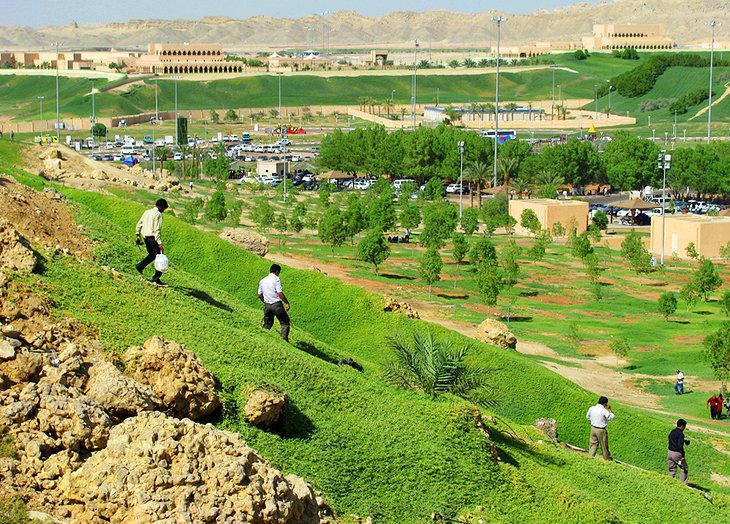 At the foot of Jebel Hafeet, you'll find Mubazzarah Park, an isolated spot of green amid the rocky and dry landscape. This natural oasis is a great place to relax and is especially pretty during sunset. Its highlight is the natural mineral hot springs, which run through the park area in a series of pools. They're a great place to soak away any travel aches and pains. On the weekends, the park is busy with picnicking local families.
Location: Off Hazza bin Sultan Street, Al Ain
Where to Stay in Al Ain for Sightseeing
For first-time visitors to Al Ain, the best place to stay is in the city center, close to top attractions such as the Sheikh Zayed Palace Museum, the Al Jahili Fort, and the Al Ain Zoo. The main sights are spread out over a large area, so it's best to explore the city by car. Note that Al Ain has very little budget accommodation, so it's best to upgrade to mid-range here.
Luxury Hotels: Close to the Sheikh Zayed Palace Museum and the Al Jahili Fort, the family-friendly Al Ain Rotana

Hotel

is one of the city's top hotels, with a spa, swimming pool, fitness club, and on-site restaurants.

Other popular upscale options are the Radisson Blu Hotel &

Resort

, with a massive amount of facilities, including huge grounds with separate adult and children pool areas and a bundle of restaurants, and Danat Al Ain

Resort,

with its spa, multiple pools, tennis courts, and bags of children's activities.
Mid-Range Hotels: The Ayla

Hotel

, in the center of Al Ain, four minutes by car to Al Jahili Fort, offers a pool; a good restaurant; a gym; and friendly, helpful staff. The new Aloft Al

Ain

often has good-value deals, with rooms fitted out in a retro style, as well as a restaurant, and a rooftop pool.
More Related Articles on PlanetWare.com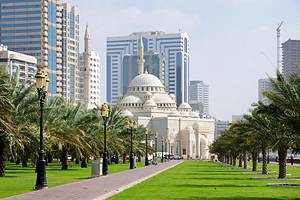 More UAE Cultural Destinations: Although the UAE as a nation is young, it celebrates its traditional Emirati culture and its long trading history, which far pre-date the country's formation. Head to Sharjah for museums in the historic district, to Fujairah to view coastal forts and the country's oldest mosque, and Abu Dhabi to take a tour explaining the ancient art of falconry in the Falcon Hospital.