From Dubai to Abu Dhabi: 5 Best Ways to Get There
Although most people get about by car in the United Arab Emirates, there are other transport options available.
One thing to look forward to in the future is that the UAE are currently constructing a 1,200-kilometer-long railway network that will stretch across the entire country and which will completely change public transport options between Dubai and Abu Dhabi.
Although the Dubai to Abu Dhabi segment of EtihadRail's network has been completed, there has been no official word on if it will open before the entire network is finished.
Until then, whether you want to hire a car and hit the road, take a tour or use the bus, there are plenty of current options for all styles of travel between Dubai and Abu Dhabi. It's only 140 kilometers between the two cities, so it makes sense to add a trip to Abu Dhabi into all but the shortest Dubai stay.
1. From Dubai to Abu Dhabi by Car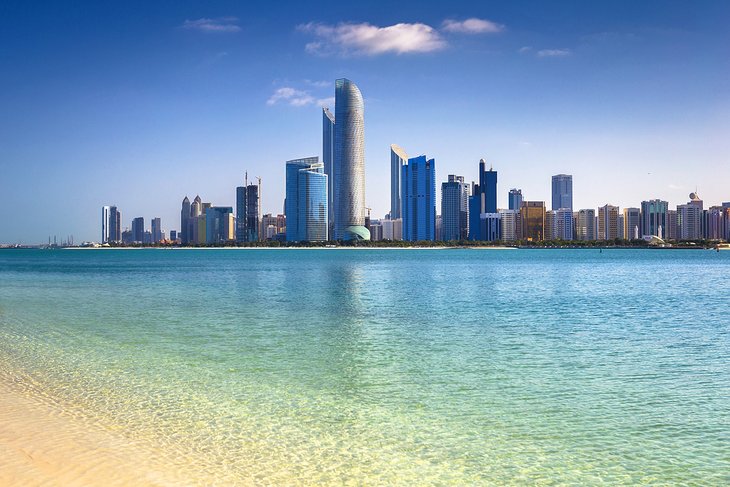 Hiring a car for a trip between Dubai and Abu Dhabi, and your wider vacation within the UAE, is a popular transport choice.
Driving within Dubai can be daunting for the uninitiated. Once you're outside of the city limits, though, on the well-maintained multilane highways, driving in the UAE is quite straightforward. Just drive defensively and stay in the far-right lane to steer clear of the speeding and overtaking game of your fellow drivers.
Car hire firms are plentiful in Dubai. You'll find all the main international players at the airports, and many firms have handy office counters within hotels.
The main routes leading out of the city have toll fees (4 AED). Your hire car will be fitted with a "salik" sticker tag that pays the toll fee automatically. Any tolls you clock up are paid when you return the car to the hire agency.
Download the Smart Roads app from the Dubai Roads & Transport Authority (RTA) onto your phone before heading out to help with navigating your way out of the city. It tends to be slightly better than Google Maps.
From central Dubai, the most straightforward route follows Sheikh Zayed bin Sultan Street (E11 Highway), south out of the center, and stays on that same road for the entire journey to Abu Dhabi. On the edge of Abu Dhabi city, just before Abu Dhabi Airport, turn west onto the E10 Highway (also known as Sheikh Zayed bin Sultan Street), which heads straight into the central city.
If you're visiting Abu Dhabi's sights on a day trip from Dubai, head to the Sheikh Zayed Grand Mosque first, before driving farther west into the downtown area.
2. From Dubai to Abu Dhabi by Group Tour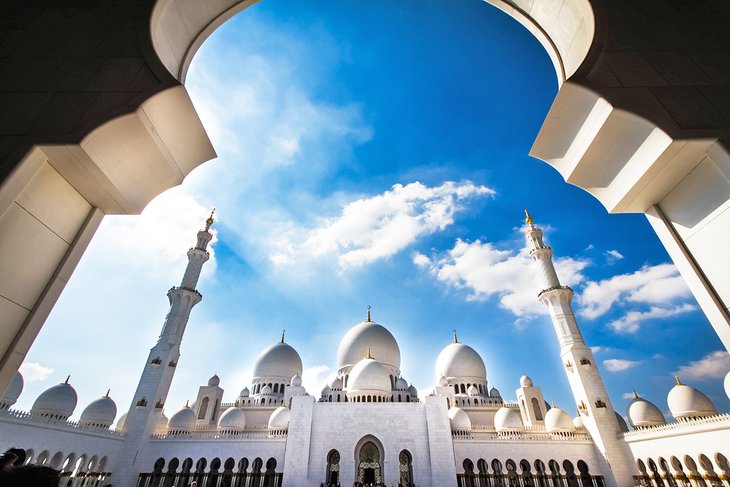 If you're looking for a fully organized and well-priced trip to Abu Dhabi from Dubai, with both transport and a tour of Abu Dhabi's main tourist attractions included, then a group day tour can be a good option.
Most group day tours include hotel pickup and drop-off in Dubai, all your transport for the day (in a comfortable, air-conditioned coach), and a professional guide.
The major stops once you're in Abu Dhabi are usually at the Sheikh Zayed Grand Mosque and the Heritage Village, with short photo stops at other city tourist attractions such as the Emirates Palace Hotel and Yas Island's Formula One Circuit.
Note that if you're heading to Abu Dhabi to specifically visit and spend time at attractions such as the Louvre Abu Dhabi, Mangrove National Park, or the Abu Dhabi Falcon Hospital, these group tours aren't for you.
The full-day tour of Abu Dhabi from Dubai does what it says on the tin, offering a whirlwind tour of Abu Dhabi with plenty of photo stops outside major attractions (including outside the Louvre, on Yas Island, and at the Emirates Palace Hotel) and visits to the Sheikh Zayed Grand Mosque and Heritage Village.
Pickup and drop-off from Dubai hotels is included if you're not a solo traveler (solo travelers report to a designated central pickup address in Dubai) and transport is in a comfortable air-conditioned minibus or coach bus, depending on the tour numbers booked for that day. Lunch is not included in the tour cost, but there is a designated lunch stop at Abu Dhabi's Marina Mall for tour passengers to have lunch.
3. From Dubai to Abu Dhabi by Bus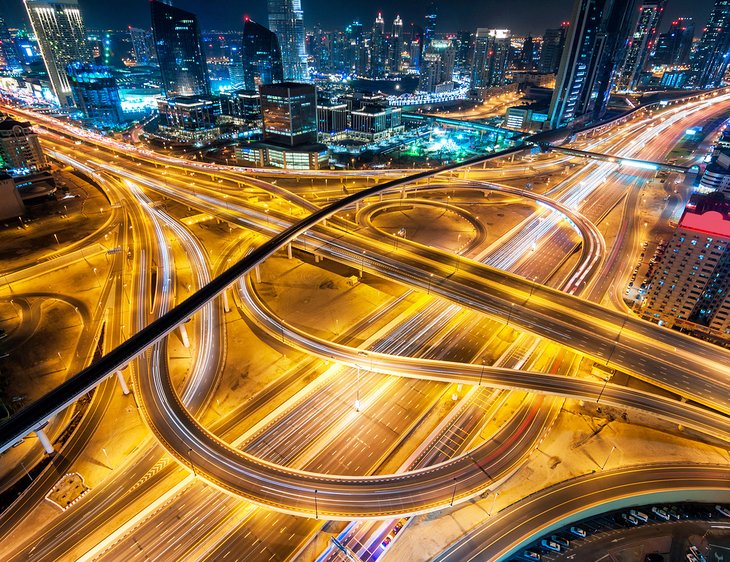 Traveling by bus from Dubai and Abu Dhabi is the cheapest transport option between the two cities. Services are reliable, frequent and efficient. Buses on this route are all operated by the Dubai Roads & Transport Authority (RTA). They're all air-conditioned but otherwise, no-frills.
RTA's E100 bus departs from Dubai's Al Ghubaiba Bus Station for Abu Dhabi's Al Wahda Bus Station, every 15 to 20 minutes. The journey takes around two hours.
The bus fare is paid using a Nol card (Dubai's rechargeable public transport card). The fare is simply deducted from your card when you touch it on the machine at the bus entrance.
You can buy Nol cards with pre-loaded credit, and recharge them, at vending machines at Al Ghubaiba Bus Station.
Al Ghubaiba Bus Station is centrally located, near Dubai Creek and the Al Fahidi District. Al Ghubaiba Metro Stop is a short walk from the bus station.
Al Wahda Bus Station is in central Abu Dhabi. There are plenty of taxis outside ready to whisk you to your destination in Abu Dhabi.
Even in the height of summer, bring something to throw over your shoulders. The air-conditioning is often freezing.
4. From Dubai to Abu Dhabi by Private Tour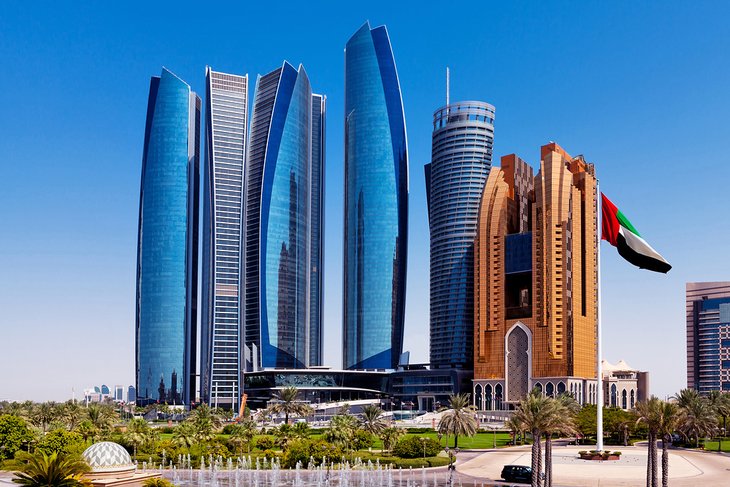 The most relaxed, no-stress option combining return transport from Dubai to Abu Dhabi with touring the sights is to book a private tour.
Any of Dubai's multitude of travel agencies can organize a fully customized day-long Abu Dhabi trip for you with either guide and driver or driver only.
The itinerary will completely depend on your own interests (with time limits obviously), so whether you want to include a visit to the Louvre Abu Dhabi, or book a kayaking tour of Mangroves National Park is up to you.
The transport itself will be door-to-door and will be in a comfortable car or minibus, depending on your group size.
For an organized private tour itinerary, though, the Abu Dhabi Private City Tour includes pickup from any hotel in Dubai, or from Dubai airport, and a five-hour trip around the city with tours of the Sheikh Zayed Grand Mosque, the Heritage Village, Emirates Palace, and a produce market along with a short stop at Marina Mall and photo stops at Ferrari World and Qasr Al Watan. The stops on the itinerary can be customized and changed to suit your personal interests.
5. From Dubai to Abu Dhabi by Taxi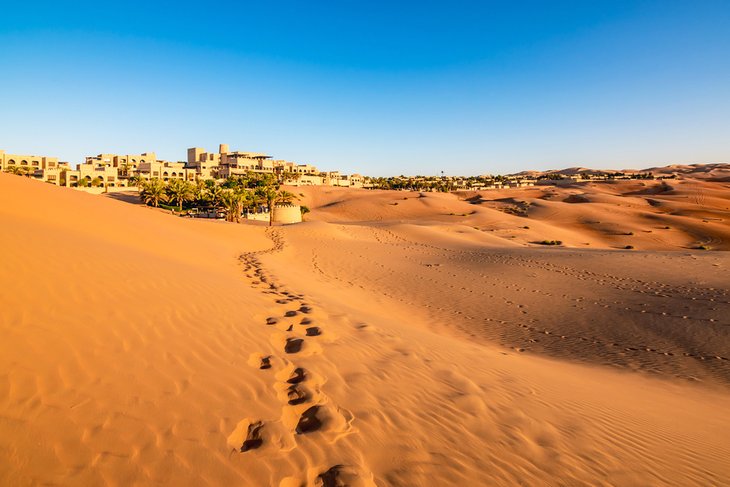 Taking a private taxi from Dubai to Abu Dhabi instead of self-driving isn't a cheap option but it does mean you don't have to cope with the traffic yourself, and you benefit from door-to-door service.
For a more budget taxi alternative, there are share-taxi services available at Al Ghubaiba Bus Station. The journey time is shorter than taking the bus; they depart when the car is full, and you and the other passengers share the total fare. They arrive in Abu Dhabi at Al Wahda Bus Station.
Private Dubai taxis can be booked by your hotel or hailed off the street. You can also use one of the ride-sharing apps such as Uber for a Dubai to Abu Dhabi journey.