11 Top-Rated Tourist Attractions in Ajman & Umm Al-Quwain
We may earn a commission from affiliate links ()
Although they don't have the same number of sightseeing options as other parts of the United Arab Emirates, don't entirely write the tiny Emirates of Ajman and Umm Al-Quwain off your itinerary hit list. Ajman has a great strip of white-sand beach that is popular with weekend-breakers from Dubai looking for a quiet patch of sand, while both emirates offer a scattering of lesser-seen sights for those who want to delve a bit deeper into the UAE's history and culture.
For ideas on the best things to do, see our list of the top attractions in Ajman and Umm Al-Quwain.
See also: Where to Stay in Ajman and Umm Al-Quwain
Note: Some businesses may be temporarily closed due to recent global health and safety issues.
1. Ajman Beaches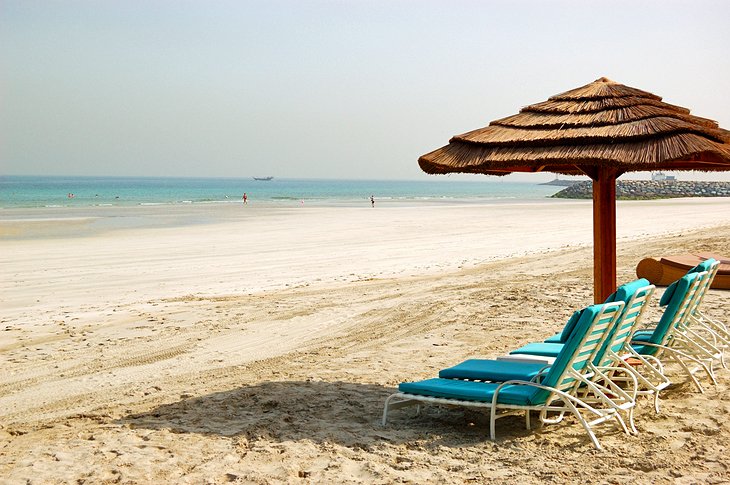 The coastline all around Ajman is rimmed by luxury hotels, each with their private patch of pristine white sand. Noted for some of the prettiest beaches in the United Arab Emirates, this is the place to come if you're looking for serious sun-and-sand relaxation time. Non-guests can usually use the beach and take advantage of the hotel facilities by paying a day-pass fee, otherwise there's a good stretch of public beach running along the edge of the town center. If you want a day of lazy sun lounging, Ajman's beaches really can't be beaten.
2. Ajman Museum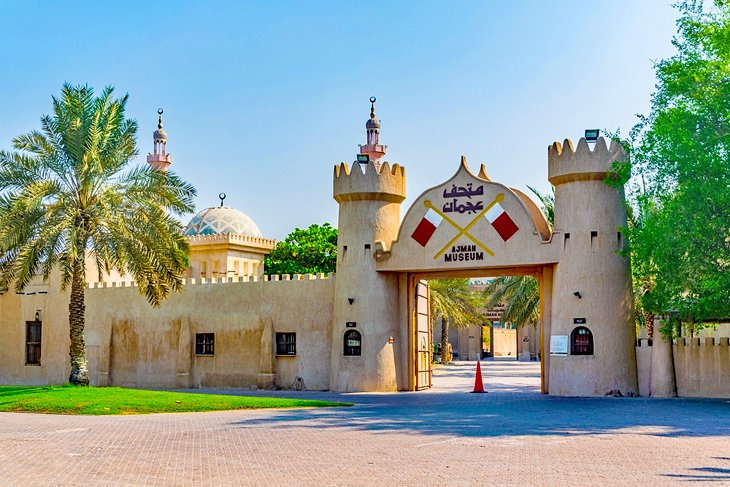 The 18th-century fortress that was once Ajman's first line of defense is now the city's museum. The exhibits here focus on the traditional local lifestyle, with dioramas of typical day-to-day life, as well as an excellent gallery displaying archaeological finds from nearby sites that will be of major interest to history fans. There are also displays of documents, photos, and official manuscripts tracing Ajman's founding as an emirate.
As well as being the town's main stronghold, the fort was once used as the ruler's palace and later as the location for the city police station. The fort's major archaeological features are its two wind towers, two watch towers, and grand gateway now fronted by two cannons.
3. Ajman Dhow Building Yard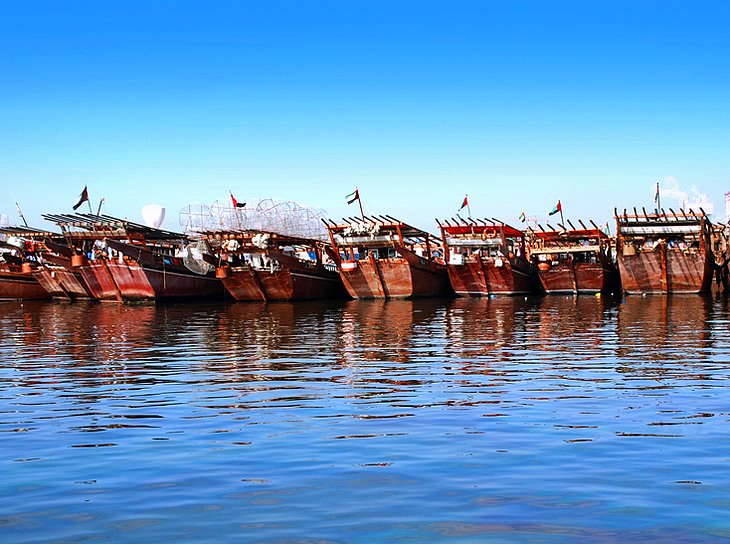 On the north side of Ajman creek, the Dhow Yard is noted as the world's largest dhow building center and one of the area's most interesting sightseeing attractions. Dhows are built using traditional tools and manual skills that have been handed down through the generations, all without blueprints. The Dhow Yard in Ajman also crafts the speedsters that participate in the Dubai Powerboat meets. About 20 to 30 boats are built at one time, and anyone interested in this ancient craft should definitely make time for a visit here.
4. Mowaihat
The Mowaihat archaeological site is located on the outskirts of Ajman city. It was discovered in 1986, when workers were laying a new sewage pipe. A circular Umm al-Nar-type tomb was uncovered, and a rescue excavation commenced.
Numerous examples of soft-stone and painted Umm al-Nar ceramic vessels were uncovered, as well as more than 3,000 beads, two stamp seals, a number of copper implements, and the remains of several dozen people. At the time of its discovery, the Mowaihat tomb was the first evidence of Umm al-Nar occupation in the Northern Emirates.
Subsequent discoveries on the Gulf coast at Al Sufouh, Tell Abraq, and Shimal have identified other major sites from this period. The site itself is probably only of interest to serious archaeology fans, but you can view the unearthed finds from the site in Ajman Museum.
5. Ajman City Center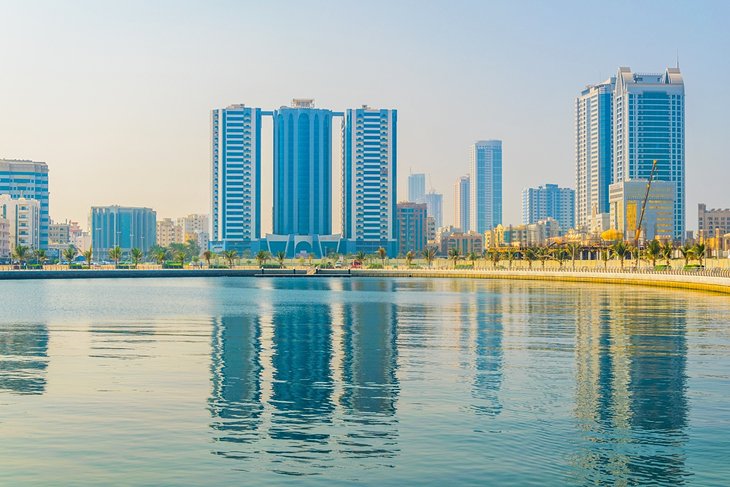 Compared to other Emirati cities, Ajman is a rather sleepy place. This port city is set along a creek, which divides the town in two and has a pleasant shore-side promenade petering out at a fine white-sand beach. Archaeological discoveries around Ajman provide evidence that the town was an important Bronze Age settlement. Within easy reach of town are the mountain villages of Manama, with its small fort, and Masfut, known for its colorful marble.
6. Al-Zorah District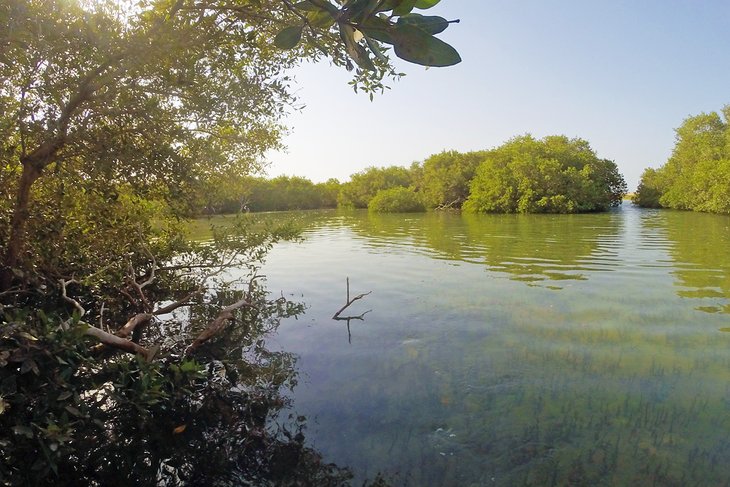 Although not yet finished, this new coastal development when completed will contain yacht marinas, luxury hotels and apartments, dining choices, and a golf course (which is already open). The preserved coastal section here, which includes one million square meters of protected mangrove forests, is of most interest to travelers. Amid the shallow lagoons ringed by mangroves are excellent bird-watching opportunities, with more than 50 species of migratory birds, including huge flocks of flamingos.
Stand up paddleboarding, kayaking, boat tours, and nature walks are all on the plan for the Al-Zorah district in the near future.
Official site: www.alzorah.ae
7. Manama and Masfut
Within easy reach of Ajman city is the Hajar Mountain towns of Manama and Masfut. Manama has a small fort, which is currently being converted into a museum dedicated to local history and is the closest town to the new Al Naseem Nature Reserve (still in development and not open to the public).
Masfut is a good place to get your hiking boots on and take a mountain walk. The road to Masfut, with the scenery changing from dunes to the Hajar foothills, is one of the biggest attractions of a trip here, as is the temperature, which is always cooler than the coast.
8. Umm Al-Quwain Fort and Museum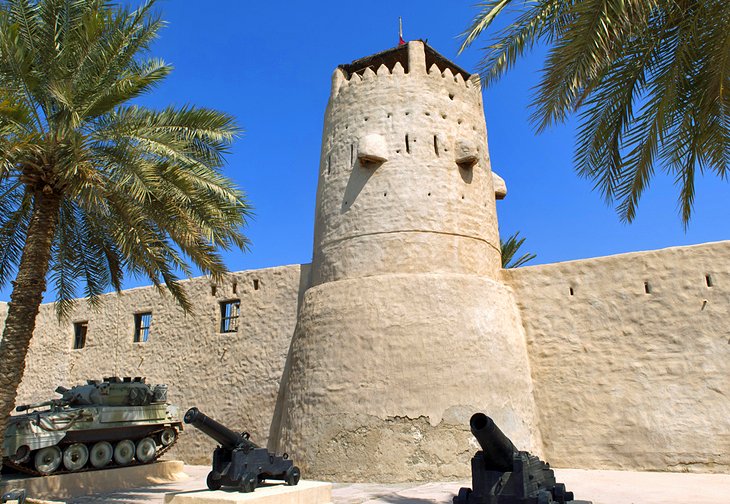 Umm Al-Quwain Fort once guarded the entrance to the old town by overseeing both the sea and the creek. The facade, with its two rounded towers, has been well restored. The fort now houses the town's small museum. Inside, the exhibits focus mainly on local archaeological sites, including finds from the Al-Dur archaeological site. There are also ethnographic exhibits introducing local life and traditional Emirati customs, artistry, and craftwork including jewelry, textiles, metalwork, and a display of weaponry dating back more than 200 years.
9. Seneyah Island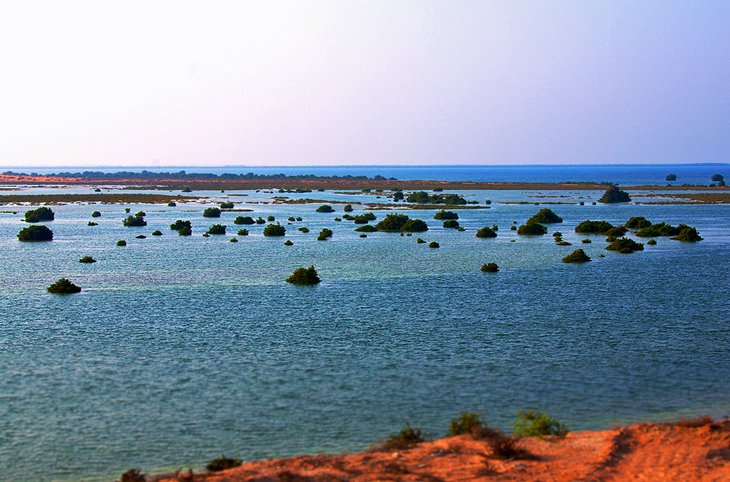 The series of islands just offshore from Umm Al-Quwain city are surrounded by mangrove forests and are an important area for migratory birds. Beautiful Seneyah Island, where Al Qaram trees (native to the United Arab Emirates) grow, is the largest of the island group and makes for a great nature escape from the hustle and bustle of the UAE's cities.
Due to its close proximity to Dubai, the island is a favorite day trip for those interested in the Gulf's natural environment. Many birds, including flamingos, herons, terns, and plovers can be seen in the shallow mud flats here.
10. Al-Dur Archaeological Site
This famous archaeological site contains remains of a once-important town dating back 2,000 years. Items uncovered at Al-Dur include tombs, stone houses, large storage jars, and glassware from Egypt and Syria. Some of the earthenware uncovered is a beautiful orange with black painted design that has become known as a typical Al-Dur decorative practice.
This sprawling site is scattered over a large area, with many single-room dwellings, as well as large, multi-room structures. Both types of houses were built of beach rock blocks, found locally in the shallow lagoons. Thousands of graves were found, and in some cases the larger tombs contained the remains of more than one individual, perhaps a family. Items found in the tombs include drinking sets, Roman glass, weaponry, pottery, jewelry, and ivory.
There are two public monuments at Al-Dur: the small square fort, with round corner towers, and a small square temple, dedicated to the Semitic solar deity Shams. An abundance of coins have also been uncovered here, including foreign coins, as well as hundreds of locally minted coins bearing the name of Abi'el. Most of the excavated finds from the site can be seen at Umm Al-Quwain Museum.
11. Dreamland Aqua Park
This huge entertainment complex has more than 25 attractions and is extremely popular with families. Among the many things to do here are aquatic themed rides, children's wading pools, twisters, a crazy river and kamikaze ride, and a giant wave pool. In the blistering heat of summer, both locals and tourists flock here with their children to get some respite from the sun. Shaded palm gardens dot the area, and a rather over-the-top fake roaring volcano surrounded by replicas of wild animals is sure to be a winner with the kids.
Where to Stay in Ajman and Umm Al-Quwain for Sightseeing
If you're visiting Ajman and Umm Al-Quwain for the first time, the best place to stay is on Ajman's white-sand beaches that sit along the Ajman Corniche, a waterfront promenade, where locals like to stroll.
Luxury Hotels: With a private white-sand beach, Ajman Saray, A Luxury Collection

Resort

accents its contemporary styling with Arabian flourishes and offers a pool, spa, fitness center, and squash court. Nearby, also along the Corniche, the Fairmont

Ajman

is a thoroughly modern resort with impressive facilities, including a beautiful pool, good restaurants, and a fitness center, while the adjacent Bahi Ajman Palace

Hotel

offers great beachfront value with lovely ocean views from some of the rooms.
Mid-Range Hotels: A stay at Ramada Beach Hotel

Ajman

, opposite Ajman Beach, includes free access to a private stretch of sand. Suites with kitchenettes are available for longer stays. The Wyndham Garden Ajman

Corniche

offers a private beach just a short stroll across the Corniche, spacious modern rooms with balconies overlooking the sea, and a rooftop pool.

In Umm Al-Quwain, the most popular place to stay is family-friendly Barracuda Beach

Resort

, near Dreamland Aqua Park. Rooms here have ocean views, and there's a good pool area and restaurant.
Budget Hotels: Less than 10 minutes on foot from the Ajman Corniche, Habib Hotel

Apartments

has clean rooms with kitchenettes. The Safari Hotel

Apartments

, a little farther back from the beach, has one- and two-bedroom apartments, which are popular for longer stays.
More Related Articles on PlanetWare.com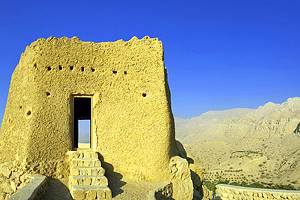 Beach Destinations: Ras Al-Khaimah is the United Arab Emirates' most popular beach break destination with plenty of resort-style hotels right on the sand. Or head to the white sands of Al-Aqah in Fujairah where it's all about snorkeling, swimming, and scuba diving.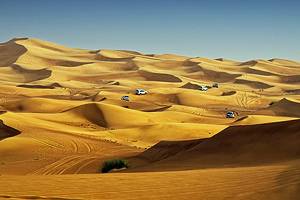 Lesser-Visited UAE Destinations: To get out of the big cities of Dubai and Abu Dhabi, check out Al Ain for its fort and trips up to Jebel Hafeet or discover some of the country's more natural attractions such as Hatta while on a day trip from Dubai.