10 Top-Rated Tourist Attractions in Ajman & Umm Al-Quwain
Although they don't have the same number of things to do as other parts of the United Arab Emirates, don't entirely write the tiny Emirates of Ajman and Umm Al-Quwain off your itinerary hit list.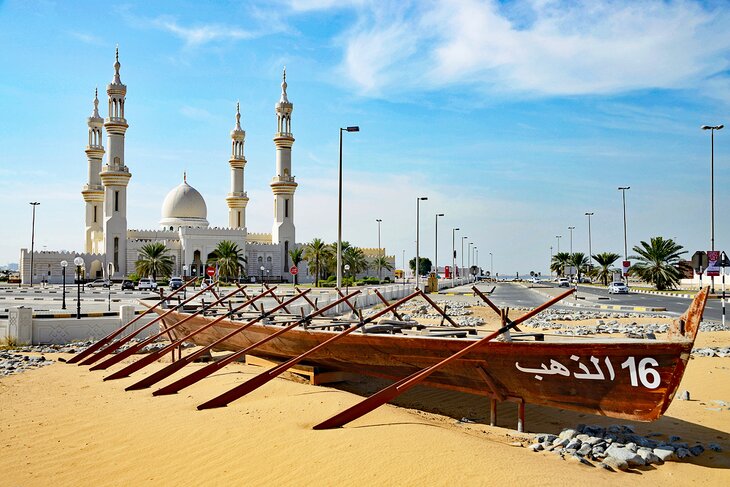 Both Ajman and Umm Al-Quwain offer good strips of white-sand beach, which many Dubai weekend-breakers consider one of the best places to visit to escape their city's more crowded coastal strip.
With large swaths of mangroves off the coast here, nature tours exploring this delicate coastal ecosystem are becoming increasingly popular. Ajman's mangrove kayak tours are the best organized, but Umm Al-Quwain is also now adding mangrove tours to its bow, with the option of stand up paddleboarding as well as kayaking.
Both emirates also offer a scattering of lesser-seen tourist attractions for those who want to delve a bit deeper into the UAE's history and culture. In particular, the inland Ajman exclave of Masfut is an interesting Hajar Mountain diversion while exploring these emirates.
Gather some ideas for your visit with our list of the top attractions and things to do in Ajman and Umm Al-Quwain.
1. Soak Up the Sun on Ajman's Beaches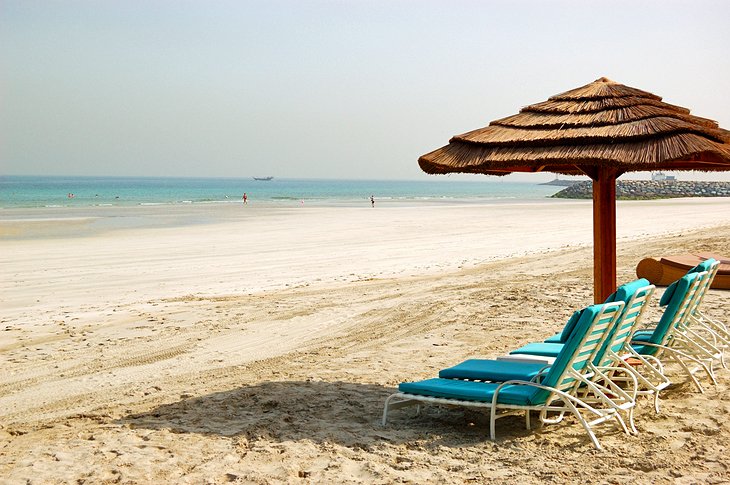 Ajman's coastline is home to luxury hotels, each with their private patch of pristine white sand.
Noted for some of the prettiest beaches in the United Arab Emirates, this is the place to come if you're looking for serious relaxation time, with little to do except swim and soak up the sun.
Non-guests can usually use the private hotel beaches and take advantage of the hotel facilities by paying a day-pass fee.
These private beaches are Ajman's best choices, as they offer excellent on-site amenities and fine strips of white sand. Many Dubai locals head to the resorts here for a luxury weekend getaway from the city.
Otherwise, there's a long stretch of public beach running along the rim of the town center.
If you want a day of lazy sun lounging, Ajman's beaches really can't be beaten.
Address: Ajman Corniche, Ajman
2. Kayak through The Al-Zorah Nature Reserve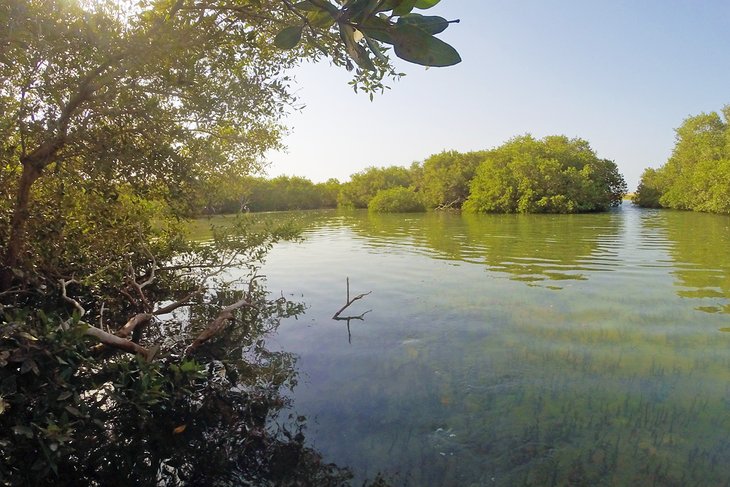 The northern side of Ajman Creek is home to the new Al-Zorah coastal development, which mixes luxury villa residential neighborhoods with beachfront hotel resorts and recreational facilities, including a golf course and yacht marina.
For visitors not staying in the resorts here, though, the Al-Zorah Nature Reserve is the main attraction of a visit.
This protected area of mangrove forest covers roughly two kilometers and is an important habitat for migratory birds, including flamingos.
Highly informative guided kayaking tours of the mangrove forest are run from Al-Zorah's marina by local company Quest for Adventure.
The tours (which must be pre-booked) are suitable for both avid bird-watchers and travelers who simply want to enjoy the natural surroundings and scenery of the mangrove forest.
Both day and night kayaking tours are available, and for travelers not comfortable navigating their own kayak, there is an electric canoe tour option. All tours are guided by experienced tour guides who specialize in mangrove flora and fauna. Children aged four and up are also very welcome, so it's a great outdoor activity for families.
Address: Al-Zorah Marina, Ajman
Official site: https://www.questforadventure.net/
3. Explore the Ajman Exclaves of Manama and Masfut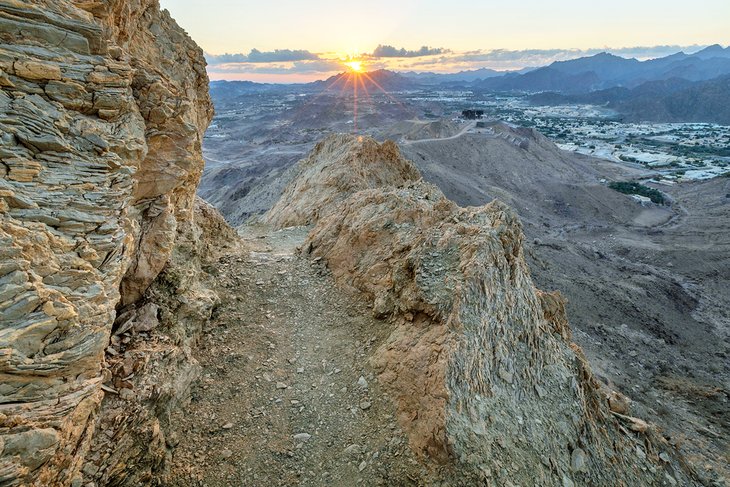 The Hajar Mountain towns of Manama (72 kilometers east from Ajman city) and Masfut (127 kilometers southeast from Ajman city) are both exclaves of the Emirate of Ajman.
Today, Masfut is the more interesting destination, home to both the tiny watchtower of Masfut Fort, perched on the ridge above town, and with plenty of opportunity for hiking and cycling in the surrounding Hajar Mountain landscape.
During summer, it's also hugely popular with locals who simply want to escape the heat of the coast for the cooler temperatures of the mountains.
The road trip to Masfut is enough of a reason to visit with the scenery changing from the bland, rock-pitted coastal plateau, to sand dunes and then to the Hajar foothills along the way.
Manama also has a small fort, which is currently being converted into a museum dedicated to local history and is the closest town to the new Al Naseem Nature Reserve (still in development and not open to the public).
4. Kitesurf or Paddleboard at Umm Al-Quwain Beach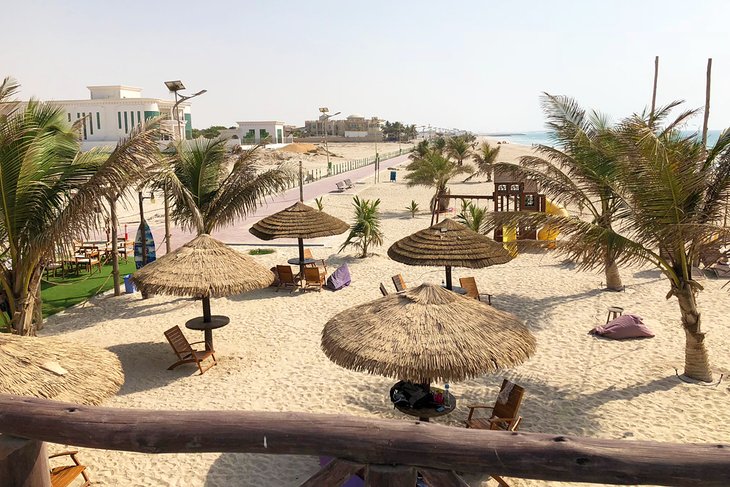 Umm Al-Quwain's main beach runs along the western rim of the emirate's thin peninsula.
Among Dubai residents, the scattering of resorts and hotels here are known for their good-value room rates, so Umm Al-Quwain is popular among locals looking for a cheap weekend beach break away from the hustle of the city.
On the main beach, you'll find the Kite Beach Center, a private section of beach with an excellent restaurant and full facilities for an easygoing whole day on the beach.
It's known for the range of water sports on offer. You can rent stand up paddleboards, kayaks, and kitesurfing equipment, as well as learn to surf or kitesurf, so it's hugely popular with beachgoers looking for a more active day at the beach.
Kite Beach Center also organizes a range of guided kayak and paddleboarding tours of Umm Al-Quwain's mangrove forest, including night tours and sunset tours.
On the eastern side of the peninsula, the UAQ Marine Club is another private beach, which offers rental of stand up paddleboards and kayaks, as well as waterskiing, boat tours, and fishing trips.
It's incredibly family-friendly, with plenty of play and adventure-activity equipment for little ones and a swimming pool and restaurant on-site.
5. Check Out Ajman's Museum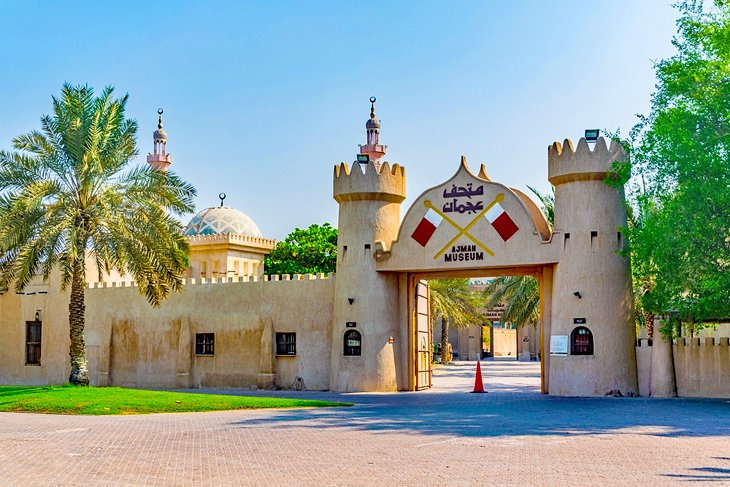 The 18th century fortress that was once Ajman's first line of defense now houses the emirate's museum. The ethnographical exhibit gallery here focus on the traditional local lifestyle, with dioramas of typical day-to-day Emirati life before the oil boom.
There's also a small archaeological gallery, which despite its size displays a wealth of finds from Ajman's nearby archaeological sites that will be of major interest to history fans.
Much of the archaeological gallery is dedicated to artifacts hailing from the Mowaihat site on the outskirts of Ajman city, which was discovered in 1986 when workers were laying a new sewage pipe. A circular Umm al-Nar-type tomb was uncovered, and a rescue excavation commenced.
Numerous examples of soft-stone and painted Umm al-Nar ceramic vessels were uncovered at Mowaihat, as well as more than 3,000 beads, two stamp seals, a number of copper implements, and the remains of several dozen people.
At the time of its discovery, the Mowaihat tomb was the first evidence of Umm al-Nar occupation in the Northern Emirates.
Another room in the fort displays of documents, photos, and official manuscripts tracing Ajman's founding as an emirate.
As well as being the town's main stronghold, the fort was once used as the ruler's palace and later as the location for the city police station.
The fort's major archaeological features are its two wind towers, two watch towers, and grand gateway now fronted by two cannons.
Address: Sheikh Humaid bin Abdul Aziz Street, Ajman
6. See Dhows Being Made at Ajman Dhow Yard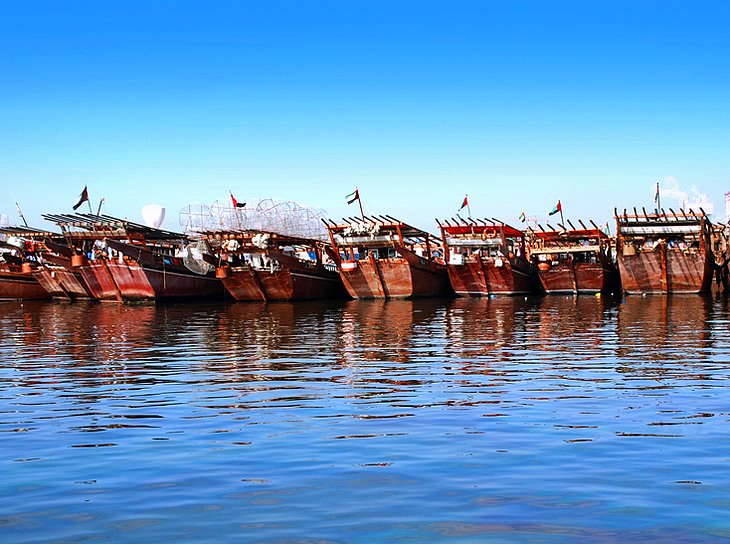 On the north side of Ajman creek, at Ajman Marina, the Dhow Yard is noted as the world's largest dhow building center and one of the area's most interesting sightseeing attractions.
Dhows are built using traditional tools and manual skills that have been handed down through the generations, all without blueprints.
Today dhows are more likely to be built for tourist cruise purposes and other recreational uses rather than as their original use as pearling boats and cargo ships, though these lateen-sailed boats are still used to transport cargo between ports in the UAE.
The Dhow Yard in Ajman also crafts the speedsters that participate in the Dubai Powerboat meets.
Traditional dhow building is a dying craft, and this is one of the few places left where dhows are still built in any large number.
Visitors are generally welcome to watch any construction work happening at the time. The vast amount of work here takes place during the winter months.
Address: Ajman Marina, Ajman
7. Visit Umm Al-Quwain Fort and Museum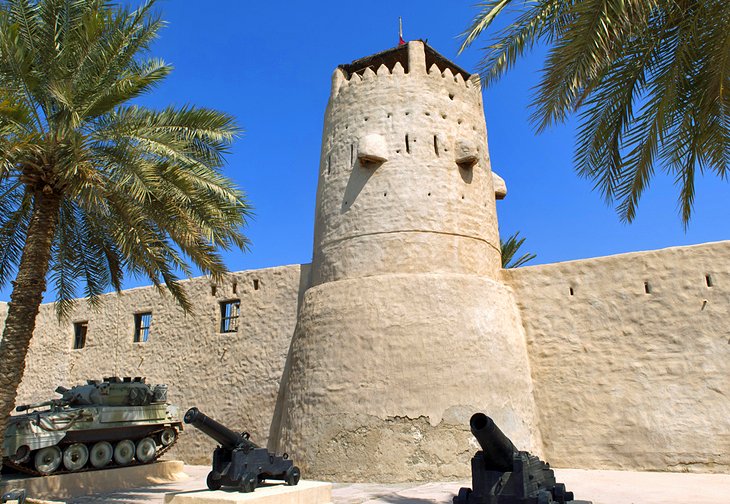 Umm Al-Quwain's Al-Ali Fort, built in 1768, once guarded the entrance to the old town by overseeing both the sea and the creek.
The facade, with its two rounded towers has been well restored, and the interior is now used as Umm Al-Quwain's museum.
Inside, the exhibits focus mainly on local archaeological sites with some exceptional artifacts hailing from the excavation work carried out at the nearby Al-Dur and Tell Abraq sites. Anyone with an interest in ancient history will appreciate a visit here.
Al-Dur was a once-important town dating back 2,000 years. Items uncovered at Al-Dur include tombs, stone houses, large storage jars, and glassware from Egypt and Syria. Some of the earthenware uncovered is a beautiful orange with black painted design that has become known as a typical Al-Dur decorative practice.
Some of the abundance of coins that were uncovered at Al-Dur (including foreign coins, as well as hundreds of locally minted coins bearing the name of Abi'el) are also exhibited inside the museum.
There are also ethnographic exhibits introducing local life and traditional Emirati customs, artistry, and craftwork including jewelry, textiles, metalwork, and a display of weaponry dating back more than 200 years.
Address: Lubnah Street, Umm Al-Quwain
8. Take a Boat Trip to Seneyah Island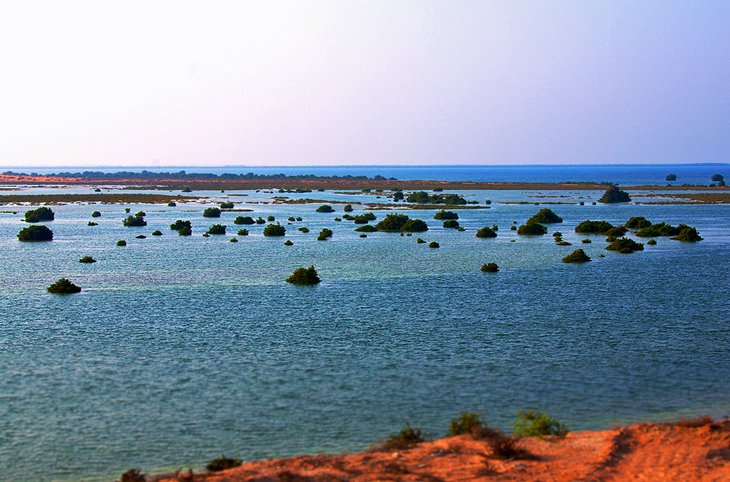 The series of islands just offshore from Umm Al-Quwain city are surrounded by mangrove forests and are an important area for migratory birds.
Beautiful Seneyah Island, where Al Qaram trees (native to the United Arab Emirates) grow, is the largest of the island group and makes for a great nature escape from the hustle and bustle of the UAE's cities.
Due to its close proximity to Dubai, the island is a favorite day trip for those interested in the Gulf's natural environment.
For keen bird-watchers, this is one of the top destinations in the UAE. Many birds, including flamingos, herons, terns, and plovers, can be spotted by eagle-eyed bird-watchers in the shallow mud flats here. There's also the chance to spy a Socotra cormorant.
The island is 19 kilometers offshore from Umm Al-Quwain and 39 kilometers offshore from Ajman, so it's easily reached on a boat day trip from either destination.
9. Watch Camel Racing at Al Labsa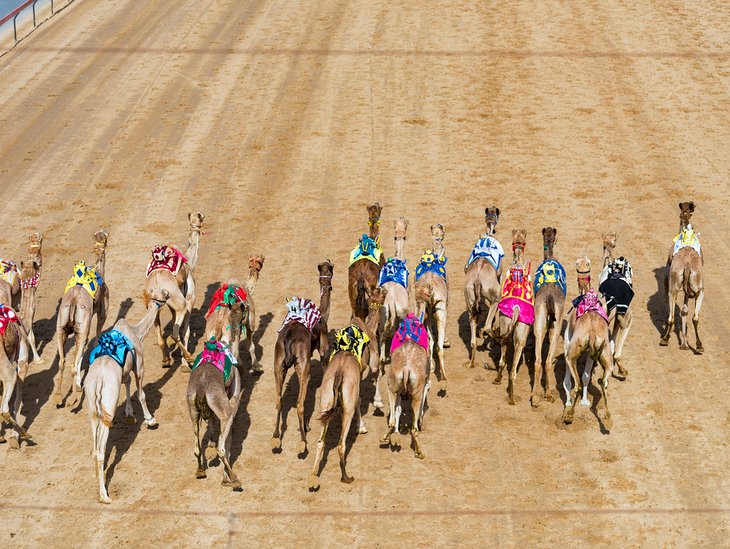 Camel racing is the UAE's national sport. For a morning at the races, head out to Umm Al-Quwain's camel racing track in Al Labsa (29 kilometers southeast of Umm Al-Quwain city).
Races take place regularly on Fridays throughout the cooler months (generally October to April), usually early in the morning from about 7am.
Robot jockeys ride the camels adding a modern high-tech edge to this ancient sport.
As schedules are hard to find, the best way to find out when any racing is happening at the track is to ask a local. Some local tour companies also run tours to the races.
Address: Al Labsa, E55 Highway
10. Take the Kids to Dreamland Aqua Park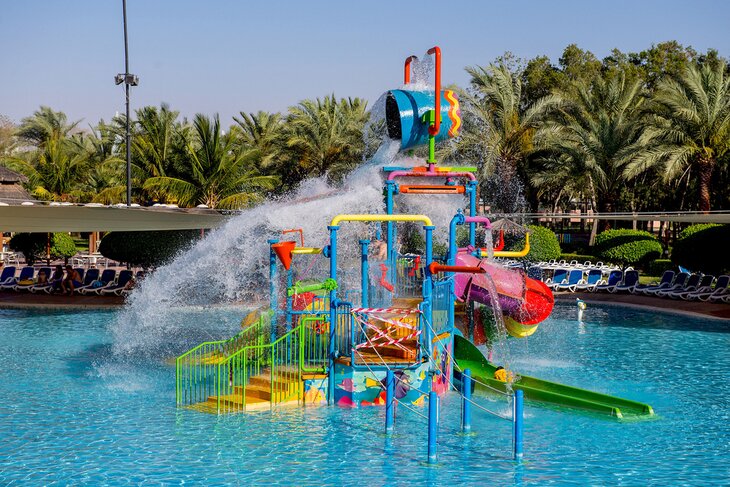 This huge entertainment complex has more than 25 attractions and is extremely popular with families.
Among the many things to do here are aquatic themed rides, children's wading pools, twisters, a crazy river and kamikaze ride, and a giant wave pool.
In the blistering heat of summer, both locals and tourists flock here with their children to get some respite from the sun.
Shaded palm gardens dot the area, and a rather over-the-top fake roaring volcano surrounded by replicas of wild animals is sure to be a winner with the kids.
Address: E11 Highway, Umm Al-Quwain
Official site: http://www.dreamlanduae.com/
More Related Articles on PlanetWare.com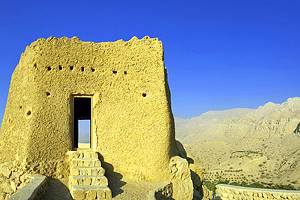 Beach Destinations: Ras Al-Khaimah is the United Arab Emirates' most popular beach break destination with plenty of resort-style hotels right on the sand. Or head to the white sands of Al-Aqah in Fujairah where it's all about snorkeling, swimming, and scuba diving.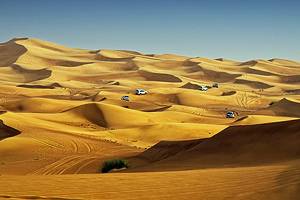 Lesser-Visited UAE Destinations: To get out of the big cities of Dubai and Abu Dhabi, check out Al Ain for its fort and trips up to Jebel Hafeet or discover some of the country's more natural attractions such as Hatta while on a day trip from Dubai.