12 Top-Rated Day Trips from Dubai
We may earn a commission from affiliate links ()
Dubai's cosmopolitan buzz, world-class restaurants, and multitude of shopping opportunities could keep you occupied in the city for a week, but even serious city slickers need a break every now and then. Luckily, most of the major tourist attractions and popular things to do in the UAE are only a short trip away, so you can choose from plenty of fun options for day trips from Dubai.
Everybody should take a desert excursion to the wild dunes, if only simply for the startling contrast between the metropolis high-rises and the rolling desert sands. For tourists who want to stick to the cities, Abu Dhabi is a sightseeing must for the dazzling architecture of the Sheikh Zayed Mosque and the world-class Louvre Abu Dhabi, while the cities of Al Ain and Sharjah make worthy trips for culture vultures due to their museums. Discover the best places to visit near the city with our list of the top day trips from Dubai.
Note: Some businesses may be temporarily closed due to recent global health and safety issues.
1. Abu Dhabi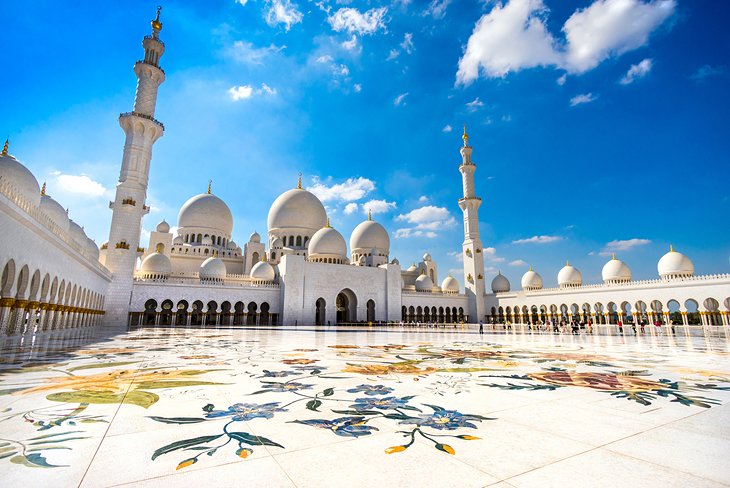 Abu Dhabi, about 132 kilometers from Dubai, is home to two of the UAE's major modern landmarks. Come to visit the Sheikh Zayed Grand Mosque, a triumph of contemporary architecture merged with traditional Arabic design and artistry.
Decked out with a lavish use of marble, gold, ceramic work, and crystals, the mosque's high ornamentation is a combination of Mamluk, Fatimid, and Ottoman stylistic design to symbolize all the ages of the Arabic empires. The mosque incorporates 82 domes, the world's largest Persian carpet (created by 1,200 carpet weavers), and seven absolutely ginormous crystal chandeliers (the largest weighing 12 tons). The overall effect is one of staggering opulence and superb craftsmanship.
After the mosque, head to Saadiyat Island where, on the waterfront, the galleries of the Louvre Abu Dhabi sit under a glinting silver dome. Opened in 2017, the Louvre's collection tells humanity's story through the art we've left behind; swooping through history from the first communities, through the rise and fall of empires, up to the present day.
The full-day Abu Dhabi Tour is a great option if you want to squeeze Abu Dhabi's main highlights into a day. The tour includes a guided visit to the Sheikh Zayed Grand Mosque, photo stops at Abu Dhabi Heritage Village, and Yas Island's Formula 1 circuit and Ferrari World, plus a stop at Louvre Abu Dhabi. All transport from Dubai, including pickup and drop-off from most hotels, is included, and the tour can be booked on a private or shared basis.
2. Desert Safari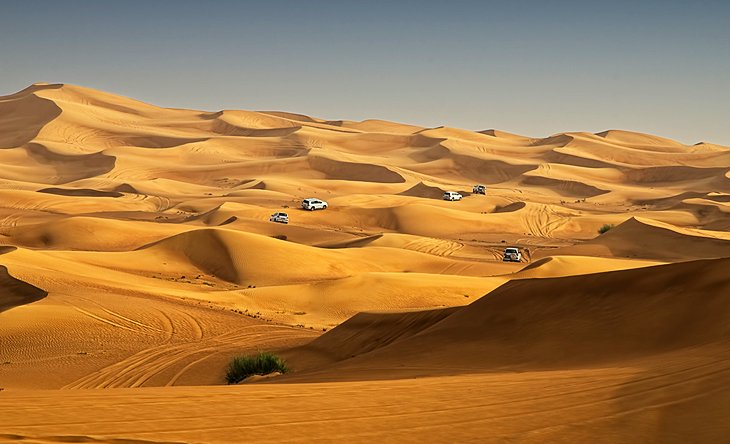 Heading out into the desert for a day is a must-do on any Dubai day trip checklist. There are plenty of opportunities for safaris and excursions into the UAE's wild desert interior for those seeking a taste of adventure. Camel trekking is the more traditional transport option, with more opportunities to simply experience the quiet beauty of this harsh landscape, but 4WD safaris can get you farther away from the city and allow you to see a wider area.
Most tours out of Dubai include visiting and driving through the huge dunes not far from the city for some adrenaline-fueled activity. Dune bashing is basically a roller coaster experience in a car and is heart-in-the-mouth exciting when speeding full tilt down a huge wave of sand. For travelers with a thirst for adventure, there are more options for sandy thrill-seeking, with many safari operators now offering sand boarding (surfing on sand) and quad biking on the dunes as well.
3. Musandam Peninsula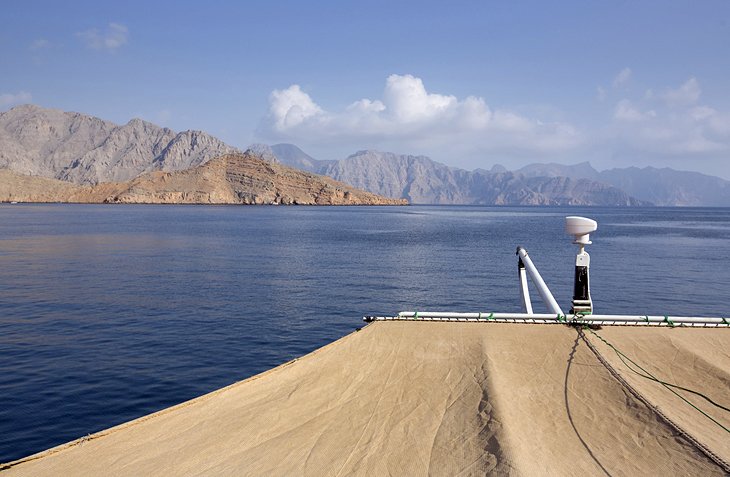 Oman's Musandam Peninsula, about 194 kilometers from Dubai, is the perfect peaceful antidote to Dubai's bright lights and big city buzz. This jagged region is incredibly scenic, with its tall, mountainous coast plunging steeply into the sea of the Arabian Gulf. Due to its similarity in character to the fjords of Norway, it's often nicknamed the Arabian Fjords, but these mountains in actuality were carved by tectonic plate movement and not by glacier movement.
The best way to experience the scenery here is by a dhow cruise from the Omani town of Khasab. There is a strong possibility of seeing dolphins along the way, and many cruises make a stop off at Telegraph Island, which was once used as a telegraph station by the British for their London to Karachi cable line.
The inlets in this area are particularly spectacular, and those interested in history can still see the ruins of the very lonely station where the telegraph operators used to live and work.
The Musandam Dhow Cruise Day Trip from Dubai takes the hassle out of organizing your own Khasab dhow cruise. On this trip, you get a six-hour scenic dhow cruise departing from Khasab, including a stop near Telegraph Island for swimming, snorkeling, and an included lunch. All transport from Dubai, with pickup and drop-off from your hotel, a local guide, and unlimited cold soft drinks, coffee, and tea are also included.
4. Al-Ain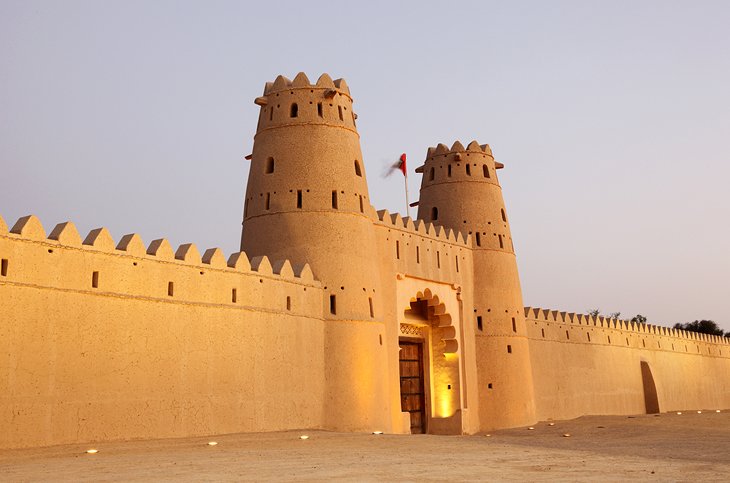 Nicknamed "The Garden City," Al Ain makes a great day trip from Dubai for culture lovers, with its museums, well-restored fortresses, and a Bronze Age archaeological site. The Al Jahili Fortress is home to the UAE's oldest museum, the Al Ain Museum, with a collection that highlights the archaeology and ethnography of the Emirates, while the Al Ain Palace Museum collection is housed in the old residence of the UAE's first president and contains a fine art gallery, as well as displays of traditional Emirati life.
For families, the highlight here is the Al Ain Zoo, which now also includes a safari tour experience, where you can spot African and Arabian species roaming in a carefully created natural-style habitat. And no Al Ain visitor should miss a trip up to the summit of Jebel Hafeet, the second tallest peak in the Emirates.
5. Wadi Adventure Park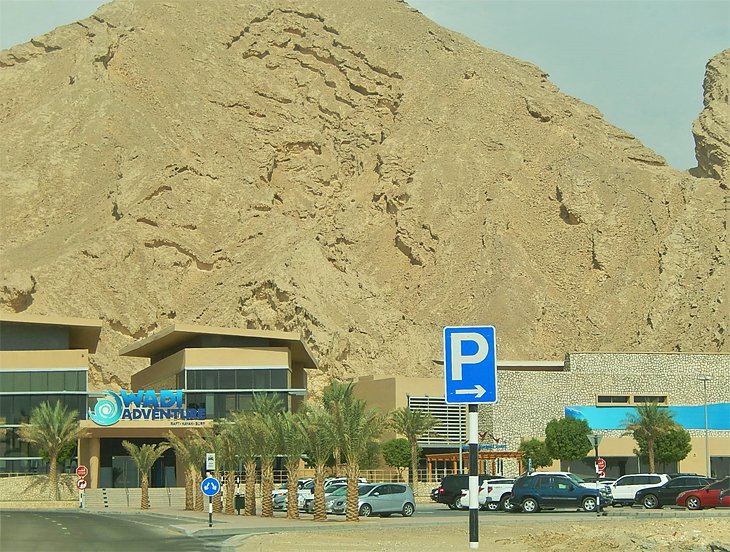 Dubai's city heat can really wear you out. Wadi Adventure Park, about 153 kilometers from the city in Al Ain, is a great option to cool down while having fun. This activity park offers kayaking, surfing, white water rafting, and wake-boarding all in man-made facilities. There's also climbing, ziplines, obstacle courses, and swimming pools (for just chilling out after all the activities).
The white water rafting course stretches for more than one kilometer, while the surfing pool offers a safe environment for complete beginners to master surfing techniques. This is a great family-friendly day out that's sure to please teenagers, as well as younger children.
Address: Hazza Bin Sultan Street, Al-Ain
Official site: www.wadiadventure.ae
6. Hajar Mountains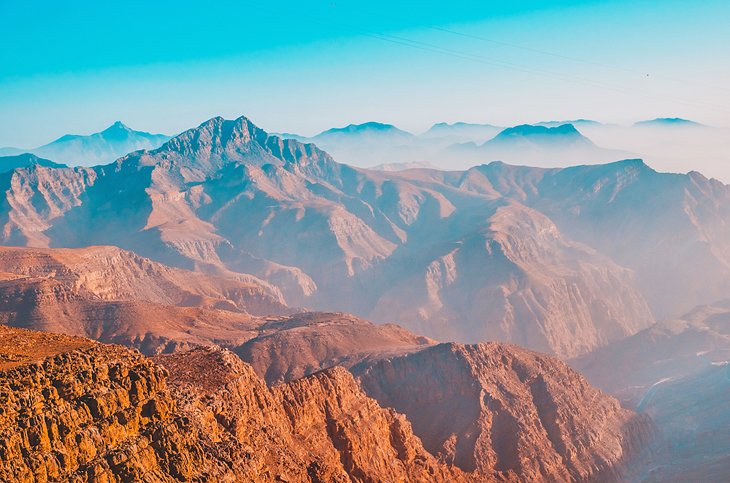 Ranging across the eastern UAE and into Oman, the Hajar Mountains make a great nature escape from Dubai and offer the Emirate's best road trip experience. The winding mountain passes offer stupendous panoramic views and plenty of opportunities to see gazelles, while bird-watchers should keep their eyes peeled to spot Egyptian vultures.
One of the easiest places to soak up Hajar Mountain views is Jebel Jais, near Ras Al-Khaimah. Here, a switchback road leads up to a beautifully landscaped observation terrace near the summit, and the more adventurous can choose to throw themselves off the mountain on the Jebel Jais Flight, the world's longest zipline. The tiny isolated villages in the Hajar Mountains region are a world apart from Dubai. One of the best known is Masafi, which has a colorful market where you can pick up excellent local crafts, including earthenware pots and carpets.
7. Sharjah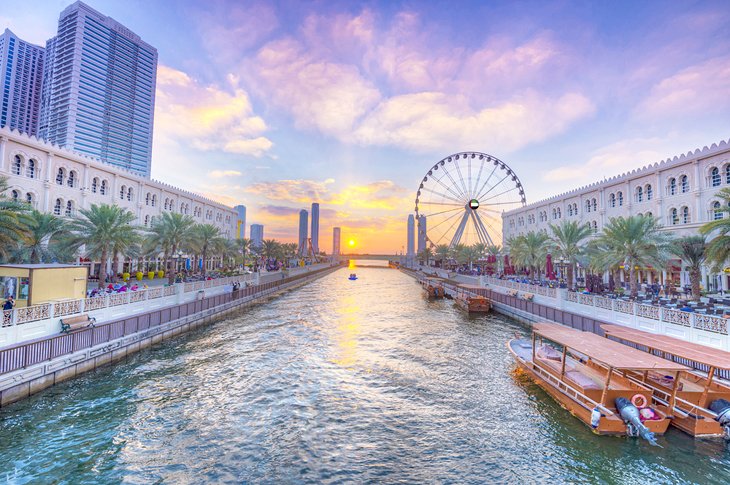 One of the easiest day trips from Dubai, Sharjah sits just roughly 15 kilometers from downtown Dubai. Head here if you want to delve into the UAE's history and culture, as Sharjah's heritage district on the waterfront is home to a bundle of museums. The two major museums are the Sharjah Museum of Islamic Civilizations, one of the best museums in the country, and the Sharjah Art Museum, but there are plenty of smaller museums and a number of restored souks in the district that are well worth a look.
Away from the heritage district, there's a lot for families here as well, with the Eye of the Emirates Ferris wheel and the butterfly house on Al Noor Island among the top attractions.
8. Hatta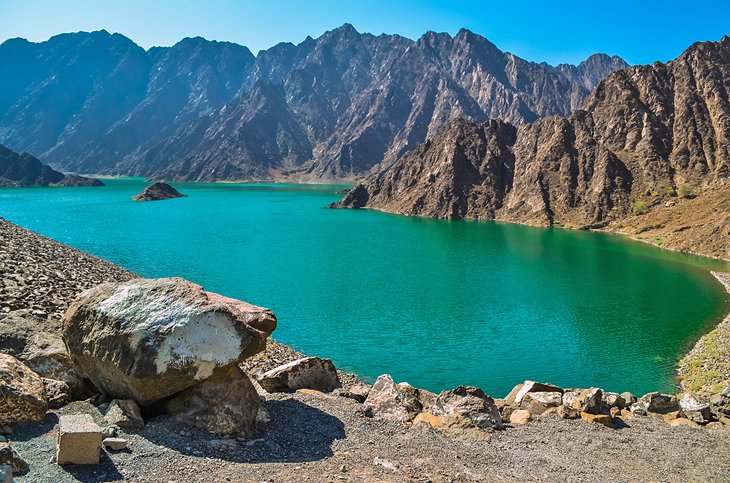 The small town of Hatta sits surrounded by craggy, arid mountains, about 126 kilometers inland from Dubai near the border with Oman. On the outskirts of town, the Hatta Dam is a popular day-tripping destination for kayaking and boating amid spectacular mountain scenery which rolls right down to the water's edge. Both single and tandem kayaks are available to rent at the dam, making this an easy option to add some outdoor activities into your holiday.
Away from the water there are also hiking and mountain biking trails in the area. While in Hatta, pop into the Hatta Heritage Village for a taste of traditional Hajar Mountain life amid the fully restored ancient village, with its traditional dwellings and displays of local culture and crafts.
9. Fujairah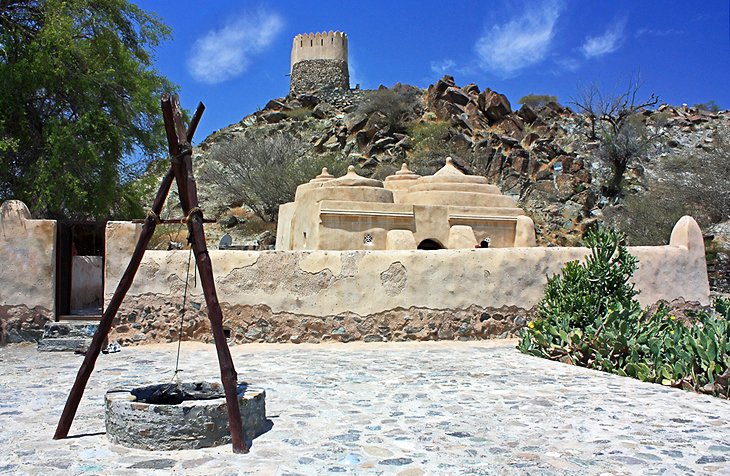 A day out in the Emirate of Fujairah, about 167 kilometers from Dubai, manages to combine both nature and history. The mud-brick Al-Bidyah mosque is thought to be the oldest example of a mosque within the UAE, with a history that can be traced back to the 15th century (though it may be much older). On the outskirts of the modern city of Fujairah is the small, golden-hued stone Fujairah Fort, which was a vital communication and military post during the 16th century.
Around the fort area is Fujairah's Heritage Village, where you can walk through a reconstructed typical village that highlights local Emirati rural life in earlier centuries, including exhibits and demonstrations on traditional farming techniques. If you're looking for something less historic, the beaches to the north of the city are some of the prettiest in the UAE, lying along the Gulf of Oman, with excellent snorkeling and, for those who want to explore deeper, the best scuba diving in the Emirates.
10. Ferrari World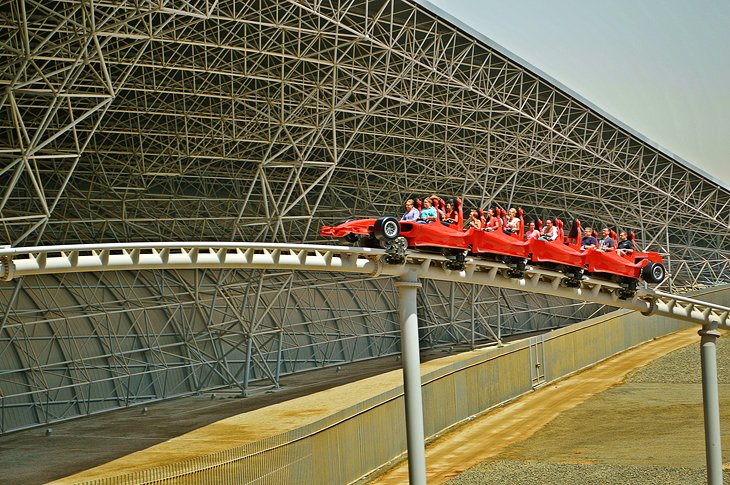 This theme park offers much more than just looking at cars. Touted as the world's largest indoor theme park, Ferrari World encompasses roller coaster rides; Formula 1 race courses; audio-visual attraction rides, which allow you to experience Italy's most famous highlights from the air and tour the Italian Ferrari factory; an entire children's section with rides suited for little ones; and a museum of Ferrari's cars (obviously).
It's a great day out for kids of all ages, with everything from a learn-to-drive experience for small children to riding the world's fastest roller coaster (going from 0 to 240 kilometers per hour) on the Formula Rosso ride, which gives you the real Formula 1 racer experience.
Ferrari World lies about 112 kilometers from Dubai. The Ferrari World Day Trip from Dubai is great if you don't want to deal with the traffic clog of the highway to Abu Dhabi. The entrance fee to Ferrari World is included, but as soon as you're inside the park, you are let loose to explore individually on your four-hour visit. The tour includes transport, including pickup and drop-off from your Dubai hotel.
Location: Yas Island, Abu Dhabi
Official site: www.ferrariworldabudhabi.com
11. Horseback Riding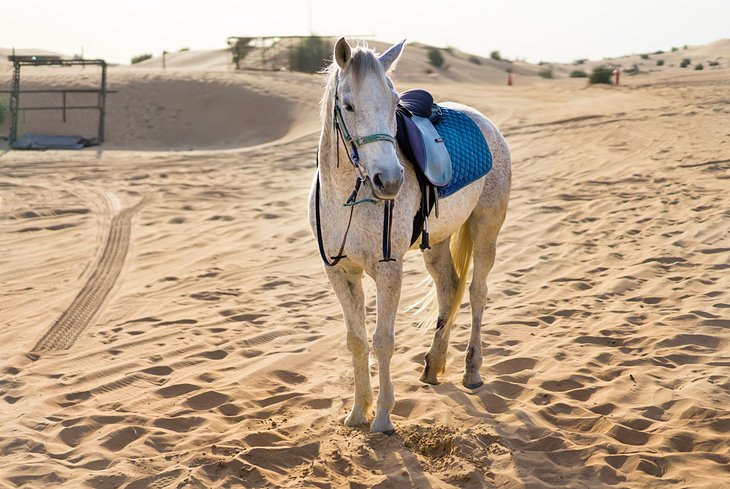 Discovering Dubai's desert surroundings on a horseback tour is a great city escape. Emirates Equestrian Center arranges desert trips for experienced riders on Sundays, Mondays, and Tuesdays, with both early morning and late afternoon starts, while many private stables in the Dubai area cater for all levels of horse experience, from beginners to advanced, and can put together bespoke riding day trip itineraries for families, groups, and individual riders. Exploring the desert-scape in this way brings you much closer to the raw and brutal beauty of the environment than in a 4WD tour.
Official site: www.emiratesequestriancentre.com
12. Fishing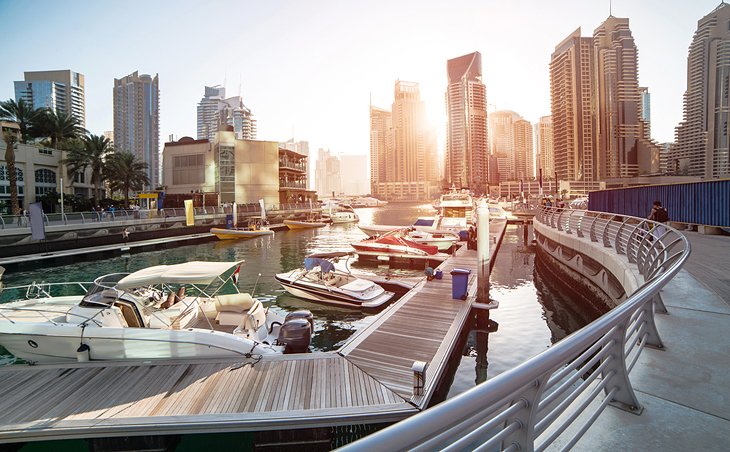 Specialist tour operators in Dubai offer deep-sea fishing excursions in the waters of the Arabian Gulf, where you can throw your line out and try your luck at catching tuna, snapper, grouper, and barracuda. Local company Deep Sea Fishing Dubai is the pick of the bunch, as their fishing tours are all day endeavors, starting with an early morning departure from the city and heading at least 72 kilometers off the coast, which maximizes fishing time and the likelihood of a successful catch.
Official site: www.deepseafishing.ae