12 Best Beaches in Abu Dhabi
From fall through spring, Abu Dhabi's beaches become one of the city's main tourist attractions. For a winter sun getaway with city amenities on hand, Abu Dhabi is one of the best places to visit due to the plentiful things to do for both families and couples.
Theme parks, a world-class museum, one of the finest mosques in the world, outdoor adventure activities, and oodles of fine-dining choices are among the top things to see and do in Abu Dhabi when you want a day off the beach.
Your Abu Dhabi beach choice will probably depend on where you stay and your style of beach day. The city's many beach resorts all have their own private strips of sand, so many beach break travelers head no farther for sunbathing and swimming.
If your hotel doesn't have its own beach, or you just like to explore, there are plenty of other options. Abu Dhabi has several public beaches – some with free entry and others with a small admission fee – that are all well-maintained and offer clean water for swimming. Facilities at all of them are decent, though don't expect the frills you'd get on a private beach.
Alternatively, the city's beach clubs and most of the beach resorts in the city offer day-access beach passes for casual visitors. Perks at these privately run beaches usually include swimming pool use and a range of facilities, such as restaurants and cafés, at your fingertips.
The capital of the United Arab Emirates has a beach for everyone. To help you choose, check out our list of the best beaches in Abu Dhabi.
1. Saadiyat Public Beach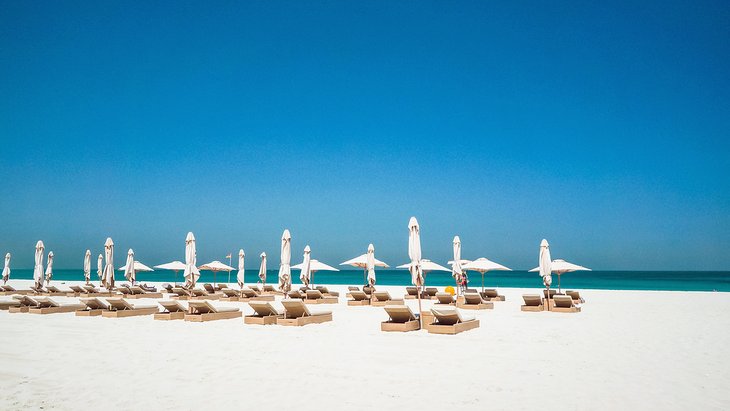 Saadiyat Public Beach is a looker. Not only is this one of Abu Dhabi's best public strips of sand, it easily rivals the private beach clubs for the sheer beauty of its surroundings.
Saadiyat Public Beach trails along the northern shore of Saadiyat Island; the entrance is just east of the Park Hyatt Abhu Dhabi Hotel and Villas. The beach access fee is more expensive than on other public beach areas in the city, but beachgoers here rate Saadiyat's wide strip of soft, white sand and facilities worth the extra cost.
The area of gentle sand knolls sprouting shore-grass behind the groomed beach area is a nesting area for hawksbill turtles. Precautions such as raised access boardwalks for beach entry have been made so as not to disturb this protected natural habitat.
Facilities are all kept in scrupulously good condition, with plenty of sun-loungers with shades to rent, well-kept changing areas, a lifeguard on duty until sunset, and an on-site café offering drinks and meals.
As an extra bonus, if you're on a budget, food and beverages from outside are allowed to be brought in, so many beachgoers pack a picnic if heading here for a whole day.
Address: Shati Al Saadiyat Street, Saadiyat Island
2. Nurai Island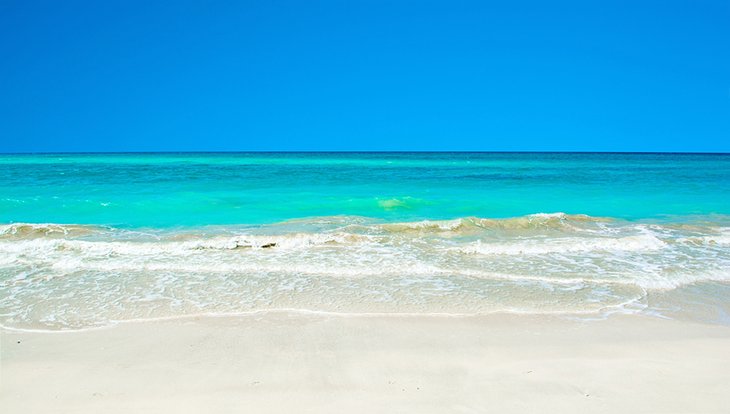 For the ultimate glam island getaway, spoil yourself with a day at Abu Dhabi's most exclusive beach destination. Privately-owned Nurai Island is home to just Zaya Nurai Island resort, which touts itself as a chilled-out, bohemian-chic city escape.
The beach here is a photogenic long curve of white sand lapped by crystal clear, light turquoise waters that you more commonly associate with Indian Ocean beach hot spots in the Maldives.
Water sports are available for the more active, including kayak, stand up paddleboarding, and snorkeling equipment rental, though most people are primarily here to simply sloth out VIP-style with full facilities at their fingertips.
Day passes to this slice of sandy paradise are pricey, but a significant portion of the fee is redeemable as payment at the resort restaurants, the seafront spa, or when using other extra activities such as water sports. The day pass price also includes return boat transfers from the resort's port on Saadiyat Island and use of the resort's swimming pool, as well as the beach.
Address: Access from Nurai Island Welcome Center, Al Dhiba Street, Saadiyat Island
3. Yas Beach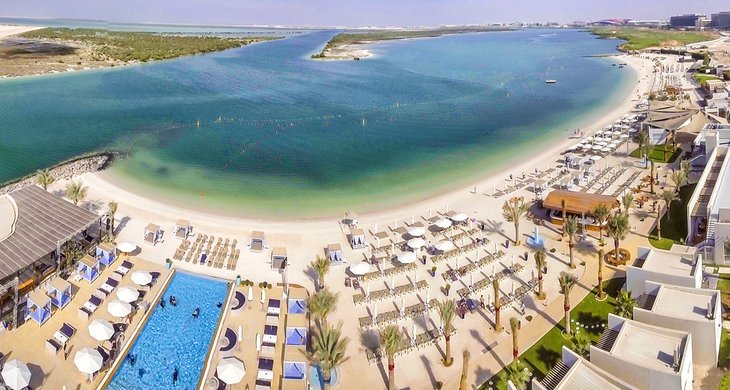 Of all Abu Dhabi's beach clubs, Yas Beach rates at the top. Right at the southern end of Yas Island's western shore, this stretch of compacted, white sand offers a lively and youthful beach scene that manages to cater excellently for families as well.
If you're looking for plentiful facilities, you've come to the right place. Backing a beachfront brimming with sun lounges and cabanas framed by blousy curtains, you'll find a swimming pool and separate pool area for little ones, cafés and food kiosks for snacks and lunch, and water sports offices where you can rent kayaks and Jet Skis.
If you're staying in any Yas Island hotel, entrance is free, and kids under-12 also have no admission fee, making this an affordable option for traveling families.
Address: Yas Leisure Dive, Yas Island
4. Saadiyat Beach Club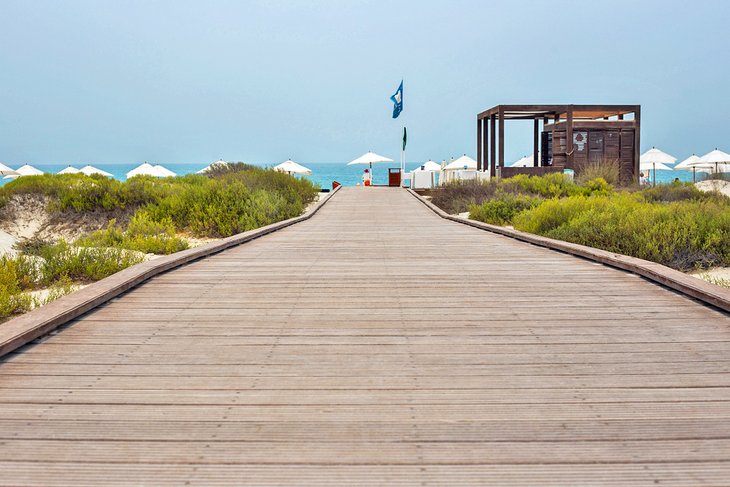 Heading east from Saadiyat Public Beach, the soft, powdery white sand trails on along the island's northern shore and is the exclusive domain of Saadiyat Beach Club. This is where you come for a luxurious day spent on the sand, though some guests beeline straight to the infinity pool to snag one of its chic poolside cabanas for the day. Note: it's a good idea to pre-book a cabana if you want one as they're very popular.
There's also a good restaurant for all your snacking and dining needs and a spa area with a sauna, Jacuzzi, various pampering treatments on offer, and a gym where workout classes are offered.
On the weekends there are regular live DJ music events.
Just as with Saadiyat Public Beach, the grassy dune area backing the beach is a protected nature area and home to the nesting sites of hawksbill turtles.
Make sure to stay for the sunset views of central Abu Dhabi skyline in the distance.
Address: Al Tilal Street, Saadiyat Island
5. Radisson Blue Beach Club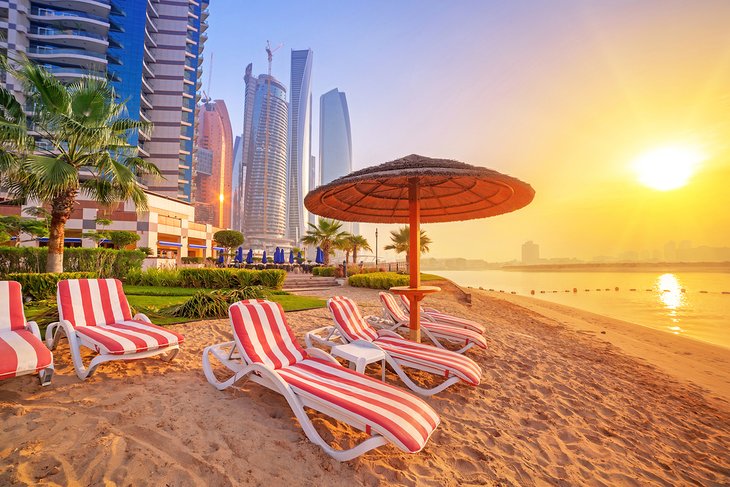 Many of Abu Dhabi's resorts and large hotels also function as beach clubs, offering day access to their beach facilities. The Radisson Blu Hotel & Resort, sitting at the western end of Abu Dhabi Corniche, is one of the best deals.
The groomed stretch of white sand is fringed by date palms and backed by a landscaped area containing pools, restaurants, and cafés.
This is a fantastic choice for families looking for an easygoing day at the beach, with a pool area with waterslides specifically catering for kids, an on-duty lifeguard, and kayak rental and other water sports on offer for active teens.
The on-site spa has a huge range of beauty treatments and massages available if you want to treat yourself after you've soaked up the sun and gone for a swim.
Address: Abu Dhabi Corniche, Downtown, Abu Dhabi Island
6. Al Bateen Beach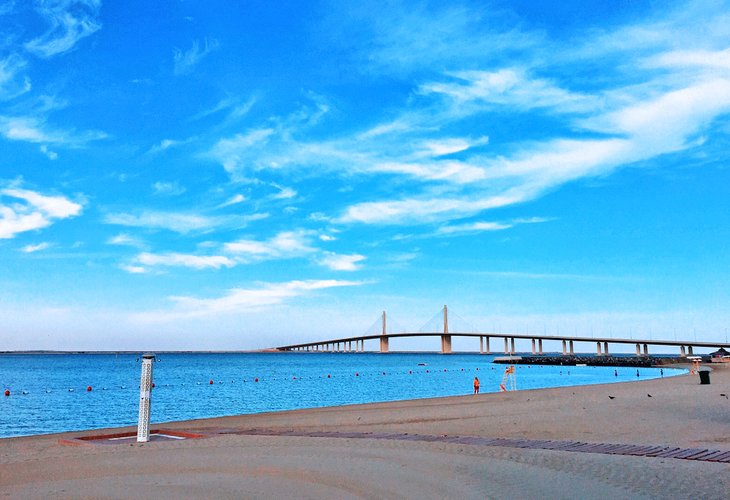 This down-to-earth public beach in central Abu Dhabi is a lively and family-friendly strip of sand, though it can get a bit crowded on weekends when local families flock here to picnic and play. The shoreline here is a slice of immaculately maintained, compacted golden-toned sand with views across to Hudariyat Bridge and Hudariyat Island beyond.
Facilities are excellent, with clean bathrooms and showers, loungers with sunshades available to rent, and a couple of cafés for cold drinks and snacks. Kayaks can also be rented on the beach if you want to explore.
There is no admission fee, so this is a great budget option for a full day on the beach.
The southern end of the beach is a women-only zone with a minimal entrance fee. There are no cafés or services down this end of the beach, so the general admission area is a better bet.
Address: Khalifa Al Mubarak Street, Bateen, Abu Dhabi Island
7. Nation Riviera Beach Club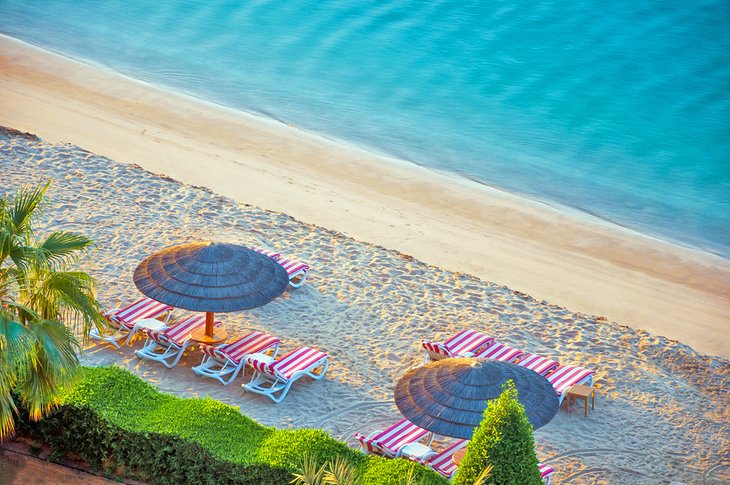 Probably one of the best known beach clubs in Abu Dhabi, the Nation Riviera Beach Club (attached to The St. Regis Abu Dhabi) sits directly on the Corniche. It's hugely popular with locals for its year-long beach club memberships but also offers day access for casual visitors.
The white-sand beachfront here stretches for 200 meters, with a restaurant and large pool area with Jacuzzis and plenty of space for sunbathing set amid immaculately manicured gardens just behind the shore.
For families with little ones in tow, there is a separate children's swimming pool and both outdoor and indoor play areas to keep kids occupied if they bore of splashing about in the sea. In particular, the Treasure Island children's club with its pirate-ship-shaped play area offers plenty of activities.
Beach club passes also give you access to the fully equipped gym on the hotel's third floor and to the adjoining terrace pool.
Address: Abu Dhabi Corniche, Downtown, Abu Dhabi Island.
8. Beach Rotana Club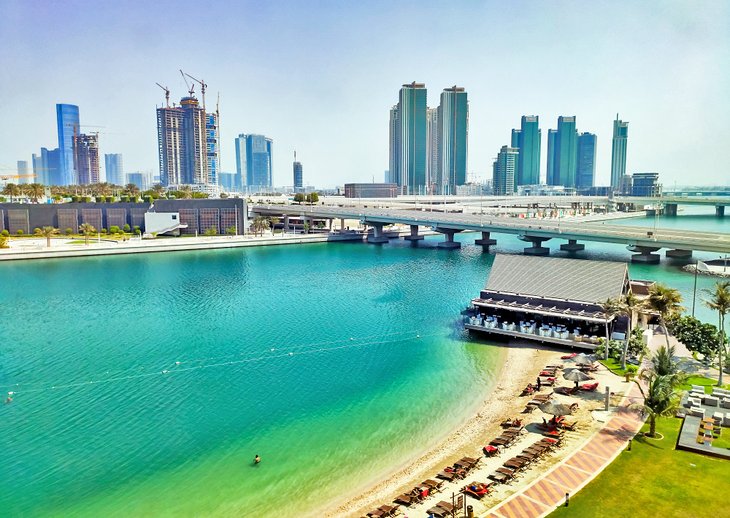 The Beach Rotana Club (in the Beach Rotana Abu Dhabi) in Al Zahiyah on Abu Dhabi Island may only have a small slip of beachfront, but it makes up for its relatively small area of sand on offer with the large garden area behind, which hosts oodles of facilities.
The garden area is home to a huge swimming pool area, while plenty of sun lounges with sunshades are spread across the surrounding lawn backing the beach.
Several restaurants and cafés also sit in the garden area, catering to every dining need, from light snacks to fine dining.
For water sports fans, there's an excellent scuba diving operator here, as well as kayaks that can be rented.
Another bonus of day access at this beach club is the views from the beach and garden, which look directly across the water to the flashy developments of Al Maryah Island. It's particularly impressive in the early evening, when the buildings glow golden as the sun sets.
Address: Beach Rotana Hotel, 10th Street, Al Zahiyah, Abu Dhabi Island
9. Corniche Beach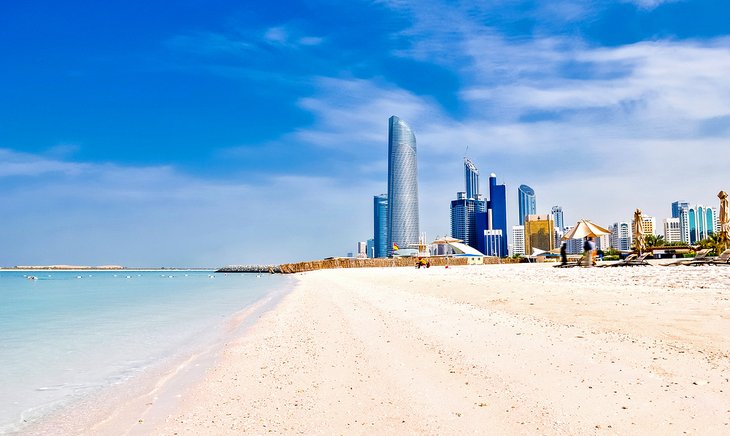 The main public beach in Abu Dhabi directly fronts the Corniche Road. Thronging with families on the weekends, it's a great place to get a taste of local life.
There are a couple of different sections and various access points along the length of the road. The sand on Corniche Beach is more compacted than at some other city beaches but is just as clean and well-maintained.
The main portion of the beach has no admission fee. There are also separate sections, with a minimal entrance fee, reserved for families and female groups. These are a more sedate option than the free beach, which can get a bit rowdy with football and volleyball matches during peak periods.
Lifeguards are on duty until sunset, and the sea is shallow at the water's edge, so it's a good, safe option for kids who like to splash about.
Address: Corniche Road, Downtown, Abu Dhabi Island.
10. Fairmont Bab Al Bahr Beach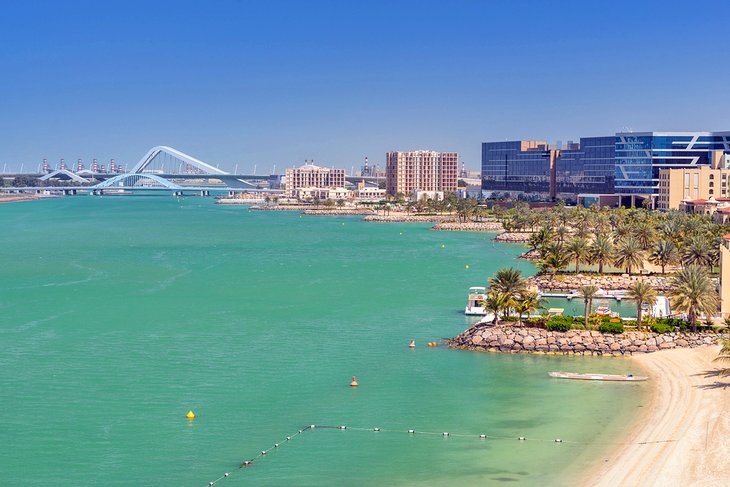 The pristine white-sand beach at the Fairmont Bab Al Bahr hotel is perfect for a relaxed day of sunbathing and swimming. It also comes up trumps for its view. The shorefront here on the Khor Al Maqta looks directly out over the creek to the Sheikh Zayed Grand Mosque.
All the bells and whistles you'd expect at a resort-run beach are available.
The swimming pool area with separate children's pool and play area offer alternatives to splashing around in the sea. SUP and kayaks can be rented on the beach if you're looking for more activities after a few hours sunbathing. And the choice of dining in the resort grounds ranges from sushi to a steakhouse.
An extra added bonus is that beach day passes are usually slightly cheaper here than at other five-star Abu Dhabi resorts, and under-12s are granted free admission.
Address: Fairmont Bab Al Bahr Hotel, Khor Al Maqta
11. Sheraton Resort Beach
The Sheraton Abu Dhabi Hotel & Resort is one of Abu Dhabi's oldest resort hotels, and although its rooms can't compete with the glitz on display at competing five-stars, its beach area still makes for a great day out.
The major selling point here is that the Sheraton's grounds wrap around a sheltered lagoon, making this a super safe and sheltered spot for children who like to swim in the sea (and for anyone else who prefers calm waters to waves).
The soft white-sand beach is fringed by date palms and backed by a manicured lawn, where you can slouch in cabanas and mature gardens that exude secret hideaway appeal despite the ring of skyscrapers bearing over the resort.
The refreshment and dining choice here is decent, and there's a large pool area.
Address: Sheraton Abu Dhabi Resort, Corniche Road (East), Downtown, Abu Dhabi Island
12. InterContinental Bayshore Beach Club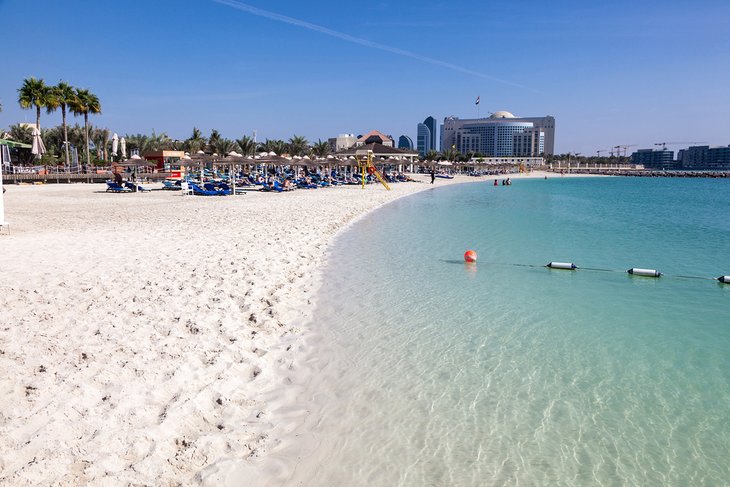 The InterContinental Abu Dhabi hotel's beach club is a longtime favorite with local families due to its many facilities and fine sweep of soft white-sand beach. Tourists not staying at the hotel can also treat themselves to a day at the beach club by booking a day-access pass.
If you don't want to dip in the sea and sunbathe on the sand, the beach club also has three swimming pools, including an infinity pool and one small pool specifically for toddlers with plenty of sun loungers and shades in these off-beach areas as well.
For more active pursuits, there's a fully equipped gym here that day-access passholders can also use, and paddleboards and kayaks can be rented on the beach.
The Bayshore Restaurant provides all refreshments and dining on-site while the entire beach club area is surrounded by mature, manicured tropical gardens, which make a day here feel like being cocooned within a peaceful oasis.
Address: King Abdullah bin Abdul Aziz Al Saud Street, Abu Dhabi
Map of Beaches in Abu Dhabi