14 Top-Rated Tourist Attractions in Sharjah
We may earn a commission from affiliate links ()
Sharjah is the arts capital of the United Arab Emirates, and its efforts to preserve the area's history garnered Sharjah the title of Cultural Capital of the Arab World by UNESCO in 1998. For museum and art lovers, Sharjah is crammed full of excellent sightseeing opportunities. The renowned Sharjah Museum of Islamic Civilization and the Art Museum are the city's major tourist attractions and top of most visitors' things to do list, while the Heritage Area is full of interesting buildings dedicated to Emirati history.
This is also a wonderfully family-friendly destination, with lots to keep the kids amused, including Al Noor Island, with its butterfly house, and exploring the underwater world at the aquarium. Find out more about the best places to visit with our list of the top attractions in Sharjah.
See also: Where to Stay in Sharjah For Sightseeing
Note: Some businesses may be temporarily closed due to recent global health and safety issues.
1. Sharjah Museum of Islamic Civilization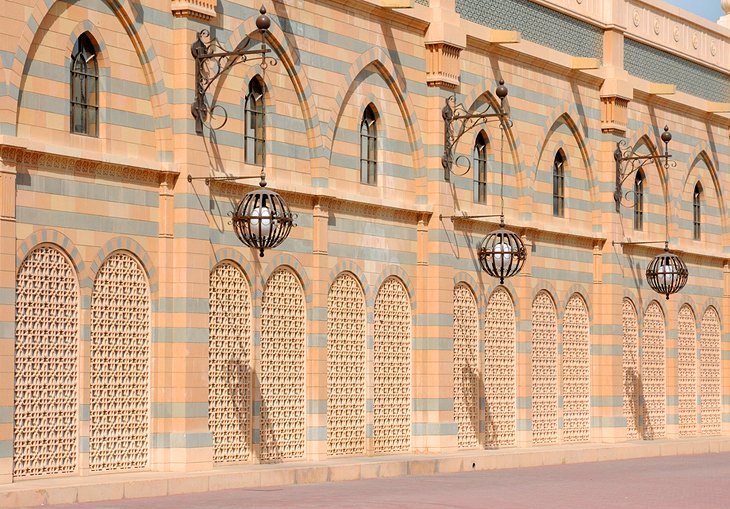 Sharjah Museum of Islamic Civilization is a good place to dive into the deep roots of Arab and Islamic culture. A number of scientific and religious manuscripts, as well as a collection of Islamic arts and craft work dating from the 7th to the 19th centuries are on display. Features of particular note include the exhibit of clay, pottery, and glass, as well as metallic handicrafts inlaid with silver, gold, and brass, and the collection of astrolabes.
The museum holds items dating back to the Abbasid and Umayyad eras, including a coin collection of silver dinars and dirhams, but also traces the far reaching tentacles of Islamic culture, with exhibits of Mughal and Ottoman craft work.
Address: Corniche Street, Sharjah
2. Sharjah Arts Museum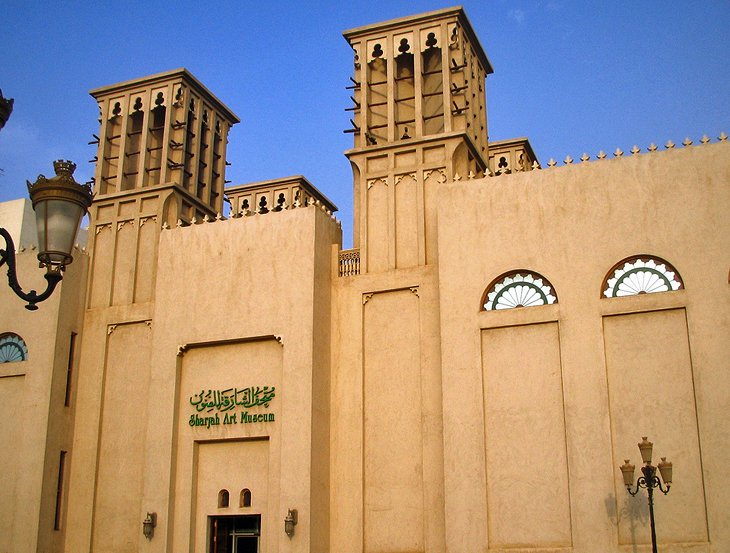 One of the largest arts museums in the United Arab Emirates, this state-of-the-art facility opened in 1997 and features a permanent collection, as well as a program of temporary exhibits. The permanent collectionn includes valuable artwork from the collections of Sheikh Dr. Sultan bin Mohammed Al Qassimi. There are 72 galleries spread over three floors, with a focus on works by Arab artists from throughout the Arab world.
Other artworks are by 18th-century painters who visited the Middle East and became fascinated by the natural environment, architecture, and culture. The Ali Darwish gallery contains watercolors of Sharjah. The contemporary section consists of more than 300 works by local, Arab, and foreign artists. If you're an art-lover on a weekend stopover in Dubai, this is one of the top places to visit.
Address: Off Corniche Street, Sharjah
3. Sharjah Heritage Area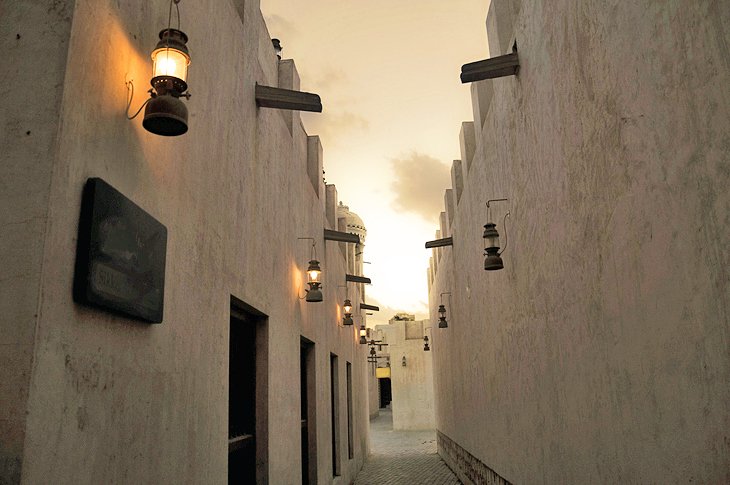 The Sharjah Heritage Area is a combination of several museums that include the Sharjah Heritage Museum, with exhibits covering all facets of traditional Emirati life; the Calligraphy Museum, exploring this Arab art form; and Bait Al Naboodah, a finely restored traditional family home, once home to the Al-Shamsi family. They're a great place to delve a bit deeper into traditional Emirati culture and discover what life was like before the discovery of oil.
A number of traditional souk areas have also been revived, such as Souk Al Arsah. This large open courtyard souk has been restored in its traditional style and now includes a number of different shops featuring silver and wooden handicrafts, jewelry, traditional garments, and beauty products.
Location: Off Corniche Street, Sharjah
4. Sharjah Fort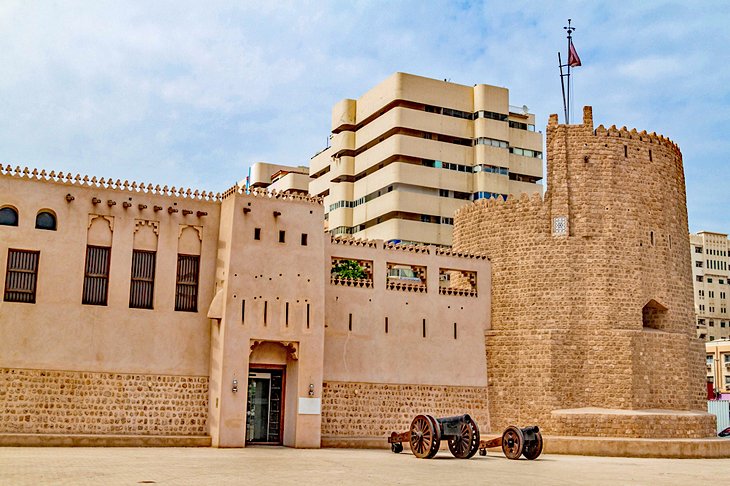 Sharjah Fort (called Al Hisn in Arabic) sits on a plaza at the corner of the Heritage District. It was built 200 years ago and has served as both a defensive facility for the town and as the traditional residence of the ruling family of Sharjah.
Inside, the rooms contain themed displays tracing the history of Sharjah, as well as the town's importance as part of the Gulf's trade networks. One exhibit details the painstaking restoration of the building in the late 20th century. From the roof there are great views across the Heritage District and out to the sea.
The Sharjah City Highlights Private Tour offers a half day of exploring Sharjah's sights including Sharjah Fort, Sharjah Heritage Museum and Souk Al Arsah. The guide can tailor the trip to your interests, so you can add in trips to the Museum of Islamic Civilization or the Art Museum or a ramble around the Central Market if you like. Transport, including pickup and drop-off from Dubai hotels, is included.
5. Central Market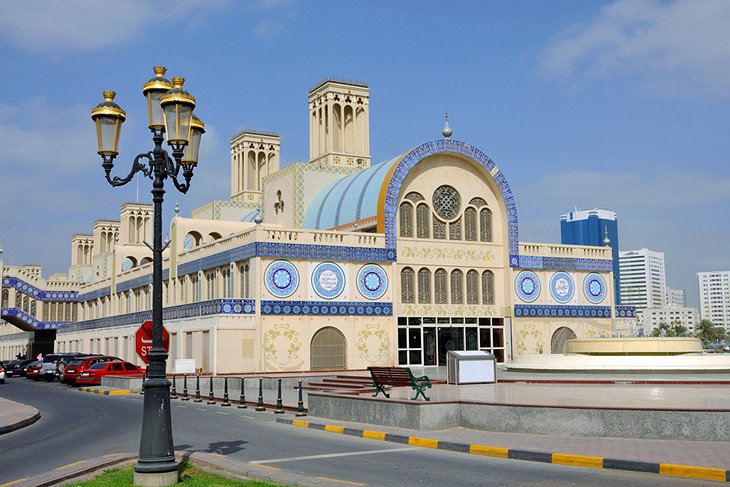 Sharjah's Central Market is the city's most famous landmark. The intricate blue tile work on the exterior has given it the nickname the Blue Souk. More than 600 shops are inside, where shoppers will find sections devoted to gold and jewelry, perfume, clothing, food, electronics, and gift-type items.
The upper floor has the atmosphere of an authentic Arabian bazaar, with vendors selling antiques, carpets, Omani and Yemeni jewelry, and all sorts of other exotic souvenirs. For downtime after shopping exploits, the market area is also home to plenty of cafés.
Location: Khalid Lagoon, Sharjah
6. Al Noor Island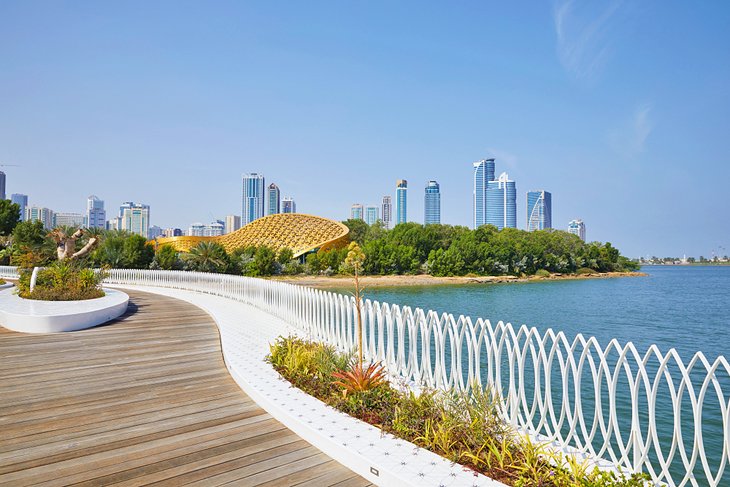 This public park, created in Khalid Lagoon and accessed by bridge from the central city's Corniche Street, is Sharjah's top spot if you're looking for some tranquil downtime to recuperate from shopping and museum exploring. The island blends art and nature into its design and features gardens scattered with modern art sculptures and installations, created by some of the world's most renowned artists.
The premier attraction is Al Noor Island's butterfly house, where approximately 500 different butterfly species can be seen.
Location: Khalid Lagoon, Sharjah
7. Sharjah Aquarium & Maritime Museum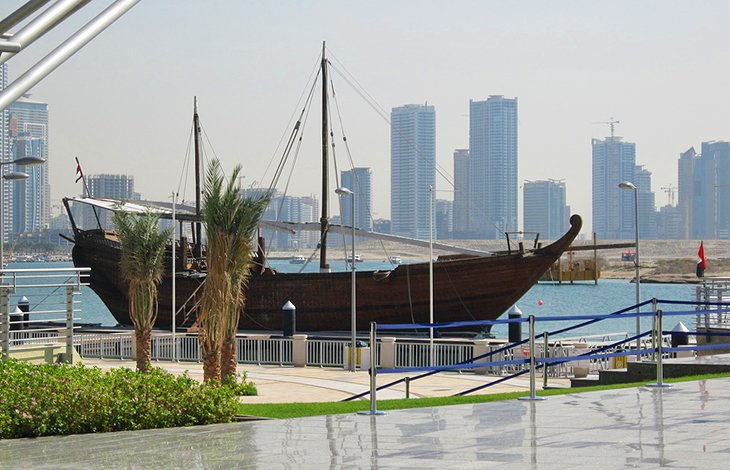 As a settlement, Sharjah has always been linked closely to the water, and the Aquarium and Maritime Museum highlights the importance of the sea in the city's development. For kids, the aquarium is the main attraction and hosts around 150 species of sea life, including reef sharks and sea rays.
The connected Maritime Museum hosts interesting exhibits on traditional wooden dhows, as well as pearl collecting and fishing-all once important to the economy here. Highlights include the collection of glimmering pearls (including what is thought to be the oldest pearl ever collected in the world) and the beautiful wooden dhow docked outside the museum.
Location: Off Al Meena Street, Al Khan district, Sharjah
8. Souk Al-Jubail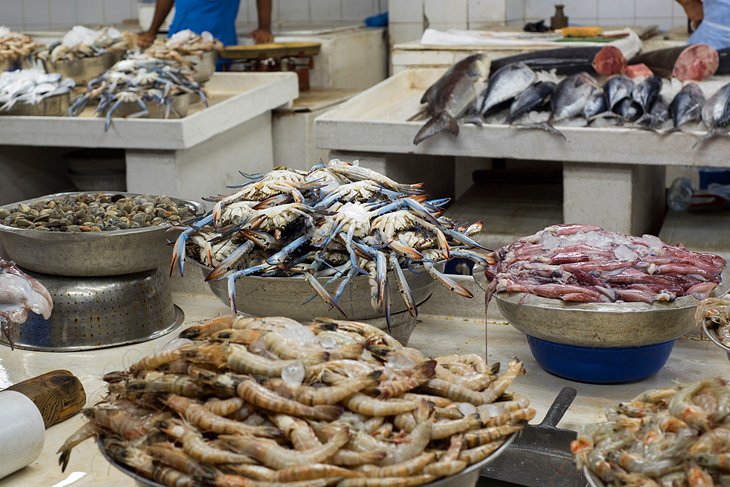 Sharjah's huge, covered Souk Al-Jubail is an excellent way to experience the bustle of traditional Arabian shopping in a modern setting. Join local shoppers as they do their weekly rounds at the Fish Souk-a stinky and busy mix of noise and color-and then dive into the Fruit and Vegetable Souk, always crowded with vendors shouting out their prices and customers bargaining for good deals.
As well as being a prime opportunity to capture some vibrant photos of daily Sharjah life and see a shopping souk, which hasn't been dressed up for the tourists, this is a great place to pick up gifts, such as dates and local honey.
9. Sharjah Archaeology Museum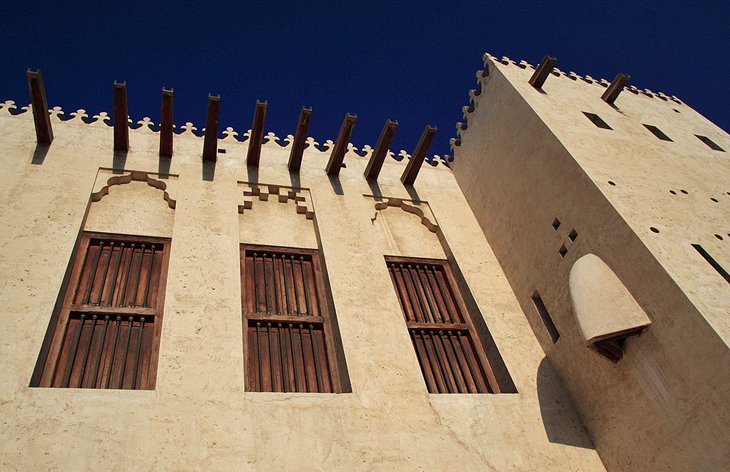 Sharjah Archaeology Museum has exhibits tracing the wide arcing history of humanity in the area. Displays in the Stone Age section include numerous flint pieces reflecting the technology of that period, and old seashells. There are also ornamental gems and pottery shards from the Ubaid period that were found in Al Hamriyah and confirm the trade exchange of this age with Mesopotamia (present-day Iraq).
The Bronze Age Hall features archaeological finds of pottery, metals, stone, and jewelry, while the Iron Age Hall features two of the museum's prize pieces: a camel statue and a ceramic dome that both come from the Muweilah archaeological site. The museum has done a good job of making its exhibits user-friendly, and children will be kept entertained by a variety of hands-on games.
Location: Al Abah district, Sharjah
10. Kalba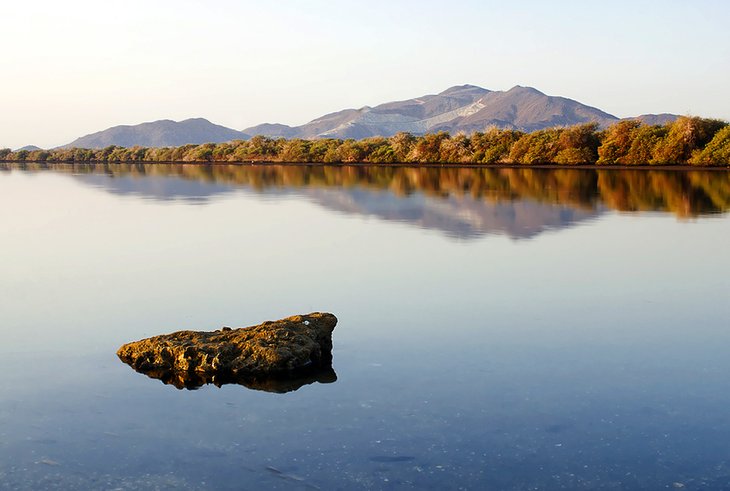 The most southerly village in the United Arab Emirates, Kalba is a quaint fishing village with a lively fresh produce and fish market on the seashore. About 112 kilometers east of Sharjah, it's a charming place for a stroll that is worth the trip for the Al-Hisn Museum (built as a fort 200 years ago) and the fully restored House of Sheikh Saeed bin Hamad Al-Qassimi, with its displays of musical instruments and traditional furniture.
Just south of the village is the Khor Kalba Conservation Reserve, containing the most northerly mangrove forest in the world. This is a bird-watcher's paradise, especially during spring and autumn migrations. Visitors can spot the rare white-collared kingfishers that breed here, as well as reef herons and booted warblers. Trips to the reserve are by hired boat or canoe.
11. Al Qasba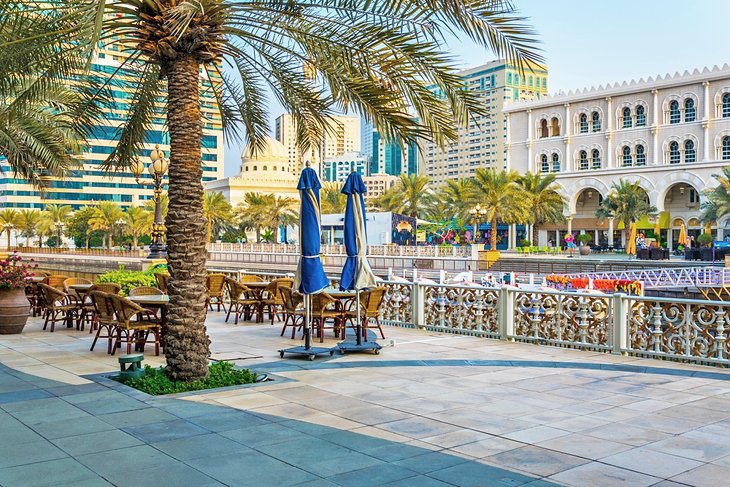 This waterfront quarter is Sharjah's top nighttime destination, with plenty of cafés and restaurants edging the canal. It's a favorite place for promenading families in the evening, and there is plenty of kid-focused fun to be had in this district with both an outdoor and indoor children's entertainment park with rides, go-carts, and a soft-play area to keep little ones busy. Head here also for boat rides, which launch out of the canal and into the bay to see the city lights from early evening onward.
Address: Corniche Street, Sharjah
12. Khor Fakkan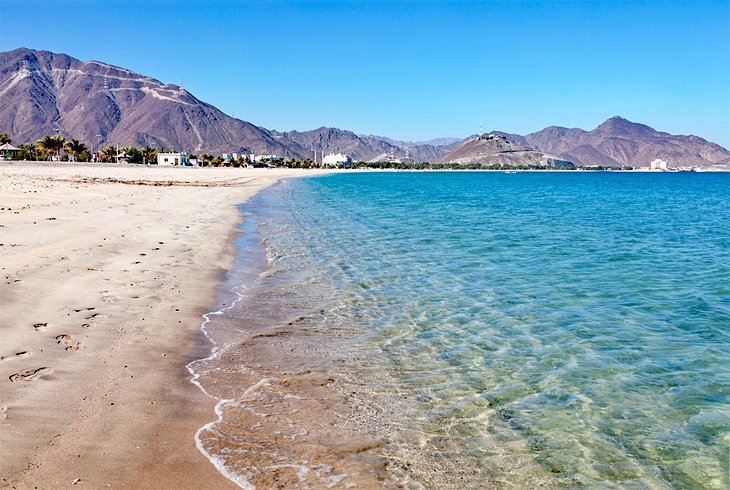 Khor Fakkan is the second largest town on the east coast. Although the main feature of town is the thriving and less-than-picturesque container port, the surrounding area is a top spot for divers and has some interesting attractions nearby while the long beach is a lovely stretch of white sand.
Shark Island is a famous diving spot, with many sites in the coral outcroppings. A popular sightseeing spot is the Rifaisa Dam, tucked away in the inland mountains. The dam was built over a village, and the tops of the houses are visible when there is a lack of rain.
13. Sharjah Science Museum
The Sharjah Science Museum is the only interactive hands-on museum in the United Arab Emirates. The Exhibition Hall includes state-of-the-art elements, which have been designed to get children interested in science. You can test your flexibility, grip strength, and balance; make a cartoon; use a music synthesizer; build a puzzle of the human body; or visit Playspace (which caters to younger children). The on-site Planetarium takes you on a tour of the universe, from the Sharjah sky to deep space.
Location: Al Abah district, Sharjah
14. Al Noor Mosque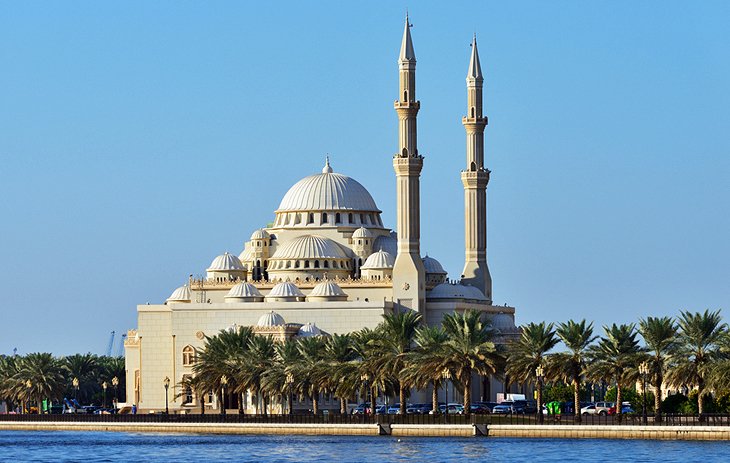 The Al Noor Mosque is the only mosque in Sharjah open to non-Muslims. Anyone interested in digging a bit deeper into the heritage of the United Arab Emirates and wanting to learn a little about Islamic beliefs would find a visit here a worthy addition to their Sharjah itinerary.
Non-Muslims can visit the mosque on a tour, which takes place every Monday at 10am and includes a discussion on Islamic and Emirati history, culture, and traditions. The mosque itself is a modern construction (built in 2005) and modeled on classical Ottoman style, with slender, pointed minarets, typical of Ottoman mosque architecture.
Address: Corniche Street, Sharjah
Things to Do in Sharjah for Children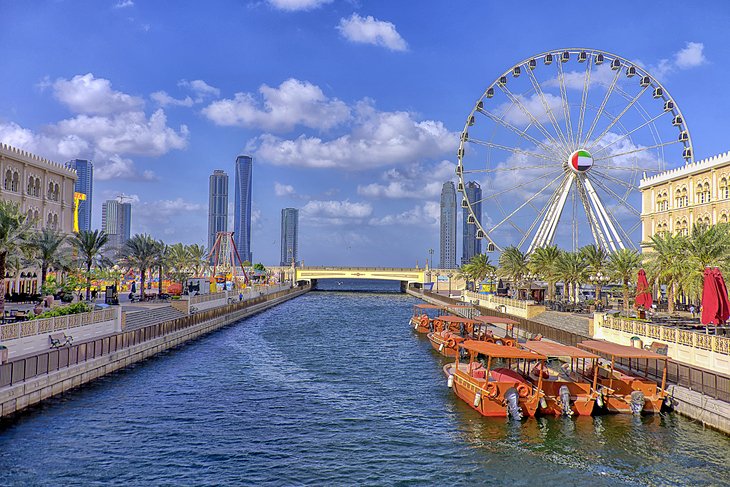 Flag Island is a top spot in Sharjah if the kids need to let off some steam. This small island is home to both a theme park with roller coasters and other rides plus a water park with plenty of water slides to beat the heat and have some fun. The island's big attraction, though, is the 60-meter-high Eye of the Emirates observation wheel. Head up on this big wheel to get a soaring perspective over the city. Views from the top can stretch for 50 kilometers. It's particularly good for nighttime shots of Sharjah's lights and many illuminated buildings.
Where to Stay in Sharjah For Sightseeing
Hotels are spread throughout Sharjah with a scattering of resorts along the beachfront and plenty of high-rise hotels near the Corniche, facing Khalid Lagoon, in the city center.
Luxury Hotels: The Hilton

Sharjah,

near the Al-Qasba area, overlooks Khalid Lagoon and offers a complimentary shuttle to a nearby private beach. There is a great rooftop pool area. If you want the sand, the Radisson Blu

Resort

is in Sharjah's beachfront area and features a private beach and swimming pools, a gym, and a spa. Also in the beachfront area, Coral Beach Resort

Sharjah

rims a clean sweep of beach and offers plenty of pools and restaurants with a swag of kids' activities for family-friendly holidays.
Mid-Range Hotels: A popular option for longer stays in the city, Ramada

Sharjah

has a great central location opposite a shopping mall and near the lagoon and corniche. Its one- and two-bedroom apartments come with full kitchens and laundry facilities. TIME Ruby Hotel

Apartments

has solid facilities and friendly staff and a good central city location, while Lou Lou'a Beach

Resort

, right on the oceanfront, is an affordable beachfront district option with a great pool area overlooking the sea, and good-sized rooms.
Budget Hotels: With a pool as its focal point, Sharjah Beach

Hotel

offers great value, considering its prime location on the beach less than 10-minute's drive from the Heritage Area. The pool area is big, and rooms have balconies facing the sea. In the city center, Spark

Residence

is convenient for longer stays with its one- and two-bedroom suites.
More Related Articles on PlanetWare.com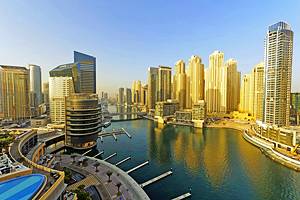 More Cities: Dubai is the United Arab Emirate's main tourist destination for its high-rise architecture, beaches, and shopping malls. It's only a short hop from central Sharjah. If you've enjoyed visiting Sharjah's museums, don't miss Abu Dhabi, home to the Louvre Abu Dhabi.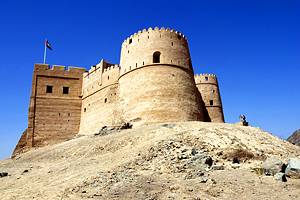 More Cultural Destinations: Check out Al Ain for its museums and the Hili Archaeological Site or head to Fujairah to visit its coastal forts and the beautiful Al Bidya Mosque.