From Abu Dhabi to Dubai: 5 Best Ways to Get There
Car is king in the United Arab Emirates, and most people elect to travel from Abu Dhabi to Dubai by private vehicle. Nevertheless, there are a few other options available if you don't fancy self-driving on the UAE's speedy highways.
In the future, when EtihadRail opens to the public, travelers in the UAE will have further options, with passenger trains zipping travelers from Abu Dhabi to Dubai in 50 minutes. The Abu Dhabi to Dubai line will be just one segment of EtihadRail's rail network, which is currently being constructed and will eventually link all the major towns in the country.
Although construction on the Abu Dhabi to Dubai line has been finished, there has been no announcement on if it will open earlier than the rest of the rail network, which is still being constructed.
Until then, the public bus service between the two cities is woefully underused by tourists despite being an excellent transport alternative, while organized tours (both group tours and private trips) offer day-trip transport to Dubai from Abu Dhabi for travelers short of time but who still want to add the Dubai sights into their Abu Dhabi stay.
1. From Abu Dhabi to Dubai by Car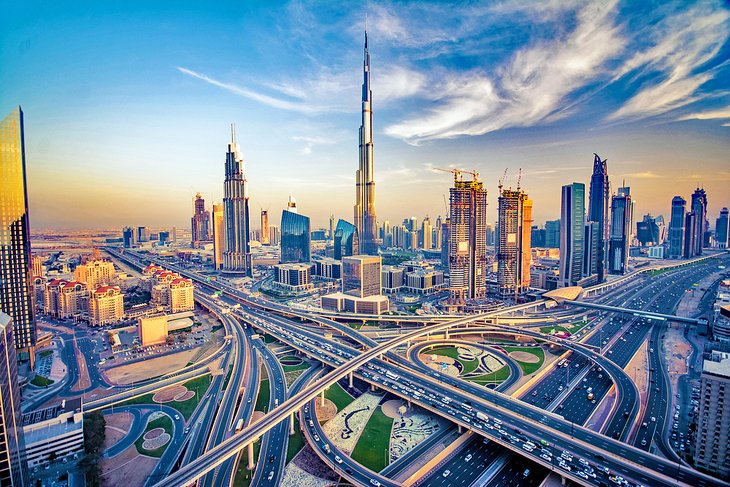 The UAE is very car-centric, so hiring a car for journeying between Abu Dhabi and Dubai is a popular option. Road conditions and signage are excellent, and this is a very straightforward route, heading north for 140 kilometers.
You have to be a calm, confident driver to deal with the traffic congestion you'll inevitably run into along the way, and your fellow drivers, many of whom drive very aggressively and don't use their indicators when turning.
With the speed limit on UAE highways, 140 kilometers/hour, make sure to always drive in the far-right lane so as to not get involved with the overtaking speedster game.
Expect driving time to be around 90 minutes, depending on traffic conditions along the way and your destination in Dubai, and not including time spent finding somewhere to park once at your destination.
The most straightforward route from central Abu Dhabi is to follow Sheikh Zayed bin Sultan Road (Highway E10), east, out of the city. Just past Abu Dhabi Airport, this connects with Highway E11, which you simply follow north to Dubai.
Alternatively, you could leave Highway E11 at Al Samha and transfer onto Highway E311, which runs parallel all the way into Dubai.
2. From Abu Dhabi to Dubai by Group Tour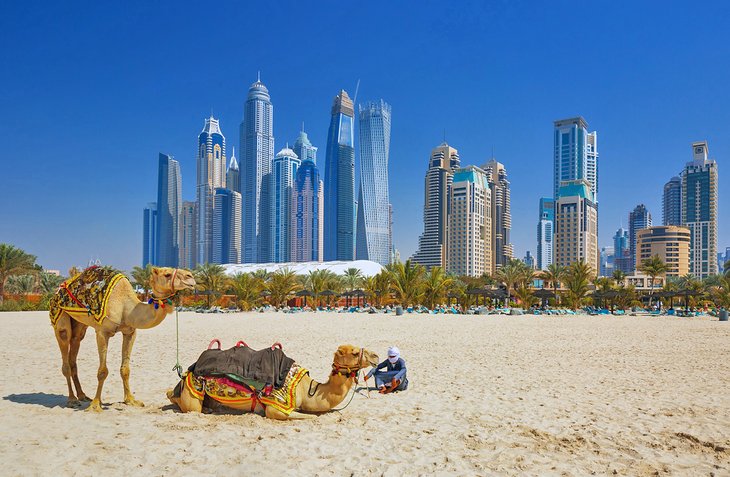 On a short Abu Dhabi trip, one of the easiest, hassle-free options of adding in Dubai as a day trip is to take a tour.
Plenty of local travel agencies organize Dubai sightseeing tours starting from Abu Dhabi.
With group tours, the itinerary often includes pickup from your Abu Dhabi hotel, all transport, and stops at some of Dubai's most famous tourist attractions, such as Al Fahidi Fort, Dubai Museum, the Burj Khalifa, Deira's Gold Souq, and Dubai Mall.
Transport for larger group tours is usually in a large air-conditioned coach.
The Dubai Sightseeing Day Trip from Abu Dhabi offers a full-day itinerary (approximately nine hours door-to-door) with transport by coach and the services of a professional guide. As well as stops at main Dubai sights of the Dubai Mall, Dubai Gold Souq, Dubai Spice Souq, and the Palm Jumeirah and photo stops outside the Burj Al Arab and Burj Khalifa, a short trip aboard an abra (traditional wooden water-taxi boat) on Dubai Creek is included in the schedule. Pickup and drop-off at your Abu Dhabi hotel can be arranged.
Another tour option is the Dubai City Tour from Abu Dhabi, which is a small-group tour taking a maximum of 10 passengers – a good group tour choice if you don't like big crowds. The tour includes pickup and drop-off from Abu Dhabi hotels and the services of a driver/guide. The trip's itinerary has photo stops or short 15-minute stops at Dubai Marina, the Burj Al Arab, the Palm Jumeirah and the Burj Khalifa, a two-hour stop at Dubai Mall, and other stops at Dubai Gold Souq and Dubai Spice Souq after a short ride across Dubai Creek on an abra.
3. From Abu Dhabi to Dubai by Bus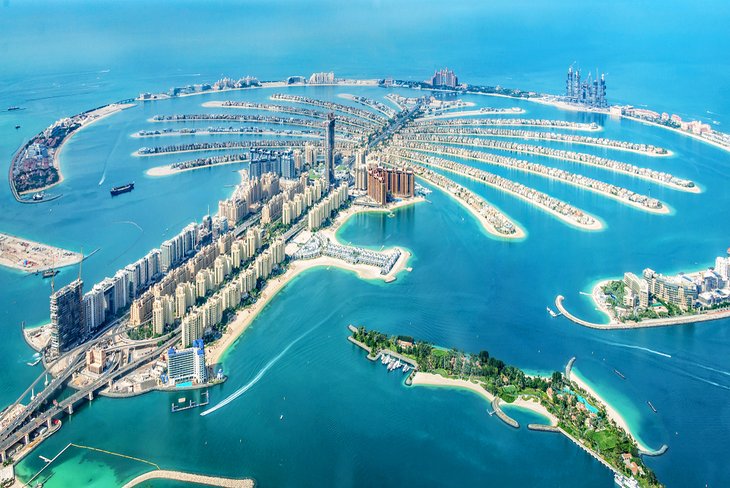 The cheapest way to travel between Abu Dhabi and Dubai is by public bus. The UAE's public bus system remains underused by tourists, many of whom seem to not realize that the country has a reliable, safe, and efficient public bus system between the major cities.
Traveling by bus does take longer than by private transport, but if you are not in a hurry, bussing to Dubai from Abu Dhabi is a solid transport option.
Buses to Dubai from Abu Dhabi are run by the Dubai Roads & Transport Authority (RTA).
The E100 RTA bus service operates every 15 minutes from Abu Dhabi's Al Wahda Bus Station and arrives at Al Ghubaiba Bus Station in Dubai. The bus journey takes two hours.
Al Wahda Bus Station is on Al Wahda Street (just behind Al Wahda Mall) in central Abu Dhabi.
To use the bus to Dubai, you need a Nol card (a pre-paid, rechargeable transport card that is also used on Dubai's metro and its in-city buses).
A dedicated booth at Al Wahda Bus Station sells Nol cards. On entering the bus, tap your Nol card on the machine to pay for your fare.
Al Ghubaiba Bus Station in Dubai is near the Al Fahidi historical district along the bank of Dubai Creek. The Al Ghubaiba Metro Station is within easy walking distance from the bus station, as is the water-taxi stop for transport across the creek to Deira and the Dubai gold souq.
Buses are quite old and have no-frills seating similar to an in-city bus service, rather than an inter-city coach. They do all have air-conditioning, though.
Bring a sweatshirt onboard, as the air-conditioning is fierce, which means you'll be uncomfortably cold without an extra layer.
4. Abu Dhabi to Dubai by Private Tour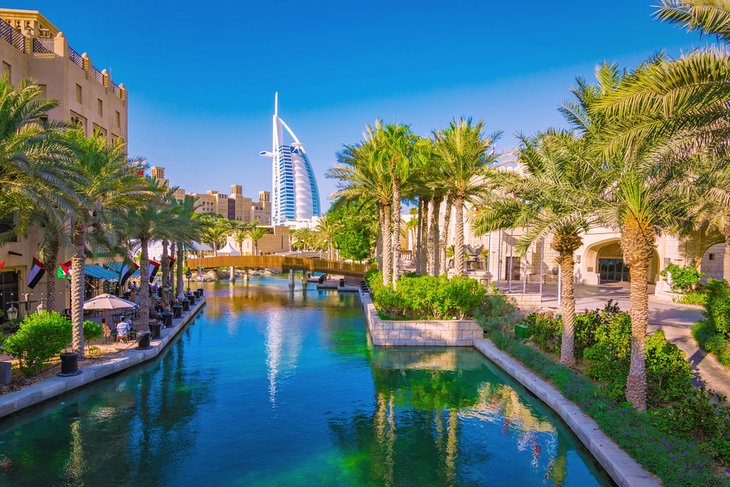 For a fully customized Dubai day trip from Abu Dhabi, with an itinerary catered completely to your own interests, arrange a private tour. The transport vehicle will depend on your group size, ranging from car to minibus, and will be door-to-door from your hotel.
As there is no waiting for other passenger pickups and drop-offs at the beginning and end of the tour, this is a much quicker option than a group tour, so there is more time for actual sightseeing.
As well as quicker transport times, private tours allow you to spend your time visiting only the sights and tourist attractions you want.
Whether that means making it a full-on shopping tour, or ignoring Dubai's many malls completely to focus on the historic attractions in the Al Fahidi district and exploring the souks and sights of Deira, is completely up to you.
Depending on your needs, local tour companies can arrange private tours with or without a professional guide. If using a guide, the tour will cost more.
5. From Abu Dhabi to Dubai by Taxi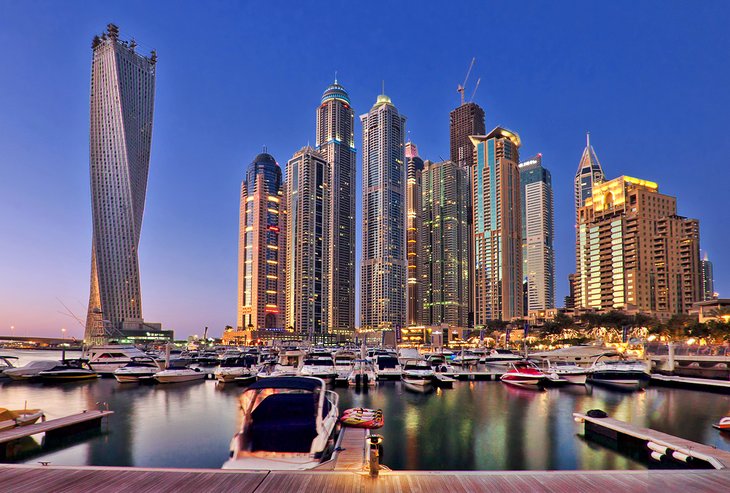 The main benefit of taking a taxi, instead of self-driving, from Abu Dhabi to Dubai is that you don't need to deal with the traffic conditions, or navigating once you're in Dubai, yourself.
The cheapest taxi option if you're traveling solo is to head to Al Wahda Bus Station in Abu Dhabi where there is a share-taxi stand. These share-taxis take four passengers and operate once full.
The arrival point for share-taxis in Dubai is either Ibn Battuta Bus Station (just southwest of Dubai Marina) or Al Ghubaiba Bus Station (in the central city, near Al Fahidi Historic District). Both have metro stations nearby. Check with the driver about which bus station he's heading to.
Private taxis are an expensive option for transport but are convenient for their door-to-door service. They can be hailed off the street or ordered by your hotel. Alternatively, you could use a ride-sharing app such as Uber.