15 Top-Rated Tourist Attractions in Abu Dhabi
We may earn a commission from affiliate links ()
Capital of the United Arab Emirates, Abu Dhabi is a well-ordered, industrious city with a pretty waterside location. First inhabited by the nomadic Bani Yas tribe in 1760, the settlement remained a small fishing village until oil was discovered. The revenues transformed Abu Dhabi into the modern city of today-a bustling center of government and business.
The Sheikh Zayed Grand Mosque is the major tourist attraction and wows all who visit. But the city also makes a good base for excursions to the desert landscapes of Liwa Oasis and the oasis city of Al Ain. Find the best things to do with our list of the top attractions in Abu Dhabi.
See also: Where to Stay in Abu Dhabi
Note: Some businesses may be temporarily closed due to recent global health and safety issues.
1. Sheikh Zayed Grand Mosque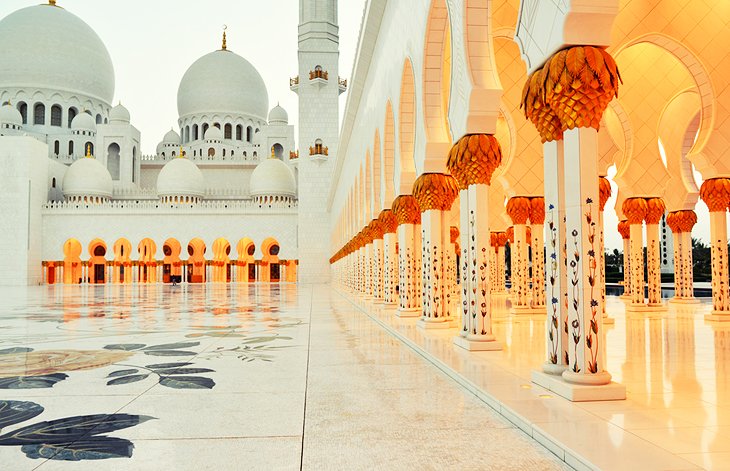 Clad in Macedonian marble, the beautiful and absolutely mammoth Sheikh Zayed Grand Mosque is Abu Dhabi's landmark building and by far the most popular sightseeing attraction in the city. The mosque fuses Mameluke, Ottoman, and Fatimid design elements to create a harmonious and thoroughly modern mosque that celebrates Islamic architecture. Artisans used glass-work, mosaic tiling, and intricate carvings to spectacular effect on both the interior and exterior.
It was opened in 2007 after nearly 20 years of construction. Able to hold 40,000 worshippers, it is the biggest mosque in the United Arab Emirates, and like the Sheikh Zayed Mosque in Fujairah, it is dedicated to the late Sheikh Zayed bin Sultan al-Nahyan.
Non-Muslims are allowed into all areas of the mosque (including the vast library), and guided tours are available. The Abu Dhabi Morning Tour is a good way to get acquainted with the city. This four hour tour visits the Sheikh Zayed Mosque, the bustling markets and fishing harbor of Al Mina, and the heritage village with a local guide. Transport and hotel pickup and drop-off are included.
Address: Al Khaleej al Arabi Street, Abu Dhabi
2. Louvre Abu Dhabi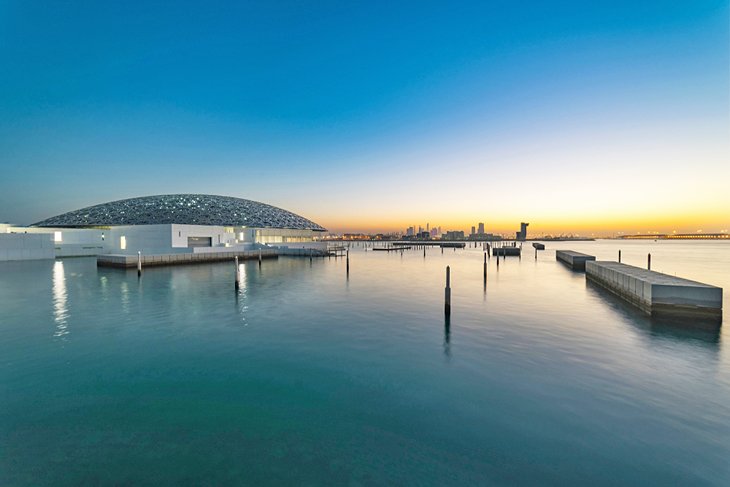 The Middle East's most spectacular museum, Louvre Abu Dhabi traces the entire history of humanity's artistic achievements, from the Neolithic right up to the current day. The wealth and diversity of art on display, from ancient Egyptian statuary to famous paintings by Picasso, is mind-boggling, while the museum's contemporary architecture, with its galleries gathered under a vast silver dome, is a reason to visit in itself.
As well as the permanent collection, which runs over 12 galleries, several major temporary exhibitions are staged each year. The Louvre is the first of three planned major museums to open on Saadiyat Island, which is set to become the cultural heartbeat of Abu Dhabi in the coming years. The other two-Guggenheim Abu Dhabi and Zayed National Museum-are still in the planning phases.
Official Site: www.louvreabudhabi.ae
3. Mangrove Kayaking Tours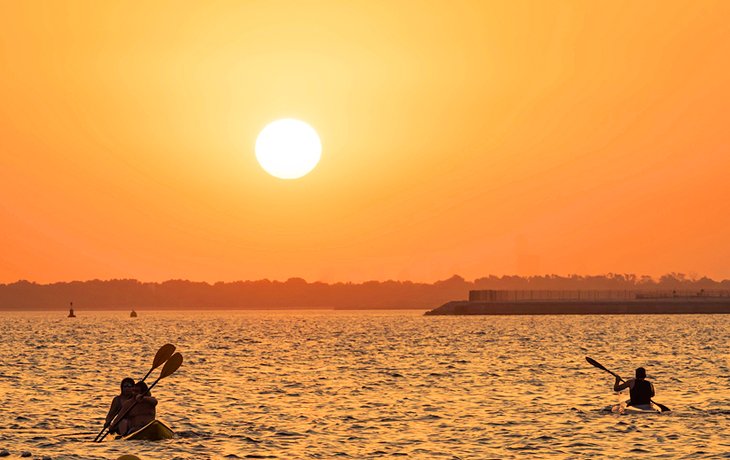 To see a different side of Abu Dhabi's steel and glass exterior, head into the mangrove forests that still ring the islands along the shore surrounding the city. There's a bundle of kayaking tours available for all levels of experience and age, ranging from 1.5 hours to three hours of paddling. The Eco Tour allows you to understand the important ecology of mangroves, as well as explore these beautiful last remnants of the city's forests.
Another interesting thing to do for a really special experience, is to sign up for a night tours and discover the mangroves by gliding through the waters after dark.
Official site: www.noukhada.ae
4. Ferrari World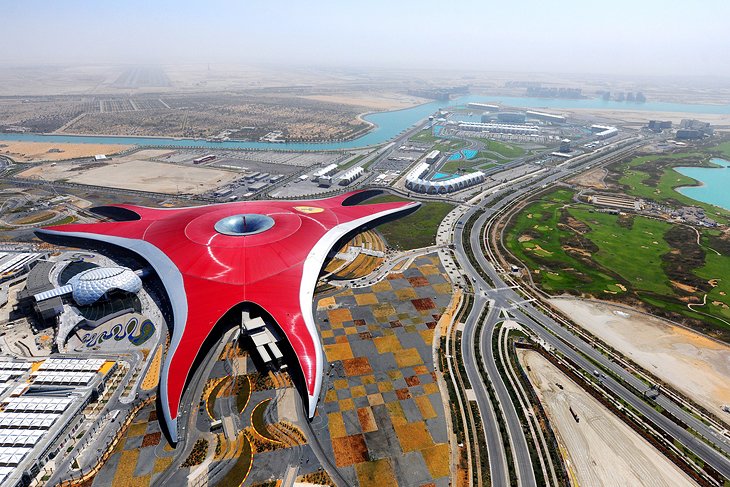 This branded theme park brings the thrill of Formula One racing to Abu Dhabi and is one of the city's top things to do for thrill seekers and families alike. Small children can test out newly learned driving skills on the Junior GT track, while adrenaline junkies can buckle up and ride the Flying Aces roller coaster, which clocks up speeds of 120 kilometers per hour on a 52-meter loop (the tallest in the world).
There's also a collection of Ferrari's cars, with models dating back to 1947, and a Ferrari factory tour and Ferrari knowledge game show for true car nerds.
Address: Yas Leisure Drive, Yas Island
Official site: www.ferrariworldabudhabi.com
5. Boat Tours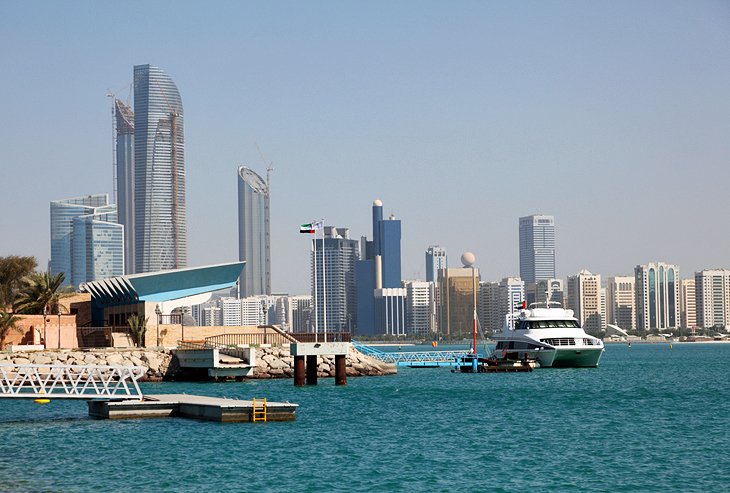 For the best views of Abu Dhabi's glittering skyscrapers, you need to head out onto the water. The views of the high-rises are quite spectacular as you drift out from the marina. Several different operators run tours for all types of budgets, but two of the more popular trips with tourists are the island hopping tours, which include some beach and snorkeling time on various islands in the bay, and sunset cruises that let you see the city lights flicker into action as dusk sets over the city-a great choice for an evening activity.
6. Observation Deck at 300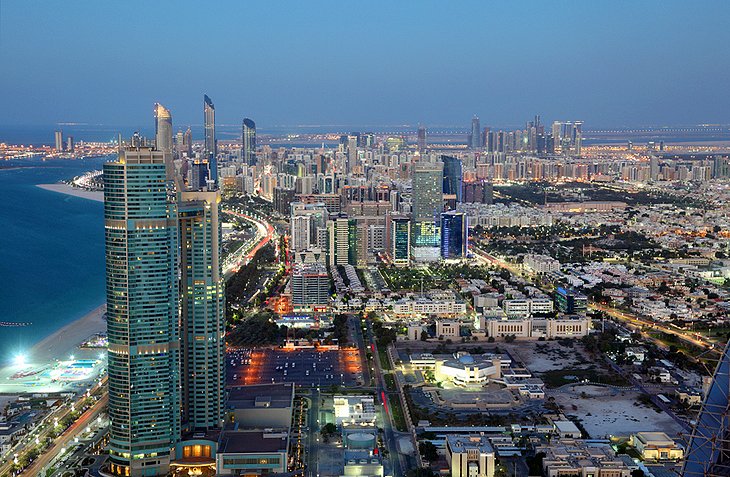 Abu Dhabi's answer to the Burj Khalifa in Dubai is this observation deck, offering skyline views from the highest point in the city, on the 74th floor of the Jumeirah at Etihad Towers hotel. There is an entry fee for non-guests of the hotel, but the ticket price can be redeemed for food and drink from the observation deck's restaurant, which serves snacks and light bites; soft drinks; and in the afternoon, high-tea. Having high-tea up here, with the city spread below you, is definitely an experience for your Abu Dhabi itinerary.
Address: Jumeirah at Etihad Towers, Corniche Road, Abu Dhabi
7. Qasr Al-Hosn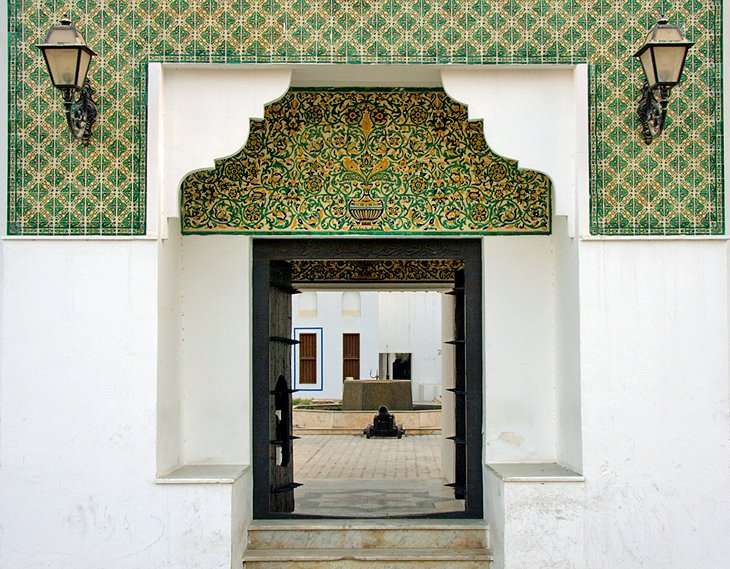 The recently restored Al-Hosn Fort, also known as the Old Fort or the White Fort, is the oldest building in Abu Dhabi and one of its major historical points of interest. The palace was built in 1793 as the residence of the ruling family and the seat of government. The interior of the Al Hosn Fort has been modernized and is now used as a museum that traces the history and culture of Abu Dhabi, with oral histories and plenty of historical photographs on show. The courtyard and the magnificent tile work over the main northern gate are notable features.
Address: Hamdan bin Mohammed Street, Abu Dhabi
8. Abu Dhabi Falcon Hospital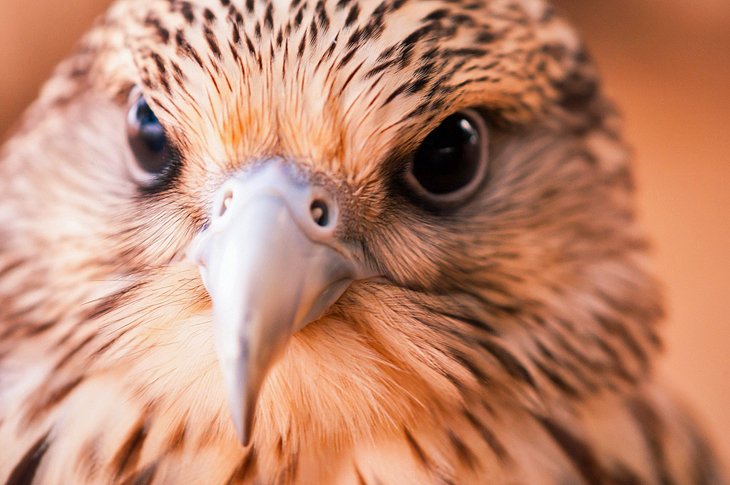 The Abu Dhabi Falcon Hospital is a working veterinary hospital for ill and injured falcons, but it also provides guided tours of its facilities for interested visitors. The tours allow you to get up close and personal with these birds of prey in the wards, while an on-site museum explains the history of falconry. If you're up for the challenge, you may also have the chance to hold one of the birds, or even to feed one, depending on the activities the vets are performing at the time of your visit.
Location: Off Sweihan Road, Abu Dhabi
Official site: http://www.falconhospital.com/
9. Warner Bros World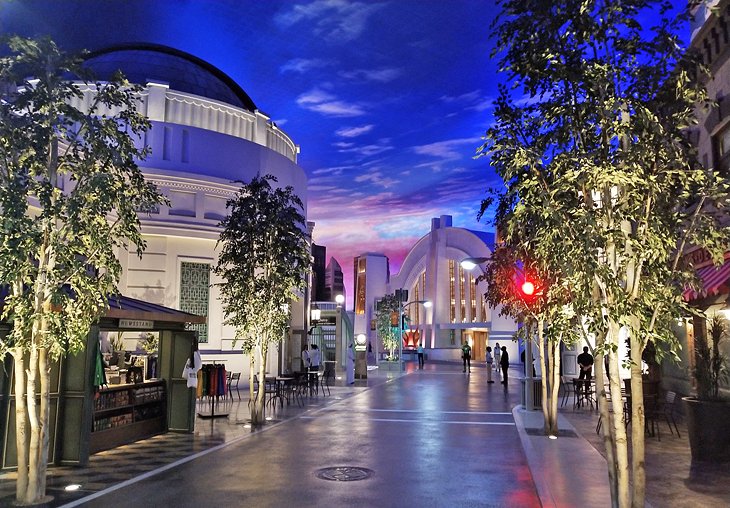 Yas Island's latest theme park addition, Warner Bros World is dedicated to its cartoon, movie, and comic book heroes and villains with all rides based around these characters. With six "lands" all captured under one roof (the entire theme park is inside and air-conditioned) this is one of the best places to visit for families. There are rides suitable for tots to teens. Bedrock and Cartoon Junction are specifically set up for little ones, while Gotham City and Metropolis are home to some of the big-hitter highlight rides, which combine 4D interactive content with roller coaster-style thrills and spills.
Official Site: www.wbworldabudhabi.com
10. Yas Waterworld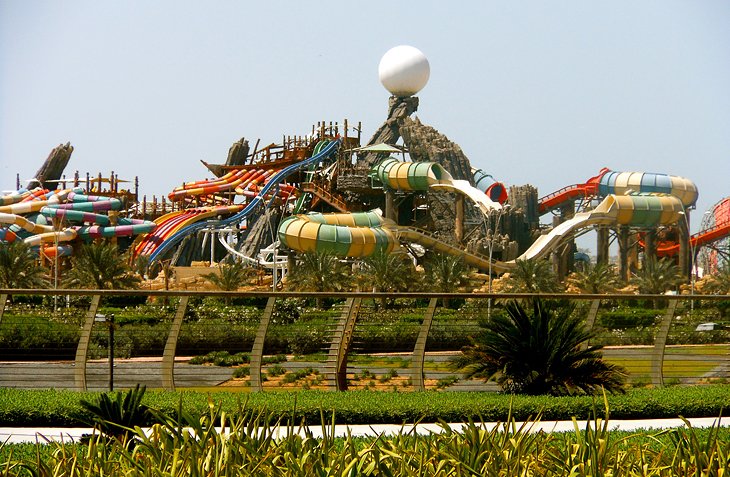 If the heat is grinding you down, head to Yas Island to cool off at the water park. Yas Waterworld is a mammoth theme park, with waterslides and an inner-tube river ride, as well as the world's first hydromagnetic tornado water rafting ride; the world's largest surfable sheet wave; and the Jebel Drop, a free-fall speed water slide. If that all seems like too much of an adrenaline rush, there are also restaurants, cafés, and shops here for some gentler pursuits. There's also a dedicated water play area for families with small children.
Address: Yas Leisure Driver, Yas Island
Official site: www.yaswaterworld.com
11. Yas Island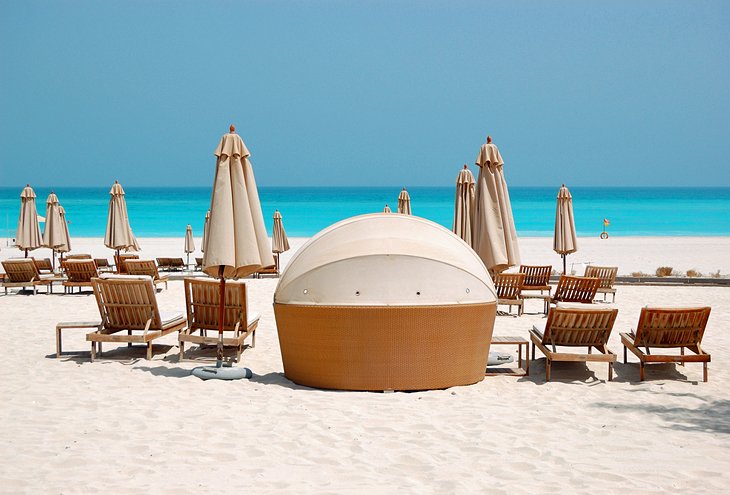 Yas Island is one of Abu Dhabi's top luxury hotel destinations, with stretches of sandy beach that are perfect for spending the day sunbathing. This area is also home to the Yas Marina Circuit, which is where Abu Dhabi's Formula One racing takes place every year. Sun seekers should beeline straight to Yas Beach; adrenaline fans can book a Formula One experience at Yas Marina Circuit; and shoppers should head straight to Yas Mall, the city's premier shopping destination.
Official Site: www.yasisland.ae
12. Desert Safari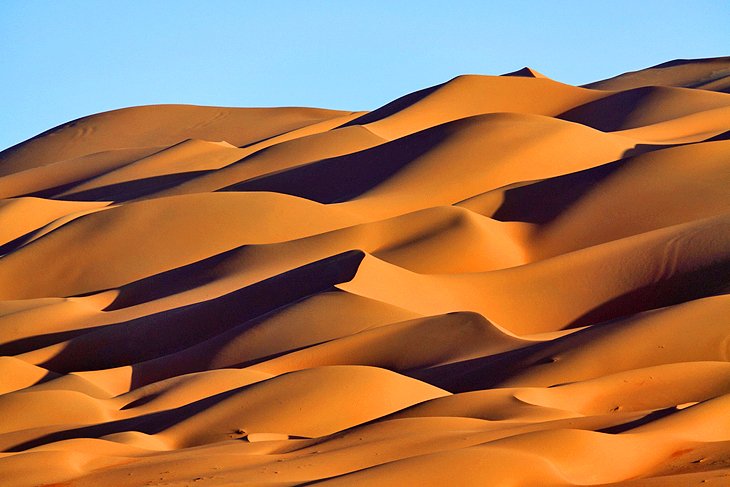 The most popular day trip or overnight trip from Abu Dhabi city is a desert safari to the south of the Emirate of Abu Dhabi, either to the beautiful Liwa Oasis, which lays right on the edge of the Empty Quarter, or to the Al Khatim Desert near Al Ain.
The Empty Quarter desert contains the largest sand dunes in the world, and the dunes of both areas are a fantastic playground for anyone who wants to ride dune buggies, try sand boarding, go camel trekking, or simply soak up the vast star-strewn desert sky after dark at a desert camp. Most trips include stops to visit a camel farm and offer a taste of traditional desert life, as well as heading into the dunes themselves.
The Evening Desert Safari is a great option for visitors with only a short time to spare, offering a six-hour tour into the emirate's desert environs. Visitors are taken on a 4x4 tour of the dunescape before settling down for dinner at a desert camp, with traditional tannura and belly dancing entertainment provided. Once at camp, guests can choose from a host of complimentary activities, such as sand-boarding and camel rides. All transport, with pickup and drop-off from Abu Dhabi hotels, and food is included.
13. Emirates Park Zoo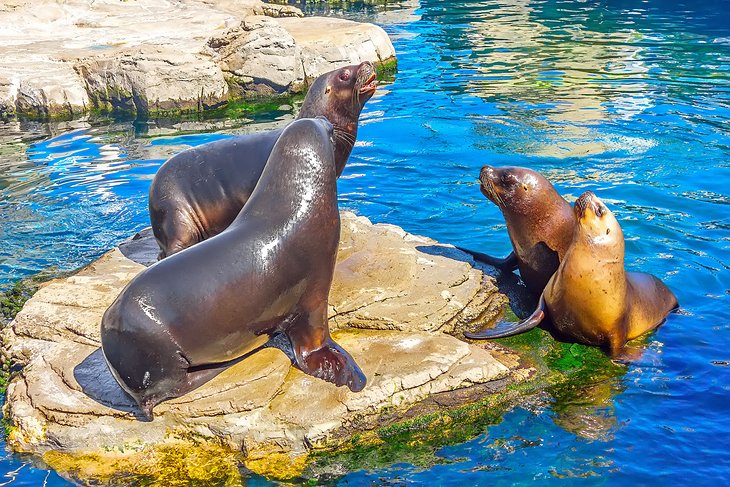 If you have little ones in tow and are wondering what to do in Abu Dhabi, this excellent zoo makes a fun day out, only a 30-minute drive from the city. There is a host of animals at the wildlife park, including rare white tigers, giraffes, elephants, a herd of zebras, and a Siberian bear. There is also a primate section, with many different types of monkeys, and a flamingo park with a sea lion enclosure. At the petting zoo, children can touch and feed domestic breeds of animals.
14. Sir Bani Yas Island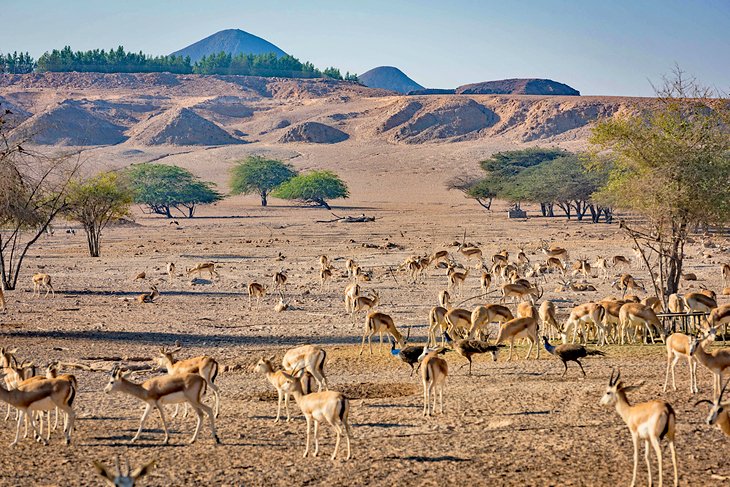 One of the best short breaks from Abu Dhabi city is to the wildlife reserve of Sir Bani Yas Island, first established by Sheikh Zayed. Indigenous Arabian wildlife such as gazelles and the endangered Arabian Oryx plus introduced animals, including giraffes and leopards, free roam within the vast reserve, which covers the interior of Sir Bani Yas Island.
Visitors can book 4x4 safaris, walking safaris, and horse-riding tours to view wildlife within the reserve, as well as other activities, including hiking, mountain biking, and kayaking. The island is accessed by boat from Jebel Dhanna, 260 kilometers west of the city.
15. Heritage Village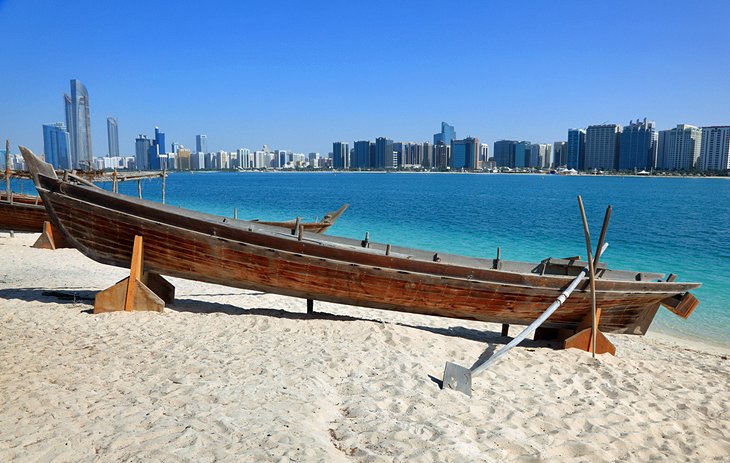 Abu Dhabi's Heritage Village is an authentic replica of a typical Bedouin village that gives visitors an idea of Emirati life before the oil boom. It's located in a pretty beach area of the city, which is a pleasant place to wander after a visit. There are exhibits featuring traditional day-to-day objects, workshops where you can watch craftspeople demonstrate Emirati metalwork and weaving skills, and displays introducing visitors to local agriculture and the pearl diving trade-the main economies here before oil was discovered.
Things for Shoppers to Do in Abu Dhabi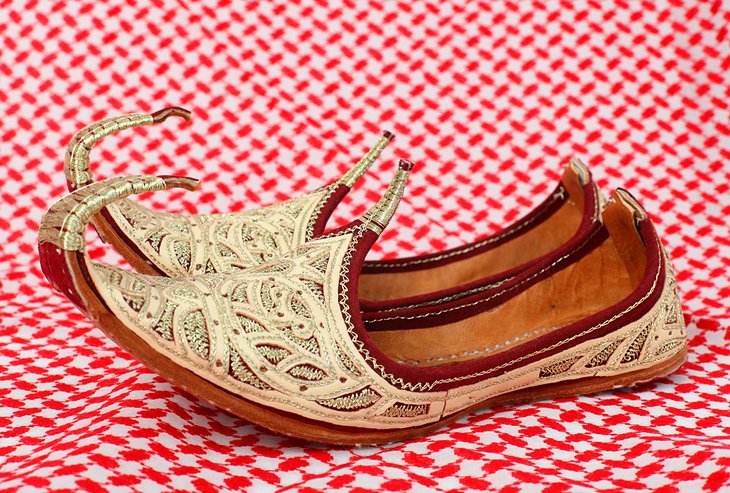 For Arab crafts, check out the Womens' Handicraft Center on Karama Street, where you can see local women demonstrating skills such as weaving, embroidery, and basketry. It is run by the Abu Dhabi Women's Association and supports local female artisans in their work, as well as keeping these ancient skills and traditions alive.
To pick up a piece of classic Arab style gold jewelry, head to the Gold Souq inside Madinat Zayed Shopping Center, where you'll find dozens of gold vendors. For a variety of crafts, including carpets, shawls, textiles, and trays, as well as incense and spices, have a poke around in the modern World Trade Center Souq.
Where to Stay in Abu Dhabi for Sightseeing
Abu Dhabi city is vast, and hotels are spread out across the area. You can learn more about the layout with our article on Where to Stay in Abu Dhabi: Best Areas & Hotels. For first time visitors, the Downtown area, near the Corniche, is a good base and has a wide variety of hotels. If you're after a resort-style stay, check out Saadiyat Island and the area near the Sheikh Zayed Mosque, along the shores that separate Abu Dhabi Island from the mainland.
Luxury Hotels: Near the Corniche, the opulent Emirates

Palace

is one of Abu Dhabi's top hotels, pampering its guests with plush suites and personal butlers. Nearby, the modern Jumeirah at Etihad

Towers

offers spectacular views of the Arabian Gulf from its famous Observation Deck, as well as apartment-style accommodation for families.

For resort living, Shangri-La Hotel, Qaryat Al

Beri

has a private beach with views of the Sheikh Zayed Mosque just across the water, a high-end souk connected to the hotel, and a pool within lush gardens. Also in this area is The Ritz-Carlton Abu Dhabi, Grand

Canal

, known for its family-friendly features, including a kids' club, play areas, and multiple pools, as well as its excellent restaurants.
Mid-Range Hotels: The Sheraton Abu Dhabi Hotel &

Resort

is popular for its private lagoon with a beach and swimming pools in the Downtown area, allowing a resort feel right in the heart of the city. Southern Sun Abu

Dhabi

is a modern high-rise in Downtown, known for its superior service, lovely roof pool area, and ample rooms.

The Holiday

Inn

is another highly rated mid-range option outside of the Downtown area and a short drive from the Sheikh Zayed Grand Mosque. It has a gym, spa, pool, and large rooms set up for both business and leisure travelers.
Budget Hotels: Budget accommodation is difficult to find in Abu Dhabi, but many mid-range hotels offer steep discounts-especially during low season. If you're watching your wallet, the Novel Hotel City

Center

offers excellent value in the heart of the city, just a few minutes' stroll from the Corniche. There's a pool and gym and neutral-toned rooms.

Also in the city center, the Al Diar

Dana

is a popular budget option with rooms that come with kitchenettes. On Yas Island, the Centro Yas Island Abu Dhabi by

Rotana

is reasonably-priced, with a pool and restaurant, and lies within easy access of Ferrari World, the island's famous theme park.
More Related Articles on PlanetWare.com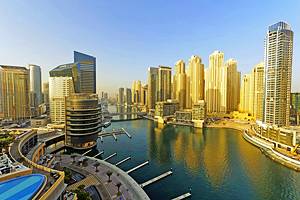 More Middle Eastern Cities: For another thoroughly modern city known for its contemporary skyline, check out Dubai also in the UAE. If you're looking for historic cities, head to North Africa where Cairo (in Egypt), Tunis (in Tunisia), and Marrakesh and Fes (Morocco) offer grand architecture of past centuries, and traditional souqs.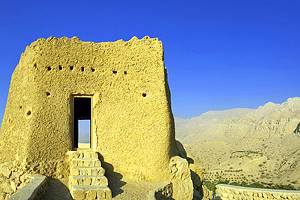 Exploring the UAE: Al Ain is the UAE's most laid-back city and a great place to head after the buzz of Abu Dhabi. Don't miss Sharjah if you're interested in history or art, as this city packs in a bundle of museums and galleries. If you want both the beach and mountains in easy reach, head to Ras Al Khaimah, where it's as much about adventure activities on Jebel Jais as it is about sunbathing on the sand.