16 Top-Rated Attractions & Places to Visit in the French Alps
We may earn a commission from affiliate links ()
For nature lovers, the French Alps is the ultimate destination in France. This area boasts some of the most magnificent natural scenery in Europe, with awe-inspiring mountains, crystal-clear lakes, rushing waterfalls, and pristine forests.
The French Alps correspond with the historic duchy of Savoy, as well as the Dauphiné region. The impressive Château de Ducs de Savoie is found in Chambéry. The old château in Annecy belonged to the Counts of Geneva, while Grenoble was the meeting place of the Estates of the Dauphiné.
Most tourists focus their visit on outdoor activities: hiking, biking, and mountain climbing in summer; skiing and snowboarding in winter. In quaint mountain villages, ski resorts such as Chamonix, Val d'Isère, and Portes du Soleil offer excellent facilities, a lively ambience, and regional charm.
Relaxation is another reason to spend time in the French Alps. For over a century, tourists have arrived here in search of the rejuvenating fresh air and leisure. Many Belle Epoque spa towns such as Aix-les-Bains, Evian-les-Bain, and Saint-Gervais-les-Bains are still popular today.
Tourists will be amazed by the wealth of cultural and natural attractions to discover here. Find the best things to see and do in the region with our list of the top tourist attractions in the French Alps.
See also: Where to Stay in the French Alps
1. Chamonix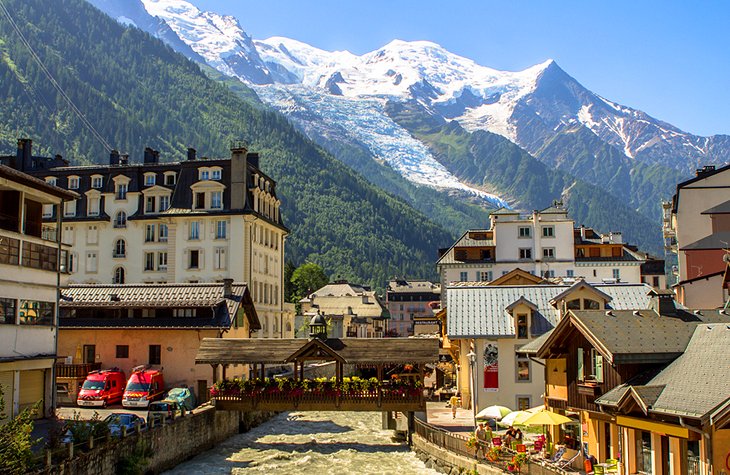 Chamonix lies in the peaceful Chamonix Valley at the foot of Mont Blanc, the highest peak in the Alps. Reaching an impressive altitude of 4,807 meters, Mont Blanc is covered in a blanket of snow during all seasons of the year, even in summer.
Surrounded by mountains, meadows, and rushing streams, Chamonix is a high-mountain town that draws tourists from around the world. Visitors come to experience the beauty of the Alpine scenery and to participate in outdoor sports, including sking, hiking, climbing, mountaineering, biking, and golf.
Chamonix is the base of an internationally renowned ski resort offering some of the best skiing in Europe. The resort area extends for 23 kilometers along the Vallée de Chamonix between Les Houches and Argentière.
Nestled among farms, lush forests, and Alpine meadows, Les Houches (a group of little hamlets) provides a dreamy escape for vacationers. Families especially appreciate the traditional mountain village atmosphere and the many children's activities. Les Houches has a wide selection of hotels, chalets for rent, restaurants, and shops.
One of the must-see sites in Chamonix is Aiguille du Midi summit (at 3,842 meters high) with incomparable views of Mont Blanc and the Glacier des Bossons. From the center of Chamonix, the Aiguille du Midi is accessible by a 20-minute cable car ride over high-mountain forests.
Another way to admire incredible vistas is on the Panoramic Mont-Blanc gondola. This exciting, scenic route traverses above ice falls and crevasses, with vantage points towards Pointe Helbronner in Italy.
Accommodation: Where to Stay in Chamonix
2. Annecy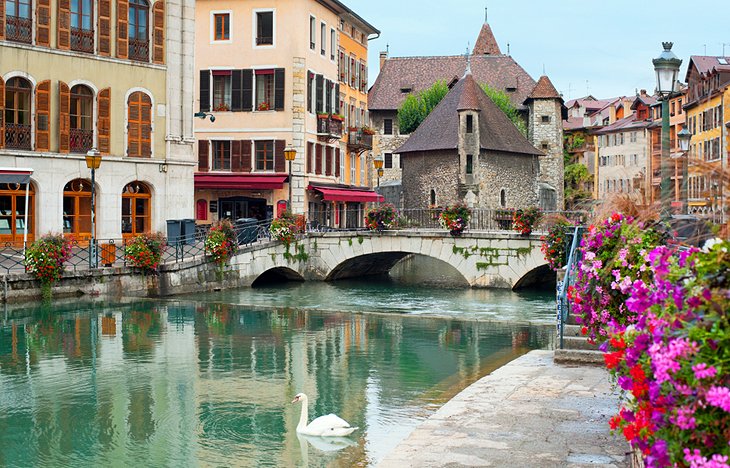 Set by a tranquil lake with snowcapped mountains in the background, Annecy looks like a scene straight out of a storybook. Graceful white swans glide around the narrow canals of the Thiou River, which flows out of the lake and through the old town.
During spring and summer, potted flowers decorate the lakeside promenade, and many building facades are adorned with colorful geraniums bursting from their balconies.
Visitors can also stroll along the shores of the lake that runs parallel to the Avenue d'Albigny, shaded by plane trees, with a path for bikers and pedestrians.
The old town (historic center) of Annecy is an atmospheric medieval quarter. The winding cobblestone streets invite a leisurely amble, while water channels traversed by small foot bridges add to the fairy-tale look.
Within the old town, an especially delightful place to wander is along the Rue Sainte-Claire. This distinctive street features arcaded 16th- to 18th-century buildings that now house many shops and restaurants.
Tucked away on Annecy's medieval streets are many architectural treasures. Annecy has two historic churches, the 15th-century Church of Saint-Maurice and the 16th-century Cathedral of Saint-Pierre.
The top attraction in the old town is the 12th-century Palais de l'Isle, on an islet in the Canal du Thiou. The building was originally a prison and later used as the Palace of Justice. Today the Palais de l'Isle displays a collection of exhibits about regional architecture and history.
Another of the top attractions in Annecy is the Château d'Annecy, which dates back to the 13th century and was once the residence of the Counts of Geneva. Today, the château is a museum devoted to local history, medieval sculpture, landscape paintings, and contemporary art.
For those who enjoy animated films, it's worth taking a short walk from the château to the Musée du Film d'Animation (18 Avenue de Trésum), which presents exhibits about the process of creating animated films.
Accommodation: Where to Stay in Annecy
3. Vercors Regional Natural Park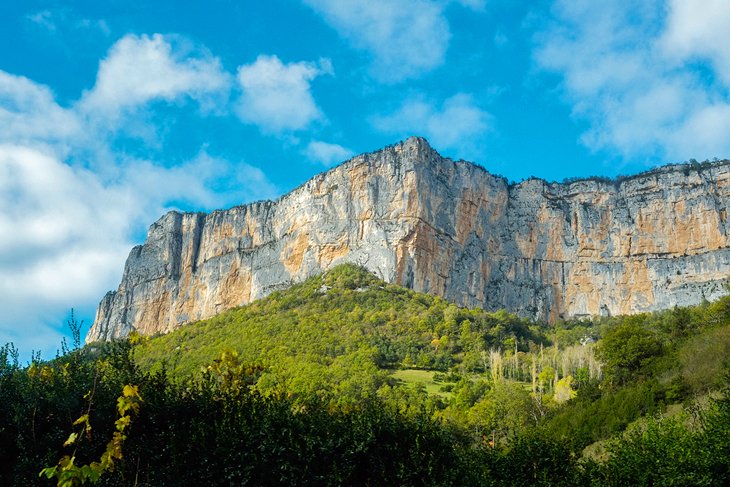 The Vercors is a range of forest-covered hills in the Dauphiné region between the Rhône Valley and the Route d'Hiver des Alpes. The mountains rise to 2,346 meters at the Grand Veymont and are broken up by deeply indented valleys and gorges.
The natural park has numerous well-groomed paths and trails, allowing visitors to explore the Vercors on foot or on horseback. In winter, excellent facilities are available for a variety of sports. It is worth making a special trip around the Vercors to take in the unusual scenery of the region.
Through the Combe Laval, there is a mountain road constructed in 1897, originally for the transport of timber from the Forêt de Lente to Saint-Jean-en-Royans. The finest stretch of the road begins at the wooded Col de la Machine on the way down to Saint-Jean, offering magnificent views of the countryside below.
Beyond Villard-de-Lans, the road descends into the Bourne Valley, which narrows into the Gorges de la Bourne, and continues through tunnels and over bridges. Beyond the little town of Pont-en-Royans is the Vernaison Valley and the picturesque Vernaison gorges. It climbs, with many bends, to the grandiose Grands Goulets gorge.
4. Grenoble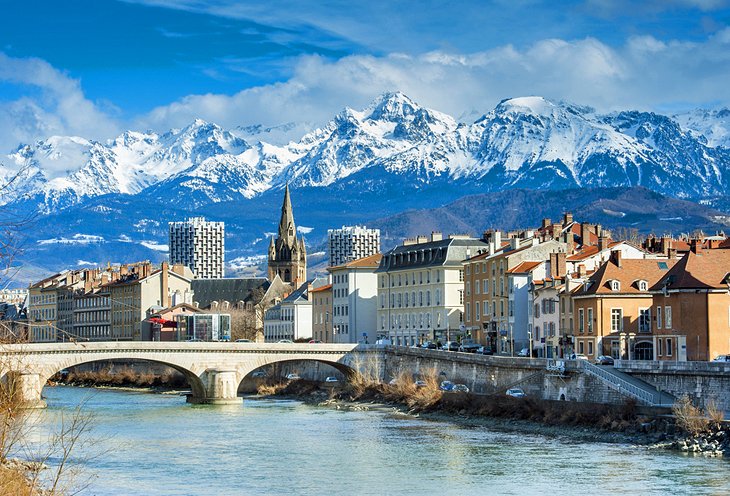 The old capital of the Dauphiné region, Grenoble lies in a basin of the Isère Valley surrounded by mountains rising to 3,000 meters. Grenoble is dominated in the north by Fort Rabot and the Fort de la Bastille, both on foothills of the Mont Rachais range.
Must-see historic landmarks in Grenoble's Vieille Ville include the Palais du Parlement (Hall of Justice of the Estates of the Dauphiné), an opulent palace blending Flamboyant Gothic and Early Renaissance styles; and the Musée de l'Ancien Évêché, a 13th-century Episcopal palace that houses a museum of Grenoble's history.
The Musée de Grenoble is one of France's most important fine arts museums. The collection includes paintings by the great masters, including Rubens, George de La Tour, and Philippe de Champaigne, as well as 19th-century artists such as Delacroix and Monet. Modern art is represented with works by Picasso, Matisse, and Léger, among others.
In addition to Grenoble's cultural riches, it is blessed with a gorgeous natural setting and lush parks. Not to be missed is the Jardin des Dauphins, 30 hectares of terraced gardens with exceptional views. Shaded pedestrian paths and staircases make this park a pleasant place to stroll.
Accommodation: Where to Stay in Grenoble
5. Aix-les-Bains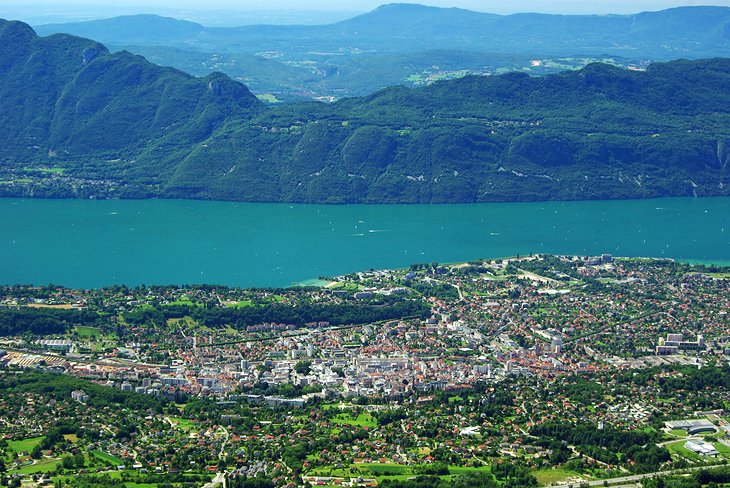 In the mountains by the Lac du Bourget, Aix-les-Bains is an internationally renowned spa town. The bucolic landscape, majestic views, and serene atmosphere make it ideal for a health retreat.
The town's natural hot springs have been used for curative purposes since Roman times. The ruins of Roman baths, the Arch of Campanus and the Temple of Diana, are open to the public.
Aix-les-Bains still welcomes visitors to bathe in its mineral waters and become immersed in restorative leisure time. The modern facilities at the Hôtel Marina Adelphia include a wellness center with therapeutic baths and an upscale spa with a sauna and Jacuzzi. This four-star hotel also has a gourmet restaurant.
Other thermal bath facilities are found at Domaine de Marlioz, a three-star hotel & spa set in a calm, verdant park shaded by hundred-year-old trees. In a lovely spot with mountain views, the Thermes Chevalley offers spa treatments, saunas, and swimming pools filled with warm thermal waters.
Much of the architecture in Aix-les-Bains dates back to the Belle Epoque, when it was a fashionable spa destination. From an earlier era, the 15th-century Château des Marquis d'Aix (now the Town Hall) has a Renaissance staircase built of stone from Roman structures.
Art lovers will appreciate the Musée Faure (10 Boulevard des Côtes) housed in a stately villa, which has an interesting collection of Impressionist paintings, Rodin sculptures, and faience ceramics.
Accommodation: Where to Stay in Aix-les-Bains
6. Val d'Isère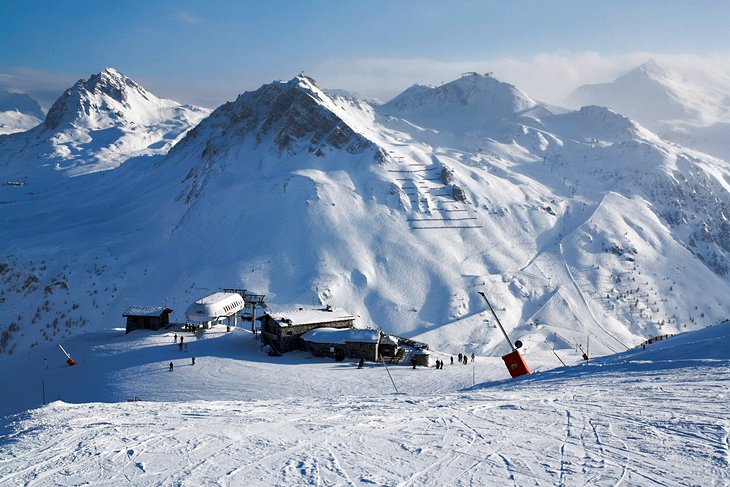 Val d'Isère has long been a favorite skiing area because it offers numerous ski lifts and cableways over an enormous terrain. The expansive Tignes/Val d'Isère Ski Resort is located in the Tarentaise Mountains at an altitude of between 1,550 meters and 3,500 meters.
The Tignes/Val d'Isère ski area is so vast and with so many options, both on and off-piste, that it is possible to try a different run every time. The area offers 159 ski slopes on mountainsides that cover 300 kilometers.
The village of Val d'Isère is, at its heart, a traditional Alpine hamlet, with little chalets centered around a Baroque church. The historic village has grown into a modern resort and boasts a lively après-ski ambience with an array of restaurants, from casual Alpine cuisine to fine dining.
During summertime, Val d'Isère attracts many visitors with its vibrant mountain scenery and outdoor activities such as hiking, horseback riding, mountain biking, and climbing. It's also a marvelous area for leisurely nature walks to see wildflowers and bird life.
Accommodation: Where to Stay in Val d'Isère
7. Evian-les-Bain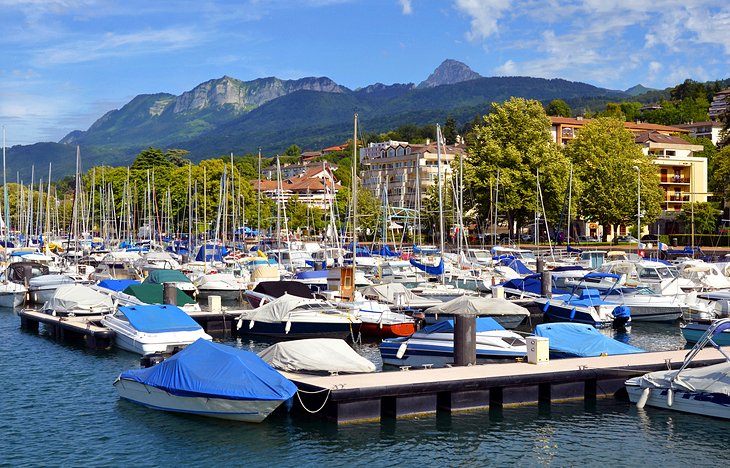 Nestled in the green mountain pastures of the French Alps, the town of Evian-les-Bains is surrounded by gorgeous scenery, on the south side of Lake Geneva with its crystal-clear blue waters.
In this pristine location, Evian-les-Bains is a popular health resort and leisure destination known for its culture and entertainment options. Evian-les-Bains has a rich history that dates back to the medieval era.
The Notre Dame de l'Assomption Church was built in the 13th century under the rule of Peter II Count of Savoy. During the Belle Epoque, the town flourished as a spa resort.
Visitors still come to Evian-les-Bains to bath in the curative waters of the thermal baths. An excellent example of spa architecture, the Palais Lumière was a thermal spa built in the early 20th century and now hosts art expositions throughout the year.
The Antoine Riboud Theater was built between 1883-1885 by a student of Charles Garnier. This lavish neoclassical theater hosts Estivales Théâtrales, a summertime theater festival focused on lighthearted comedies.
Evian-les-Bain also draws crowds for its classical music festival in July. For the simple pleasure of strolling in a rejuvenating setting, visitors can head to the town's lakeside promenade and Pré Curieux water gardens.
Accommodation: Where to Stay in Evian-les-Bains
8. Cirque du Fer-à-Cheval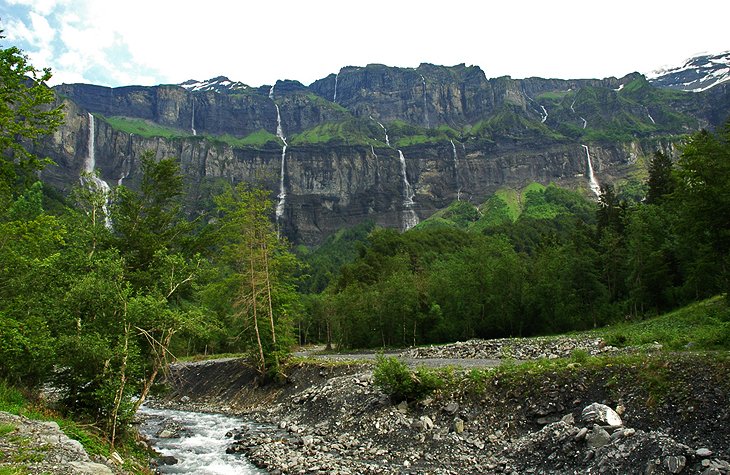 The Cirque du Fer-à-Cheval is a spectacular limestone mountain that was carved out by glaciers into a circular shape. This unspoiled nature reserve has wonderful trails for scenic walks and hiking. Visitors are enchanted by the peaceful Alpine environment of snowcapped mountain peaks, refreshing pine trees, and abundant waterfalls.
Nestled in this wilderness area, the picturesque village of Sixt-Fer-à-Cheval is listed as one of France's "Plus Beaux Villages" (Most Beautiful Villages). The village is actually a collection of 24 small hamlets surrounded by the nature reserve and graced by the "Cascade du Rouget" waterfall.
Sixt-Fer-à-Cheval is distinguished by its traditional Alpine architecture of high-pitched roofs and steepled churches. The town has an ancient abbey founded by Ponce de Faucigny in the 12th century, as well as an adjoining 13th-century parish church with a garden that is open to the public.
Nearby is a ski resort, as well as access to many hiking trails and other outdoor activities such as mountain biking and fishing.
9. Megève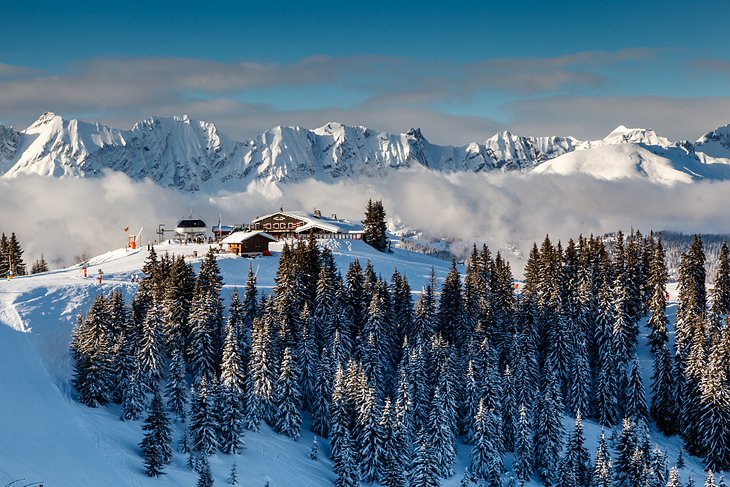 Megève is another one of France's leading winter sports resorts, offering opportunities for downhill skiing, cross-country skiing, and snowboarding. The quaint medieval village of Megève dates back to the 14th century and offers an authentic Alpine experience.
As a typical mountain village, Megève has narrow cobblestone streets, a main town square, and a historic parish church. The atmosphere is charming and vibrant, and the village is also well developed enough to handle the influx of seasonal visitors to the ski resort, with many modern hotels, exclusive boutiques, and upscale restaurants.
Although the skiing at Megève is limited because of its low elevation, the extensive ski domain incorporates areas in the nearby towns of Combloux, Saint-Gervais Mont Blanc, Saint Nicolas de Véroce, and Les Contamines Montjoie, with the skiable terrain encompassing eight mountain peaks.
Megève is also popular in summer for outdoor activities. Things to do include hiking, white-water rafting, mountain biking, and rock climbing.
Accommodation: Where to Stay in Megève
10. Chambéry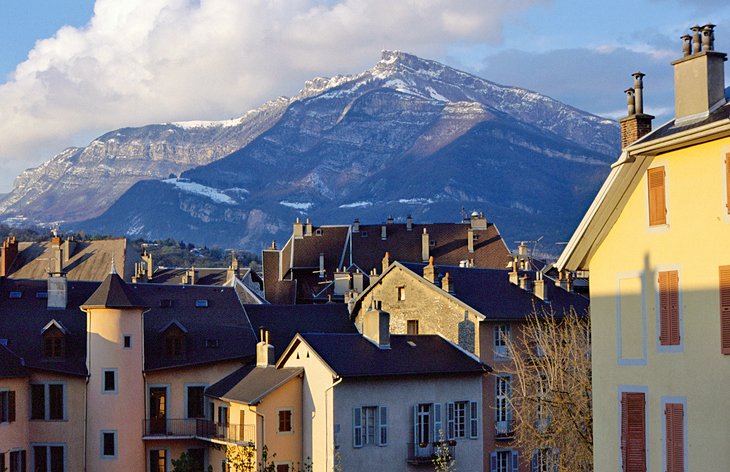 On the banks of the fast-flowing Leysse River, in a fertile basin surrounded by hills and mountains, picturesque Chambéry has a rich history tied to the Dukes of Savoy. The town was the capital of the independent state of Savoy from the 13th to the 16th centuries and is dominated by the old castle of the Dukes of Savoy.
The Château de Ducs de Savoie is a fortified castle that was founded in the 11th century and designed as a walled village, although the edifice that stands today was mostly built in the 14th century. The château houses the local government offices, however a few rooms are open to the public (free of charge). Visitors may take a guided tour to see more of the castle.
The Musée des Beaux-Arts, which occupies a former grain barn, displays an impressive collection of masterpieces by Uccello, Titian, Guérin, and Watteau.
An indication of the town's former grandeur and cultural influence are the regal old mansions, created by noble families in the 15th and 16th centuries. The finest of these "hôtels particuliers" are found along the Rue Croix-d'Or.
Accommodation: Where to Stay in Chambéry
11. Route du Galibier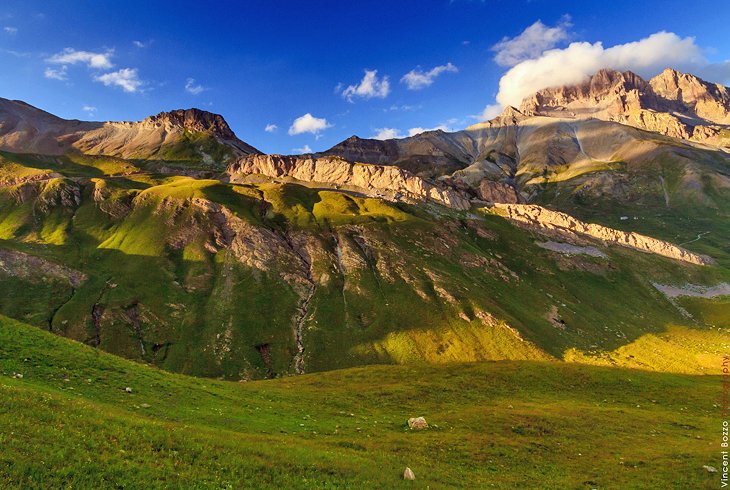 The Col du Galibier, in the sunny Maurienne valley of the northern Dauphiné district, reaches a height of 2,646 meters and ranks with the Col de l'Iseran (200 meters higher) as one of the highest mountain passes in France.
There are awe-inspiring panoramic views on both the ascent and the descent from the summit. The scenic drive is best planned during the summer, as it may be impassable from October until the end of May because of snow.
At the south entrance to the tunnel on this route stands a monument to Henri Desgranges, who initiated the Tour de France cycle race in 1903. The Col du Galibier is part of the Tour de France route but is also popular among recreational cyclists.
12. Albertville and Surrounding Ski Resorts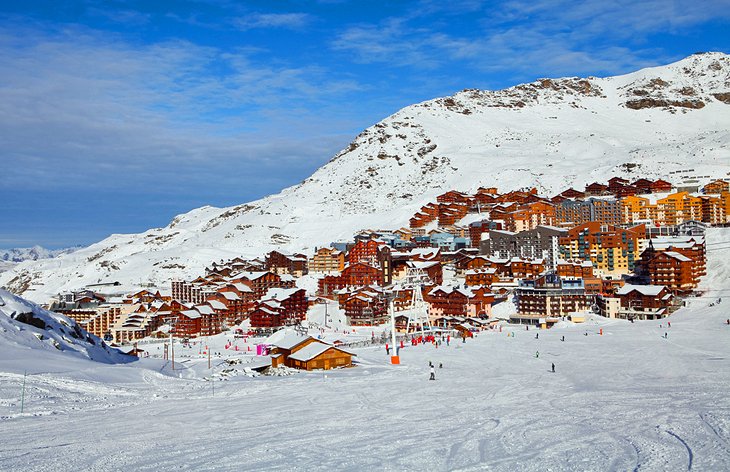 Albertville is a good base for a ski holiday in the French Alps and a worthwhile destination to simply enjoy the Alpine scenery. This bustling high-mountain town was founded by King Charles-Albert of Savoy in the 19th century and was laid out with a modern city plan.
On a hilltop spur above the town is Conflans, the oldest part of Albertville. This historic quarter is a relic of the past with its Gothic town gates, medieval walls, historic houses, and Baroque church.
Several top ski resorts are less than an hour away from Albertville. About 45 kilometers from Albertville is La Clusaz, a popular winter sports destination. La Clusaz ski area encompasses five interlinked mountain peaks, with 85 ski slopes covering 125 kilometers of groomed trails.
The charming historic village of La Clusaz, with its narrow, winding streets and splendid views, is a wonderful place to stay. Accommodations range from luxurious five-star hotels to cozy chalets and family-friendly rental apartments.
Another nearby option for skiers (60 kilometers from Albertville) is La Plagne, part of Paradiski ski area, which is one of the largest ski resorts in Europe with 425 kilometers and around 150 ski slopes. The resort area of La Plagne includes several small villages, and each has its own distinct high-mountain character.
Those looking for endless ski runs should head to Les 3 Vallées, just 27 kilometers from Albertville. Les 3 Vallées is the most extensive ski area in the world. This 600-kilometer domaine has 166 lifts that provide access to 328 ski slopes.
Les 3 Vallées comprises several different resort areas, including the prestigious Courchevel area, which has six villages; the charming Alpine village of Méribel; the more affordable resort of Brides-les-Bains; and the family-oriented ski area of Les Menuires.
Accommodation: Where to Stay in Albertville
13. Portes du Soleil Ski Area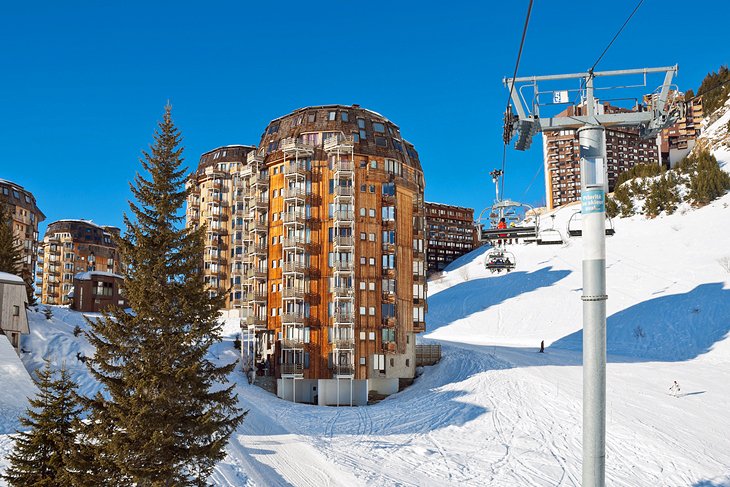 The Portes du Soleil ski area includes 12 different ski resorts in the Chablais mountain range. The resorts on the French side include Abondance, Chatel, Montriond, Morzine-Avoriaz, Saint-Jean d'Aulps, Avoriaz, La Chapelle d'Abondance, and Les Gets.
The bustling resort of Morzine-Avoriaz is sheltered in a forested valley with the Chablais mountains as a backdrop. Morzine provides a wide selection of accommodations in its authentic Alpine village. Avoriaz is a modern traffic-free resort that is popular with families.
La Chapelle d'Abondance enjoys a postcard-perfect setting in the sunny Vallée d'Abondance. This traditional Savoyard village offers all the amenities of a top-notch ski resort. The nearby ski area includes downhill slopes and cross-country skiing.
In an idyllic lakeside setting, Montriond is an excellent choice for skiers who appreciate long runs. The nearby ski area boasts an almost eight-kilometer-long ski run, l'Abricotine, which extends from a mountain peak near the border with Switzerland.
14. Route Napoléon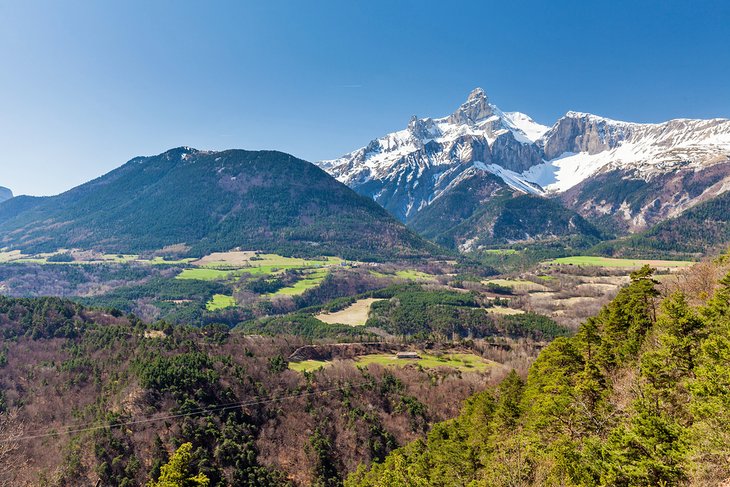 The Route Napoléon is a scenic itinerary for a driving tour through the French Alps. The four lakes of Laffrey are the main features on the barren plateau of Matésine. Here, on March 7, 1815, Napoleon won against a battalion, which had been sent to prevent him from advancing any further.
The Route Napoléon runs between Gap and Grenoble and one of the best places to visit is Corps, a fetching historic town in the expansive Vallée des Drac. The rural landscape in this area is particularly scenic.
It's worth taking a detour from Corp to the Church of Notre-Dame de la Salette, perched at an altitude of 1,170 meters amid stunning Alpine scenery. The church was built after the Virgin reputedly appeared to two children in 1851, and every summer, it attracts many pilgrims.
15. Saint-Gervais-les-Bains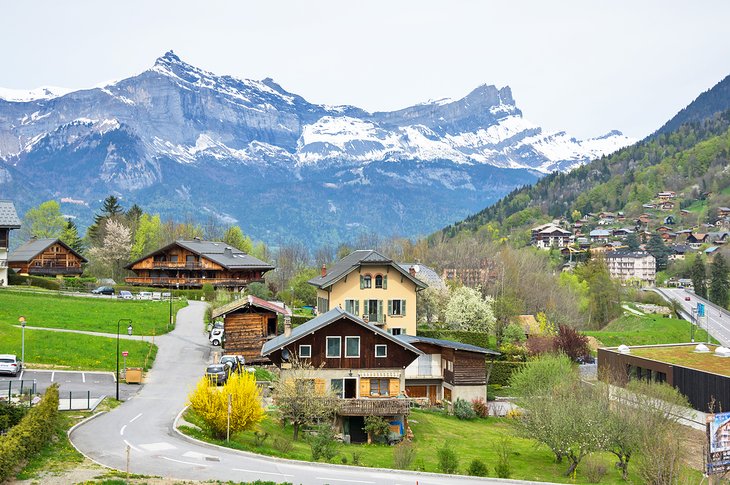 In the foothills of the Alps, the town of Saint-Gervais has been renowned since the Belle Epoque period as one of the best spas in the Savoy region. The town offers an escape to nature where visitors may enjoy the beauty of the mountain scenery and take advantage of the thermal baths.
Many hotels in Saint-Gervais-les-Bains offer bathing facilities and spa treatments. The five-star Armancette Hôtel provides luxurious accommodations in hotel guest rooms or fully equipped chalets and has an upscale spa with an indoor-outdoor pool, three Jacuzzis, a sauna, and steam room. The hotel's outdoor terrace overlooks Mont Blanc.
Saint-Gervais is also a popular winter sports destination as it's connected by a network of cableways to the skiing areas of Megève and Chamonix.
Accommodation: Where to Stay in Saint-Gervais-les-Bains
16. Thonon-les-Bains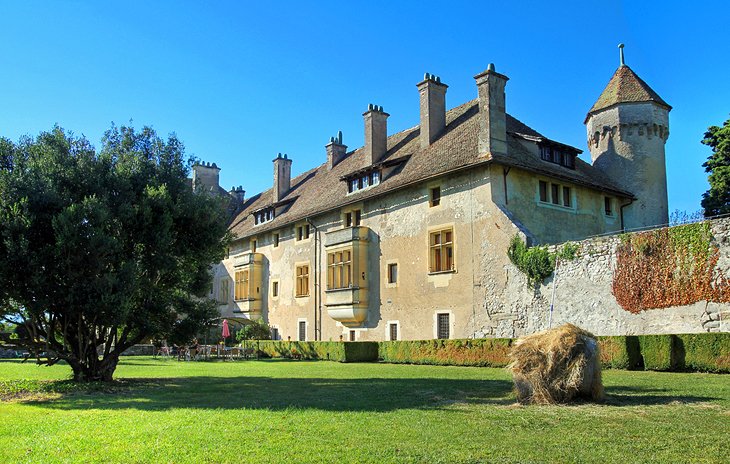 Perched above Lake Geneva, Thonon-les-Bains is a popular spa destination both in summer and winter. A top attraction is the 17th-century Château de Sonnaz, which offers glorious panoramic views of the Jura Mountains and Lake Geneva. The château houses the Musée du Chablais, which presents exhibits about the heritage of the Chablais Mountains region.
About 14 kilometers west of Thonon-les-Bains is Excenevex, a resort town on Lake Geneva with a large natural beach of fine sand bordered by pine trees. The beach has shallow waters ideal for swimming. Other activities at Excenevex include boating, fishing, volleyball, and a children's playground.
It's worth traveling a few kilometers farther to the medieval village of Yvoire, one of the "Most Beautiful Villages in France." This enchanting lakeside village boasts a 14th-century château with fortified ramparts and an exquisitely landscaped garden (listed as a "Jardin Remarquable").
Accommodation: Where to Stay in Thonon-les-Bains
Where to Stay in the French Alps for Sightseeing
For a French Alps ski holiday, the best areas to stay include Chamonix, Albertville, or one of the Portes du Soleil villages. During summertime, spa resorts such as Evian-les-Bains and Thonon-les-Bains are especially pleasant, while Annecy delights with its fairy-tale ambience. Grenoble is a good base any time of year. Here are some highly rated hotels in convenient locations:
Luxury Hotels: Right in the center of Chamonix, the five-star Hotel

Mont-Blanc

is a legendary establishment with superb views of Mont Blanc. This elegant 19th-century property has been refurbished in sleek contemporary style. Amenities include a spa, gourmet restaurant, and outdoor swimming pool.

The four-star Hotel Ermitage - Evian

Resort

in Evian-les-Bains has lovely gardens with an outdoor swimming pool, set on a 47-acre property overlooking Lake Geneva. Amenities include a thermal spa, several restaurants, and children's activities.

In Grenoble's atmospheric Vieille Ville (old town), the four-star Grand Hotel Grenoble

Centre

is within walking distance of many restaurants and shops. This boutique hotel features sleek contemporary-style guest rooms.

The four-star Hôtel

Macchi

is the ideal place to stay for a ski holiday at the Portes du Soleil area. This traditional chalet in the Vallée d'Abondance has a restaurant that serves seasonal cuisine and a spa with an indoor swimming pool, Jacuzzi, and Ayurvedic treatments.
Mid-Range Hotels: In a quiet area of Thonon-les-Bains, less than 15-minutes' walk to the town and lake, the three-star L'Arc en

Ciel

has an outdoor pool, stylish modern guest rooms, and large suites that are great for families.

Only steps from the chairlifts and a short walk to the quaint ski resort village of of La Clusaz, the four-star Hôtel

Beauregard

has a cozy ski lodge feel. Amenities include an indoor swimming pool and sauna. Guest rooms feature old-fashioned Alpine decor and private balconies.

The three-star Allobroges Park

Hotel

enjoys a perfect location in the heart of Annecy, near the old town and just a five-minute walk from the lake. Contemporary-style guest rooms are outfitted with flat-screen televisions and updated bathrooms.
Budget Hotels: The three-star Savoy

Hôtel

is sheltered by verdant hillsides in the spa town of Brides-les-Bains, less than 10 kilometers from Les Trois Vallées ski area. This cheerful hotel occupies a renovated convent building with modern guest rooms, a restaurant, spa, and outdoor swimming pool.

The Zenitude Hôtel-Résidences Les Terrasses du

Lac

stands on a hillside overlooking the deep blue waters of Lac Léman. This three-star hotel benefits from the tranquil environment of Evian-les-Bains, and the property includes an outdoor swimming pool and sauna. The hotel's apartments with kitchenettes are perfect for families and extended stays.

Near Annecy's old town and just a five-minute walk from the lake, the Atipik

Hôtel

offers a friendly welcome and cozy rooms. Some of the guest rooms have canal views.
More Related Articles on PlanetWare.com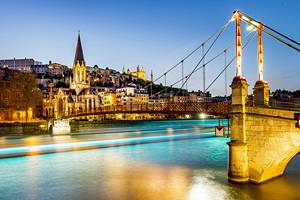 Nearby Attractions: About an hour and 30 minutes away by train or car from Grenoble, the UNESCO-listed city of Lyon offers cultural treasures and enchanting old-world ambience, as well as famous regional cuisine. There are many attractions that can be reach on a day trip from Lyon, such as the ancient Roman temple in Vienne and the medieval hilltop village of Pérouges.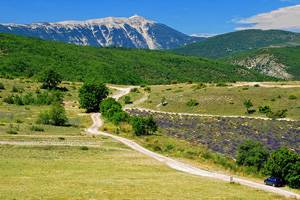 Highlights of Provence: Several top attractions of Provence are within a two- to three-hour drive away from the French Alps, including Avignon, the medieval city of Popes, and Nîmes, with its fascinating ancient Roman monuments. In the Haut-Vaucluse area of Provence, must-see sights are Orange, an important town in antiquity; the perched hilltop village of Gordes; and UNESCO-listed Mont Ventoux.