14 Top-Rated Beaches in the South of France
We may earn a commission from affiliate links ()
The South of France has a reputation for glamorous private beaches frequented by celebrities and beautiful people. Justifying this image of prestige, many beaches in the South of France feature exclusive beach clubs with pampering cabana service and sophisticated gourmet restaurants overlooking the waves.
However, the South of France includes a wide variety of beaches, including some excellent public beaches. The natural scenery is spectacular, both along the Mediterranean Sea (on the Côte d'Azur and the Languedoc-Roussillon coastline) and on the Atlantic Coast of France's Basque Country.
The fashionable seaside resort of Biarritz is the most upscale of the Atlantic Coast beaches. Saint-Tropez, Cannes, and Nice are famous French Riviera beaches known for glitzy beach clubs and a see-and-be-seen ambience.
The beaches of Antibes are prized for their expansive sandy shorelines, while the Île de Porquerolles and the Plage de l'Espiguette delight visitors with sublime landscapes and their wild, unspoiled coastline.
For summer beach vacations and seaside day trips anytime of year, the South of France offers endless treasures along its coastline. Discover the most desirable places to relax by the sea with our list of the best beaches in the South of France.
1. Beaches of Biarritz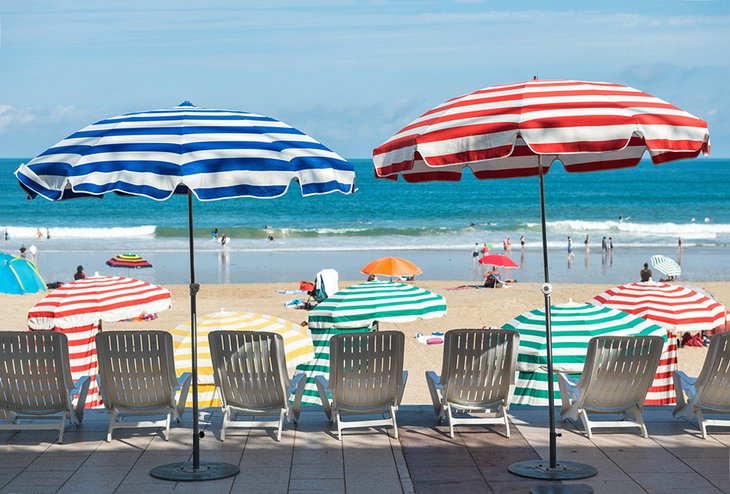 In France's lush Basque country, the pristine white-sand beaches of Biarritz frame the Bay of Biscay on the Atlantic Coast. This magnificent unspoiled coastline is famous for its powerful waves that draw many surfers. It's also well known as a fashionable beach resort.
What sets Biarritz apart from other beaches in France is the combination of stunning natural beauty and elegant ambience. Biarritz has been a celebrated seaside destination since the 19th century, when Empress Eugénie (the wife of Napoleon III) built a summertime residence here. Other royals and aristocrats soon began to visit as well, confirming the refinement of this legendary resort.
The beaches of Biarritz are outfitted with superb facilities and amenities, such as lounge chair and cabana rentals. Fancy restaurants and tea salons (such as the Miremont and Dodin) are found throughout the city.
One of the most impressive places to visit in Biarritz is the majestic Hôtel du Palais, the lavish Second Empire palace of Emperor Napoleon III and his wife Eugénie. In 1893, the palace was converted into a luxury hotel (now a five-star Hyatt). Tourists may dine at the hotel's gourmet restaurants without staying overnight.
With the Hôtel du Palais in the background, the Grande Plage is the central beach of Biarritz. This wide stretch of sandy shoreline is packed with sunbathers during summertime. In the high season, lounge chairs and traditional striped beach tents are available for rent.
Lifeguards survey the Grand Plage from June through October. However, it is not always safe to swim here; water safety is posted on a daily basis. Visitors should keep in mind that most beaches in Biarritz have heavy surf and strong currents (which can be unsafe for swimming), unlike beaches on the French Riviera, where the Mediterranean Sea is gentler.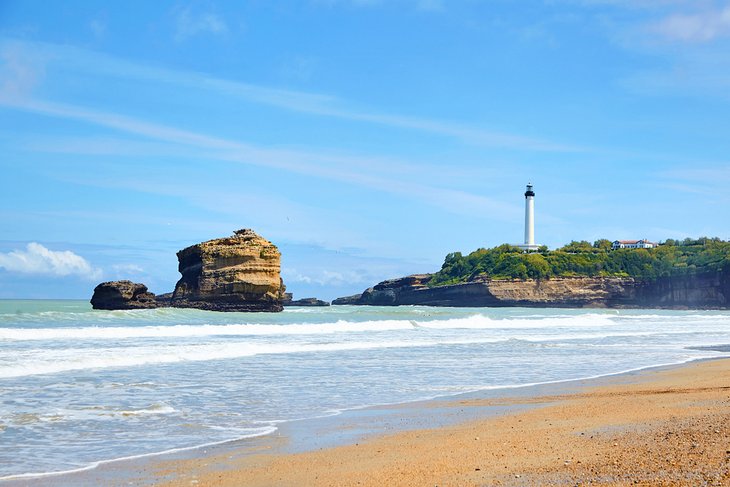 After the Grande Plage, the Plage du Miramar ranks as one of the best beaches in Biarritz and its amenities are similar. This stunning sandy beach looks out to the Biarritz lighthouse.
Steps away from the Plage du Miramar is the five-star Sofitel Biarritz Le Miramar with its Thalassa Sea & Spa center and gourmet restaurant that serves innovative modern Basque cuisine.
Overlooking Miramar Beach and the lighthouse, Le Régina Biarritz Hôtel & Spa is a legendary historic hotel on prime oceanfront property. The building dates to 1906; renovations in 2014 modernized the accommodations with updates to the Art Deco interiors.
Accommodation: Where to Stay in Biarritz
2. Beaches of Saint-Tropez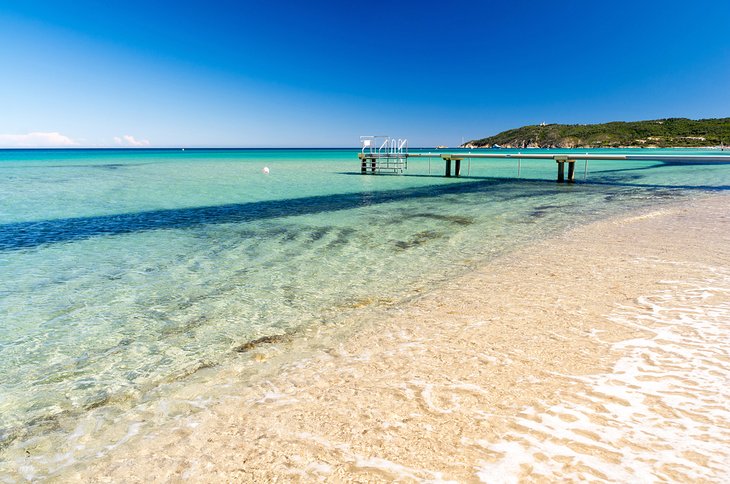 Saint-Tropez is synonymous with chic French Riviera beach holidays. However, the town of St. Tropez was just a typical Provençal fishing port until the 1950s when a Bridgette Bardot film made the place famous. Today Saint-Tropez is still considered one of the top places to visit on the Côte d'Azur.
Among the highlights of Saint-Tropez, the picturesque harbor and tree-shaded Old Town (La Ponche) burst with village charm. However, nowadays yachts mingle with fishing boats at the harbor, and designer boutiques are found throughout the Old Town's cobblestone streets.
The most popular beach in Saint-Tropez is the Plage de Pampelonne, a long stretch of shoreline (five kilometers). Nestled in a beautiful bay, this sheltered beach is prized for its fine white sand and gentle turquoise waters.
The Plage de Pampelonne is lined with posh private beach clubs that offer trendy restaurants and rentals of sun beds and parasols. Pictured in the Bardot film Et Dieu...créa la femme (And God Created Woman), the legendary Club 55 is the most famous of the Pampelonne beach clubs.
Another wonderful sandy beach (that's less glitzy than Pampelonne) is La Bouillabaisse Plage. This laid-back beach has a gourmet restaurant that serves contemporary Southern French and Italian cuisine prepared from fresh-caught seafood and seasonal ingredients. Beachside amenities include rentals of lounge chairs and sun umbrellas.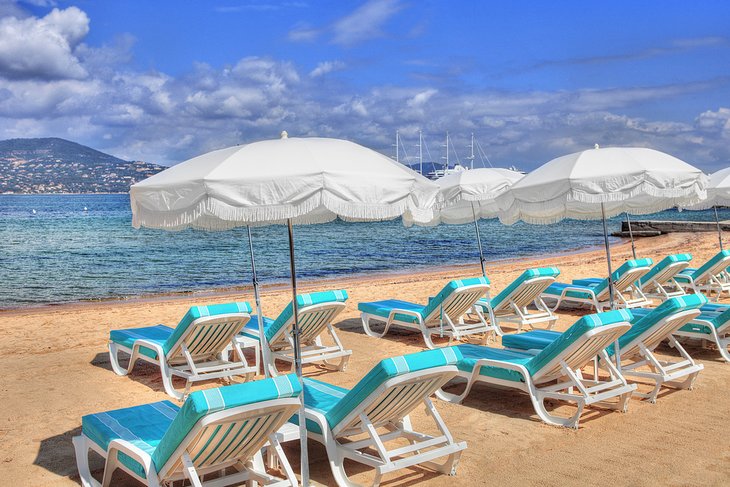 The family-friendly beaches of the Plage des Salins and the Plage des Canoubiers offer lifeguard surveillance during high season along with free public showers and toilet facilities. A long expanse of white-sand shoreline, the Plage des Canoubiers is a good place for playing volleyball and sailing. The Plage des Salins has a traditional French restaurant and a pizzeria.
While the beaches of Saint-Tropez are renowned for their well-equipped private beach clubs, there are not many beachfront hotel options. A few exceptions are the beachfront Cheval Blanc St-Tropez, the Residence Playa del Sol, and the Villa Uruguay at La Bouillabaisse Plage.
Another beachfront accommodation is steps away from the Plage de Pampelonne: the Hotel Épi 1959, which offers charming bungalows and cottages. The Épi Hotel also rents out a five-bedroom villa that is ideal for families or small groups of friends.
Accommodation: Where to Stay in Saint-Tropez
3. Beaches of Antibes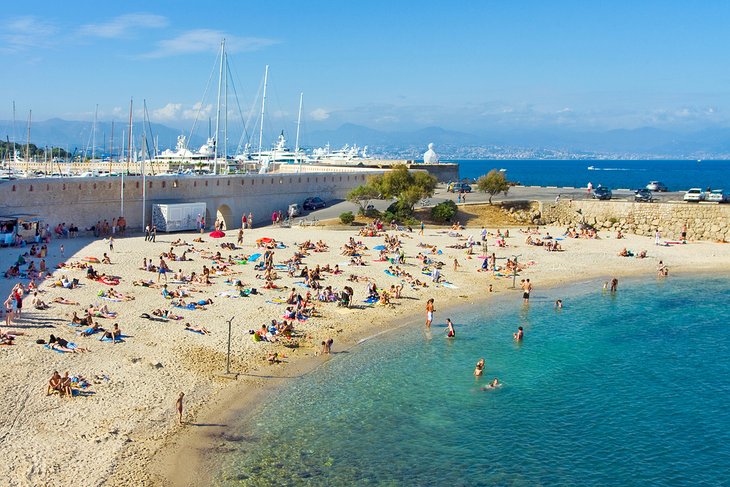 Among the main tourist draws of Antibes are its wide selection of beaches. There are three areas of beaches: those around the historic town of Antibes; the beaches of the Cap d'Antibes peninsula; and the beaches of Juan-les-Pins.
Considered a highlight of the French Riviera, the Cap d'Antibes peninsula is renowned for its expansive sandy beaches. The Plage de la Garoupe is one of the best Cap d'Antibes beaches, but most of the shoreline is taken up by private beach clubs during summertime. These beach clubs treat patrons to pampering beachside service and sophisticated gourmet dining.
The nearby community of Juan-les-Pins boasts a coastline of sandy beaches, some of which are backed by fragrant pine groves. There are public beaches with facilities such as showers and toilets, as well as private beach clubs that offer chic restaurants and use of sun beds or cabanas.
The main beach of Juan-les-Pins, the Grande Plage, is a large public beach with a wide sandy shoreline and a sailing club. Lifeguards survey the beach during summertime, when it gets very crowded. This beach doesn't have any snack bars or cafés, but nearby are many restaurants in the town.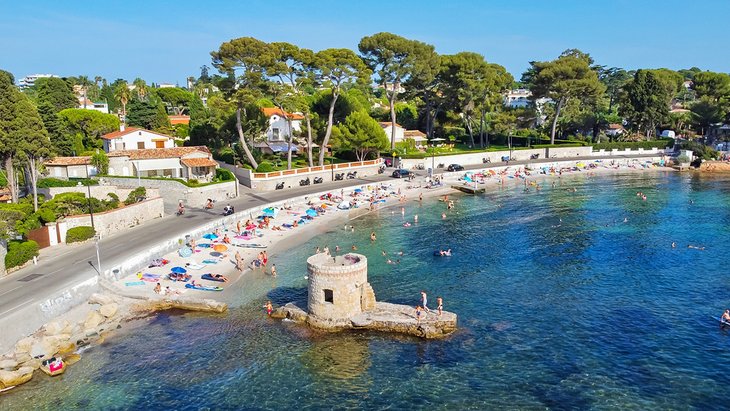 Locals like to sunbathe and relax at the Plage de la Gallice, a small secluded beach in Antibes that has a laid-back atmosphere. There are no beach clubs or lifeguards at this beach, but the lovely bay views make it a pleasant spot for a picnic.
Both the Cap d'Antibes and Juan-les-Pins are popular resort areas, with many restaurants and hotels in a variety of categories.
The legendary Hôtel du Cap-Eden-Roc has been a coveted seaside resort destination since 1870 and is still the most luxurious accommodation in the area. Decorated in delightful 18th-century French style, this five-star hotel has a dreamy spa, private bay, water sports equipment, a luxuriant parkland, an outdoor swimming pool, cabanas, clay tennis courts, country club facilities, and two gourmet restaurants, as well as a Michelin-starred fine-dining restaurant.
A prestigious Relais & Châteaux property, the Cap d'Antibes Beach Hotel delivers five-star amenities, including a Michelin-starred restaurant, a casual yet chic beachfront restaurant, swimming pool, wellness center, and its own private sandy beach.
Accommodation: Where to Stay in Antibes
4. Cannes Beaches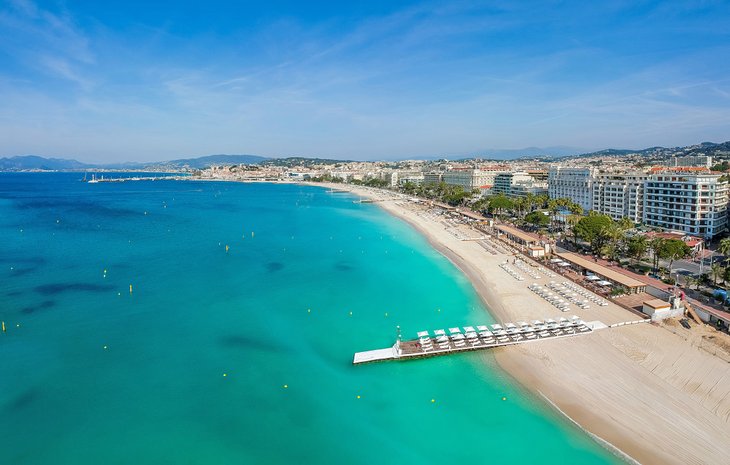 Cannes epitomizes the glamour of the French Riviera, with its exclusive beach clubs, luxury hotels, and fine-dining restaurants. Belle Epoque landmarks, splendid villas, and fancy boutiques line the Boulevard de la Croisette, which is fringed with a gorgeous stretch of private beaches.
However, you do not have to stay at an expensive hotel or patronize a private club to enjoy the beaches of Cannes. On the Boulevard de la Croisette are a couple of excellent public beaches: the Plage Macé and the Plage Zamenhof, which have public showers, toilets, changing rooms, lounge chair rentals, and snack bars.
In a quieter area of Cannes, the Plage de la Bocca features a golden-sand shoreline. The crystal-clear waters of this beach are ideal for snorkeling. Unfortunately, this beach does not have facilities.
In the center of Cannes, the palm-fringed Plage du Midi is a narrow sandy beach with a children's recreational area and lifeguards during summertime. The Plages du Midi has calm waters that are perfect for swimming.
5. Plage de la Paloma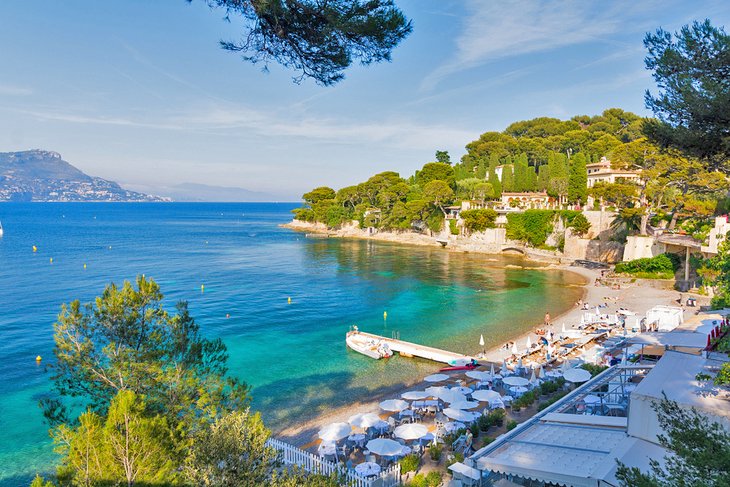 This delightfully secluded beach feels like a secret slice of paradise, because it is hidden in a quiet cove on the French Riviera's Saint-Jean-Cap-Ferrat peninsula (one of the top day trips from Nice). Lush vegetation covers the surrounding hillsides, adding to the beauty of the unspoiled natural setting.
Known as a place where the glitterati comes to unwind and enjoy life, Paloma Beach is an exclusive spot with a stylish seaside restaurant (open for lunch and dinner from May through September). The restaurant specializes in local cuisine and fresh seafood, serving guests at outdoor tables overlooking the gentle waves.
While sunbathing at the Plage de la Paloma, visitors can admire the fabulous views of the Bay of Beaulieu-sur-Mer and the hilltop town of Eze in the distance. The Plage de la Paloma also draws visitors for water sports such as jet skiing, sailing, paddleboarding, and waterskiing.
The Plage de Paloma is open every day of the summer season from 10am until 7pm. Amenities include restrooms, showers, changing rooms, lifeguard supervision, and rentals of lounge chairs and beach umbrellas. Visitors can also rent water sports equipment such as paddle boards.
6. Île de Porquerolles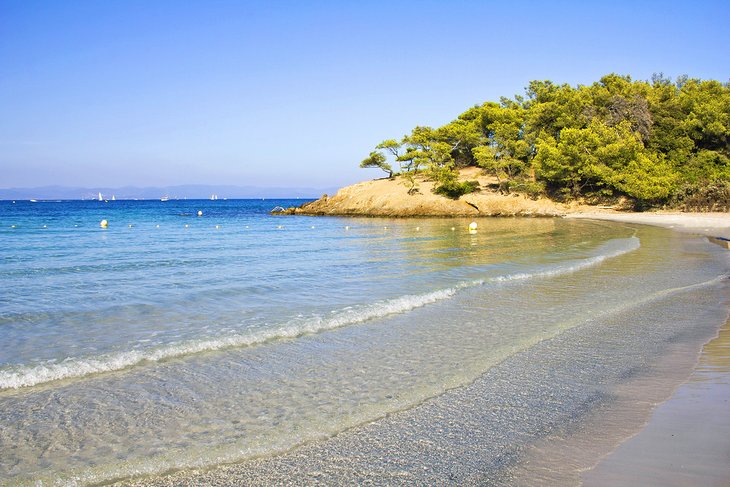 For those who want to escape the summertime crowds of the French Riviera, the Île de Porquerolles offers an idyllic getaway. This dreamy island is just a 30-minute ferry ride away from Hyères, a typical Provençal town near Toulon.
The island owes its tranquility to the preservation efforts of the Parc National de Port-Cros (national park). From its pristine coastline to lush woodlands and orchards, every place on the Île de Porquerolles offers a sense of peace and quiet.
On the northern side of the island are sublime beaches with fine golden sands and crystalline turquoise waters that resemble the Caribbean. The family-friendly Plage de la Courtade is the largest beach on the island. Backed by fragrant pine forests, the Plage Notre-Dame has a secluded feel that promotes relaxation.
Travelers should keep in mind other tourist destinations near Marseille that are worth visiting. The port town of Toulon has an attractive waterfront and charming Old Town. From the harbor of Toulon, there is a ferry service (which takes about one hour) to the Île de Porquerolles.
7. Plage de l'Espiguette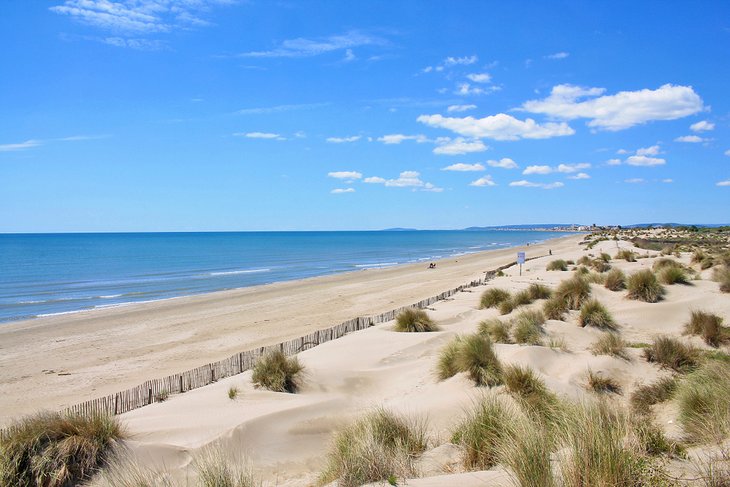 In the Languedoc-Roussillon region, the unspoiled Plage de l'Espiguette is one of France's best beaches. Undulating sand dunes cover most of this sprawling 18-kilometer-long and 700-meter-wide beach.
What makes this beach so special is its serene scenery. The fine white-sand shoreline is lapped up by gentle turquoise waters, which have been awarded the Blue Flag for safety and cleanliness.
Because the Plage de l'Espiguette is protected as a nature reserve, it does not have the typical amenities, such as snack bars and beachside restaurants. This beach is mainly a place to relax and admire the natural setting. Other things to do include horseback riding and kitesurfing.
8. Saint-Jean de Luz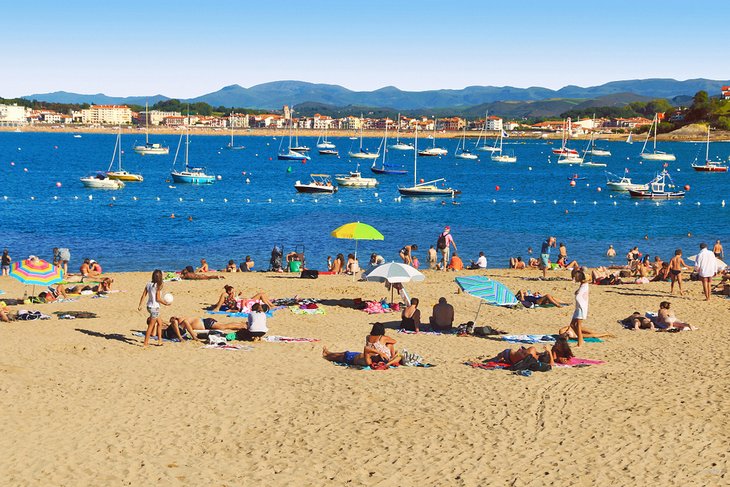 For families with young children, this Basque Country seaside resort is one of the best places to visit in France. Saint-Jean de Luz is a favorite destination for summer beach vacations near Biarritz.
The beaches of Saint-Jean de Luz are sheltered by sea walls in the Bay of Saint-Jean de Luz, which ensures calm waters that are safe for swimming.
Besides its beaches with excellent facilities, Saint-Jean de Luz has a quaint historic town with cobblestone lanes and typical Basque red-shuttered houses. The charming streets of Saint-Jean de Luz are brimming with traditional restaurants and old-fashioned boutiques.
Accommodation: Where to Stay in Saint-Jean de Luz
9. Beaches of Nice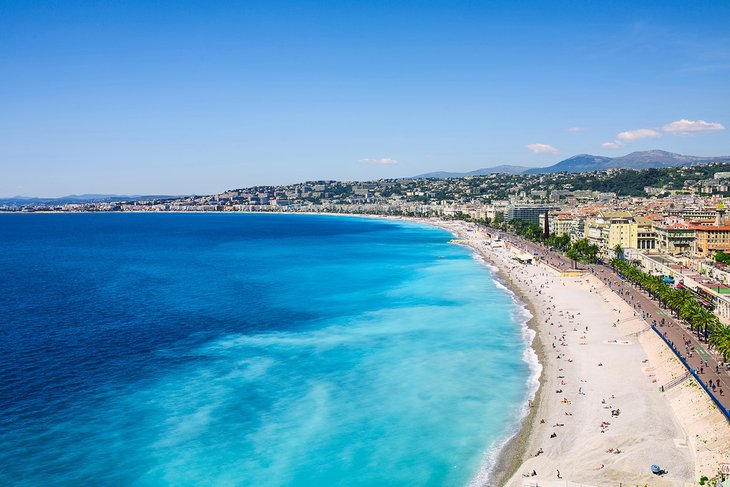 About six hours by train from Paris, the beaches of Nice exude an ambience of glitz and glamour that attracts a cosmopolitan crowd. These famous beaches are appreciated for their luxurious amenities and beautiful natural scenery, despite the pebble shorelines.
Several popular public beaches frame the Baie des Anges alongside the curve of the Promenade des Anglais. On sunny days under a deep blue sky, the gentle waters of the Bay of Angels take on a shimmering cerulean glow. Because the sheltered bay has placid waves, the beaches of Nice are safe for swimming.
Nice is also home to upscale private beaches such as the Castel Plage and Ruhl Plage that require you to rent sun beds or dine at a seafront restaurant. Castel Plage features a stylish beach club with a Provençal restaurant known for its nighttime atmosphere. Ruhl Plage has a Mediterranean restaurant and a snack bar.
For those who want to combine time spent at the beach and sightseeing, Nice is the perfect choice because of its many cultural attractions. The city has an atmospheric Old Town and fabulous art museums.
10. Argelès-sur-Mer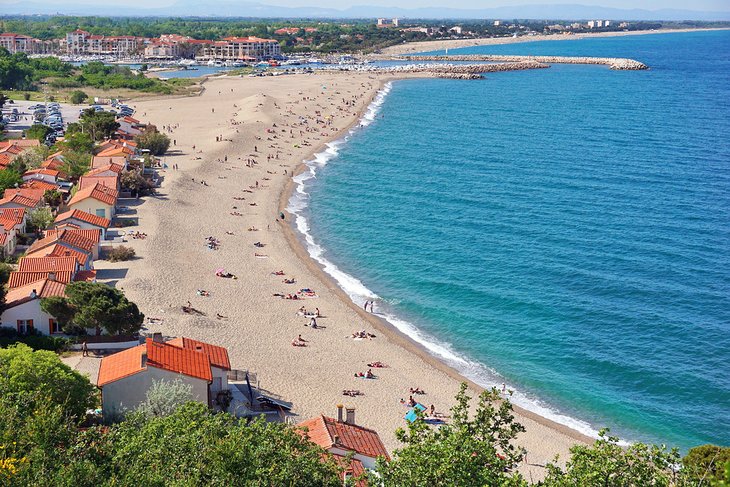 Argelès-sur-Mer is tucked away in a beautiful spot of France's Mediterranean coast, an area which shares a cultural heritage with the neighboring Catalonia region in Spain. Dating to the 14th century, Argelès-sur-Mer is a pleasant seaside village with remnants of medieval ramparts, a picturesque harbor, and quaint old fishermen's houses.
The town boasts an expansive sandy beach with the wooded Pyrenees foothills as a backdrop. Fringed by a refreshing pine forest, the beach of Argelès-sur-Mer extends for approximately seven kilometers. Visitors will appreciate the wide range of amenities, including beach clubs, lounge chair and parasol rentals, snack bars, a children's inflatable games park, and windsurfing and sailing schools. Lifeguards supervise the beach from the beginning of May through early October.
The beach of Argelès-sur-Mer is a great place for outdoor recreation. There are opportunities for water sports such as sailing, stand-up paddle boarding, pedal boating, and kayaking. Boats, paddleboards, and kayaks may be rented at the beach. Fronting the beach, a promenade invites seaside strolls.
Because of its water safety, the Argelès-sur-Mer beach has earned a Blue Flag label. The clean, calm sea makes this beach a great place for swimming and water sports. Lifeguards survey the beach during summertime.
Well designed for tourists, the village of Argelès-sur-Mer and the greater beach resort area are packed with hotels, restaurants, cafés, and shops.
Accommodation: Where to Stay in Argelès-sur-Mer
11. Narbonne Plage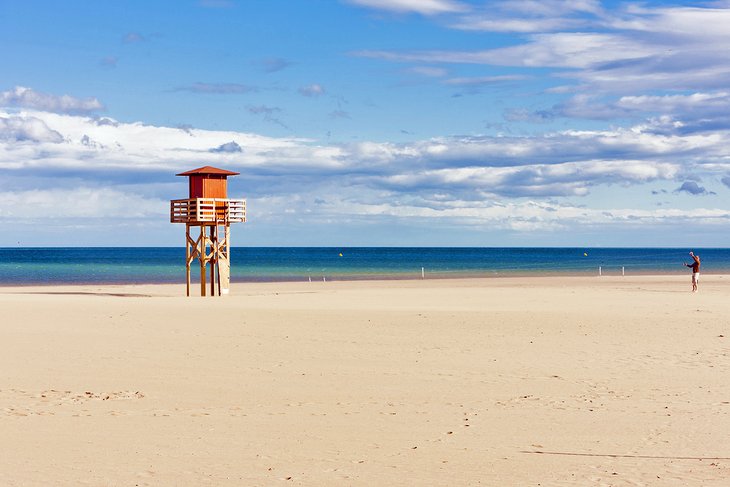 Narbonne Plage is another gorgeous beach in the Lanquedoc region. This lively beach delights visitors with its mild, sunny weather and five-kilometer shoreline of fine sand, which is supervised by lifeguards during summertime.
Sporty, outdoorsy types enjoy the beach volleyball courts, as well as opportunities for kitesurfing and paddleboarding.
The beach has a two-kilometer promenade for taking strolls, cycling, and roller-skating. The carefree fun-loving atmosphere feels similar to Venice Beach, in Los Angeles, the quintessential Southern California beach.
A worthwhile destination in itself, the town of Narbonne brims with historic monuments and cultural attractions. There are many medieval-era palaces and churches, such as the Archbishop's Palace and the Cathédrale Saint-Just et Saint-Pasteur, a glorious example of High Gothic architecture.
12. Beaches of Palavas-les-Flots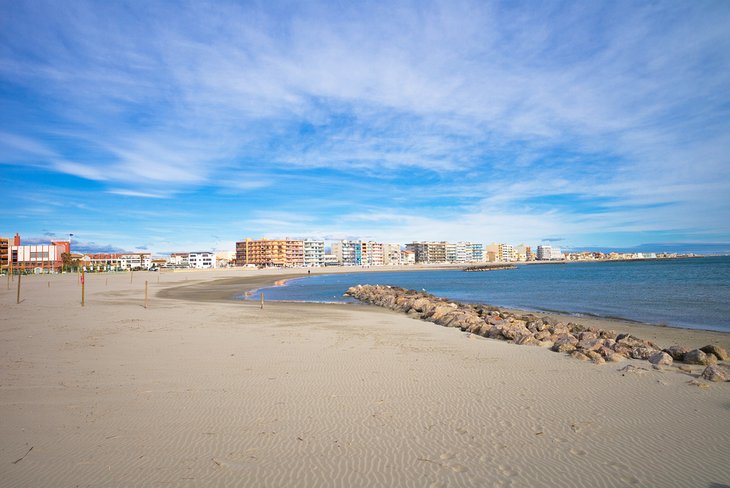 Palavas-les-Flots is an attractive seaside town built on a barrier island surrounded on one side by lagoons and on the other with seven kilometers of unspoiled shoreline. There are 12 sandy beaches along the coastline of Palavas-les-Flots.
Luxurious accommodations are available near the beach at the Plage Palace. This five-star oceanfront hotel features sleek contemporary decor and superb resort amenities: a full-service spa with hammam and fitness center; an outdoor swimming pool; and a private beach with lounge chairs, parasols, and beachside meal and refreshment service. The hotel's trendy gourmet restaurant serves innovative Mediterranean cuisine prepared from locally sourced ingredients.
Palavas-les-Flots is easily accessible by bus from Montpellier.
13. Plage des Marinières in Villefranche-sur-Mer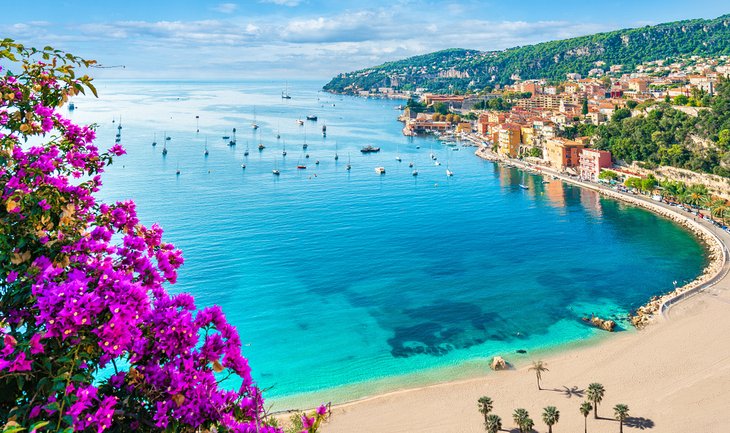 The Plage des Marinières is nestled in the Bay of Villefranche-sur-Mer near Nice, but it's surprisingly laid-back and low profile for a French Riviera resort. The beach is within easy walking distance of Villefranche-sur-Mer, a quaint seaside village, which makes it a good choice for those who prefer the convenience of being near a town.
This family-friendly public beach has a long shoreline of sand and pebbles, with calm, shallow waters. Tourists appreciate the lovely views of Villefranche-sur-Mer and the surrounding hillsides.
The Plage des Marinières is quite narrow and can get crowded during summertime. There are decent facilities, as well as several snack bars and ice-cream stands. Many visitors also bring their own picnic provisions.
Accommodation: Where to Stay in Villefranche-sur-Mer
14. Beaches of Menton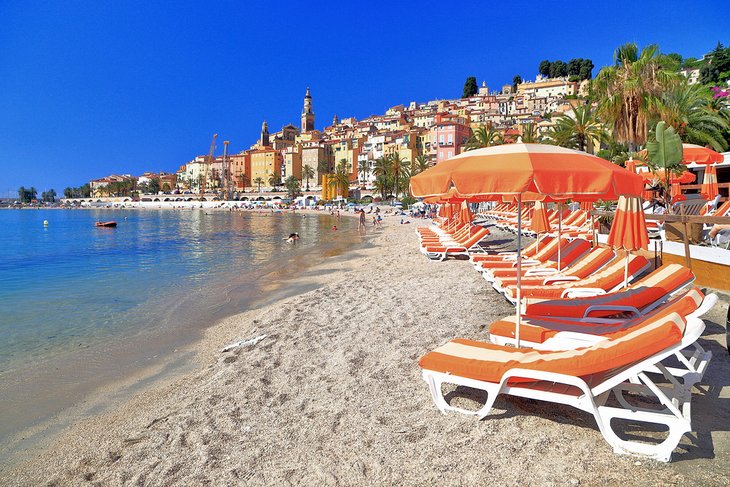 Near the border with Italy, the vibrant sun-drenched village of Menton is one of the highlights of the Côte d'Azur. It's also one of the best places to visit in France for balmy weather and charming Southern French ambience.
The old town of Menton has a distinctive Italian architectural influence, while the hillsides around Menton are covered with citrus orchards and lush Mediterranean vegetation. Taking advantage of its luxuriant landscape, Menton has several exotic gardens.
Menton offers a variety of beaches, both public and private, and sandy or pebbly. All of the beaches are well maintained and well equipped with facilities. The calm, shallow waters are safe for swimming, and lifeguards survey the beaches in July and August.
Accommodation: Where to Stay in Menton
More Related Articles on PlanetWare.com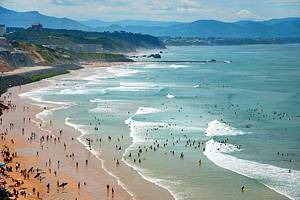 Other Beautiful Beach Destinations in France: Some of the best beaches of France are in northern France. The upscale beach resorts of Deauville and Trouville are found along the wide sandy shores of the Atlantic coastline in Normandy. The picturesque Brittany region also boasts sandy beaches in Cancale, Concarneau, and Trébeurden; at the popular resorts of Dinard and La Baule; as well as on Belle-Île-en-Mer, a ferry ride away from Quiberon.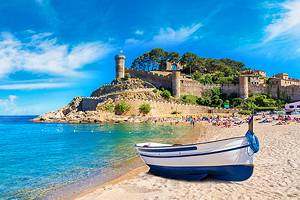 Spectacular Beach Destinations in Spain: Gorgeous sun-soaked beaches abound in Spain. The top-rated beaches of Spain are found in the Catalonia region, which includes Barcelona; on the dreamy Balearic Islands of Formentera and Mallorca; along southern Spain's coast in Cádiz; and around Santander in the Cantabria region.