11 Top-Rated Attractions in Santander & Easy Day Trips
We may earn a commission from affiliate links ()
The image of golden sand beaches with sunbathers lounging under colorful parasols best describes Santander in northern Spain's Cantabria region.
The city and main beach, Playa del Sardinero, are situated between Cabo Mayor and the Peninsula of Magdalena, facing the Bay of Biscay. The beautiful coastline, turquoise waters, and sunshine draw many fun-loving visitors, especially during summertime. The city also has several excellent museums and other tourist attractions to keep vacationers busy.
The Museum of Prehistory offers a fascinating insight into the world of Paleolithic times; many of the archaeological finds were discovered at caves in the region. For a taste of more recent culture, visit the Museum of Modern and Contemporary Art to see highlights of Spanish art of the 19th and 20th centuries.
Santander's most impressive historic monument is the medieval Gothic cathedral, although it was mostly renovated after the fire of 1941, which destroyed much of the city. Since then, Santander has been rebuilt in elegant modern style, with broad streets ideal for leisurely strolls.
Discover the best places to visit with our list of the top tourist attractions in and around Santander.
See also: Where to Stay in Santander
Note: Some businesses may be temporarily closed due to recent global health and safety issues.
1.
Palacio Real de la Magdelena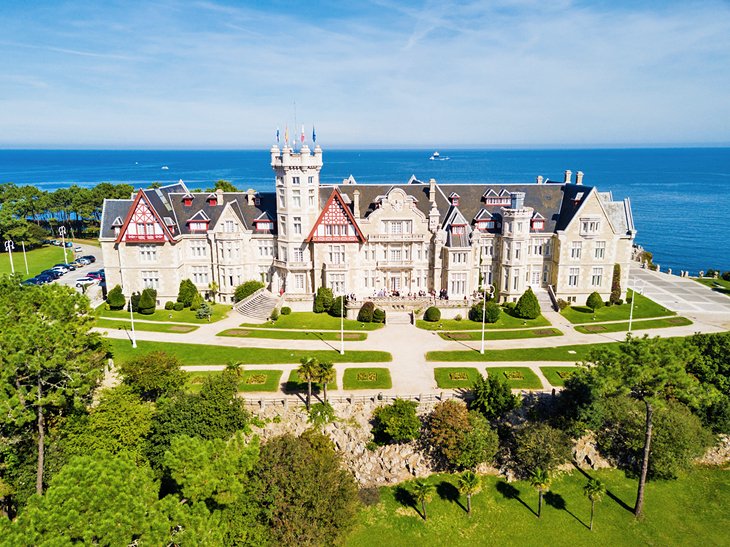 Sitting on the stunning Peninsula of La Magdalena, the Royal Palace was built in 1911 for the Spanish royal family. Since then, it has been used as a summer home for the monarchy, a home for the International University, and a public park. Guests are welcome to walk the grounds via numerous paths and enjoy the immensely beautiful views, as well as the stunning architecture of the palace itself.
In addition to the palace, which features storybook gables and flagged turrets, the Royal Stables are a popular place to visit. Due to summer events and official uses, the palace grounds are open weekends only from June through September.
The Palacio Real de Magdalena is one of the ten stops on the City Sightseeing Santander Hop-On Hop-Off Tour, a convenient way to get around the city and visit the most popular of its central and outlying tourist attractions. The tour includes 24-hours of unlimited access to the open-top double-decker bus and multi-language tour commentary, with stops at important landmarks like the cathedral, Museo Maritimo, Playa del Sardinero, and Parque de Matalenas.
Address: Av. de la Reina Victoria, s/n, Santander
Official site: https://palaciomagdalena.com/en/
2. Playa del Sardinero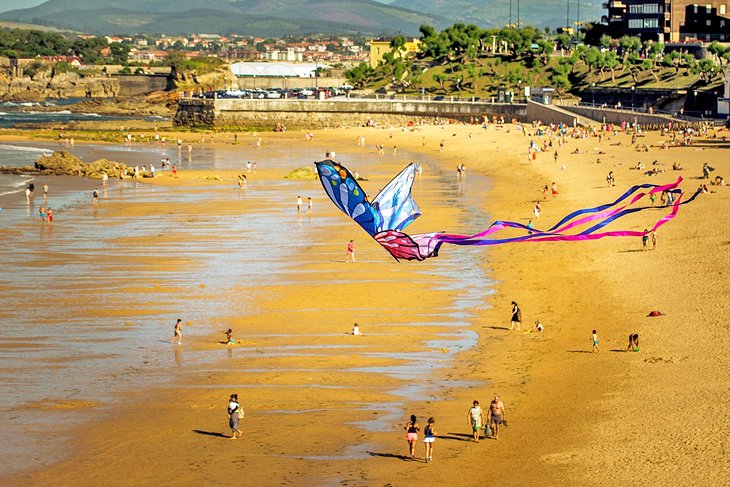 El Sardinero Beach has preserved the atmosphere of the Belle Epoque era with its seafront terraces, numerous elegant hotels, and fine restaurants. This gorgeous and expansive beach is a popular seaside destination in Santander, for sunbathing, surfing, strolling, and seaside dining. The beach's scenic promenades are perfect for coastal strolls.
El Sardinero Beach is north of the Peninsula of La Magdalena, facing the Atlantic Ocean where the breaking surf can be dramatic. Experienced surfers glide along the wild Atlantic waves, which are especially challenging November through March.
In summer, the wide sandy shores of Playa del Sardinero are packed with sun-worshippers and colorful beach umbrellas. During the vacation season, the beach is a lovely spectacle of lounge chairs and vibrant sun parasols in orderly rows. Even the sand is groomed regularly.
Swimming is possible, but the waters are less suitable for bathing here than other more protected beaches in Santander. The Real Club Marítimo (boat club) is also in this area.
Accommodation: Where to Stay in Santander
3. Museum of Prehistory and Archaeology
This exceptional museum allows visitors to discover the prehistoric world of the Paleolithic era and Iron Age. The extensive collection displays around 1,200 objects, and many of the items were found in the prehistoric caves of the Cantabria region. A highlight is the ''bâtons de commandement,'' an artistically rendered piece made from stags' antlers.
The collection also includes Roman-era antiquities from ancient cities (now archaeological sites) of Julióbriga and Castro Urdiale. Other interesting artifacts are the pre-Roman Celtic funerary monuments. The medieval exhibit features a rare belt buckle made of ivory found at the Santa María de Hito archaeology site. For a better understanding of the collection and the history, visitors can opt for a guided tour.
Address: 4 Calle Hernán Cortés, Santander
4. Museo Marítimo del Cantábrico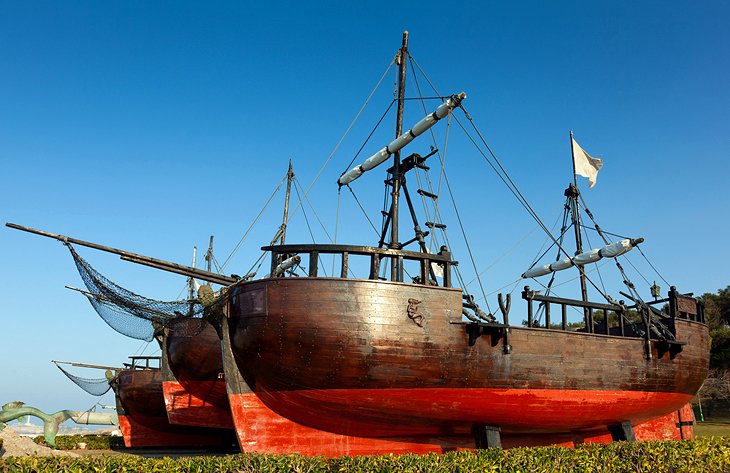 A tribute to the seafaring culture of the Cantabria region, the Maritime Museum in Santander Bay offers museum exhibits, as well as an impressive aquarium. In its dazzling 3,000 square meters of display space, the museum reveals fascinating insights into the underwater and maritime world. The exhibits feature seafaring objects, ship models, and documents about the life of fishermen. Visitors gain an in-depth understanding of the relationship between humans and the sea throughout history.
The museum covers the disciplines of marine biology, maritime history, and fishing technology. Ideally designed for tourists, this popular attraction has a café and gift shop. Guided tours are available.
Address: Calle San Martín de Bajamar, Santander
5.
Parque de Cabo Mayor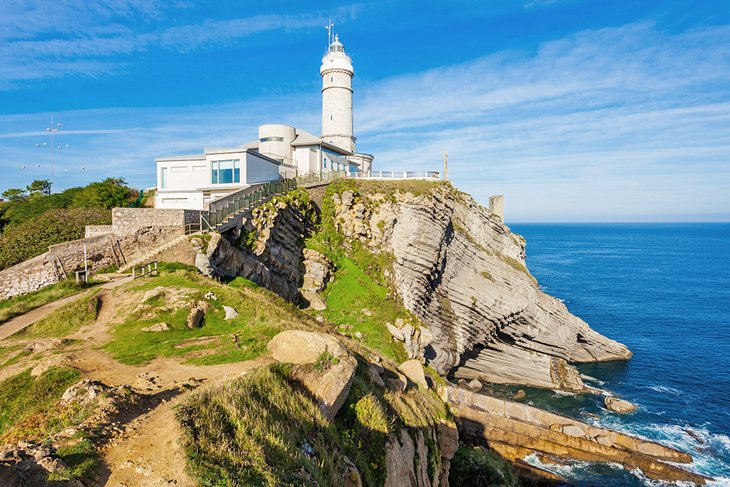 About three kilometers north of El Sardinero Beach is the Cabo Mayor (Cape Mayor), home to the beautiful seaside Parque de Mataleñas and a variety of things to do. At the point sits El Faro de Cabo Mayor, a lighthouse that has been greeting ships as they approach the Bay of Santander since 1839. Inside the lighthouse is the Centro de Arte Faro de Cabo Mayor, a museum that focuses on the long history of signaling ships.
The public park has a variety of recreational areas, including Mataleñas Golf Course (a public course), camping, a rope course at Forestal Park Santander, a children's playground, and swimming at Mataleñas beach.
6.
Centro Botín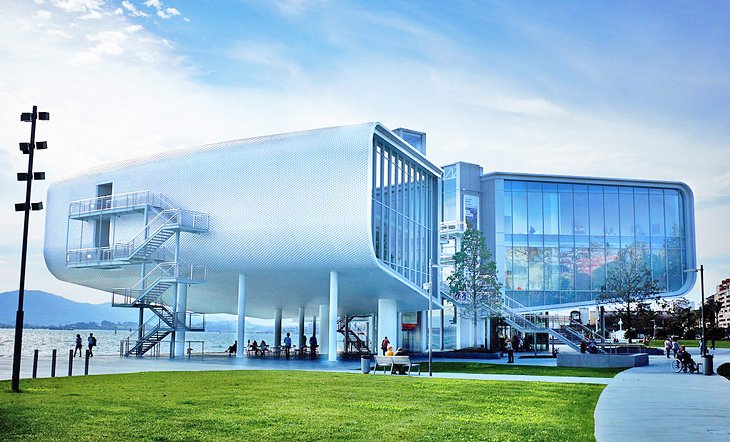 Centro Botín is an enormous arts center, which sits at the water's edge on the southern shore of Santander. The building, overlooking the celebrated Pereda Gardens, is a magnificent piece of modern architecture designed by Renzo Piano, a Pritzker Prize winner.
The center is focused on all aspects of contemporary art, with classes, interactive experiences, and educational programs in addition to installations and exhibits. Exhibits rotate and include a broad range of media and topics, including visual arts like photography, painting, and sculpture, as well as performing arts like dance and music from classical to modern rock.
There is also an excellent Michelin-starred restaurant on the premises which has picture-perfect views over the gardens and sea.
Address: Muelle de Albareda s/n, Jardines de Pereda, Santander
Official site: www.centrobotin.org/en/
7. Ermita de la Virgen del Mar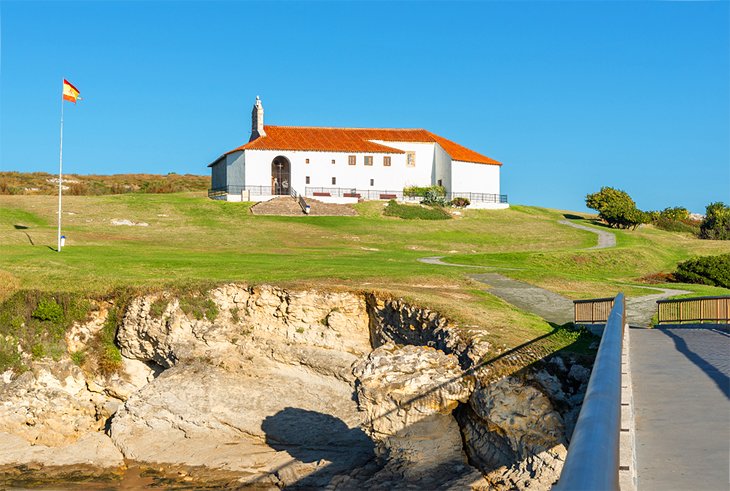 Part of the joy of visiting this hermitage is the journey through the spectacular coastal landscape to get here. The small seaside chapel stands on an island now joined to the mainland by a bridge. Built in the 14th century, the ancient shrine honors the Virgen del Mar (Virgin of the Sea), the patron saint of Santander.
Because the chapel lies so close to the sea, the building has been partially destroyed on several occasions by fierce storms. The sanctuary has three altars; the largest features an image of the Virgin.
An important local festival is held at the hermitage on the Monday of Pentecost in May or June. The Virgin del Mar Fiesta culminates with a procession of pilgrims carrying a figure of La Virgen del Mar to the chapel. Following the procession, a Mass is held, which features parts sung in the seafaring tradition. Then the lively festival continues with food and entertainment that attracts thousands of people.
Location: Isla de la Virgen del Mar (San Román de la Llanilla)
8. Museo de Artes Moderno y Contemporáneo de Santander y Cantabria
The Santander and Cantabria Museum of Modern and Contemporary Art has a rich collection of art from the 19th and 20th centuries. The collection offers a broad representation of works by hundreds of artists, primarily of the Cantabrian region and other areas of Spain.
Most notably the museum displays the art works of famous Spanish painter Francisco de Goya. Other artists featured include Alexandra Aguiar of Portugal, Jorge Abot of Buenos Aires, Aldo Iacobelli of Naples, and Federico de Madrazo y Kuntz of Rome. Throughout the year, the museum hosts interesting temporary expositions.
Address: 6 Calle Rubio, Santander
9. Playa del Magdalena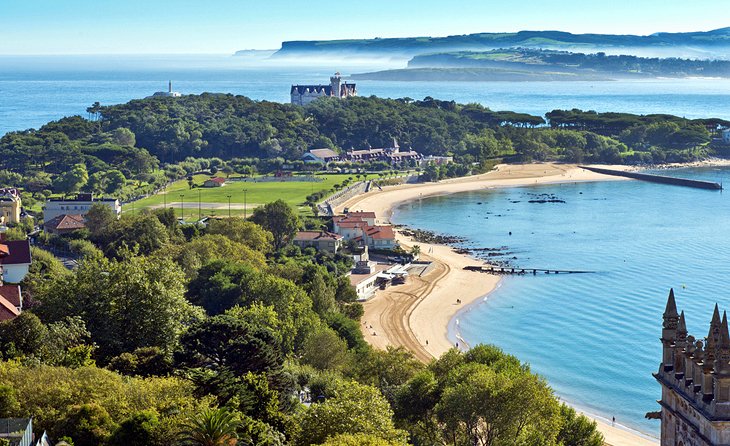 The Playa del Magdalena is a long, golden beach in a beautiful area of the city, beside the Peninsula of La Magdalena. Listed as a "Blue Flag" beach, the waters of Playa del Magdalena are calm enough for swimming; the swimming area is cordoned off by buoys for safety. Signposts indicate safety hazards on a daily basis. Platforms in the water are designed for swimmers to rest and sunbathe.
Magdalena Beach also has a marina filled with docked boats and a yacht club/sailing school with water sports rentals. An open-air snack stand offers refreshments.
The sandy shores of Playa del Magdalena extend for almost one kilometer. The beach is well equipped with public toilets and showers, sun parasols, and lounge chairs for rent. A children's play area is popular with young kids.
10. Catedral de Nuestra Señora de la Asunción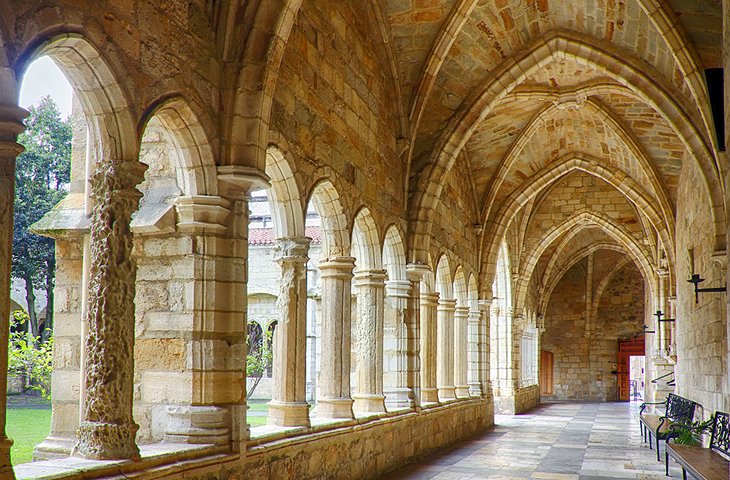 The original cathedral was constructed in the 13th to 14th centuries in an austere Gothic style. However, much of the building was renovated after the fire. The splendid 15th-century cloister (also restored) features serene rows of vaulted arcades and contains the mausoleum of Santander author and scholar Marcelino Menéndez y Pelayo.
Built on an impressive scale, the cathedral has an inspiring sanctuary. Three spacious naves are divided into four sections. Delicate vaulting with pillar columns add to the beauty. The cloister is square, with pointed arcades. In July and August, the cathedral offers free guided tours every 30 minutes.
In the crypt of the cathedral is the Iglesia del Santisimo Cristo, a small austere church of the 13th century—the oldest in Santander. The floor is covered with glass panels that display archaeological remains of the ancient Roman era. The Iglesia del Santisimo Cristo houses the tombs of two early Christian martyred saints, Celedonius and Emeterius. Entrance is at Calle Somorrostro.
Address: Plaza del Obispo José E. Eguino, Santander
11. Quiet Beaches in Puerto Chico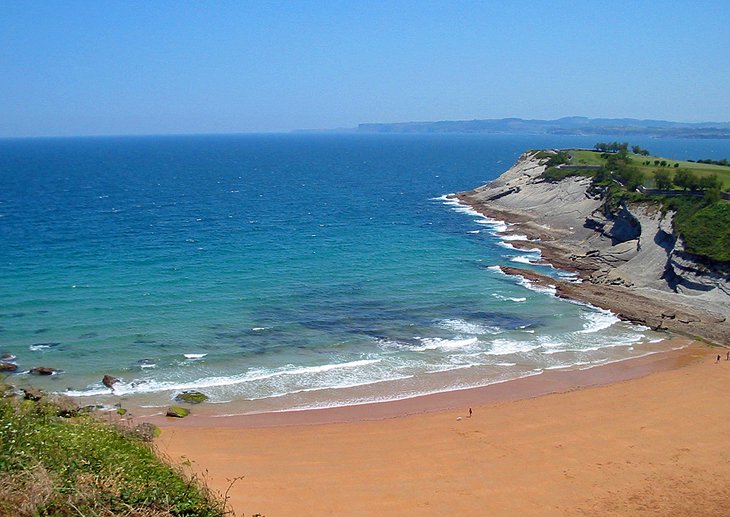 In the Puerto Chico (Little Harbor) district, about a kilometer from the city center, are several excellent beaches. The Playa del Bocal is a small, sheltered, relatively undiscovered beach; its isolated setting offers a wonderful escape to nature. El Bocal Beach boasts fine golden sand and moderate waves. Signposts indicate safety hazards.
The Playa Molinucos (next to the Playa del Sardinero) is another small sandy beach with mild waves near Santander's Municipal Golf Course. Tourists should keep in mind that El Bocal and Molinucos beaches do not have public toilet facilities or other amenities.
Where to Stay in Santander for Sightseeing
Luxury Hotels: The five-star Eurostars Hotel

Real

is in a quiet area near the Playa de los Peligros and features a lovely palm-fringed garden seating area where breakfast is served. Balconies have incredible views of the bay, and the hotel is within a five-minute walk of the beach, as well as the Museo Maritimo del Cantabrico. Hotel amenities include a full-service spa, fitness center, restaurant with room service, and concierge. Family rooms and suites are available, as are pet-friendly accommodations. Another luxury beachfront hotel with sea views and stylish décor is the Gran Hotel

Sardinero

, a modern and elegant hotel with spacious suites and a central location. Non-smoking rooms are available, and family rooms are equipped with a mini-fridge; there is also self-service laundry and free Wi-Fi, as well as an on-site restaurant and safe underground parking.
Mid-Range Hotels: As its name suggests, Jardin

Secreto

features a secluded garden, where guests can enjoy peace and quiet while staying in a central location just a few minutes' walk to the Museo Bellas Artes, Calle Burgos, and the cathedral. The welcoming hosts at this B&B-style lodging are always happy to recommend the perfect restaurant and give tips on the city's best-kept secrets. Amenities at this smoke-free hotel include free Wi-Fi, a fitness center, fridges and DVD players in the rooms, and airport transportation. Many of the comfortable rooms overlook the courtyard garden, and each morning guests are treated to fresh pastries and tea and coffee. The Hotel Bahia

Santander

is in a convenient location right next to the cathedral and ferry port and just a short walk to Centro Botín and Pereda Gardens. This family-friendly mid-range hotel is non-smoking throughout and has a variety of rooms to choose from, including family rooms with bunk beds in their own private room. Ocean view rooms are available, and there is an on-site restaurant that serves breakfast.
Budget Hotels: Le Petit Boutique

Hotel

is an affordable boutique hotel, a two-minute walk to the beach, situated in the center of Playa del Sardinero between Cabo Mayor and Peninsula of Magdalena. Breakfast is included in the rates, as is Wi-Fi. There are plenty of restaurants nearby, and the hotel's themed rooms have stylish décor. Another good budget hotel in Santander is Hospedaje

Magallanes

, a centrally located accommodation with friendly staff and clean rooms. It is located in a quiet residential area just two minutes by foot to Calle Burgos and 10 minutes to the cathedral, surrounded by restaurants. Rooms are basic but smoke-free and very clean, and amenities include free Wi-Fi and laundry service.
Guggenhe

i

m Museum in Bilbao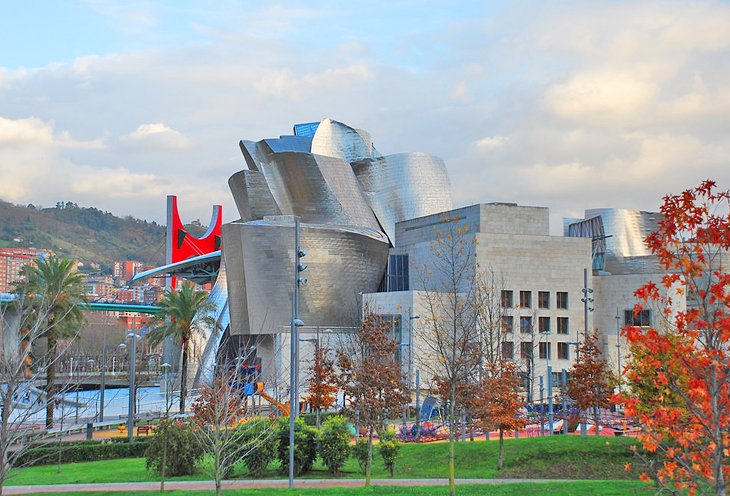 Just an hour drive from Santander is Bilbao, home of the Guggenheim Museum. The Guggenheim is in itself a piece of art, and the building, which was designed by Frank Gehry, sparked an entirely new type of tourism, architourism, named for the sudden influx of tourists who came to see this architectural marvel.
Of course, the museum's contents are equally impressive, including 24,000 square meters of exhibition space that houses an astounding variety of art work, including paintings, drawings, photography, and sculpture.
There are several other excellent museums in Bilbao, including the Museum of Fine Arts, an archaeology museum, and a maritime museum. Visitors should be sure to leave some time to explore the Old Town and sample the uniquely Basque pinxtos in the Plaza Nueva.
Altamira Caves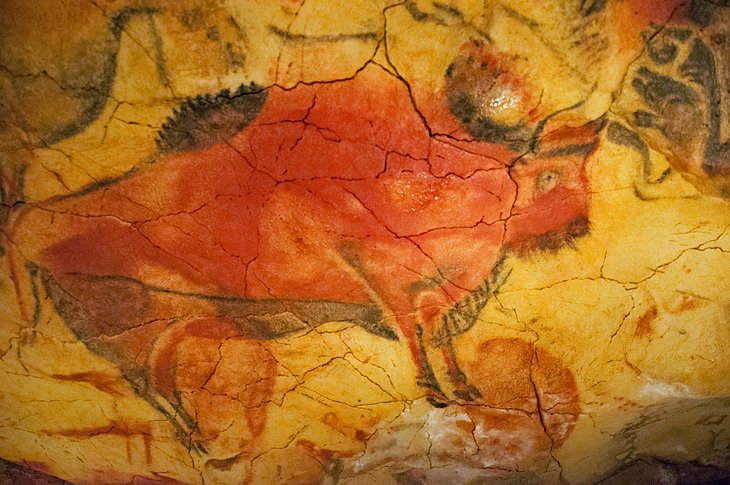 About 35 kilometers from Santander and two kilometers from Santillana del Mar are the famous Altamira Caves, with 15,000-year-old Stone Age rock paintings. These prehistoric works of art are without parallel for their representational skill, vivid coloring, and excellent state of preservation. Most of them are dated to the late Magdalenian period (circa 15,000 BC - 10,000 BC) though some more primitive paintings are about 10,000 years older.
One part of the cave, the Sala de Pinturas, is called the "Sistine Chapel of cave art" because of its beauty and vivid colors, predominantly red, ochre, and brown from natural minerals. The ceiling of the chamber is covered with paintings of animals, including several bison, a red wild horse, and a wild boar. The Stone Age artists used the structure of the rock and the areas of shadow to achieve spatial effect and movement.
Santillana del Mar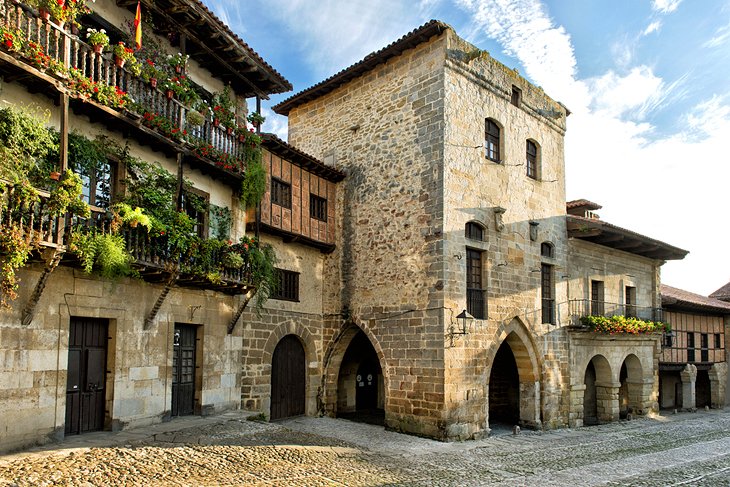 This charming medieval town lies less than 30 kilometers from Santander. Despite its name, Santillana del Mar is not by the sea and instead is a few kilometers away from the coast. The town is full of old-world charm, with cobblestone streets, medieval defense towers, and elegant Renaissance palaces. During the Middle Ages, Santillana was an important stop on the Way of Saint James pilgrimage trail to Santiago de Compostela. Pilgrims would pay their respects at the town's Collegiate Church of Santa María.
More Related Articles on PlanetWare.com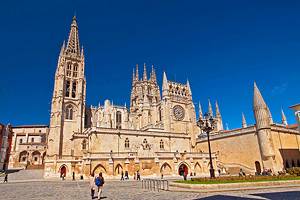 Beautiful Burgos: Those who enjoy Santander's cathedral may be interested in the UNESCO-listed cathedral in Burgos, an impressive, white limestone structure that is an excellent example of Gothic architecture.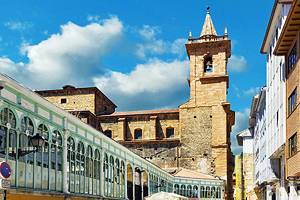 Exploring Oviedo: The coastal town of Oviedo is also well-known for its churches, home to the Catedral de Oviedo, as well as multiple ninth-century churches, including the Iglesia de San Julián de los Prados, Iglesia San Tirso, and Iglesia de Santa Maria del Naranco.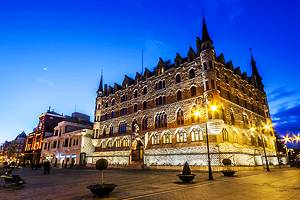 Exploring León: Another city famous for its cathedral, as well as a monastery and other important historic attractions, is León, with top landmarks, including the Neo-Gothic Casa de Botines and the Romanesque Collegiate Church of Saint Isidore.