11 Top-Rated Cheap Places to Visit in Europe
We may earn a commission from affiliate links ()
When new travelers think about taking a vacation in Europe, the first vision they see isn't the pizzas of Italy or the dreamy Greek islands-but green dollar signs. It's a common misconception that European jet-setting is pricey, when in reality, to save a dollar (or a few thousand), being strategic about your destination is key.
Though there are many expensive cosmopolitan cities across the Atlantic, there are even more budget-friendly options that still provide the same cultural, culinary, and eye-opening experiences you seek out of a vacation. From a port city in Spain to a mountain town in Bulgaria, check out our list of the cheap places to visit in Europe.
Note: Some businesses may be temporarily closed due to recent global health and safety issues.
1. Prague, Czech Republic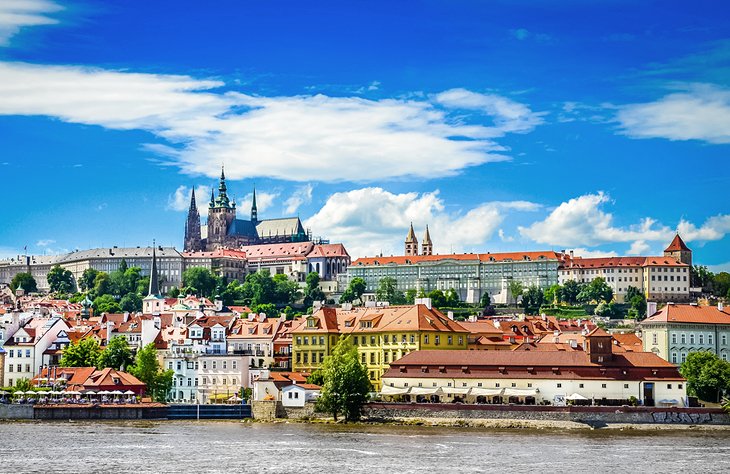 It's nicknamed "The City of a Hundred Spies"-but you don't have to be stealthy to save money in the capital of the Czech Republic. No matter the season, Prague offers charm, adventure, history, and plenty of decadent-and ahem, fried-dishes. Whether you're on a hostel budget or can spend a bit more for an Airbnb, you can expect to pay very little in nightly rates and on dinners out.
The city itself is divided into old and new, and you can hire a tour guide or just wander around yourself, since it's not only simple to navigate but features an inexpensive metro system, too. Secret tip? Pack yourself a cheap breakfast and a coffee and watch the sun rise over the Charles Bridge-unforgettable and basically money- and crowd-free.
Accommodation: Where to Stay in Prague: Best Areas & Hotels
2. Valencia, Spain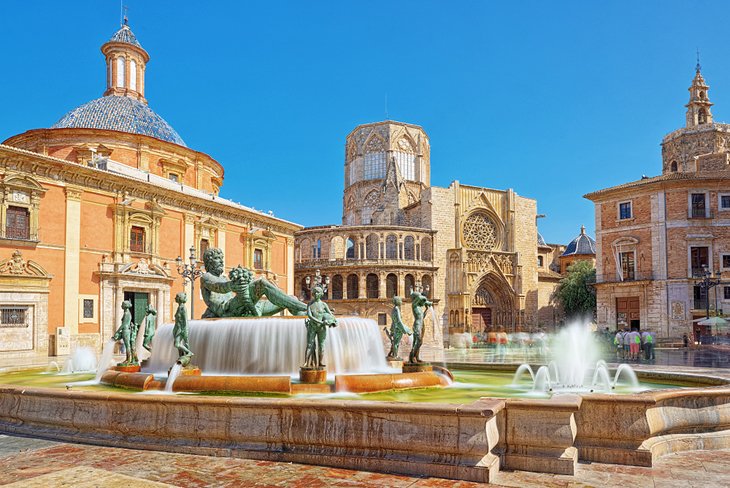 If you're a fan of art and the undeniable allure of Spain, you might consider hopping a flight to Barcelona. But once you start looking at hotel rates... you might think again. Instead, save some cash and still test your eye for design by vacationing in Valencia.
This port city is along the southeastern coast of the country and is renowned in Europe for it's dedication to science and art, with a well-known oceanarium, museum, and planetarium among its top attractions. No out-of-office adventure is complete without a little R&R, and luckily, Valencia also features many beaches and hiking and biking trails, too. Nature and inspiration? Yes, please!
Accommodation: Where to Stay in Valencia: Best Areas & Hotels
3. Berlin, Germany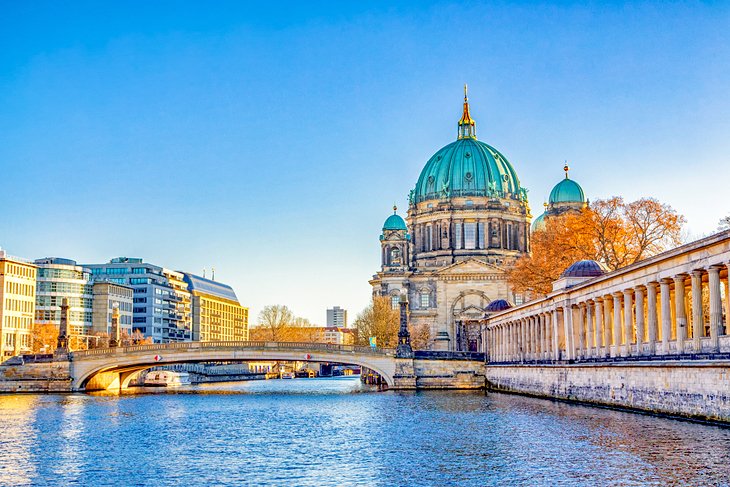 Overall, Germany isn't the most budget destination to book in Europe, but there are a few exceptions to the rule and strategies to exercise. Case in point, the country's capital of Berlin, which is steadily growing as a hot spot for digital nomads and remote workers. This is partially due to their lenient expat policy that allows for much longer visas compared to other countries within the Schengen area. Because of this uptick, you can expect many affordable long-term rentals or short-term Airbnbs, hostels, and micro hotels.
When you're in town, you'll see plenty of remnants from many centuries ago detailing the wars it has endured, as well as the modern recreation of hope in the form of various street art and galleries. Perhaps it goes without saying, but the Berlin Wall (and its graffiti), as well as the Brandenburg Gate are must-sees.
Accommodation: Where to Stay in Berlin: Best Areas & Hotels
4. Budapest, Hungary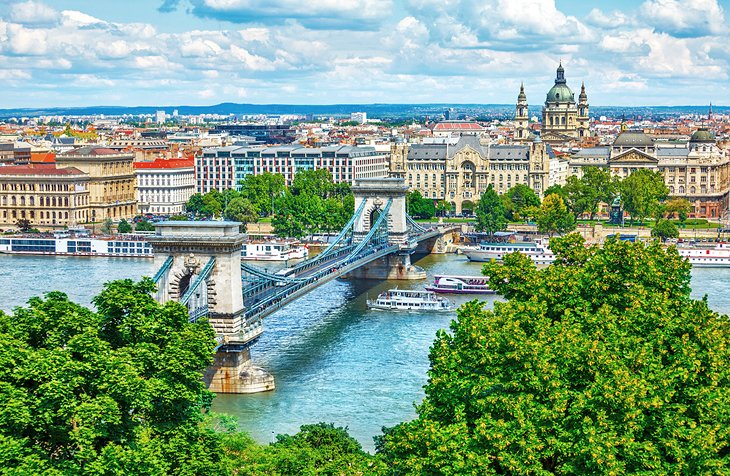 A flight, train, or road trip away from Prague is another Eastern European jewel that doesn't cost your rubies. As the capital of Hungary, Budapest is smaller than other spots, but packs plenty of fun, with lively entertainment venues and plenty of walks that keep you busy.
In addition to nibbling your way around food markets and street vendors, Budapest is ripe with donation-only museums that make learning about its troublesome past as eye-opening as it is inexpensive. Most travelers make their way to Fisherman's Bastion to capture an image for their Instagram, and a ride on the Budapest Eye in Erzsébet Square might be a bit of a splurge... but it's a scenic way to seal your trip.
Accommodation: Where to Stay in Budapest: Best Areas & Hotels
Read More: Top-Rated Tourist Attractions in Budapest
5. Kotor, Montenegro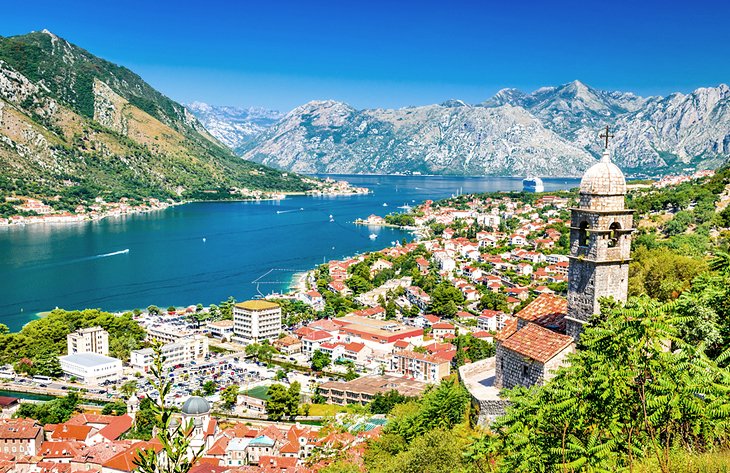 Never heard of Kotor? Here's a briefer: it's the neighbor of Croatia along the Adriatic Coast and might be one of the best-and cheapest-secrets of Europe. Much like nearby Dubrovnik, Kotor is set on limestone cliffs, providing an incredible backdrop to witness from the curvy, quaint streets or the shore. In addition to working on your tan, you will also feel as if you were transported back into medieval times, with many churches and structures from centuries ago. Unlike other tropical-esque spots in the region, Kotor has yet to gain popularity, so you'll find inexpensive rates, even for beachfront hotels or rentals.
6. Seville, Spain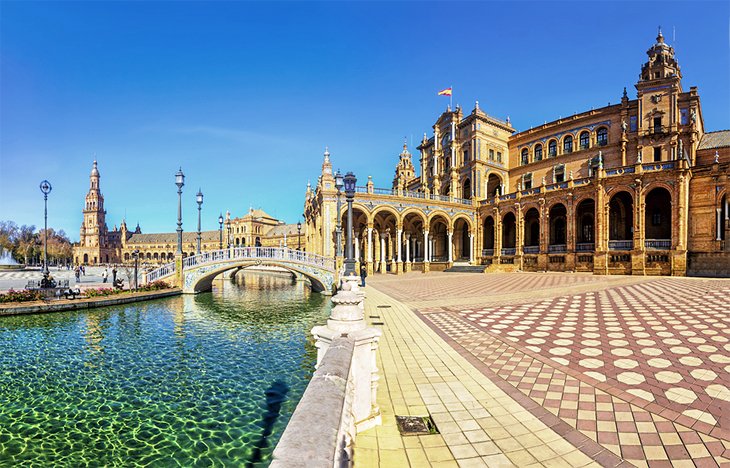 Another Spanish city not to miss is the home of the legendary flamenco dancing: Seville. It's part of the Andalusia region of the country and features an overflowing amount of small eateries, cafes, tapas restaurants, and parks. Unlike other busy cities, this smaller town is a common place for study abroad students and backpackers, providing a much richer cultural immersion that's not possible with rampant crowds.
Like any place in Europe, it also offers a glimpse of history, including the Alcazar castle, and the reputed resting place of Christopher Columbus in the Gothic Seville Cathedral. No matter if you picnic on the grass or waste away the hours at an outdoor terrace, make sure to save time to climb the Giralda bell tower for an amazing view.
Accommodation: Where to Stay in Seville: Best Areas & Hotels
7. Warsaw, Poland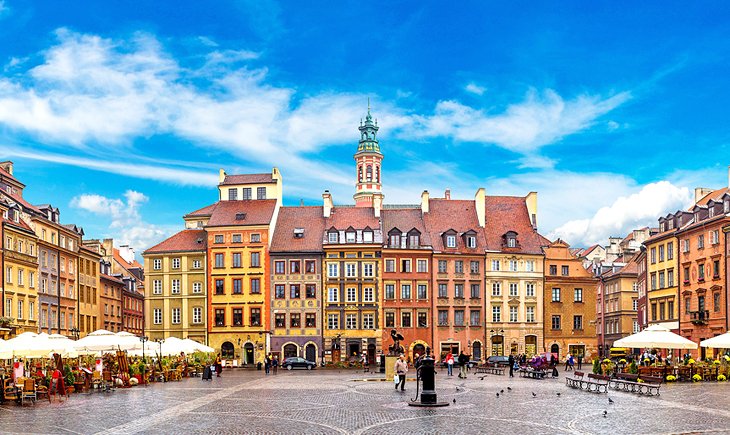 It's recommended to visit the capital of Poland during the spring and summer, unless you don't mind battling freezing temperatures. Frequent fliers rave about Warsaw thanks to its fascinating and vibrant society, which marries the ancient with the revolutionary. After the city's demise during World War II, the Old Town was reconfigured, but its heartbeat was maintained - as you walk through Market Square, keep an eye out for heart shapes, a common graffiti element by taggers. You'll also see Gothic elements that might remind you of Budapest, and plenty of cheap eats to dazzle your tastebuds.
Accommodation: Where to Stay in Warsaw
8. Tallinn, Estonia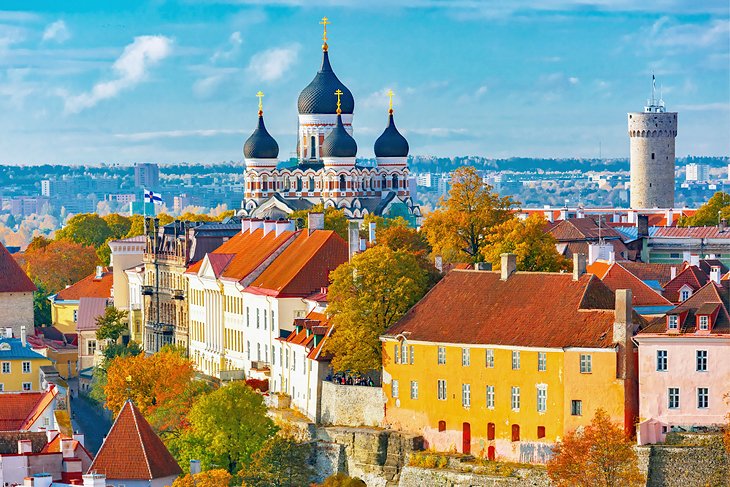 Nestled on the Baltic Sea and dazzling with pops of greenery in the spring, the capital of Estonia is worth the trip. Believe it or not, its history dates back to the 13th century, with the original wall still intact. Cobblestone streets bring a sweet charm, as tourists wander about the city, stopping by cafes and boutiques along the way. Most of the landmarks-including Kiek in de Kok, Gothic Town Hall, and St. Nicholas Church-all have affordable admissions. Most travelers appreciate the affordable nightly rates, as well as some of the most highly rated street food in Northern Europe.
Accommodation: Where to Stay in Tallinn
9. Bratislava, Slovakia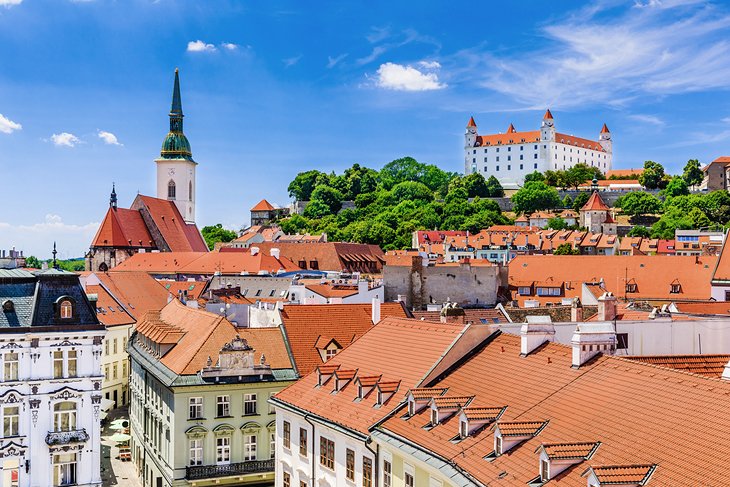 Another capital you can't miss in Eastern Europe? Slovakia's very own, which, like Prague, is set on the Danube River. If you and your travel buddies crave some city with a side of countryside, Bratislava is an ideal match.
You can easily visit nearby villages and mountains, featuring countless cycling and hiking trails for active jet-setters. For when you're resting your muscles from the hard work, the nostalgic old town is only accessible by foot, featuring many cafes and restaurants. If you happen to travel here for a romantic getaway-but you don't have much to spend-a fun afternoon at the Bratislava castle is a sweet idea.
Accommodation: Where to Stay in Bratislava
10. Sofia, Bulgaria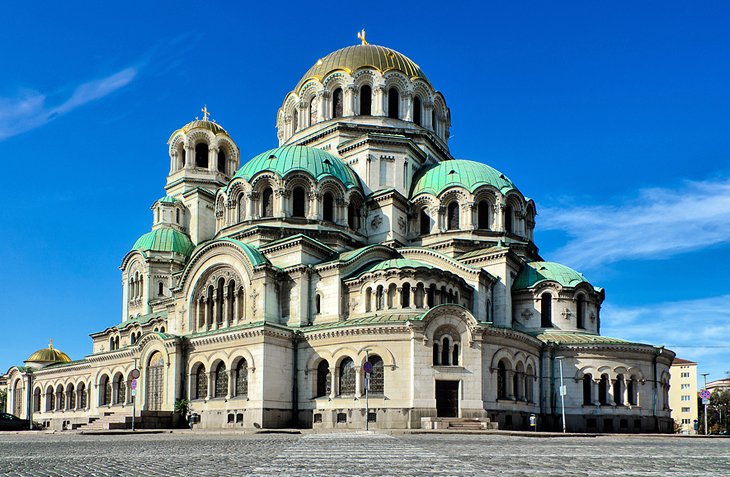 As more remote workers flock to Sofia, it becomes a prime spot for cheap travel. Not only is this city the capital of Bulgaria, but it has more options than you ever knew the country offered. Within driving distance is the iconic Vitosha Mountain, ideal for hikes and adventuring. And the city itself will occupy the minds of history buffs, since it ties together thousands of years of rulers, from the Greeks and the Soviets to the Romans and more.
With a lively event and culinary scene, the city is relatively safe and has a younger crowd. Don't miss the St. George Rotunda Church or the medieval Boyana Church, which reign as top attractions for sightseers.
Accommodation: Where to Stay in Sofia
11. Split, Croatia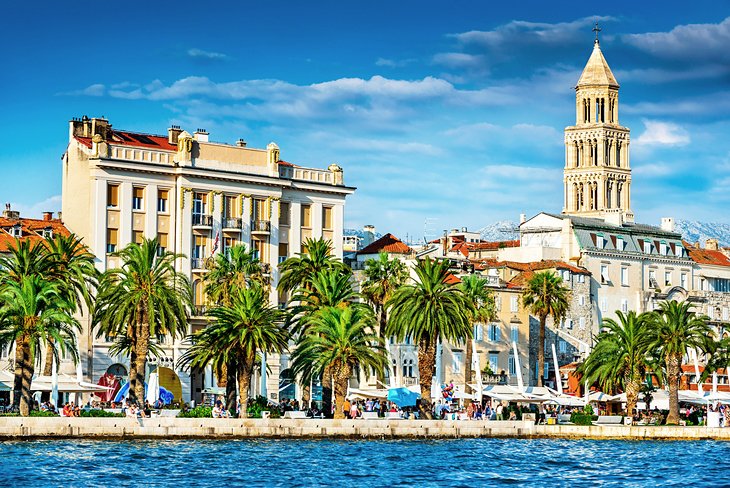 Most travelers who have Croatia on their bucket list won't miss a stop in Split, on the Dalmatian Coast. Best of all, with cheap nightly rates and quick, fast eats, it definitely won't-ahem-split your budget. Though there are some pricey resorts by the Adriatic Sea, when you stay in the city's iconic Old Town, you'll actually find a slew of inexpensive hostels and hotels.
You'll definitely want to set aside some cash for a boat day to nearby islands on some of the most beautiful waters you'll ever see, but bring your own snacks and booze to save on cost. When you're back on land, don't miss Diocletian's Palace and make sure to climb to the top of the bell tower for a pretty view of this unique town.
Accommodation: Where to Stay in Split: Best Areas & Hotels