Istanbul's Grand Bazaar: 10 Things to Buy & Shopping Tips
Istanbul's Grand Bazaar (Kapalıçarşı in Turkish) is one of the world's greatest shopping destinations and, spanning 30,700 square meters, the largest covered market in the entire world.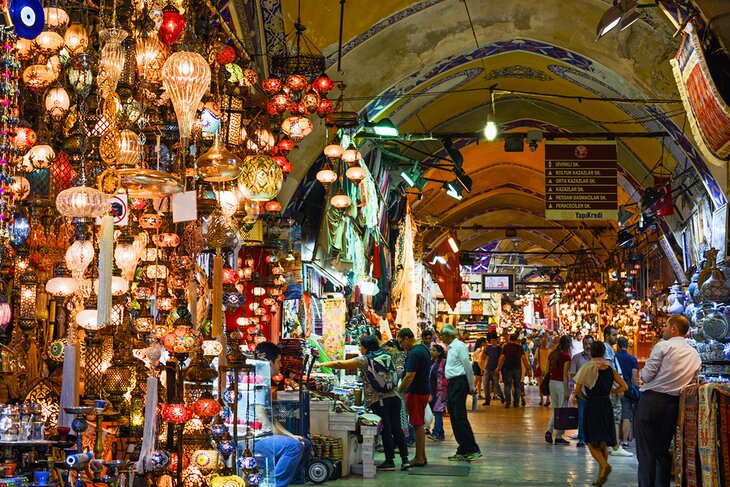 Once inside, the 64 streets and smaller lanes are home to around 4,000 shops, as well as the bazaar's own mosque, post office, restaurants, banks, and police station, making it a central city in miniature.
The bazaar began its life in 1461 and steadily expanded, swallowing up surrounding ground over the centuries of Ottoman rule.
A visit here is not simply about shopping for souvenirs. With its grand arcaded main streets and narrow alleys leading between hans (old trader inns) and bedestens (market halls), it is one of the best places to visit in Istanbul to get a sense of Ottoman life.
Unsurprisingly, the Grand Bazaar is one of the world's top tourist attractions, and a visit here rates top of many people's things to do list while in Istanbul, so to help plan your time, use our guide to the top things to buy and shopping tips in Istanbul's Grand Bazaar.
1. Carpets & Kilims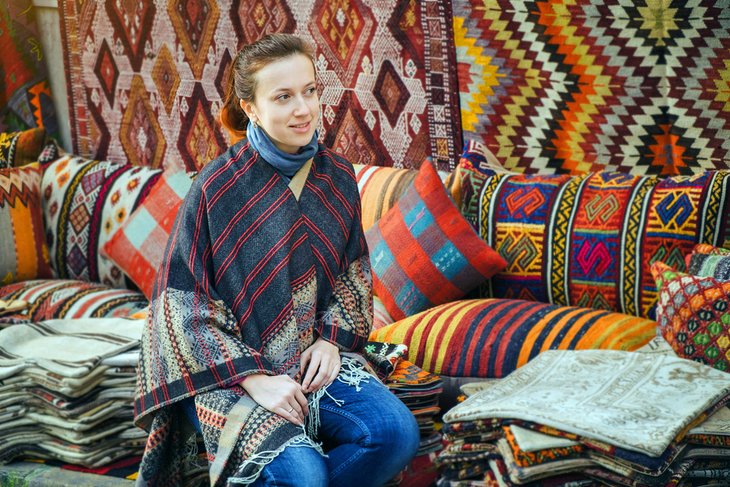 Hand-loomed carpets and kilims (flat-weaves) are one of Turkey's most famous handicrafts, and the Grand Bazaar is one of the country's most popular shopping destinations to buy a rug to bring home.
Turkey has a rich heritage of carpet making, with different regions, cities, and villages throughout the country known for traditionally creating specific styles and designs.
As well as Turkish-made textiles, there will also be plenty of carpets and kilims hailing from Central Asian countries available here.
The Grand Bazaar's carpet shops hold a vast amount of stock, where you can see many of the types and get a feel for what you like. Good carpet sellers are always happy to sit you down with a cup of tea, talk about their stock, and show you a range of different types.
Bring along your sense of humor while carpet shopping.
Carpet sellers are renowned for getting a tad over-enthusiastic with their storytelling, so treat it as good fun and all part of the experience. Remember, no carpet seller can know what the weaver was thinking when they made the carpet because they weren't there while it was being made.
Carpet shopping can be somewhat bamboozling to the new initiate and, unless you actually know what you're doing, the best advice is to only buy what you love. While new carpets have been specifically made for the tourist market, older village or nomadic carpets and kilims were made by the weaver for themselves.
For old Turkish and Central Asian carpets, the price depends on many factors, including age, artistry, wool and dye quality, and their rarity on the market today. Despite what you may have heard, knot-count is not the be-all and end-all of price and quality when dealing with original Turkish village and nomadic textiles because every region has its own individual weaving traditions.
A good carpet seller will never pressure you to buy and will be happy for you to put some carpets to the side while you browse other shops to find out how prices on similar pieces compare.
Note that if you've come carpet shopping with a tour guide in tow, the carpet price will be higher, as the seller has to factor in paying commission to the guide. It is much better to shop independently.
If you have come to the bazaar to buy a carpet, prepare to spend some serious time here. This is not a quick grab-and-dash shopping experience. Spending two or three hours in a carpet shop is normal, so make sure you're in the mood and not short of time before setting out or you'll likely just get agitated and won't enjoy it.
Good places in the Grand Bazaar to begin carpet shopping are Takkeciler Sokak and the Zincirli Han.
2. Lamps & Lanterns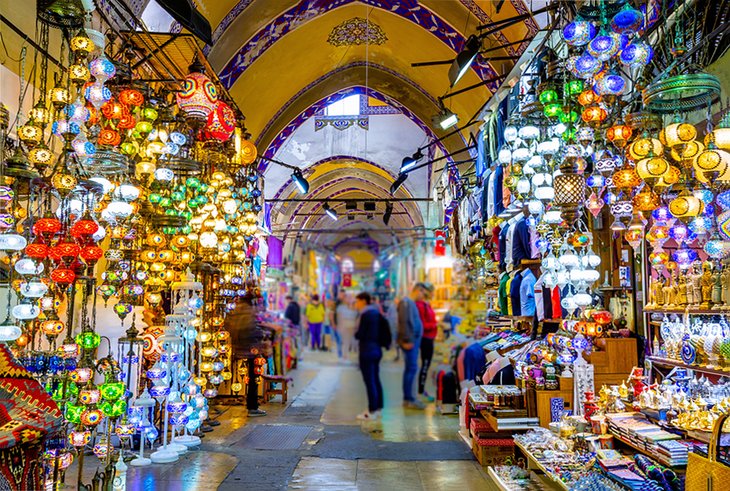 Lamps and lanterns have become a hugely popular handicraft to bring back home from your Turkey travels.
In the Grand Bazaar, you can see a full gamut of modern styles and designs, from mosaic glass table lamps to metal filigree chandeliers and ceiling lamp shades.
If you're looking for antique rather than modern lamps and lanterns in the Grand Bazaar, head to the Iç Bedesten (Old Bazaar) roughly in the bazaar's center, where you can rummage amid the specialist antique stores. The Iç Bedesten is the original, oldest Grand Bazaar building.
For modern filigree lamps and lanterns, hunt around the Cebeci Han.
If you're looking for something smaller, the multitude of little glass and metal candle lanterns you'll find in the bazaar make for great purchases.
3. Ceramics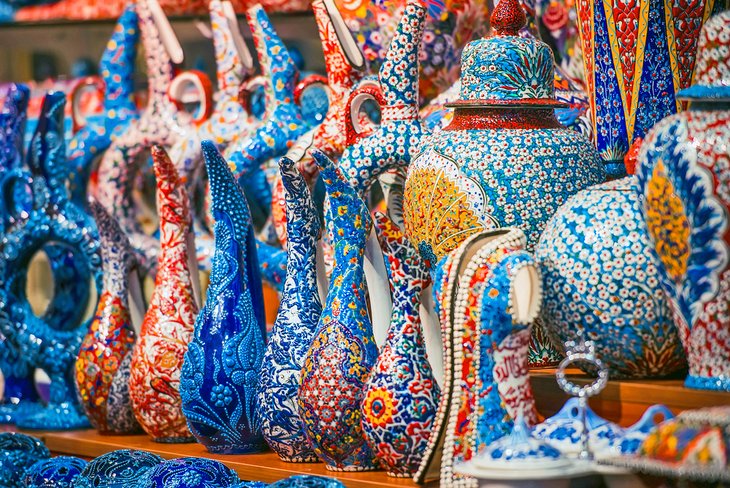 Turkey has a long and rich heritage of ceramic making, with the country's most famous ceramic work hailing from İznik and Kütahya.
Today, as well as traditional Ottoman designs, often using tulip motifs and other floral patterns, Turkish ceramic workers produce plenty of contemporary style work.
For unique gifts, look out for the Hittite style jugs and carafes, with the circular middle section, which are based on Anatolian designs from the Bronze Age.
The ceramic workers of Avanos in Cappadocia are known for producing this Hittite style work, so if you're heading to Cappadocia on your Turkey travels, you will probably want to wait before purchasing, to first check out what's available there.
You'll find a lot of cheap mass-produced ceramics sold on the main streets of the Grand Bazaar.
For hand-painted ceramic ware, you need to head to one of the specialist ceramic stores within the market.
For Istanbul ceramic shopping, make sure to check out the Arasta Bazaar (behind the Blue Mosque), as well as the Grand Bazaar, as the Arasta Bazaar specializes in ceramic stores.
4. Turkish Metalware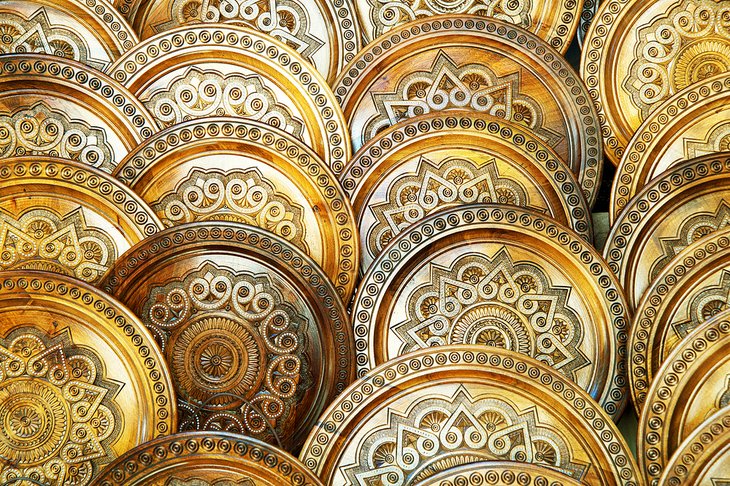 Some of the best modern metalware in Turkey is produced in the southeast, and much of what you see sold in the Grand Bazaar hails from places like Gaziantep, Şanlıurfa, and Mardin.
If your Turkey travels will be taking you to these cities, hold off purchasing until then, as the prices will obviously be cheaper at source.
Intricately engraved metal platters and tea and coffee serving sets using traditional Ottoman pattern designs are some of the most popular items to purchase.
For something smaller you can easily stuff in your hand luggage, engraved Turkish coffee pots, for making coffee on the stovetop, are a both useful and pretty item.
5. Nargile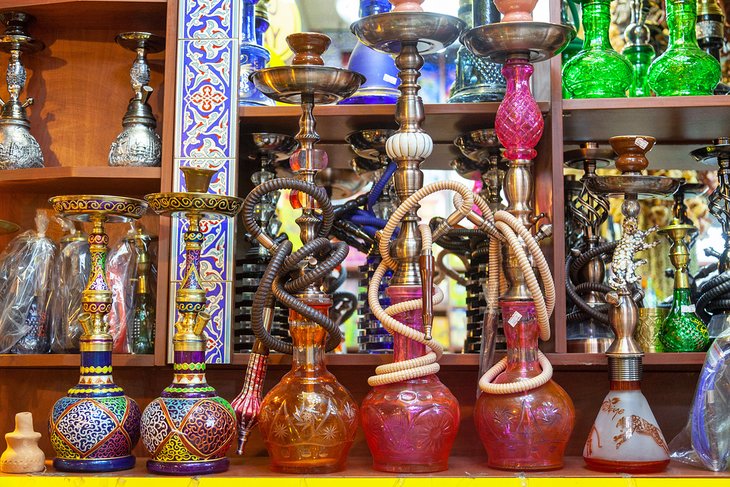 Turkish nargile (water pipes), made for smoking fruit flavored tobacco, are an iconic souvenir purchase.
Nargile smoking is a huge part of café culture in Turkey and dates back to the Ottoman era.
The nargile bowls (where the water is held that the smoke is filtered through), made of either glass or ceramic, can be highly decorative.
If you don't want to purchase a full, working nargile but like the look of the bowls, note that nargile components are often purchased separately, and the bowls can be used as distinctive vases.
For antique nargile, head to the antique stores in the Iç Bedesten. Modern nargile can be found at various stores throughout the bazaar.
6. Jewelry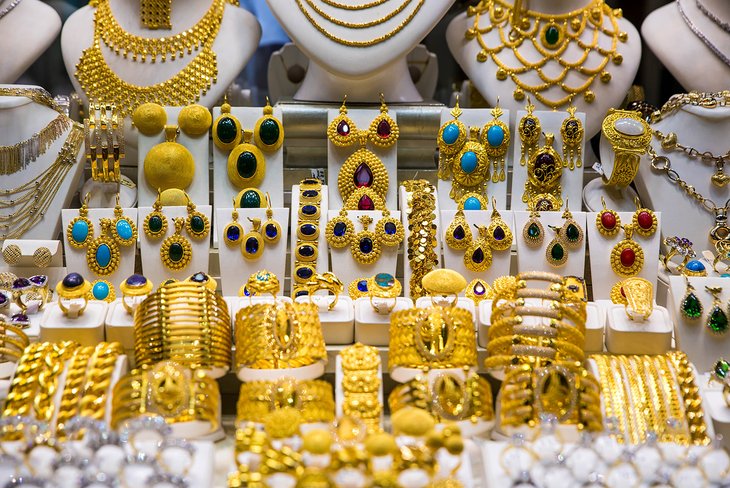 If you're looking for jewelry in Istanbul, the Grand Bazaar is a one-stop destination.
There's something for everyone here, from glitzy gold to delicate silver filigree work and pieces set with semi-precious stones.
For gold work, head to the main street of Kalpakçılarbaşı Caddesi first, which is lined with gold shops. This is the street that runs between the main Grand Bazaar entrances of Bayazıt Gate, on the west side of the bazaar, and Nuruosmaniye Gate, at the eastern end.
Much of the work here is made for the wedding market, so it's traditional in design.
You'll find silver jewelry shops throughout the bazaar. The Iç Bedesten (Old Bazaar) has a clutch of stores specializing in silver jewelry, so it can be a good place to start a hunt.
Look out for jewelry pieces set with the semi-precious stones blue chalcedony and sultanite, which are both mined in Turkey.
7. Cushions, Pillows & Other Small Textiles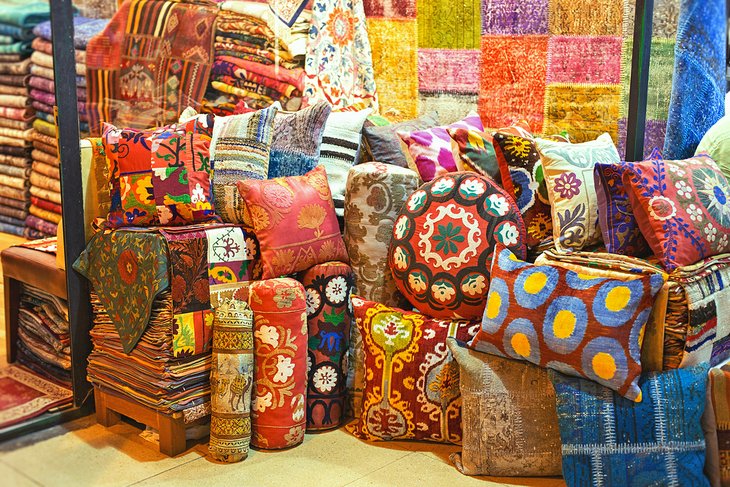 If you're looking for easy-to-pack items, the many smaller textile items you can buy in Turkey are excellent purchases.
These provide a way to bring some authentic Turkish style homewares into your house without the price tag - and excess baggage weight - of carpet buying.
There are a huge range of textile styles and designs. As with ceramics, there are also plenty of cheap mass-produced cushion covers and smaller textiles in fabrics printed with traditional Ottoman designs.
For something more unique, look for the small textile items made from original suzani fabrics (Central Asian embroidered textiles) or from old kilims (flat weave carpets) that have often been repurposed into cushions.
8. Hamam Accessories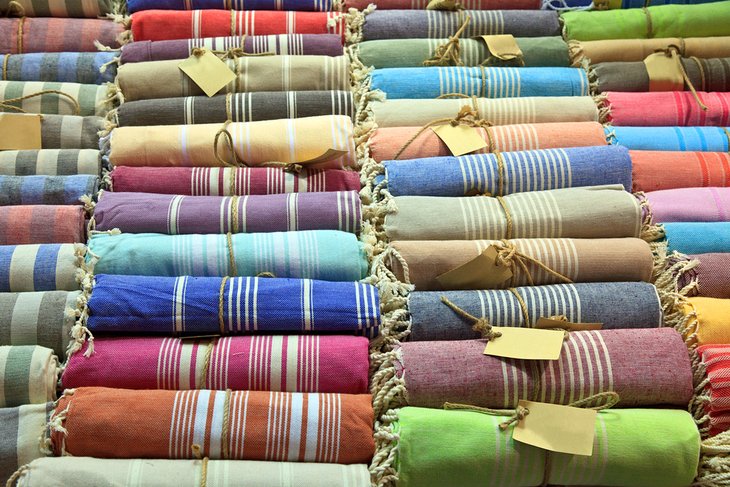 Bath products may not be the first thing you think of when you imagine Turkish souvenirs, but Turkey's hamam (Turkish bath) traditions mean that there is a rich heritage behind these items.
Of particular note, look out for the cotton peştemals, the traditional fringed stripe-design towels still used in hamams today. The bazaar's stalls will sell a multitude of mass-produced towels but for something more special, check out the handwoven cotton peştemals, towels and bathrobes sold in stores specializing in hamam products.
Smaller items, which make excellent gifts to bring home, include handmade olive oil and laurel leaf soaps and the exfoliating scrubbing mitts used in hammams.
Many of the soaps hail from regions such as Hatay (Antakya), which has a long history of soap production.
9. Fashion Accessories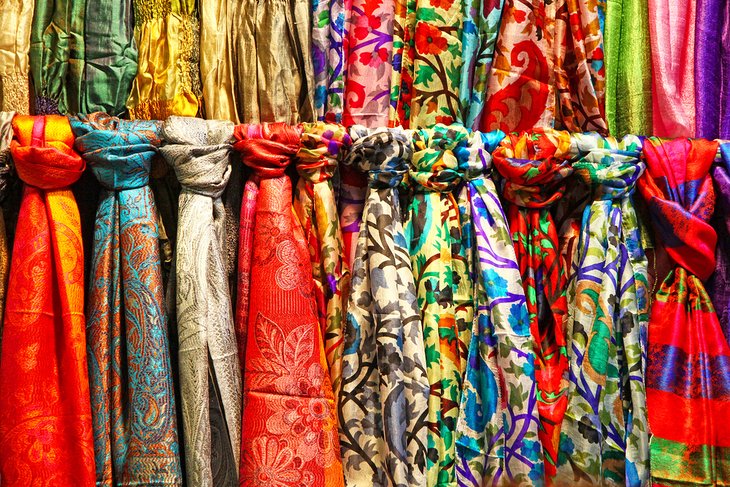 Whether you're looking for scarves, slippers, hats, or bags, the Grand Bazaar is prime hunting ground for fashion accessories.
Turkey has long been known for its silk and leather products and there is also a traditional felt making tradition, which today produces many quirky and highly contemporary fashion items, particularly slippers and hats.
Note that many of the scarves you'll see for sale are mass-produced for the tourist trade, and many are not made in Turkey.
For high-quality handmade silk, cashmere, and cotton shawls and scarves check out the fabric shops lining the northern end of Yağlıkcılar Caddesi.
Shops specializing in leather ware cluster together around Fesçiler Caddesi in the southwest corner of the bazaar, as well as along Parçacılar Sokak.
10. Edibles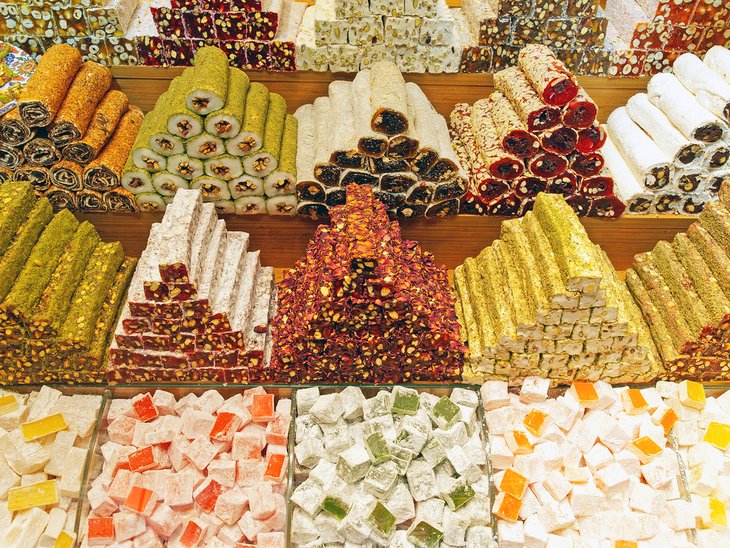 Although Istanbul's Spice Bazaar is famously the place to visit to purchase spice and Turkish delight sweets, the Grand Bazaar offers plenty of opportunities for buying edible gifts and souvenirs as well.
You'll find a wide variety of spices, but the ones to look out for are sumac (the dried crimson-colored fruit of the sumac plant) and pul biber (dried Aleppo red pepper), which are both used liberally in Turkish cooking.
Foodies will want to search out the specific pul biber types, in particular Urfa pul biber, which hails from the city of Şanlıurfa and has a tangier taste, and the maroon-colored chili flakes of acı pul biber, which provide more of a heat kick and are slightly bitter.
Condiments worth bringing home include the sweet-sour pomegranate molasses and pekmez (condensed fruit syrups usually made from grapes or mulberries in Turkey).
For sweet treats, there is obviously the multitude of Turkish delight (called lokum in Turkey), stuffed with nuts and flavored with rosewater or fruit, but also look out for the many helva confectioneries made from sesame seeds.
Grand Bazaar Shopping Tips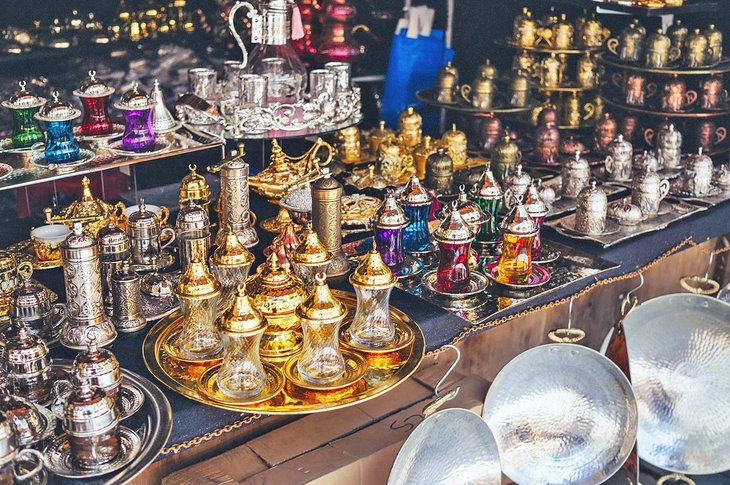 The Grand Bazaar is open 8.30am to 7pm Monday to Saturday.
You cannot cover the breadth of the bazaar on one visit. If you want to explore, or are a serious shopper, reserve an entire morning or afternoon here for a first visit and don't expect to see everything.
Expect to get lost. Half the fun of the Grand Bazaar is losing your bearings and stumbling upon one of the alley dead ends that open up into an arcaded han (old traveler inn).
Drinking tea and chatting with the shopkeepers and touts here is part of the experience. You will be offered çay (tea) by everyone. Your experience here will be much richer and more fun if you take the time to partake in this Turkish hospitality.
Bargaining is the name of the game, and the first price you will be quoted has as much to do with the country you're from as the sellers mood right at that exact time. For an idea about how much items cost, spend some time browsing a range of shops before purchasing.
Shopkeepers and touts here speak a range of languages.
Some of the larger main thoroughfares through the Grand Bazaar are lined with stalls selling the souvenirs you'll find at stalls everywhere - fridge magnets, key chains, Turkey flags, the ubiquitous nazar boncuk (glass evil-eye protector amulets), and other small items you can easily stuff in your hand luggage. Head off the main streets to seek out more interesting shopping.
Different areas of the bazaar are devoted to specific shopping items. For example gold shops line the street of Kalpakçılarbaşı Caddesi, metalware is found in and around the Cebeci Han and the Iç Bedesten, and there's a cluster of carpet shops in and around Halıçılar Caddesi.
Unless you really know what you're doing, do not buy a carpet as an investment. On a similar vein, if a carpet seller keeps pressuring you to buy a more expensive carpet than the ones you're looking at and like, walk away from the sale. There's nothing wrong with showing different carpet types, but sales pressure, and salesperson patter about investment, is a warning sign that all might not be quite right with this sale.
If you need a break for a meal or snack in the middle of your shopping expedition there's no need to leave the bazaar. There are grill restaurants and döner kebab vendors on-site within the bazaar itself.