10 Top-Rated Attractions & Things to Do in Gaziantep
Brimming with restored Seljuk and Ottoman architecture, Gaziantep's historic old city is one of the top destinations in Turkey's southeastern region.
Heading up the list of its tourist attractions is the Gaziantep Zeugma Mosaic Museum (home to one of the world's most famous collections of mosaics) but there are plenty of other little museums devoted to local culture dotted around town.
Gaziantep is also one of the best places to visit in Turkey for foodie travelers and is renowned across the country for its baklava and other local desserts. There are approximately 200 pastry shops in the city producing Gaziantep's syrup-drenched sweets, and for many visitors, the top things to do on a trip here all revolve around food.
Find out how to make the most of your time here with our list of the top attractions and things to do in Gaziantep.
Note: Due to security and safety concerns, please check travel advisories before visiting this region.
1. Visit Gaziantep Zeugma Mosaic Museum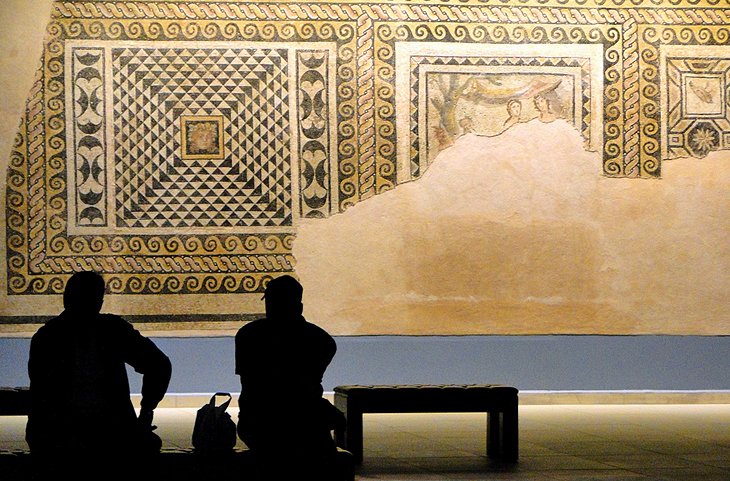 Gaziantep's world-renowned mosaic museum displays its collection amid state-of-the-art surroundings. Opened in 2011, the museum exhibits the haul of mosaics unearthed during the excavation of the nearby Belkis-Zeugma archaeological site. On opening, it became the world's largest mosaic museum.
These finely crafted mosaics would have originally graced the floors of Zeugma's many grand Roman villas. Some of the pieces on display are rightly regarded by experts as among the best surviving examples of Roman mosaic work in the world.
The museum's most famous exhibit is the Gypsy Girl Mosaic, which is dramatically displayed in a separate, darkened room to highlight the small piece's intricate craftwork and artistry.
Address: Hacı Sani Konukoğlu Bulvar
Accommodation: Where to Stay in Gaziantep
2. Shop in Gaziantep's Bazaar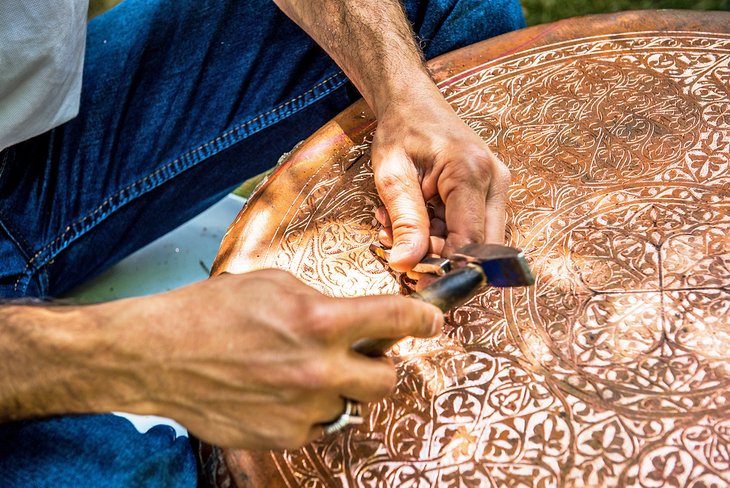 Gaziantep's central old city area is home to the wriggling lanes of the bazaar, where metalworkers and carpenters still have their workshops between spice stores, stalls selling everyday household products, and little handicraft shops.
It's one of the best places for shoppers to hunt for local handicrafts in Turkey, and the prices here are much lower than in major tourist destinations such as Istanbul and Antalya.
For souvenirs, head first to the Zincirli Bedesten, a vault-ceilinged building within the bazaar, where the stalls display a good range of locally produced handicrafts, to get a good idea of what you can find.
There are several entrances into the bazaar area, but one of the easiest is to enter from Hamdi Kutler Caddesi.
3. Feast on the City's Famed Sweet Treats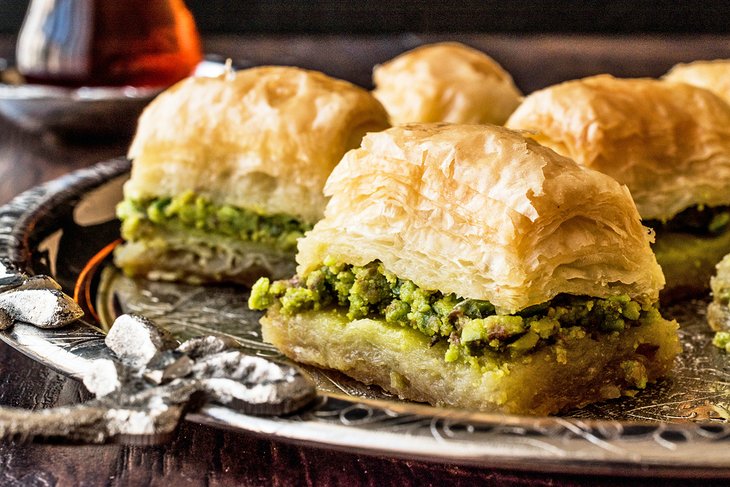 Say the name Gaziantep to a Turk, and they'll usually start talking about food. This city is known as one of the country's culinary capitals.
One of the most famous patisseries in town is Güllüoğulu. They have shops in Istanbul and supply baklava throughout Turkey, but here, in Gaziantep's bazaar area, you can buy from their original shop, which opened in 1871.
To find out more about Gaziantep's culinary heritage, make sure to visit the Emine Gögüs Culinary Museum on Sadık Dayı Sokak in the central old city district.
The museum's layout and excellent information panels guide you through Gaziantep's most famed dishes, which of course include the sticky, syrupy delights of the town's baklava, but also plenty of savory dishes that have an extra-spicy kick compared to much of Turkish cuisine.
You'll most likely walk out of the museum hungry, so study up the information panels while in the museum and then head out with your new knowledge to taste some local flavors for lunch.
4. Stroll Up to the Citadel for Views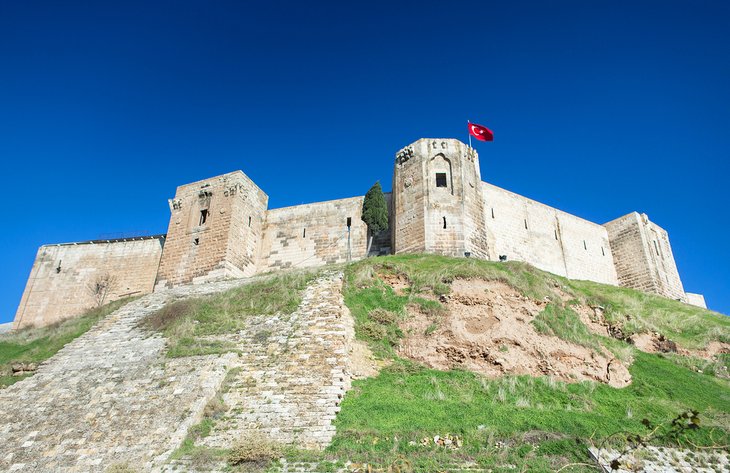 Gaziantep's kale (castle) is a Seljuk-era citadel, built in the 12th and 13th centuries, which occupies the site of an earlier Byzantine fortress built under the Emperor Justinian's command in the 6th century. The citadel towers over the northern edge of Gaziantep's old city district, sitting atop the hill of Tel Halaf, which is known to have been settled as early as 3500 BC.
At the top, the ruins are extremely sparse, so you're heading up to the top more for the views than for any actual historic remnants.
On the way up the hill, the small Gaziantep Defense and Heroism Panoramic Museum occupies one of the kale's watchtowers. The exhibits here are dedicated to the locals who defended the city against the French in 1920.
Address: Lale Paşa Caddesi
5. Visit Gaziantep Archaeological Museum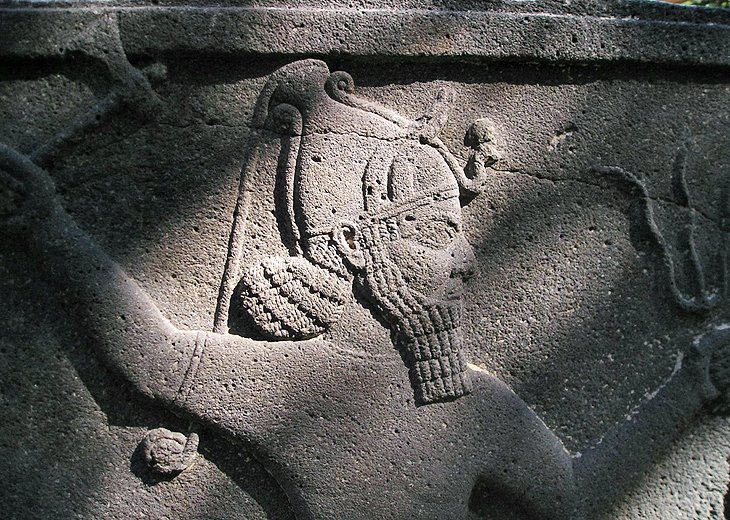 The town's archaeology museum displays finds excavated at surrounding sites, including Zincirli and Karkamis, as well as some finely preserved stele from Mount Nemrut.
It's a small collection, but history lovers will still appreciate a visit here, particularly for the Hittite-era stele and other exhibits that were unearthed from the Karkamis site.
Karkamis was first excavated by a British Museum team in the years leading up to World War I, and one of the two archaeologists in charge of the site was TE Lawrence, who went on to find fame as "Lawrence of Arabia" for his exploits in the war helping to lead the Arab Revolt.
Although many of the finds from Karkamis are now on display in Ankara at the Museum of Anatolian Civilizations, the pieces contained in Gaziantep's Archaeological Museum are well worth making time in your city itinerary for if you have an interest in Bronze Age Anatolia.
The museum also has an extensive collection of ancient Near Eastern stamp seals on display.
Address: Kamil Ocak Caddesi
6. Take a Boat Trip on the Bericek Dam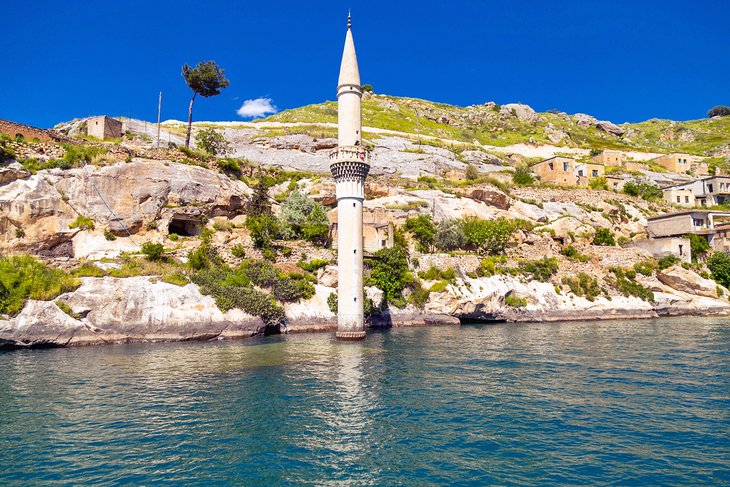 When the Birecik Dam was opened in 2000, the tranquil village of Halfeti and the nearby Rumkale and Savas villages became victims of Turkey's march to modernization.
These traditional villages, with their old Ottoman architecture, were partially submerged under the dam water, and affected villagers were resettled by the government.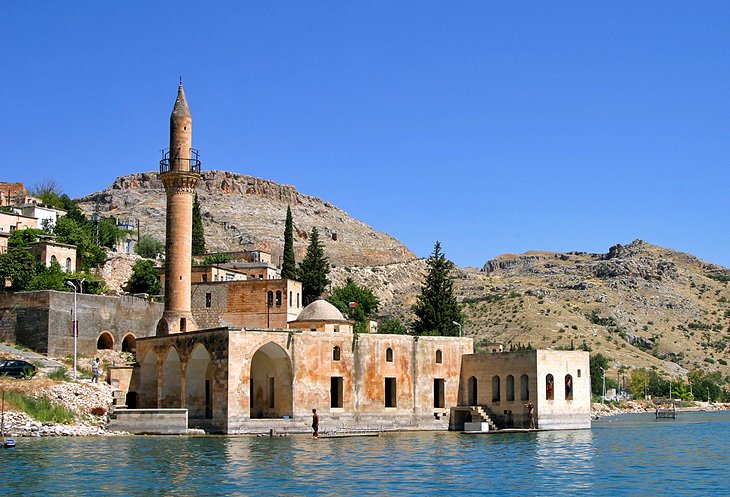 The remaining portion of Halfeti (now called Eski Halfeti; old Halfeti) that survived, with its stone-cut architecture and dam-front restaurants, is a major day-trip destination from Gaziantep due to the boat trips villagers run out onto the dam.
There's a slightly surreal edge to sightseeing on the boat trips, with views of mosque minarets poking defiantly out of the dam water, abandoned village houses tumbling right down to the shore, and the ruins of Rumkale fortress still rambling across what was once a towering cliff but is now not too high above the water surface.
Eski Halfeti is 101 kilometers northeast from Gaziantep. It can also be easily reached on a day trip from Şanlıurfa (which is a farther 112 kilometers east) or makes a good stop-off on a drive trip between the two cities.
7. Day Trip to Belkis-Zeugma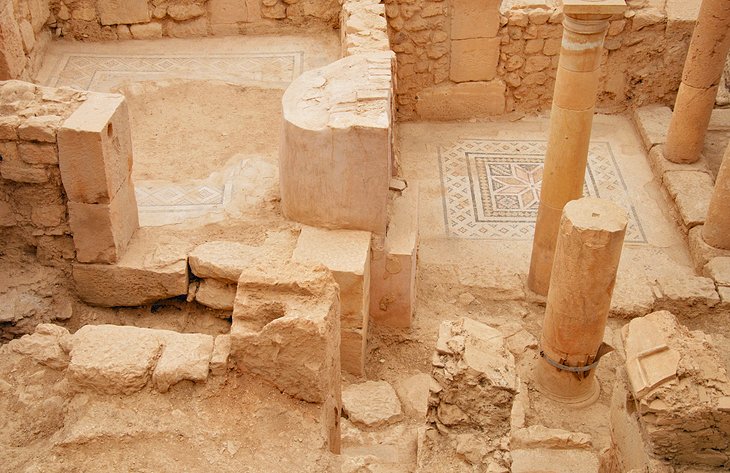 Founded by the Seleucid ruler Nicator I, Belkis-Zeugma (57 kilometers east from Gaziantep) rose to prominence under later Roman rule and was a prosperous city of trading merchants until its destruction by the Sassanid Persian army in AD 252.
Excavations here in the 1990s revealed a treasure-trove of Roman mosaics gracing the floors of the fine Roman villas. The best examples of these mosaics can now be viewed in the Gaziantep Zeugma Mosaic Museum.
The opening of the Birecik Dam in 2000 resulted in the flooding of some of the archaeological site, but the area still above water is worthy of a visit, especially if you've viewed the mosaics in Gaziantep.
Some of the less-important mosaics have been left in situ, and as you walk around the site, you can clearly make out the plans of these once grand villas.
8. Explore Gaziantep's Smaller Museums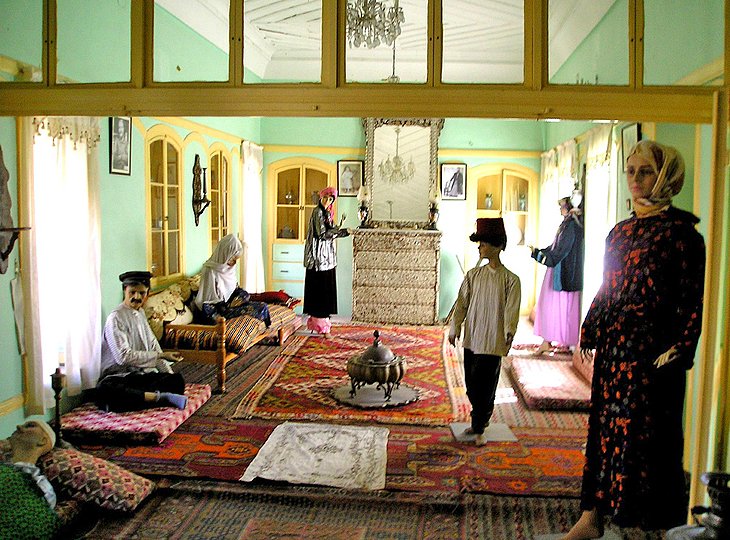 Gaziantep City Museum, set in the restored Bayazhan building, uses dioramas and multimedia displays to tell the story of Gaziantep in an interesting and fun way.
When you've finished touring the exhibits, sit down in the central courtyard for a coffee or browse through one of the stalls here that sell local crafts.
The museum is also occasionally used as a cultural center for visiting musicians and artists. Check out if any event is happening while you're in town.
To dive further into the local heritage, head to Gaziantep Ethnography Museum, where well-curated dioramas detail scenes of Gaziantep daily life down through the ages. In particular, don't miss the beautiful Ottoman costumes on display.
The museum is based in a restored Ottoman mansion, which still has its original layout, with rooms reserved for females and rooms for receiving and entertaining guests. A wander through the rooms allows you insight into the culture and rituals of the Ottoman era.
9. Check out Gaziantep's Mosque Architecture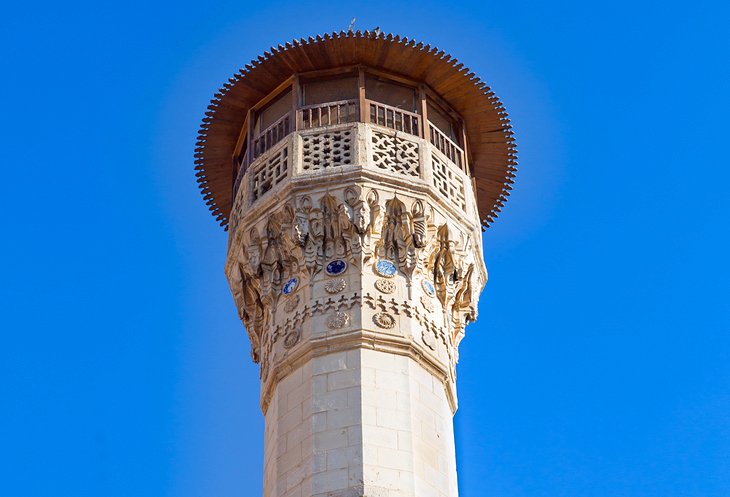 Gaziantep still holds onto a wealth of mosques dating from different time periods of the city's history. A stroll in the central old city district is a good chance to visit a few and appreciate their different architectural elements.
The Kurtulus Mosque (off Eyüboglu Caddesi) started off life as a church and has been finely restored in recent years.
The Alaüddevie Mosque (Sehitler Caddesi) and Tahtanı Mosque (Eski Gümrük Caddesi) both feature striking Islamic architectural features.
If you have a particular interest in mosque architecture, head outside the old city to the southwest town district, where you'll find the well-preserved 11th-century Ömeriji Mosque.
10. Day Trip to the Ancient Sites around Sakçagoz
Beside the town of Sakçagoz (50 kilometers northwest from Gaziantep) are five old settlement mounds, where excavations have revealed 12 levels of occupation dating from the Stone Age to the 1st Century AD.
Finds on the smallest mound include the remains of a palace, with an ante-room and defensive wall, as well as sphinxes and stone blocks carved with reliefs that date to the 8th century BC (now on display in Ankara's Museum of Anatolian Civilizations).
Excavations at the site of Cobahöyük, five kilometers northeast, have revealed a flourishing early Bronze Age trading settlement, with a wealth of finds that date back to the Chalcolithic period.
Where to Stay in Gaziantep for Sightseeing
Luxury Hotels:
Grand Hotel

Gaziantep

is a five-star hotel, with recently renovated rooms, all with city views; an included breakfast; a gym; and a decent location about equal distance between the historic center and the Gaziantep Zeugma Mosaic Museum.
Divan Hotel

Gaziantep

is the town's most contemporary hotel, with big rooms decked out in cool neutrals, a restaurant, indoor pool, gym, and spa, plus breakfast is included.
Mid-Range Hotels:
Hampton by Hilton

Gaziantep

has an excellent central location within walking distance to sights, with modern rooms, a gym, restaurant, and included breakfast.
Ali Bey

Konagi

is a more intimate choice, in a restored 100-year-old mansion that's right in the center of the historic district. Rooms and public areas brim with old-fashioned charm, with Turkish carpets and antiques, and breakfast is included.
Budget Hotels:
Asude

Konak

is another central choice in the historic quarter of town, in a charming stone and wood building. Breakfast is included; service is friendly; and rooms are decorated in traditional Turkish style, full of wood detailing and silverware antiques.
More Related Articles on PlanetWare.com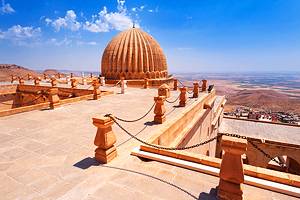 Heading East: Gaziantep is a great place to start a road trip east. From here, head to Mardin for its old churches, hilltop castle, and famous monasteries out of town, then continue on to Sanliurfa to visit Turkey's famous Göbeklitepe archaeological site.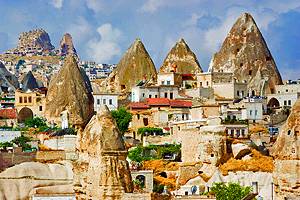 Back on the Tourist Route: The southeast only gets a handful of Turkey's tourism numbers but is easily combined with some of its more well-known attractions. From here, strike out to Cappadocia for the Byzantine monasteries carved into volcanic rock and its famous hot air ballooning, then head back west to Konya, home to the whirling dervishes and the Mevlana Museum before ending up in Ankara (Turkey's capital) to visit the Museum of Anatolian Civilization, the Atatürk Mausoleum, and the Gordion archaeological site.