14 Top-Rated Attractions & Things to Do in Bursa, Turkey
Author Jess Lee regularly travels in and writes about the Bursa region and used to lead tours in and around the city.
Bursa is one of Turkey's most important historical cities and is chock-a-block stuffed with monuments, mosques, and other tourist attractions dating from the early years of the Ottoman Empire.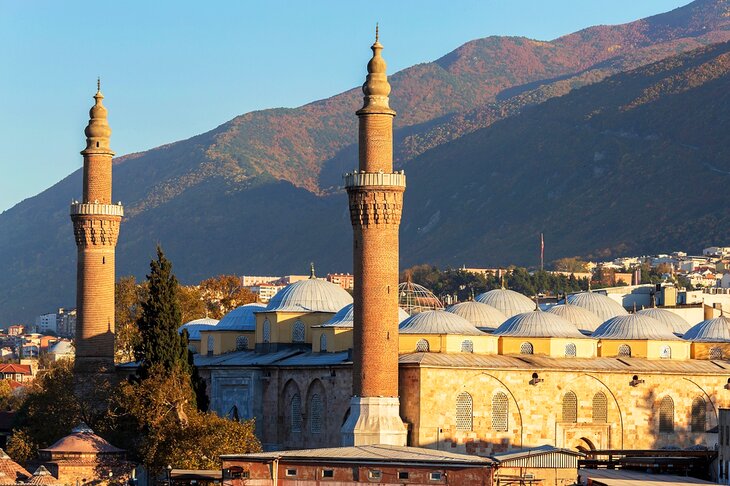 It's also one of the best places to visit for touring foodies, as it is home base for Turkey's Iskender kebap, one of the most famous kebab dishes in the country.
Sprawling at the foot of the mighty mountain of Uludağ, Bursa also offers plenty of things to do outdoors for more active-minded travelers.
In winter, Uludağ is a major winter sports destination, home to Turkey's most popular ski resort, while the Bursa Teleferik cable car operates year-round up the slopes for those who want to add some mountain scenery into their city sightseeing itinerary.
Easily reached from Istanbul by regular ferries across the Marmara Sea and then a short bus ride, Bursa makes for a good add-on to an Istanbul visit.
Bursa is also an excellent stop-off point for Turkey trips heading down to the Aegean or Mediterranean coast.
Find out how to plan your time in the city with our list of the top attractions and things to do in Bursa.
1. Ride the Bursa Teleferik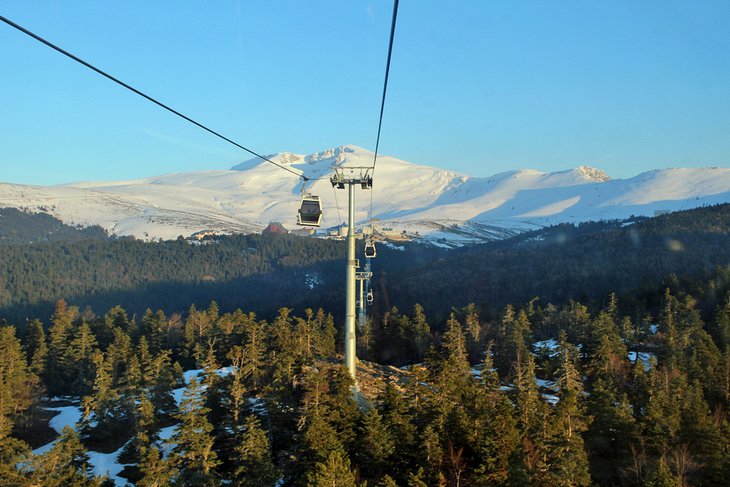 Highlight: Check out the sprawling mountain vistas from above
One of the world's longest cable cars, the Bursa Teleferik whizzes up the slopes of Uludağ (Grand Mountain).
The ride covers 8.2 kilometers up the side of the mountain, and it takes 22 minutes to get to the final station at 1,810 meters above sea level.
In winter, the cable car is used by skiers and snowboarders to transport them to Uludağ's ski resort facilities, one of Turkey's top winter destinations, but the cable car is a tourist attraction in itself for its scenic views, and operates year-round.
Along the way, the scenery swoops over thickly forested lower slopes, with one side providing prime vistas of the jagged mountain peak, and from the other side, the sprawl of Bursa city below.
It's a great activity for families if the kids need a break from Bursa's historic attractions, and if you're traveling in the summer months, the crisp mountain air at the top station provides a respite from the heat.
Address: Teferrüç Istasyonu 88
2. Shop and Sightsee in the Central Bazaar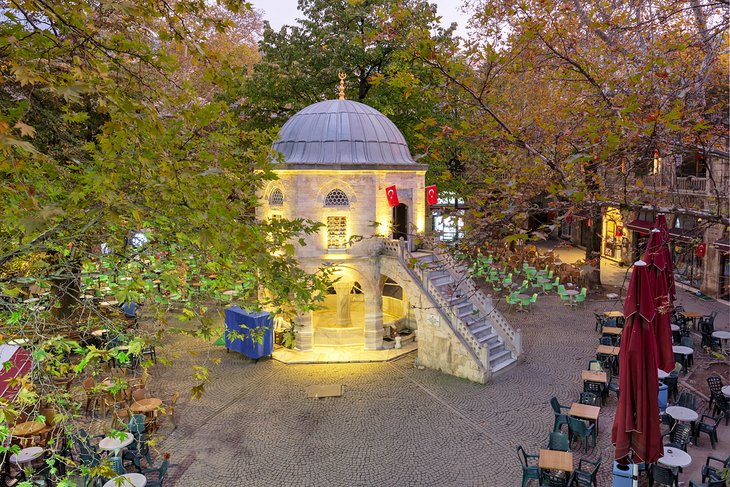 Highlight: Wind your way through Bursa's historic market core, which has been the city's commercial heart since the medieval era
Bursa was a prominent stop on the Silk Route trails between east and west, and its central city area is replete with finely restored buildings from its grandest era.
The Central Bazaar is a vast labyrinth of covered market streets, caravanserais where traders once slept, and warehouses where goods were stored. Many of the warehouse buildings (called bedestans) and caravanserais (called hans) are now home to shops, and their tranquil leafy central courtyards are used as outdoor cafés.
One of the most famous buildings in this neighborhood is the Koza Han, which dates from 1490. The arched cells on the two-story levels of this caravanserai now host stores specializing in silk products, while the large shaded courtyard at its center is home to various cafés.
Address: Uzun Çarşı Caddesi
3. Stroll the Alleys of Cumalıkızık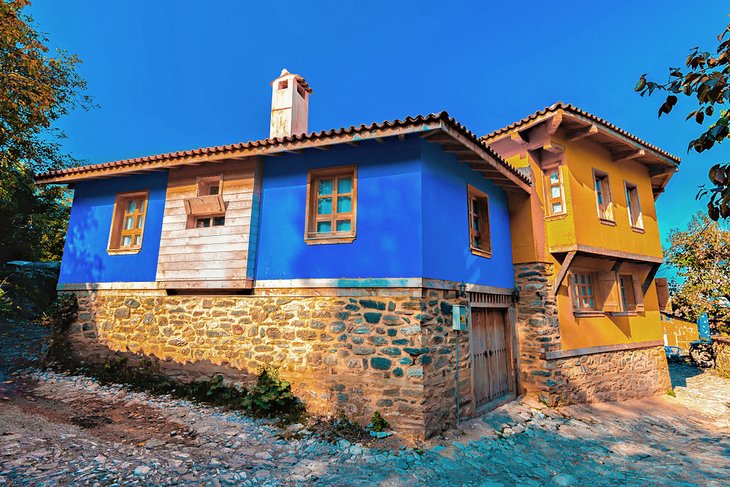 Highlight: Spend an afternoon strolling amid the Ottoman architecture of the villages surrounding Bursa
For a taste of years gone by, head into the hill villages that sit on the outskirts of Bursa.
The most famous of these villages is Cumalıkızık, just 14 kilometers east from the central city.
Here, the cobblestone alleyways are rimmed with old houses, some finely preserved, and others slouching into various states of dilapidation. They're built in typical Ottoman style, with stonework and adobe walls with wood beam detailing. Some of the houses date as far back as the earliest period of the Ottoman era.
Due to their historical importance, the villages in this area were included as part of Bursa's UNESCO World Heritage listing.
There's not much for visitors to actually do in Cumalıkızık. Instead, a visit here is simply about wandering the alleys and soaking up the old-world rural atmosphere amid the windy lanes while marveling that a place like this still survives, just on the doorstep of one of Turkey's most bustling cities.
Some of the houses have been turned into cafés and restaurants, and many Bursa locals descend on the village during sunny weekends for lunch. Various village locals have also set up stalls on the alleyways to sell traditional handicrafts.
Address: Cumalıkızık Caddesi
4. Muradiye Tombs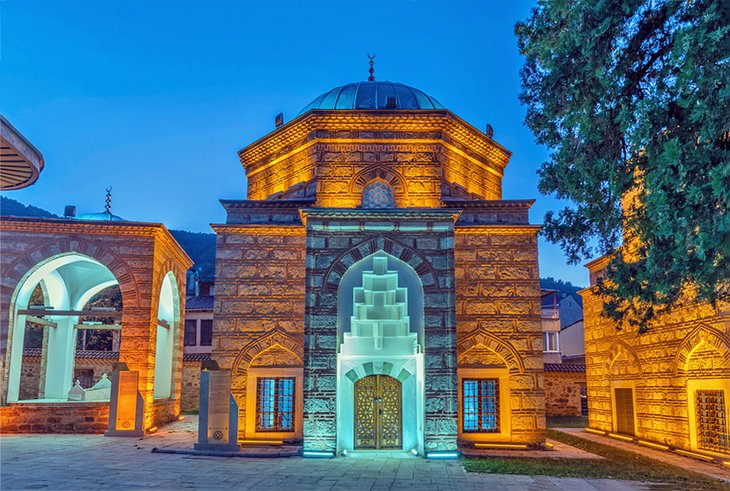 Highlight: These early-Ottoman tombs are resplendent with the fine artistry that the empire would become famous for
Bursa was the first Ottoman-era capital, and this complex holds the tombs of some of the empire's earliest sultans and family.
Anyone with an interest in the artistic heritage of the Ottoman period will appreciate a visit here, as the tombs are decorated with exceptional examples of artwork from the era–replete with colorful tile work and intricate calligraphy.
There are 12 tombs set into the site. Two of the most historically important include the tomb of Sultan Murat II (father to Mehmed the Conqueror, who conquered Constantinople) and that of the famed Cem Sultan (third son of Mehmed the Conqueror), who died in exile in Italy having lost the battle of succession with his brother who became Beyazit II.
Address: Murat Caddesi
5. Ski on Uludağ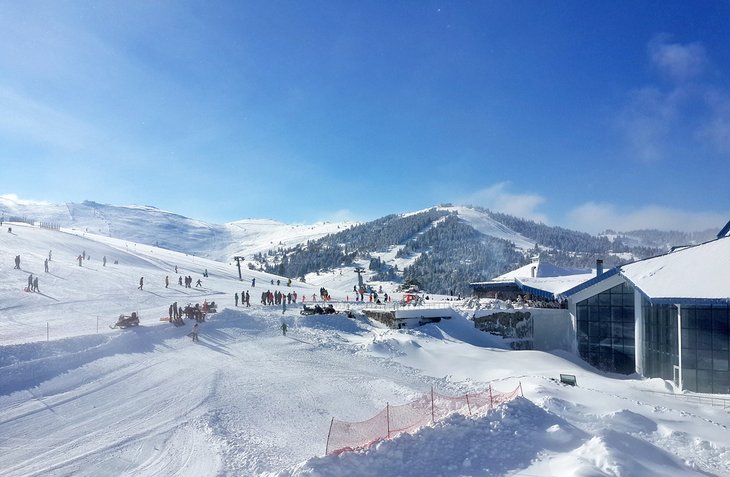 Highlight: Hit the slopes at one of the country's most popular winter sports destinations
Within easy reach of both Istanbul and Bursa, Uludağ is Turkey's busiest winter ski resort, which is full of things to do in the winter.
The resort area ranges from between 1,767 meters and 2,322 meters above sea level, with 28 kilometers of slopes available, ranging from beginner to advanced levels.
It's particularly good for intermediate skiers and snowboarders, with a plentiful variety of trails to choose from. Facilities are modern, and transport between the various slopes is made easy with 24 different ski lifts on-site.
The main resort area has a range of mid-range and luxury hotels, as well as restaurants and cafés. If you don't have your own ski equipment, there are various hire shops where you can rent all the equipment you need for a day on the slopes.
The main ski resort area, 31 kilometers south of central Bursa, can be reached either by road or by the scenic ride on Bursa's Teleferik cable car. The ski season normally lasts from December through the end of March.
6. Bursa Grand Mosque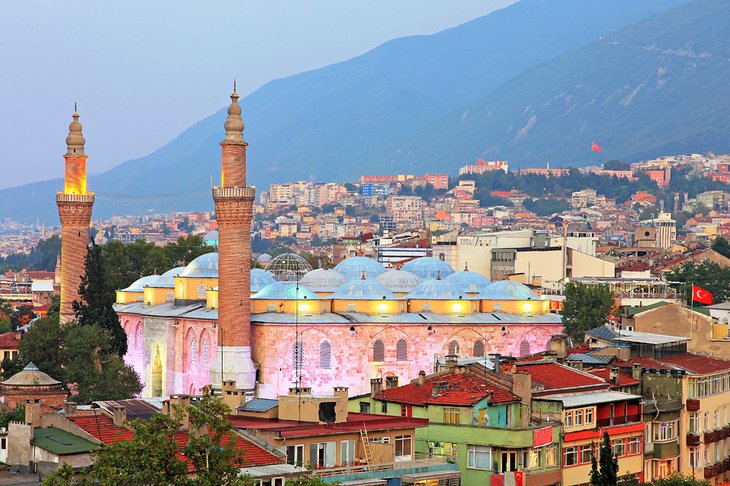 Highlight: Admire the opulent interior of Sultan Beyazit I's grand mosque
Bursa's Ulu Cami (Grand Mosque) sits amid the city's central market area, so a visit can be easily incorporated into your exploration of the neighborhood.
The mosque dates from 1399 in the early days of the Ottoman Empire, so its architecture still leans towards the earlier Seljuk style, which took much of its influence from Persian mosques.
It's most recognizable for its roof, resplendent with 20 domes. This unique stylistic feature is claimed to have been built because Sultan Beyazit I, who commissioned the mosque, had promised to build 20 mosques, but later decided that was a little too ambitious and instead installed 20 domes on this one.
Inside, the prayer hall is a vast, serene space with a particularly finely carved minber (pulpit) and some intricate calligraphy decoration.
Address: Atatürk Caddesi
7. Watch a Whirling Dervish Ceremony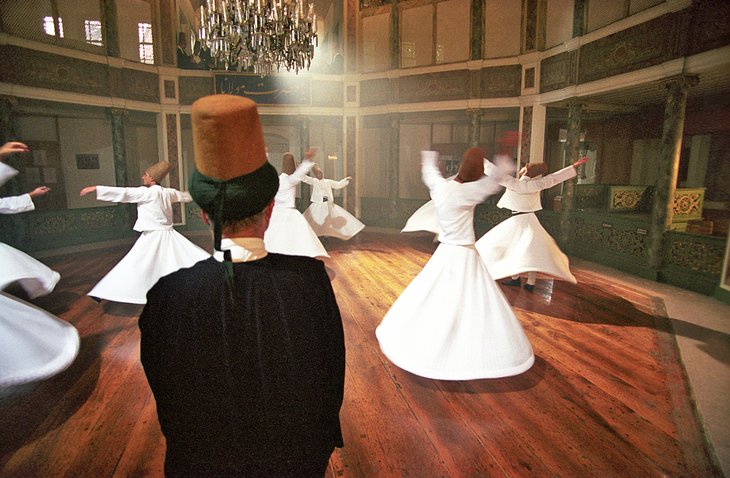 Highlight: Experience an authentic Sufi dervish spiritual ceremony
Although Konya (home base of the Mevlevi Sufis) is the most famous city to watch the dervishes whirl, Bursa also has an active Mevlevi cultural center, and visitors are welcome to come and watch the sema (the religious ceremony of the whirling dervishes).
What sets the ceremony apart here from the sema you see in Konya is that the ceremony here is the Mevlevi Sufi community's religious practice, rather than being performed as a tourist attraction.
It's held every evening in the community's dervish lodge (called a tekke in Turkish), which is also known as the Karabaş-i Veli Kültür Merkezi.
Female visitors watch from the balcony upstairs, while male visitors sit on the ground level. You should be modestly dressed, and female travelers should don a headscarf on entering the tekke.
The ceremony takes around 30 minutes and typically begins at 9:30pm on summer evenings and 8pm in winter.
Address: Karabaş-i Veli Kültür Merkezi, Çardak Sokak
8. Green Mosque & Tomb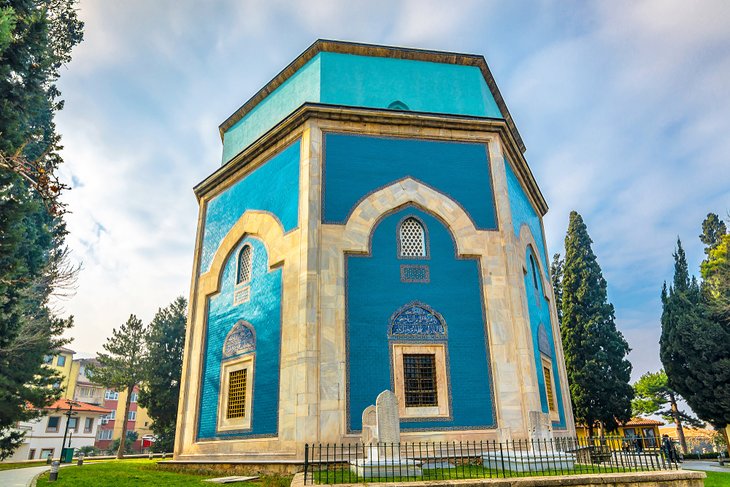 Highlight: Delve into Bursa's grand architectural heritage from its era as the Ottoman capital
The Green Mosque (Yeşil Cami) was built by Sultan Mehmed I, and the neighboring Green Tomb (Yeşil Türbe) is the Sultan's sarcophagus.
Sultan Mehmed I, who was the fifth Ottoman sultan, was an important figure in early Ottoman history, as during his reign he managed to consolidate control over a wide range of territories.
The Green Mosque was built in 1422 and is a good example of the distinct Ottoman architectural style that was evolving to replace Seljuk design. The interior walls are covered in tile work decoration.
The Green Tomb also has elaborate tile work detailing on both its interior and exterior.
Address: Yeşil Caddesi
9. Explore the Lakeside Village of Gölyazı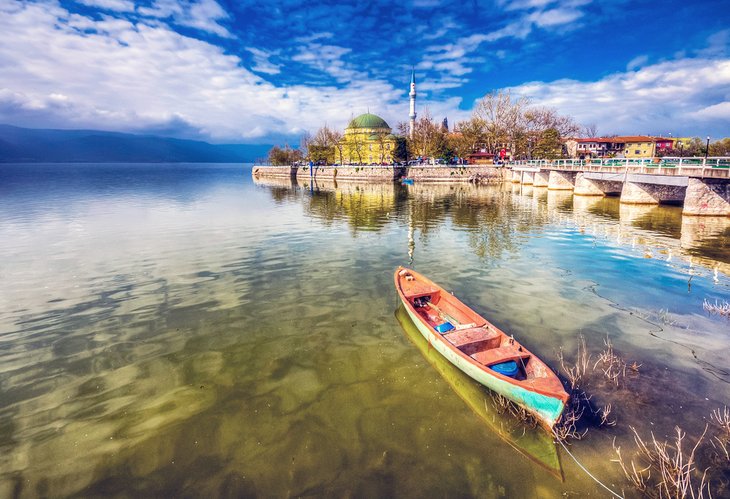 Highlight: Take a break from the city and dose up on village life and lakeside views
Ulubat Lake is just 40 kilometers west from central Bursa. The tiny village of Gölyazı sits on a peninsula jutting into the lake and is an excellent place to visit for a taste of slow-paced rural life.
On weekends, it's a popular day trip for Bursa locals who come to stroll the lakefront, enjoy the peaceful atmosphere, and take boat trips out onto the lake.
The village has plenty of rickety architecture rimming its alleys; a famous and huge 750-year-old plane tree; and a smattering of Roman-era ruins, including the scant remnants of the settlement's Roman walls.
Ulubat Lake is also known as a good location for bird spotting in spring, when the migratory birds are passing through.
10. Wind Your Way through Bursa Citadel Neighborhood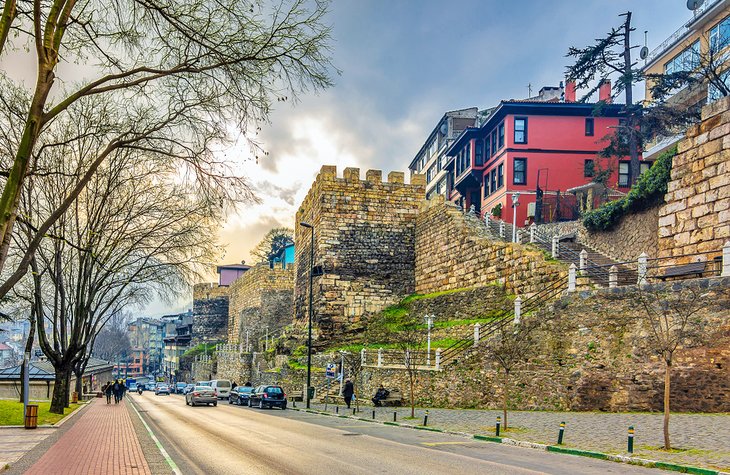 Highlights: Stroll Bursa's hillside old town neighborhood and take in the city vistas
In the central Bursa area, the well-preserved walls of the citadel surround the oldest part of the city, on the hill surrounding the modern bustle below.
Right at the top is a park, with great views down onto the Grand Mosque and surrounding bazaar area, with Uludağ's slopes rising behind in the distance.
The park is home to an old clock tower and the tombs of the Ottoman Empire's founders, Ozman and Orhan Gazi. The actual tomb building isn't the original, though, as it was destroyed by an earthquake and rebuilt in 1863.
The roads and alleys surrounding the park hold some nicely restored examples of Ottoman houses and mansions, and there are various portions of surviving ramparts that offer more great views.
11. Soak in a Hamam (Turkish Bath)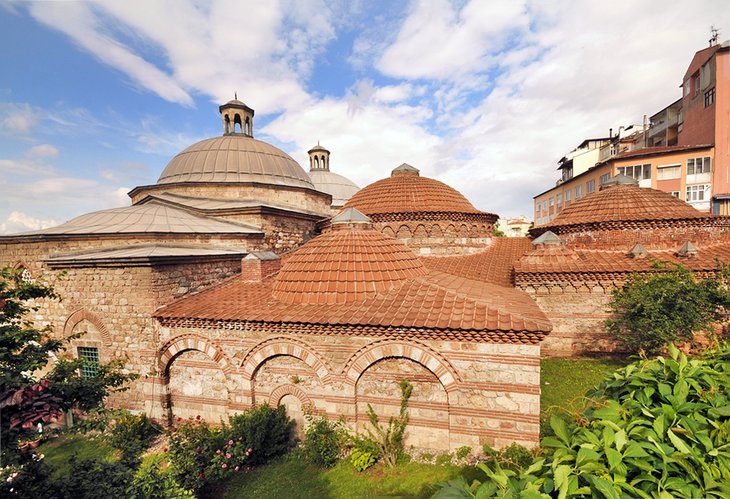 Highlight: Ottoman-style bathing inside heritage buildings in a historic spa-district
Soaking and scrubbing in a hamam (Turkish bath) is one of the top activities many tourists in Turkey want to experience, and Bursa offers plenty of opportunities to indulge.
The best place to visit is Bursa's thermal spa suburb of Çekirge, which is five kilometers northwest from the central city.
The Eski Kaplıca Hamam (on Eski Kaplıca Sokak) has been in business since the 14th century and features plenty of traditional marble design features. Here, you can get a typical soak, sauna, and scrub experience, as well as massages and other spa-type add-ons.
Note that, unlike the hamams in Istanbul, the assistants here don't speak much English, and it's a more local experience.
12. Day Trip to Iznik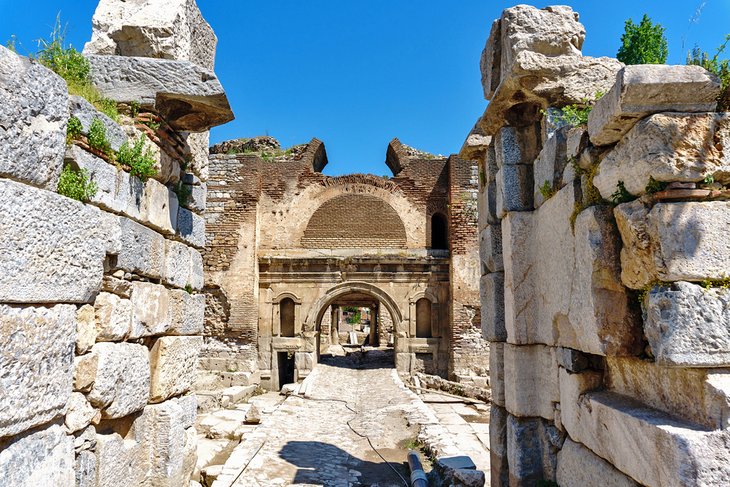 Highlights: Ramble around the walls of one of the Byzantine world's most important towns, then shop for ceramics
The historic lakefront town of Iznik is 77 kilometers northeast of central Bursa, so it's within easy day-tripping distance from the city.
This was once the Byzantine city of Nicaea, where early Christian bishops gathered together at the Council of Nicaea to lay down the foundations of the religion.
Today it's a small and slightly scruffy town, but it still holds on to remnants of its rather grand past.
Most people come here to see the preserved segments of the town's Roman-Byzantine walls, which once wrapped around the entire town. Various portions of the walls remain, as well as some of the original gates, the best being the Istanbul Gate in the northern section of town.
In the center of Iznik is the small Aya Sofya, a Justinian-era basilica converted into a mosque, which still holds a couple of mosaic and fresco fragments in its interior.
During the Ottoman era, Iznik became renowned as a center of ceramic work, particularly its tiles, which were used to decorate many of the most famous mosques in Istanbul and other important cities.
Today the town's ceramic industry has been revived, and there are various shops in the center where you can browse and purchase handcrafted tiles and other ceramic works.
13. Road Trip along the Marmara Sea Coast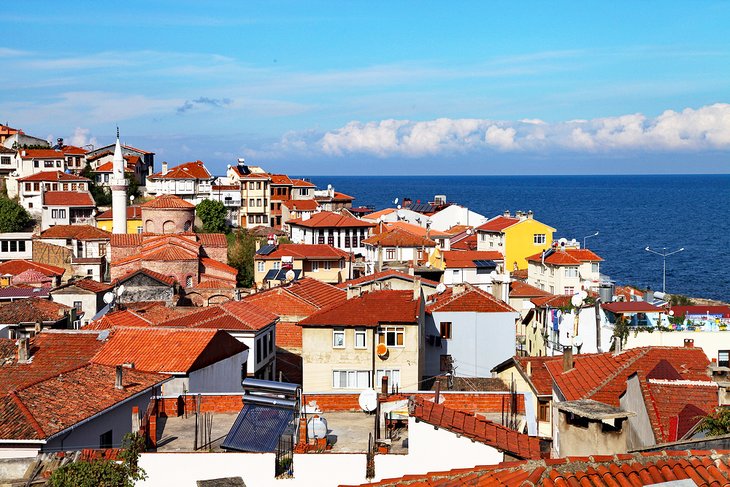 Highlights: Village life, Ottoman architecture, and coastal vistas
Bursa is an excellent base for drive trips along the southern shore of the Marmara Sea, which is home to beaches and historic seafront towns and villages.
On a day trip from Bursa to this area, make sure to stop in the village of Trilye and the small town of Mudanya, both of which have managed to hang on to plenty of fine Ottoman-era mansion architecture to admire.
Historically, Mudanya is important, as the Armistice of Mudanya was signed here in October 1922. This set out the conditions for the end of British, Italian and French occupation within various regions of Anatolia, and ended the Greek-Turkish War (known as the Turkish War for Independence in Turkey), both of which had occurred when the Ottoman Empire collapsed at the end of World War I.
The building where this important document was signed between Atatürk and envoys from Great Britain, Italy, and France (Greece signed later) is on Mudanya's seafront and is open to visitors.
14. Dine on Bursa's Famed Kebab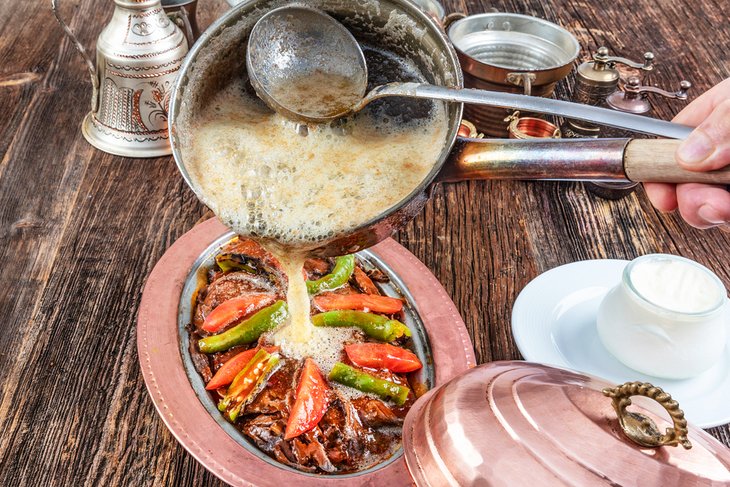 Highlight: Sample one of Turkey's most famous dishes in the restaurant where it was invented
Bursa is a firm foodie destination thanks to its fame as the place where Turkey's Iskender kebab (in Turkish: kebap) was invented. In Bursa, you'll often see it described on menus as Bursa kebab (Bursa kebap).
One of the country's more decadent kebab variations, an Iskender kebab plate consists of layers of flat bread and meat carved from a rotating spit, smothered in a rich tomato sauce and then doused in browned butter.
You'll find it offered at many restaurants in Bursa, but the restaurant that claims to have invented it is Kebapçı Iskender, which has a couple of different outlets throughout the city in addition to its historic original restaurant in central Bursa.
Bursa, Turkey - Climate Chart
Average minimum and maximum temperatures for Bursa, Turkey in °C
J
F
M
A
M
J
J
A
S
O
N
D

9

1

11

2

14

4

19

7

24

11

28

14

30

17

30

16

27

13

21

10

17

6

12

4

PlanetWare.com
Average monthly precipitation totals for Bursa, Turkey in mm.

89

86

64

64

46

31

18

20

36

58

81

119
Average minimum and maximum temperatures for Bursa, Turkey in °F
J
F
M
A
M
J
J
A
S
O
N
D

48

34

51

36

56

38

65

44

74

51

82

57

86

61

86

61

80

55

70

49

61

42

53

38

PlanetWare.com
Average monthly precipitation totals for Bursa, Turkey in inches.

3.5

3.4

2.5

2.5

1.8

1.2

0.7

0.8

1.4

2.3

3.2

4.7
The best time to visit Bursa for sightseeing is during the months of June, July, August, and September when the weather is at its most dependably sunny and warm. Even during the height of summer, you should pack a warmer layer, though, as temperatures dip after dark.
In July and August, average daytime temperatures sit between 23 and 24 degrees Celsius and can reach up to 30 degrees. In June and September, the days are milder and there's more chance of rain than in regions farther south down the coast — with an average of six rainy days each month — so it's a good idea to pack a jacket just in case.
Because Bursa sits at the foot of Uludağ (Mt Grand or Grand Mountain), home to one of Turkey's most popular ski resorts, the best time for many people to visit Bursa is mid-winter so they can hit the slopes. In January and February, the average daytime temperature is 6 degrees Celsius, so bring along your thermal layers and winter gear.