From Istanbul to Izmir: 4 Best Ways to Get There
Istanbul and Izmir are two of Turkey's biggest cities, so there are lots of transport options between the two.
Izmir is often a second stop on Turkey travel itineraries, after Istanbul, as it is the gateway city to the Roman ruins of Ephesus (73 kilometers south), as well as being within day-tripping distance of Pamukkale (216 kilometers southeast) and Pergamum (113 kilometers north), two of Turkey's other famous places to visit.
If you prefer one base rather than swapping hotels as you travel between these sites, Izmir is perfectly placed to reach all of them.
Whether you choose a quick flight to Izmir to focus as much time as possible at the ancient ruins, or a meandering train journey, there are plenty of travel styles to choose from.
1. From Istanbul to Izmir by Airplane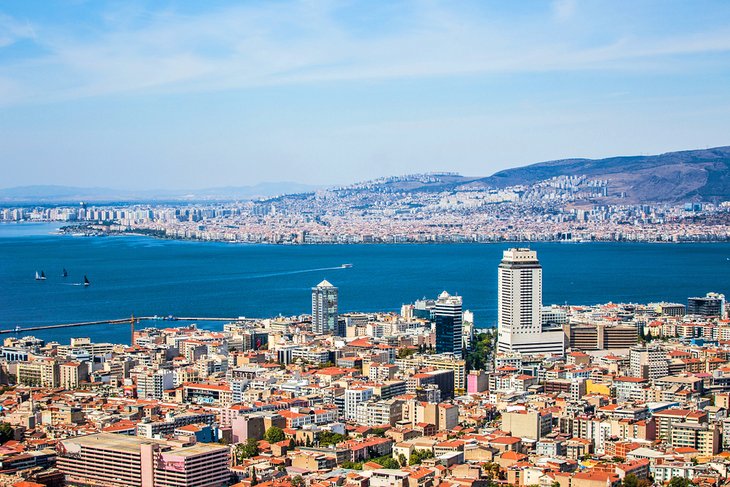 Izmir Adnan Menderes Airport receives plentiful direct flights from Istanbul's two airports, daily.
This is the quickest transport option between Istanbul and Izmir, with a flight time of 70 minutes - useful if you want to combine the Byzantine and Ottoman monuments of Istanbul with the Roman ruins of Ephesus on a short trip.
Turkish Airlines (and its subsidiary airline, Anadolu Jet) offer 19 flights per day together.
Services using Turkish Airlines planes, fly from Istanbul International Airport while those utilizing Anadolu Jet planes depart from Sabiha Gökçen Airport (and normally offer slightly cheaper fares on this route).
Turkey's major budget airline, Pegasus Airlines, offers seven flights daily to Izmir, with the vast majority of its flights departing from Istanbul's Sabiha Gökçen. Fares are generally much cheaper than those run by Turkish Airlines and Anadolu Jet.
On both airlines, the cheapest fares allow you 15 kilograms of check-in baggage. Although both Istanbul airports are annoyingly far outside the city, getting to the airport is simple thanks to airport bus services, which operate regularly throughout the day.
Izmir Adnan Menderes Airport is 16 kilometers south of central Izmir and is well connected by public transport.
If you're heading into central Izmir from the airport, you can use either the Izban local rail service or local city bus. The local rail has the most frequent services, with trains approximately every 12 minutes. Take an Izban train heading to Aliağa and transfer at Basmane to the central city metro system.
For buses, hop on either the Havaş airport-bus or public bus 202, which both run between the airport arrivals hall and the central city.
Alternatively, if you're heading to Selçuk (for Ephesus) directly from the airport, you can take one of 10 daily trains from the airport's train stop. The journey time is around 90 minutes.
There are also plenty of hire-car firms at the airport if you want to drive.
2. From Istanbul to Izmir by Direct Bus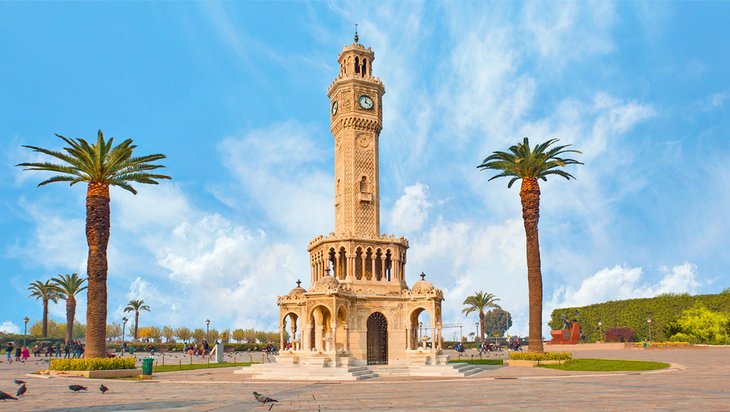 This is a very popular route, so you'll have no problems finding a seat on a direct bus from Istanbul to Izmir.
Buses leave from both Istanbul's main bus station, Esenler Otogar, and from Alibeyköy Otogar in the northern suburbs, at least hourly.
Main bus companies with plentiful services on this route include Metro Turizm, Pamukkale Turizm, Uludağ, and Kamil Koç among many others.
Journey time varies between seven and nine hours depending on departure time (due to traffic conditions when departing Istanbul) and stops made along the way on the bus service chosen. Pamukkale Turizm and Kamil Koç tend to offer the shortest journey options.
All buses offer comfortable airline-style seating with individual entertainment systems and charging points for phones. There's also a conductor service on all buses, which offers complimentary hot and cold drinks and small snacks at intervals along the journey.
Most day buses leaving between 7am and 9am are good choices, as they'll normally pull into Izmir Bus Station between 4pm and 6pm.
For overnight trips, opt for a service leaving between 11pm and midnight, so you don't arrive in the wee hours of morning.
Istanbul's Esenler Otogar is directly above the city's "Otogar" metro stop and is easily accessed using city public transport.
To get to Istanbul's Alibeyköy Otogar, take the new T5 tram line, which runs all the way along the Golden Horn coastline and then direct up to the bus station.
From Izmir Otogar (bus station), you can take public bus 302 from the terminal into the central city.
If you're heading to Selçuk (for Ephesus) straight away, head upstairs to the regional bus platform, where you can buy tickets and board buses heading direct to Selçuk. The journey time is one hour.
3. From Istanbul to Izmir by Train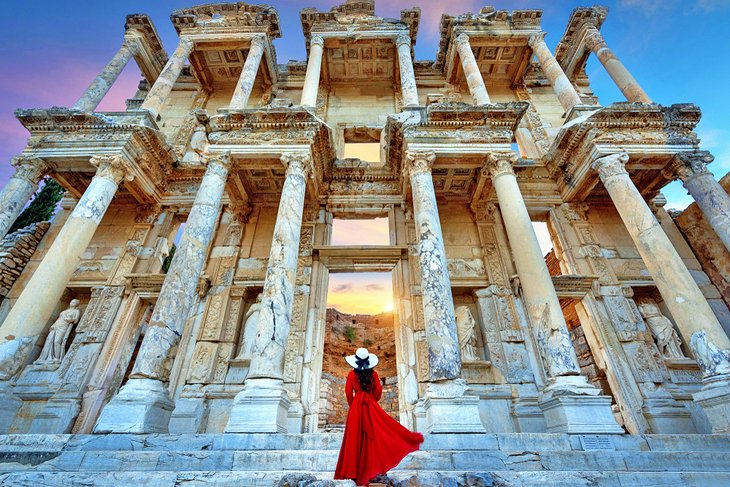 If you love train travel, you can travel all the way from Istanbul to Izmir using the Turkish rail network, although it's a slightly circuitous route, as there is no direct rail line between the two cities.
First take a high-speed train from Istanbul to Eskişehir. There are 11 services daily, and the service takes three hours.
If you take a morning service, you'll have time to explore Eskişehir's museums, art galleries, and little old town district before boarding the daily evening Izmir Mavi Treni overnight train service to Izmir.
The Izmir Mavi Treni leaves Eskişehir Gar (train station) at 11.15pm and takes 11.5 hours to chug to Izmir's Basmane Gar. Because this is an overnight service, you can opt for either a normal seat ticket or a more expensive sleeper ticket, in a bunk compartment.
The sleeper compartments have a mini-sink, a powerpoint, and seats that fold down into two bunks. You'll have to share if you are a solo traveler, but you'll be paired up with a passenger of the same sex.
There is a regular trolley service for drinks, snacks, and sandwiches through the coaches on both trains. The Izmir Mavi Treni also has a dining car.
Train travel in Turkey is very popular, and seats sell out, as there are much fewer services than using the bus. It's a very good idea to purchase tickets in advance.
4. From Istanbul to Izmir by Car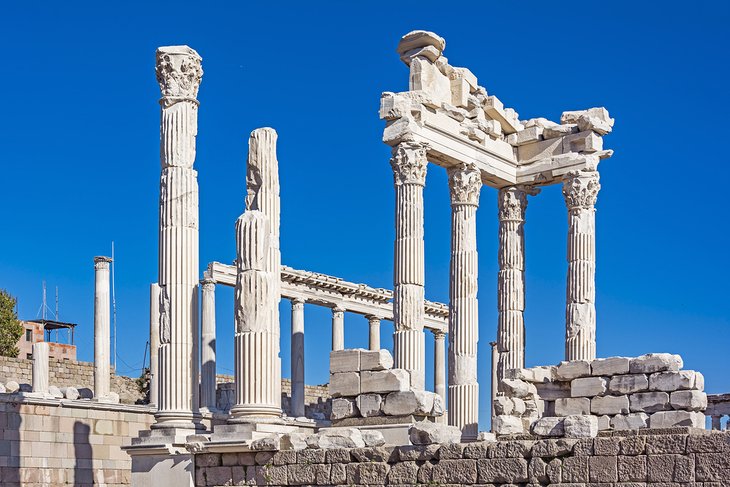 For complete freedom along the route, hiring a car for your trip between Istanbul and Izmir is a great idea. It's particularly useful if you want to take your time and explore the sights of the Aegean coastline along the way.
The quickest route, first taking the car ferry from Istanbul across the Sea of Marmara and then taking the inland highway, is 409 kilometers and would take roughly five hours non-stop.
It would make sense, though, to veer off the highway at Soma and visit the Roman ruins of Pergamum at Bergama along the way, and then carry on south to Izmir from here. This would add around 36 kilometers to the journey, which is still very doable in a day. You'd need to start out bright and early in the morning, though, as you'll be needing around two hours at least to explore the ruins of Pergamum.
Alternatively, you could always aim to overnight in Bergama (the modern town next door to the Pergamum ruins) and then carry on to Izmir the next day. This means you can explore at a much more leisurely pace.
If you wanted to take a more circuitous route, trailing along the Aegean coastline for a few days, good overnight stops would be Çanakkale (for the Gallipoli Peninsula and Troy) and Ayvalık or Bergama for Pergamum.