From Istanbul to Pamukkale: 4 Best Ways to Get There
Whether you've got time up your sleeve, or you're only on a short vacation, you can combine a stay in Istanbul with a trip to Pamukkale.
The natural wonder of Pamukkale's calcite terraces, topped with the rambling ruins of Roman Hierapolis, are one of Turkey's most famous tourist attractions and are often the second stop on a Turkey itinerary after Istanbul.
There are plenty of transport options available between Istanbul and Pamukkale to suit all styles of travel.
1. From Istanbul to Pamukkale by Bus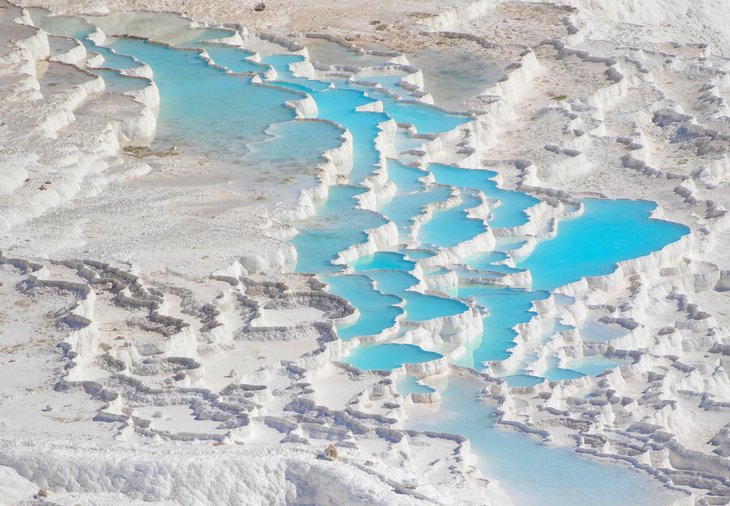 Despite the long journey, the intercity bus route between Istanbul and Denizli (the gateway to Pamukkale) is extremely popular, and there are plenty of services to choose from.
There are bus departures throughout the day and night. The best idea is to either opt for an early morning service - great for watching the scenery go by - or a departure between 8pm and 11pm, for a quicker journey time and an early morning arrival.
Day buses tend to take between 10 and 12 hours. Due to less traffic and fewer stops along the way, night buses usually complete the same journey in between nine and 10 hours.
Check your arrival time in Denizli. You want to arrive between 6.30am and 11pm because these are the hours the minibus to Pamukkale village operates from Denizli bus station.
Some of the major bus companies offering plenty of services along this route are Pamukkale Turizm, Metro Turizm, and Kamil Koç.
All operate ultra-modern coaches with conductor service offering complimentary hot and cold drinks and snacks, as well as comfortable airline-style seats with individual entertainment systems and charging points for phones.
On most intercity bus services, complimentary Wi-Fi is available.
The buses on this route are all two plus one seating configuration, with the left-hand side of the bus having the single seat.
Although in Turkey it is normally possible to simply turn up at the bus station without pre-booking, if you're a solo traveler and want one of the solo seat options, it's a good idea to book the day beforehand as they tend to sell out earlier.
Istanbul's main bus station, Esenler Otogar, is above the "Otogar" stop on the metro line. The other bus station that Denizli-bound buses depart from is Alibeyköy Otogar, which is reached directly by taking the new T5 tram line that runs along the coast of the Golden Horn.
Denizli Otogar (bus station) is one of Turkey's most modern and well organized. Intercity buses arrive on the station's ground floor.
After disembarking, head down the escalator to the basement bus carpark, from where minibus services toddle to Pamukkale every 20 minutes. The journey takes around 20 minutes.
Alternatively, there are plentiful taxis at Denizli Otogar, which can transport you to Pamukkale.
2. From Istanbul to Pamukkale by Airplane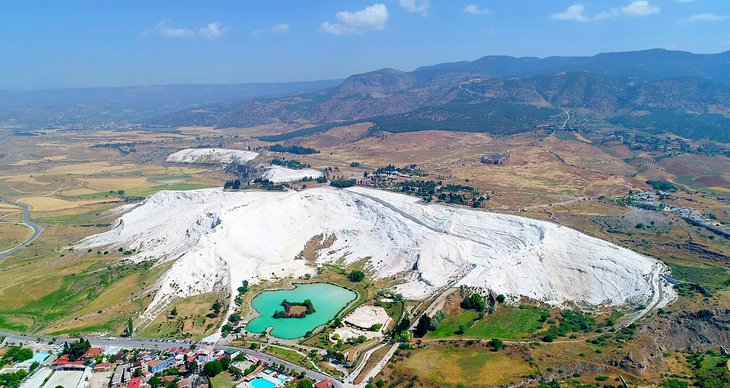 Both Turkish Airlines and Pegasus Airlines offer flights between Istanbul and Denizli Çardak Airport.
During the height of the summer holiday period (July and August), Turkish Airlines usually offers around six flights daily. Outside of this time, expect fewer departures, with between three and four flights daily depending on the month. Pegasus only has one or two flights daily depending on the time of year. The flight journey time is normally one hour.
Flights with Pegasus Airlines – Turkey's main budget airline – are usually cheaper than those offered by Turkish Airlines.
With both airlines, the cheapest ticket options on this route allow for 15 kilograms of checked baggage.
Pegasus Airlines operates its flights to Denizli from Istanbul's Sabiha Gökçen Airport. Turkish Airlines has services from both Istanbul International Airport and Sabiha Gökçen. Both airports have regular airport-bus services from central Istanbul.
Denizli Çardak Airport is just south of the small town of Çardak, 72 kilometers southeast of Pamukkale.
Airport bus services only operate between the airport and Denizli. Door-to-door privately operated airport-shuttle services to Pamukkale need to be pre-booked by your Pamukkale hotel; let them know when you are booking your stay. Your hotel can also book a taxi airport pickup if you prefer.
For more flight options, you could, alternatively, fly to Izmir Adnan Menderes Airport and then catch a bus or train, or hire a car. Izmir's airport is 224 kilometers northwest of Pamukkale on the shortest route.
If you were hiring a car after flying into Izmir, you could turn the drive into a sightseeing day by stopping off at the ruins of Aphrodisias (193 kilometers southeast from Izmir Airport) along the way.
3. From Istanbul to Pamukkale by Train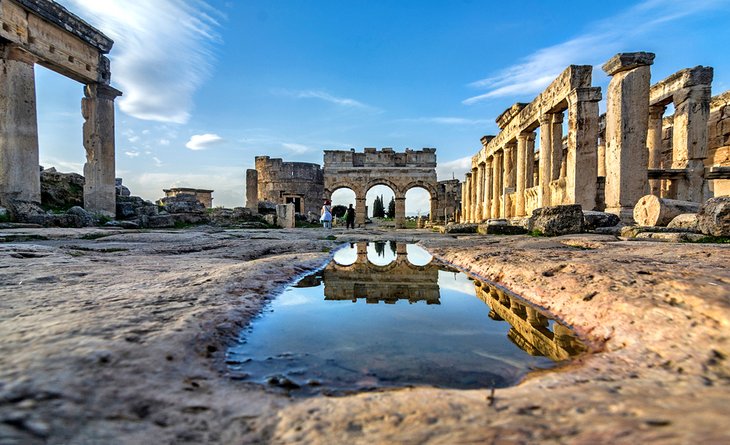 Although it's not a direct route, you can travel all the way from Istanbul to Denizli by train.
This is a much more interesting option than taking a direct bus or a flight, but you'll need to have some time up your sleeve.
First take the high-speed train service from Istanbul to Eskişehir. There are 11 services daily, and the journey takes three hours. You'll need to spend the night in Eskişehir, as the train to Denizli leaves early in the morning.
The second leg of the journey is the Pamukkale Express train. This daily service takes eight hours to chug downwards through the Anatolian countryside from Eskişehir Gar (train station) to Denizli Gar. It's a relaxing and scenic journey that deposits you in central Denizli in mid-afternoon.
Both train services offer drink and food trolley service for purchase, though you'll probably want to bring your own supplies and snacks as well.
The rolling stock on both offer comfortable seating. The high-speed train between Istanbul and Eskişehir is state-of-the-art and ultra-modern.
Denizli Gar (train station) is directly across the road from Denizli Otogar (bus station) so for the final leg of the journey to Pamukkale all you have to do is cross the road and head to the basement level of the bus station to catch the minibus to Pamukkale village.
Pre-booking your train tickets is highly recommended as seats on all Turkish train services sell out. Tickets can be booked both online or at train stations.
4. From Istanbul to Pamukkale by Tour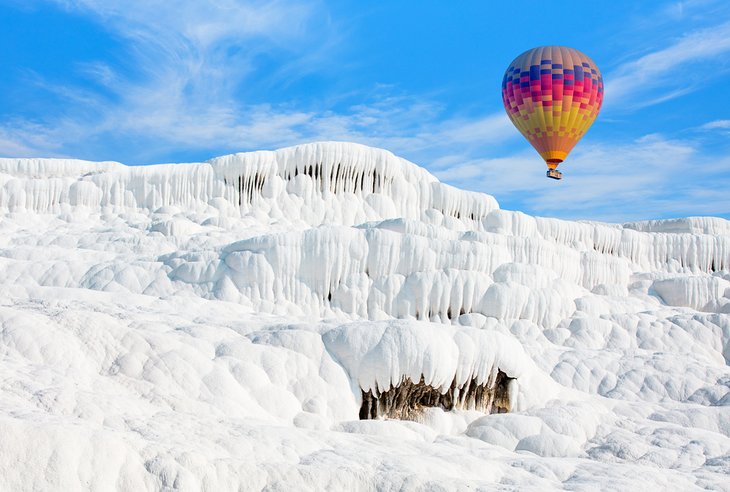 If you want to take a backseat on the planning component of your Turkey trip and are very short of time, there are plenty of Turkish tour operators who can organize a Pamukkale day trip from Istanbul for you.
Due to the small amount of flights, day trip tours to Pamukkale from Istanbul aren't usually advertised to the extent that other flight day trips are, but they can be arranged if you ask.
For this option, prepare for a very long day: you'll leave your Istanbul hotel before dawn to head to the airport and will arrive back late in the evening. Expect around 15 hours door to door.
Pamukkale day trips from Istanbul can be organized as a completely private tour, customized for you, or as a combination of private transport booked by the tour company but joining a group tour once in Pamukkale itself.
It is a much better idea to opt for the completely customized tour option, as otherwise a lot of the day will be spent waiting around.
For a fully customized private trip, the tour company can organize your return flight tickets (with pickup from your hotel), private transport, with driver, from Denizli Çardak Airport, which will be at your disposal for the day, and a tour guide (if wanted) for when you're touring Hierapolis.
Taking the earliest flight option from Istanbul and the latest return flight option from Denizli, you could manage to visit the ruins of Hierapolis and the famed white calcite terraces of Pamukkale below the ruins, as well as the ruins of Laodicea (also known as "Laodikeia"), between Pamukkale and Denizli, in one day.
A much less rushed alternative, though, is to spend the night in Pamukkale.