From Istanbul to Antalya: 4 Best Ways to Get There
Istanbul and Antalya are two of Turkey's most popular vacation destinations. With so many travelers wanting to combine a visit to both on their Turkey trip, there are plenty of transport options between the two cities.
With Istanbul's glut of Ottoman and Byzantine monuments and Antalya's dramatic Mediterranean coastal scenery, beaches, and nearby historic ruins, time split between these two cities is a great introduction to what Turkey has to offer.
Whether you're on a quick visit and concentrating your focus only on these two cities, or want to take a little more time seeing some sights along the way, here are the best ways to get there.
1. From Istanbul to Antalya by Airplane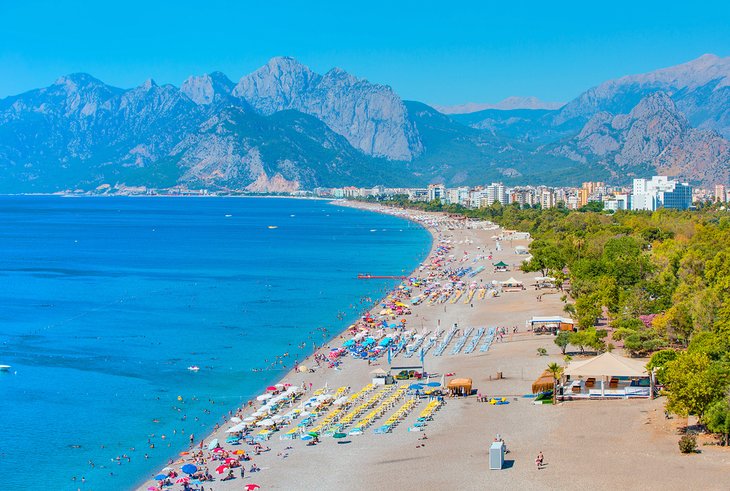 Both Turkish Airlines and Pegasus Airlines offer services from Istanbul to Antalya Airport. If you're on a short Turkey trip schedule, catching a flight between these two cities makes sense and leaves you more time to explore on the ground.
Turkish Airlines usually operate 27 flights daily with services from both Istanbul International Airport (on the city's European shore) and Istanbul Sabiha Gökçen Airport (on the city's Asian side).
The flights from Sabiha Gökçen Airport are operated by Turkish Airlines' subsidiary airline AnadoluJet, but there is often little to no price difference between flights on this popular route, so choose your flight on the best scheduled time and the airport that is most convenient for you.
Pegasus Airlines is Turkey's main budget airline. It also offers 11 flights every day from Istanbul to Antalya with all services operating from Sabiha Gökçen.
Pegasus flights usually cost less than Turkish Airlines, and there are often promotion fares offered, but know that, when purchasing the cheapest Pegasus seat options on this route, you will have less baggage allowance (15kg instead of 20kg) and won't receive a complimentary snack onboard.
The flight time from Istanbul to Antalya is between 75 and 90 minutes. Both Istanbul airports are connected to the central city by regular, good value airport buses.
From central Istanbul pick-up locations at Taksim and Beyazit (near the Grand Bazaar) Havaist airport buses to Istanbul International take approximately two hours. To Sabiha Gokcen, Havabus airport buses from Taksim are normally a 90 minute journey.
Antalya Airport is handily connected to the central city by tram. You need to buy an Antalya Kart (a transport card that can be topped up with credit) to use the tram. There are dispensers at the airport tram stop where you can buy cards and pay for credit.
If you're staying out of the city, in one of the beachfront hotels, an airport pick-up arranged by your hotel is the easiest transfer option.
2. From Istanbul to Antalya by Direct Bus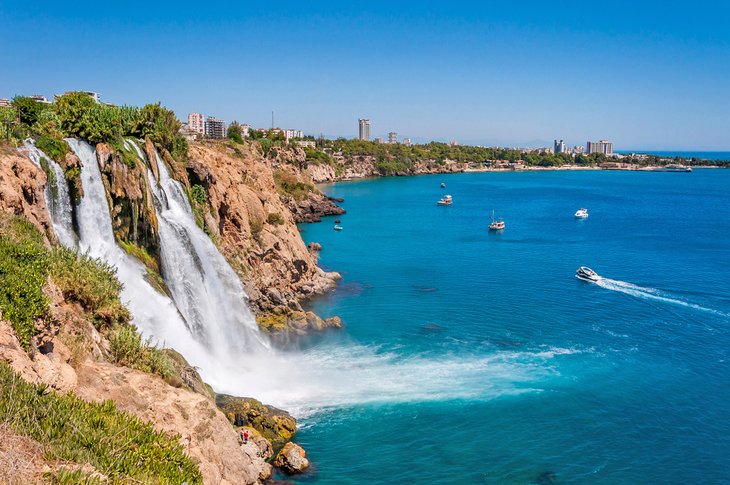 Several intercity bus companies run direct bus services from both Istanbul's main bus station, Esenler Otogar, and Alibeyköy Otogar to Antalya.
The journey takes between 11 and 13 hours (depending on how many stops the service makes), so the vast majority of services operate this route overnight.
Major bus companies offering this route include Pamukkale Turizm, Metro Turizm, and Isparta Petrol Turizm.
The buses used on this route offer comfortable airline-style seats, usually incorporating individual entertainment systems and charging power points for your phone, and an onboard conductor who hands out complimentary tea, coffee, water, soft drinks, and snacks at points along the journey.
Most intercity bus services in Turkey also offer Wi-Fi.
Buses don't have onboard bathrooms. They stop every three to four hours at either a bus station or a well-equipped and modern highway service station for bathroom and dining breaks.
In Istanbul, Esenler Otogar is directly above the "Otogar" stop on the metro system, so it's very easily accessed by public transport.
Alibeyköy Otogar is in Istanbul's northern suburbs. Buses departing from here usually have a quicker journey time, as they don't have to spend time winding through the city's traffic at the start.
Alibeyköy Otogar is now easy to get to by public transport, thanks to the opening of Istanbul's new T5 tramway, which runs all the way up the Golden Horn, direct to the bus station.
Antalya's bus station (Antalya Otogar) is connected to the central city by tram, so it's very simple to transfer from the bus station to Antalya's old town (where all the boutique hotels are) by public transport on arrival.
If you're staying at one of the beach resorts, there are plenty of taxis at the station.
3. From Istanbul to Antalya by Train & Bus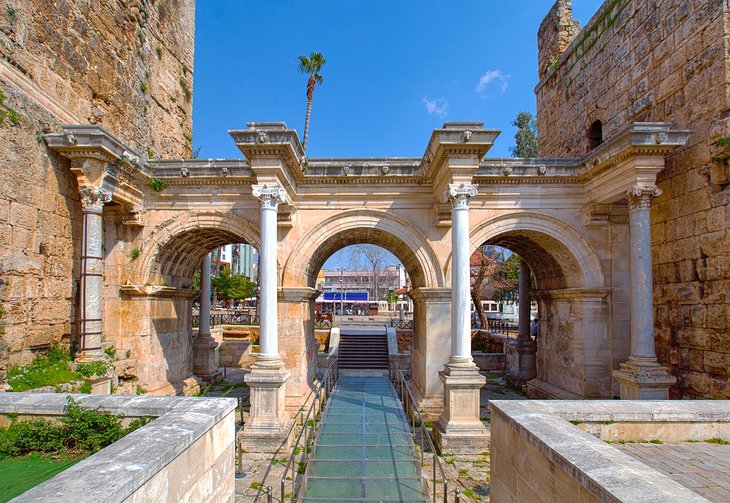 If you've got some time up your sleeve and want to see some of inland Turkey's main tourist attractions and towns on your way down to Antalya, using a combination of trains and buses can be a great idea.
The most interesting route using this transport method, begins by taking the high-speed train service from Istanbul to Eskişehir (11 departures daily), where you can spend a day exploring its vibrant art scene and old town district.
The next day, hop aboard the Pamukkale Ekspresi train service (one daily early morning departure), which takes a relaxing eight hours to chug from Eskişehir down to Denizli.
You're now on the doorstep of UNESCO World Heritage-listed Pamukkale, with its famous white calcite terraces and the Roman ruins of Hierapolis. Minibuses zip between Denizli's bus station (just across the road from the train station) and Pamukkale village every 20 minutes.
After a day touring the sights, simply catch a bus from Denizli's bus station (regular departures) for the four-hour bus ride to Antalya.
An alternative train-bus combo would be to catch the high-speed train from Istanbul to Konya, home of the Mevlana Museum and with a city center brimming with preserved Seljuk-era monuments and mosques. After you've finished exploring, catch a direct bus from Konya's bus station to Antalya.
Turkey's high-speed trains are super modern, with brand new rolling stock and comfortable seating. Normal long-distance trains such as the Pamukkale Ekspresi are well-maintained but have older amenities. Both offer drinks and snacks for purchases through the carriages along the way.
Purchase train tickets in advance, particularly in summer, as they do sell out. Because of the amount of bus services available, you can normally just buy your bus ticket on arrival at the bus station.
4. From Istanbul to Antalya by Car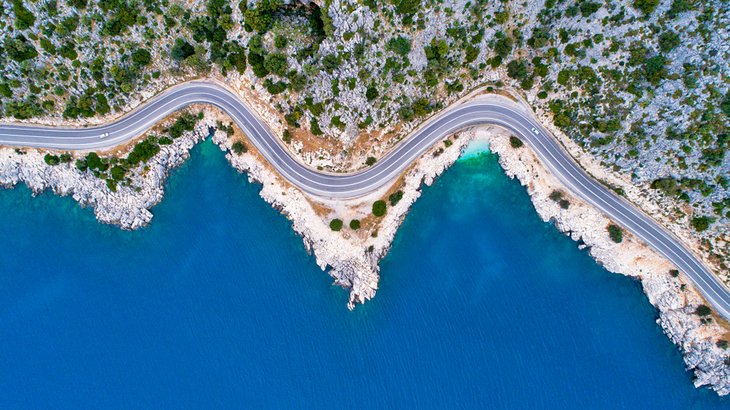 Hiring a car in Turkey to journey from Istanbul to Antalya is a good option for travelers who enjoy road trips, don't want to rush, and don't want to be tied to public transport timetables.
This option gives you the freedom to stop off at towns and heritage sites as you toddle your way down the country at your own speed. Allow a chunk of time and make the road trip a main focus of your travels.
The most direct route (694 kilometers) between Istanbul and Antalya is inland, cutting a swath through western Anatolia.
It passes through the historic cities and towns of Bursa, Kütahya (where you could side trip to the Roman site of Aizanoi or to the Phygian ruins of the Midas Monument); Afyonkarahisar, with its craggy castle; and Isparta, gateway to Turkey's "lake district" and the phenomenal mountaintop ruins of Sagalassos.
Main roads in Turkey are in excellent condition and have clear signage. Be aware, though, that gas is expensive, and getting in and out of big cities such as Istanbul and Antalya can be frustrating due to the sheer amount of traffic.