Exploring the Mevlana Museum: A Visitor's Guide
Konya's iconic sight is the distinctive green conical dome above the tomb of 13th-century philosopher, poet, and religious leader Mevlana Celaleddin Rumi.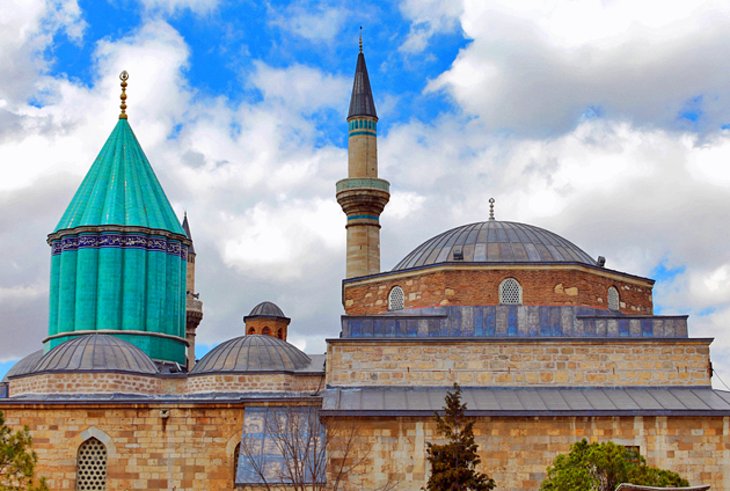 Right in the center of town, this mausoleum and attached historic tekke (lodge) of the world-famous whirling dervish sect of Sufism, which was founded by Mevlana Rumi's followers, is the city's main sightseeing attraction.
Today, it's the Mevlana Museum, and both pilgrims and tourists flock here to pay their respects to one of Turkey's – and the world's – greatest religious mystics.
Mevlana Rumi
Although most famous outside of Turkey for his poetry (including his renowned 25,000-verse Mathnawi poem), for believers, Mevlana Rumi is revered as a saint, and his mausoleum is a holy place.
His words, preaching tolerance and acceptance, have echoed down through the centuries. With one of his most famous verses stating: "Come, whoever you may be. Even if you may be an infidel, a pagan, or a fire-worshipper, come. Ours is not a brotherhood of despair. Even if you have broken your vows of repentance a hundred times, come."
Celaleddin Muhammad Rumi (Mevlana is an honorific term, which means "our master") was born in Balkh (in present-day Afghanistan) into a family of eminent Islamic teachers. In his childhood, his family emigrated west to Nishapur (Iran), where Rumi is said to have begun his spiritual education.
Having traveled extensively in his youth, the family settled in Karaman in Anatolia (110 kilometers south of Konya) before Rumi's father was invited to settle and teach in Konya by the ruler of the Seljuk Sultanate of Rum.
After Rumi's father died, Rumi inherited his father's position as head teacher of the madrassa (theological school), as well as preaching at the mosque. It was during this time that Rumi met Shams-e Tabrizi (Shams of Tabriz), the Persian poet who would become Rumi's spiritual advisor and would be instrumental in Rumi turning away from public life to instead focus on the more mystical aspects of Islam.
After Shams-e Tabrizi was murdered, Rumi devoted his life to asceticism and writing the mystical poetry that would make him famous.
After Rumi's death in 1273, his devotees were organized into a Sufi sect, which became known as the Mevlevi Order but are better known as the Whirling Dervishes.
Layout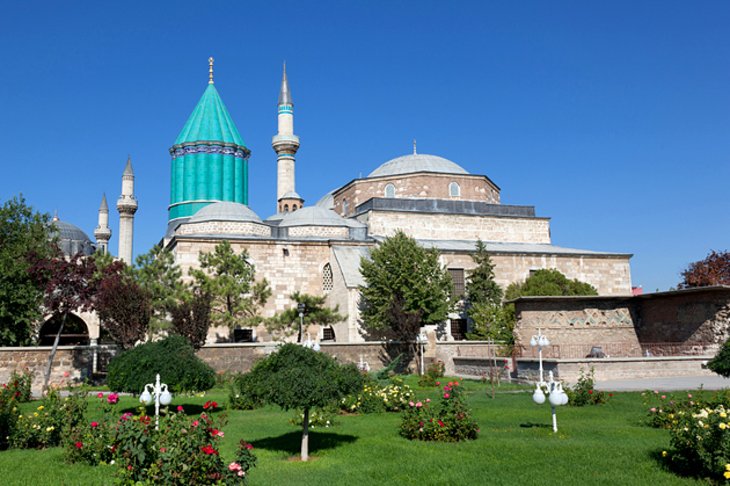 The tekke's present layout dates from the 16th century, long after Mevlana's death. The only part of the lodge that dates from the 13th century, when Mevlana lived, is his mausoleum.
You enter through a gate and an impressive garden filled with fountains, roses, trees, and tombstones.
Inside the mausoleum is not just Mevlana's sarcophagus (engraved with his words: "Do not seek our tombs on this earth – our tombs are in the hearts of the enlightened.") but that of his wife Kerra Hatun; his children Melike Hatun and Müzafferüddin Emir Ali Çelebi; plus the tombs of six dervishes, the so-called "Soldiers of Horasan," who came to Konya from Balkh with Mevlana.
Museum and Collection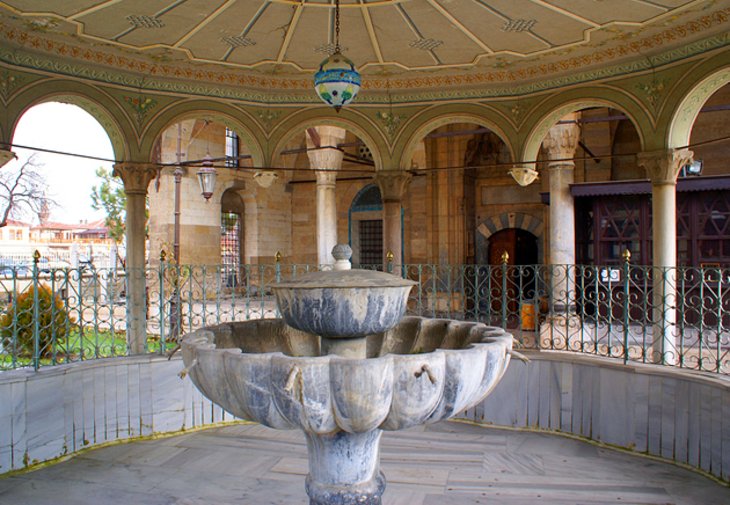 In addition, the large complex houses a huge collection of artifacts belonging to the Mevlana Order: valuable carpets; metal and wooden objets d'art; and books, including a display of priceless Qur'ans.
The small museum, which takes up part of the space in the Semahane, exhibits a fine selection of these items. The museum also has a library with more than 1,700 manuscripts and 500 books. Outside is a tranquil courtyard with a marble fountain (1512).
Across the courtyard from the mausoleum are a series of cells, where students of the Mevlana Order once lived and studied.
Today, they house an interesting collection of objects related to dervish life, from clothing and textiles to calligraphy and musical instruments. For tourists wanting to dig a little deeper, excellent information boards allow a deeper understanding of Sufism's history and culture.
Whirling Dervish Performance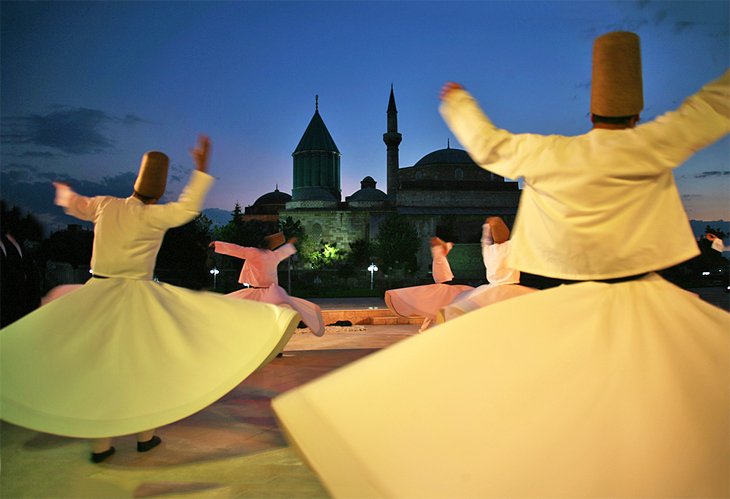 A recent addition to the Mevlana Museum, the rose garden in the museum grounds now holds a whirling dervish performance on Thursday nights during summer (roughly June to September).
The performance is free and is a chance to see an authentic sema (the name of this form of religious worship) performed by actual Sufi dervishes. Many other whirling dervish performances you'll see advertised in Turkey are performed by professional dancers.
Address: Address: Aziziye Mah., Mevlana Caddesi No:1, Konya
Official site: Mevlana Museum
More Related Articles on PlanetWare.com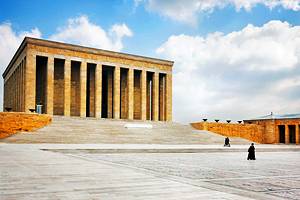 Central Turkey Sights: Easily visited from Konya, Çatalhöyük is one of Turkey's most important archaeological sites and one of the most important Neolithic sites in the world. Those interested in the early beginnings of human settlement shouldn't miss a trip here. Moving north, head to Ankara to check out the city's Museum of Anatolian Civilizations and the Atatürk Mausoleum, where the founder of the Turkish Republic is buried.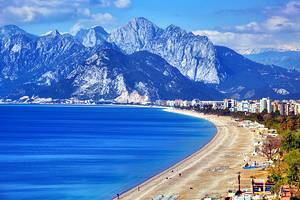 Head to the Beach: Konya is within easy reach of the southern Mediterranean coastline, so after soaking up the atmosphere of the Mevlana Museum, head southwest to Antalya for beaches, boat trips, and an old town district full of creaky Ottoman buildings. Kas is great for diving, kayaking, and more boating, and Side offers Roman ruins and lots and lots of sand.