Hot Air Ballooning in Cappadocia: A Complete Guide
Author Jess Lee first visited Cappadocia 20 years ago and has been traveling in and writing about the region for magazines and guidebooks for over a decade.
Cappadocia's sweep of surreal valleys is one of Turkey's greatest tourist attractions, and one of the most popular ways to view this landscape is from above.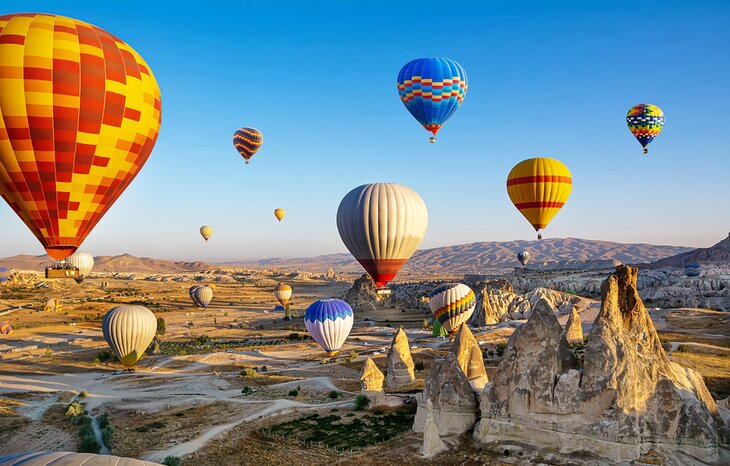 This is one of the world's best places to visit for hot air ballooning.
Floating in the morning stillness above the rock cones, wavy valley ridges, and thin rock pillars known locally as fairy chimneys is a photographer's dream.
Hot air ballooning provides a sightseeing spectacle with a bird's-eye perspective across these valley networks that were created by volcanic action and shaped into their present form by wind and rain.
If you want to add ballooning to your things-to-do list in Turkey, get the skinny on the experience with our guide to hot air ballooning in Cappadocia.
The Ballooning Experience in Cappadocia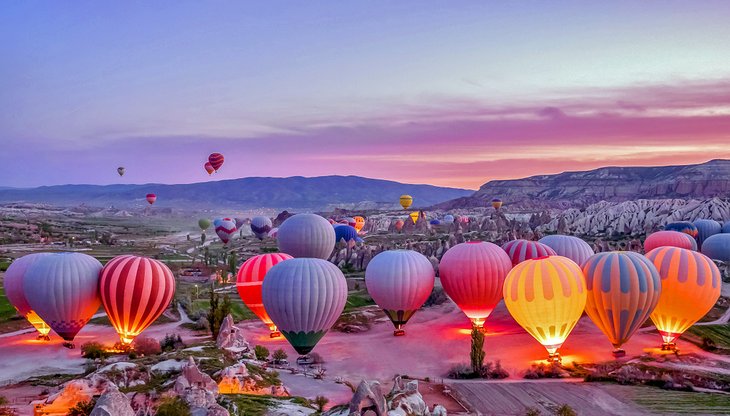 Hot air ballooning is an early-morning activity (the first hour of daylight is the safest time for ballooning), so set your alarm and prepare to be waking up before the birds.
All the balloon companies pick up passengers directly from their hotels, which makes this before-daybreak start more manageable.
You're picked up before dawn (exact times are confirmed by the balloon company the day before and depend on both the time of year and your hotel location) and transferred first to the balloon company office.
Once there, a breakfast is provided while the balloon company organizes the day's flight, gathers up all the other passengers from their various hotels, and processes payments from passengers. (Although your credit card number is taken on booking, the payment is only processed on the morning of your flight.)
The breakfast depends on the company, but the better companies put on excellent spreads.
When all the pre-flight organization is completed, you are transferred by minibus or 4WD to the balloon launch site, where you'll watch the balloon being inflated in the first light of dawn.
Everyone then climbs into the basket, ready for takeoff. Passengers with mobility issues or less dexterity will be helped by the ground crew.
The fully inflated balloon then lifts off, and you're away.
In Flight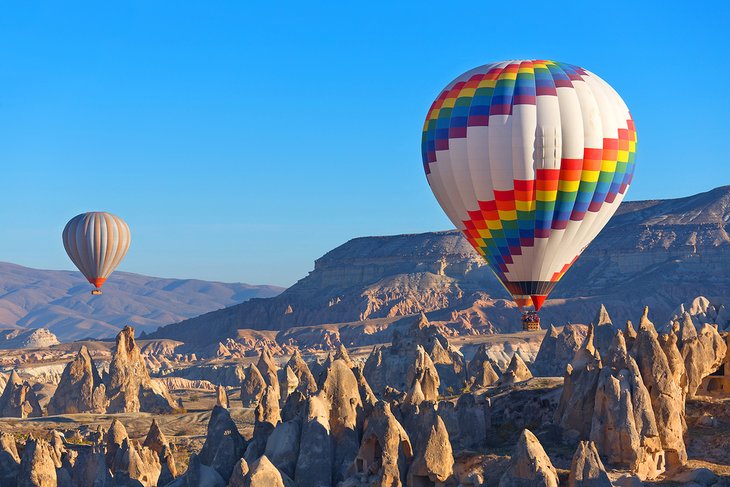 One of the reasons Cappadocia is so popular for hot air ballooning is because balloons here are allowed to descend so low to the ground during flight due to the lack of wildlife.
This means you get to experience the full scope of the weird and wacky landscape of this region, both up close and far above.
During the flight, you'll ascend at times up to around 900 meters (3,000 feet) high allowing you incredible bird's-eye overviews of the sinewy valley networks.
When you're descending, you'll sometimes fly over the orchard-filled plateaus and into the valleys themselves.
Here, wind permitting, balloons can skim near the tops of Cappadocia's "fairy chimney" rock formations from just above, to better see these geological oddities that were carved from millennia of wind and water action.
The flight captain also acts as your tour guide during the flight, and will point out local topographical features.
All flight captains speak English, as well as Turkish, and some are also able to add commentary in other languages such as Japanese, German, and Dutch.
While you're in the balloon, the company's ground crew are chasing you back on land below, and will meet the balloon as it descends at the landing site, which changes according to the day's wind.
On days with perfect weather conditions, the balloon will often be able to land directly on the ground crew's trailer.
After Landing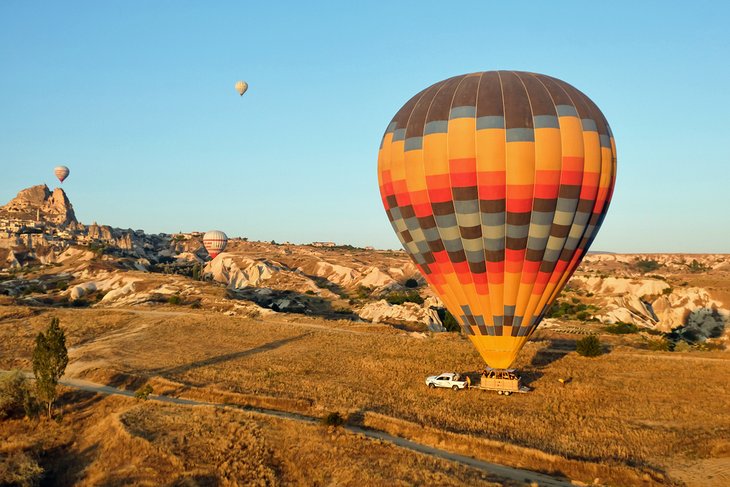 After disembarking from the balloon, passengers enjoy a small snack and drinks at the landing site while the ground crew pack up the balloon to ready it for transport.
Most balloon companies also give out certificates, commemorating the flight, to passengers while here.
When the balloon is packed up, passengers hop into the provided transport (a minibus or 4WD) and are each dropped off back at their individual hotels.
The entire experience door-to-door takes between three and four hours, depending on where your hotel is located in Cappadocia.
Because of the pre-dawn start, you'll normally be back at your hotel between 8am and 8:30am. This means you have plenty of time for another hour or so in bed, and can still catch your hotel's included breakfast before heading out again for the day of sightseeing.
Types of Flights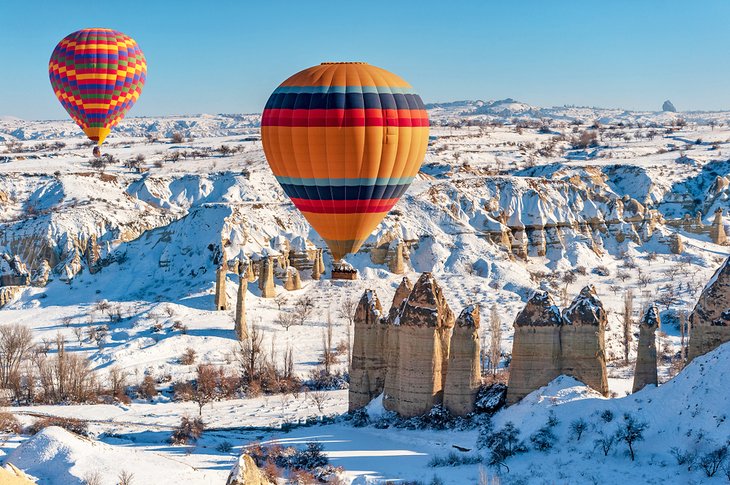 A standard hot air balloon ride in Cappadocia lasts between 45 minutes and one hour, and the baskets used are usually made to fit either 16, 20, or 24 passengers plus the flight captain.
The price typically includes all of the experience; pickup and drop-off at your hotel, breakfast beforehand, and drinks and snacks afterwards.
Most companies offer a higher-end hot air ballooning tour option. The only major difference is basket size, which is usually between 12 and 16 passengers, and flight time, which is usually a minimum of 75 minutes in the air.
The most exclusive option is to book a private hot air ballooning tour for your family or group. On private flights, the basket accommodates the number of people in your group, and the flight time is usually 75 minutes.
What You'll See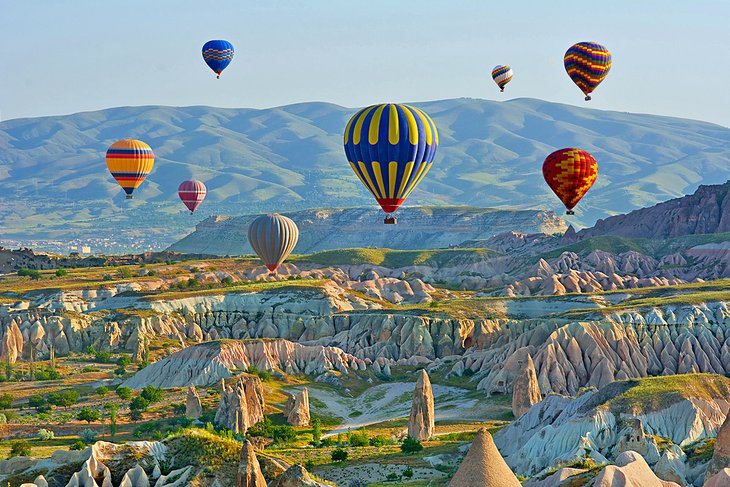 On most mornings, you'll be flying over the most famous valley networks of Kızılçukur (Red) Valley, Gülludere (Rose) Valley, Meskender Valley, and Love Valley, which run between the villages of Göreme and Çavusin.
Sometimes, you'll fly over the lesser-known valleys around the village of Ortahisar, with its rock citadel, or head over Pigeon Valley towards the hillside village of Uçhisar, also topped by a rock fortress.
Balloon flight paths depend on the wind direction, so they can't be guaranteed.
One of the reasons Cappadocia has become so popular for hot air ballooning, though, is because wind and thermal conditions are so favorable, which means most days you will be flying over the most photogenic landscapes.
What to Wear Hot Air Ballooning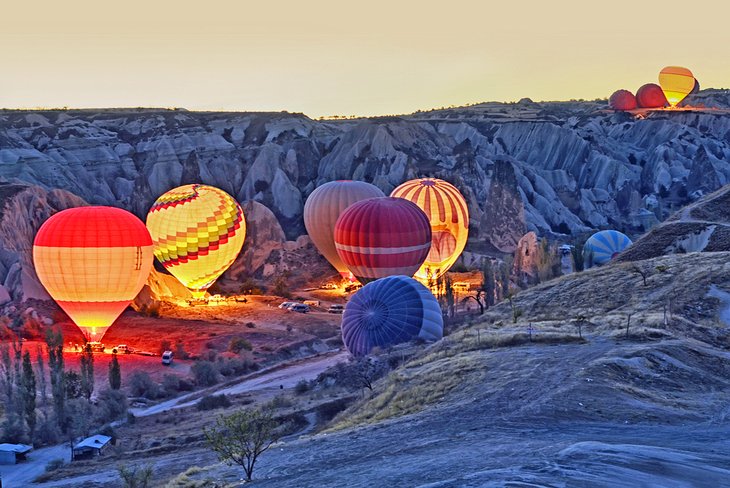 Wear flat, closed-toe shoes. You will need to scramble into and out of the basket, so this is not an activity for flip-flops and other flimsy shoes–and definitely not high-heel territory.
Even in the height of summer, take a jersey, jacket, or something else warm to throw over your shoulders.
Early mornings tend to be chilly in Cappadocia, and you'll be standing around for a while outside watching the balloon inflate.
Children and Hot Air Ballooning
No reputable company will take a child under six on a ride. Ballooning baskets have high sides, for very obvious safety reasons. Any passenger under 140 centimeters will not be able to see over the basket sides.
Booking Your Hot Air Balloon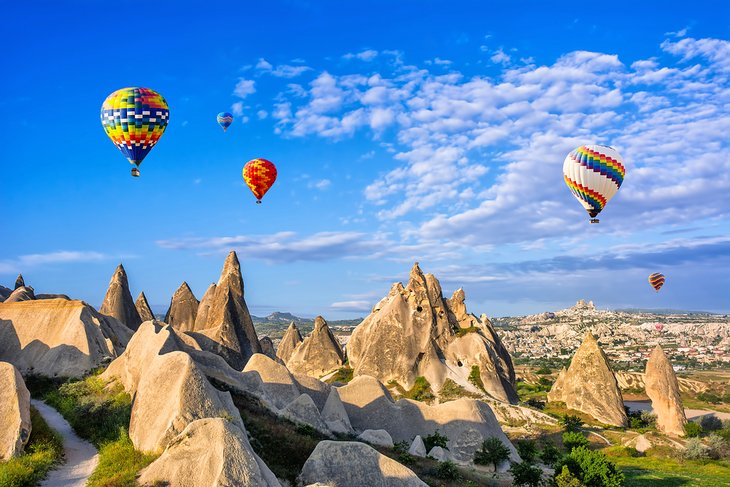 There are around 20 companies operating hot air balloon flights in Cappadocia. Most have their office base in either Göreme, Avanos, or Ürgüp.
Pre-booking in advance is recommended. Hot air ballooning is Cappadocia's most popular activity and, particularly during summer, the balloons do fill up fast, and people miss out on a space.
Most people book their balloon flight at the same time as they book their hotel.
Most hotels are happy to book and organize the flight for you, but be aware that hotels generally have one or two preferred balloon operators that they work with, and will book your flight with them rather than any other company. If you want to fly with a particular company, it's best to book independently.
Butterfly Balloons in Göreme is one of the most established and reputable balloon operators.
Their standard flights only carry 16 passengers, and flights last a one-hour minimum. Their higher-end flight guarantees a flight time of at least 90 minutes and a basket that only carries up to 12. The breakfast they lay out before the flight is excellent as well.
Voyager Balloons in Avanos also has a very good reputation, and their standard flights are also guaranteed to be a minimum of one hour.
They do use bigger baskets though, taking up to 24 passengers on a standard flight.
Balloon Cancellations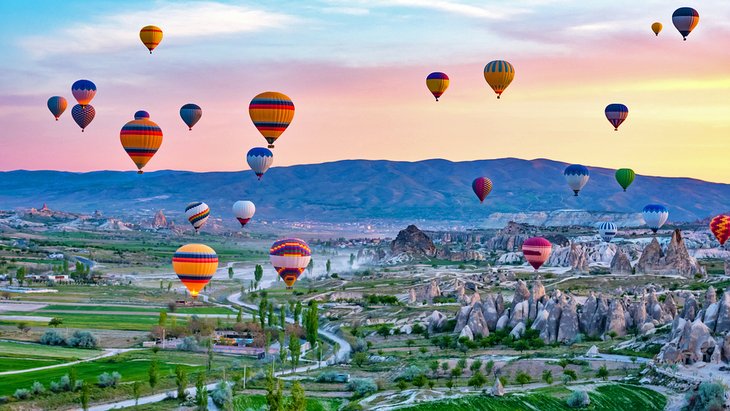 Ballooning is a year-round activity, but bad weather or dangerous wind conditions can ground balloons for safety reasons, and obviously this can't be planned for.
Early spring and winter are the seasons that are most usually affected by balloon cancellations, but they also happen occasionally during the peak summer season.
Due to the nature of the activity, confirmation of flight cancellation can happen on the morning of your scheduled flight, even after you've been ferried to the balloon company office for breakfast. Although unfortunate and disappointing, this cannot be avoided.
The balloon companies offer full flight refunds if a balloon grounding occurs, or, if possible, they'll bump you onto the next day's flight. Be aware, though, that due to hot air ballooning's burgeoning popularity, this latter solution is becoming less available particularly during the summer season, as balloons are often fully booked for days in advance.
Watching the Balloons from the Ground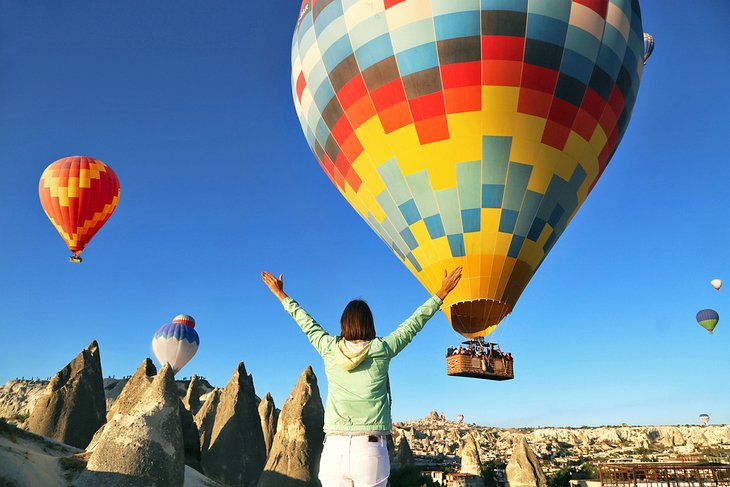 If you're staying for a few nights in Cappadocia, it's also worthwhile to get up early once again (though not so crazily early this time!) to watch the balloons floating above the valley. The best place to stay to see this spectacle easily is Göreme.
Many of Göreme's boutique cave-hotels, carved into the hillside, have terraces with views that stretch across the village to Red and Rose Valleys. In this case, all you need to do is roll out of bed and head to the terrace to see the balloons.
If your hotel doesn't have a valley view, there is a lookout point on the cliff ridge above the village called "Sunset View Point." From here (and along the path that runs along the ridge from here), you can see across the village to both the main valley network and over the other side of the village to Uçhisar and its rock citadel. It's excellent for morning balloon viewing.
A small payment is charged by the café beside the lookout point for early morning balloon viewing. At other times of the day, entrance is free.
Planning Your Stay in Cappadocia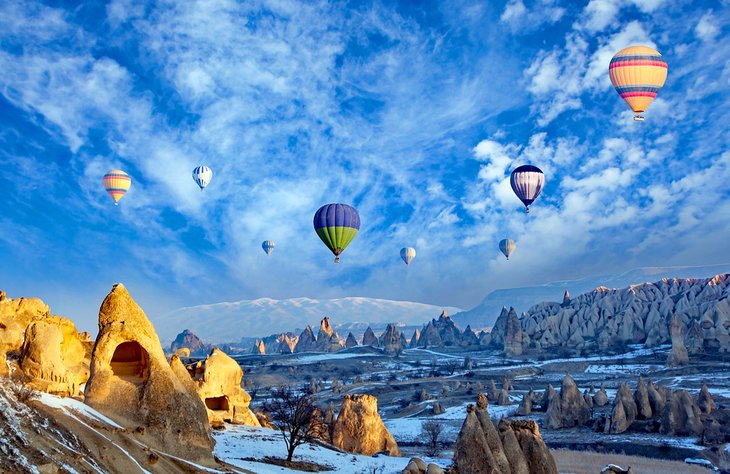 Some travelers mistakenly believe that you can visit Cappadocia from Istanbul or another coastal resort base for ballooning as a day trip, but this is an impossibility.
Hot air ballooning takes place at the crack of dawn, so you are going to have to stay at least for the night before your flight if you want to head up into the air.
Although some visitors do indeed stay just one night, most who plan this quick-fire itinerary, tacked on to their trip, end up wishing they'd spent more time here.
Hot air ballooning is just one tiny facet of Cappadocia's charms, and this region's fascinating Byzantine relics of underground cities, cave churches, and monasteries, along with its wild and weird topography, could keep you occupied for weeks.
Plan to stay a few nights, so you can at least explore some of Cappadocia's highlights.
Getting to Cappadocia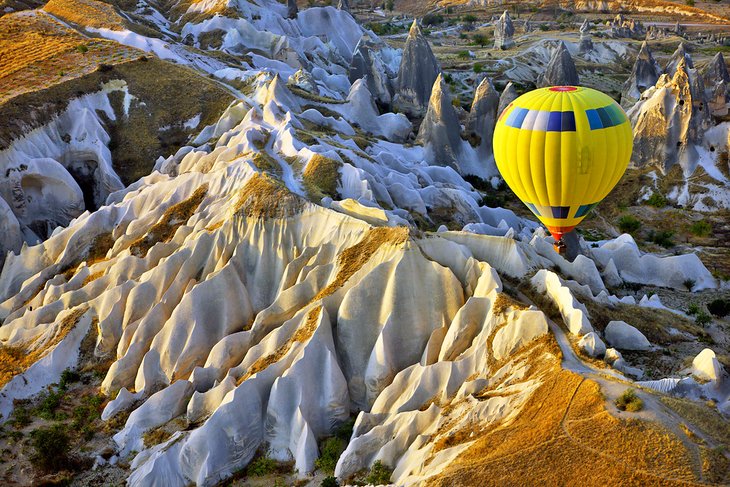 The Cappadocia region has two airports: Nevşehir Kapadokya Airport is 29 kilometers northwest of Nevşehir city. From this airport, it's only 38 kilometers to Cappadocia's tourism center in and around the village of Göreme.
More flight options, though, are available to and from Kayseri Airport, in the city of Kayseri, 75 kilometers to the east of Göreme, so this airport is more commonly used.
Airport transfer shuttle buses operate from both airports to the Cappadocia villages. Your pickup needs to be pre-booked, but your hotel in Cappadocia can normally do this for you when you book your room.
Car hire is available at both airports. The main roads in Cappadocia are in excellent condition and are clearly signed.
If you're traveling across the country by bus to Cappadocia, Nevşehir Bus Station is the normal disembarking point.
There are regular direct buses from Istanbul and Ankara, as well as coastal resort towns such as Fethiye, Antalya, and Bodrum, and other major tourist stops such as Denizli (the town nearest Pamukkale) and Konya.
A number of buses continue on directly to Göreme bus station, but Nevşehir is the final stop for most. From Nevşehir Bus Station there are regular minibuses to both Göreme, Avanos, and Ürgüp.
Best Time to Visit Cappadocia for Hot-Air Ballooning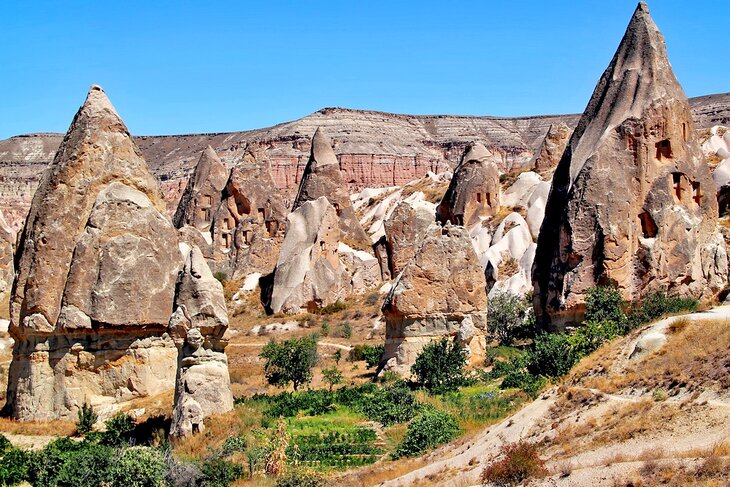 The best time to visit Cappadocia for hot-air ballooning is during the months of May, June, July, August, September, and October when the thermals and weather can be more dependably counted on for balloons to launch as scheduled.
As stated above, though, ballooning is a year-round activity, and whichever month you choose, you have to expect the chance of cancellation when the weather and thermals are judged not safe to launch.
During the spring months of March, April, and May, there is a higher chance of heavy rain canceling flights, but these are also the months when Cappadocia's valleys burst alive with colorful wildflowers, so these are great months for keen photographers to fly.
Similarly, though, snow and stormy weather can ground flights during the months of December, January, and February — the panoramic vistas of the valley's snow-capped rock cones from balloons showcase Cappadocia at its most fairy-tale-like.
Overall, the best attitude to take if hot-air ballooning is high on your agenda when planning a visit to Cappadocia is to realize that despite its sedate nature, hot-air ballooning is an adventure activity that depends completely on the weather conditions, so cancellations can occur at any time of year and happen only for your safety.