12 Best Honeymoon Destinations in Turkey
Whether you're looking for a honeymoon all about the beach, want a city-slicker escape, or a rural hideaway, Turkey has a destination for you.
Its beautiful coastline and Mediterranean villages have romance wrapped up, while inland, the fairy-tale landscape of Cappadocia has become a honeymooning hot spot, where you can hot-air balloon and stay in a luxury cave.
As well as luxury beach resorts (found along the coastline), Turkey offers high-class boutique hotels, often in restored buildings, and old Ottoman mansions loaded with historic ambience, which adds an extra frisson of old-world glamor and elegance to your honeymoon stay.
Plan where to stay using our list of the best honeymoon destinations in Turkey.
1. Bodrum Peninsula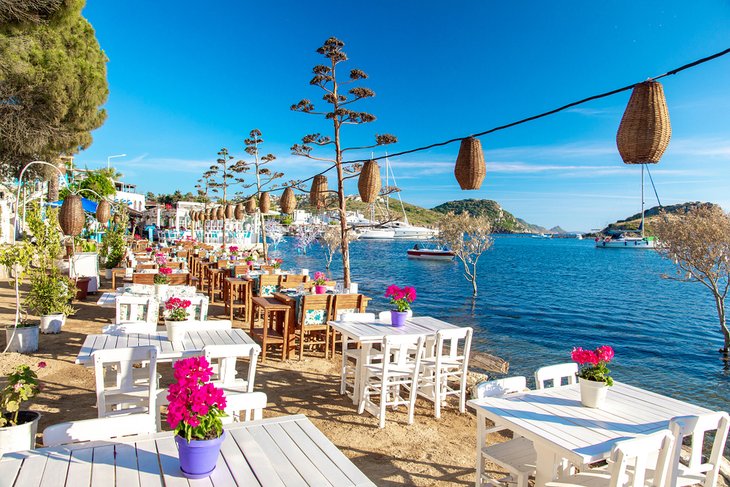 Turkey's favorite summer sun destination is heaven for honeymooners who simply want to laze on the beach. Head to Gümüşlük, on the peninsula's northern coast, for high-class hideaway hotels and upscale rustic-chic restaurants that wrap around Gümüşlük's sun-soaked bay, which opens out to glorious Aegean Sea views.
Arion Resort Hotel is set right on the shorefront, just north of Gümüşlük's center. Surrounded by lush gardens and with its own 400-meter strip of sand, this boutique resort is just the ticket for a relaxed and tranquil honeymoon stay.
For something a bit buzzier, beeline to Bodrum Town, smack in the center of the peninsula. Bodrum Town offers a wide swath of accommodation options for all styles of honeymoon breaks, from sophisticated and chic beach resorts, which speckle the town's surrounding coastline, to smaller boutique hotels right in town, overlooking the sweep of Bodrum Bay.
Bodrum Town's whitewashed old town district, with its blue-trimmed windows and bougainvillea spilling over walls, oozes quintessential Aegean atmosphere during the day.
In the evening, Bodrum's harbor front, overlooked by a castle built by the Knights Hospitaller, is where you head for twilight romantic strolls.
Whether you choose to stay in Bodrum Town itself or on the beach at one of the coastal villages, the peninsula is small enough that you can explore both, even on a short three- or four-day stay.
2. Cappadocia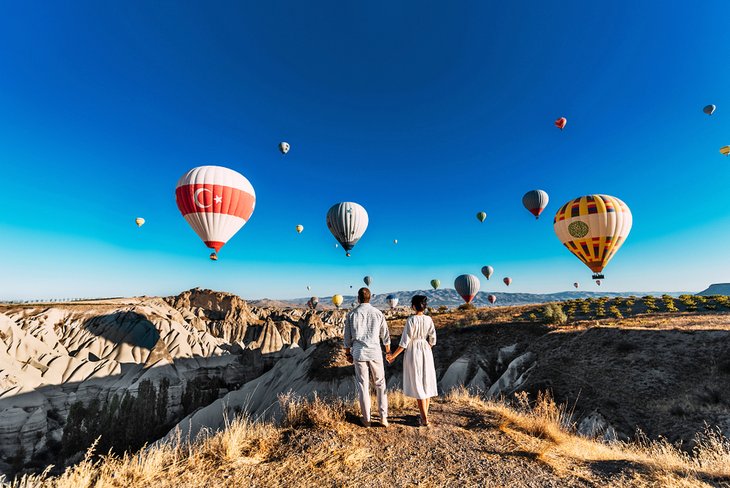 If you're looking for a more quirky honeymoon experience, head straight to Cappadocia. There's not many other places in the world where you can say you honeymooned in a cave.
These caves are not what you think. Cappadocia has turned its vernacular rock-cut village house architecture, hollowed out of the volcanic cliffs, on its head. Today, these cave houses are sleek boutique cave hotels, with caverns that provide stylish troglodyte living made for the 21st century.
Cave hotels in villages such as Göreme, Üçhisar, and Ortahisar, and the town of Ürgup, serve up chic design-led cave interiors, and terraces made for lounging while soaking up sunset over hillside village vistas and Cappadocia's expanse of valleys.
SOTA Cappadocia is a great choice for honeymooners, with its suave, minimalist-styled rooms and suites, which highlight the cave-cut architecture. Service is top-notch here, and the views across the tumbling cliffs of Ürgüp are sublime.
Hot-air ballooning over the valleys of rock cones is every honeymooner's top pick for things to do while here. Hiking and horse riding between the valley Byzantine cave churches is also high on the list for more active couples.
Those that want to delve further will find plenty of historic sites to explore in the region, such as the caverns and tunnels of underground cities at Kaymaklı and Derinkuyu.
3. Turquoise Coast Yachting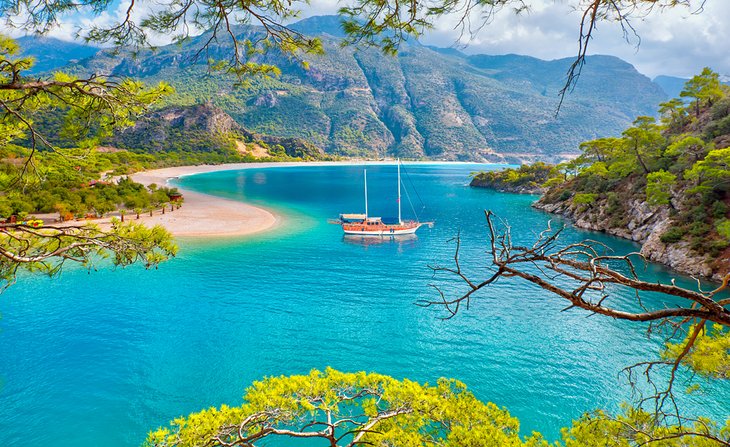 The Turkish coast's dramatic vistas of coastal cliffs and hazy mountains beyond are best viewed from the sea. So for the ultimate idea in glamorous Mediterranean honeymooning, replete with lazy, sun-soaked days watching lush scenery pass by, charter a traditional Turkish wooden yacht (called a gület) and set sail.
Major destinations along the coast for hiring a gület with crew for a multi-day trip are Bodrum, Göçek (27 kilometers northwest of Fethiye), and Fethiye.
The two most favored itineraries for sailing trips, both offering gorgeous coastal scenery all along the route, are either between Bodrum and Fethiye, or Fethiye and Olympos.
The Fethiye to Olympos route is more popular because the normal itinerary contains stops at some of the Mediterranean's most famous tourist attractions, including Butterfly Valley, Gemiler Island (also known as St. Nicholas Island), and the Kekova area, along with the harbor front village of Kaş.
The more northern route between Bodrum and Fethiye, though, is less busy, so you can easily find yourself anchoring off islands for swim-stops with no other boat in sight.
4. Safranbolu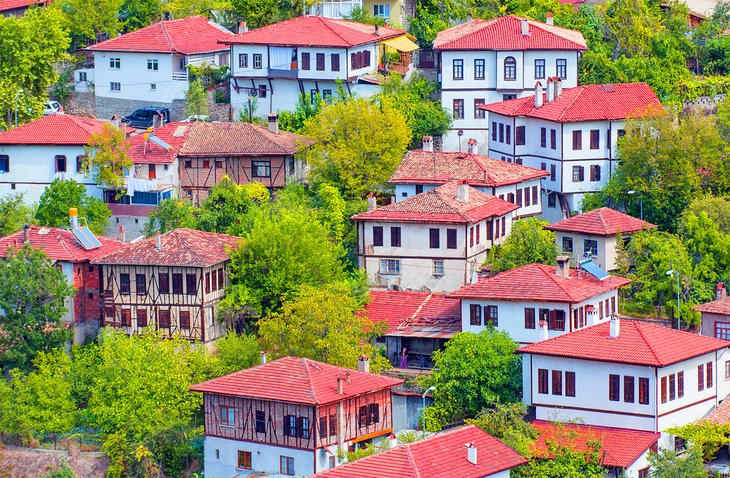 For a honeymoon with lashings of historic style, look no further than Safranbolu.
The old town district here is like taking a trip back in time, so if you're seeking a honeymoon stay infused with oodles of old-world ambience, this is one of the best places to visit in Turkey.
Safranbolu is Turkey's best preserved Ottoman old town. Here, cobblestone alleyways are rimmed by a glut of stately timber mansions that were once home to merchants and traders. Today, these restored fine houses have become boutique hotels.
There are bazaars to explore, full of workshops selling crafts, and lanes crammed with patisseries displaying the town's famous local sweet treats, while cute cafés serve up Safranbolu's feted regional cuisine. There's little to do except aimlessly stroll the streets, enjoying the slow pace of life and reveling in the sheer quaintness of the preserved architecture.
If you're here for a few days and want to explore, head out into the lush surrounding hills, where you'll find other traditional villages, historic sites, and the forested slopes of a nature park.
5. Antalya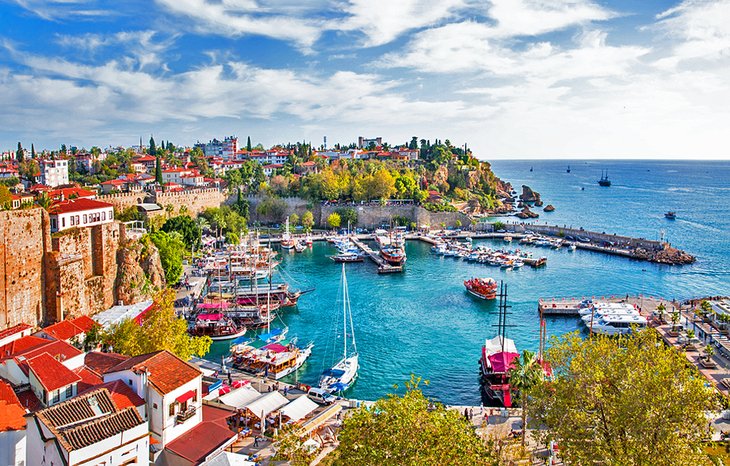 For beachfront resort living beeline to the coastline radiating both north and south of the Mediterranean city of Antalya. This is where you'll find plenty of big-name local and international brand resorts that have snagged prime strips of sand.
Honeymoons along this stretch of coast are all about lolling on the beach with full facilities at your fingertips on an all-inclusive resort deal.
In Antalya city itself, the old town district is full of charming boutique hotels and upscale guesthouses that are set in heritage buildings dating from the Ottoman era. These are a great option for honeymooners who want a more independent experience.
With its cobblestone lanes, Roman-era wall relics, and Ottoman architecture, the old town district is a thoroughly charming destination for a romantic stay.
For old-world ambience and elegance in abundance, stay at the Tuvana Hotel, in the old town district. With its collection of restored Ottoman houses hugging a swimming pool surrounded by a rambling garden of fruit trees, this is an exclusive hideaway set within the central city.
Whether you choose to stay on the beach or in the city, the Antalya region offers plenty of things to do.
Adding on day trips to historical sites, such as the grand Roman Theater at Aspendos or the Roman-era remnants of Side, is easy to do, so Antalya works as a honeymoon destination for both active couples and those who just want to relax.
Accommodation: Best All-Inclusive Resorts in Antalya
6. Alaçatı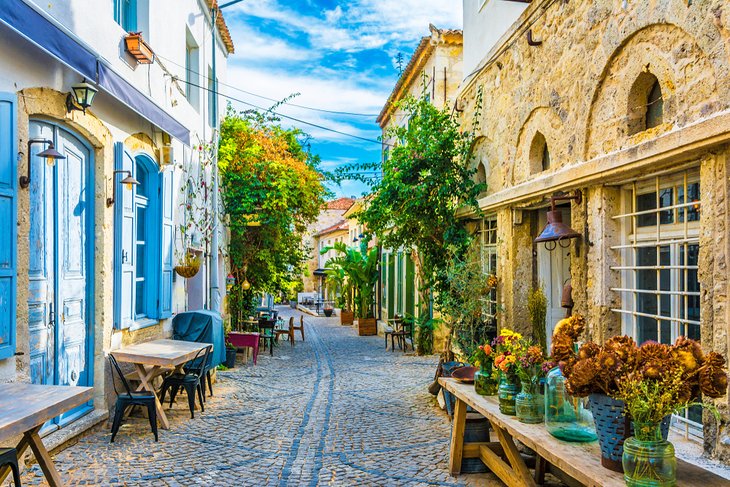 For a fashionable seaside honeymoon escape, head to Alaçatı.
This old fishing village, now turned chi-chi beach resort is Turkey's Aegean Coast hot-ticket destination. Today, this small seafront town, on the Çesme Peninsula, throngs with a high-class Istanbul crowd throughout the summer months.
Alaçatı is full of preserved old fishermen's cottages, and some grander mansions, which have been painstakingly restored to home intimate, high-end boutique hotels; quirky cafés; and smart restaurants that highlight the Aegean's regional cuisine.
Stay in heritage hotel finery at Alaçatı Kosem Hotel, with its airy interiors blending antiques with elegant period style for a honeymoon with swags of historic appeal.
Active couples will want to get out onto the water, as Alaçatı is known for being Turkey's top windsurfing destination.
For those who want a more relaxed experience, it's all about lazing on the beach, lapping up Alaçatı's sophisticated café scene, and feasting on some of the best food you'll find along the Aegean Coast.
7. Istanbul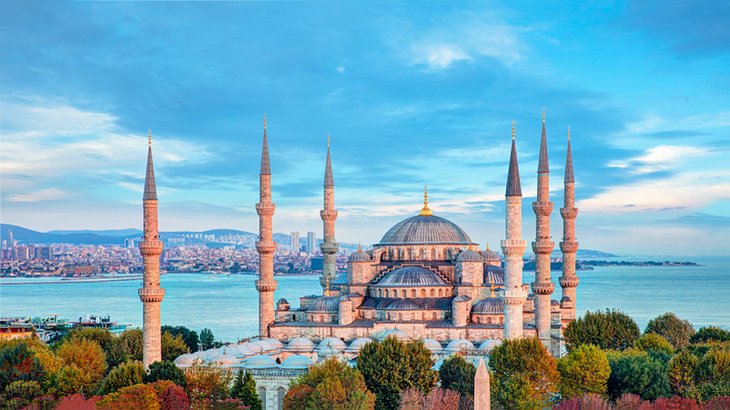 Looking for a stylish city-break honeymoon? Step right up, Istanbul.
There's a reason this megacity, once capital to two empires in its long and glorious history, is one of the most popular city-break destinations in the world. There's just so many world-class tourist attractions in Istanbul that visitors can't help falling head over heels in love with this city.
Tour the Ottoman mosques and the Byzantine cisterns; stroll the gardens of Gülhane Park to its hilltop café, after visiting Topkapı Palace, for soaring views over the Bosphorus; and then take to the strait itself for a sunset cruise with one of the world's most famous cityscapes. You'll never be stuck for things to do.
A vast amount of accommodation choice is on offer, with plenty of options perfect for honeymoon breaks, from lavish five-star hotels set in restored palaces to intimate boutique hotels in heritage buildings and Ottoman mansions.
For a decadent Istanbul honeymoon in an Ottoman palace, right on the waterfront, check in to the Ciragan Palace Kempinski Istanbul. Here, you can swim in the pool while watching the boats ply past on the Bosphorus, pamper yourself in the spa, and dine right beside the water.
8. Bozcaada Island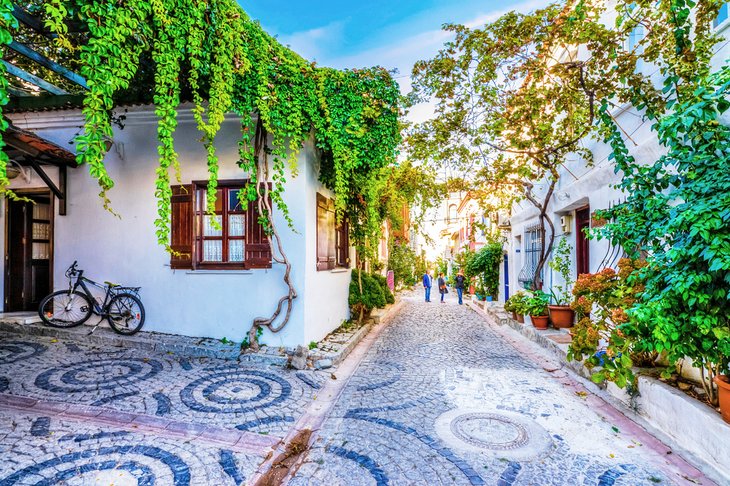 Bozcaada is a favorite Turkish island escape, and its beaches and relaxed vacation attitude make it a top honeymooning choice.
While more active couples can windsurf and kitesurf off the beaches here, Bozcaada's real charm lies in there being little to do except slow down and simply enjoy the tranquil pace of Aegean island life.
Take a drive trip through the island's interior, where vine-draped fields stretch across the hills, before soaking up the sun on one of the island's beaches.
Spend an afternoon exploring the cute old-town district of Bozcaada Town, which has held onto its vernacular Aegean architecture, and then dine on fresh seafood while enjoying the views as the sun sets over the Aegean Sea.
Bozcaada's boutique hotels are made for stylish romantic breaks, and many have terraces with sea views.
If you do feel like doing some more sightseeing while here, you can easily visit the archaeological site of Troy while based on Bozcaada Island, or even tag a road-trip along the nearby Biga Peninsula onto your honeymoon after your island stay.
9. Şirince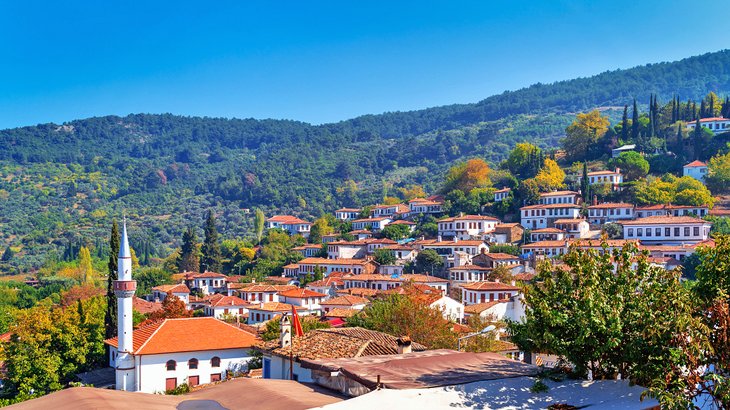 If you want to visit Ephesus - Turkey's most famous ancient ruin - while on your honeymoon but still want a romantic get away-from-it-all-style hotel stay, choose Şirince as your destination over the more typical bases of Kuşadası and Selçuk.
This finely preserved old Ottoman Greek village of handsome red-roofed houses, sitting snug on a thickly forested hillslope, provides plentiful tranquil, rural hideaway appeal.
Despite this, from here it's still only seven kilometers down the winding hill road to hit Selçuk and the UNESCO World Heritage Site of Ephesus. So you're within easy reach of a world-class archaeological site and all of Selçuk's other tourist attractions.
Şirince does get incredibly busy with day-tripping crowds during the day in summer, but once the last bus has left in the late afternoon, serenity is again restored. This makes the handful of high-class boutique hotels in the village perfect honeymoon fodder.
10. Kabak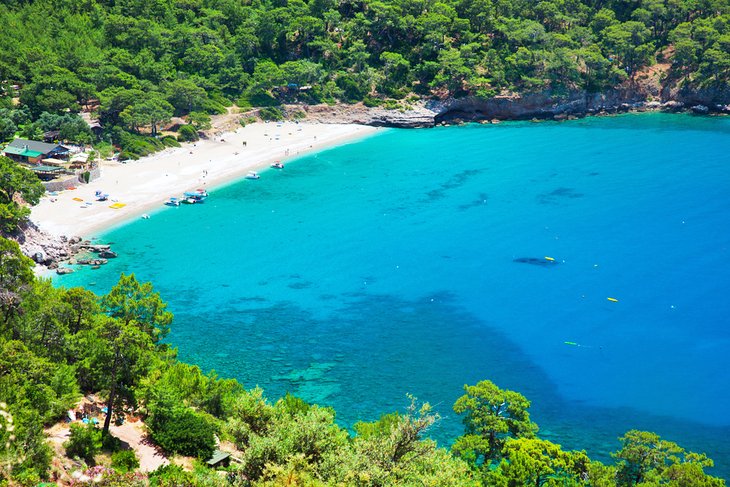 For couples with a bohemian streak, the tiny horseshoe shaped bay at Kabak makes for a laid-back and nature-filled honeymoon stay.
Hidden within the Yedi Buran (Seven Capes), Kabak may be just 20 kilometers south of Ölüdeniz, but it's as far apart in atmosphere from that beach's tourism crowds, as can be.
Kabak is an old hippy hangout. For years people came here to sleep in tents, or in basic camps of rickety cabins, all half hidden within the pine forest slope that backs Kabak's curve of sand.
These days, though, many of these camps have gone upscale. Kabak is now a top-tier glamping destination, offering rustic-chic camps with luxe bungalow accommodation and swimming pools (and even spas), all set within a forest with views over the bay.
For nature loving honeymooners who want to be near the beach, this is the ultimate choice for a bohemian-infused rural escape.
11. Kaş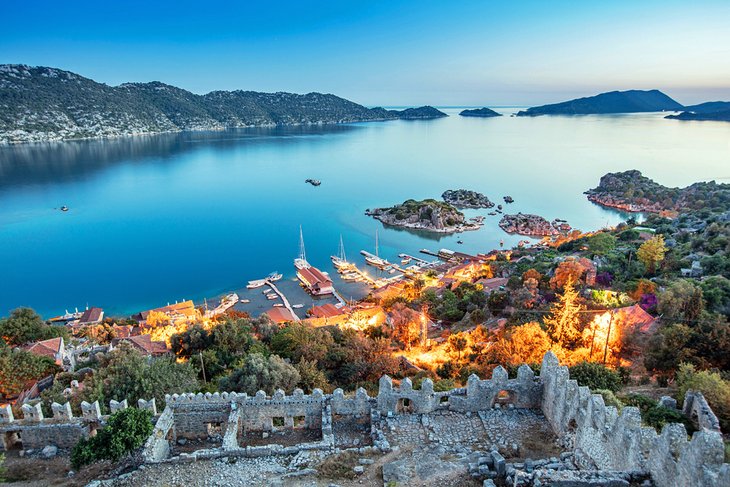 If honeymooners want a coastal location that offers more than the simple pleasures of sand and sea, Kaş is one of Turkey's best places to visit.
Here, they can kayak or boat over the sunken ruins of Kekova Island, and between half-sunken Lycian sarcophagi, before scrambling up through the huddle of houses to the top of the Crusader fortress in the tiny village of Kaleköy for panoramic Mediterranean coastal views.
Kaş is also within easy day-tripping distance of many of the Mediterranean coastline's premier sightseeing attractions, such as the beach and ruins of Patara and the famous Kaputaş Beach.
Most of Kaş' more exclusive boutique hotels are perfect for honeymoons and romantic breaks. With sea views and offering sea access directly off sunbathing platforms built across the rocky coastline, they are mainly outside of town, scattered along the lush Çukurbağ Peninsula, and sandy strips are only a short hop away.
12. Assos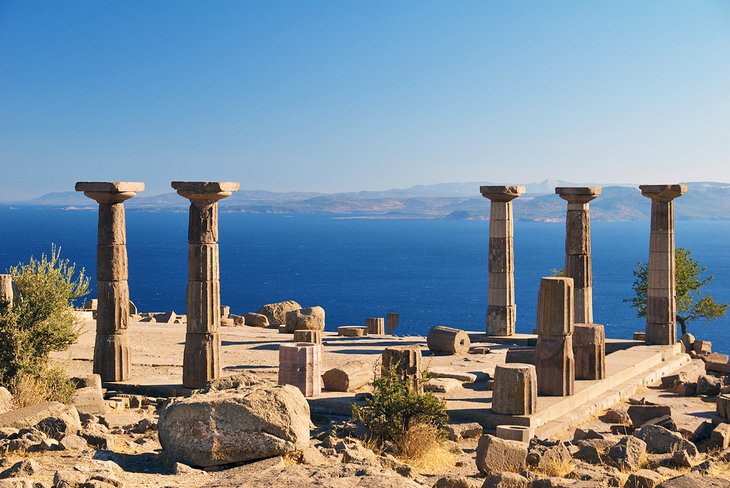 It doesn't get more romantic than spending your honeymoon in one of the intimate boutique hotels snug amid the hilly cobblestone alleys of the village of Behramkale, and waking up to views of the ruins of Assos and the Aegean Sea from your terrace.
Behramkale is a tiny hilltop village, where many of the sturdy stone houses have been converted into small hotels. On the hillside, just below the twisty village lanes, the Temple of Athena has one of the most beautiful settings for a ruin in Turkey, with blue-green sea rolling out below to the Greek island of Lesbos.
There are also other small ruins to explore, scattered around the village, and you're also within day-tripping distance of Troy from here.
Map of Honeymoon Destinations in Turkey