10 Top-Rated Attractions & Things to Do in Kuşadası
Author Jess Lee has been writing about Turkey's Aegean and Mediterranean coastline for over a decade, and before that, led tours in the region for five years.
Kuşadası is the Turkish Aegean's most popular cruise ship port, and this harbor town is all about sun, sea, and fun vacations.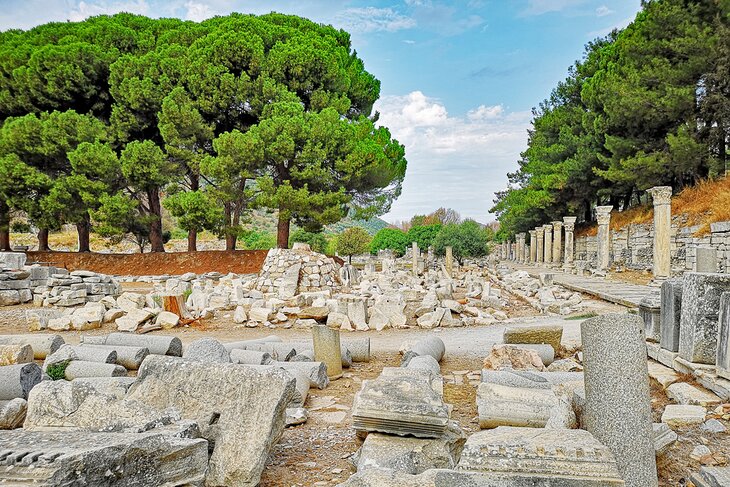 Known for its good-value package holiday deals, shopping, and lively entertainment scene, the resorts scattered along the surrounding coastline are among the best places to visit in Turkey for those looking for a bargain beach holiday.
But Kuşadası isn't just prime beach-sloth territory. The grand ruins of Ephesus, one of Turkey's major tourist attractions, are only a 20-minute drive from town, while more nearby ancient sites, such as Priene, and the natural beauty of the Dilek Peninsula offer plenty more things to do for those that tire of the sun and sand.
Plan your adventures with our list of the top attractions and things to do in Kuşadası.
1. Visit Ephesus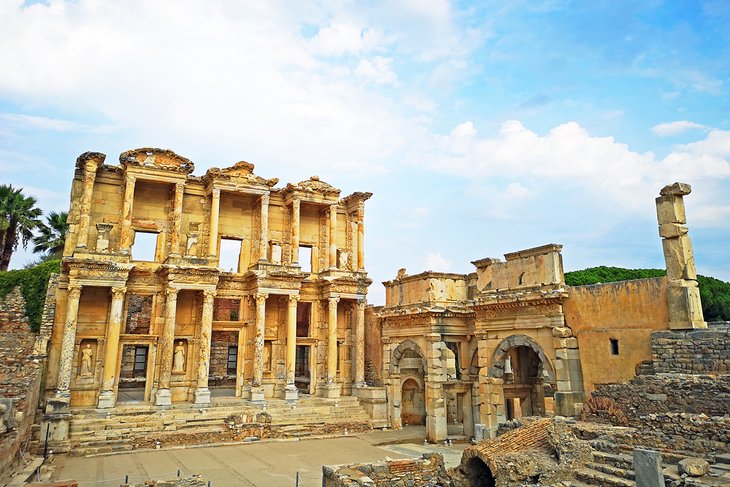 Highlight: Explore the well-preserved monuments of Turkey's most famous ruin and one of the greatest ancient cities of the classical era
For most Kuşadası visitors, a trip to Ephesus is the main reason to drag themselves away from the beach.
Only 18 kilometers northeast from town, the UNESCO World Heritage Site of Ephesus is a favorite half-day trip, and thanks to regular minibus transport between Kuşadası and the town of Seltçuk (next to the ancient city), the ruins are easily accessed independently if you don't want to take a tour.
The city's history stretches back to the 10th century BCE, though the grand building works you can see today date from its Greco-Roman classical era.
Don't miss admiring Ephesus' monumental Library of Celsus and the massive Great Theater. They are both among the country's most photographed monuments.
2. Stroll to Pigeon Island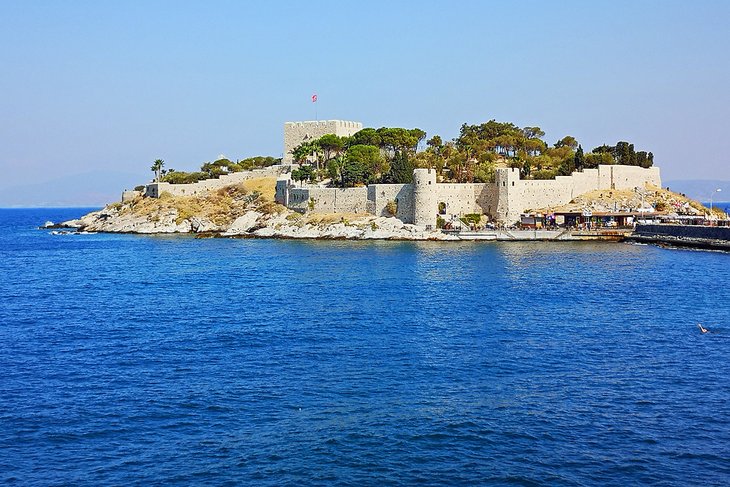 Highlight: Stroll the ramparts at dusk to watch the sun set over the harbor
Just off Kuşadası harbor, a 350-meter-long causeway leads out to tiny Pigeon Island (Güvercin Ada), where the remnants of a 13th-century Byzantine fortress sit on a cliff.
The fort became a lair for local pirates during the Ottoman era, and the rampart walls, which wrap partially around the island, are a young architectural addition – only dating to the early 19th century.
The island is a favorite spot for a seaside stroll. Inside the fort, a walkway winds its way between endemic trees and plants such as Turkish pine and the protected Kuşadası tülüşah flower, with signboards dotted along the way explaining this region's flora and fauna.
Afterwards, the island's café is a good spot to sit back and admire the harbor views.
Address: Güvercinada Caddesi
3. Relax on Ladies Beach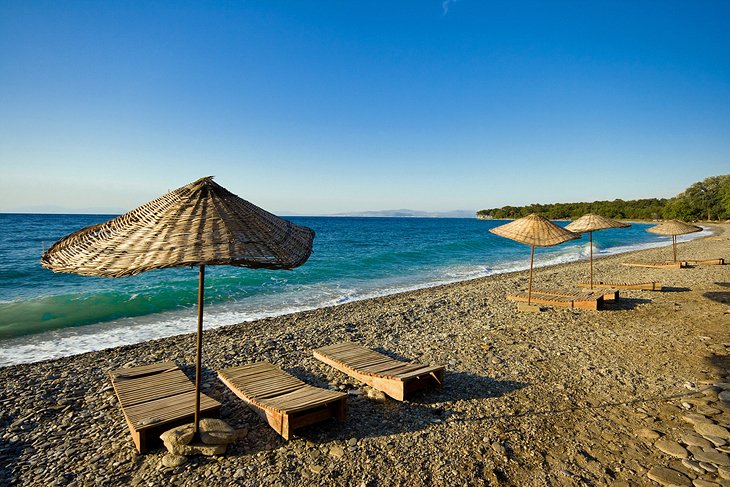 Highlight: Enjoy a lazy day devoted to sun, sand, and sea
Kuşadası is surrounded by beaches, many of which belong to the various resorts scattered along the coast.
Ladies beach, two kilometers from town, is the most popular public strip of sand in the area and gets jam-packed during the summer months. There are water sports galore to keep the active happy, plenty of cafés if you're feeling peckish, and you can rent sun loungers and umbrellas.
On weekdays, the sand tends to be slightly less crowded, but expect the shore to be bustling at all times throughout July and August. Come out of season, though, and you may get a sprawl of shore all to yourself.
4. Explore Kuşadası's Old Town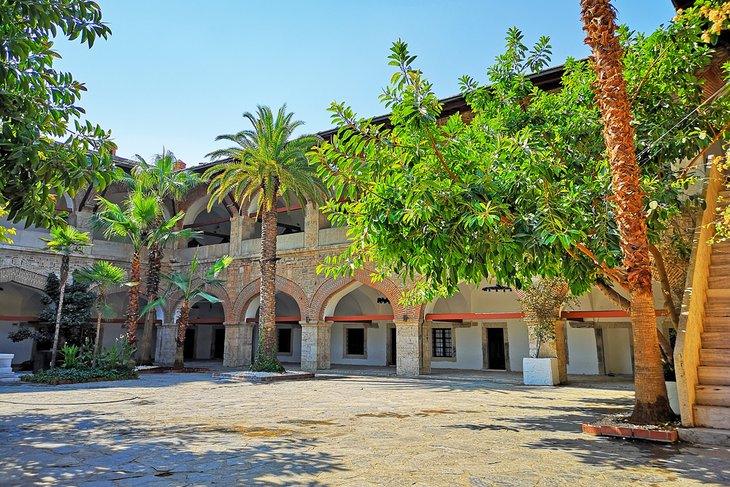 Highlight: Put your walking shoes on and head uphill to discover this resort town's historic old town core
Most of Kusadasi's tourist attractions are found in the harbor area, in the kaleiçi (old town) neighborhood.
The Kervansaray building is an old, preserved caravanserai, built by Öküz Mehmet Paşa in 1618. Its battlemented facade was restored in the 1960s, and for a few decades, it served as a hotel, but now you can wander in to admire the interior.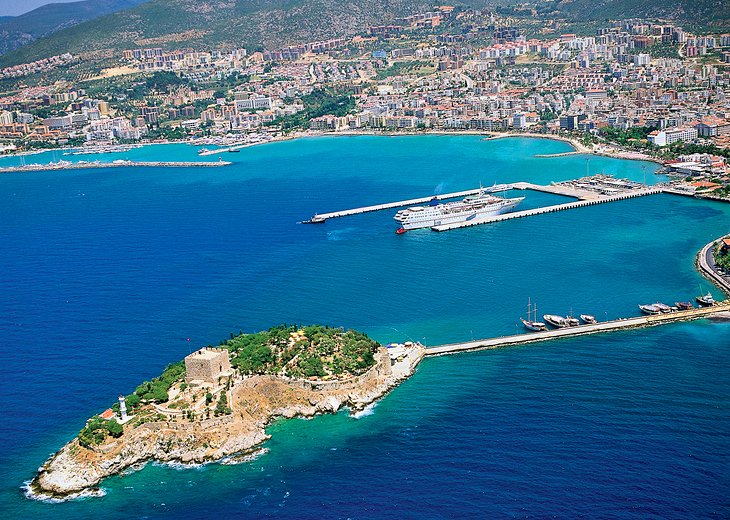 At the top end of Barbaros Caddesi (the main road through the kaleiçi) is the southern gate, a surviving remnant of the old town's Ottoman walls. The narrow lanes leading uphill from here are lined with some good examples of 19th-century Ottoman half-timbered houses.
The bazaar area, full of Turkish souvenirs, begins directly in front of the harbor dock.
5. Head Out on a Boat Trip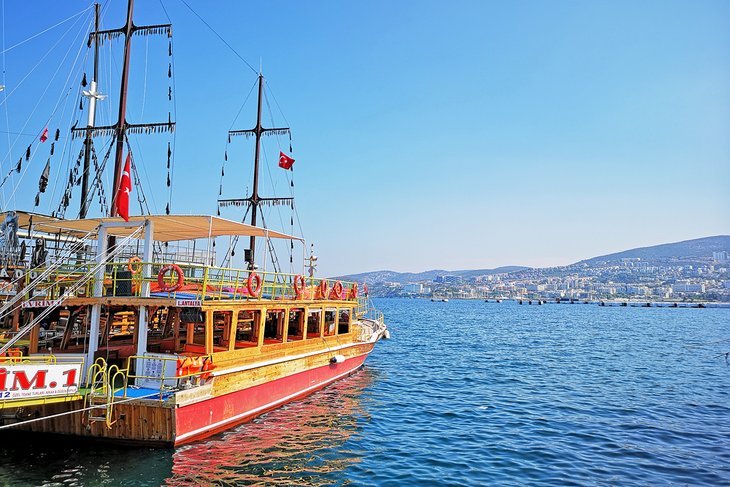 Highlight: Easygoing sightseeing from the sea on these scenic boat tours that skim the lush coast
Boat trips are one of Kuşadası's major activities during the summer months, and there are a range of different cruises to choose from.
Tour boats operate from the jetty leading to Pigeon Island. They offer both day-long trips that cruise to the Dilek Peninsula, taking in the lush coastline and stopping off at hidden coves, and beaches for swimming stops and shorter sunset cruises. Both are a relaxing way to soak up the surrounding Aegean coastline scenery.
If you're taking a public boat trip rather than a private tour, check out the various operators, as some boats operate party-oriented tours that won't suit all visitors.
6. Day Trip to Priene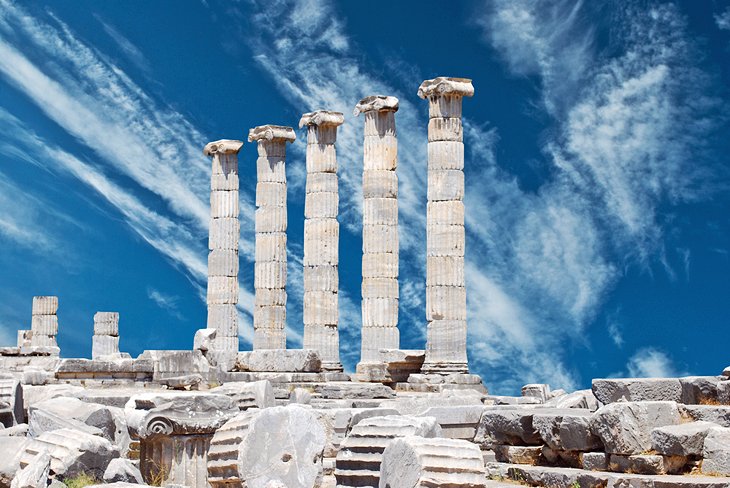 Highlights: Ramble between Priene's Temple of Athena and the theater to delve deeper into this coastal region's classical history
Hemmed in by mountain vistas, the ruins of the Hellenistic city of Priene, about 40 kilometers south of Kuşadası, are a popular day trip from town and are often combined with a visit to the ruins of Miletus.
Priene was an ancient deepwater port that had its heyday between 300 BCE and 45 BCE, when its two harbors bustled with commerce. The silting-up of the Meander River caused the city's demise, and by the 2nd century CE, Priene was abandoned.
The star attraction of a visit here is the Temple of Athena with its classical Ionian design, while the 6,500-seat theater is exceptionally well-preserved.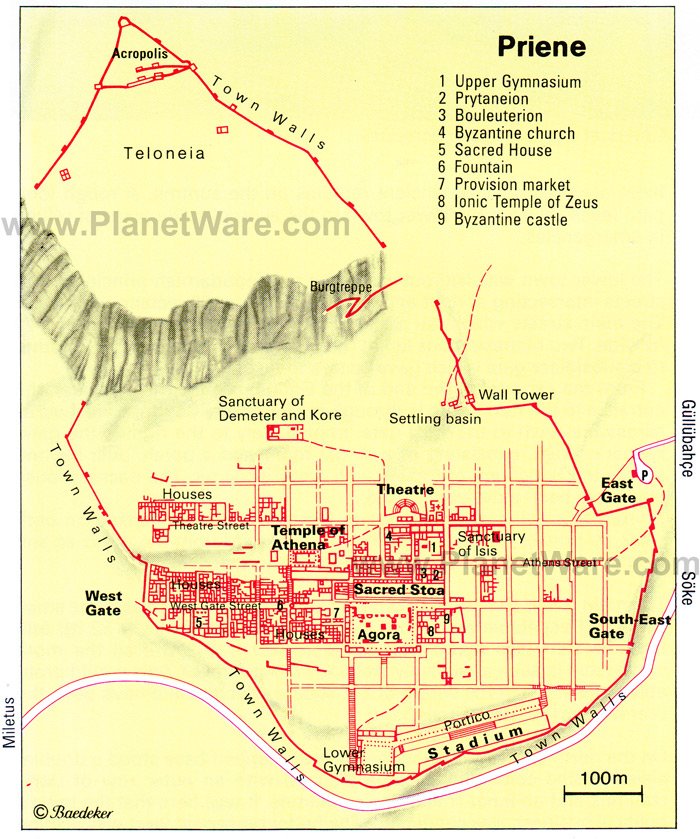 7. Admire the Remains of Miletus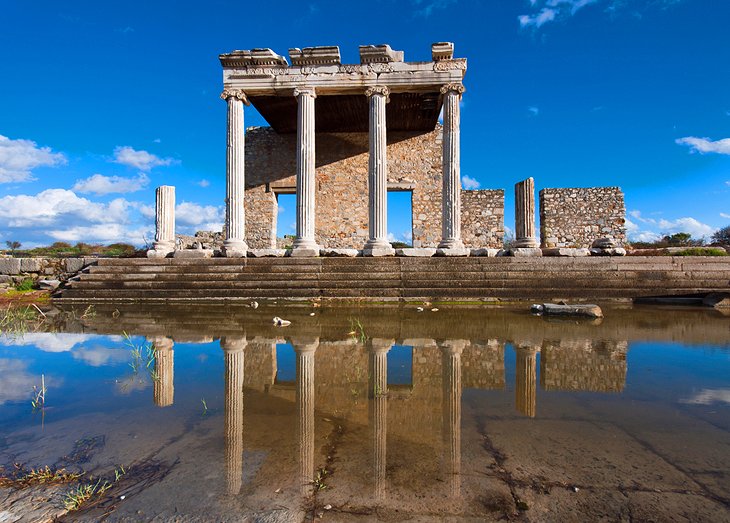 Highlight: This multi-layered site is a must-do for insights into the multiple eras of Anatolian history
Like Priene, Miletus is another great harbor city of the Hellenistic period, though as its harbor did not silt up, occupation here continued right through to the Seljuk era of the 14th century. This means that the ruins here are more of a mix of the different time periods.
Not to be missed is the vast theater, with its 15,000 seats and excellent views from the top tiers. It dates from the Greek era but was thoroughly reconstructed by the Romans.
Just above the theater are some Byzantine fortress walls and just to the east are the remnants of the Temple of Apollo.
The surprisingly well-preserved Baths of Faustina lie to the south, past a Seljuk Caravanserai and more ancient Greco-Roman city ruins.
There is also a very good museum dedicated to the history of both Miletus and Priene on site.
Miletus lies about 62 kilometers south of Kuşadası.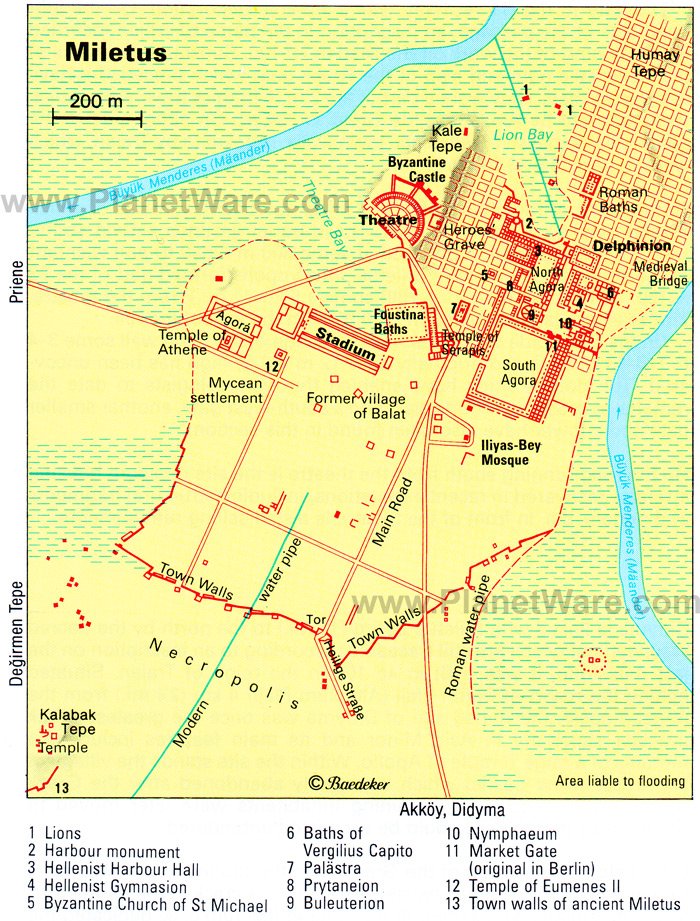 8. Visit Didyma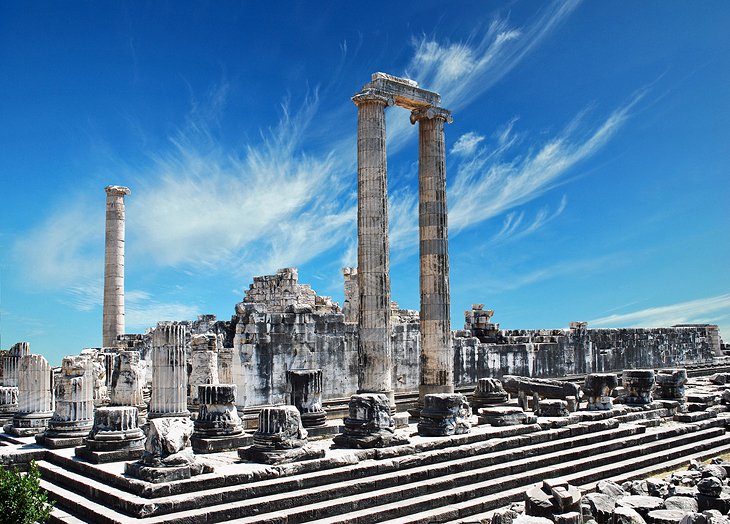 Highlight: Admire the remains of the classical world's renowned Temple of Apollo
The Hellenistic religious center of Didyma, about 77 kilometers south of Kuşadası in the modern town of Didim, was home to the fabled Oracle of Didyma and the ancient Hellenistic world's third-largest temple.
Only the Temple of Hera on the Greek Island of Samos and the Temple of Artemis at Ephesus were bigger than Didyma's Temple of Apollo.
Today the Temple of Apollo still boasts its towering columns (which once numbered 122) and is one of the best-preserved examples of Greek temples in Turkey.
The Oracle of Didyma was considered of high importance in the classical ancient world, only second in authority to the Oracle of Delphi. It was only under the rule of Constantine the Great and his conversion to Christianity that the Oracle's influence waned.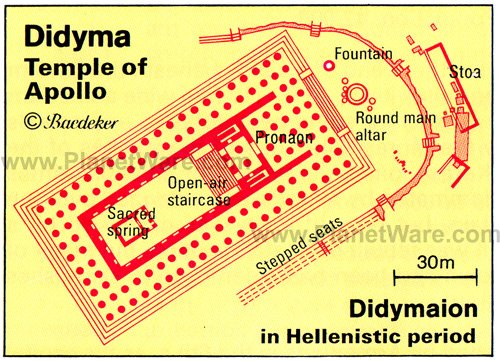 9. Road Trip to the Dilek Peninsula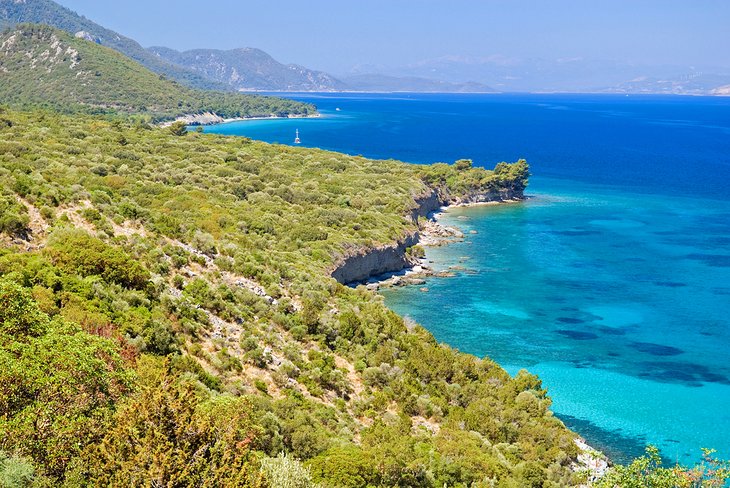 Highlight: Take in the Dilek Peninsula's vistas on a trip hugging this protected stretch of coastline
Full of gorgeous mountain scenery and rugged coastline views, the Dilek Peninsula's Büyük Menderes National Park, only 26 kilometers from Kuşadası, should be top of the things to-do list for nature-loving visitors.
This is prime territory for hiring a car and heading out to explore. There are many beaches for swimming and sunbathing stops as you explore the coastline. Aydınlık Beach and Karasu Beach are the picks of the bunch.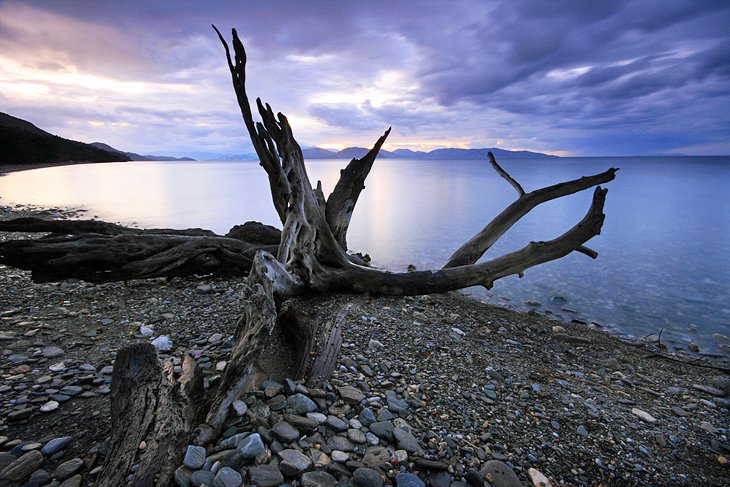 The Cave of Zeus is another popular tourist attraction within the reserve, and excellent hiking opportunities await on the park's network of forest trails.
The delta area, in the peninsula's south, is an important wetland area where over 250 bird species have been spotted, while the coastline here is home to the rare and endangered Mediterranean monk seal.
10. Have a Lazy Brunch in Kirazlı Village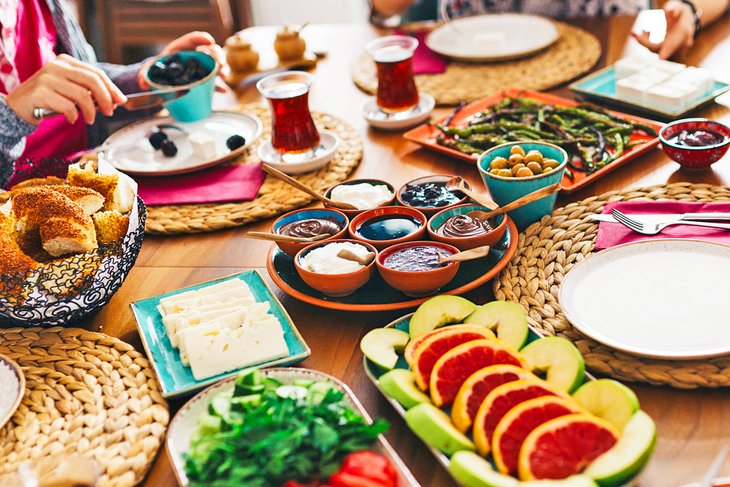 Highlight: Experience a slice of Turkish village life and feast on fresh, local flavors
Surrounded by orchards and vine-covered fields, the quaint village of Kirazlı, 10 kilometers east of Kuşadası, has a timeless feel.
This is the perfect place to visit for an afternoon of meandering through alleyways lined by traditional whitewashed village houses and soaking up the peaceful pulse of Turkish village life.
The road into the village is lined with restaurants, specializing in Turkish breakfast spreads (which are available to order all-day) along with traditional Turkish snacks and light meals. On the weekends, locals love to head out here for a long, lazy brunch.
For foodie travelers, Saturday is the day to head here, as the village's weekly farmers market is full of local organic produce, including cheeses; jams; and homemade sauces, syrups, and condiments along with fruit and vegetables.
Tips and Tours: How to Make the Most of Your Visit to Kuşadası
Visiting Pamukkale: The Small-group Pamukkale Tour from

Kuşadası

is a great day-trip from Kuşadası. It's a full-day tour visiting both the famed white calcite terraces and the ruins of Roman Hierapolis on the hill summit, with time for a dip in the natural spa pool. Lunch, transport, and pickup and drop-off from your hotel are included.
Visiting Ephesus: The private Ephesus and the House of Virgin Mary Tour from

Kuşadası

is a full day of exploring three of this region's most important historic sites. It includes a guided tour of the mammoth Roman-era town of Ephesus-Turkey's most famous ruin-and also visits to the Basilica of St. John in Selçuk and the nearby Meryemana, where local legend says the Virgin Mary spent her last days. Lunch, transport, all entrance fees, and pickup and drop-off from your hotel are included.
Shore Excursion: Kuşadası is a major cruise port, and this Kusadasi Shore Excursion Ephesus Sightseeing

Tour

has been designed to fit around your cruise schedule. The tour visits Ephesus, the Basilica of St. John, and the Meryemana, with lunch included and a guaranteed on-time return to your cruise ship.
Map of Attractions & Things to Do in Kusadasi
Best Time to Visit Kuşadası
If you're coming for its resort life and planning your vacation to revolve around the beach, the best time to visit Kuşadası is during the months of June, July, August, and September.
In July and August, the average daytime temperature sits between 27 and 28 degrees Celsius, making this prime beach time. T-shirt weather carries into the evening with it rarely dropping below 22 degrees after dark. During August, the average sea temperature on this stretch of coast is 25, so this is the best month for keen swimmers.
If you're more interested in the historic sites on Kuşadası's doorstep, you may prefer less sweaty weather. June and September's slightly milder weather (with their average daytime temperatures between 23 and 25 degrees), and the cooler months of May and October (when average daytime temperatures sit between 19 and 20 degrees) can also be great months to visit.
Just pack a warmer layer for evenings and, if traveling in May or October, make sure to bring a rain jacket, as these two months bring more chance of rain.
More Related Articles on PlanetWare.com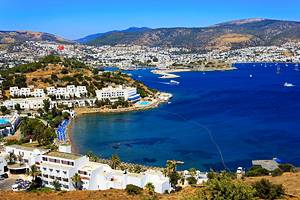 Beach Holiday Towns: For more coastal towns that are all about sand-and-sea holidays during summer, check out Bodrum, known for its castle and many surrounding beaches; Fethiye for its buzzy summer atmosphere, harbor filled with boats ready to whisk you down the coast, and many Lycian ruins in easy day-tripping distance; and Antalya for a city and beach break.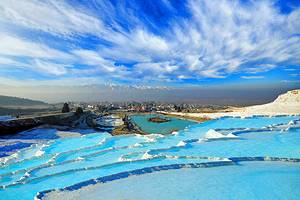 Exploring Nearby: Selçuk is a quaint farming village, home to plenty of ruins and historic buildings. It sits right next door to Ephesus, Turkey's most preserved Roman-era city and one of the country's biggest attractions. Farther inland is Pamukkale, home to the natural wonder of its white calcite travertines.