8 Top-Rated Tourist Attractions in Kusadasi
Kuşadası is one of the Turkish Mediterranean's most popular cruise ship ports, and this harbor town is all about sun, sea, and fun holidays. Known for its bargain shopping and lively entertainment scene, it has become, over the past few decades, a favorite destination for visitors from Europe on package holidays. Hotel developments are scattered all along the coast surrounding town, and the beaches are packed in peak season. But Kuşadası isn't just prime beach-sloth territory. Nearby, the majesty of ancient sites such as Priene and the natural beauty of the Dilek Peninsula are tourist attractions that will convince even the most adamant sun-worshiping tourist to brush off the sand and head out on a day trip for some sightseeing.
1 Pigeon Island (Güvercin Ada)
Just off Kuşadası harbor, a 350-meter-long causeway leads out to charming Pigeon Island, where the remnants of a 13th-century Byzantine fortress (which later became a pirates' lair) sit on the cliff. The island rampart walls, which wrap partially around the island, are a later addition dating to the early 19th century. Pigeon Island is a favorite spot for a seaside walk, and there is a lovely café here as well. This is the place to come for an early evening promenade and to admire the sunset.
Location: Kuşadası harbor
2 Harbor Area
Most of Kuşadası's tourist attractions are found in the harbor area. The Kervansaray (caravanserai) here was built by Öküz Mehmet Paşa in 1618. Its battlemented facade was restored in the 1960s, and it has served as the Club Caravanserail Hotel since 1967. Just to the southwest, you can still seek out some good examples of 19th-century half-timbered houses in the typical traditional style of the region. The old town wall southern gate still survives here as well. The bazaar area, full of Turkish souvenirs, begins directly in front of the harbor dock.
Location: Kuşadası harbor
3 Ladies Beach (Kadınlar Denizi)
This beach, two kilometers from town, is the most popular strip of sand in the area directly surrounding Kuşadası. There are water sports galore to keep the active happy, plenty of cafés if you're feeling peckish, and you can rent sun loungers and umbrellas. Unsurprisingly, in summer it can be crowded with both local families and foreign tourists. Weekdays tend to be slightly less of a jam, but don't expect empty sand at any time during July and August. Come out of season, though, and you may get a sprawl of shore all to yourself.
Location: 2 kilometers south of Kuşadası
4 Priene
Hemmed in by mountain vistas, the ruins of the Hellenistic city of Priene are thoroughly photogenic. This ancient port had its heyday between 300 BC and 45 BC, when its harbors bustled with commerce. The silting-up of the Meander River caused the city's demise, and by the 2nd century AD, Priene was abandoned. The star attraction here is the Temple of Athena, with its classical Ionian design, while the 6,500-seat theater is exceptionally well-preserved. Priene makes an excellent day trip, particularly when combined with Miletus.
Location: 40 kilometers south of Kuşadası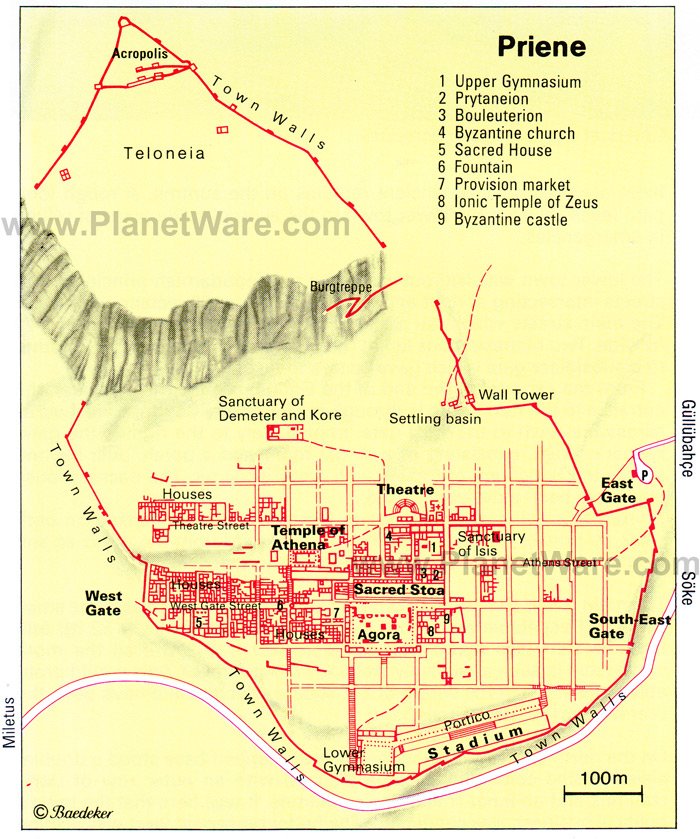 Priene Map
Want to use this map on your web site?
Copy and Paste the code below:
5 Miletus
Like Priene, Miletus is another great harbor city of the Hellenistic period, though as its harbor did not silt up, occupation here continued right through to the Seljuk era of the 14th century. This means that that the ruins here are more of a mix of the different time periods. Not to be missed is the vast theater, with its 15,000 seats and excellent views from the top tiers. It dates from the Greek era but was thoroughly reconstructed by the Romans. Just above the theater are some Byzantine fortress walls, and just to the east are the remnants of the Temple of Apollo. The surprisingly well-preserved Baths of Faustina lie to the south, past a Seljuk Caravanserai and more ancient Greco-Roman city ruins. There is also a very good museum dedicated to the history of both Miletus and Priene on site.
Location: 62 kilometers south of Kuşadası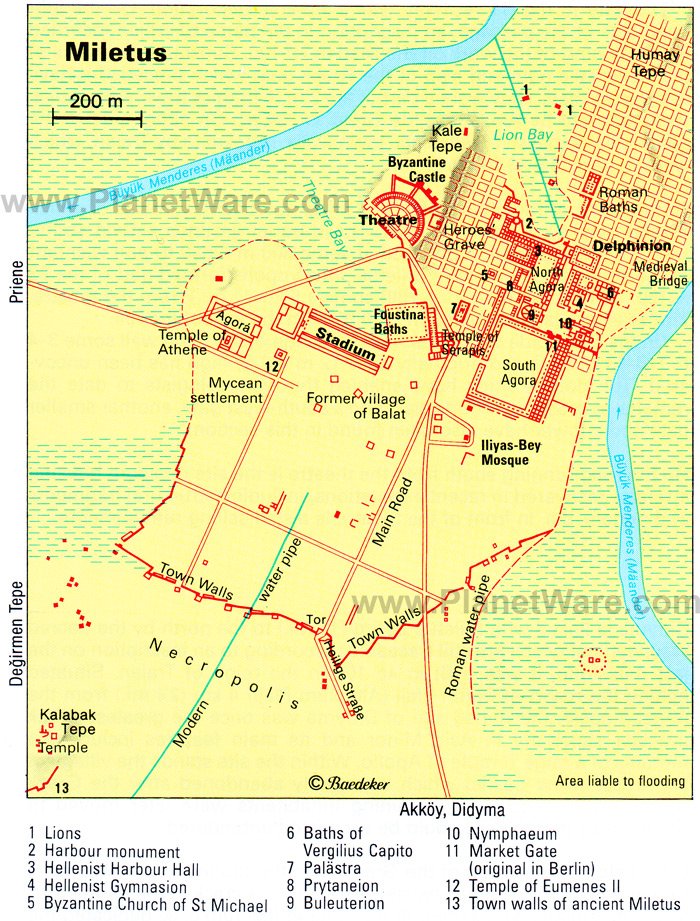 Miletus Map
Want to use this map on your web site?
Copy and Paste the code below:
6 Didyma
This Hellenistic religious center was home to the fabled Oracle of Didyma and the ancient world's second-largest temple. The Temple of Apollo still boasts its towering columns (which once numbered 122) and is one of the best-preserved examples of Greek temples in Turkey. The Oracle of Didyma was considered of high importance in the classical ancient world, only second in authority to the Oracle of Delphi. It was only under the rule of Constantine the Great and his conversion to Christianity that the Oracle's influenced waned.
Location: 77 kilometers south of Kuşadası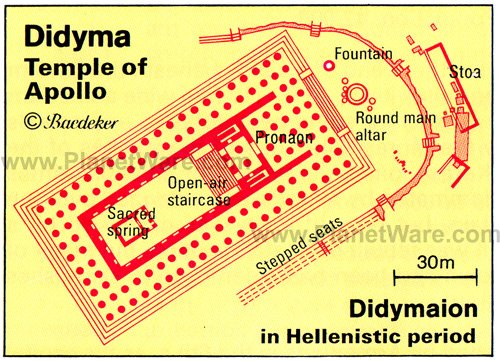 Didyma Map
Want to use this map on your web site?
Copy and Paste the code below:
7 Kirazli
The quaint village of Kirazli, surrounded by orchards and vine-covered fields, has a timeless feel. This is the perfect place for an afternoon of meandering through alleyways lined by traditional whitewashed village houses and soaking up the peaceful pulse of Turkish village life. There are some lovely restaurants and cafés here to while away a few hours of tranquil contemplation. If you're a foodie tourist, come here on a Saturday for the farmers market, which specializes in local organic produce.
Location: Kirazli is 10 kilometers east of Kuşadası.
8 Dilek Peninsula
Full of gorgeous mountain scenery and rugged coastline views, the Dilek Peninsula is a national park area that makes an excellent, easy day trip from Kuşadası, 26 kilometers away. There are many beaches for swimming and sunbathing - Aydınlık Beach and Karasu Köyü Beach are the picks of the bunch. The Cave of Zeus (Zeus Maǧarası) is a popular tourist attraction within the reserve, and excellent hiking opportunities await on the park's network of forest trails. This is top of the things to do list for nature-loving tourists who want to get away from town.
Location: 26 kilometers south of Kuşadası,
Where to Stay in Kusadasi for Sightseeing
We recommend these popular resorts and hotels in Kusadasi, near the sea and marina: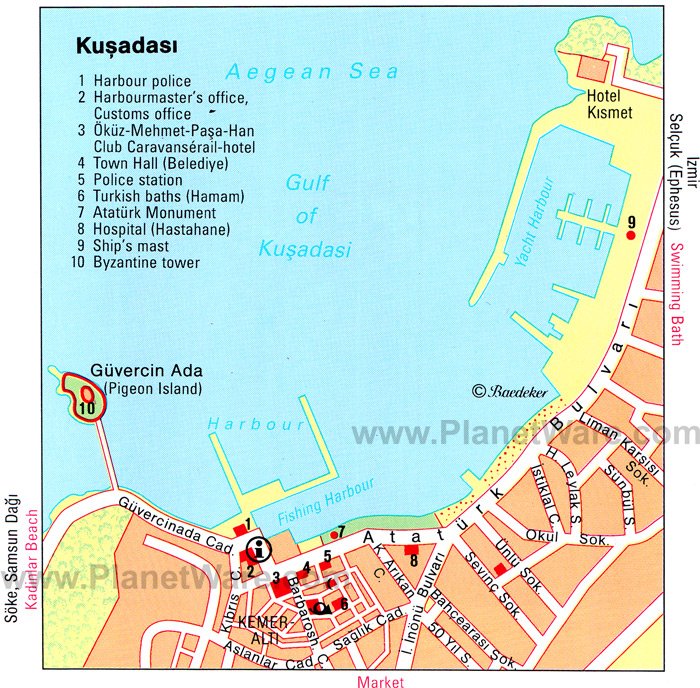 Kusadasi Map - Attractions
Want to use this map on your web site?
Copy and Paste the code below:
More on Turkey