8 Top-Rated Attractions & Things to Do in Kusadasi
We may earn a commission from affiliate links ()
Kusadasi is one of the Turkish Mediterranean's most popular cruise ship ports, and this harbor town is all about sun, sea, and fun holidays. Known for its bargain shopping and lively entertainment scene, it has become, over the past few decades, a favorite destination for visitors from Europe on package holidays. Hotel developments are scattered all along the coast surrounding town, and the beaches are packed in summer.
But Kusadasi isn't just prime beach-sloth territory. Nearby, the majesty of ancient sites such as Priene and the natural beauty of the Dilek Peninsula are tourist attractions that will convince even the most adamant sun-worshiping tourist to brush off the sand and head out on a day trip for some sightseeing. Plan your adventures with our list of the top things to do in Kusadasi.
See also: Where to Stay in Kusadasi
Note: Some businesses may be temporarily closed due to recent global health and safety issues.
1. Pigeon Island (Güvercin Ada)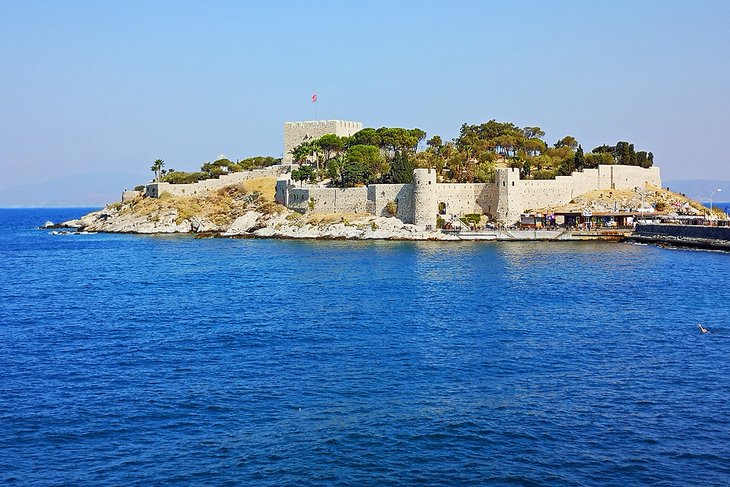 Just off Kusadasi harbor, a 350-meter-long causeway leads out to charming Pigeon Island, where the remnants of a 13th-century Byzantine fortress (which later became a pirates' lair) sit on the cliff. The rampart walls, which wrap partially around the island, are a later addition dating to the early 19th century. Pigeon Island is a favorite spot for a seaside walk, and there is a lovely café here as well. This is the place to come for an early evening promenade and to admire the sunset.
2. Harbor Area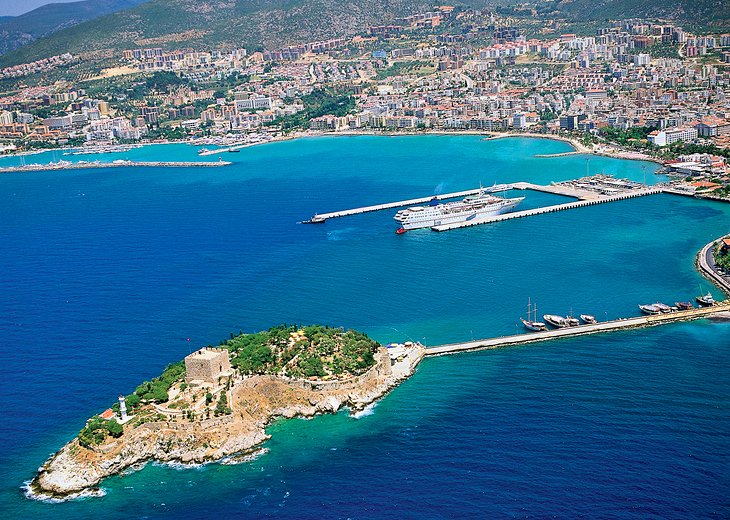 Most of Kusadasi's tourist attractions are found in the harbor area. The Kervansaray (caravanserai) here was built by Öküz Mehmet Pasa in 1618. Its battlemented facade was restored in the 1960s, and it has served as the Club Caravanserail Hotel since 1967. Just to the southwest, you can still seek out some good examples of 19th-century half-timbered houses in the typical traditional style of the region. The old town wall southern gate still survives here as well. The bazaar area, full of Turkish souvenirs, begins directly in front of the harbor dock.
3. Ladies Beach (Kadinlar Denizi)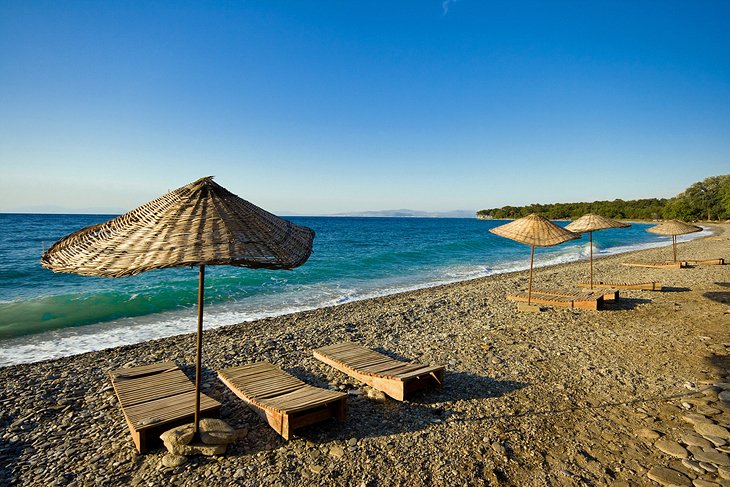 This beach, two kilometers from town, is the most popular strip of sand in the area directly surrounding Kusadasi. There are water sports galore to keep the active happy, plenty of cafés if you're feeling peckish, and you can rent sun loungers and umbrellas. Unsurprisingly, in summer it can be crowded with both local families and foreign tourists. Weekdays tend to be slightly less of a jam, but don't expect empty sand at any time during July and August. Come out of season, though, and you may get a sprawl of shore all to yourself.
4. Priene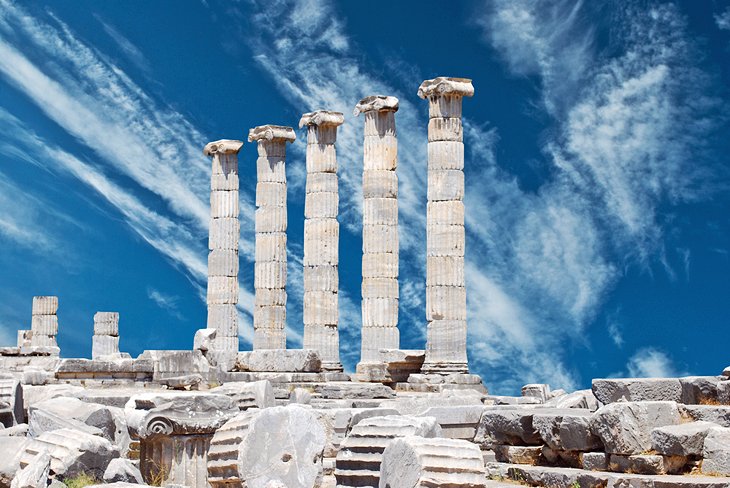 Hemmed in by mountain vistas, the ruins of the Hellenistic city of Priene, about 40 kilometers south of Kusadasi, are thoroughly photogenic. This ancient port had its heyday between 300 BC and 45 BC, when its harbors bustled with commerce. The silting-up of the Meander River caused the city's demise, and by the 2nd century AD, Priene was abandoned. The star attraction here is the Temple of Athena, with its classical Ionian design, while the 6,500-seat theater is exceptionally well-preserved. Priene makes an excellent day trip, particularly when combined with Miletus.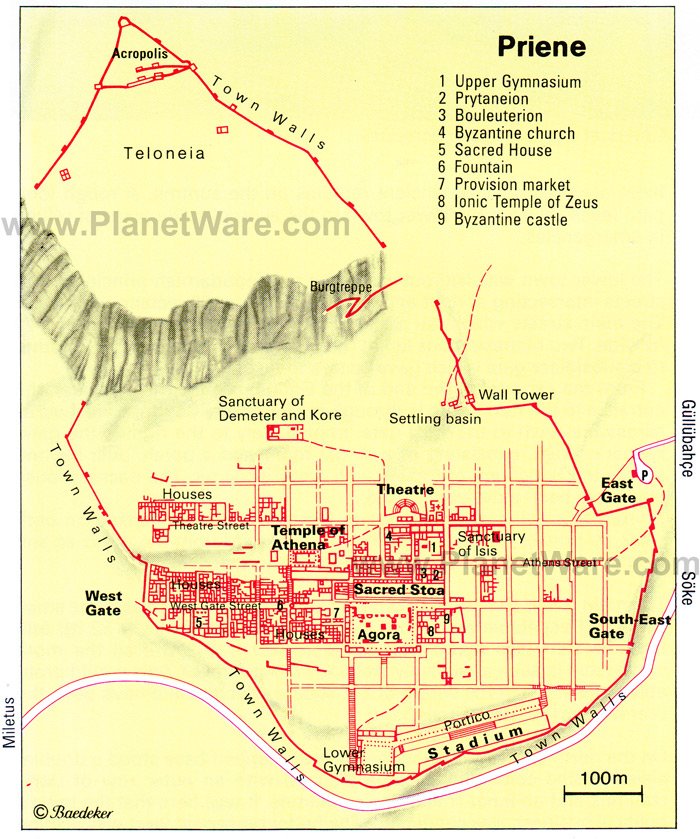 5. Miletus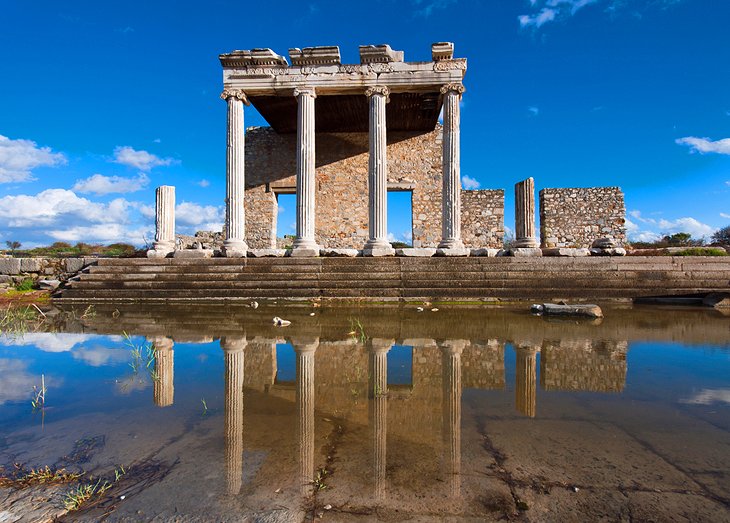 Like Priene, Miletus is another great harbor city of the Hellenistic period, though as its harbor did not silt up, occupation here continued right through to the Seljuk era of the 14th century. This means that the ruins here are more of a mix of the different time periods. Not to be missed is the vast theater, with its 15,000 seats and excellent views from the top tiers. It dates from the Greek era but was thoroughly reconstructed by the Romans.
Just above the theater are some Byzantine fortress walls, and just to the east are the remnants of the Temple of Apollo. The surprisingly well-preserved Baths of Faustina lie to the south, past a Seljuk Caravanserai and more ancient Greco-Roman city ruins. There is also a very good museum dedicated to the history of both Miletus and Priene on site. Miletus lies about 62 kilometers south of Kusadasi.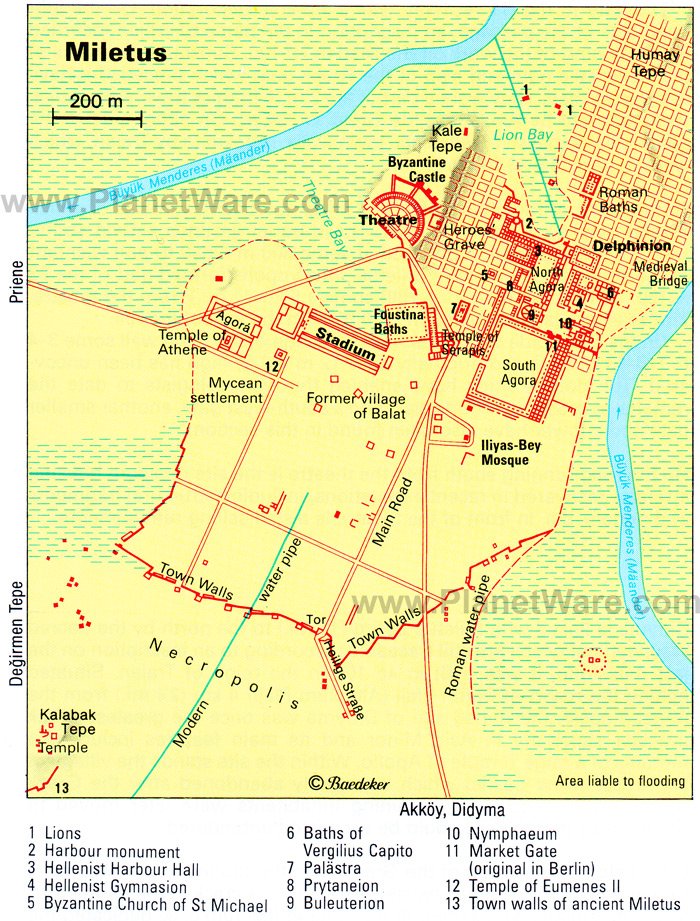 6. Didyma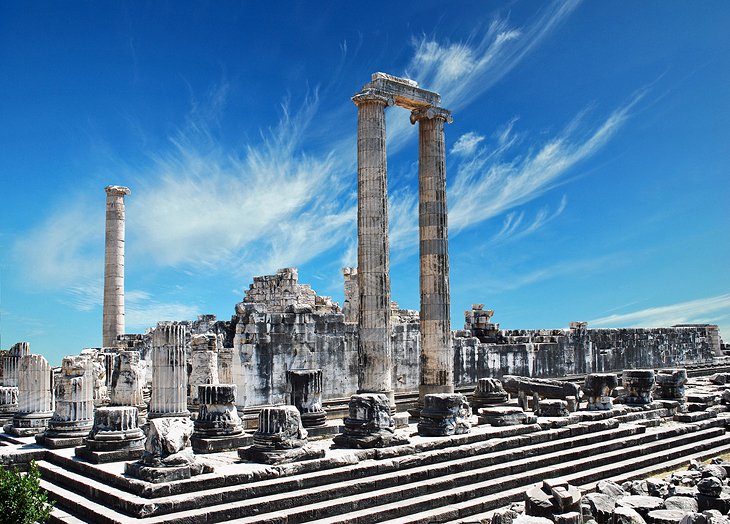 This Hellenistic religious center, about 77 kilometers south of Kusadasi, was home to the fabled Oracle of Didyma and the ancient world's second-largest temple. The Temple of Apollo still boasts its towering columns (which once numbered 122) and is one of the best-preserved examples of Greek temples in Turkey. The Oracle of Didyma was considered of high importance in the classical ancient world, only second in authority to the Oracle of Delphi. It was only under the rule of Constantine the Great and his conversion to Christianity that the Oracle's influenced waned.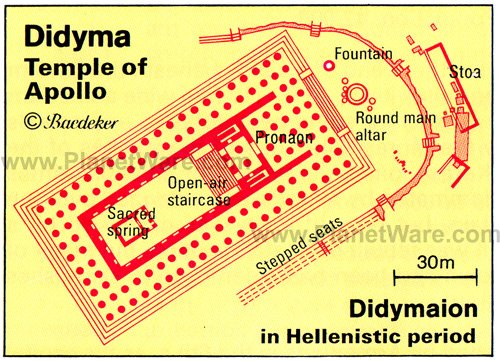 7. Kirazli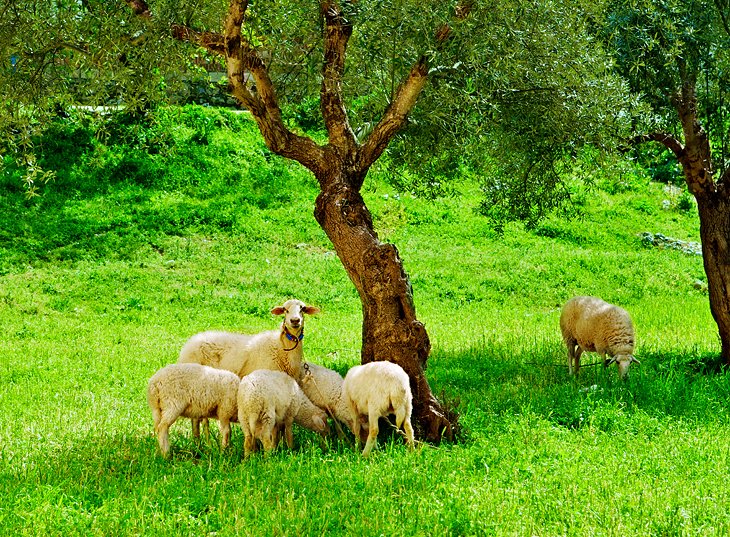 Surrounded by orchards and vine-covered fields, the quaint village of Kirazli, 10 kilometers east of Kusadasi, has a timeless feel. This is the perfect place for an afternoon of meandering through alleyways lined by traditional whitewashed village houses and soaking up the peaceful pulse of Turkish village life. There are some lovely restaurants and cafés here to while away a few hours of tranquil contemplation. If you're a foodie tourist, come here on a Saturday for the farmers market, which specializes in local organic produce.
8. Dilek Peninsula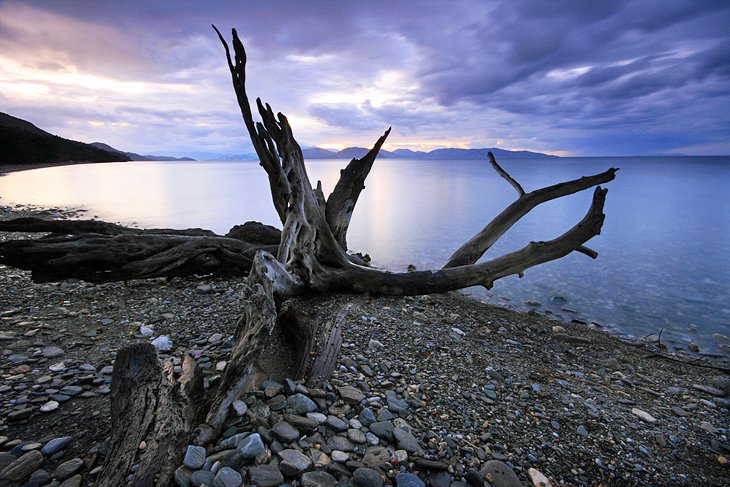 Full of gorgeous mountain scenery and rugged coastline views, the Dilek Peninsula is a national park area that makes an excellent, easy day trip from Kusadasi, 26 kilometers away. There are many beaches for swimming and sunbathing-Aydinlik Beach and Karasu Köyü Beach are the picks of the bunch. The Cave of Zeus (Zeus Magarasi) is a popular tourist attraction within the reserve, and excellent hiking opportunities await on the park's network of forest trails. This is top of the things to do list for nature-loving tourists who want to get away from town.
Things to Do in Kusadasi with Kids
During summer, it's all about the water in Kusadasi. But if the kids want a bit more watery adventure than the sea, there is a nearby water park for cooling off with an extra adrenaline kick. Adaland Aquapark has a lazy river, rafting facilities, ziplines, and a bundle of waterslide rides and water-coasters to suit tots to teens. It's seven kilometers north of central Kusadasi.
Where to Stay in Kusadasi for Sightseeing
Luxury Hotels: The Ramada Resort Kusadasi &

Golf

is a five-star resort that suits both sun sloths and the more active, with both indoor and outdoor pools, tennis courts, and a golf course for when you want to get off the sun lounger. It's good for family holidays, with a kids' club and a pool area with waterslides. Breakfast is included and there is a spa.
Mid-Range Hotels: The contemporary Ilayda Avantgarde

Hotel

offers a great mid-range deal on the seafront, with a rooftop terrace and pool. It's centrally located, within walking distance to all the main points in town, and breakfast is included. DoubleTree by Hilton Hotel

Kusadasi

is another affordable option, with marina views and bags of facilities including a gym, multiple pools, a restaurant, and spa.
Budget Hotels: For a great-value break the Ephesian

Hotel

is a centrally located guesthouse, with friendly owners; simple, bright rooms; and a rooftop terrace with panoramic views across town.
Tips and Tours: How to Make the Most of Your Visit to Kusadasi
Visiting Pamukkale: The small-group Pamukkale Travertines

tour

is a great day-trip from Kusadasi. It's a full-day tour visiting both the famed white calcite terraces and the ruins of Roman Hierapolis on the hill summit, with time for a dip in the natural spa pool. Lunch, transport, and pickup and drop-off from your hotel are included.
Visiting Ephesus: The private Ephesus Tour from

Kusadasi

is a full day of exploring three of this region's most important historic sites. It includes a guided tour of the mammoth Roman era town of Ephesus-Turkey's most famous ruin-and also visits to the Basilica of St. John in Selçuk and the nearby Meryemana, where local legend says the Virgin Mary spent her last days. Lunch, transport, all entrance fees, and pickup and drop-off from your hotel are included.
Shore Excursion: Kusadasi is a major cruise port, and this Ephesus Shore

Excursion

has been designed to fit around your cruise schedule. The tour visits Ephesus, the Basilica of St. John, and the Meryemana, with lunch included and a guaranteed on-time return to your cruise ship.
More Related Articles on PlanetWare.com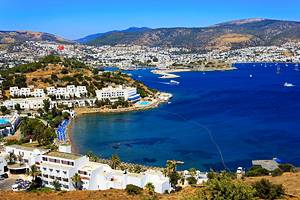 Beach Holiday Towns: For more coastal towns that are all about sand-and-sea holidays during summer, check out Bodrum, known for its castle and many surrounding beaches; Fethiye for its buzzy summer atmosphere, harbor filled with boats ready to whisk you down the coast, and many Lycian ruins in easy day-tripping distance; and Antalya for a city and beach break.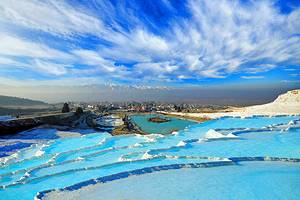 Exploring Nearby: Selçuk is a quaint farming village, home to plenty of ruins and historic buildings. It sits right next door to Ephesus, Turkey's most preserved Roman-era city and one of the country's biggest attractions. Farther inland is Pamukkale, home to the natural wonder of its white calcite travertines.