9 Top-Rated Tourist Attractions in Pergamum & the North Aegean
We may earn a commission from affiliate links ()
From the hilltop Hellenistic ruins of ancient Pergamum that loom over the town of Bergama to quaint coastal villages of cobblestone streets lined with pastel-hued houses, the North Aegean region is packed full of sights. This area tends to be overlooked by foreign travelers in their rush to get to Turkey's big-hitter sights farther south along the Mediterranean coastline, but if you have time up your sleeve, the North Aegean doesn't disappoint.
This is where city Turks come for their holidays, in sleepy beachfront towns that burst into life every summer. They have no idea why international tourists seem to miss the North Aegean either but they're happy to keep it Turkey's best-kept coastal secret for a while longer. For ideas on things to do, read our list of the top attractions in Pergamum and the North Aegean.
Note: Some businesses may be temporarily closed due to recent global health and safety issues.
1. Pergamum Acropolis Area (Akropol)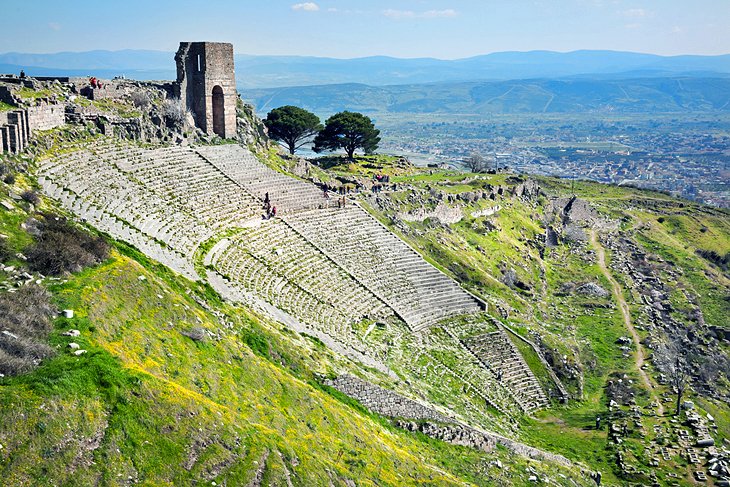 The ancient site of Pergamum should win an award for its stunning location alone. Rolling across the hillside, five kilometers from the modern town of Bergama (there is a cable car if you have no car and don't fancy the steep ascent), the Acropolis area was once the beating heart of a powerful Hellenistic city. The most striking feature is the 15,000-seat theater, set into the steep southwest slope of the hill and reached by a narrow flight of steps from the Temple of Athena.
Adjoining the temple are the ruins of Pergamum's famed library, built around 170 BC and once home to one of the largest libraries in the ancient world, with 200,000 volumes (later carried off to Alexandria by Mark Antony as a gift to Cleopatra). To the west of the library is the Temple of Trajan, built in the Roman era, with its marble colonnaded terrace. Below the theater, the Altar of Zeus was once decorated with elaborate friezes (moved to Berlin in the 19th century).
A good choice if you want to get a decent roundup of the site is the small-group full-day Pergamum tour from Izmir, which covers all the highlights of this classical city. It visits both the Acropolis and Asclepion areas, as well as Bergama Archaeological Museum. Lunch in Bergama and pickup and drop-off from your hotel in Izmir are included.
Accommodation: Where to Stay in Bergama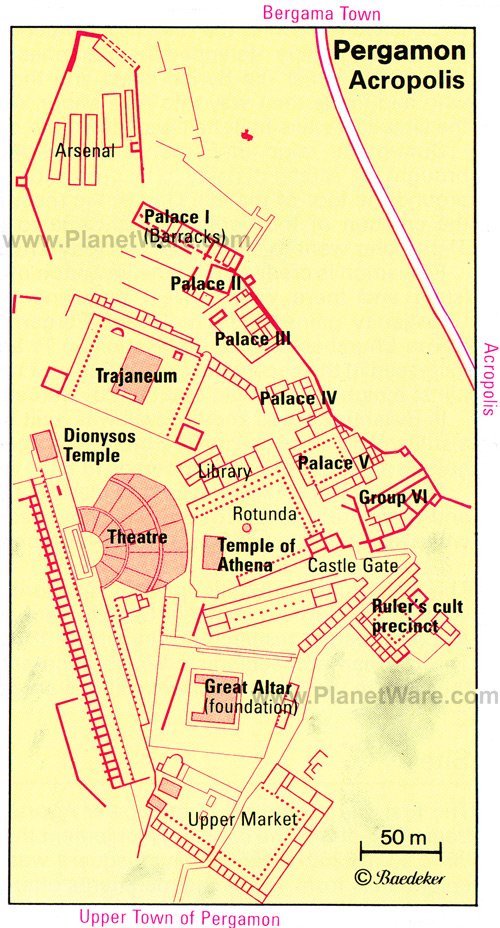 2. Pergamum Asclepion Area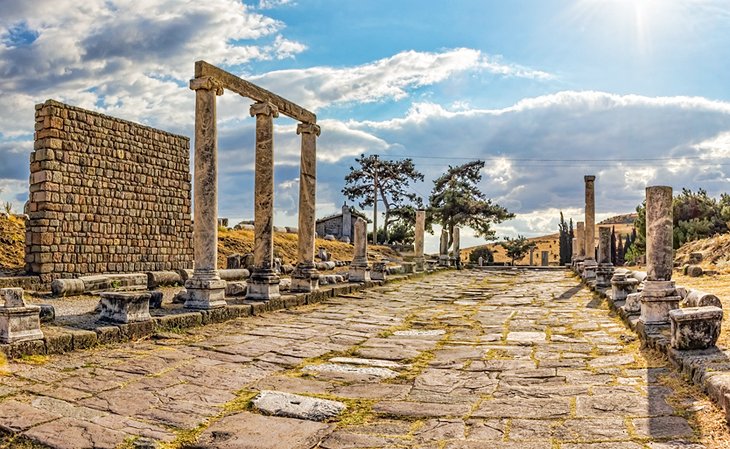 This ancient spa is a two-kilometer uphill hike from the modern town of Bergama. During the 2nd century AD, it thrived as a major healing center, with mud bath treatments and the use of herbal remedies, and many of its remaining buildings date from its Roman-era glory days rather than the earlier Hellenistic period.
An imposing colonnaded street leads to the main complex, which holds a sacred well; library; Roman theater; and the Temples of Asclepius and Telesphorus, where patients would pray for recovery to the gods of medicine.
3. Red Basilica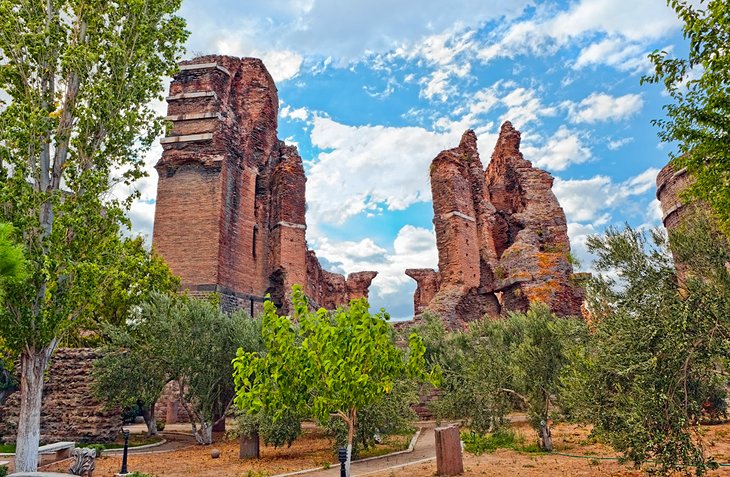 This massive red-brick ruin was originally built by Hadrian (AD 117-138) as a temple dedicated to the gods Serapis and Isis. Later, in the Byzantine era, it was converted into a church and dedicated to the Apostle John, who had earlier called this grandiose pagan temple the throne of the devil.
Although the interior is severely ruined, the building is definitely worthy of a visit just to witness the sheer bulk of the remaining walls, which give a great idea of how foreboding and impressive the temple must have looked when fully standing. The interior was divided into three aisles by two rows of columns. The central aisle ended in a semi-circular apse, with a crypt underneath.
4. Bergama Archaeological Museum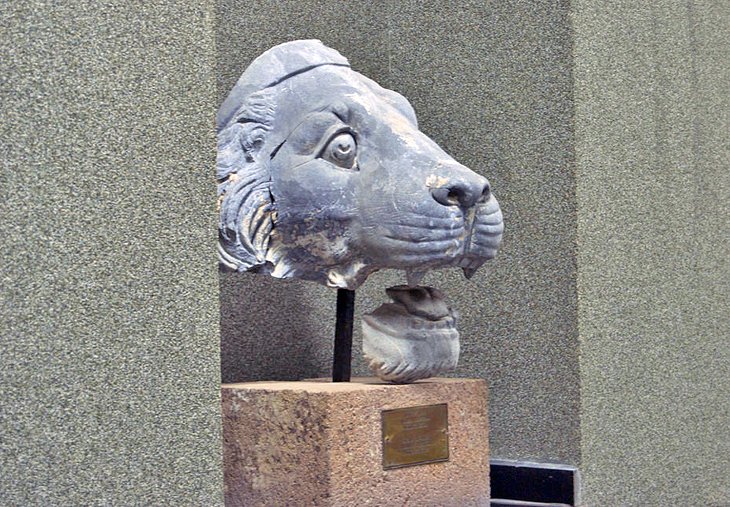 When you've finished your sightseeing around ancient Pergamum, don't forget to poke your head in Bergama's small but well laid out museum. Excellent exhibits here display finds from the surrounding archaeological sites. Of particular note is the display of "Pergamum School" statues of gods dating from the 4th century. A less interesting ethnography section has some rather sad and dusty looking dioramas.
5. Bozcaada Island
Tiny Bozcaada Island is a sun-worshiper's paradise, with glorious beaches backed by vine-covered green slopes. Dinky Bozcaada town is the island hub; its warren of cobblestone alleys wrapped around a grand Byzantine castle that looks across the harbor. This is a place to come and relax and soak up the sun. Head to Ayazma Beach if you want to hang out with the chichi set, who flock here from Istanbul over summer. Ayana Beach is a quieter patch of sand.
6. Alaçati Village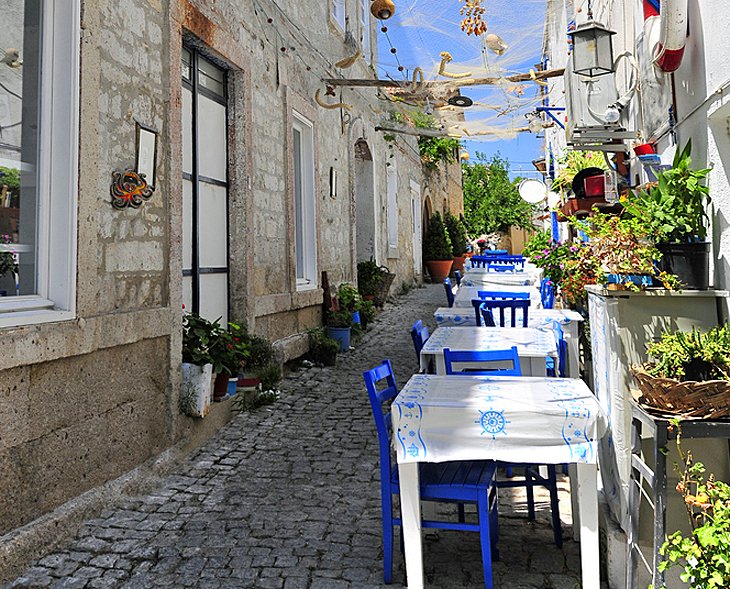 Turkey's chicest holiday destination, Alaçati is a boutique-hotel haven with a burgeoning foodie scene. The beautifully restored, traditional stone houses of the village are café and restaurant heaven, and if you're a culinary connoisseur, a visit here should be high on your sightseeing list.
Alaçati is also a major windsurfing spot with an annual international windsurfing competition. Whether you're a complete beginner or seasoned pro, this is a great place to learn or improve your windsurfing skills, with plenty of windsurfing companies offering lessons on the beach.
7. Ayvalik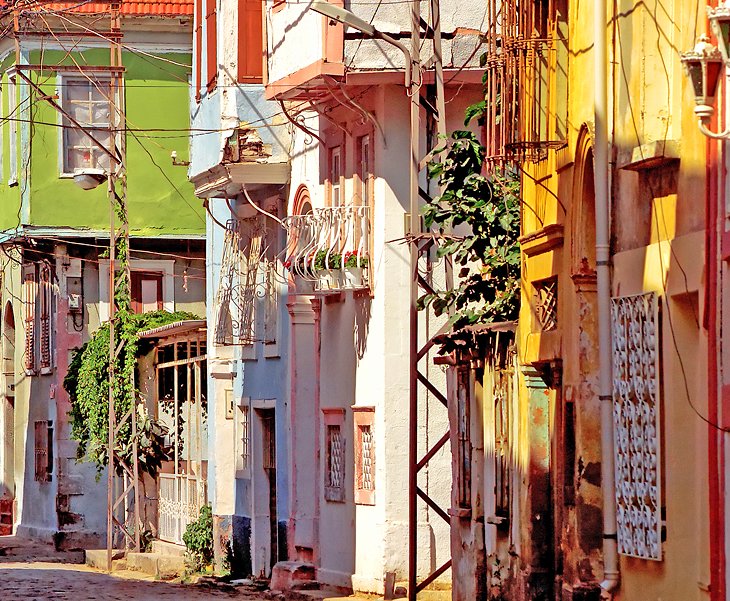 One of the North Aegean's prettiest towns, Ayvalik is all crumbling, vine-draped stone houses in pretty soft pastels, which lead down to a bustling harbor, where fishing boats jostle with excursion vessels and yachts.
If you're here on a Thursday, don't miss the huge and lively market on Nese Sokak, where you can get a real vibe of local life. Otherwise this is a top place to head out onto the sea for some sunbathing and swimming (or diving) action.
Down at the harbor, dozens of excursion boats head out on cruises during the summer months for trips around the bay.
8. Assos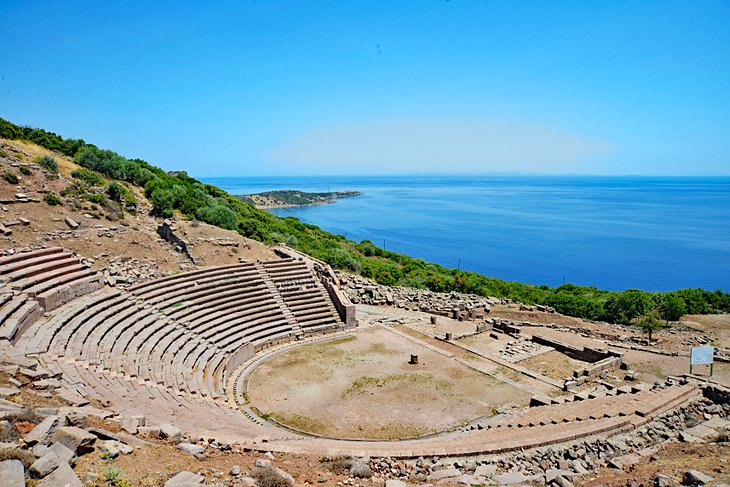 The Temple of Athena, with its panoramic views across the Aegean Sea, is a reminder of the glorious past of ancient Assos, which was founded in the 8th century BC on the Biga Peninsula.
Once home to philosophers such as Aristotle, today the modern village of Behramkale, beside the ruins, is a quietly charming place to sit back and marvel at the former splendor. The temple is the major tourist attraction, but there is also a necropolis, theater, and remnants of medieval walls to explore.
9. Izmir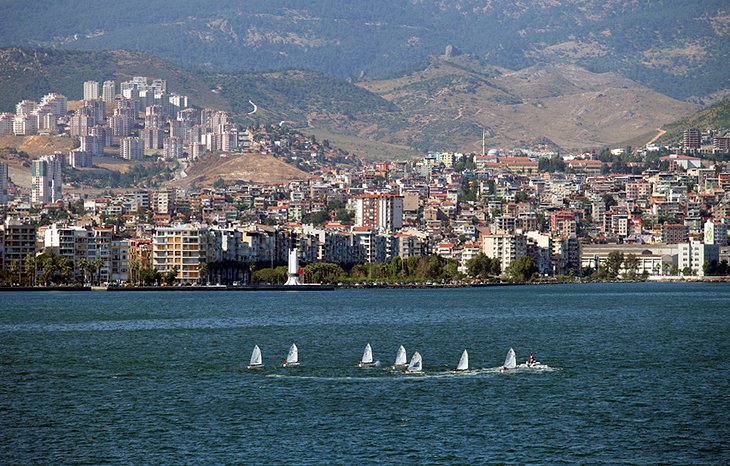 One of Turkey's most vibrant cities, Izmir is a bustling port with a history that stretches back to the 11th century BC, when a settlement of Greeks founded the colony of Smyrna here. Over the centuries, Smyrna grew into one of the Mediterranean's most important cities, surviving and thriving through countless empirical changes up to and through the Ottoman era.
During Turkey's War of Independence in 1922, most of old Smyrna was burnt to the ground, and the modern city of Izmir was born. Unfortunately, this means that despite its long and illustrious past, historical attractions are few and far between within the city, although the Kemeralti Bazaar in the city center is a great place to pick up Turkish textiles and other souvenirs, and the Ethnography Museum, on Cumhuriyet Bulvari, is worth a look.
More Related Articles on PlanetWare.com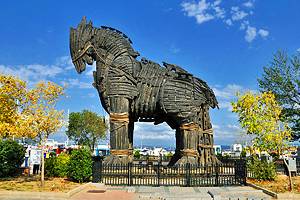 Aegean Itinerary Ideas: You can make a great itinerary starting from Istanbul that combines visiting Pergamum and this area with visits to Çanakkale for the WWI memorials of the Gallipoli Peninsula and the famed ruins of Troy.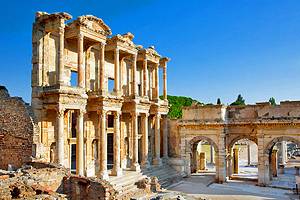 From Izmir: If you want to use Izmir as a base, you can easily visit the huge and well-preserved ruins of Ephesus from here, and the charming village of Selçuk, with the excellent Ephesus Museum and its clutch of atmospheric Byzantine ruins in the center of town.