16 Best Places for Shopping in Istanbul
Istanbul is a shopping paradise. Major tourist attractions such as the Grand Bazaar and Egyptian Spice Market combine historical sightseeing with shopping – buying a Turkish carpet, complete with smooth sales-patter chat and multiple cups of tea from the carpet merchant, is one of the country's quintessential tourism experiences.
Turkey has a huge tradition of craftwork, and Istanbul is one of the best places to visit to see the full gamut of products available.
From its famed textiles and ceramics to engraved metalware, wooden backgammon boards, and colorful felt slippers, there's something for everyone here.
Travelers looking for foodie treats are particularly in luck, with plenty of Turkish food products making great gifts. Lokum (Turkish delight) is a favorite souvenir, while fresh produce from all corners of the country are on offer at markets such as Kadıköy.
Those looking for a more modern shopping experience will find all the usual international brands, as well as Turkey's own brand names, along the big shopping high streets.
Decide on your shopping itinerary with our list of the best places for shopping in Istanbul.
1. Grand Bazaar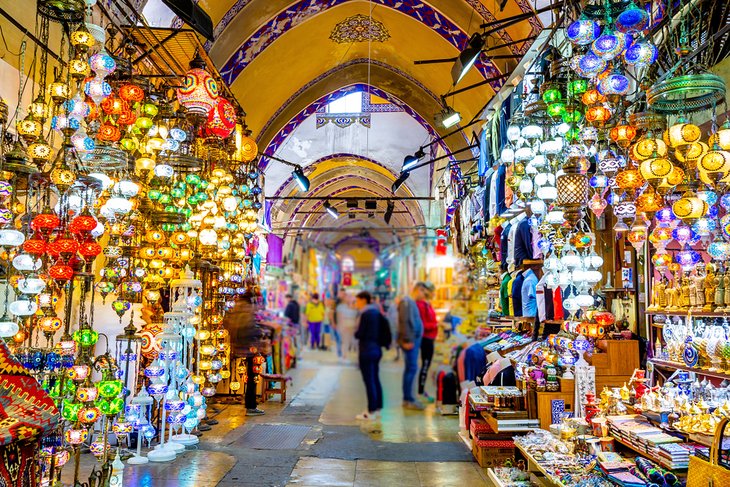 Turkey's most famous shopping destination needs no introduction. Istanbul's Grand Bazaar has been in business since the mid-15th century. It's basically the medieval version of a modern shopping mall.
As the bazaar itself is one of the city's top places to visit for tourists, as well as a major shopping destination, it's a good idea to plan to spend at least a couple of hours here – and prepare to get a bit lost.
The bedestens (warehouses) and caravanserais, all connected by vault-roofed lanes, contain roughly 4,000 stores. Happily, losing your bearings slightly when inside often leads you to some of the more interesting, small stores off the main routes.
The full caboodle of Turkish crafts, as well as craftwork hailing from central Asia and the Middle East, is available here. Everything from antique handloom Turkish carpets and handcrafted gold jewelry to cheap, plastic Istanbul fridge magnets. It's a great place to get a thorough grounding of what's available.
The best places to seek out are the specialist artisan stores and workshops, snaffled inside the smaller lanes in the depths of the bedestens.
Many of the shops lining the main thoroughfares deal in cheap tourist tat.
Deeper exploring will turn up embroidered textiles from Uzbekistan, handwoven silk shawls, and intricately inscribed metalware.
Address: Main entrance off Beyazıt Square, Yeniçeriler Caddesi, Beyazıt
2. Egyptian Spice Bazaar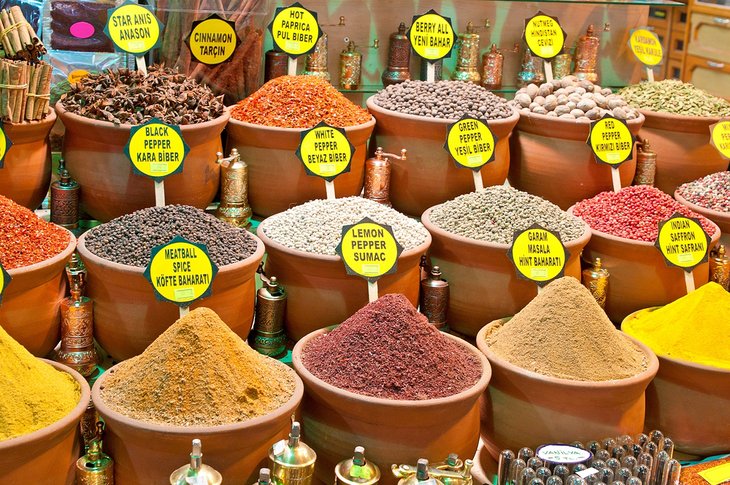 Facing the Eminönü ferry docks, the building housing the Egyptian Spice Bazaar dates from the 17th century and was built with the tax revenues received from Ottoman-ruled Egypt.
This is a one-stop shop for foodie travelers who want to bring a taste of Turkey back home.
Over 80 shops here trade in spices, dried fruit, nuts, specialist Turkish food products, dried flower and herb teas, and local sweet treats such as helva (tahini sweets) and lokum (Turkish delight).
Come here to stock up on the spices that are integral to Turkish cuisine, such as sumac and pul biber (Aleppo pepper), to buy high-quality pomegranate molasses (another important Turkish cooking flavor enhancer), and to taste test a vast range of Turkish honeys.
It can get uncomfortably crowded from around noon to late afternoon, so try to visit in the morning.
Address: Off Ragıp Gümüşpala Caddesi, Eminönü
3. Arasta Bazaar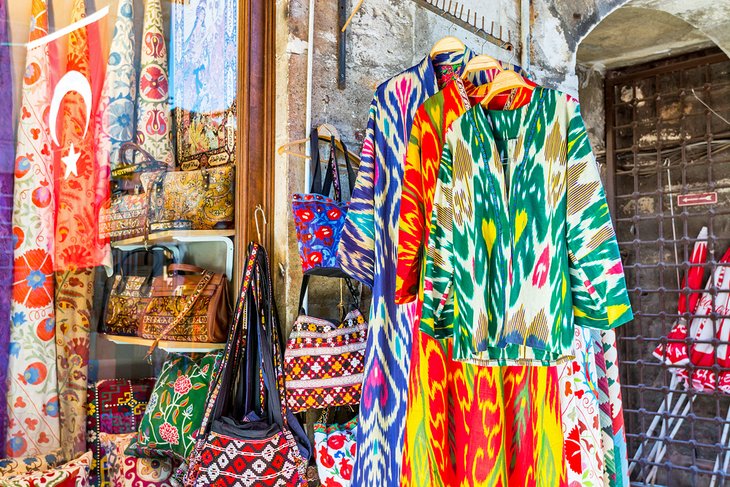 The Arasta Bazaar is conveniently located just behind the Blue Mosque (Sultan Ahmet Mosque), in the heart of the old city.
Originally, this arcade of shops was part of the mosque complex and would have provided revenues for the mosque.
Today, the shops here are all about the tourism trade and specialize in ceramics and textiles.
More easygoing, smaller, and less crowded than the Grand Bazaar, as well as being open-air, the Arasta Bazaar is a laid-back and easier alternative for Turkish handicrafts shopping.
Like the Grand Bazaar, it's also one of the best places to visit to get your shopping bearings and see what type of crafts are on offer.
If you're looking for ceramics, particularly hand-painted Iznik tiles (both traditional and contemporary designs), this is the number one shopping destination in town. There are several stores here displaying a full range of ceramic wares.
After leaving the Arasta Bazaar proper, make sure to wander the hilly cobblestone lanes radiating out behind the bazaar.
Several high quality textile emporiums for Turkish and Central Asian carpets and kilims, and felt work have their home in this area.
Address: Küçük Aya Sofya Caddesi, Sultanahmet
4. Ali Muhiddin Hacı Bekir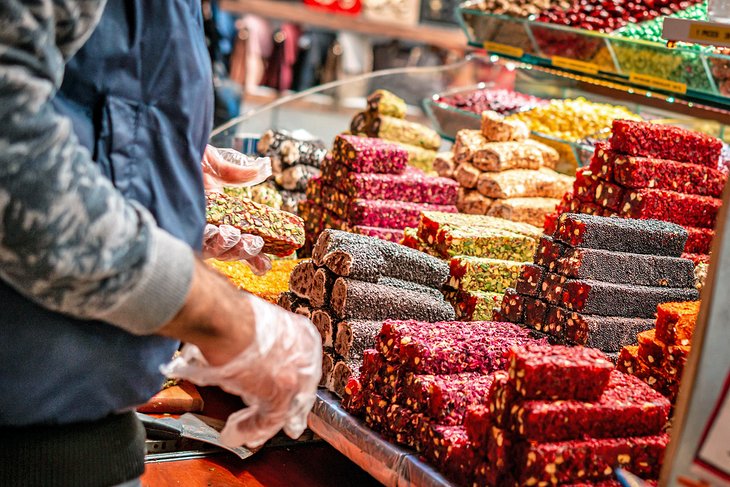 For sweet-tooths visiting Istanbul, one of the top things to do is visit the confectionary shops and guzzle your weight in lokum (Turkish delight).
Unsurprisingly, there are bundles of tempting shops where you can do just that, but lokum and many other traditional Turkish candies make great gifts for friends back home as well.
This historic lokum and sweet maker has been in business since 1777. In the 19th century, the shop was given the Ottoman sultan's official stamp of approval by being anointed with the title of Chief Confectioner to the Palace. And if it was good enough for the sultan, it should be good enough for you.
Lokum in all its varieties is available here, from traditional rosewater, pomegranate, and pistachio flavors to lokum flavored with cloves or smothered in chocolate.
Other traditional sweets to stock up on here are the sugar-coated almonds and pistachio-stuffed helva (tahini sweets).
Address: Hamidiye Caddesi, Sirkeci
5. Kadıköy Market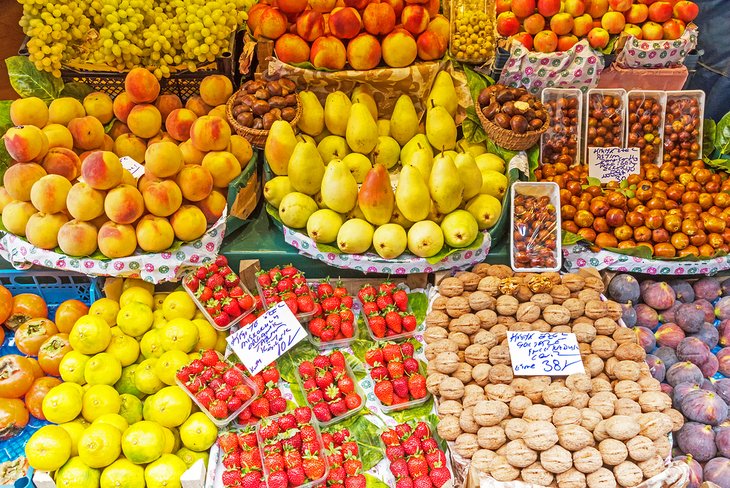 One of Istanbul's top spots for local produce, Kadıköy's market operates Monday to Friday and is a vibrant, buzzing commercial hub.
It's just as much fun for browsing as for actual shopping, with a plethora of stalls selling fresh seafood, herbs, vegetables, and fruit, as well as shops specializing in products you can pack to take home.
Come here for local pickles, jams, honeys, and other condiments; dried fruits; and traditional Turkish confectionary.
For non-foodie shopping, this is also a great area to source soaps and skincare products made from olive oil, herbal oils, and ointments and traditional hammam (Turkish bath) scrubbing brushes and exfoliating sponges.
The market is on Istanbul's Asian side just behind Kadıköy ferry terminal. The most scenic way to get here is by ferry, though you can also catch the metro.
Address: Off Rıhtım Caddesi & Damga Sokak, Kadıköy
6. Balat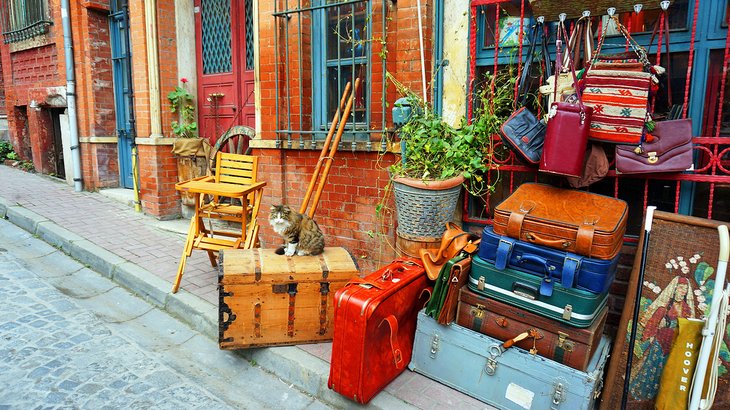 In recent years, the narrow hillside lanes of Balat, with their colorfully painted buildings, have become a favored haunt for small, quirky independent stores.
On sunny weekends, the alleys here throng with young Istanbul locals, who head here to hang out.
Come to Balat for shopping if you enjoy a rummage rather than if you're looking for something in particular, as you never know what you'll find while browsing. It's a particularly good area for antique furniture and home decoration shops and good quality vintage fashion and accessories stores.
There are plenty of cute independent cafés here for when you need a shopping break.
7. Istiklal Caddesi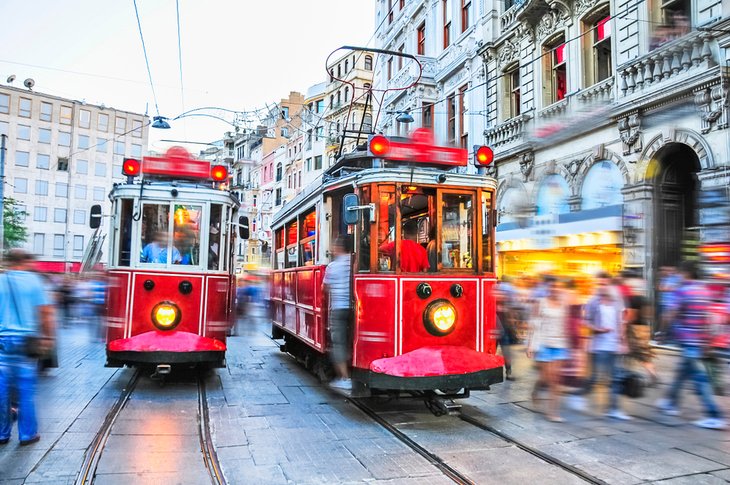 Threading across the hill through the Beyoğlu district up to Taksim Square, this long, mostly pedestrianized street was for a long time Istanbul's vibrant modern heart.
These days, most of the smaller and quirkier shopping boutiques have been pushed out and replaced by international high-street brands and fast food outlets, but it's still a good place for strolling with the shopping crowds.
Some interesting points along Istiklal's length are the arcade passages inside the neoclassical buildings that line sections of the road.
The most famous is Çiçek Pasaj (Flower Passage), where small shops sell shawls, colorful ceramics, and lamps, and restaurants and cafés offer atmospheric dining amid late-19th-century architecture.
An antique tram trundles from Tünel Square, at the bottom of Istiklal Caddesi, all the way up the street to Taksim Square.
Address: Istiklal Caddesi, Beyoğlu
8. Women's Bazaar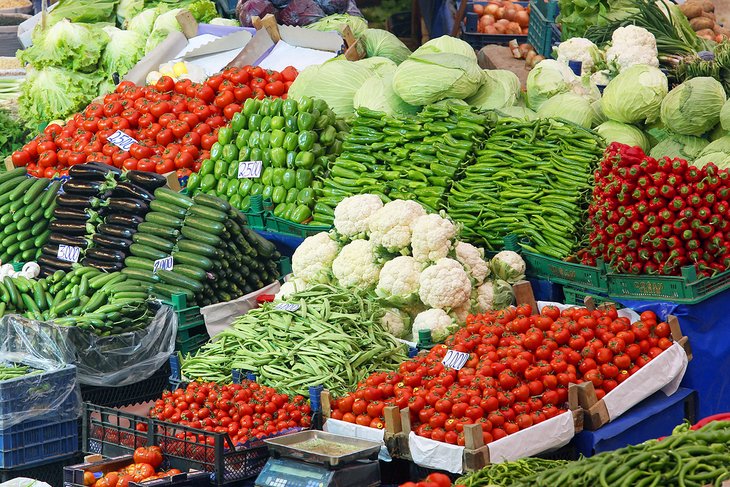 In the Fatih district, the Women's Bazaar (Kadınlar Pazarı) is a favorite haunt for foodie travelers. This street of butchers, kebab restaurants, and fresh produce stalls is a real neighborhood hub.
Most of the produce is fresh, so come here to pick up some picnic supplies of local specialty cheeses, fruit, pickles, dried fruit, nuts, and olives, or simply join the locals doing their daily shop and browse the huge piles of vegetables in the stalls, and swinging carcasses in the butcher shop windows.
Most traders here originally hail from Turkey's southeast, and the market's canteen-style restaurants, offering southeast kebab dishes, reflect that.
Definitely time your visit so that you can hit the market and then stay on for lunch here afterwards.
The market is an easy one-kilometer walk from Vezneciler metro station.
Address: Itfaiye Caddesi, Fatih
9. Kurukahveci Mehmet Efendi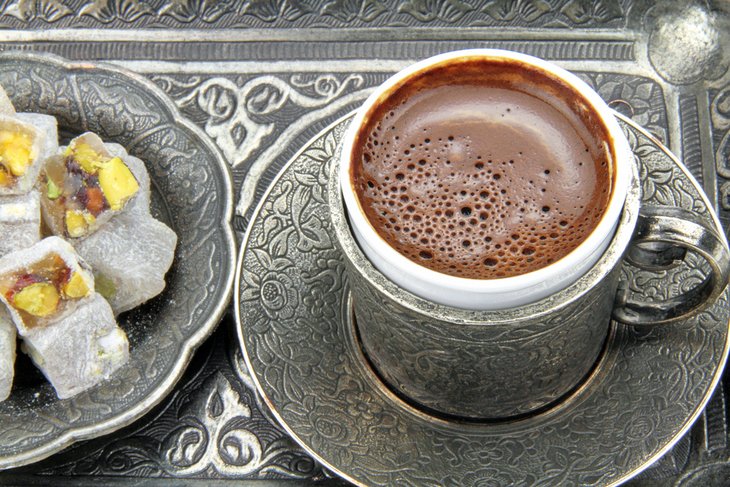 Kurukahveci Mehmet Efendi is a must-stop for coffee fans. If you want to try your hand at making a proper Turkish coffee back home, beeline here. This is Turkey's most popular coffee producer, and they've been in business since 1871.
Pick up packets of their Turkish coffee for easy-to-pack gifts for friends back home.
If you find traditional Turkish coffee a bit too strong, they also sell a full range of ground coffees for cafetieres (French press), espresso makers, and filter coffee pots.
The shop is just behind the Egyptian Spice Market, so it's easy to combine a visit here with your spice shopping.
Address: Tahmis Sokak 66, Eminönü
10. Galata Port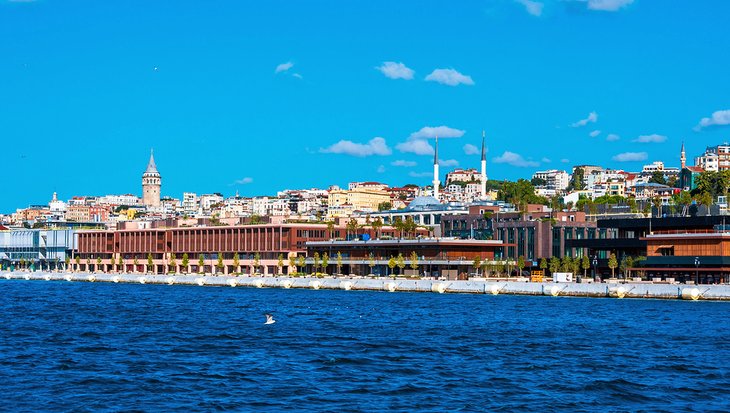 Opened in 2022, Istanbul's newest shopping area is the rejuvenated Galata Port area, on the seafront in Karaköy, which is the city's new cruise ship port.
The contemporary rejuvenation of the area has opened up the waterfront here to the public, with a wide pedestrian promenade, rimmed by retail outlets, restaurants, and cafés, that offers views across the Bosphorus.
The Galata Port waterfront promenade will also eventually be the new home of the Istanbul Modern art museum.
As the area has only recently been finished, many of the shops, both along the waterfront promenade and inside the terminal mall, have yet to open but expect a mix of high fashion outlets from local designers; exclusive European fashion, accessories, and jewelry brands; and a couple of big international brand names.
Address: Meclis-i Mebusan Caddesi, Beyoğlu
Official site: https://www.galataport.com/
11. Tahtakale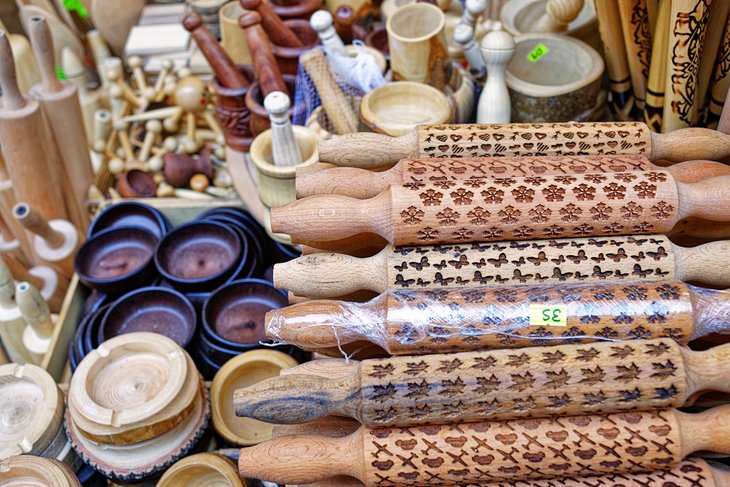 The narrow lanes west of the Egyptian Spice Market are filled with stalls selling traditional basketry, textiles, and handmade wooden kitchenware and tableware, along with cheap household products.
The main road through the neighborhood, Tahtakale Caddesi, is a great place for a wander after the Egyptian Spice Market to see a more day-to-day shopping scene.
Locals may be here to shop for cheap cushion covers, brushes, and pots and pans, but the handmade wooden spoons, pestle and mortars, rolling pins, and chopping boards make excellent souvenirs, as do some of the baskets, if you can figure out how to get them home without squashing them.
Address: Tahtakale Caddesi, Eminönü
12. Çukurcuma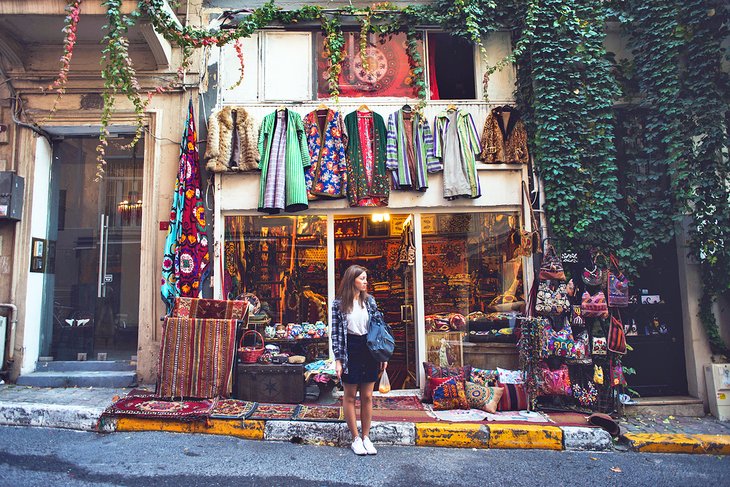 Whether you're a serious collector or just enjoy a rummage, the antique and vintage boutiques of this hillside neighborhood, just east of Istiklal Caddesi, are worth a visit.
A poke about here uncovers a treasure trove of items, from late-19th century Baroque furniture and floral-painted ceramics to paintings, vintage clothing, textiles, and old books.
Some of the easier-to-cart-home items include quirky decorative glassware, candlesticks, and tea sets from the late Ottoman era. There are also shops specializing in household and decorative goods from the first half of the 20th century if you prefer a more retro style.
Wear decent walking shoes to handle strolling the steep, cobblestone lanes.
13. Nışantası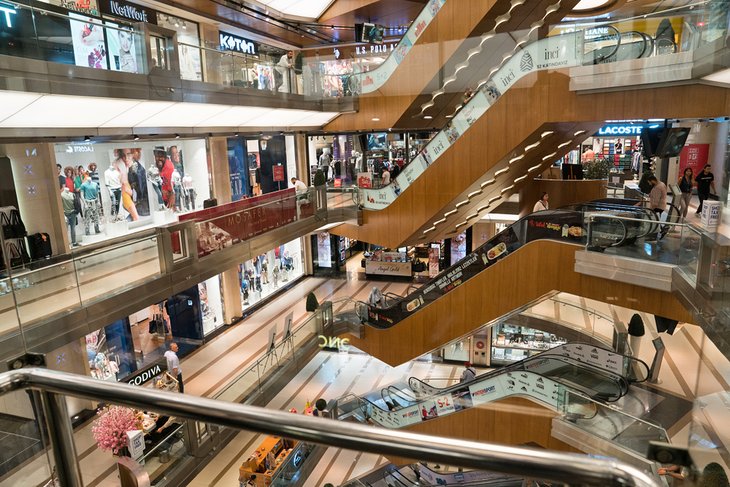 Head to the Nışantası district, north of Taksim Square, to experience Istanbul at its most chichi. This is where big-name international luxury brands, such as Burberry and Hermes have their boutiques, as well as Turkey's local high-class brands such as the Vakko department store.
The main shopping road for luxury goods is Abdi Ipekçi Caddesi, which runs north from Maçka Park up to Vali Konağı Caddesi.
The streets running parallel to Abdi Ipekçi Caddesi are home to more midrange brands, such as international high street clothing players Zara and Mango.
There are great cafés in this neighborhood for when you need a pick-me-up coffee after your shopping is done.
14. Galata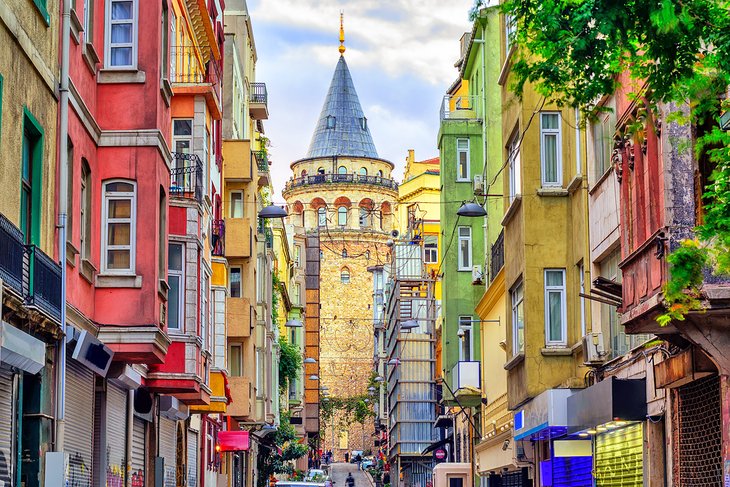 For funky one-off gifts made by local designers, retro collectables such as comics, and quirky handmade jewelry and crafts, head to Galata.
The hilly, cobblestone lanes here, which radiate out from around the Galata Tower, are home to plenty of small boutiques and concept stores selling fashion, accessories, and products made by Istanbul's young local designers.
This is where you come to find quirky, original street fashion and stylish homewares that riff on traditional Turkish designs.
There is a vibrant café culture in this area, with plenty of cute independent cafés (some that double up as craft shops themselves) so there are plenty of places to stop for coffee and cake after shopping.
One of the best streets here to start your shopping trip at is the skinny lane of Sedar-I Ekrem Caddesi.
15. Bağdat Caddesi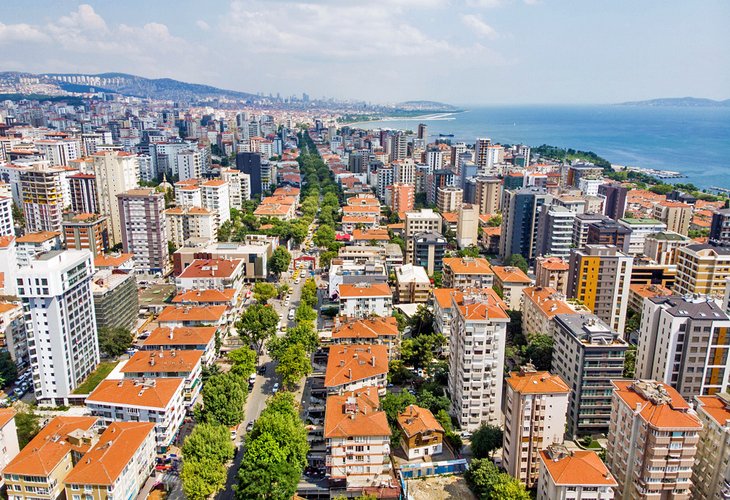 This tree-lined street runs for 14 kilometers from the district of Kadıköy to Bostancı on Istanbul's Asian shore. It's the city's favorite shopping street and gets crammed at weekends. You won't find much original or unique here, but if you're just looking for high-street-style shopping then Bağdat Caddesi is a top destination.
Well-known international fashion brands such as H&M and Zara have outlets here, as well as big-name UK department store brand Marks & Spencer, Turkey's homegrown department store Boyner, and well-known Turkish fashion names such as Mavi.
To get here, either jump on the ferry to Kadıköy or take the metro to either Kadıköy or Bostancı.
Address: Bağdat Caddesi, Kadıköy
16. Beyazıt Book Bazaar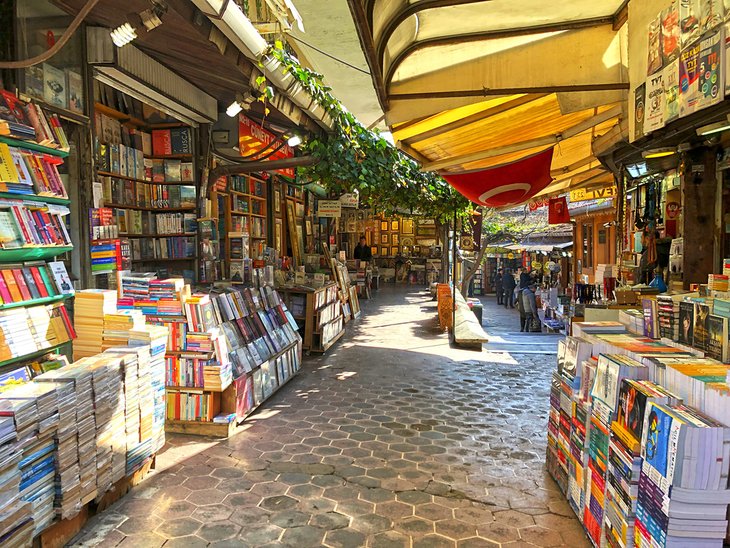 Squeezed between the Grand Bazaar and Beyazıt Mosque, this wriggle of alleyways is where book collectors head to hunt for old maps and rare titles, as well as secondhand books.
The current market dates from the mid-20th century, but its site itself has literary links that stretch back much further in time. This was the city's main book-printing district during the Ottoman era.
Today, all sorts of books, from academic titles for local university students and dictionaries to Korans, can be bought here.
Unless you've a specialist interest in collectable old books, you possibly won't find much to actually buy, as the vast amount of books here are in Turkish, but it's an interesting place to browse and walk through.
Address: Beyazıt Square, Beyazıt
Map of Places for Shopping in Istanbul