From Istanbul to Cappadocia: 5 Best Ways to Get There
We may earn a commission from affiliate links ()
There is a lot of transport choice when it comes to getting from Istanbul to Cappadocia. Your decision will depend on how much time you've allocated for your trip and the style of travel you prefer.
From a speedy, fully pre-organized tour to using public transport or a self-drive road trip, every level of comfort is covered. Discover the best ways to get from Istanbul to Cappadocia.
Note: Some businesses may be temporarily closed due to recent global health and safety issues.
1. From Istanbul to Cappadocia by Airplane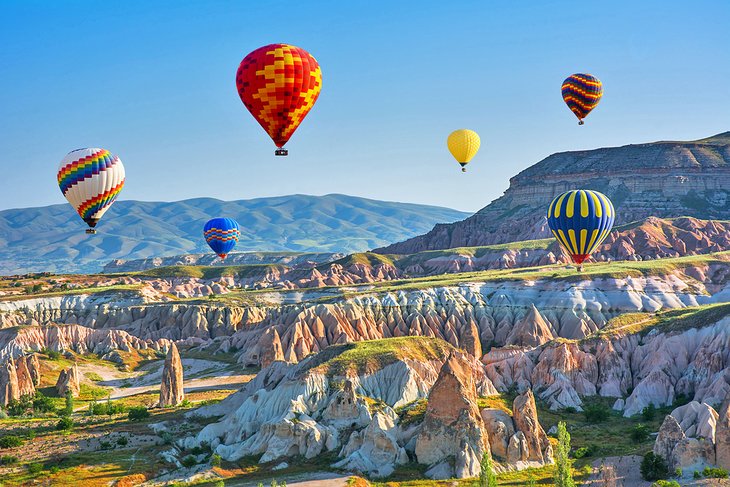 For travelers on a short trip, flying direct to Cappadocia from Istanbul is a popular option.
Turkish Airlines and Pegasus Airlines offer regular flights to Cappadocia's two airports throughout the day and night. The flight time is 80 minutes.
Turkish Airlines offer the most options for Cappadocia-bound flights. Six services daily head to Kayseri Airport from either Istanbul International Airport or Sabiha Gökçen Airport, and one service at least departs daily from Istanbul International Airport for Nevşehir Kapadokya Airport.
Pegasus Airlines flights to Cappadocia all depart from Sabiha Gökçen and arrive at Kayseri Airport.
Although your choice of flight will probably depend more on the most suitable departure time for you, it's worth knowing the differences between Cappadocia's two airports.
Kayseri Erkilet Airport is in the city of Kayseri, approximately 80 kilometers east from the villages that are at the center of Cappadocia's tourism industry. Much smaller Nevşehir Kapadokya Airport is just north of the town of Gülşehir, approximately 40 kilometers northwest of the villages.
Pre-booked airport shuttle services offer door-to-door transport from both airports to the hotels in the Cappadocia villages. Journey time from Kayseri Airport, depending both on waiting time for all passengers booked on the shuttle to exit the airport and on which village you're staying in, can take up to two hours. From Nevşehir Airport, the shuttle bus services rarely take longer than 30 minutes door to door.
Seats on these privately run airport shuttles must be booked in advance. These transfers are normally organized by your hotel.
2. From Istanbul to Cappadocia by Bus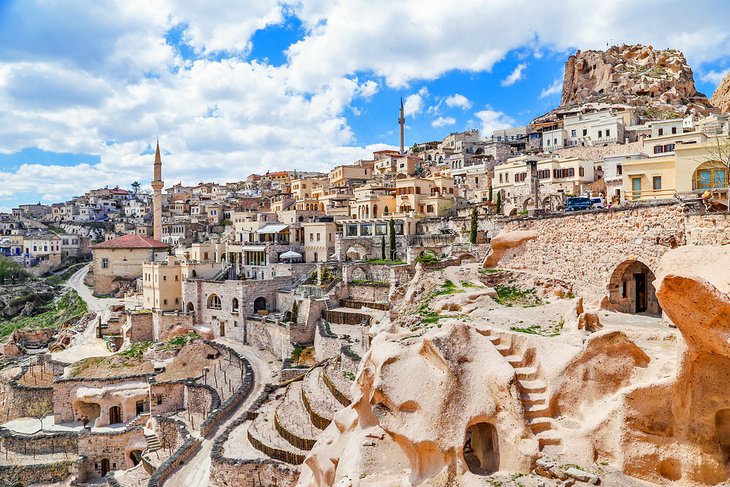 A few different bus companies offer direct transport from Istanbul's main Esenler Otogar (bus station) to Nevşehir Otogar on the outskirts of Nevşehir city, approximately 18 kilometers west from the Cappadocia villages (depending on which village you're staying in).
The major companies plying this route are Nevşehir Seyahat, Kamil Koç and Metro. The journey time takes between 11 and 12 hours.
Most departure options leave during the evening, depositing you at Nevşehir bus station the next morning. There are a couple of day-bus services though, which are great for travelers who enjoy watching the scenery pass by.
There is very little ticket price difference between the companies who work this route, so your decision on which service to use will mostly be made on departure time.
All the buses are fitted with comfortable, airline-style seating, which includes individual entertainment systems and charging points for your phone, and an on-board conductor service, which offers complimentary hot and cold drinks and a snack.
There are direct minibus services to the Cappadocian tourism centers of Göreme, Ürgüp, and Avanos from Nevşehir Otogar (bus station).
3. From Istanbul to Cappadocia by Tour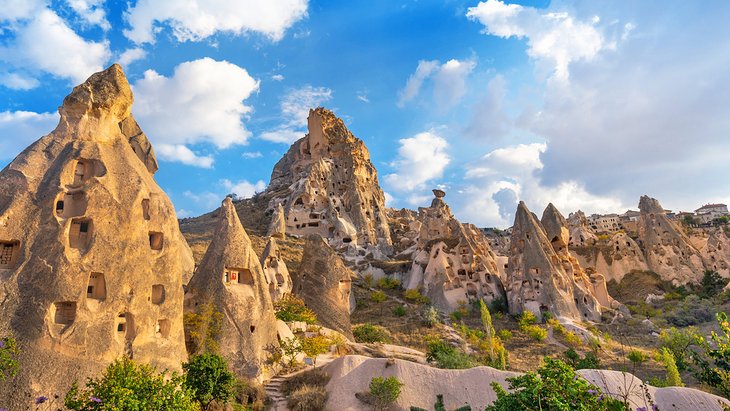 Those short on time on their Turkey trip may want to opt for a prearranged Cappadocia side-trip tour from Istanbul.
This is a hassle-free option, where all transport, transfers, activities, and accommodation are organized for you, so you can just sit back and enjoy your Cappadocia visit.
Be aware that the shortest Cappadocia side-trip tours from Istanbul are two days, not one-day tours. With tourist attractions here spread throughout the region, you need at least 48 hours for a snapshot trip.
The in-location overnight stay also allows you to participate in the region's famous hot-air ballooning activity, which takes place at dawn. Cappadocia tours from Istanbul typically do not include this in their price but offer it as an optional extra, which they can book for you.
The popular 2-Day Cappadocia Tour from Istanbul offers an itinerary that includes two guided tours of some of the region's main sights, overnight accommodation in a cave-hotel, return flights from Istanbul and airport transfers, and some meals.
Note that arranging a Cappadocia tour through an Istanbul travel agency costs more than organizing a similar tour through a local Cappadocia travel agency.
4. From Istanbul to Cappadocia by Train & Bus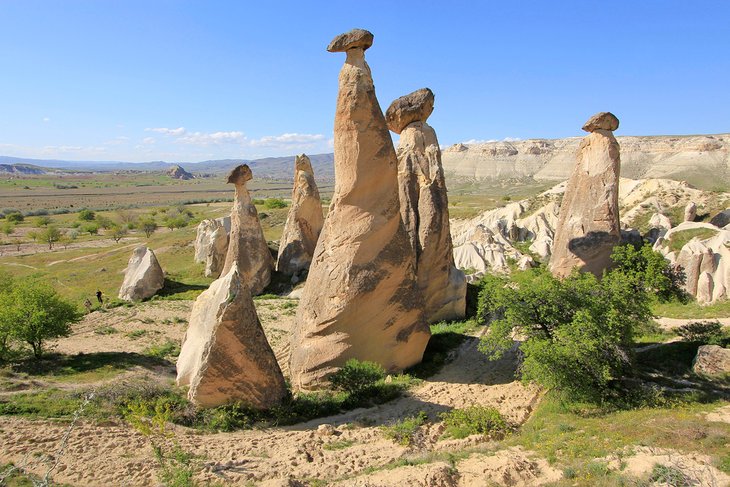 The high-speed train line between Istanbul, Ankara, and Konya means, if you have a bit more time to spend on the journey to Cappadocia, you can add in stops at two of central Anatolia's most important cities into your trip.
With a leisurely pace, you could fit in both cities along the route, or choose one as an overnight stop.
Ankara, Turkey's capital, is home to the important Museum of Anatolian Civilizations and the Anıtkabir, the mausoleum of Atatürk (the founder of the modern republic of Turkey).
Konya is filled with restored Seljuk-era mosques and monuments, and is the home of the whirling dervishes and the Mevlana Museum, one of Turkey's major pilgrimage sites.
There are eight high-speed train services, taking four and a half hours, from Istanbul to Ankara daily.
To Konya direct from Istanbul, there are three services, with a journey time of four hours and 15 minutes.
If you're planning to stop in both cities, there are high-speed train departures seven times daily from Ankara to Konya, taking just under two hours for the trip.
Train tickets should be purchased in advance, as seats do sell out.
From both Ankara Otogar (bus station) and Konya Otogar there are bus services to Nevşehir Otogar, the main transport hub of the Cappadocia region.
5. From Istanbul to Cappadocia by Car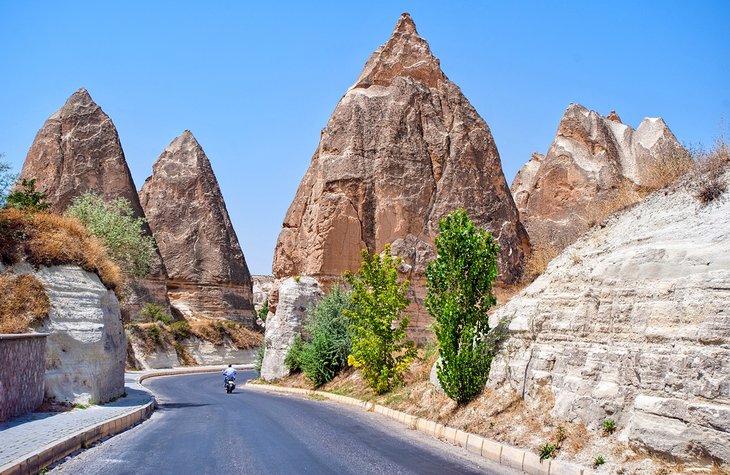 Hiring a car to drive across the Anatolian countryside from Istanbul to Cappadocia means you have the freedom to explore some of the major historic highlights of the region along the way.
Although you could also visit most of these destinations by public transport, the journey would be much less straightforward and would take longer to achieve.
Three of the best stops if journeying by car on this route would be the preserved Ottoman village of Safranbolu (410 kilometers east from Istanbul); the Phrygian ruins of Gordion (468 kilometers southeast from Istanbul or 272 kilometers south from Safranbolu); and the Hittite ruins of Hattuşa, which sit in the village of Boğazkale (307 kilometers southeast from Safranbolu or 305 kilometers east from Gordion).
From Hattuşa, it's a further 196 kilometers drive south to the village of Göreme, the heart of Cappadocia's tourism industry.
Safranbolu and Boğazkale both have accommodation for overnight stops along the way. There are also plenty of other tourist attractions and historic sites in the hinterland surrounding both these destinations, so it's well worth allowing yourself a few days for your entire journey.
Driving in Turkey is relatively straightforward thanks to main highways being in excellent condition and good signage for towns, tourist attractions, and historic sites. Note that gas is expensive in Turkey though, so self-drive trips will always work out more expensive than other transport options.