15 Top-Rated Attractions & Things to Do in Ankara
Author Jess Lee lives in Turkey and has been visiting and writing about Ankara regularly for guidebooks for over a decade.
Ankara sometimes gets left off people's travel itineraries, which is a shame because Turkey's capital has more to offer than most visitors realize. If one of your prime travel goals is to discover the vast breadth of Turkey's history, Ankara is a great place to visit.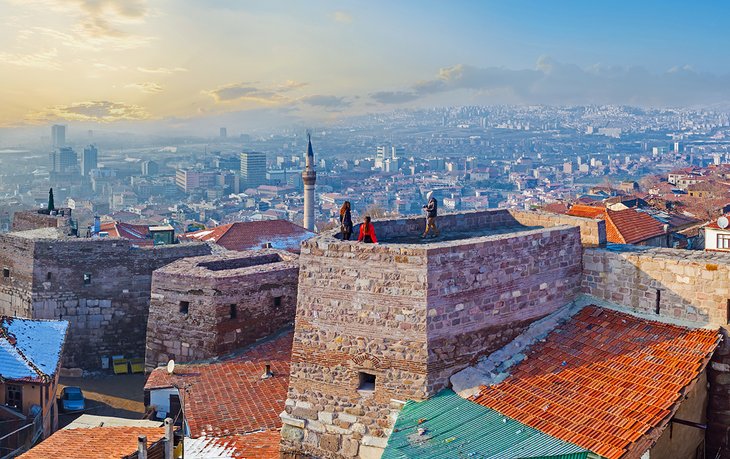 Both the country's top museum and Atatürk's mausoleum, two of the country's most important historic tourist attractions, are found here, plus a sightseeing stroll around Ankara's citadel district offers a glimpse of the city's past, before it was promoted to capital status.
With its central location, Ankara is also an excellent base from which to jump off on further forays into the Anatolian heartland, where you'll find many archaeological sites and other historical things to do within day-tripping distance.
While you're in town, planning whether to head east to Cappadocia, south to Konya, or west to Safranbolu, use our list to help find the top attractions and things to do in Ankara.
1. Visit the Museum of Anatolian Civilizations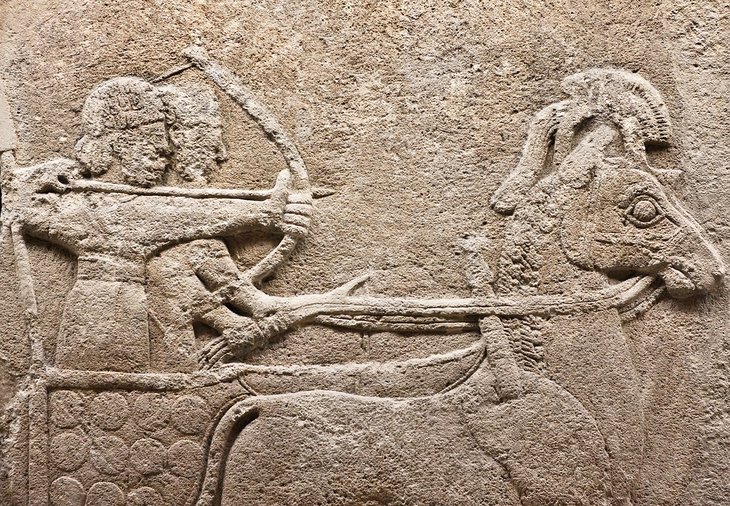 Highlights: Neolithic wall paintings, Bronze Age stonework, Hittite clay cuneiform tablets, and Phrygian gold
The Museum of Anatolian Civilizations is reason enough to include Ankara on your Turkey itinerary. It's the only place in the country where you can grasp the full scope of Anatolia's pre-Classical-era human history.
The most important finds from the Neolithic village site of Çatalhöyük, near Konya, including the wall painting thought by some archaeologists to be the world's first town map and the famed fertility goddess statue, are displayed here in the first hall.
Farther on, halls are devoted to the Hittite Empire of the Bronze Age that had their capital at Hattuşa (192 kilometers to the east) and the Phrygian and Urartian Empires, which thrived on the Anatolian steppe during the Iron Age.
The central Stone Hall exhibits the most important stone reliefs and statuary from across the eras.
Here, you'll find numerous finely detailed orthostat reliefs from the Hittite site of Carchemish (70 kilometers southwest of Gaziantep), renowned, long before its actual discovery, as the site of the Battle of Carchemish between Egypt and Babylonia relayed in the Old Testament.
Address: 2 Gözcü Sokak, Ulus, Ankara
2. Pay Your Respects at the Anitkabir (Atatürk Mausoleum)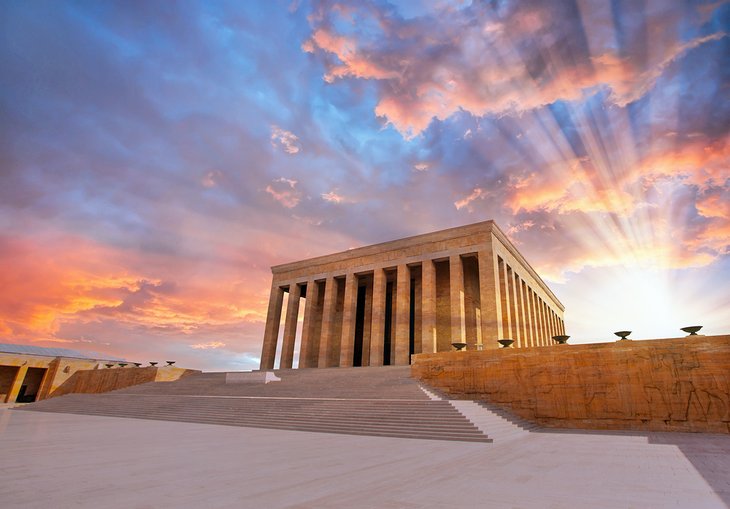 Highlights: Sprawling city views from the plaza and a monumental mausoleum
Ankara's most visited tourist attraction is also Turkey's most important modern pilgrimage site. Sitting on a hilltop, just to the west of the city center, is the mausoleum of Atatürk (Mustafa Kemal), the founder of the state of Turkey.
As well as the actual mausoleum, with its lavish use of marble, the site, centered round a vast plaza, contains a large museum complex.
It contains both exhibits on the War of Independence, led by Atatürk, which resulted in the birth of Turkey as a modern nation, and displays focused on Atatürk's life.
Outside, there are excellent views across Ankara from the arcade that edges the plaza. The mausoleum itself is decorated with gilded inscriptions of Atatürk's speeches.
Inside, a cenotaph stands above the placement of Atatürk's tomb. Visitors entering the mausoleum should respect the atmosphere of somber reverence inside as Turks pay their respect to the founder and first president of their modern nation.
Address: Yücetepe, 31 Akdeniz Caddesi, Çankaya, Ankara
3. Walk the Citadel Neighborhood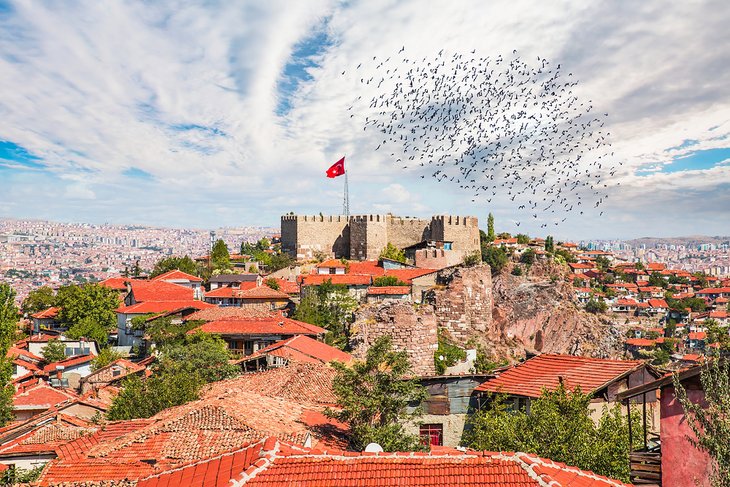 Highlights: A historic district of cobblestone alleys enclosed within ancient walls
A wander through this neighborhood is one of the most atmospheric things to do in Ankara. The citadel (Kale) area dates from the Byzantine era and is ringed by, still immense in places, fortifications raised in the 9th century.
Inside, narrow cobblestone alleyways are rimmed by creaky Ottoman-era houses, some of which have been painstakingly restored in recent years, though others are slowly slipping into various levels of dilapidation.
The main attraction inside the inner walls is the Eastern Tower (Sark Kulesi), which offers vistas that span across modern Ankara from its crenelated ramparts.
Heading downhill from the inner citadel area's main gate, known as Parmak Kapısı, the winding lanes are crammed with traditional craft workshops, antique stores, and cafés. This is a great place to hunt for souvenirs.
While here, make sure to stop in and see the Aslanhane Cami, one of Ankara's most interesting mosques. The interior of the mosque, with its prayer hall lined with wooden pillars topped by Roman stone capitals and its ornate ceramic tile mihrab (wall niche), is well worth a visit.
Address: Gözcü Sokak, Kale, Altindag, Ankara
4. See the Collection inside Erimtan Archaeology & Art Museum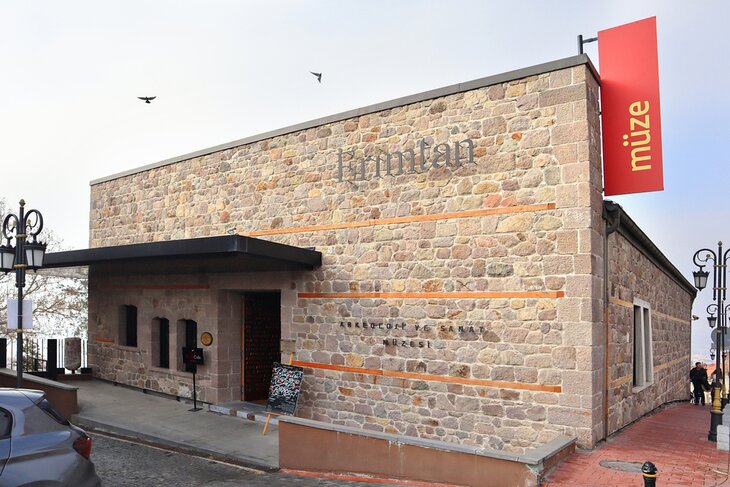 Highlight: Ankara's premier collection of Graeco-Roman artifacts from sites throughout Turkey
The Erimtan Museum's collection mostly focuses on the Classical era, so it works as an excellent addition to the city's main Museum of Anatolian Civilizations. As they both sit on the road leading up to the citadel neighborhood, they're easily viewed together in one morning or afternoon.
Eschewing traditional museum curation, the Erimtan's contemporary storytelling displays bring the exhibits of this private collection to life, allowing you to understand more about daily life during the Greek and Roman periods.
As well as the permanent collection, the Erimtan also hosts regular temporary exhibitions in its lower hall, which often focus on specific archaeological sites or Turkish culture. The museum grounds also host a periodic program of evening classical music concerts.
Address: 10 Gözcü Sokak, Kale, Altindag, Ankara
5. Discover Ulus' Roman Remnants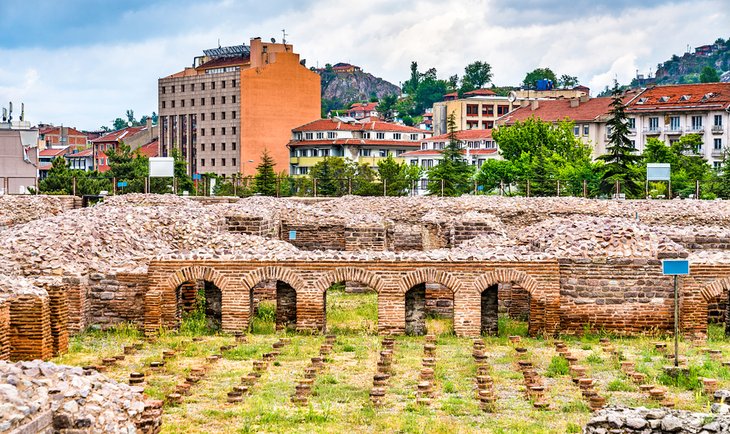 Highlights: Delving into Ankara's Roman period amid the ruins of Ulus
Ankara is often thought of as a modern city – the nation's planned new capital after the modern state of Turkey was formed.
There has been a settlement on this spot, though, since the Bronze Age. In the Roman period, this settlement gained prominence when it became known as Ankyra, and Emperor Augustus made it capital of the Roman province of Galatia.
The remaining Roman ruins of this era are all in the downtown district of Ulus.
To understand the importance of ancient Ankyra, pay a quick visit to the sparse remnants of the Temple of Augustus and Rome on Haci Bayram Veli Caddesi. Just some partial ruins of the temple's once impressive walls remain, next door to the Haci Bayram i-Veli Cami.
The most extensive set of ruins left over from Ancient Ankyra are the Roman baths on Çankiri Caddesi. The foundations, along with plenty of stone reliefs and some remaining intact arched ruins, of this sprawling imperial baths complex can be easily viewed, though you'll have to stomp through the weeds to see them.
If you're walking from Ulus up Hisarparki Caddesi to the Museum of Anatolian Civilizations and the citadel neighborhood, peer over the northern side of the road to take in the ruins of the Roman theater.
It's currently under restoration, so you can only view the remains of this theater, which once accommodated between 3,000 and 4,000 spectators, from above.
6. Visit the Haci Bayram i-Veli Cami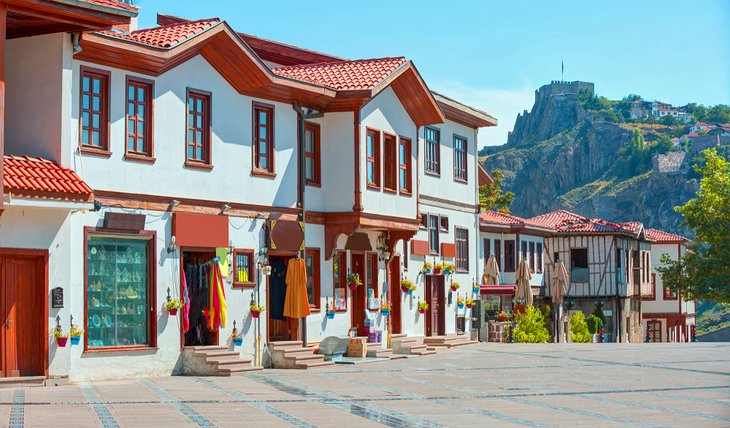 Highlights: Major local pilgrimage site and historic mosque amid a landscaped garden area
Built in honor of the Muslim holy man and Bayramiye dervish founder, Haci Bayram Veli, this 15th-century mosque is a major pilgrimage center. For non-pilgrim visitors, a stop here is more interesting for the surrounding area than for the mosque's interior.
The area around the mosque, with its gardens and restored Ottoman-era mansions, has been prettily landscaped and is a popular spot for local families in the early evening.
It includes a plaza with a pond, fountains, and shops selling religious paraphernalia for pilgrims, as well as the remaining walls of the Temple of Augustus and Rome, which rub up against the mosque (and were once used to house the mosque's madrassa).
There are also brilliant views up to the citadel neighborhood from here.
Address: Haci Bayram Veli Caddesi, Ulus, Ankara
7. Explore Ankara's Art Galleries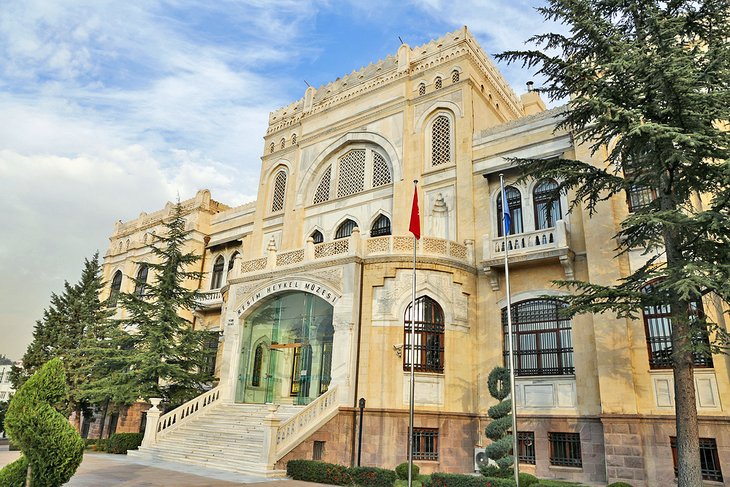 Highlights: The major names in Turkish modern art, from its birth to the artists working today
Ankara may not have the modern art scene of Istanbul, but there are two galleries, both in the central city, that are well worth a visit.
The most important is the Ankara Painting & Sculpture Museum (Türkocagi Sokak, Hacettepe), which has a large permanent collection of Turkish art from the 19th and 20th centuries. All the major names of the Turkish art scene have works on display here.
For completely contemporary art, the CerModern (3 Altinsoy Caddesi, Sihhiye) is Ankara's best site. This gallery, based in a disused train depot building, near Ankara's train station, hosts a regular program of temporary exhibitions focused on both local and international artists.
8. Day Trip to Hattuşa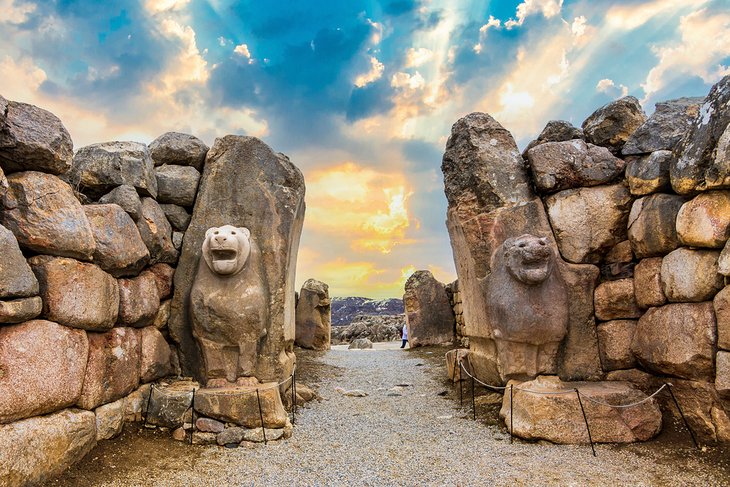 Highlights: Exploring Hattuşa's city gates before admiring the rock reliefs of Yazılıkaya
The ruins of Hattuşa, the capital of Anatolia's Bronze Age Hittite empire, sit on the edge of the sleepy village of Boğazkale, 192 kilometers east of Ankara. If you don't want to stay the night in Boğazkale itself, Ankara is the best place to base yourself to day trip to the ruins.
During the Bronze Age, the Hittites controlled a vast tract of land that encompassed much of modern-day Turkey and into Syria. Today, the rugged hillside that rises above Boğazkale contains the remnants of their most important city.
The most distinctive ruins that have survived are Hattuşa's fortifications, which ring the hillside. In particular, the Yer Kapı's (Earth Gate's) earthen mound, with its 70-meter-long tunnel entrance; the Sphinx Gate, atop the mound; and the Aslanlı Kapı (Lion's Gate), with its stone lions are impressive remnants of the city's vast defensive structures.
Just two kilometers from the main ruins is the site of Yazılıkaya, which was Hattuşa's religious sanctuary. The rocks here hold finely carved, well-preserved reliefs showing images of the major Hittite kings giving offerings to their gods.
9. Visit the Archaeological Site of Alacahöyük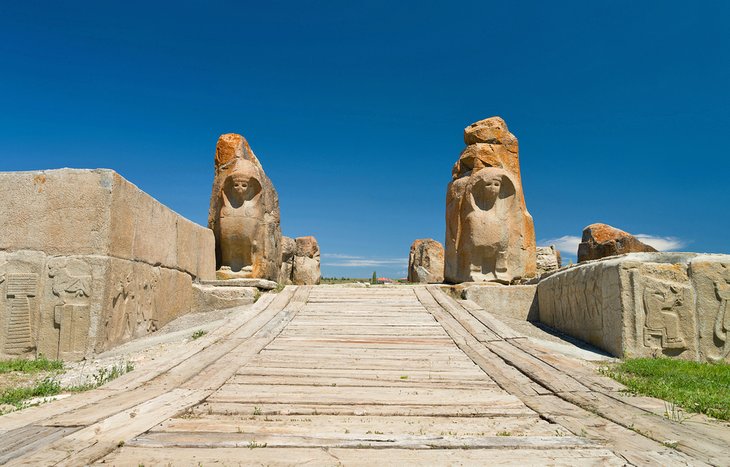 Highlight: Walking the rampart pathway around this important Hattian culture site
If you start off from Ankara early enough in the day, you can fit a visit to Alacahöyük into a day trip to Hattuşa.
This archaeological site dates back to the Chalcolithic era, and during the early Bronze Age became a center of Anatolia's Hattian culture, which was later absorbed into the Hittite Empire.
Alacahöyük is chiefly famous for its royal shaft graves, from which a dazzling cache of decorative gold objects and jewelry was excavated by archaeologists. Most of the grave goods are now on display in Ankara's Museum of Anatolian Civilizations, but the skeletons themselves and a selection of grave goods have been left in situ on-site.
The site's fortifications, with a monumental gate entrance decorated with reliefs, and the corbeled tunnel entrance at the back of the site, both dating from Alacahöyük's later Hittite period, are also worth visiting.
Alacahöyük is 28 kilometers north of Hattuşa and 196 kilometers east of Ankara.
10. Check Out the Cultural Scene at Ankara State Opera House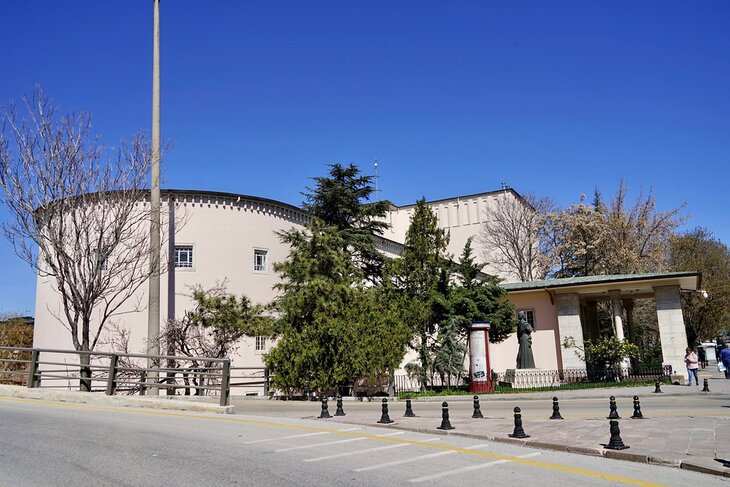 Highlights: Turkey's most important venue for ballet, opera, and theater performances
If you want to add a bit of evening culture to your trip, the Ankara State Opera House is the top venue in town. This theater is the central hub for catching performances of the Turkish State Opera, Turkish State Ballet, or Turkish State Theater companies.
The site hosts a regular and varied program of concerts and events from September to June, ranging from contemporary theater productions to classical ballet.
As well as being home base for all the national theater and arts companies, the theater is also used to host big name international classical music performances and is a major venue for local festivals.
Address: 20 Atatürk Bulvari, Ankara
11. Day Trip to Gordion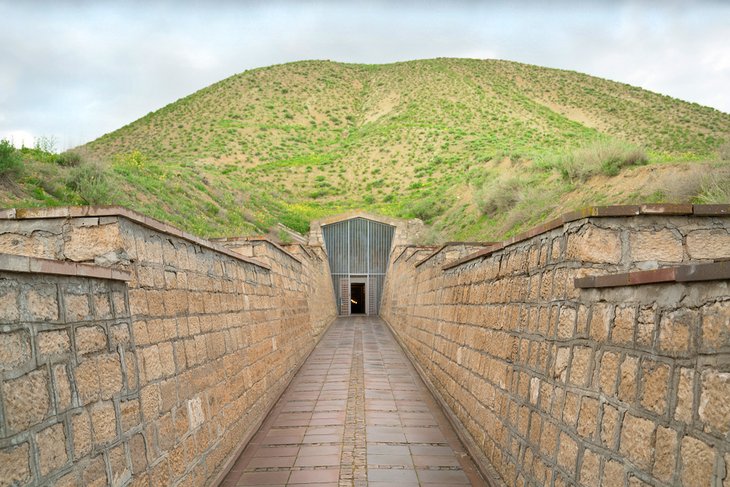 Highlights: Delving deep inside the Midas Tumulus and then exploring the hilltop ruins
Ankara is the best base for a day trip to the Iron Age Phrygian capital of Gordion. This was the site once home to the legendary King Midas and the location where Alexander the Great cut the Gordion knot.
Today, the remnants of this Phrygian city sit amid the fields of the sleepy farming hamlet of Yassihöyük (96 kilometers southwest of Ankara).
There are two main sites in the village. The most famous is the Midas Tumulus – an artificial earthen mound over 50 meters high that contains the tomb of a Phrygian king.
Despite its name, there is no evidence that the king buried here was actually the Midas of legend. You can walk through a tunnel in the tumulus up to the tomb, though the burial goods found here are in the Museum of Anatolian Civilizations, not on-site.
There's a small museum across the road from the tumulus, which holds some finds unearthed from the archaeological work here as well.
At the other end of the village is the citadel mound, which is home to ruins from a range of eras.
Although the ruin layout of various walls, arches, and foundations is rather confusing to non-experts, there are plentiful information panels on the citadel mound, which explain both the site and Gordion's history.
Address: Yassihöyük, Polatli
12. Feast on Local Flavors in Beypazarı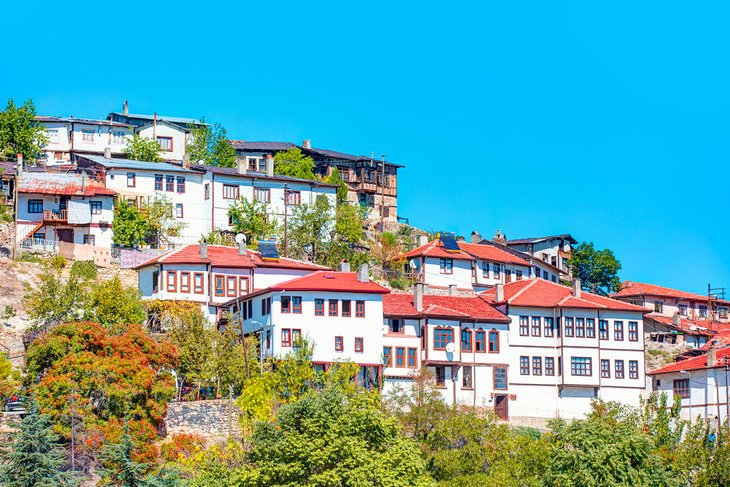 Highlights: Preserved Ottoman-era architecture, cobblestone lanes, and local foodie treats
The town of Beypazarı, 102 kilometers west of Ankara, is hugely popular with Ankara locals as a day-trip destination on sunny weekends. This is due to both the glut of finely restored Ottoman-era buildings in its small historic center and for its culinary reputation.
The town sits in the heartland of Turkey's carrot-growing region, and people flock here to munch on the town's carrot baklava and carrot Turkish delight, and drink their local carrot juice.
The town's non-carrot cuisine includes many other regional specialties produced only in the local area, so the cafés and restaurants here are jam-packed during the warmer months with Turkish foodies, who've come here solely to feast on Beypazarı's flavors.
After lunch, weave your way through the lanes of the old town to admire the red-roofed, timber framed mansions, and make sure to call into some of Beypazarı's small specialist museums, all in converted Ottoman houses, dedicated to Turkish folk heritage and local culture.
13. Relax in Gençlik Park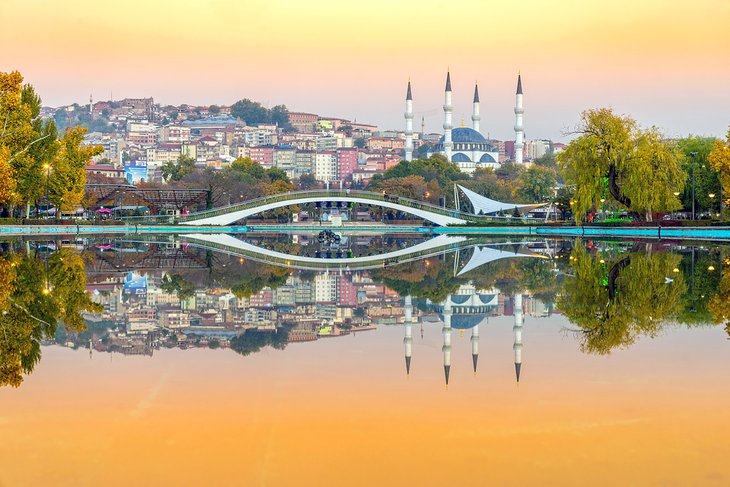 Highlights: Popular, central city green space with pretty garden-side walkways for strolling
This is Ankara's most central green space. Hugely popular with local families for evening strolls and weekend picnics, Gençlik Park is a good place to visit to take a breather from the capital's hustle.
The park has a large lake and various promenades lined by fountains and manicured gardens.
The southeast corner of the park is home to Ankara's Luna Park, which holds a number of amusement park rides, including a Ferris wheel, two roller coasters, and plenty of gentler rides such as carousels and bumper cars suitable for younger children.
If you're traveling with tots, it's a good place to keep the kids distracted for an hour or two.
Address: 50 Atatürk Bulvari
14. Shop for Local Crafts in the Hamamönü Neighborhood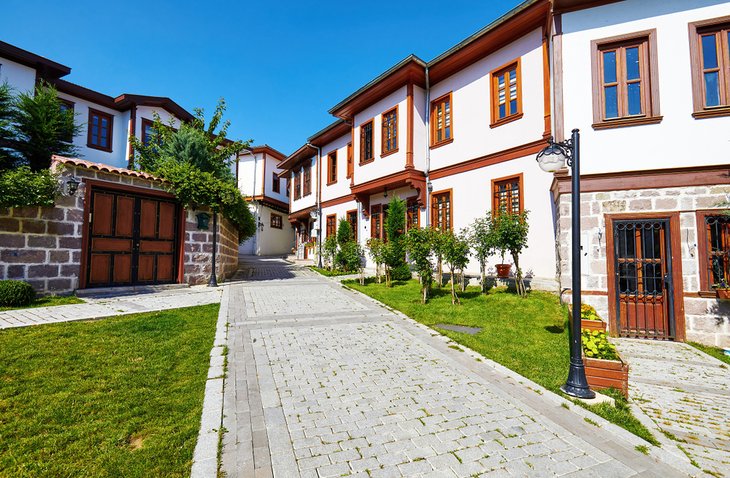 Highlight: Craft shopping and café-life amid a central district of restored Ottoman architecture
This small area of traditional, wooden-beamed Ottoman-period mansions in central Ankara has been fully restored and has become a popular weekend destination for café life and arts and crafts.
Hamamönü is one of the few areas in the central city that has managed to preserve its architecture, so a stroll here is a taster of what the city looked like before the modern era.
It's a good place to browse for traditional Turkish crafts, with market stalls set up just off the cobblestone alleys.
For foodies, many of the cafés and restaurants set within the old houses here specialize in local Anatolian cooking.
Address: Talatpasa Bulvari 126, Hacettepe, Ankara
15. Stroll around Eymir Lake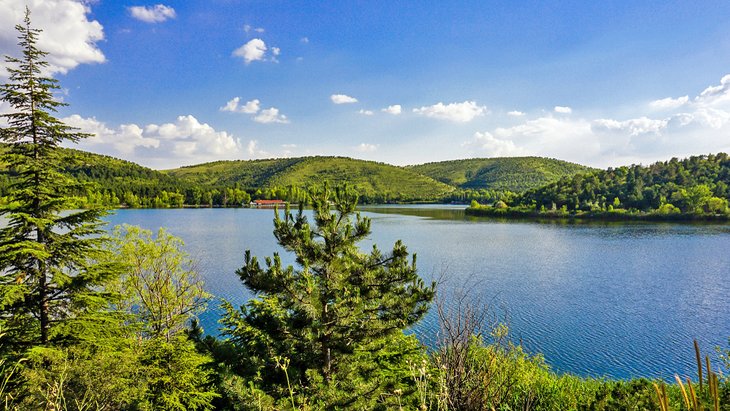 Highlights: Nature break on the edge of the city with opportunities for hiking and cycling
Eymir Lake (17 kilometers south of the central city) and its surrounding pine tree forest is one of Ankara's most popular spots for a nature break from the big city bustle. On sunny weekends, the lakeside area can get packed with locals out for a picnic, but on weekdays, it's much more peaceful.
For a long stroll, run, or cycle, the road that loops for 10.5 kilometers around the lake is Ankara's nearest outdoor destination. For cyclists, bicycles can be rented on-site while keen walkers wanting to head farther into nature can tackle the various walking trails that head into the forest.
The southern side of the lake has plenty of restaurants and cafés, which are hugely popular with locals for long and lazy breakfast feasts on weekends.
Address: Oran-Eymir Yolu, Oran, Ankara
Ankara, Turkey - Climate Chart
Average minimum and maximum temperatures for Ankara, Turkey in °C
J
F
M
A
M
J
J
A
S
O
N
D

4

-3

6

-2

12

1

17

5

21

9

26

13

30

15

30

15

26

11

20

7

13

3

6

-1

PlanetWare.com
Average monthly precipitation totals for Ankara, Turkey in mm.

48

36

36

48

56

38

13

13

20

28

33

48
Average minimum and maximum temperatures for Ankara, Turkey in °F
J
F
M
A
M
J
J
A
S
O
N
D

39

26

43

27

53

33

63

41

69

48

79

54

85

59

85

59

78

51

67

44

55

36

43

30

PlanetWare.com
Average monthly precipitation totals for Ankara, Turkey in inches.

1.9

1.4

1.4

1.9

2.2

1.5

0.5

0.5

0.8

1.1

1.3

1.9
The best time to visit Turkey's capital, Ankara, is during the months of June, July, August, and September. This is when the weather is at its warmest and most dependably pleasant.
In July and August, temperatures range on average between 20 and 28 degrees Celsius, and the summer weather brings plenty of sunny blue skies that are perfect for city strolls and sightseeing.
June and September tend to be milder, with average temperatures normally peaking at 25 degrees but dropping as low as 9 degrees at night. Even in August, bring along a warmer layer to throw on during the evenings, as Ankara sits at 938 meters above sea level and temperatures do drop after dark. If you're out late enjoying Ankara's many streetside or terrace dining options, it can get chilly in short sleeves.
Rainy weather isn't unheard of even midsummer, but July, August, and September tend to be the driest months, with an average of four to five days of rain each month. June has damper weather with an average of nine days of rain.