17 Top-Rated Things to Do in Turkey
Turkey's rich cultural heritage and varied geography, which swoops from beach to mountains and high plateaus, guarantees that visitors have plenty of activities and things to do on hand.
The long, meandering coastline offers some of the most scenic sailing in the Mediterranean plus Turkey's most famous long-distance hiking trail. Cappadocia's hot-air ballooning is feted as the best in the world.
Even on a short city break in Istanbul, you can easily dig a bit deeper into Turkish culture by taking a food tour, shopping in the historic bazaars, or simply steaming yourself rosy-pink in a hammam (Turkish bath).
Whether you're here for a few days or a month, plan your time using our list of the top things to do in Turkey.
1. Scrub Up in a Hammam (Turkish Bath)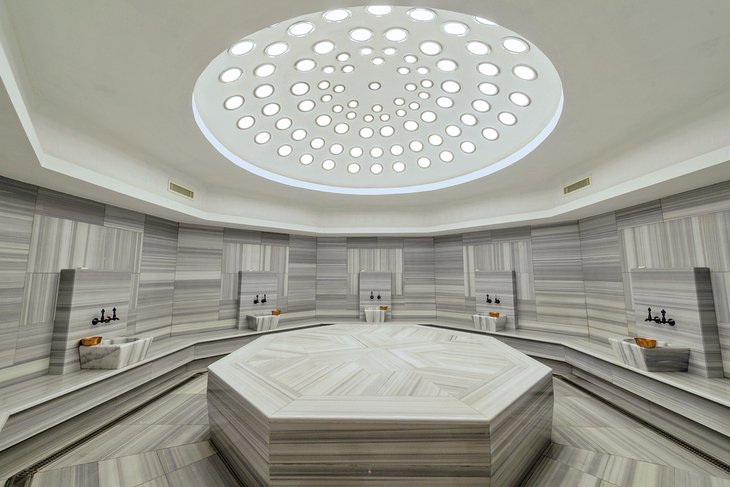 Getting soaped up and scrubbed down in a hamam (Turkish bath) is the traditional Turkish bathing experience that combines history and culture with pure pampering. These public baths were once an integral part of life in the Ottoman Era. Today, many of the more ornate surviving hammams are tourist attractions in themselves.
In a typical hammam experience, you first sweat it out amid the steam before an attendant scrubs your skin with a traditional kese mitten. Cold water is then thrown over your body before you have a tip-to-toe soapy wash that includes a (very short) massage.
Many of the most famous hammams are now like historical spas and offer extra services such as oil and aromatherapy massages, facials, and manicures that you can add on to your traditional soak and scrub.
Istanbul is home to some of Turkey's most lauded hammams, with lavish, domed marble interiors that provide one of the most luxurious and ornate bathing backdrops you're likely to ever have.
In particular, the Cağaloğlu Hamam, in business since 1741, and the Ayasofya Hürrem Sultan Hamam, built by the famed Ottoman architect Mimar Sinan for Sultan Süleyman the Magnificent, are two of the best places to visit for a scrub and soak that combines historic sightseeing with Turkey's most famous bathing experience.
2. Hot-Air Ballooning over Cappadocia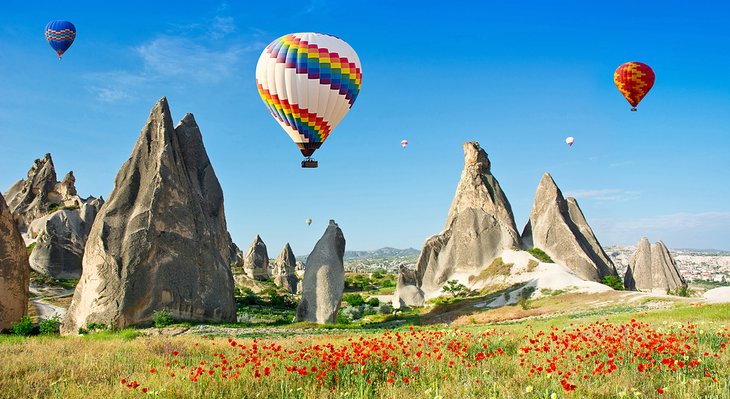 One of Turkey's top things to do, a hot-air balloon ride over Cappadocia provides astonishing panoramic vistas of this region's fantastical rock formations.
Cappadocia is known as one of the world's top ballooning destinations. Flight conditions allow for year-round flights, and due to a lack of wildlife, balloons here are allowed to fly close to the ground, so ballooners get both up-close and far-above aerial views.
Ballooning takes place just after sunrise, so be prepared to roll out of bed before dawn if you want to partake. The early morning wake-up call is definitely worth it for the experience of seeing the jutting fairy chimney formations and craggy moonscape of valleys from above.
A standard hot-air balloon experience here includes hotel pickup and drop-off (from hotels across the Cappadocia village region) and breakfast.
You'll typically share a basket with between 16 and 24 other participants for a flight that takes between 45 minutes to an hour.
Both longer flight packages and completely private flights are also offered.
Accommodation: Where to Stay in Cappadocia
Read More: Top-Rated Things to Do in Cappadocia
3. Hike the Lycian Way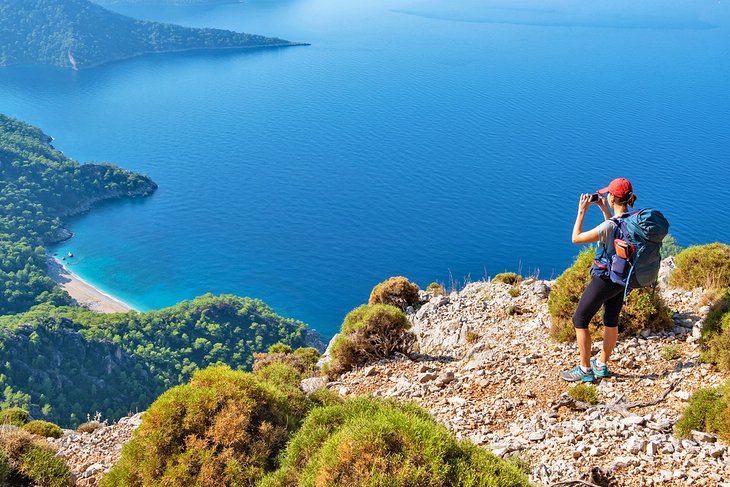 Turkey's most famous long-distance walking trail winds along the Mediterranean Coast from Fethiye down to Antalya. Along its 540-kilometer length, the way-marked trail passes some of Turkey's most famous Classical-era Lycian city ruins, such as UNESCO World Heritage-listed Xanthos and Letoön, as well as taking in some of this coastline's most magnificent views.
Scenery along the Lycian Way swoops from craggy Taurus Mountain vistas to rocky pine-forest-clad coves lapped by the Mediterranean Sea.
Walking the entire trail takes 29 days. Most people, though, walk just a few sections of the trail or a section as a day hike.
Good destinations for starting a shorter Lycian Way hike are Fethiye, Patara, Kalkan, and Kaş.
4. Explore Ephesus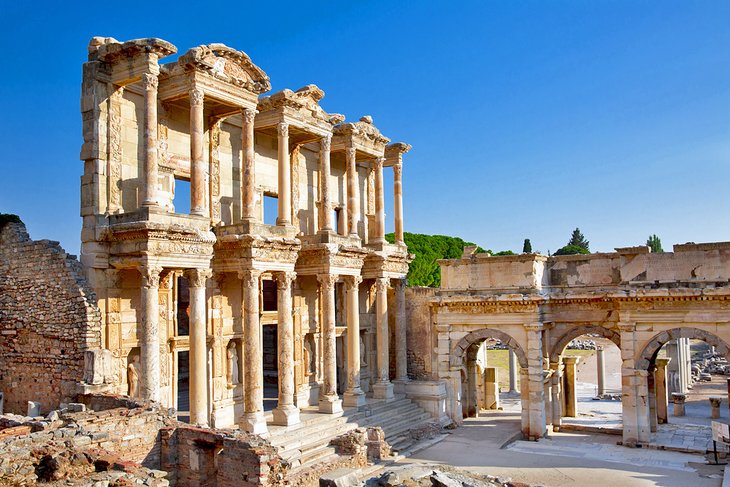 One of the world's best preserved Roman ruins, exploring Ephesus, whether independently or on a guided tour, allows you to get a real feel for city life in the ancient world. Ephesus was once home to a population of approximately 250,000 and was capital of Asia Minor in the region's Roman era.
Today, its major monuments such as the Library of Celsus, Great Theater (which could seat 25,000), and Temple of Hadrian are reminders of the city's grandeur at the height of its power.
Exploring beyond these famous buildings, though, reaps rewards. In Ephesus' Terraced Houses complex, you see the frescoes and mosaic floors that decorated the villas of the city's upper classes. The various bathing complexes show the public nature of Roman ablutions, while multiple temples point to the importance of religious worship in daily Roman life.
The two main bases for visiting Ephesus are the town of Selçuk, right beside the ruins, and the resort town of Kuşadası, 20 kilometers to the south.
5. Yacht Cruising from Fethiye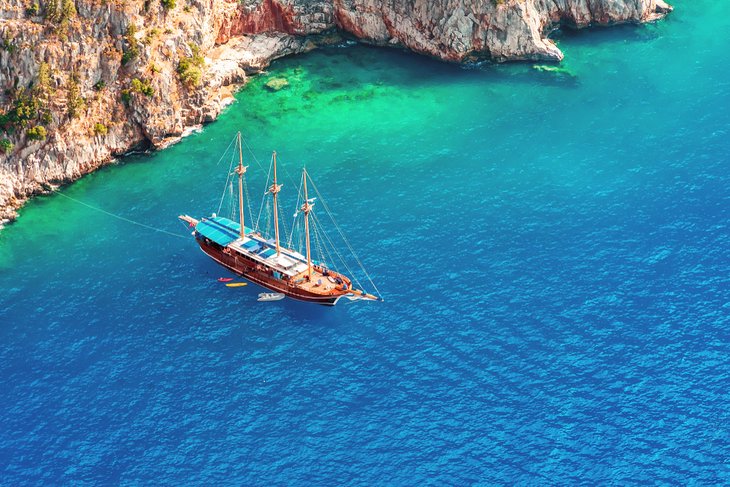 Fethiye is the number one base for travelers who want to cast off for yachting trips along Turkey's Mediterranean coast.
If you don't have plenty of time up your sleeve, you can opt for the popular 12 Island's Tour day trip, which sails around the islands that speckle Fethiye Bay. It makes for a lazy day of sun-soaked lounging, scenery, and swim stops.
The most famous sailing itinerary, though, is the Blue Cruise tour. This trip takes three nights to sail along the coastline from Fethiye to Olympos, with stops at Butterfly Valley, Gemiler (St. Nicholas) Island, Kaş, and the Kekova Island area. Typically, the yachts take between 12 and 14 passengers, and facilities are shared.
High season for yacht trip departures is July and August, though trips are possible from April through to October.
6. Paragliding in Ölüdeniz & Pamukkale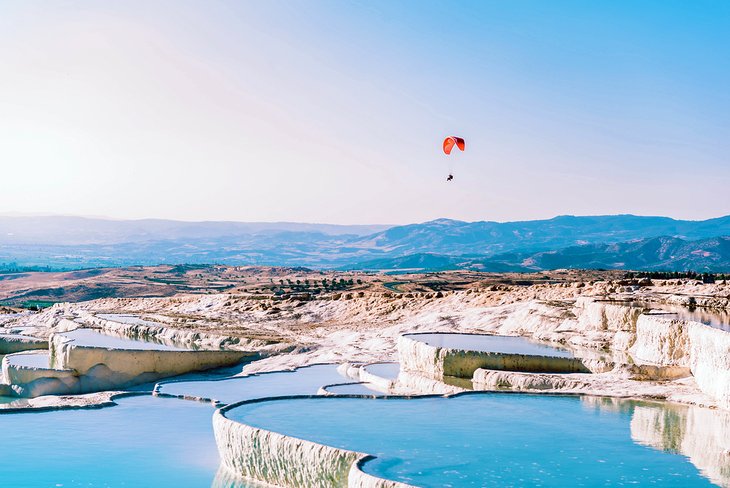 Paragliding takes place at several destinations in Turkey but for tourists, the two best places to visit for this adventure sport are Ölüdeniz and Pamukkale.
Ölüdeniz is feted as one of the world's top destinations for tandem paragliding tours. For scenery, as you descend, you really can't beat it, with a backdrop of craggy pine-tree-clad mountains swooping down to the famed azure blue lagoon and Mediterranean Sea beyond.
Flights take off from the summit of Babadağ (Mount Baba), which looms over the resort village, and land on the beach in front.
Tandem paragliding at Pamukkale offers aerial views over both one of Turkey's best known Roman city ruins and most famous natural wonders.
Flights soar over the ruins of Roman Hierapolis and the slope of glistening white calcite travertines below. For sightseeing from a bird's-eye perspective, it can't be beaten.
7. Join a Food Tour in Istanbul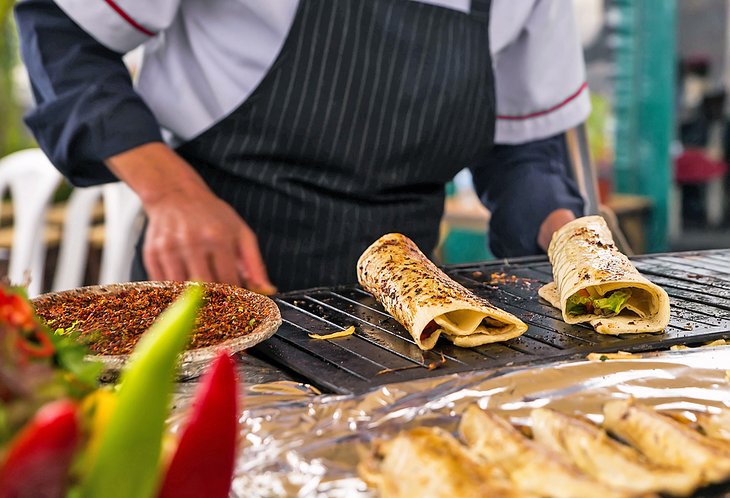 Istanbul is foodie central, and there are few better ways of discovering a city's culture than through its food.
Several local Istanbul tour companies run walking tours that focus on Istanbul's culinary heritage. They're an excellent way of supplementing your big-hitter sightseeing and getting to know the city on a more intimate level.
Depending on the itinerary you choose, the walks take you through some of the city's market districts, to local restaurants well off the normal tourist beat, street food stalls, and to specialist food purveyors - such as cheese mongers, confectioners, and coffee roasters - with plenty of sampling of local delicacies.
Some focus on specific neighborhoods, such as the Bazaar district, Beyoğlu, or Kadıköy and look at their distinct food cultures, while others take a wider-lens view and hit both the Asian and European shores.
All the tours give you a more personal view of this mega-city and allow you to look beyond the historic monuments to see the city's vibrant, modern face.
Accommodation: Top-Rated Places to Stay in Istanbul
8. Kayaking at Kekova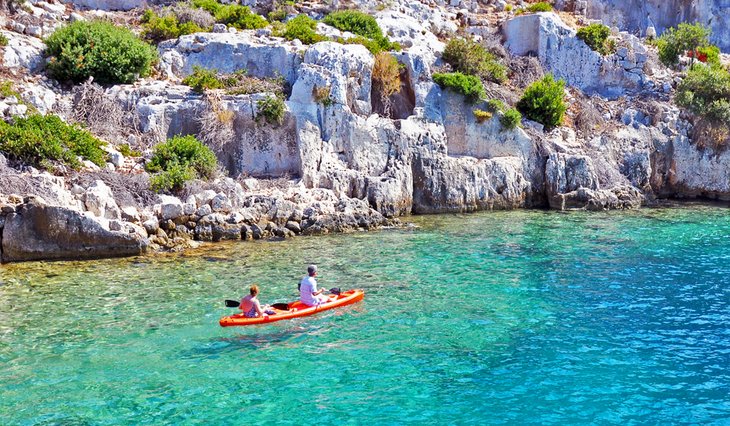 The main center for organized sea kayaking activities along Turkey's rugged coastline is Kaş. The nearby Kekova Island area, with its underwater Sunken City ruins, is best seen from a kayak, and tour operators in town offer popular daily excursions from April to September.
These kayaking trips are suitable for complete beginners and are the only way to see the ruins up close, as swimming isn't allowed in the area.
A typical tour heads by vehicle to the itsy village of Uçağız and launches the kayaks from the harbor there. Kayakers then paddle out of the harbor and skim along the Kekova Island shoreline to see the ruins. Afterwards, you cross the Kekova Strait to the village of Kaleköy to see the ruins of Ancient Simena, before paddling back along the coast to Uçağız.
If you're a more experienced kayaker, a couple of Kaş tour operators also offer longer, multi-day sea kayaking trips that explore farther along the rocky, forest-clad coast with its sea caves and ancient harbor ruins.
9. Watching a Whirling Dervish Ceremony (Sema)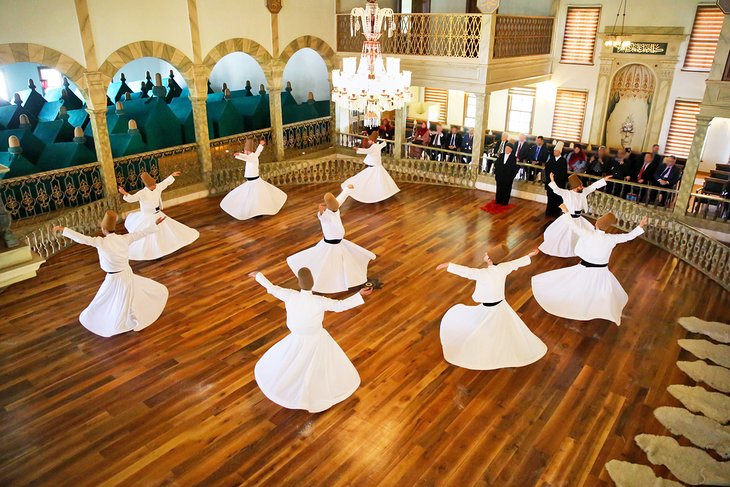 The Mevlevi sect is a Sufi religious order that began under Mevlana Celaleddin Rumi in 13th-century Konya. They're best known for their religious practice of sema – a meditative whirling ceremony.
In Turkey, there are several places where visitors can see a whirling dervish ceremony, though be aware that most performances in tourist resort towns use professional dancers not Mevlevi devotees. Konya, Istanbul, and Bursa are the best places to see an actual sema.
Konya has held onto its heritage as the birthplace of the Mevlevi order and hosts semas every Saturday evening throughout the year at the Mevlana Culture Center. During the summer months, you can also see the dervishes whirl at a second sema ceremony held outdoors on Wednesdays in the garden of the Mevlana Museum.
In Istanbul, the best place to see the whirling dervishes is the Galata Mevlevi House Museum, which holds a weekly Sunday sema ceremony.
If you're visiting Bursa, don't miss visiting the city's Mevlana Culture Center. Here, you can see Mevlevi students whirl in the short daily evening sema ceremonies.
10. Hop aboard an Istanbul Ferry Tour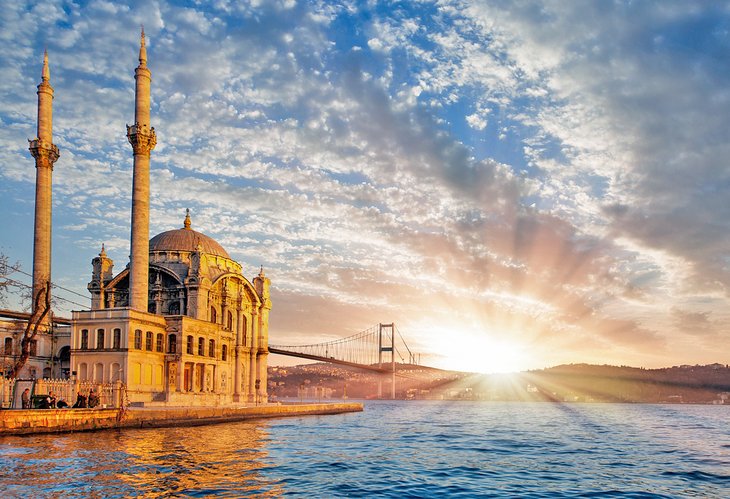 Take to the water for Istanbul's most laid-back sightseeing. Istanbul's ferry tours are a popular way to see the city's famed shoreline cityscapes on a ride up the Bosphorus Strait.
There are two main options, depending on how much time you have up your sleeve: The Long Bosphorus Tour departs from Eminönü dock at 10.30am daily throughout the year. It chugs the entire length of the Bosphorus up to the pretty village of Anadolu Kavağı, overlooked by a Byzantine castle, in around 90 minutes. The ferry stops here for three hours before turning around for the return journey.
For a quicker ferry tour itinerary, the Short Bosphorus Tour heads up the strait to the Fatih Sultan Mehmet Bridge, where it turns around and returns to Eminönü, taking two hours in total. It operates daily from May to October.
11. Horse Riding in Cappadocia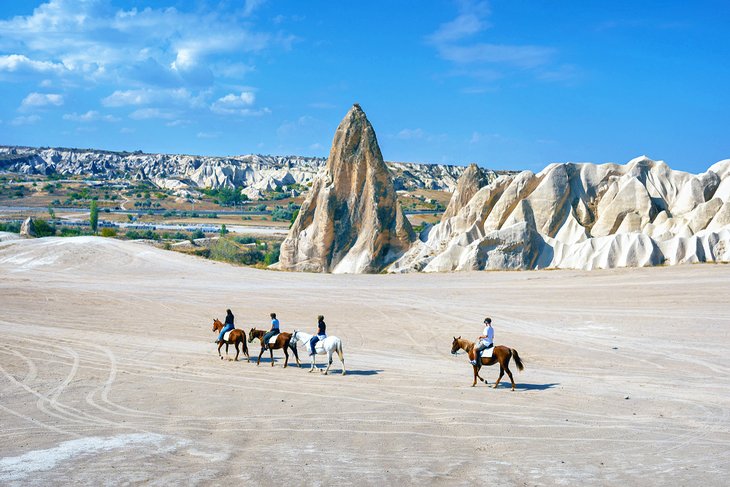 The valleys of Cappadocia, with their fairy chimney rock formations, make for Turkey's best horse riding destination and there are plenty of stables where you can saddle up.
Sunset tours, taking in some of the most famous valley panoramas, particularly the vistas over Red Valley, are the most popular option and are a good choice for novice riders looking for a short riding option.
If, though, you do have some horse riding experience, opt for a half-day or full-day horse ride. These usually take you into the countryside of Red Valley, Rose Valley, and Meskender Valley, which connects the villages of Göreme and Çavusin to discover the surreal topography of Cappadocia all on horseback.
12. Go Boating in Bodrum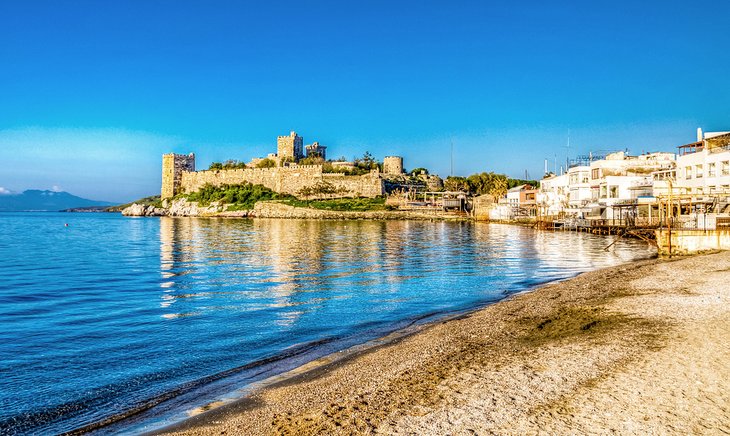 Bodrum is a major summer vacation hub, and the sun worshippers who head here have plenty of options to get off the beach and onto the water.
The most popular boat trip is a day-long cruise around Bodrum Bay, anchoring off islands for swimming between puttering along, admiring the craggy coastline of the Bodrum Peninsula with its hidden coves and lush forest.
A number of yacht operators also offer one-day and multi-day sailing itineraries.
One-day yacht trips sail around Bodrum Bay, while longer journeys either head down the coast towards Fethiye or combine the Turkish coast with a number of nearby Greek islands. Unlike in Fethiye though, these yacht trips are all private charters.
13. Shop in the Bazaars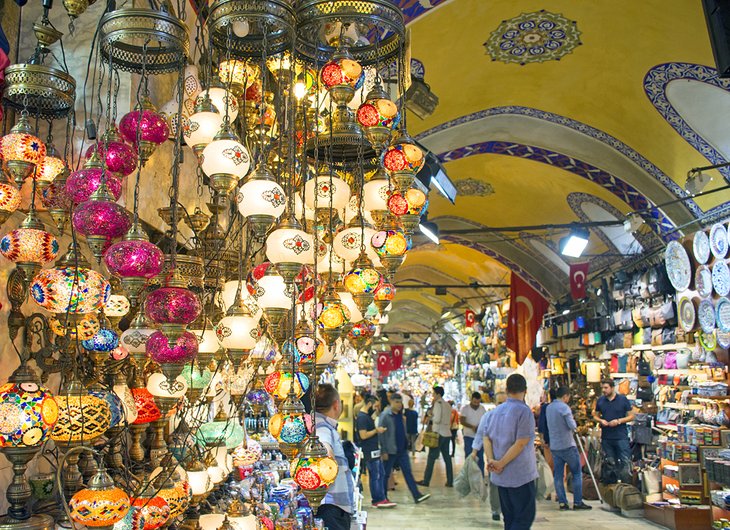 From the many region-specific designs and styles of Turkish carpets to Iznik's blue and white ceramic tiles, Turkey is renowned for its craftwork traditions, and it's a rare traveler who doesn't spend at least some time shopping on their trip.
The most atmospheric places to shop are the bazaars (markets), many of which are sightseeing attractions in themselves.
The most famous bazaar is Istanbul's Grand Bazaar, a thriving center of commerce, with its own restaurants and mosques, which has been in business since 1461. You could easily spend half a day exploring the maze of vault-roofed lanes lined with stalls that lead between hans (caravanserais) and bedestens (warehouses) here.
Bursa's vast bazaar, built during its heyday when it was a major silk producer and trading stop, is another historical bazaar not to miss, both for its modern silk products in the bazaar's Koza Han building and to stroll between and admire the architecture of the restored caravanserais and bedestens here.
If you really enjoy bazaar shopping, though, don't miss the bazaars of Gaziantep and Şanlıurfa where the narrow winding lanes, stuffed with stalls and shops selling spices, local produce, clothing and household goods, are also home to tiny workshops producing fine engraved metalwork and woodcrafts.
14. Take the Eastern Express to Kars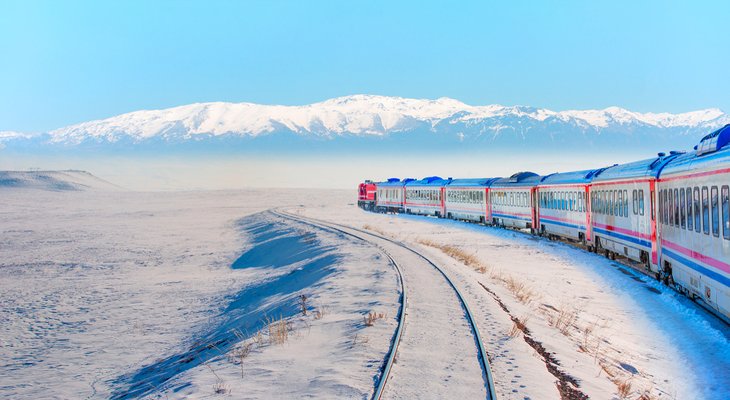 Turkey's most scenic rail journey is the Eastern Express (Doğu Ekspresi) train, which connects Ankara with Kars in Turkey's far northeast. The journey passes through the best of Anatolia's rugged mountain and high plateau scenery over the 24 hours it takes end to end.
This route has become a favorite tourist activity for Turkish visitors, particularly during winter to see the landscape covered in a deep layer of snow.
In recent years, it has become so popular that tickets can sell out months in advance, so planning is essential if you want to take this train journey.
The train route stops in the cities of Sivas and Erzurum along its way, which are both also worth visiting overnight for their historic monuments, if you want to break up your journey. The most scenic section of the train journey is between Sivas and Kars, so it's also worthwhile just taking this easternmost section.
15. Trek in the Kaçkar Mountains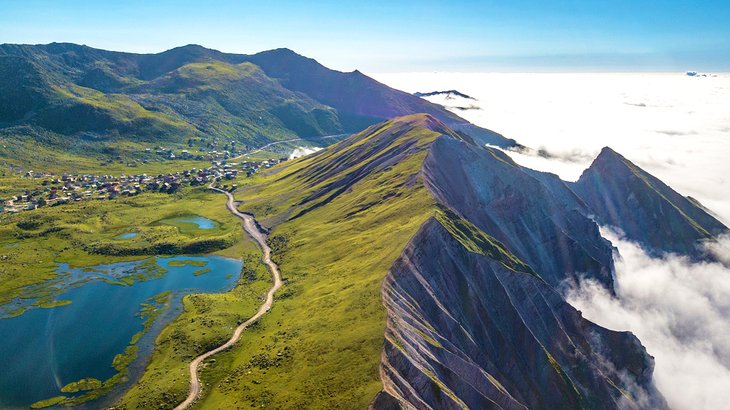 Tucked into the northeastern corner of Turkey, the Kaçkar Dağları (Kaçkar Mountains) are one of the country's most beautiful wilderness areas.
Lush, green high mountain pastures are hemmed in by soaring snowcapped mountain peaks and densely forested slopes.
The entire area is one of Turkey's top places to visit for climbers and trekkers but is also a major location for less rugged pursuits, such as niche wildflower and butterfly-spotting tours.
The hardiest treks here traverse the high mountain passes (over 3,000 meters high) from the west to east (or vice versa), though villages in the valleys on both sides of the mountain range can also act as bases for easier day hiking.
High summer (July and August) is the main hiking season, as the highest passes are accessible during this time, but if you're only planning to hike in the lower reaches of the mountains, late spring and early fall are also great times to come.
16. Take a Scenic Cable Car Ride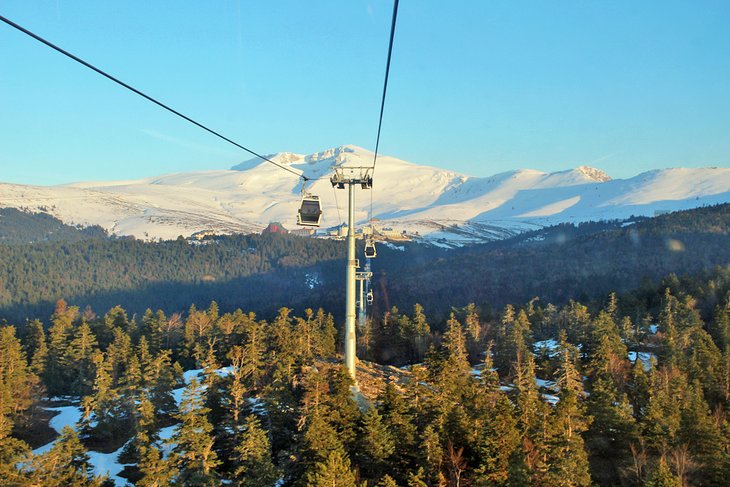 Turkey has several cable cars, but two to definitely add onto your itinerary for the panoramic views they provide are Bursa Teleferik up Uludağ (Mount Ulu), on the outskirts of Bursa, and the Olympos Teleferik in Kemer.
The Olympos Teleferik in Kemer, 50 kilometers west of Antalya, offers stunning views across the coastal mountains of Beydağları National Park, and the Mediterranean Sea beyond, on its way up to the summit of Mount Tahtalı at 2,365 meters.
At the summit, paragliding and hiking trails are available, though many people are here simply for the views along the way and from the summit restaurant.
Bursa Teleferik is one of the longest cable car rides in the world, taking 25 minutes to run the entire nine kilometers up to the ski slopes and ski hotels of Uludağ.
In winter, most people are using the cable-car to get to the slopes, while in summer, the stations along the length are big picnicking spots for Bursa locals, but it's also worth riding simply for the views.
17. River Cruising at Dalyan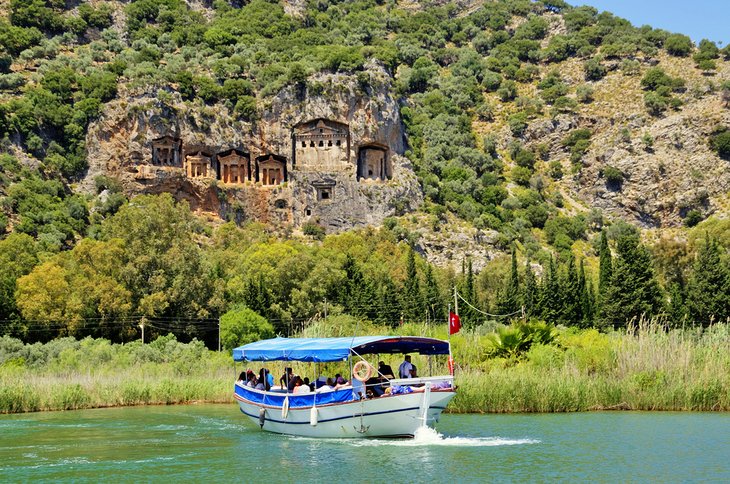 Dalyan is a little riverside town, roughly halfway between the big resort towns of Marmaris and Fethiye. It's a laid-back place that's highly popular for summer breaks because of its location, with the ruins of Kaunos on the opposite shore, and just 12 kilometers north from Iztuzu Beach.
The river is Dalyan's prime center of activity. As well as boats shuttling regularly to and from the beach during summer, the boat cooperative here also offer a bundle of half- and full-day tours that further explore this area. The most popular boat trip is heading up river to Lake Köyceğiz and the mineral-rich hot mud pools of Sultaniye Hot Springs.
On Mondays, in summer, the river boat captains also run half-day tours to Köyceğiz village, when the local weekly market is in full swing.
Private river trips heading down river past Iztuzu Beach and along the coast to Ekincik Beach are also popular.