12 Top-Rated Beaches in Turkey
We may earn a commission from affiliate links ()
With a long western coastline that laps both the Aegean and Mediterranean Seas, Turkey has long been a top beach destination. European tourists arrive in their droves during summer to soak up a few weeks of sun, sand, and sea.
With a huge number of beach resorts to choose from, there's something for every kind of traveler here. If you like your beach vacation served up with a dash of city life, head to Antalya. Prefer nature and a quieter experience that's focused on the beach? Beeline straight to Patara or Çirali.
July and August are peak season. At this time, accommodation prices skyrocket, and the sand at the most popular beaches gets packed. The weather along this coast, though, is mostly warm and sunny from May all the way through to October, so spring and fall are great times to lap up Turkey's beach life without the crowds.
Find the best place to visit for your next seaside vacation with our list of the best beaches in Turkey.
Note: Some businesses may be temporarily closed due to recent global health and safety issues.
1. Patara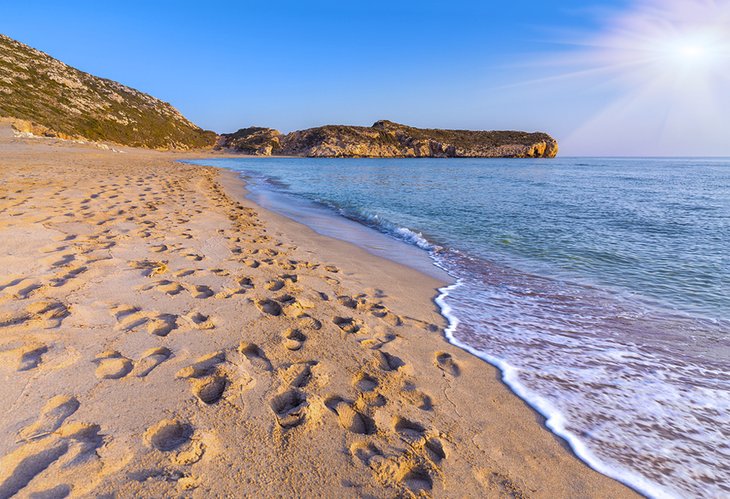 The longest beach in Turkey, Patara's sand runs for 18 kilometers along the coast backed by rolling, wild dunes in places. Thanks to the sheer space on offer, all types of beachgoers are catered for. If you want facilities, spend your day close to the main entrance where the sand is lined with shaded sun-loungers and a café is on hand for meals and refreshments.
Don't fancy hanging out with the crowds? Fine. Just stroll along the sand and you'll easily find a patch of beach with no one else in sight.
Even better, for those that get bored of a full day of swimming and sun-baking, just behind the sand are the ample ruins of Patara. One of Ancient Lycia's cities, the monuments you can explore include a 5,000-seat theater, a column-lined colonnaded street, and a finely restored bouleuterion (parliament building). The beach entrance fee includes the ruins.
Many people arrive at Patara on day trips from nearby resort towns such as Kalkan, Kas, or Fethiye. If you want to spend more time here, though, the charming village of Gelemis lies just a couple of kilometers inland from Patara's ruins and sand.
The super-friendly and supremely comfortable Flower Pension is one of the village's plentiful small family-run guesthouses that make a homely, local alternative to Turkey's many colossal-sized resort hotels.
Accommodation: Where to Stay in Patara
2. Bodrum Peninsula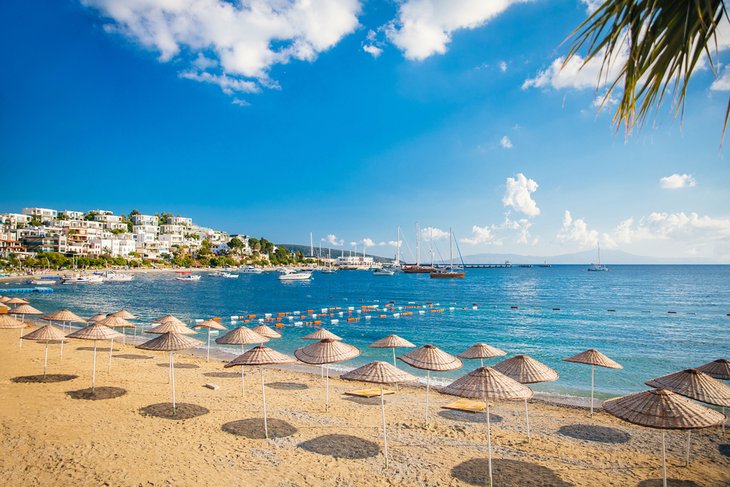 The Bodrum Peninsula is the prime beach resort area of Turkey's South Aegean coastline. The peninsula's forested, hilly slopes give way to curving bays of shingle and sand beach that bring both European and Turkish visitors flocking here through the summer months.
Some of the prettiest strips of beach sit on the western tip of the peninsula near the villages of Yalikavak, Bitez, Gündogan, and Gümüslük, which are home to luxury holiday villa developments and boutique hotels. Most visitors, though, base themselves in Bodrum Town, with its castle, old town area of white-washed cottages, and easy access to the sand out of town.
For those that prefer the friendly, intimate atmosphere of boutique hotels, El Vino Hotel is a top pick here. If you're looking for resort living smack on the beach, Voyage Bodrum offers five-star service and facilities.
Both Bitez Beach, with its long strip of golden sand, and Ortakent Beach, with its yawning bay, are great family-friendly options. The aqua-colored sea here is shallow at the water's edge, the sand is backed by restaurants and cafés, and there are plenty of water sports opportunities.
3. Kaputas Beach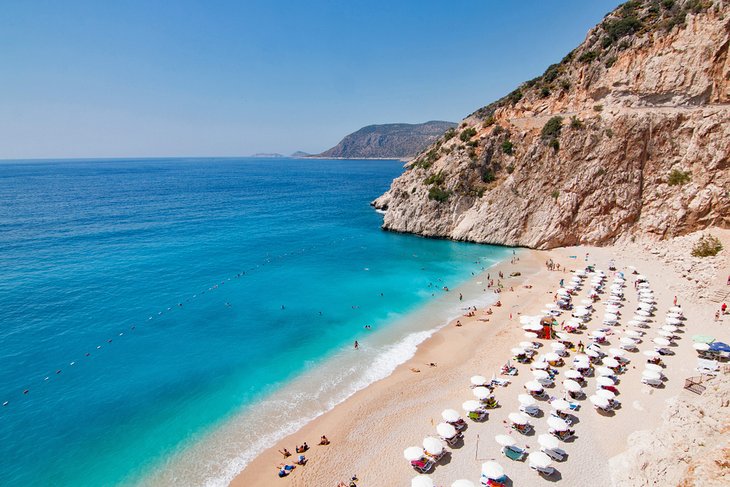 Kaputas Beach is a tiny bay on the main coastal road between the harbor towns of Kalkan and Kas on Turkey's Mediterranean Coast. Its dramatic location, squeezed between soaring and jagged cliff faces, has made this little patch of shingle beach world famous.
To get here, beachgoers either have to walk down the long, 200-step staircase from the coastal highway above or arrive by boat from either Kalkan or Kas. Kaputas is most striking when seen from the sea, making boat trips here the preferable way to arrive.
In summer, get here early, as it can get crammed with sun-seekers. Kalkan is only a seven-kilometer hop to the west, so it's a good base to visit from. There are plenty of boutique hotels scattered throughout the cobblestone alleys of Kalkan's old town, including the intimate Courtyard Hotel.
4. Çirali Beach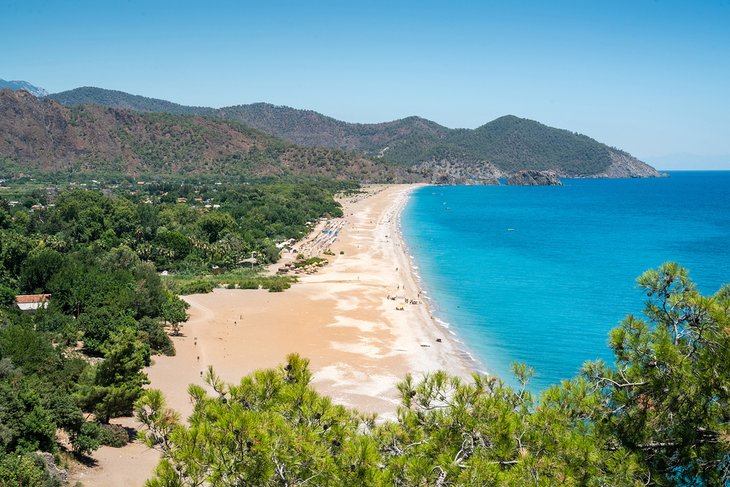 This wide four-kilometer sweep of sand is backed by the laid-back village of Çirali, framed by gardens of citrus trees and backed by forested hills. Unlike many of Turkey's beach resorts, Çirali has eschewed major development and favors guesthouses and low-lying small hotels rather than mega-resorts. This ensures a low-key atmosphere that remains focused on relaxing on the beach.
If you do fancy exploring farther than the sand, though, the ruins of the ancient Lycian city of Olympos sit on the far southern end of the beach, while in the evening, you can hike up Mt. Olympos to view the famed eternal flame of the Chimaera.
Accommodation: Where to Stay in Cirali
5. Çesme Peninsula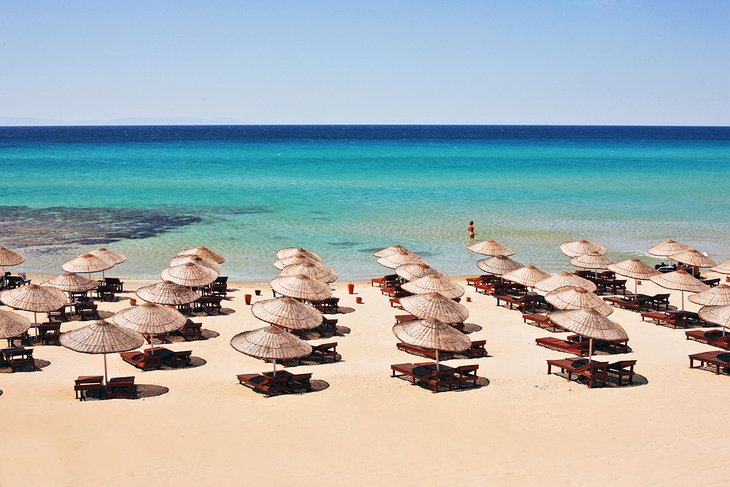 This peninsula on the Aegean coast has become the favored vacation haunt for well-to-do Turks, but even today remains well off the radar of many foreign visitors. The summer action centers on the village of Alaçati, where gourmet dining and café culture keep a fashionable crowd busy when sunbathing is done for the day.
The Çesme Peninsula's beach scene was originally known for its windsurfing, and the area is still Turkey's number one windsurfing spot. These days, though, most people are here for the more relaxing pursuit of beach slothing.
Beaches range from Alaçati's Windsurfing Beach, where it's all about water sports, and local operators offer windsurfing and kitesurfing lessons and equipment rental, to exclusive beach club beaches, which host live music and other events during peak season, though often don't have much actual sand, to the long swath of soft white sand at Ilica Beach on the seafront of Çesme Town.
6. Butterfly Valley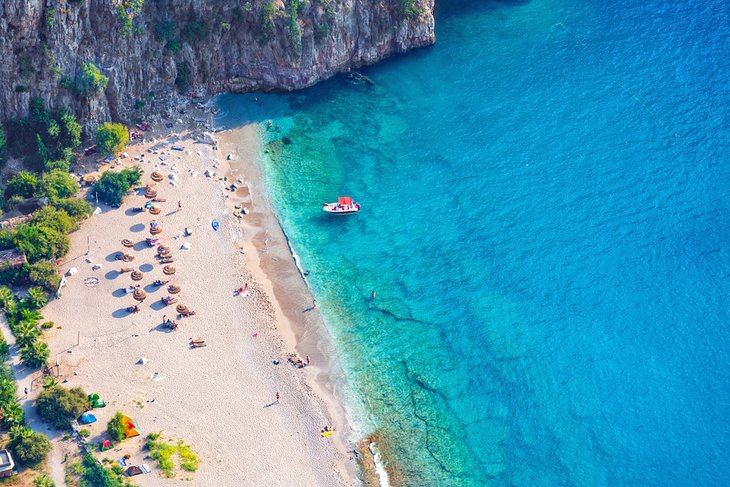 This lush gorge, hemmed in by rugged cliffs, opens up onto a wide slash of white sand and shingle at its seafront. Arriving in Butterfly Valley by boat, watching the valley and beach reveal themselves as you sail past the high bluffs of the Yedi Buran Cape, is part of this beach's theatrical appeal.
Most visitors stop here as part of a boat day trip from Fethiye. During summer, there are also regular shuttle boats running to and from Ölüdeniz. The only other way to access Butterfly Valley is by a tough and sweaty hike from the tiny settlement of Faralya on the clifftop above.
For nature lovers, Butterfly Valley has more up its sleeve than sun, sea, and sand. The valley garnered its name from the Jersey Tiger butterflies that are endemic here. If you feel like a stroll and some butterfly spotting, there are lovely walks through the valley beyond the beach.
7. Antalya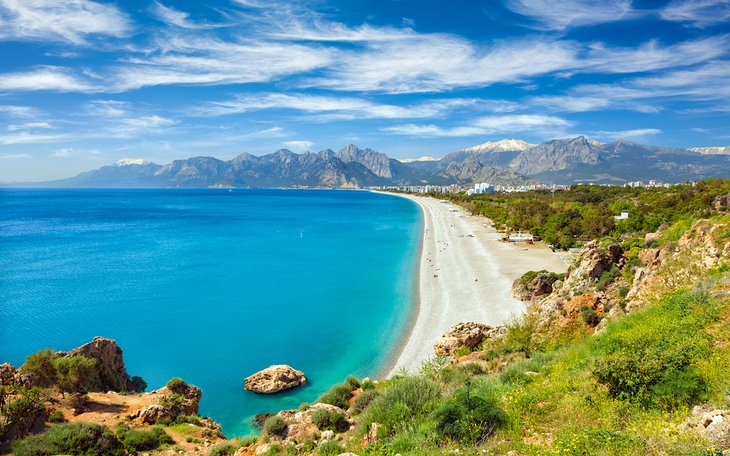 Antalya is one of the most popular beach destinations on Turkey's long Mediterranean coast. The city of Antalya itself is a big, bustling, and sprawling city with a historic old town of cobblestone alleys, Ottoman era mansions, and Roman period remnants at its core.
The city's two main swaths of sandy coast are only a short jaunt from the central city, making this a great choice for travelers who don't like to stray too far from the facilities a city provides while they dose up on sun and sea.
The seven-kilometer-long stretch of Konyaalti Beach sits just to the west of the city center and is easily accessed from the old town by tram. The beach area is home to big resort hotels, restaurants, cafés, and all the facilities families could need for a day at the beach, including a water park for when the little ones need to blow off some steam.
To the east of town is Lara Beach, which has finer sand and less shingle. Visitors here are usually staying at the all-inclusive resort hotels that back the sand, as it is 10 kilometers from the center.
Accommodation: Where to Stay in Antalya
8. Kas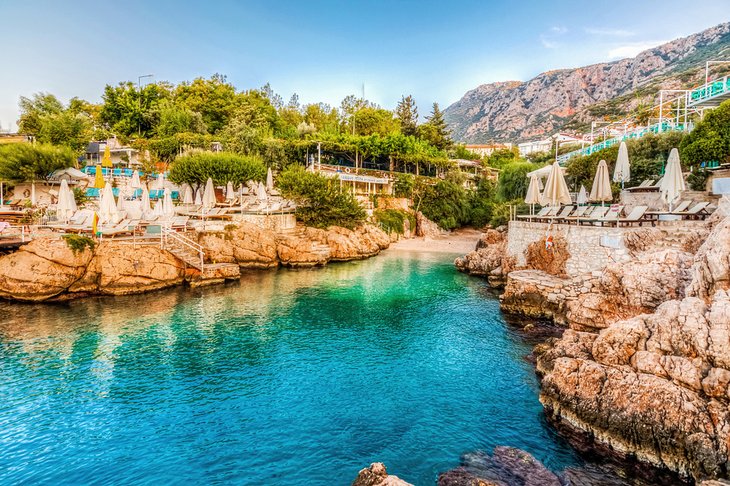 Although the charming seaside town of Kas, with its whitewashed cottages, boutique hotels, and harbor of bobbing boats, opens out onto a rocky shore lapping the Mediterranean, good beaches are only a walk or boat ride away.
Closest to town is Little Pebble Beach, right on the edge of town. This patch of rocky seafront is great for swimming. Big Pebble Beach, is just a further one-kilometer stroll out of town. The bay is mostly shingle but boasts decent facilities, with sun-loungers and shades for rent and a selection of cafés, while its sheltered location means calm waters for swimming.
The most popular summer sunbathing spot, though, is Limanagzi Beach, three kilometers away. Regular shuttle boats trundle between Kas harbor and here throughout the day during the summer months allowing for easy access. Limanagzi Beach has two sandy coves to choose from, both offering waterfront restaurants.
Accommodation: Where to Stay in Kas
9. Iztuzu Beach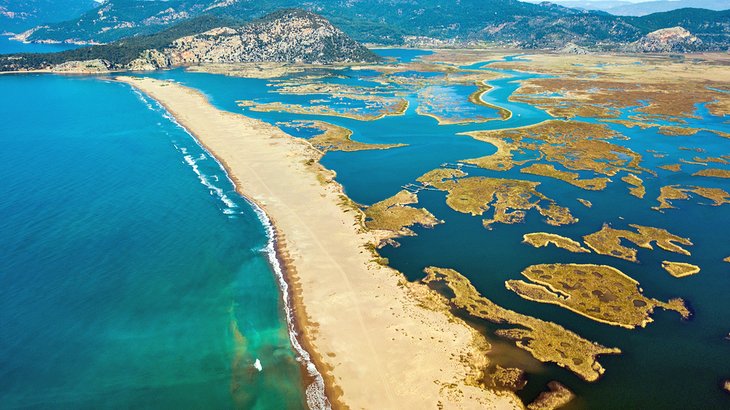 As famous for its annual loggerhead turtle visitors as its sand, Iztuzu is a long arc of soft sand beach running for just under five kilometers. All that room is a good thing, as this is a favorite stop for day trippers on boat tours from Marmaris, as well as being the main beach for the tourists staying in the little town of Dalyan, 10 kilometers to the north.
Iztuzu's protected status as a nature site has saved it from development. There's a beach café dishing up good food, plenty of sun-shades and sun-loungers for rent and kayaks for hire, but no hotels or other resort facilities near the sand. This gives the beach a tranquil, old-fashioned vibe.
Beachgoers must also be aware of the beach's restricted areas, so they don't stray into turtle nesting areas, and nobody is allowed onto the sand after dark.
10. Bozburun & Datça Peninsulas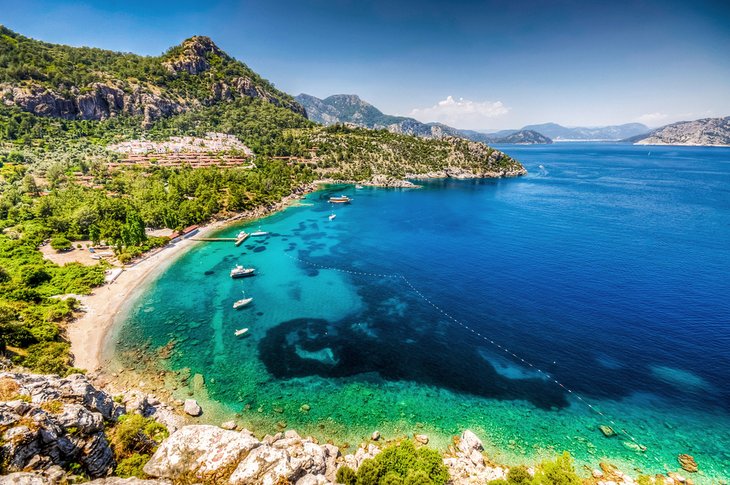 Stretching into the South Aegean Sea from the city of Marmaris, these two thin fingers of land are one of Turkey's major package holiday centers.
Every summer, vast numbers of Northern Europeans beeline here for easygoing beach breaks in all-inclusive hotels that sit on the shoreline west from Marmaris. The crowds, particularly on beaches close to Marmaris such as Turunc Beach and Içmeler Beach, can get crammed in summer, so it's well worth making the effort to travel farther west for a less sardine-like experience.
If you're not on a package holiday, head to Akyaka (on the Bozburun Peninsula), which is home to small guesthouses rather than big resorts. Both Akyaka Beach in the center and Çinar Beach just a short hop to the west are good for sunbathing and swimming, while Akpinar Beach nearby is devoted to kitesurfing.
11. Kabak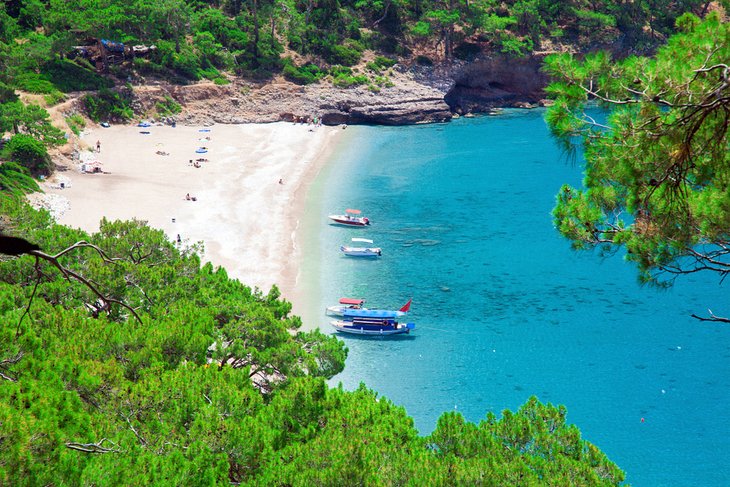 Sitting above a small patch of sand, secreted within the forest-clad slopes of the Yedi Buran Cape, Kabak is Turkey's bohemian beach resort. A stay here is all about sleeping amid the pine trees in the rustic-chic cabins or tee-pees of the intimate camps, with their stunning views down onto the bay; morning yoga classes; and healthy organic dining.
From budget beginnings a few decades ago, most of the camps have now matured into more midrange options, with some offering pools and even spa facilities for a very high-class "camping" experience. A few, though, still cater to passing hikers and others looking for cheaper digs and offer budget rates for those pitching their own tent.
12. Ölüdeniz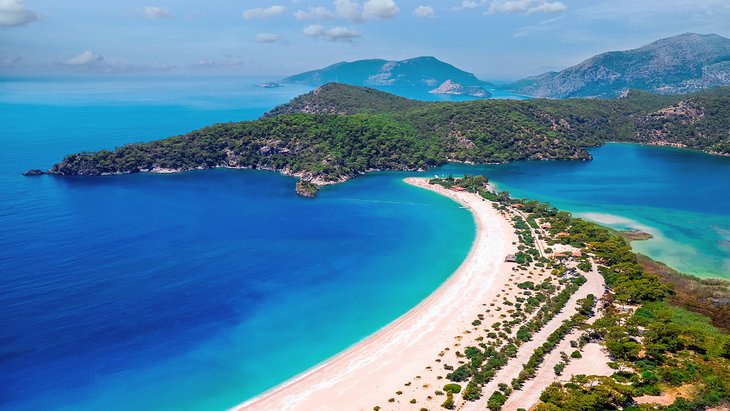 Meaning "Dead Sea" in Turkish, Ölüdeniz found fame early on in Turkey's tourism boom due to the astonishing beauty of its setting. The long curve of Ölüdeniz Beach's soft golden sand is backed by thick pine tree forests that rise up the slopes of the mountains behind.
The beach's western end runs along a thin promontory that reaches into the sea, sheltering the bay beyond which is why the water here is so calm and has a slightly higher salt content than elsewhere (hence the beach's name). This smaller western section is known as the "Lagoon" and is officially within a national park, so there's an entrance fee. The main strip of sand is a public beach.
Directly behind the main beach, the small settlement of Ölüdeniz is a package-holiday destination, particularly for British tourists. The vibe can be rather rollicking in high season.
If that's not your scene, Ölüdeniz is easily visited from Fethiye with regular public transport throughout the day. Ölüdeniz's other claim to fame is that it's Turkey's main paragliding center. Come here to tandem paraglide with spectacular views over the rugged green-clad mountains and Mediterranean beyond, and then swoop down to land on the beach.