10 Best Beaches in Bodrum
Author Jess Lee has been writing about Bodrum and the country's Mediterranean coastline for the past decade and has researched and authored several guidebooks for the region.
Turkey's Bodrum Peninsula is an Aegean beach summer hot spot. For both Turkish and foreign tourists seeking an easygoing sun and sea vacation, the beaches scattered along the coastline here are one of Turkey's best places to visit from June through to September.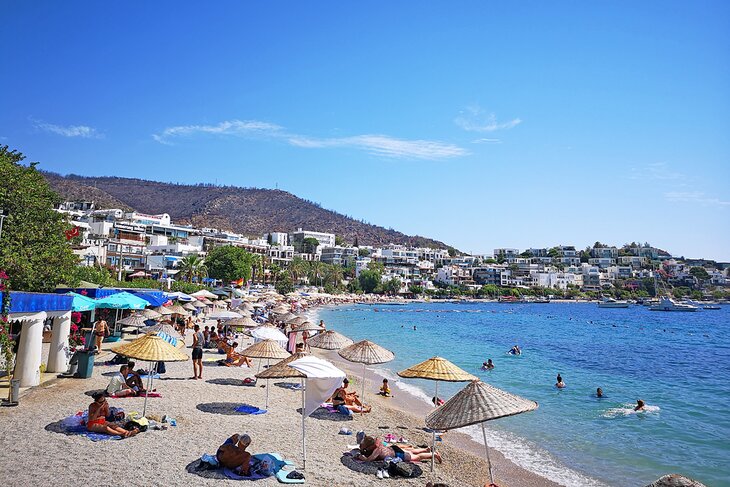 For families looking for a sheltered bay with a gradually shelving shoreline, safe for little ones to splash about in, the beaches of Bitez and Gümbet are the major tourist attractions in this region.
For swimmers who also want water sports and other things to do on tap, Ortakent is a favorite destination, while those who want to get away from the resort crowds should check out the beaches on the road from Bodrum Town to Içmeler.
First-time Bodrum visitors should note that Bodrum's beaches do not have soft white sand. As with many other beach destinations along the Aegean and Mediterranean, the shores here are mostly shingle or compacted yellow sand. This hasn't dissuaded the Bodrum Peninsula's army of beach fans, and many European families return here every year for their two-week dose of summer sunshine.
Check out where to head for sunbathing and swimming with our list of the best beaches in Bodrum.
1. Bitez Beach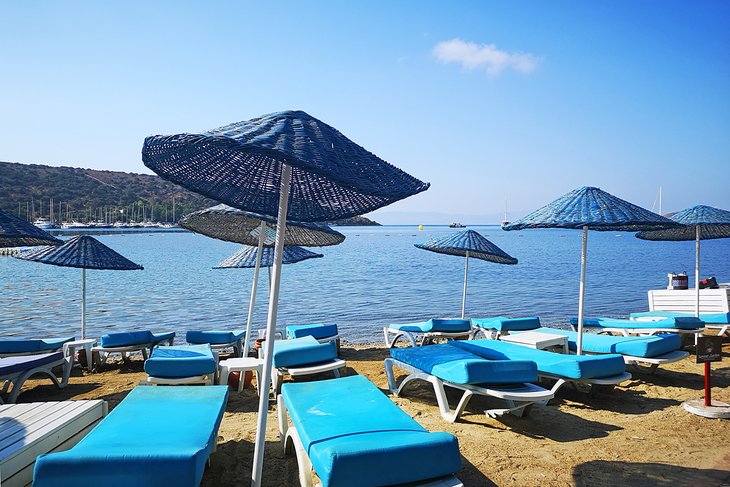 Highlights: Bodrum Peninsula beach life, oodles of family-friendly facilities, and a buzzing summer scene
This horseshoe-shaped bay is a favorite with vacationing families because the water is particularly calm due to its sheltered position. The shoreline is gradually shelving, providing a safe and shallow environment for smaller family members to enjoy the sea.
The long, narrow beach is a mix of compacted sand and shingle and is lined with restaurants and hotels, which each control their own patch of sun loungers and shades on the shorefront.
If you're looking for a beach in Bodrum that provides full facilities, this is an extremely popular choice. As well as multiple food and drink options, there are several water sports operators offering boat trips, parasailing, and other seaside pursuits on the shore.
Bitez is on the Bodrum Peninsula's southern coast, eight kilometers west of Bodrum Town, and there are frequent minibus connections linking the two. This makes it extremely easy to visit as a day trip from town.
2. Içmeler Ministry of Tourism & Culture Beach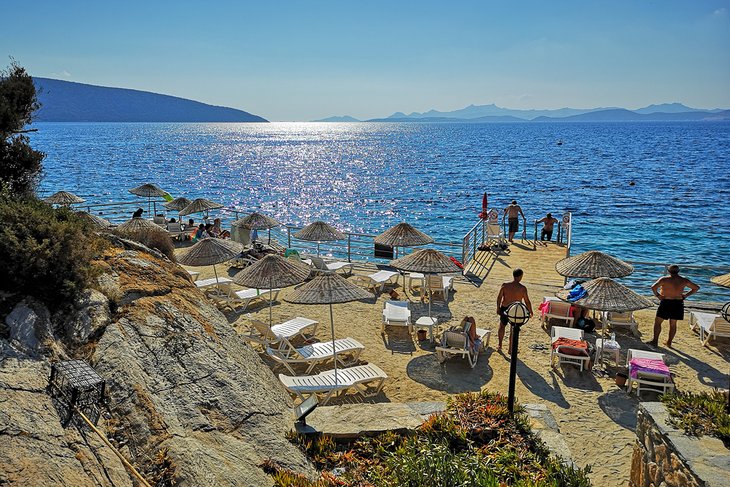 Highlight: Swim right off the rocky coastline at this local haunt
Built and operated by Turkey's Ministry of Tourism and Culture, this free public beach, four kilometers south of Bodrum Town, on the road to Içmeler village, was opened in 2021.
Comprising multiple platforms that jut directly over the sea, this is a local swimmer's favorite destination, as you're entering directly into deep water. As such, it's not the best spot for less-confident swimmers and families traveling with very small children.
The central platform has a well-priced café-restaurant with seating, while lower surrounding platforms hold multiple sun loungers and shades. One platform has been made to look like a small beach with soft, white sand that has been imported from elsewhere (Bodrum's natural beaches don't have this type of sand). On the "beach" platform there is a charge for sun lounger use.
Facilities are well maintained, including bathrooms, showers, and changing rooms. Particular attention has been paid to safety features with no-slip surfaces applied to the stairs down into the water from the platform.
It's particularly popular with local families (with older children) because of its peaceful atmosphere.
This beach is easily reached by the frequent minibuses shuttling between Bodrum Town and Içmeler.
3. Ortakent Beach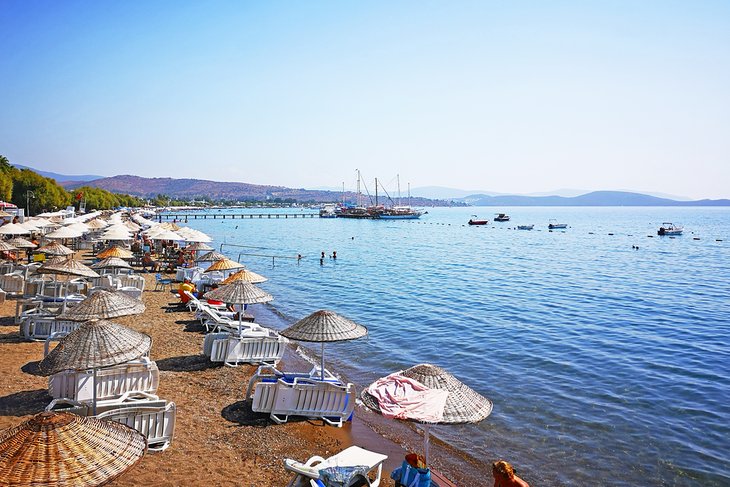 Highlights: Devoted sun-sloth beachfront, water sports and boating, and full facilities on-hand
The summer holiday haven village of Ortakent has plenty of fans and is home to two beaches.
The main beach is a long, curved bay with a shingle and grey-sand beach with decent water depth directly off the shore, so is a prime choice for swimmers. The beach itself is very narrow. The western side is lined with restaurants and hotels offering sun loungers and shades out the front, while the eastern side of the bay is a fully free public beach with sun shades scattered along the sand.
Just to the west is Camel Beach, which has an entrance fee. This includes sun lounger rental, and a portion of it can be redeemed for food and refreshments on the beach. There is plenty of restaurant choice and a couple of water sports operators.
The shore here is one of Bodrum's sandier strips. Ortakent is a popular beach day trip option for visitors staying in Bodrum, Bitez, and Gümbet, as well as having its own beach holiday scene. It's 14 kilometers west of central Bodrum Town on the southern coast of the peninsula and during the summer months there are regular minibuses linking the two.
4. Gümbet Beach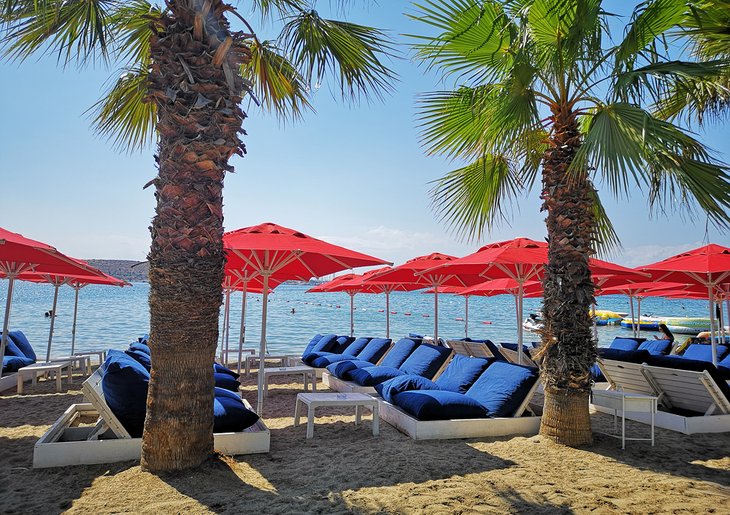 Highlights: resort living, water sports, and summer beach party vibes
One of the Bodrum Peninsula's liveliest beaches, Gümbet attracts an international crowd of visitors every summer. This is a very long beach and wider than most others in the area, rimmed by trees and with more sand than shingle.
The western side of the bay is lined with hotels and restaurants with sun loungers and shades for rent out front. The eastern half of the beach, with views up to Bodrum's old windmills atop the hill behind, is a fully public beach with free sunshades and a lifeguard on patrol during busy periods.
There are plenty of water sports operators offering a wide range of activities speckled along the shore, including kayak rental, boat trips, and parasailing.
All this means it has long been a firm favorite for visitors looking for a holiday that consists completely around sun, sea, and sand.
Gümbet won't suit everyone, though. The extra-loud music blasting from the shoreline's hotels and restaurants makes this one to avoid if you're looking for a quieter escape.
Gümbet is only four kilometers west from Bodrum Town on the peninsula's southern coast, and there are regular minibus services linking the beach with Bodrum to the east and Bitez to the west.
5. Bodrum Sports Club Beach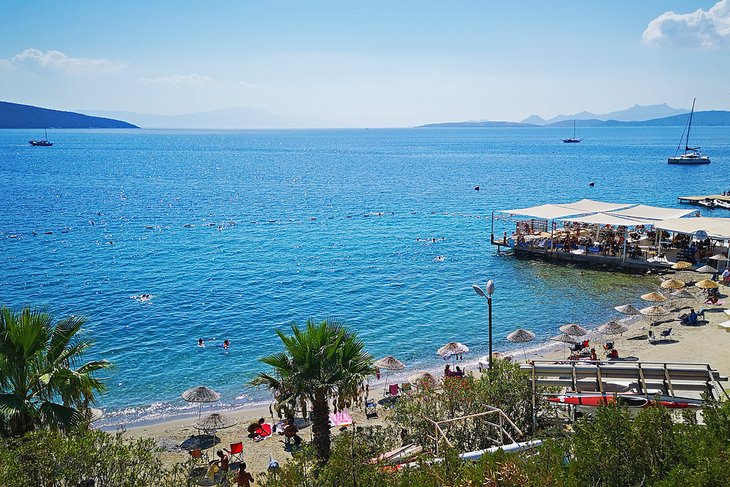 Highlights: A never-crowded get-away-from-it-all sandy strip, only a hop from town
This free public beach, two kilometers south of central Bodrum, on the road to Içmeler village, is run by the local municipality.
It's a laid-back beach with a real local feel and a great choice if you want to head somewhere with few foreign tourists.
The beach's one restaurant has a large shaded platform jutting out into the sea. It is also run by the town council, so the prices for meals, snacks, and refreshments are extremely good value.
From the restaurant, a narrow strip of compacted sand and shingle hugs the shore, directly backed by a forested cliff. There are sunshades for free use speckled upon the sand but no loungers for hire, so just lay down your towel, or do as the locals do and bring your own deck chair along.
Bathroom and shower facilities are kept clean, and there's a couple of changing cabins, too.
The water here is exceedingly clear, so it's a favorite spot for snorkeling.
The beach is also commonly known as Içmeler Halk Plaj (Içmeler Free Beach). The frequent minibus services between Bodrum Town and Içmeler make this beach easy to reach on public transport.
6. Bodrum Town Beach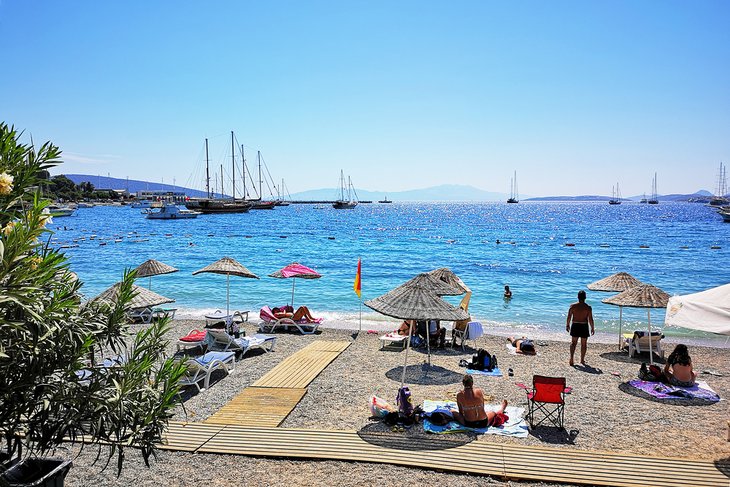 Highlights: Head out for a morning swim, sneak in some sightseeing, then catch some sun on the sand right in front of town
If you're staying at a hotel in Bodrum Town, there are two beaches fronting the central town. Many visitors staying in central Bodrum feel no need to head any farther to get their fix of sunbathing and swimming.
The central beach extends east towards the pier from St. Peter's Castle. The narrow shoreline is mostly shingle and is backed by restaurants that provide sun lounger and shade rental on the waterfront. There are excellent views of the castle from this patch of shore, so it's a buzzing place in the evening, as well, with dining directly on the beach for sunset views of the sun sinking behind the castle.
Heading east from the pier, it's just a short stroll to Kumbahçe Beach, which is where most locals head for good swimming conditions. The water is clean, clear, and a decent depth close to the shoreline. There's a lifeguard on patrol during peak times.
This sand and shingle beach, run by the local town council, has both sun lounger and shade rental and free sun shades for visitors who are happy to simply throw down their towel.
7. Karaincer Beach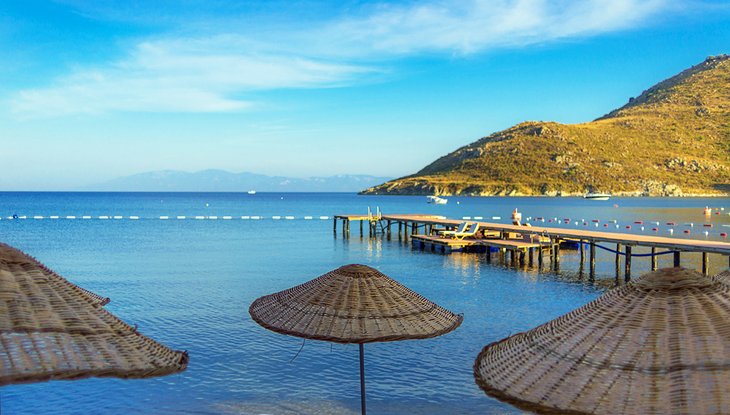 Highlight: Private beaches with all the trimmings for relaxed days devoted to sun and sea
Karaincer Beach is in the village of Akyarlar near the far western end of the southern side of Bodrum Peninsula, 24 kilometers west of Bodrum Town. A small portion of the shore is a completely free public beach run by the municipality, with free sunshades.
The hotels along the rest of the beach control their own individual areas with entrance fees for beach use (normally including sun lounger rental and a portion of the fee redeemable for food and drink).
It's an exceedingly popular strip of sand, with the shore shelving to swimming depth only a short way from shore. Plenty of water sports are available from operators directly on the beach.
If you're looking for an easygoing day devoted to sunbathing and swimming, the southern end of Karaincer Beach is home to the La Mer Beach Club with a private strip of shore that has a choice of sand and grass areas. The entrance fee includes sun lounger rental and a portion of the price is redeemable for food and refreshments.
8. Yalıkavak Beach
Highlights: Simple beach life summed up with water sports on hand
This free public beach, run by the local council, is a good alternative to some of the peninsula's busier strips of shore. Because it's 26 kilometers northwest of Bodrum Town, on the northern tip of the peninsula, it gets much fewer day trippers than Bodrum's other main beaches.
This makes the atmosphere more relaxed with a lot less hustle and bustle, and the strip of beach itself is less crowded. The peaceful ambience makes it popular with a slightly older crowd.
It's a long, narrow shorefront northeast from Yalıkavak marina. The beach is stone and shingle rather than sand and is backed by plenty of shady tree coverage. Cafés and restaurants sit just behind the beach, as well as a couple of water sports operators offering paddleboard and kayak rentals.
If you're only here for the simple pleasures of sunbathing and splashing about, you'll find plenty of sun loungers and shades for rent.
9. Aspat Beach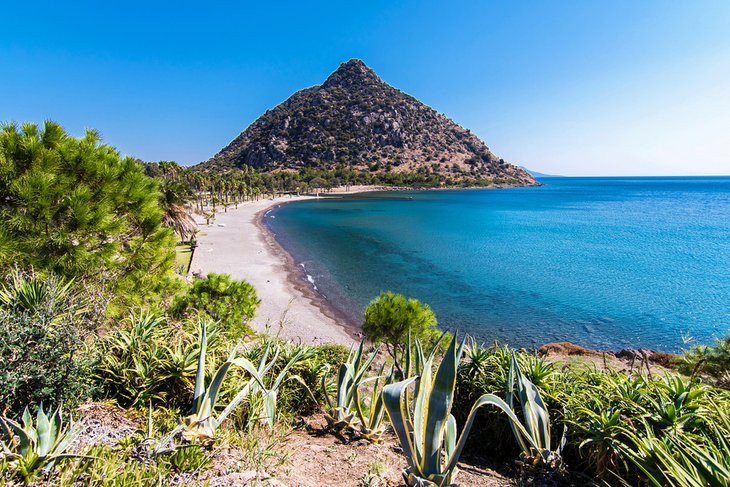 Highlights: Stylish and exclusive beach life, resort facilities, and water sports
If you're looking for a more luxurious style day at the beach, far from the hustle and bustle, head to this private beach, which belongs to the Radisson Aspat Beach Hotel. It offers day access to non-guests for an entrance fee.
This is a peaceful and relaxed alternative to the nearby Ortakent and Karaincer beaches, so it's the perfect place to escape the crowds if you've found those two shorelines too busy. The 400-meter shoreline has a lawn area, with the sun loungers scattered amid palm trees, as well as the beach itself.
Food and refreshments are provided by the hotel's restaurant, and there is a water sports operator on-site if you feel like some activities.
Aspat is on the coastal road between Akyarlar and Ortakent, 21 kilometers west from Bodrum Town.
10. Göltürkbükü Beach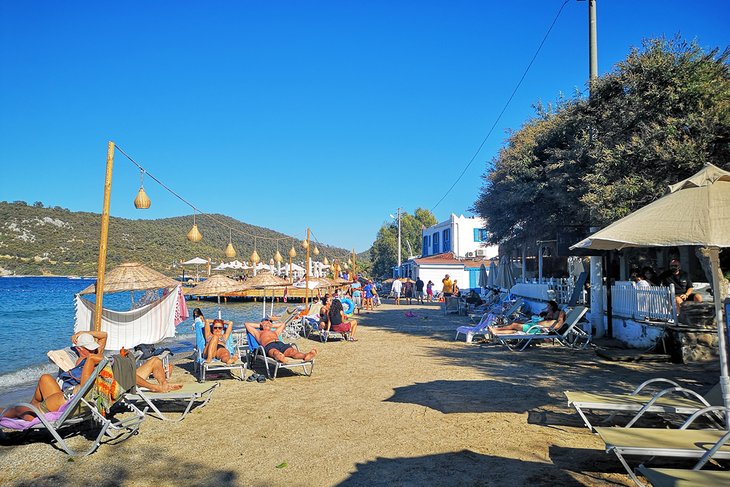 Highlight: Chic summer hideaway shoreline for intimate beach escapes
Boutique hotels right on the shore The northern coast of Bodrum Peninsula tends towards a more exclusive style of tourism, with resorts and luxury boutique hotels, as well as private beach clubs that charge an entrance fee for their beach facilities all with their own slice of shore.
This is a prime summer resort destination for Turkey's rich and famous, and sees very few foreign tourists compared to the rest of the Bodrum Peninsula.
Although much of the shoreline is rock rather than beachfront, Göltürkbükü's hotels and restaurants have solved that problem by building platforms that jut out directly into the sea for all your seafront sunbathing needs.
Göltürkbükü also has a length of free public beach, run by the municipality, extending across one side of its bay. It's a grey-sand and shingle narrow beach, backed by trees and with free sunshades dotted along its length.
There are some sun loungers to rent, but you'll have to arrive early to nab them. Otherwise do as the locals do and throw down a towel (or bring your own deck chair).
There is a municipality-run restaurant on the beach serving food and drink at reasonable prices, as well as bathrooms and freshwater shower facilities. Otherwise, head to the beach platforms run by the boutique hotels and their attached restaurants on the other side of the bay.
Göltürkbükü is 20 kilometers northwest from Bodrum Town. During the summer months, there are regular minibuses linking the two destinations.
Map of Beaches in Bodrum
Best Time to Visit Bodrum's Beaches
The best time to visit Bodrum for a beach break is during the months of June, July, August, and September when Bodrum Town and the Bodrum Peninsula devote themselves thoroughly to the pursuits of sand, sun, and sea.
During July, August, and September, water temperatures in the sea off Bodrum's shore hover around 24 degrees Celsius, making the sea perfect for water sports. Back on land, the long summer days offer a daily average of 10 hours of sunshine and temperatures that range between 20 and 34 degrees.
The weather tends to be dependably hot and humid throughout Bodrum's summer and early fall, with rainfall uncommon. Unsurprisingly, the beaches do get packed with both European and Turkish families during the school vacation period in July and August, so it can be a good idea to plan your Bodrum beach escape for June or September instead, when it's not quite as crowded but the balmy temperatures and endless blue-sky days are just as perfect.