14 Top-Rated Attractions & Places to Visit on Santorini
Incredible sunsets, pearly white buildings adorned with bougainvillea, blue-domed churches, and picturesque windmills make Santorini a sought-after destination. This Greek paradise attracts newlyweds and couples from around the globe eager to witness its famed sunsets of Oia, swim in hot springs, savor its cuisine, and indulge in luxurious resorts.
Whether you fly in or take the ferry from the other islands, it's impossible to miss the striking view of the mostly submerged caldera (volcanic crater) visible from quaint settlements atop lava-layered cliffs. The whitewashed settlements of Firá and Oia are the island's most alluring destinations. In between the two towns, small villages cling to the clifftops, offering quieter and more relaxed settings for your vacation.
Santorini has more to offer than incredible vistas and multi-colored beaches. Ths island is also home to ancient arcaeological sites and museums that are worth exploring. Get yourself an ATV or a smart car and set about experiencing the rugged island on undulating roads. Just be prepared to stop at every corner, as the views are never-ending.
For ideas on how to spend your time, see our list of the top tourist attractions in Santorini.
1. Firá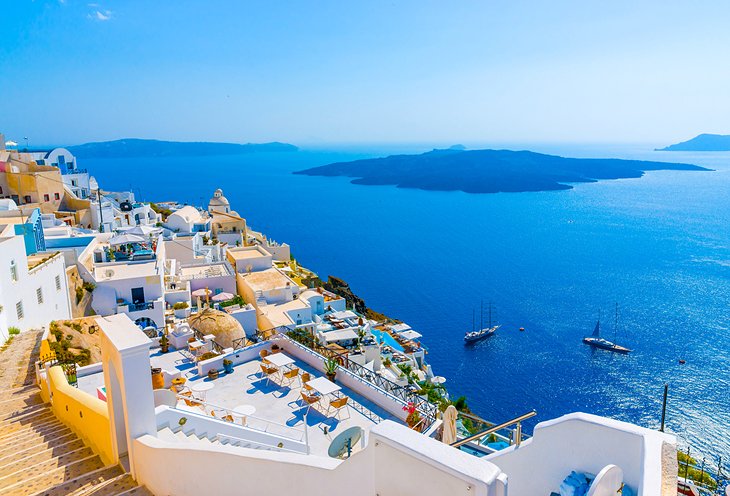 The capital of Santorini, Firá (Thíra) is made up of whitewashed cubic houses and terraces, winding lanes, little squares, and blue-domed churches perched on the cliffs 300 meters above the caldera. From the small port of Skala, Firá can be reached either by walking or riding (mules are for hire) up the steep and winding stepped path (587 steps) or by taking the cable-car. It can also be reached from neighboring towns via the Fira to Oia scenic trail that takes you along the caldera cliff.
Ferries dock at the port of Athiniós, connected to Firá by road, while cruise ships put down anchor in the caldera, and passengers are transported to Skala by tender. Firá lives principally from tourism, and many of its buildings now serve as small hotels, apartments, restaurants, cafés, souvenir shops, and jewelers.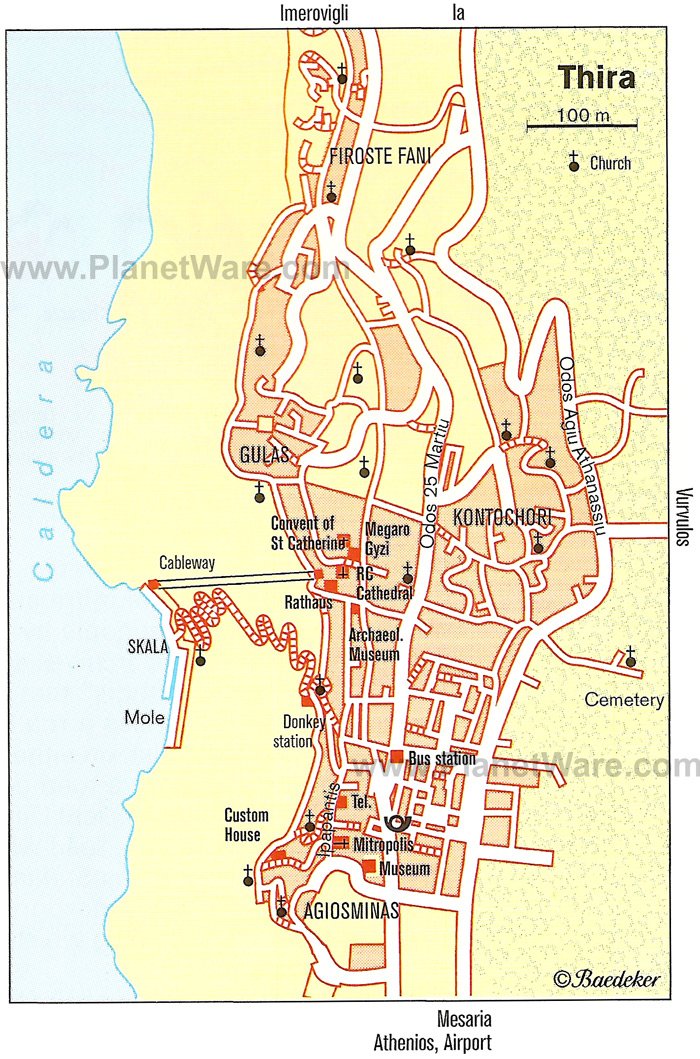 2. Oia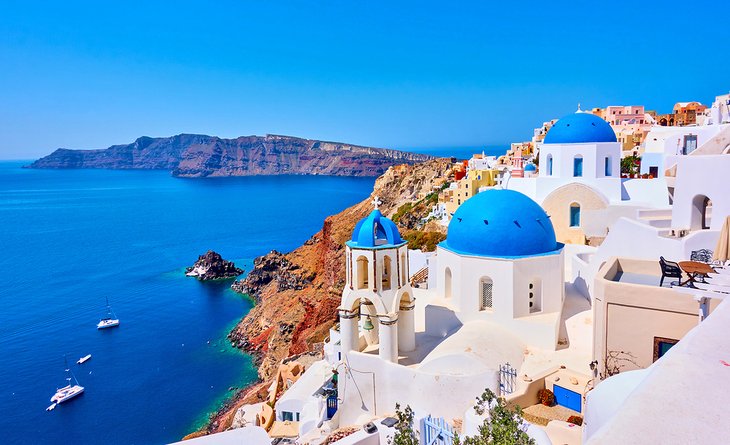 Oia is known for its famed sunsets that attract tourists from around the world. Located on the northern tip of Santorini, 12 kilometers up the coast from Firá, Ía (Oia) is a picture-perfect village of whitewashed houses, several of which have been converted into chic little boutique hotels with infinity pools, overlooking the caldera. Like Firá, it lives from tourism, but caters to a more upmarket clientele.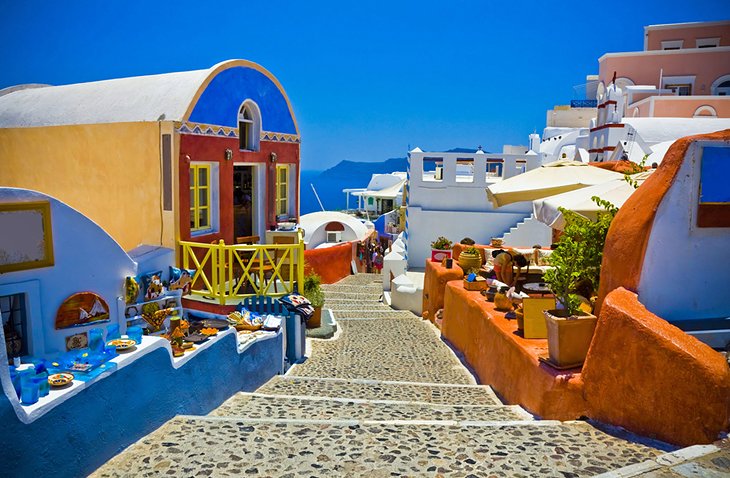 From Ammoúdi Bay, steep paths zigzag up to the town where you'll find a row of waterfront seafood eateries, many with alfresco dining. Oia can be reached by local KTEL bus or by walking the trail along the cliffs high above the caldera (allow three hours from Fira).
3. Caldera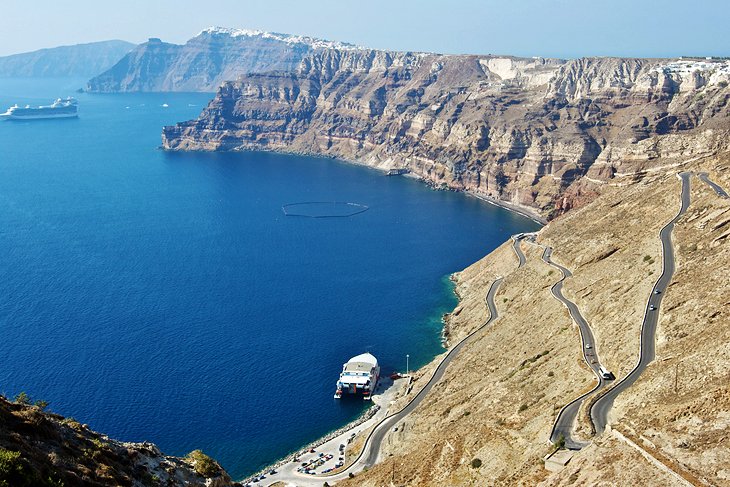 Formed by the massive volcanic explosion that blew the center out of the island some 3,600 years ago, the caldera is the sea-filled volcanic crater that remained. Measuring 12 kilometers by seven kilometers, it is still home to volcanic activity – in its center rise the two Kaiméni islets with hot springs and gas emissions.
Various agencies offer one-day excursions of the caldera by boat, including time to bathe in the hot springs and then have lunch on Thirassia, a tiny island on the west side of the caldera affording amazing views back to Santorini across the water.
4. Akrotíri Archaeological Site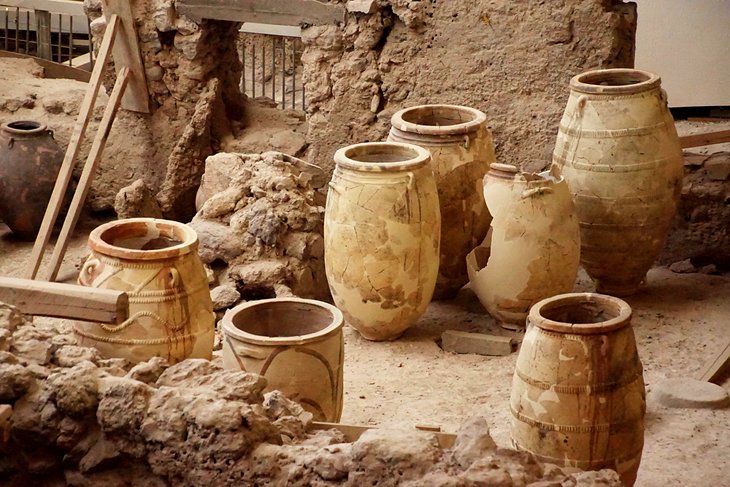 Near the village of modern Akrotíri, 12 kilometers southwest of Firá, the ancient Minoan settlement of Akrotíri was buried below lava following the 16th-century BC volcanic explosion that created the caldera. At the Akrotiri Archaeological Site, visitors can walk on pathways through the debris of the town to see remains of the clay buildings of this once thriving town. It is so well preserved that it's often compared to Pompeii. The site has remnants of multi-level buildings, pottery, and drainage systems, proving that Santorini was a flourishing and prosperous island before the eruption and probably lived from shipping and trading.
Santorini's connections with North Africa can be deduced from the outstanding frescoes (most of which are now in the National Archaeological Museum in Athens) that decorated its houses. The site of the Akrotiri ruins reopened to the public in 2012, following several years of closure.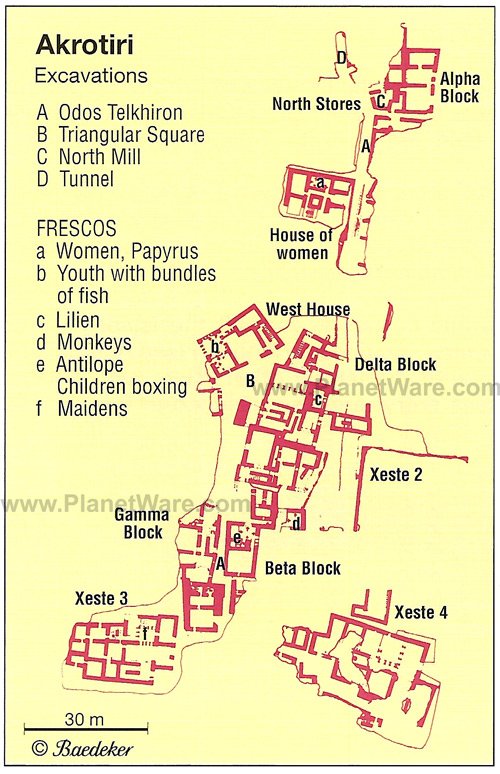 5. Red Beach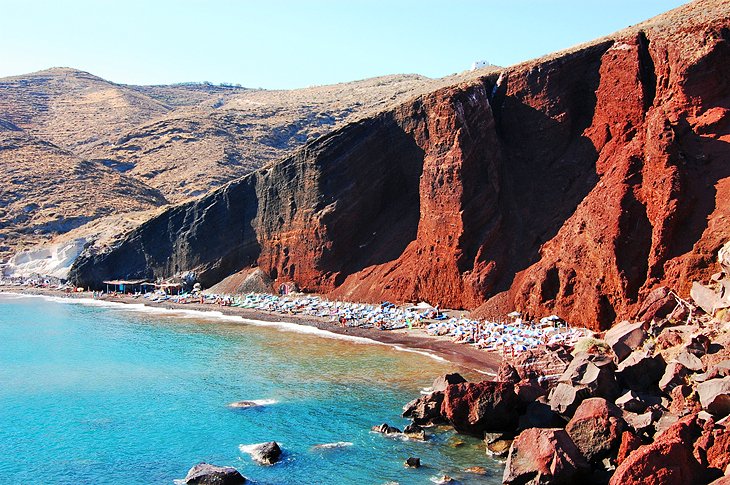 Nearby the Akrotiri site, you will find the famous Red Beach below a spectacular red cliff wall. The beach is accessible along a path from the town of Akrotiri. You can also take a bus from Fira or drive and park nearby before venturing down a rocky path to reach the beach. The beach is also accessible by boat from Akrotiri, Kamari, and Perissa ports.
The small beach gets crowded during the summer, so be sure to get there early to snag a prime spot for great contrasting views of the red rocks against the aquamarine water. Also note that the beach is prone to landslides, and sections have been roped off from visitors.
6. Ancient Thira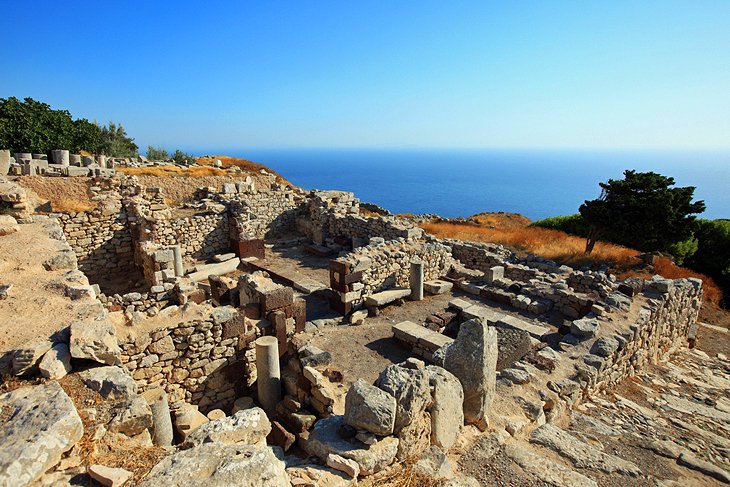 See the ruins of Hellenistic temples and foundations of Roman and early-Byzantine buildings at ancient Thira, located on the southeast coast of Santorini. Ancient Thira dates back to the ninth century BC. Among the ruins, you'll find religious sites, a theater, a gym for military trainees, and old administrative buildings. Finds from the site are also displayed in the archaeology museum of Firá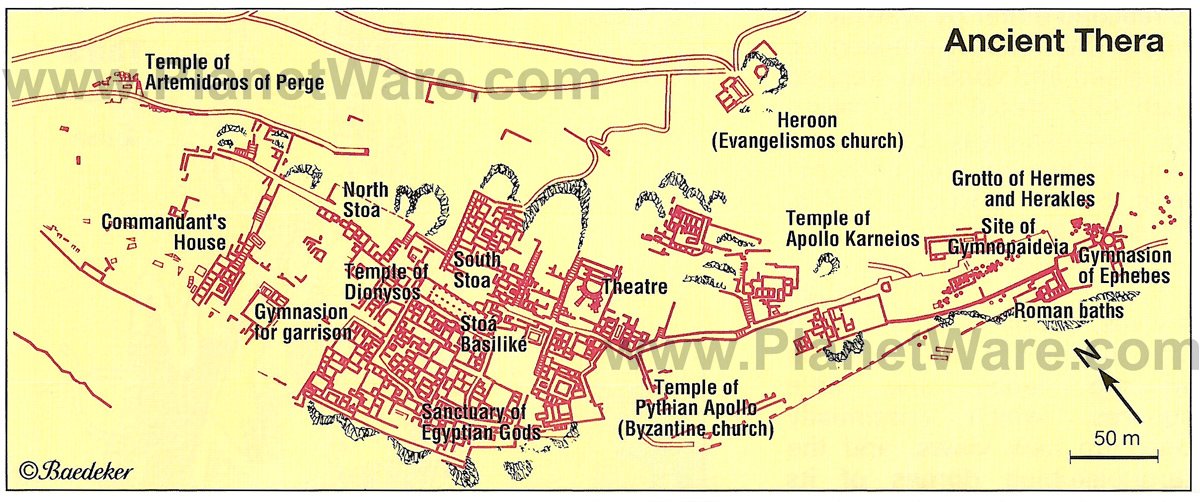 7. Archeological Museum, Firá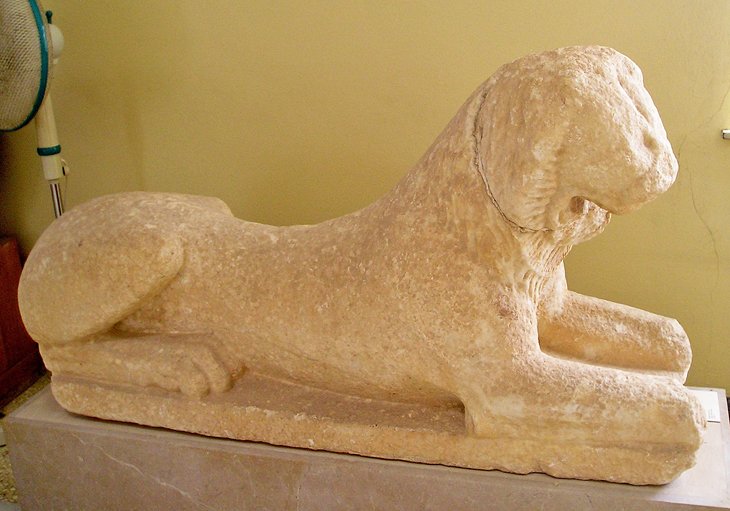 Lying close to the upper station of the cable-car in Firá, the small archaeological museum displays finds from Ancient Thira, ranging from the Dorian, Hellenistic, Roman, and Byzantine periods. Inscriptions dating from the Archaic to the Roman period, clay figurines of animals, and beautiful ceramic pottery are some of the finds exhibited at this museum.
8. Museum of Prehistoric Thira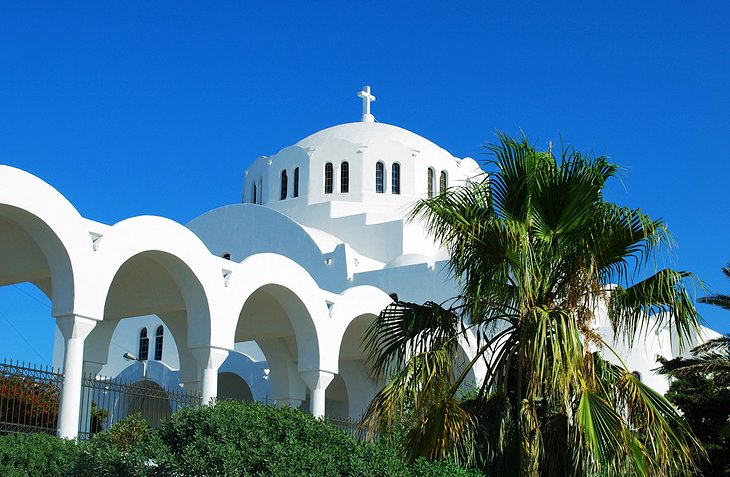 The Museum of Prehistoric Thira displays finds from Akrotiri archaeological site in a modern white building located close to the 1950s Mitrópolis church in Firá. One of the top tourist attractions is the Blue Monkeys wall fresco. Other ancient artworks on display include marble figurines, painted ceramics, tools, and weapons.
9. Pyrgos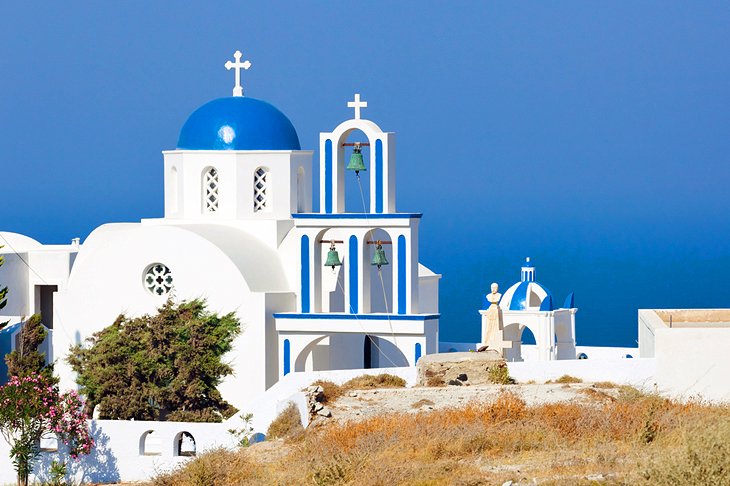 Pyrgos was Santorini's capital before Firá took over in 1800. The tiny village of Pyrgos, located in the middle of Santorini, is made up of whitewashed Cycladic cottages built around the ruins of a medieval hilltop castle. Previously a sleepy, all-but-forgotten town, Pyrgos has, since 2004, started to cater to upmarket tourism with the opening of several small, chic restaurants and boutique hotels.
10. Profitis Ilias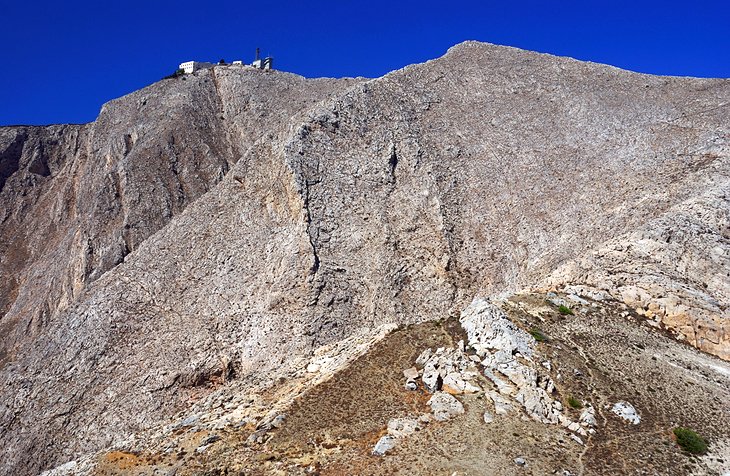 From Pyrgos, a road runs to the summit of Mt. Profítis Ilías (584 meters), Santorini's highest point, affording panoramic views of the island and out across the sea. Here stands the mighty Profitis Ilias Monastery, an 18th-century sanctuary that is open to the public.
Inside, you can see the church, with a richly carved iconostasis. Visit the museum displaying the miter and crozier of Patriarch Gregory V, who was hanged in Constantinople by the Turks in 1821. Also of interest are the library, the monastic archives, and the kitchen. The monastery ran one of the many "secret schools," operated during the Turkish period.
11. Beach at Perissa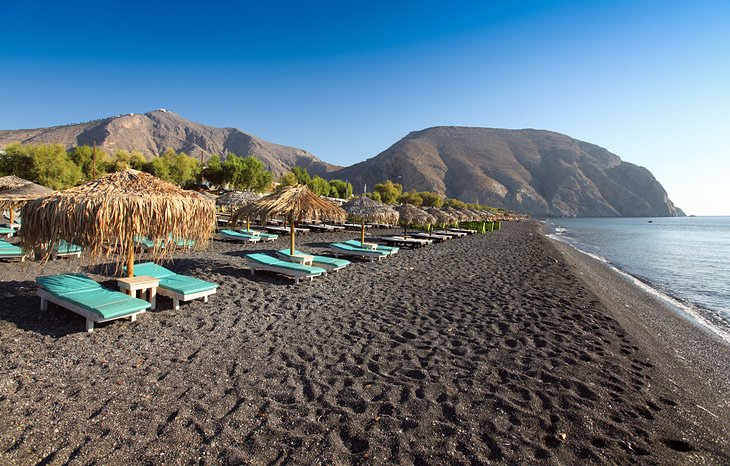 Santorini's best known and most popular beach lies on the southeast coast, between the villages of Perissa and Perivolos. A six-kilometer-long stretch of fine, black volcanic sand, it is backed by tamarisk trees and overlooked by a string of seafood tavernas and cafés. There are sunbeds and umbrellas to rent, plus water sports facilities. It is approximately 12 kilometers from Firá.
12. Ammoudi Bay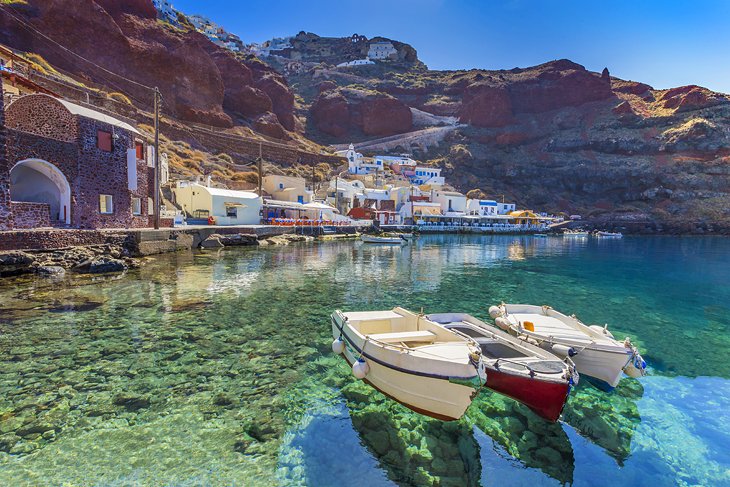 At the base of the cliffs rising to the town of Oia, the port of Ammoudi Bay glistens above sparkling turquoise waters. Descend the 200 or so steps down from Oia, and you are in the picture-perfect setting that is Ammoudi, known for quaint Greek tavernas serving the catch of the day just inches from the waves, and isolated coves ideal for swimming. Another popular activity is cliff diving if that's what gets your adrenaline pumping.
For a less adventurous and still exhilarating experience, hire a sailboat to bring you to the volcano for a swim in the hot springs.
13. See a Show at Open Air Cinema Kamari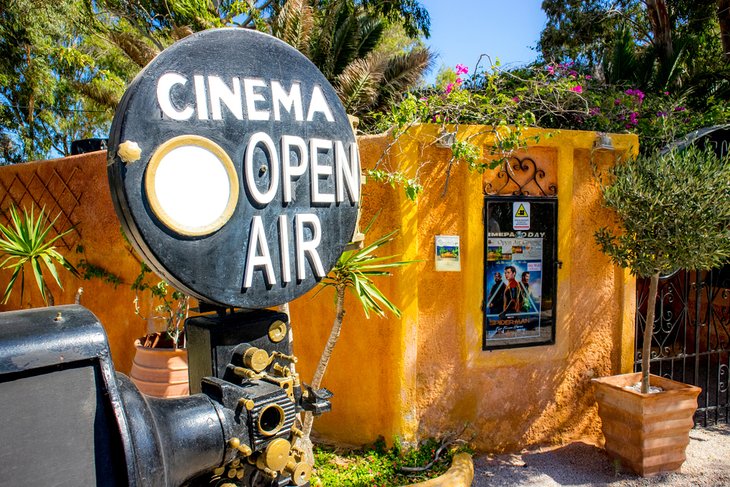 Fancy an al fresco movie screening? Head to the Open Air Cinema Kamari. It was constructed in 1887 with the goal of letting locals and travelers continue the Greek tradition of the outdoor theater by allowing you to check out movies al fresco.
Grab a snack from the on-site concession and watch a film under the light of a starry velvet sky in a garden setting. Besides movies, this venue just outside the town limits also hosts concerts, art exhibitions, and traditional theater performances. It is a unique Santorini experience.
Official Site: https://santorinicinema.com/
14. Take a Santorini Boat Trip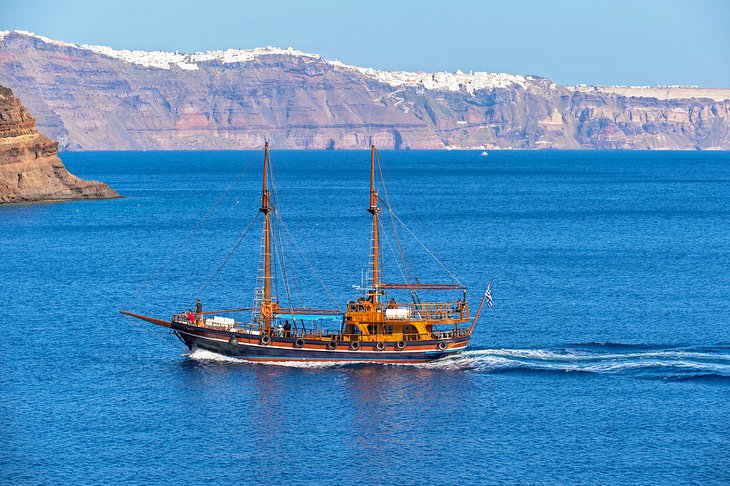 A great way to get a feel for Santorini, and another of its top tourist attractions, is to explore the island on a day-long boat trip. This way, you'll have an opportunity to check out a number of attractions in one go and also take in the gorgeous turquoise and aquamarine waters surrounding this volcanic isle.
A number of companies run boat tours around Santorini, and many follow the same route. One popular cruise takes you first to the still active volcano on Nea Kameni, where you can hike to the crater's summit. You'll then pause for a dip in the Palea Kameni hot springs. Trips then head to Thirassia Island fronting Santorini.
For a more luxe experience, this trip can be booked on a catamaran and on these, you'll also get to make three swimming and snorkeling stops.
Tips and Tours: How to Make the Most of Your Visit to Santorini
An organized tour is a great way to see all the highlights of the island without the hassle of trying to find your way around. Experienced guides share information about the island's history as well as insider tips about its culture and attractions, and these tours include convenient pickup and drop-off at your hotel, saving you time and money. Below are some fun tour options that guarantee the lowest price:
See the Sights: A great way to learn about Santorini's history, explore picturesque villages, and see spectacular sunset views is on the full-day Oia Sunset and Traditional Villages Tour in

Santorini

. With pickup and drop-off from your hotel, this tour takes you in a comfortable air-conditioned coach to explore the Minoan excavations at Akrotiri, the pretty village of Pyrgos, and sunset views from Oia. If you prefer to tailor your tour to suit your interests, the Private Custom Tour: Santorini in a

Day

is an excellent choice. You can choose between a five-hour tour or upgrade to an eight-hour tour, with stops at your favorite attractions, from ancient archeological sites and traditional villages to beautiful black-sand beaches. This tour also includes convenient hotel or cruise ship port pickup and drop-off.
Map of Attractions & Things to Do on Santorini
More Related Articles on PlanetWare.com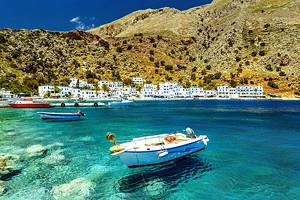 Greek Islands: If you are looking to explore other Greek Islands, check out our comprehensive guide to the Top-Rated Greek Islands to point you in the right direction. Some of the more popular tourist destinations include Corfu Island and Crete. The islands tend to have their own unique character and many people choose to visit more than one on their vacation.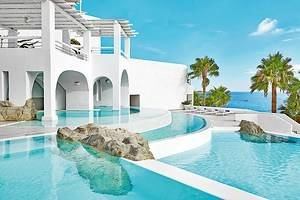 Highlights of Greece: For a guide to top attractions in Greece, be sure to see article on the Top-Rated Tourist Attractions in Greece. This guide offers information on destinations and sites worth visiting. If you are planning a family vacation, here is our list of the Top-Rated Family Resorts in Greece.