10 Best Beaches in Santorini
The dreamy island of Santorini is famous for its distinctive volcanic landscape, quaint whitewashed villages, and amazing sunsets. Although it's not one of the Greek Islands best known for beaches, Santorini does have a good selection of noteworthy seaside spots.
Tucked away in sheltered coves and beneath sheer cliffs, Santorini beaches surprise visitors with distinctive landscapes and a peaceful ambience. The beaches come in an array of colors, resulting from the island's volcanic origins. Much of the island's shoreline is covered with dark sand and pebbles formed from volcanic rock that has been worn away by gentle waves.
The deep-blue Aegean Sea gives Santorini beaches a mesmerizing quality. Additionally, the beaches are known for exceptional water quality; many have been awarded Blue Flag designation for water cleanliness and safety.
Santorini's beaches are generally well developed, with restaurants, snack bars, public restrooms, and showers. Only a few of the more isolated beaches are completely lacking facilities. The top tourist beaches also have lifeguards on duty during summertime.
Whether you are seeking a family-friendly beach or a secluded cove with calm waters, you will find something to delight you on Santorini Island. Discover the most picturesque places to bask in the sunshine with our list of the best beaches in Santorini.
1. Kamari Beach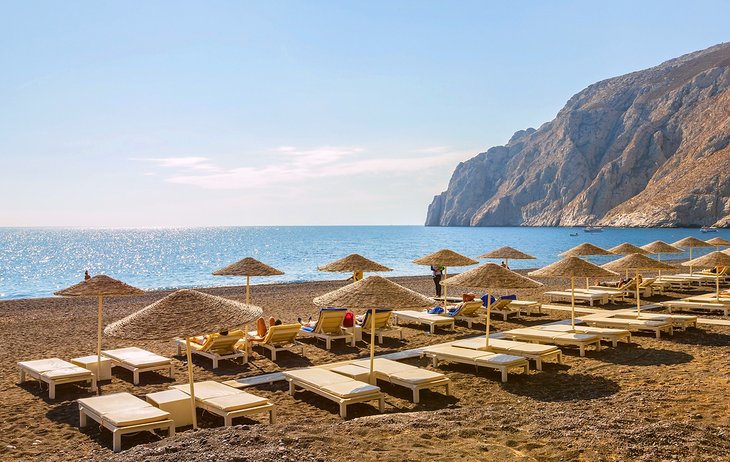 This expansive five-kilometer-long black-sand beach delights visitors with its striking natural beauty and top-notch facilities. Amenities include public restrooms, showers, and beach gear rentals.
A barren mountain called the Mesa Vouno shelters the southern end of the beach, creating a striking backdrop as deep-blue, crystal-clear waters lap up against the shore.
Families appreciate this beach because the gentle waves make it safe for swimming. The beach was awarded a Blue Flag designation for its clean waters and excellent services. Lifeguards are on duty during summertime.
One thing to keep in mind is that the black-sand shoreline absorbs the heat of the sunshine, so it's a good idea to wear waterproof sandals. Also, the beach is a mix of sand and pebbles that can be uncomfortable on bare feet.
For a truly relaxing experience, Kamari Beach offers a selection of lounge chairs and parasols. Water sports opportunities abound, including scuba diving, paddleboarding, snorkeling, and windsurfing. There is a scuba diving center at the beach.
Nestled behind the beach is the resort town of Kamari. This lively Greek village features typical whitewashed Cycladic buildings and a pleasant waterfront promenade. The town is brimming with hotels, shops, snack bars, cafés, and traditional taverna restaurants.
2. Perissa Beach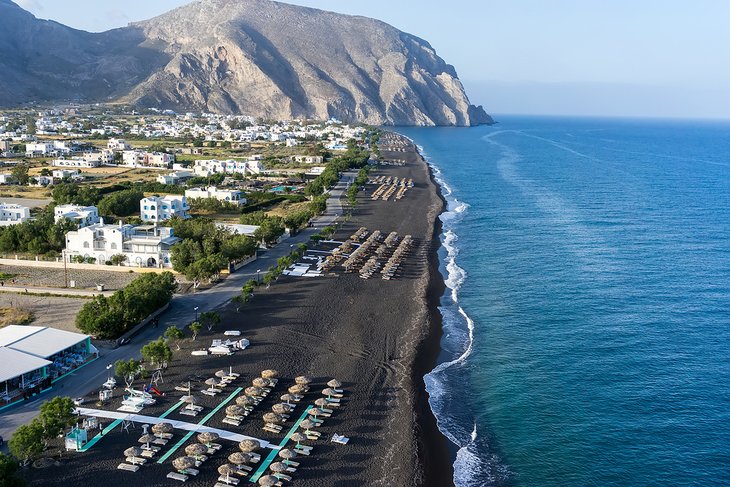 Mesa Vouno Mountain forms a natural border in between Kamari Beach and the neighboring Perissa Beach. Extending for several kilometers, this beautiful beach has a black-sand shoreline formed from volcanic lava and crystalline cobalt-hued waters.
Perissa Beach has excellent amenities such as public restrooms and showers, as well as lifeguards on duty during summertime. Lounge chairs and beach umbrellas are also available.
Families with young children love this beach because it has a playground and a water park featuring waterslides and swimming pools.
Awarded a Blue Flag designation for its cleanliness and safety, Perissa Beach is a great place for swimming and other water sports. Popular outdoor activities at Perissa Beach include windsurfing, parasailing, and boating.
The village of Perissa caters to tourists during the high season with a selection of hotels and dining options. For refreshments or beachside meals, visitors can choose from several taverna restaurants, cafés, and snack bars.
3. Red Beach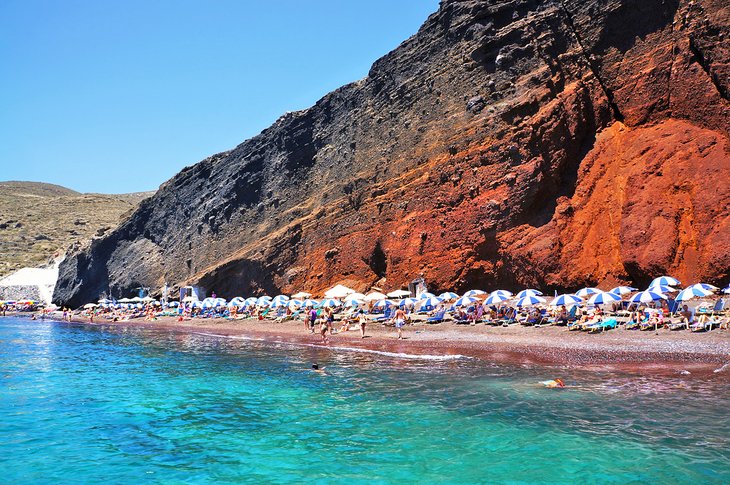 The unique landscape of Red Beach makes it one of the most visited spots on the Island of Santorini. Many tourists drive to a viewpoint above the beach just to take a look at the scenery.
Fringed by amazing red volcanic-rock cliffs, this small stretch of dark-sand shoreline is unlike any other place in the world. The beach has a wild, unspoiled quality thanks to its dramatic natural setting.
Red Beach is reached by taking a somewhat difficult rocky path and has limited amenities and no lifeguards, but there are lounge chairs and beach umbrellas available for sunbathing.
Visitors should take precautions while walking to the beach, because some areas of the cliffs are known to have landslides. At times, sections are cordoned off for security purposes.
4. Vlychada Beach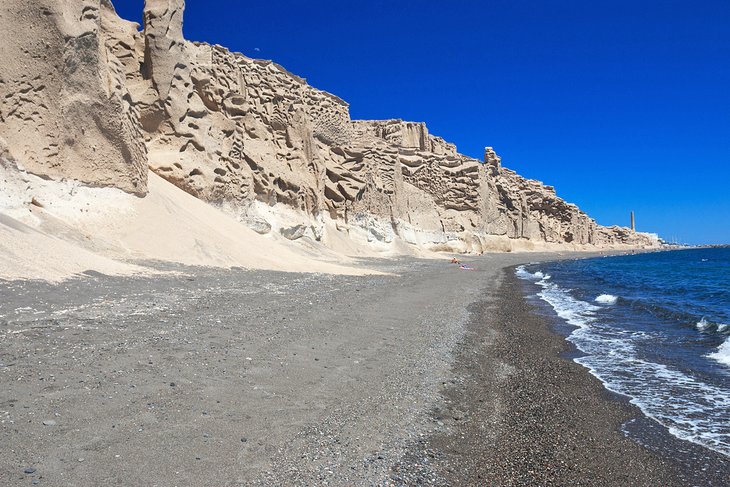 Jagged volcanic rock cliffs frame this beach on Santorini's southern coast, giving it a distinctive and rugged character. This beach has a long shoreline of gray sand and pebbles, and a peaceful ambience ideal for sunbathing and relaxation.
Right on the beach is a café that serves refreshments, snacks, and light meals. The café also rents out lounge chairs and umbrellas.
A surprising attraction found on Vlychada Beach is the Tomato Industrial Museum "D. Nomikos" in a former factory that until 1981 was used to produce canned tomato paste. Today, the museum gives visitors an insight into Santorini's industrial paste and highlights one of the most famous food products grown on the island: the cherry tomato.
At the nearby fishing harbor, tourists can dine at one of the traditional Greek tavernas that serve fresh seafood and other local specialties. These charming restaurants feature lovely seaside views.
For many visitors, taking a boat excursion from the Vlychada port ranks among the most memorable things to do in Santorini. A variety of yacht trips, catamaran cruises, and sailing charters depart from the port.
5. Perivolos Beach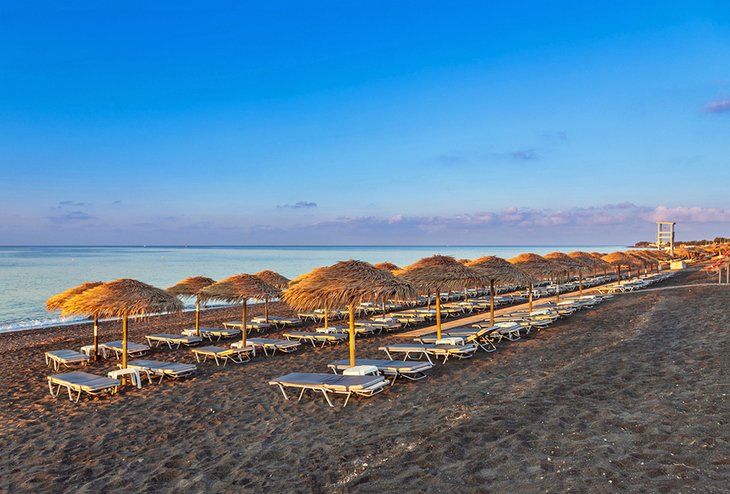 Just a few kilometers away from Perissa Beach on the island's southern coast, Perivolos has the distinction of being Santorini's longest black-sand beach. Perivolos Beach is also prized for its crystal-clear azure waters and picturesque natural setting.
Although the atmosphere is relaxing, Perivolos is brimming with amenities. The beachfront is lined with hotels, snack bars, cafés, and restaurants. It's an enjoyable experience to indulge in a meal of fresh seafood and local cuisine while seated at an outdoor dining terrace overlooking the waves.
Water sports facilities are another highlight of Perivolos Beach. Visitors can rent equipment, such as boats and water skis; take parasailing courses; or enjoy a private cruise. A scuba diving center near the beach has programs for beginners, as well as more experienced certified scuba divers.
Perivolos offers an extensive choice of accommodations, from budget hotels to luxurious resort properties.
6. Monolithos Beach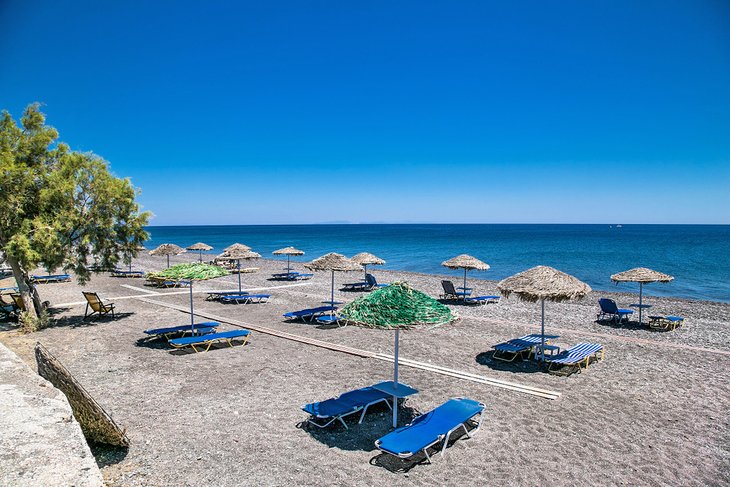 Set in a tranquil natural environment, Monolithos Beach draws many locals because of its relaxing atmosphere. Families with young children also appreciate this beach for its playground and gentle waves. The shallow waters are safe enough for swimming and wading.
Monolithos Beach features a long shoreline of black sand and an area with shady trees. One part of the beach is organized with lifeguards, as well as lounge chair and sun umbrella rentals. There is also a sports area with a basketball court and beach volleyball nets.
Within a short walk from the beach are several restaurants, including two traditional Greek tavernas that serve delicious seafood, and an Italian pizzeria-trattoria.
7. Pori Beach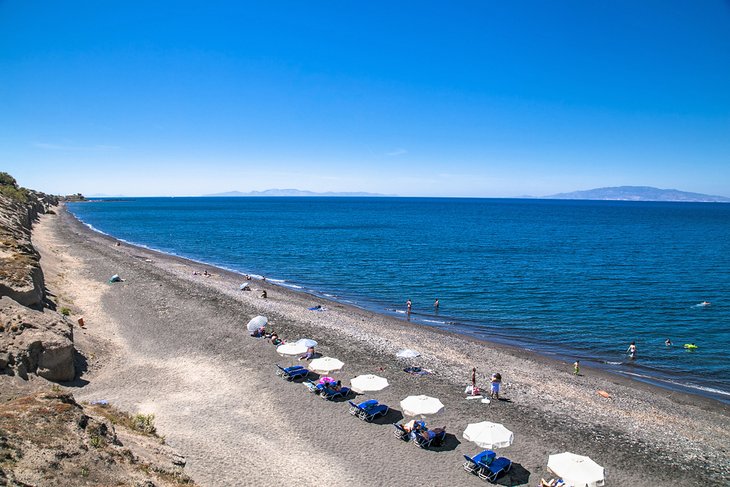 This enchanting small beach is protected by rosy-hued cliffs, in an idyllic piece of rural landscape. The beach is found halfway between the picture-perfect hillside village of Oia, with its cute whitewashed cubic houses, and the iconic windmills and vine-covered hills that surround the spectacular clifftop village of Imerovigli. Next to Pori Beach, there is a tiny fishing port.
A staircase provides access to the beach, which is delightfully tranquil. This beach mainly appeals to locals, but it is a good choice for tourists who prefer to sunbathe and relax without the crowds of Santorini's more developed beaches. This small, quiet beach is also ideal for swimming.
Pori Beach features a shoreline of black sand and pebbles lapped up by crystalline waters. The beach has no facilities except for a traditional taverna restaurant located on a hillside overlooking the shoreline. The restaurant is known for its exceptional fresh seafood.
8. Mesa Pigadia Beach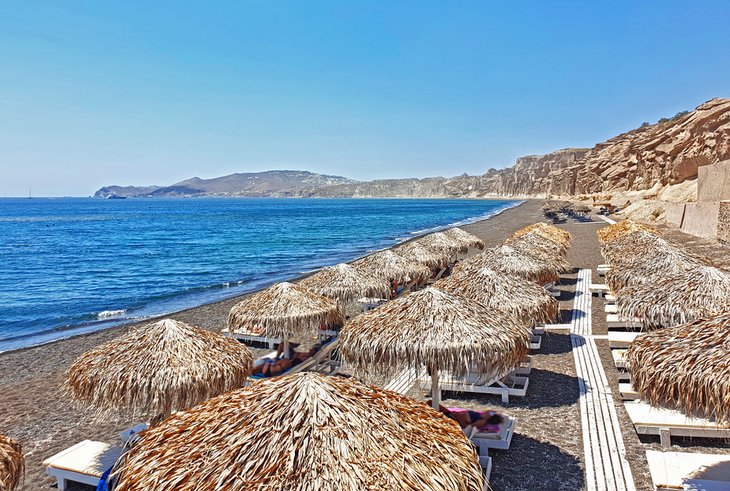 Another uncrowded beach, Mesa Pigadia offers the serenity of a pristine natural environment. This off-the-beaten-path beach is accessible by an unpaved country road. Thanks to its quiet secluded location, Mesa Pigadia is an ideal place for relaxation.
The beach is found in a small cove, which ensures gentle waves. The pebble shoreline is backed by volcanic rock cliffs that block the winds.
Despite its isolated setting, Mesa Pigadia has a taverna restaurant on the beach. The restaurant serves traditional local cuisine (including fresh seafood) and rents out lounge chairs and umbrellas for sunbathing.
9. Katharos Beach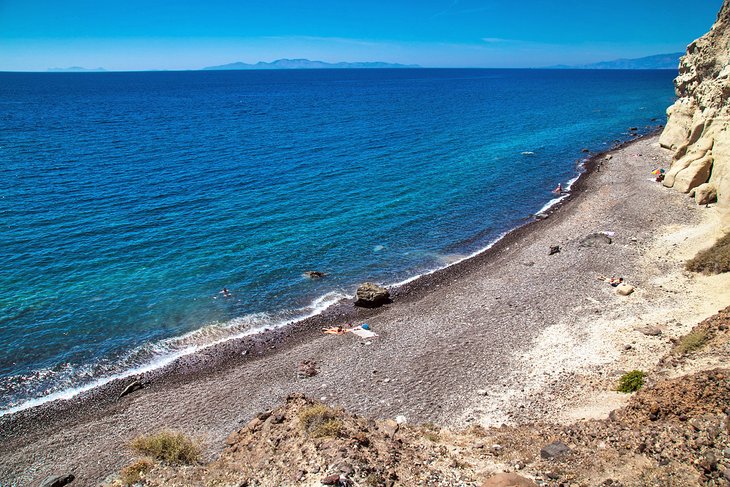 Katharos Beach has a remote quality, thanks to it being slightly difficult to access, and undeveloped. There are no facilities except for a parking lot located above the beach.
A pedestrian path leads from the parking lot down to the beach, which is nestled behind rocky hillsides. Typical of Santorini's beaches, the shoreline features pebbles and coarse black sand.
Nature lovers in particular appreciate this quiet beach. The secluded spot wows visitors with its spectacular sea views. From the hillside vantage point on the island's northwestern coast are superb panoramas of shimmering cobalt waters stretching out into the horizon.
10. Cape Columbo Beach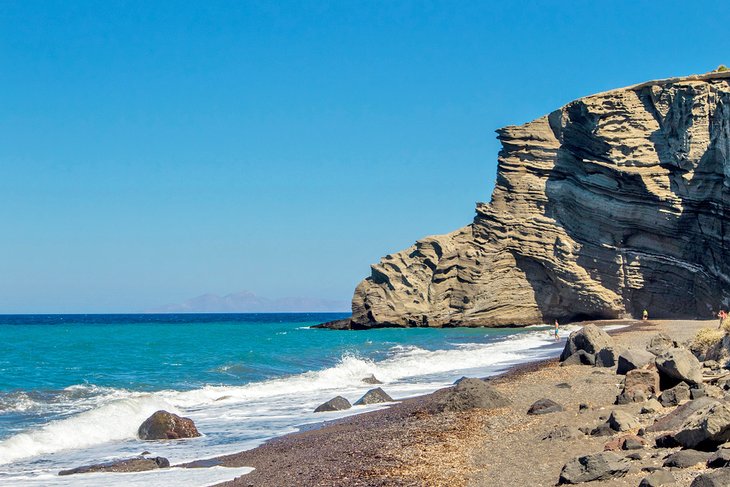 Sheltered behind sheer cliffs with a shoreline of pebbles and dark gray sand, this unspoiled beach is the most wild of Santorini's beaches. The isolated location and rugged landscape create the impression of being on a desert island.
A drawback of being an undeveloped site is that this beach has no facilities. There are some shops and restaurants in the area, but it's best to bring your own beach gear, snacks, and drinking water.
Visitors should also keep in mind that the beach is not surveyed by lifeguards. The waters are quite deep not far from the shore, so caution is advised. Another consideration is that the beach can get very windy.
Map of Beaches in Santorini