16 Top-Rated Greek Islands
We may earn a commission from affiliate links ()
An impression of paradise in the Mediterranean Sea, the Greek Islands beckon visitors with sun-kissed scenery and a balmy Mediterranean climate. Serene stretches of calm, azure waters surround the islands, which are dotted with quaint fishing ports and historic villages.
Most tourists focus on the beaches during summertime, however the countryside offers an abundance of treasures: Byzantine chapels, secluded medieval monasteries, and archaeological ruins. The sights are spectacularly photogenic because of the vibrant, saturated colors.
Little white cubic houses feature red, green, or blue-painted shutters; outdoor terraces are draped in canopies of bright purple bougainvillea; and hilltop churches have blue domes that mirror the indigo waves in the background.
Santorini is the most evocative island because of its striking volcanic landscape and cliff-clinging towns with breathtaking sea views. Famous beach-vacation destinations include Mykonos and Corfu. The ancient islands of Crete and Rhodes boast fascinating cultural attractions, while idyllic Naxos and Samos are blessed with natural wonders.
Plan a relaxing seaside holiday and discover the best places to visit with our list of the top Greek Islands.
1. The Spectacular Scenery of Santorini Island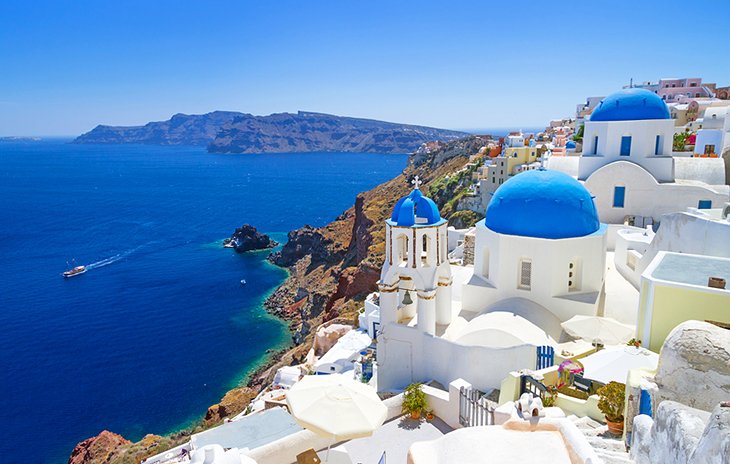 The song of mythological Sirens seems to whisper in visitors' ears as they sail towards Santorini. Soaring above the deep blue seas, this spectacular island has a surreal beauty and enchantment.
The peak of an enormous volcano, the island's dramatic hillsides of dark volcanic rock plunge into the massive caldera (the world's largest), where the sea is so tranquil that it appears to be a gigantic lake. Some scholars believe this is the legendary island of Atlantis, because it was formed by a sudden volcanic eruption around 4,000 years ago.
The most exciting way to arrive in Santorini is by boat and then a donkey ride (or bus ride) up the steep switchback road to the capital city of Firá (Thera). Although its modern center is unremarkable, the historic section of Firá perched on the cliff tops is unforgettable.
Whitewashed houses cling to the steep hillsides, and many hotels, restaurants, and cafés have terraces with panoramic views. The Museum of Prehistoric Thera displays objects uncovered at Akrotiri, an archaeological site known as the "Greek Pompeii" because the ruins were hidden under volcanic ash for several centuries.
The most iconic of Santorini's top attractions is the village of Oia, nestled along the rim of the volcano's basin. Nearly any spot in Oia looks like the image of a postcard or painting. Humble bright-white cubic houses are clustered together on the hillsides high above the Aegean Sea, and blue-domed churches overlook the caldera's mesmerizing deep blue waters.
Instead of roads, the village has steep pedestrian staircases and cobblestone lanes lined with restaurants and boutiques. Oia is known for its beautiful sunsets. Many tourists try to dine on an outdoor terrace or wait at a viewpoint just before sundown.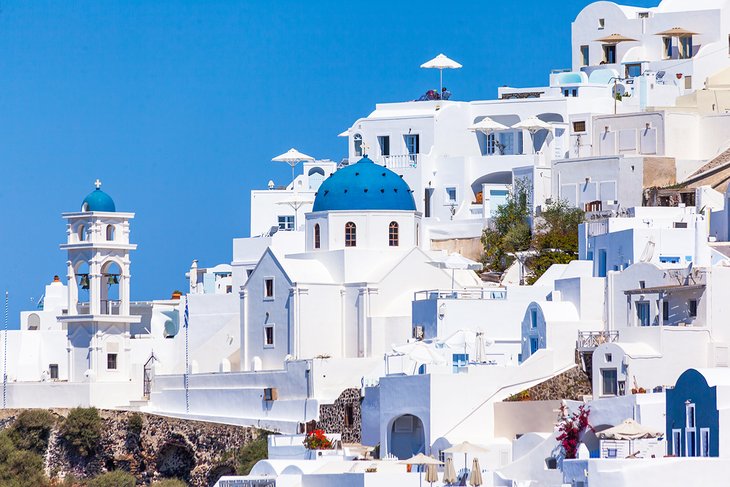 Near Firá, other little villages skirt the rim of the caldera all the way to Oia. Tourists can take a scenic walk from Firá to Imerovigli, a sleepy village with blue-shuttered white houses trimmed in bougainvillea.
Not to be missed are the beaches of Santorini, especially Kamari Beach with its volcanic black-sand shores and gentle waves. Kamari Beach has top-notch facilities, including lounge chairs and umbrellas, public restrooms, showers, and beach gear rentals. This Blue Flag beach is safe for swimming and ideal for water sports such as paddleboarding and snorkeling.
2. Lively Mykonos Island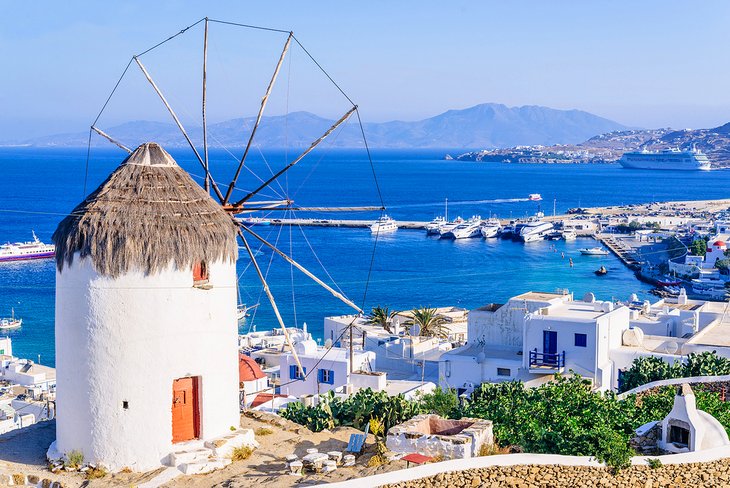 For fun-loving, sun-worshiping tourists, Mykonos is the place to be. This beautiful island in the Aegean Sea offers a happening vacation scene complete with trendy restaurants, atmospheric tavernas, and live entertainment venues. Most tourists head to Mykonos for the beaches and sunshine from July through October.
Mykonos is famous for its beach clubs at Paradise Beach and nearby Super Paradise Beach. The island's longest beach, Elia Beach, has a fantastic seafront hotel, the Elia Mykonos Resort, with a superb Mediterranean restaurant that serves local specialties on a covered terrace right next to the sandy shore.
Another top tourist attraction of the island is the Chora Mykonos (the island's main historic town). This delightful labyrinth of winding cobblestone lanes is a traffic-free pedestrian area. Visitors are enchanted by the whitewashed houses with bright blue balconies and shutters, lovely old churches, and narrow alleyways draped in bright fuchsia bougainvillea.
Discoveries of local clothing boutiques, jewelry shops, and artisan stores reward tourists who spend time wandering around the captivating maze of Chora Mykonos (also called "Mykonos Town"). There are also terraced cafés and little tavernas hidden away in narrow side streets and quiet squares.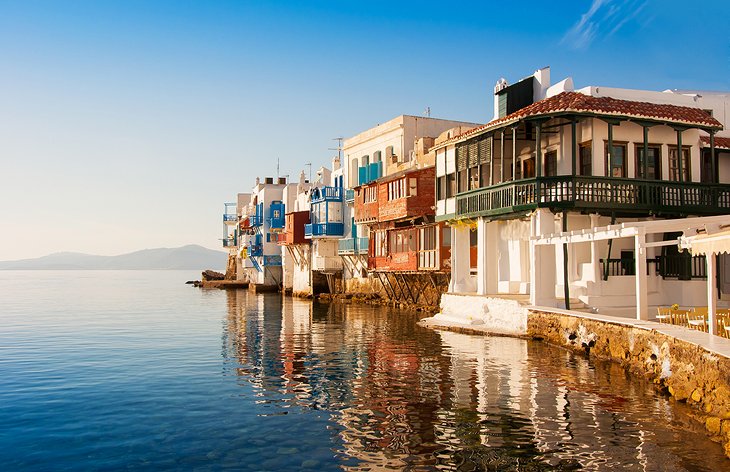 Must-see attractions within the Chora Mykonos are the Little Venice area with balconied buildings that resemble Venetian edifices because of their waterfront facades, and the Church of Panagia Paraportiani with its Cycladic whitewashed stucco architecture.
3. Culture-Rich Crete: Greece's Largest Island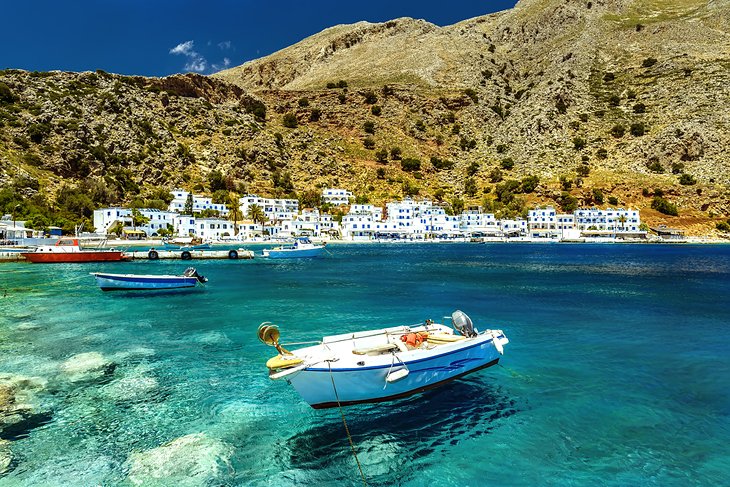 Remarkable for its cultural attractions, Crete has been a crossroads of humanity for millennia. Minoan civilization flourished here during the Bronze Age, and a parade of conquerors have left their mark, from the Dorian Greeks to the Ottoman Turks.
The island's rich heritage is revealed in the monuments of Chania's attractive Old Town: Byzantine ramparts, the Venetian harbor, Turkish hammams, and an Ottoman-era mosque.
Tourists can learn more about the history at Chania's small but noteworthy Byzantine Museum and superb Archaeological Museum. Another Venetian seaport, enchanting Réthymnon is 65 kilometers east of Chania.
Heraklion dates to the 9th century but is today a modern metropolis (Crete's largest city). Surrounded by ancient fortifications, the Old Town is a treasure trove of historic landmarks, such as Byzantine churches and Venetian mansions.
Must-see Heraklion attractions include the Archaeological Museum, which displays fine examples of Minoan art; the Historical Museum of Crete; and the CretAquarium, which is home to thousands of sea creatures.
About five kilometers southeast of Heraklion is a fascinating archaeological site at Knossos, Crete's best-preserved Minoan palace (dating to around 1,900 BC).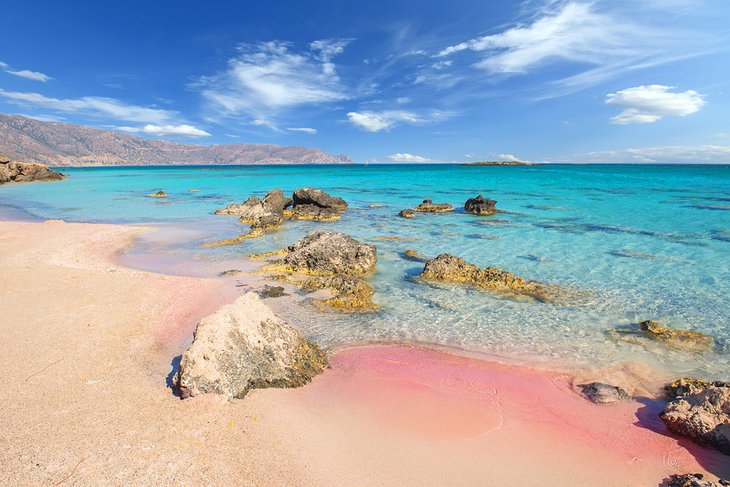 Crete's dreamiest beaches are tucked away on the southwest coast. Elafonisi is an amazing pink-sand shoreline lapped by turquoise waters, although it can get packed in high season. Paleochora boasts a long, sandy beach plus many restaurants and hotels. Sougia has fewer crowds, but the beach is pebbly and facilities are minimal.
Seaside splendor is found in Plakiás, a popular resort destination, and the tiny fishing village of Loutro nestled in a remote cove backed by steep, rocky hillsides. Loutro is only accessible by boat or by hiking here on foot; accommodations are limited.
4. Sightseeing and Sunbathing on Rhodes Island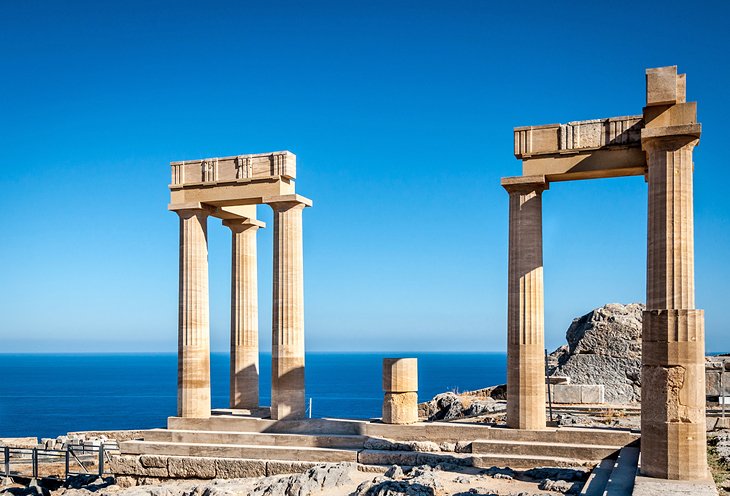 Rhodes dazzles visitors with its gorgeous coastline and fascinating sights. The UNESCO-listed Old Town of Rhodes was a base for the Order of Saint John Knights who defended against invading Turks. Within the Old Town's immense fortifications (medieval defensive walls) is a medieval maze of pedestrian alleyways and quiet squares.
In the Old Town of Rhodes, visitors can tour the Palace of the Grand Masters (now a museum with 24 rooms open to the public) and saunter down the cobblestone Street of the Knights, which appears not to have changed since the Middle Ages.
The typical Greek village of Líndos is a perfect seaside getaway. Whitewashed houses, cobblestone streets, and old Byzantine churches give this village a special charm. Tourists will find plenty to discover in terms of restaurants, cafés, and boutiques.
There are also marvelous ancient ruins to admire. At the hilltop Acropolis, the small 4th-century Temple of Athena Lindia keeps watch over the coastline. Other attractions are the sandy beaches and water sports at Saint Paul's Bay.
From Rhodes, tourists have many island-hopping possibilities. The Island of Symi is an easy journey, about an hour away by ferry. Symi is prized for its natural environment, yacht harbor, and aristocratic architecture.
5. Cosmopolitan Culture on Corfu Island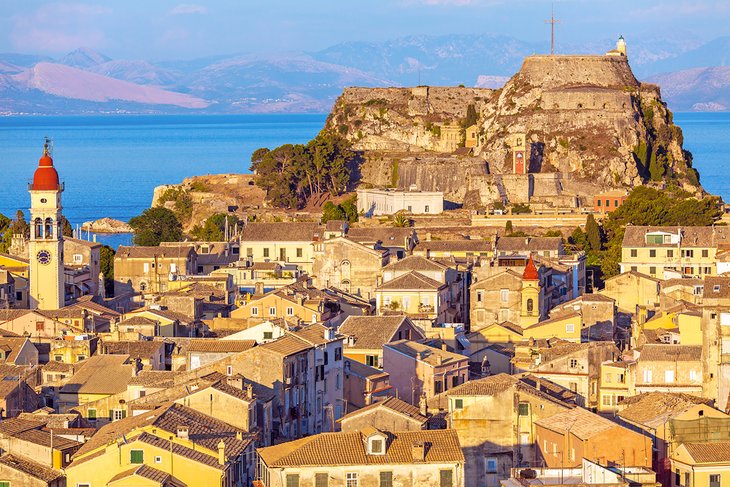 An island of rugged natural beauty, Corfu is believed to be the place described in Homer's Odyssey where Ulysses met Princess Nausica. Green rolling hills cover the south of the island, steep limestone hills appear in the north, and marvelous sandy beaches encircle the entire island.
Among the top attractions of Corfu Island are seaside destinations, such as the family-friendly resort of Sidari, which has a water park and sandy beaches with safe, shallow waters; Paleokastritsa, a bustling resort town with six excellent beaches; and the well-developed resort of Kontokali, with a large sandy beach featuring excellent facilities.
Corfu also has a cosmopolitan culture and impressive architecture. The well-preserved Corfu Town (Old Town of Corfu) is a UNESCO World Heritage Site, with many historic buildings from the era of Venetian rule.
Wandering through the warren of cobblestone streets in Corfu Town leads to a discovery of Renaissance palaces, Baroque churches, and Neoclassical villas, as well as restaurants and shops. A special feature of Corfu Town are the vaulted passageways called kantoúnia, similar to those in the medieval quarters of Genoa and Naples in Italy.
During the 19th century, Corfu Town attracted many European aristocrats, who built splendid mansions here. A legacy of this noble past, the Listón is an arcaded promenade lined with elegant cafés.
6. Naxos: Historic Sites, Sandy Beaches, and Rural Villages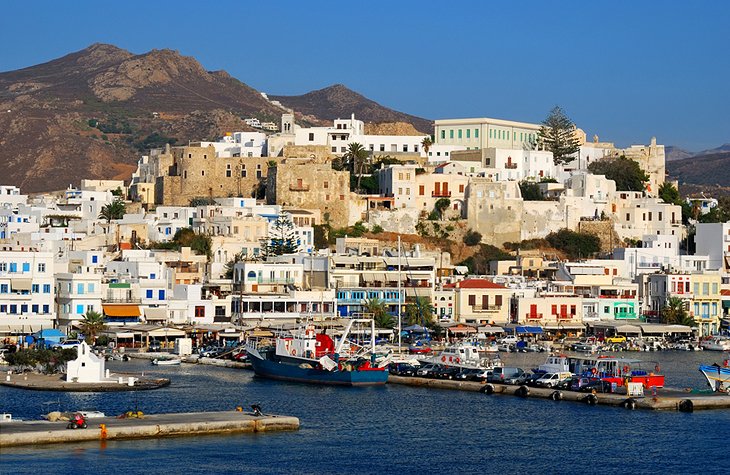 Visitors' first stopping point is the capital city, Naxos Town, which is well worth exploring for a few days. This colorful seaport is distinguished by its whitewashed cubic houses; Venetian mansions; Catholic churches; and imposing 13th-century fortress (Kastro), which houses the Byzantine Museum. Fabulous sandy beaches are found just outside of Naxos Town.
For an off-the-beaten-path experience, visitors should travel to the rural villages that are built along Naxos' mountainsides. These small communities keep centuries-old customs and offer the feel of a bygone era.
Apeiranthos is a dreamy little town on Mount Fanari. The village is characterized by its whitewashed houses, buildings constructed from stone, tree-shaded squares, and marble-paved pedestrian alleyways. From the town's hillside vantage point (650 meters above sea level), visitors can admire sweeping views of the Naxos landscape.
The village of Filoti stands amid olive groves on the slopes of Mount Zas. Besides its delightful natural setting and breathtaking views of the countryside, Filoti offers the charm of a traditional Greek village with its leafy main square, outdoor cafés, and bougainvillea-trimmed alleyways. Filoti also boasts the largest Byzantine church of Nàxos.
The tiny, picturesque village of Sagri is found near the 6th-century-BC marble Temple of Dimitra. A mix of architecture, including stone medieval buildings and a Byzantine church, distinguishes Sagri from the typical Cycladic whitewashed villages along the island's coast. The Byzantine church now contains a Folklore Museum.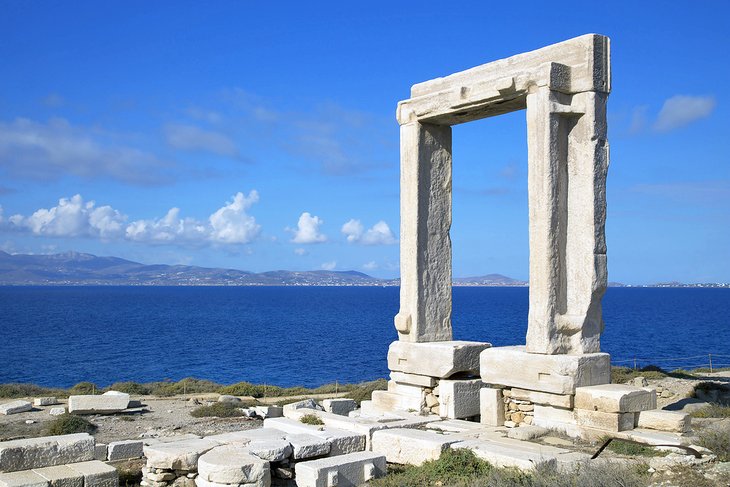 Awe-inspiring nature sites abound on Naxos. One scenic hiking trail goes from Apeiranthos to Moutsouna, which has two sandy beaches.
For a more challenging hike, the slopes of Mount Zas (just 18 kilometers from Naxos town) await those up for a vigorous workout. Reaching an altitude of 1,000 meters, this mountain is the tallest in the Cyclades. It's a great place for bird-watching and admiring the panoramic views.
One of the most memorable things to do while visiting Naxos Island is to attend one of the summertime village festivals. Each village celebrates a Feast Day in honor of their local patron saint. The majority of the festivals are in July and August, but a few take place in May, June, and September.
The seaside village of Apollonas hosts the Fisherman's Feast in June. The event includes a church service, traditional religious procession, live musical entertainment, dancing, and a seafood feast.
7. Ancient Ruins and Nature Sites on Sámos Island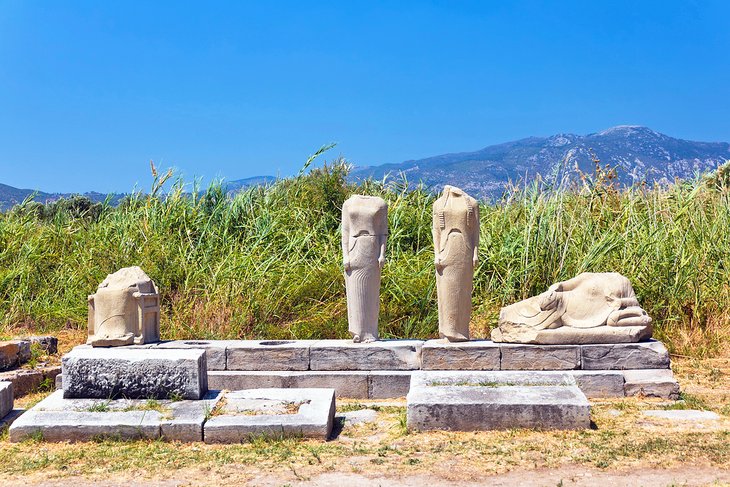 Sámos is the mythical birthplace of the Goddess Hera, and the island's temple, dedicated to Hera, the UNESCO-listed Heraion (built around 570 BC) is one of the most important sanctuaries of the ancient world.
During the 6th century, a processional route led from the town of Sámos to the Heraion. This sacred road was adorned with votive statues, currently replaced by replicas. The original statues are displayed in the Sámos Archaeological Museum.
Among the many attractions on the Island of Sámos is another UNESCO World Heritage Site, the 6th-century-BC Aqueduct of Eupalinos in Pythagoreion, considered an outstanding feat of ancient engineering.
Covered with pristine woodlands, the lush island of Sámos offers natural wonders. Challenging hikes at the rugged Mount Kerkis reward with amazing coastal views.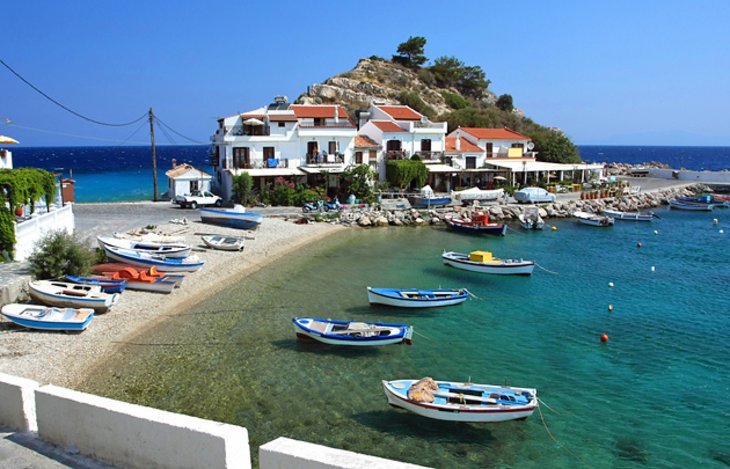 Those seeking relaxation will appreciate Kokkari village, the island's capital. This seaside resort destination features a traditional fishing port, gorgeous beaches, and an idyllic natural environment of pine forests and olive groves.
For fun in the sun, the beaches in Marathokampos are renowned for golden sands and excellent facilities. Psili Ammos (also known as "Chrisi Ammos") is a favorite Marathokampos beach for swimming because of its calm, shallow waters.
8. The UNESCO-listed Sacred Sights of Patmos Island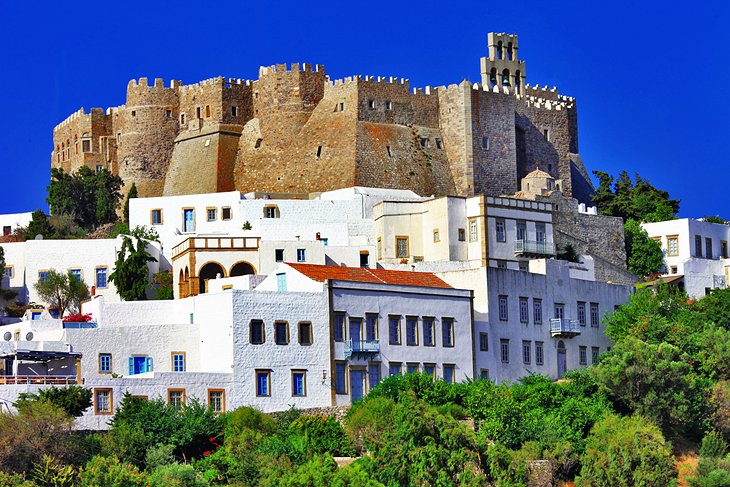 Patmos Island is known as the "Holy Island" and the "Jerusalem of the Aegean" because it is believed that Saint John was exiled here by Roman Emperor Domitian. The island has two sites designated on the UNESCO World Heritage List: the Cave of the Apocalypse and the Monastery of Saint John the Theologian.
According to legend, the Cave of the Apocalypse is where Saint John heard the voice of God and wrote the Book of Revelation in AD 95. Today, this sacred cave located between the port of Skála and the town of Patmos is an important Christian pilgrimage destination.
On a hilltop crowning Patmos town, the 11th-century Monastery of Saint John the Theologian resembles a fortified castle with its imposing, crenellated defensive walls and towers. The monastery is renowned for its treasury/library, which boasts an extensive collection of ancient books, including parts of a 6th-century manuscript of Saint Mark's Gospel.
The monastery's 11th-century Katholikón (main church) wows visitors with its exquisite frescoes (dating to the 12th and 17th centuries). The church has superb acoustics that enhance the Byzantine hymns during Mass.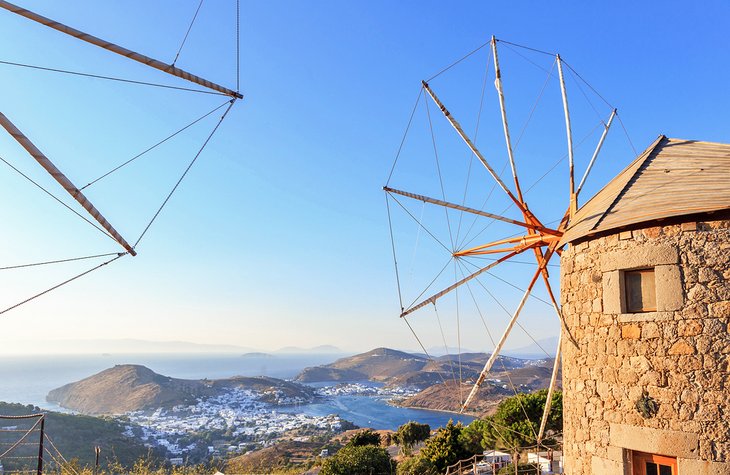 The island of Patmos is also ideal for beachside relaxation, nature walks, and hiking. Much of the island offers stunning natural scenery, especially the beautiful coastline with its dramatic cliffs, protected bays, and sheltered beaches.
Sun-worshipers and outdoorsy types enjoy Kámpos beach, which has excellent water sports facilities and traditional seafood tavernas.
9. Paros Island: Sandy Beaches and Charming Villages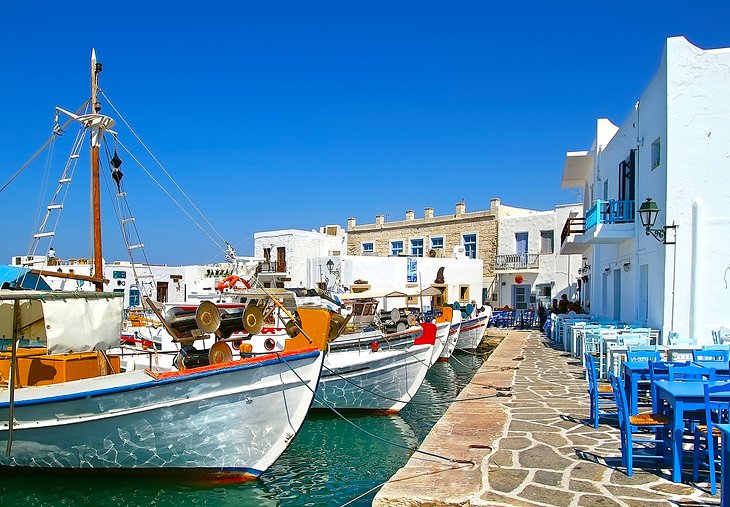 A great addition to an island-hopping itinerary, Páros is a short ferry ride away from Santorini, Mykonos, or Naxos. Páros doesn't have the overwhelming crowds of the other islands, but it does have splendid golden-sand beaches and charming towns.
The capital of Páros, Parikía is an atmospheric seaport with whitewashed cubic houses; old Venetian mansions; and one of Greece's best-preserved Paleo-Christian (4th- to 6th-century) churches, the Monastery of Panayia Ekatontapiliani.
Parikía has two top-notch museums: the Byzantine Museum (housed in the monastery) and the Archaeological Museum. Near the town are several good beaches.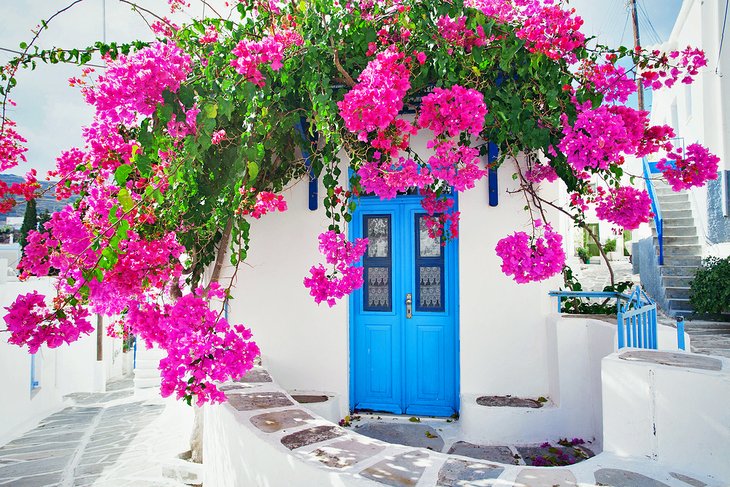 Lovely little towns are scattered all over the Island of Páros from the seaside to the mountains. To experience an authentic fishing village, travelers should head to Náoussa, which has a vibrant harbor with many restaurants and an enchanting town center with winding cobblestone streets, whitewashed houses, and tiny chapels.
Perched above the Aegean Sea, the medieval hilltop village of Márpissa is full of interesting sights, including the 17th-century Monastery of Agios Antonios. Márpissa is near the popular Loyarás beach and Písso Livádi beach.
An interesting way to explore the island is on foot. Outdoorsy types will enjoy hiking through the agricultural landscape along the strátes, trails created by local farmers to transport their products across the island. Márpissa and the mountain village of Léfkes are good starting points for a few of the island's scenic hikes.
10. Remote and Romantic Folégandros Island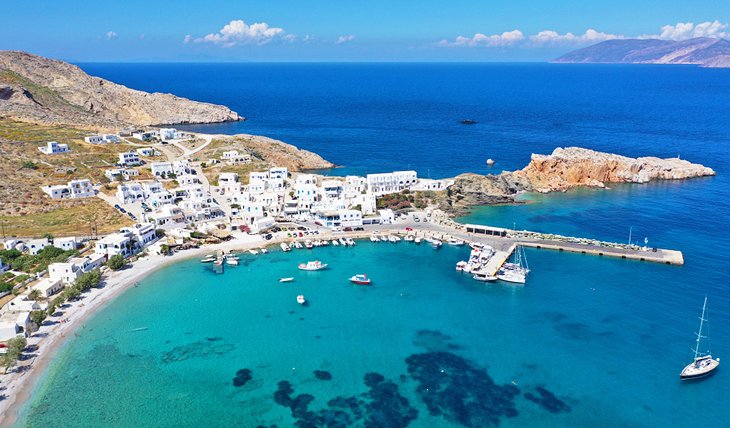 The Island of Folégandros seduces visitors with its wild beauty and remote, uncrowded beaches. This quiet and relatively undiscovered island is one of the best places to visit in Greece for a romantic get-away-from-it-all sensation. Visitors arrive at Karavostasis, a harbor lined with restaurants, hotels, and shops.
On a cliffside overlooking the sea, the village of Chora on Folégandros Island is a delightful cluster of winding cobblestone streets, narrow alleyways, whitewashed houses with bougainvillea-draped balconies, and pleasant town squares. Lime trees flourish in this area, adding a sweet perfume to the breezy air.
Nearby island-hopping options include a ferry (about an 80-minute ride) from Folégandros to the Island of Ios, a sun-drenched island with golden-sand beaches and typical Aegean architecture. The island's main town, Ios Chora, features whitewashed houses, churches with bright blue domes, and characteristic Greek windmills. The island is also known for its nightlife.
11. Unspoiled Lefkáda Island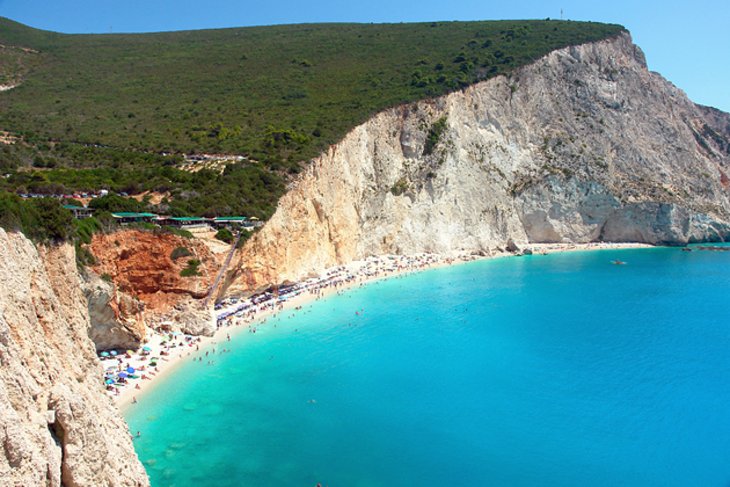 Lefkáda Island is a gloriously unspoiled destination in the Ionian Sea of Western Greece, an area blessed with a pleasant, mild climate. This rural island has tranquil seaside villages such as Vassiliki and Agios Nikitas (both villages are great places to stay or to dine at one of the authentic restaurants).
The island's spectacular coastline features alluring beaches tucked away behind steep cliffs or in sheltered coves. The breathtaking stretch of golden sand at Porto Katsiki is considered one of the best beaches in Europe. Egremni Beach is the longest beach on Lefkáda, renowned for its deep turquoise-blue waters.
Authentic local culture is found in the island's traditional villages: Poros perched on a hillside above the sea; the photogenic fishing village of Sivota, known for its authentic seafood tavernas; and Ligia, which has a nice beach and an attractive fishing port.
Gourmands will appreciate the authentic cuisine of Lefkáda Island. Most of the island's towns have excellent restaurants that serve fresh seafood and regional specialties such as Savoro, fish seasoned with vinegar and raisins, and Bourdeto, fish cooked in a savory tomato sauce.
12. The Quaint Island of Hydra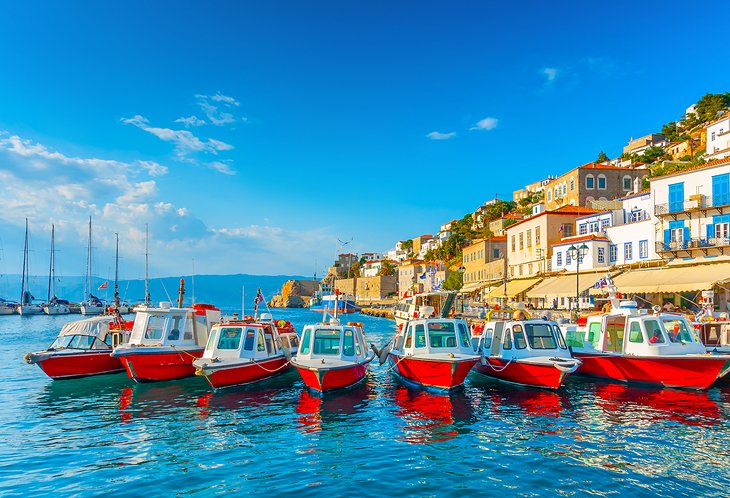 Completely free of cars, Hydra offers a glimpse into traditional Greek island life. Tourists arrive at the harbor of Hydra Town, and the only way to get around is by walking or donkey rides. Typical of the Cycladic Islands, whitewashed houses are nestled on the slopes that tumble down to the water's edge.
Elegant shipowners' mansions (Lazaros Koundouriotis Historical Mansion is a museum) overlook the café-lined harbor, where yachts and fishing boats are moored. In a 17th-century monastery above the port, the Ecclesiastical Museum displays Byzantine relics, icons, and manuscripts.
Hydra Town is renowned for its jewelry boutiques, which sell items crafted by local artisans. The island also has culinary specialties, such as Amygdalotá (almond cake) and Galaktoboureko (creamy custard layered with crispy phyllo dough).
The Island of Hydra does not have great beaches, but it has fabulous hiking trails. Steep walking paths lead to historic monasteries or viewpoints with sensational vistas of the Saronic Sea.
13. Kárpathos Island: Uncrowded Beaches and a Lost-in-Time Village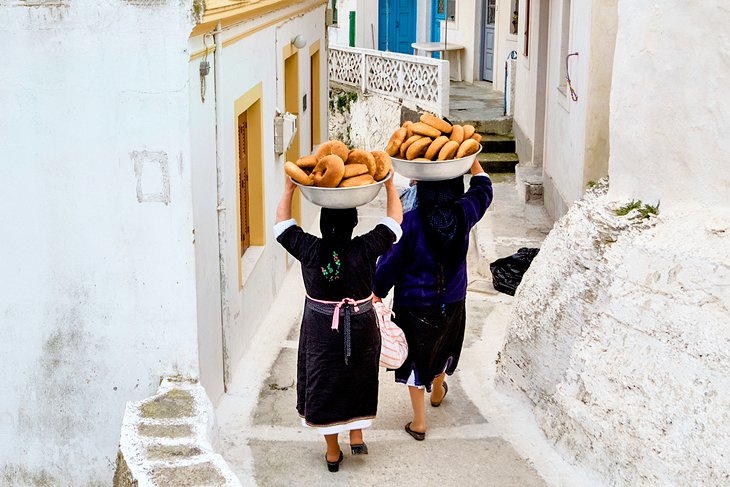 Kárpathos is one of the least touristy Greek islands, in good part because it is difficult to arrive here (due to limited ferry service). This remote island is a place to get away from it all at amazingly uncrowded beaches.
Wonderful sandy shorelines are found near the seaside village of Lefkos, as well as in the resort area of Amoopi (which has great facilities). Other top beaches are Kyra Panagia, in a secluded cove; Apella Beach, with a golden-sand shore and emerald waters; and Achata Beach, close to the main port town of Pigadia.
In the mountains of northernmost Kárpathos, the nearly inaccessible hilltop village of Olympos overlooks the sea and the surrounding countryside. Thanks to its remote location, the village has retained its age-old way of life, authentic folk customs, and unique local cuisine that can only be found here.
14. The Romance of Mythical Ithaca Island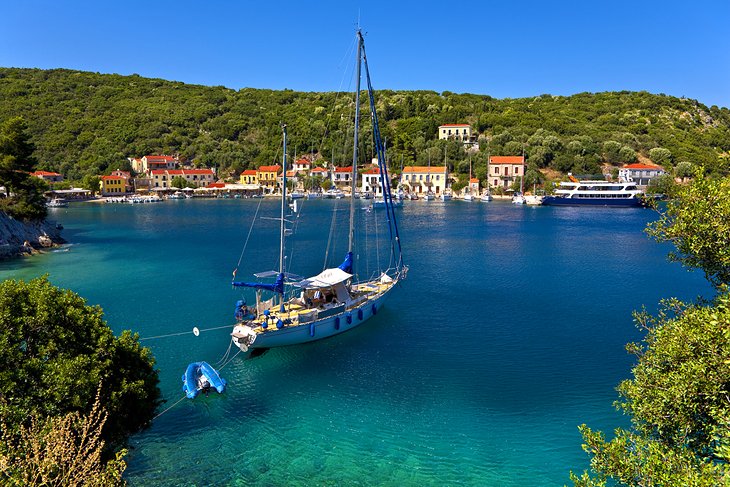 Surrounded by the gentle Ionian Sea and covered with luxuriant greenery, this blissful island lives up to Homer's mythical descriptions in the Odyssey. There is not much to do on the Island of Ithaca except soak up the natural beauty at dreamy, secluded beaches tucked away in tranquil coves.
The difficult-to-access Agios Ioannis Beach is a divine stretch of golden sand. The pebbly beaches at Dexá, Gidaki, Aetos, and Skinos Bay are good places for sunbathing and swimming but do not have facilities. Family-friendly beaches with calm waters and some tourist facilities are found at Filiatró and Sarakiniko Bay.
Ithaca's capital, Vathy, offers splendid seaside scenery, interesting folklore and archaeological museums, and a bustling waterfront with many restaurants and cafés. Another vibrant waterfront is found in Frikes, a picturesque fishing village with a natural beach in a lush setting.
15. Milos Island: Fishing Villages and Quiet Beaches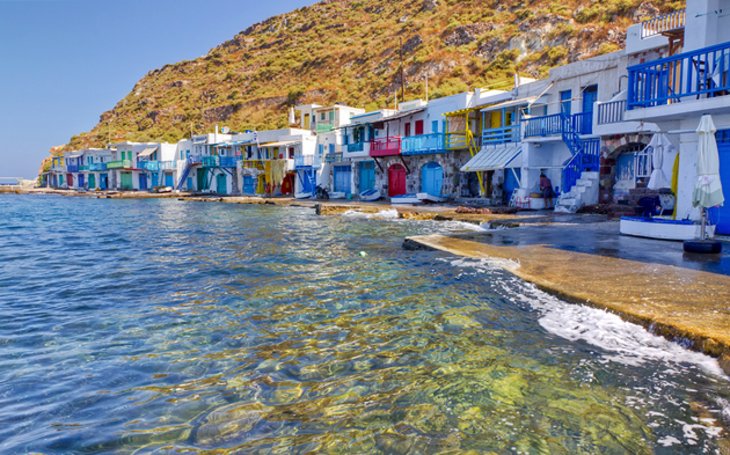 Formed by volcanic eruptions, the Island of Milos in the Cyclades is an exotic place to visit. The distinctive coastline is trimmed with beaches of yellow, white, red, or black pebbles, and the water is prized for its sapphire and turquoise colors, as well as for the crystal-clear quality.
Sarakiniko Beach has the most surreal scenery, with a shore of white volcanic rock. This distinctive topography includes striking rock formations and caves, as well as cliffs. (Visitors should exercise caution while exploring the otherworldly landscape of Sarakiniko Beach.)
The prettiest village on the island, Pláka has an atmospheric old town (chora) with whitewashed houses lining a maze of narrow streets and a church in an awe-inspiring spot overlooking the sea.
The seaside village of Klýma is worth visiting to see its charming old port where fishermen's houses called "syrmata" are built right at the edge of the waterfront. The unique characteristic of theses houses are the doors and balconies that are brightly painted in a multitude of colors.
16. The Laid-Back Island Charm of Kefaloniá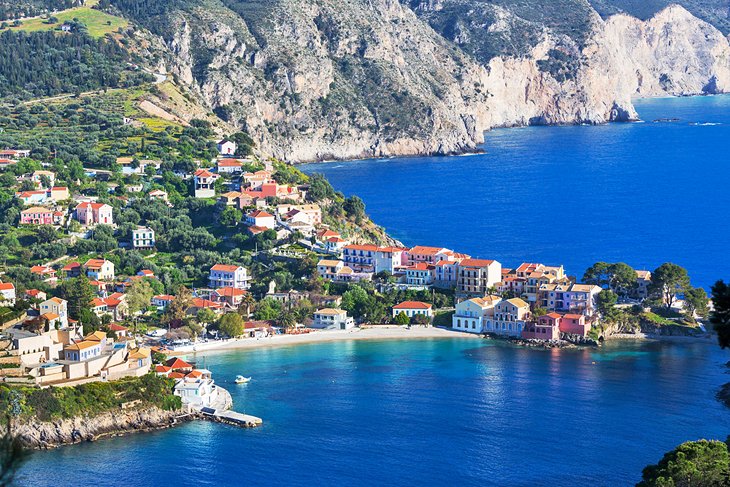 A short ferry ride away from Ithaca is the perfect place for a rejuvenating vacation. The Ionian Sea's largest island, Kefaloniá boasts magnificent natural scenery of forested mountains (including Mount Ainos National Park) and pristine beaches with deep azure waters.
Among the top attractions of Kefaloniá are two lively port towns: Argostoli, the capital built along a large bay, with many cafés and great nightlife; and Fiskardo, a sailing and yachting hub, with plenty of seafood restaurants.
The tiny Venetian-era seaside fishing village of Assos is one of the most peaceful and picturesque spots on the island.