12 Best Greek Islands for Beaches
The beaches of the Greek Islands enchant visitors with seductive scenery and crystalline waters in a dazzling palette of colors, from aquamarine to emerald. Bright Mediterranean sunshine gives the sea a cobalt-blue tone, especially when viewed from the coastal hilltops. At the shoreline, the waves appear translucent and turquoise in hue.
Besides natural beauty, the beaches of the Greek Islands generally offer excellent facilities. After all, beaches are the number-one reason vacation-goers come to the Greek Islands. Many beaches attract huge crowds during the summertime. At the most popular beaches, tourists will find lounge chair and sun parasol rentals, showers, restrooms, changing rooms, and restaurants.
The traditional tavernas fronting the shores of Greek Island beaches serve authentic local cuisine on outdoor terraces. Other delights for tourists include visiting the quaint fishing villages and taking scenic boat cruises.
In summertime, young fun-loving travelers head to Mykonos and Corfu islands. Other travelers prefer tranquility and relaxation. Kefaloniá, Kárpathos, and Lefkada islands are perfect for a rejuvenating holiday at bliss-inducing secluded beaches.
Discover the top places to bask in the sun on the Greek Islands, from quiet family-friendly destinations to lively beaches with DJ music. Plan a fabulous seaside vacation with our guide to the best Greek Island beaches.
1. Crete: Sublime Sandy Beaches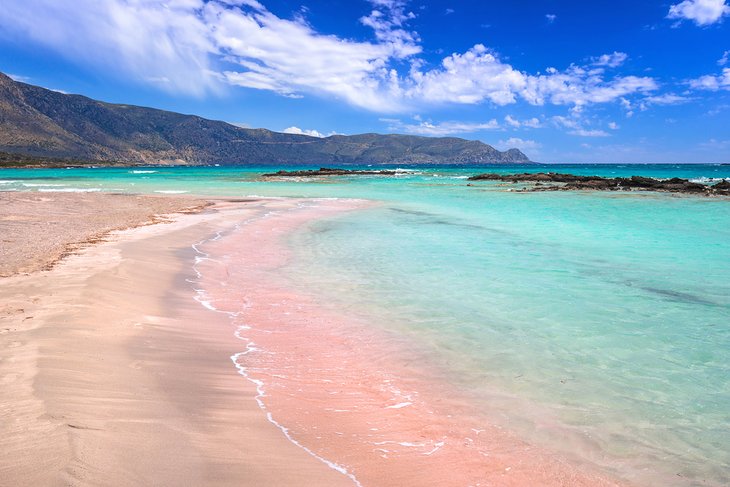 Crete boasts gorgeous beaches in addition to fascinating cultural sites and picturesque port towns. Many of the prettiest beaches of Crete are found along the southwest coast, including Elafonissi Beach, renowned for its pink-tinged sandy shoreline and crystal-clear turquoise waters.
Other highlights of Crete on the southwestern shoreline include Matala Beach, prized for its dramatic natural scenery, and the beaches of Paleochora, which have excellent facilities.
The postcard-perfect Balos Beach has the feel of a tropical paradise because of its translucent turquoise-blue waters. Because Balos Beach is in a lagoon, the sea is calm and shallow, which makes it safe for swimming. Balos Beach is accessible by boat from the port of Kissamos.
Nestled along the Mirabello Bay, the serene Voulisima Beach offers unspoiled seaside scenery, a soft white-sand shoreline, and crystalline aquamarine waters.
How to Get to Crete: Greece's largest island, Crete is located in the southern Aegean Sea. The ferry ride from Athens takes nine hours or more, whereas the flight from Athens is only 45 minutes. A ferry route connects Heraklion, Crete to the port of Kárpathos Island, but the ride takes around eight hours.
2. Trendy Beach Scene on Mykonos Island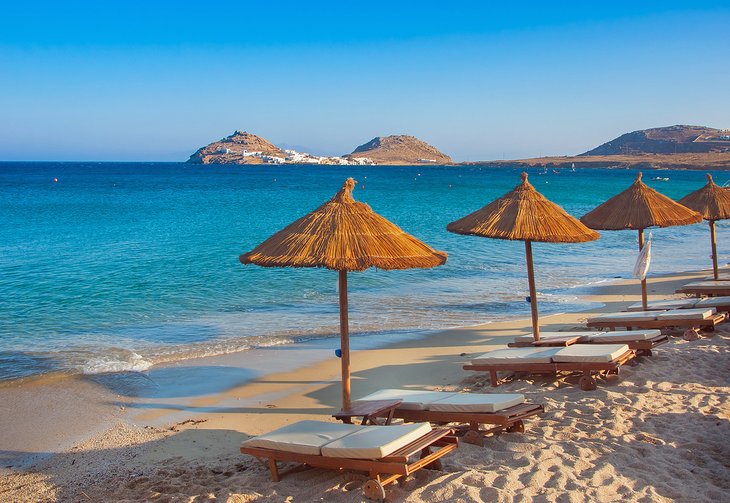 For a happening beach scene, Mykonos is the place to go. Throngs of young fun-loving sun worshippers flock to the island in July and August. Mykonos' summertime vacationers enjoy lazy days on seaside sun beds and late nights at the beach clubs.
Many of Mykonos' beaches are pebbly rather than sandy, but the combination of excellent facilities and peaceful scenery makes for a top-notch experience.
The most famous beaches of Mykonos are Paradise Beach and Super Paradise Beach, known for trendy beach clubs and a see-and-be-seen vibe. DJs spin tunes right on the beach, and the entertainment lasts all night long.
Another hip beach scene is found at Playts Gialos, a wide stretch of shoreline fronted by stylish hotels and restaurants with outdoor terraces. This beach is very popular (and crowded during summertime), as well as family friendly.
Mykonos also has quiet beaches such as Elia Beach, which draws many visitors to its gourmet Mediterranean restaurant overlooking the glittering turquoise waters. Visitors can take a caique (traditional fishing boat used as a shuttle service) from Platys Gialos to Paradise Beach, Super Paradise Beach, and Elia Beach.
Besides its attractive and well-equipped beaches, Mykonos offers the quintessential old-world charm of the Greek Islands. Chora Mykonos (the island's main town) is a delightful warren of narrow streets and alleyways that lead to discoveries of interesting artisan boutiques, quiet squares with outdoor cafés, lovely old churches, and bougainvillea-trimmed whitewashed Cycladic houses.
How to Get Here: Mykonos is at the heart of the Cyclades island group. From Athens, it takes around five hours by ferry and three hours on a high-speed ferry. There are also ferry routes that connect Mykonos to other Greek islands, including Santorini, Crete, Páros, Naxos, Sámos, and Patmos.
3. Serene Sheltered Beaches of Corfu Island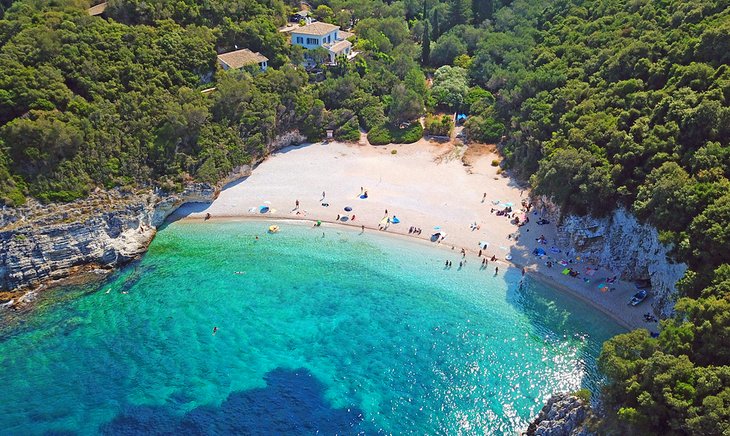 Surrounded by the aquamarine Ionian Sea, the Island of Corfu is fringed with sandy beaches. The six beaches of Paleokastritsa on the island's west coast are sheltered in bays with crystal-clear waters. Along the island's northeast shores, the fishing village of Kassiopi features wonderful, small secluded beaches.
On Corfu's west coast, Glyfada Beach is appreciated for its refreshing natural environment and expansive stretch of golden-sand shoreline. The Glyfada area is well equipped to welcome visitors, with sun bed and umbrella rentals; water sports facilities; and an abundance of cafés, tavernas, and hotels.
Another popular resort area is Kontokali on Corfu's east coast, which has a large beach with a Blue Flag label (which means it meets stringent safety and environmental standards).
How to Get Here: Corfu Island can be reached by plane (a three-hour flight) from Athens or by ferry (which takes around two hours) from Igoumenitsa on the Greek mainland. It is also possible to take a ferry from Bari in Italy to Corfu Island, but the travel time is around 12 hours.
4. Kefaloniá Island: Dramatic Scenery and Secluded Beaches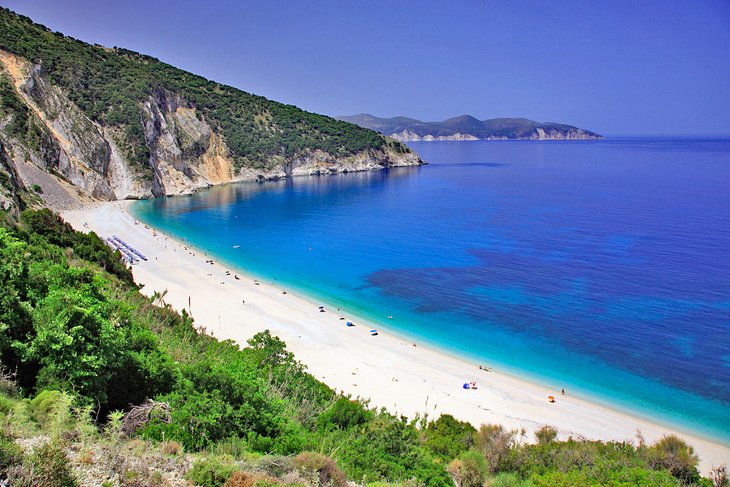 The dramatic scenery of Kefaloniá Island captivates visitors with its exotic beauty. Sweeping coastal views from Mount Aenos (a national park), lush vegetation, sparkling azure waters, and fine golden shores give the island a dreamy quality.
Near the colorful seaside village of Assos is Myrtos Beach, considered one of the top beaches in Greece. Steep limestone cliffs and shrub-covered hillsides surround the shoreline, creating the sensation of peacefulness and seclusion. With its crystalline turquoise waters and unspoiled natural setting, Myrtos Beach is truly breathtaking.
Steep cliffs surround Petani Beach, which is a stunning stretch of white-sand and pebble shoreline with magnificent blue waters. Facilities include a seaside taverna, sun bed and umbrella rentals, showers, and restrooms. Petani Beach is also known for its beautiful sunsets.
In terms of facilities, Makris Gialos Beach is the best choice on Kefaloniá Island. Amenities include rentals of lounge chairs & sun umbrellas, a water sports center, and a snack bar.
Trip Planning Tips: For an island-hopping itinerary, travelers can easily take short ferry rides from Kefaloniá to Ithaca Island (a 40-minute ride) and Lefkada Island (a one-hour-and-45-minute ride). The quickest way to reach Kefaloniá Island is by plane (a one-hour flight) from Athens.
5. Kárpathos Island: Beaches with Dazzling Emerald Waters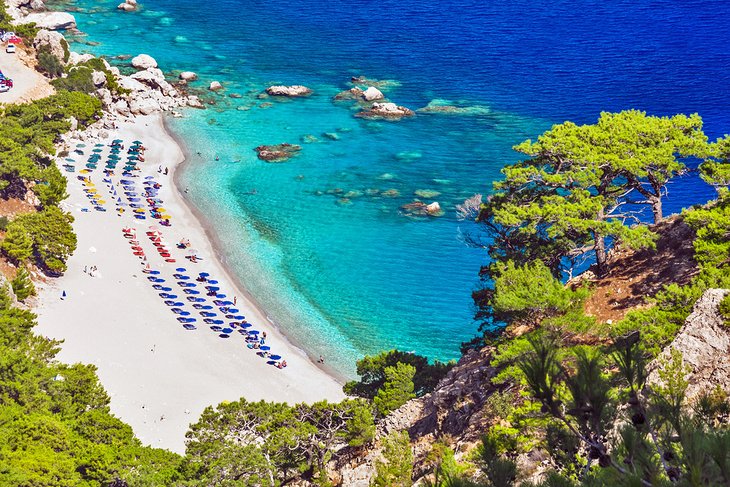 Kárpathos Island delights visitors with the impression of being far, far away. This remote island in the Aegean Sea takes much longer to reach by ferry from Athens (18 to 20 hours) than the other Greek Islands such as Santorini and Mykonos.
The remote location means fewer crowds, and tranquil beaches. Kárpathos has quiet beaches ideal for relaxation, such as Agios Nikolaos in Spoa, two small beaches with good facilities (lounge chair & umbrella rentals and tavernas); Agios Nikolaos in Arkasa, a beach with safe shallow waters; Kato Lakkos, a marvelous beach with astounding blue-green waters; and the beaches around the village of Lefkos.
Tucked into a secluded cove and sheltered by steep rocky hillsides, Kyra Panagia is another picture-perfect beach, with crystalline emerald waters. Kyra Panagia Beach is well equipped with snack bars, showers, changing rooms, and rentals of sun beds & parasols. The charming village of Kyra Panagia offers plenty of accommodations and authentic Greek tavernas.
The popular Apella Beach draws crowds even though it is somewhat difficult to access by car (it's easier to arrive here by boat from the Pigadia harbor). Tucked into a small cove that is surrounded by pine trees, the beach has an atmosphere of peacefulness. Tourists appreciate the glimmering azure waters, the fine-sand shoreline, and the sense of quiet seclusion in nature. There are no amenities, except for a traditional taverna on the hillside above the beach.
On the road to Apella Beach, the rocky hillside conceals the 13th-century chapel of Agios Loukas (Saint Luke), a truly surprising sight. Built into a cave, the chapel astounds visitors with its mystical Byzantine atmosphere and the remnants of old frescoes.
Near the village of Lefkos, Amoopi Beach is a sandy shoreline with excellent facilities (sun bed and parasol rentals, showers, and snack bars) and all the amenities of a developed resort area, including many hotels and restaurants.
Trip Planning Tips: For those who are island hopping, Rhodes Island is worthy of adding to a travel itinerary. The ferry from Kárpathos to Rhodes Island takes about five hours. One of the top attractions of Rhodes Island is the UNESCO-listed medieval Old Town of Rhodes Town.
6. Lefkada Island: "The Caribbean of Greece"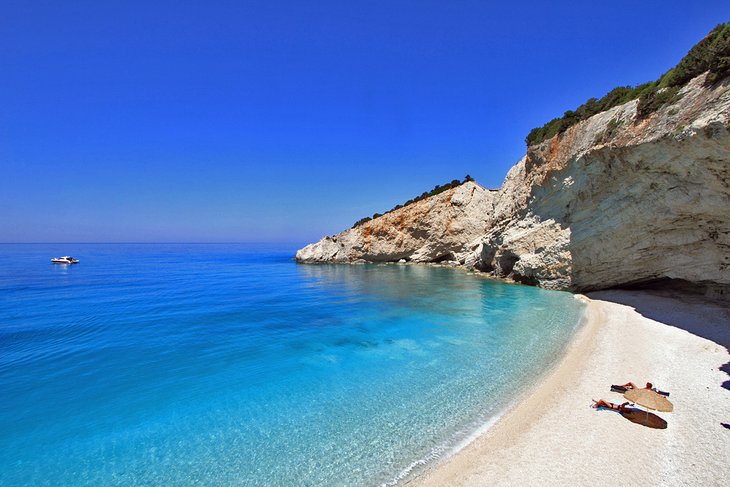 The Island of Lefkada is known as the "Caribbean of Greece" because of its exotic landscape and mesmerizing deep-blue waters that are reminiscent of tropical seas.
The island's best beach, Porto Katsiki features a sandy shoreline surrounded by sheer limestone cliffs. At this amazing sheltered beach, the color of the Ionian Sea takes on a serene azure hue. To accommodate all the visitors, Porto Katsiki has a parking lot, snack bars, and rentals of sun beds and parasols.
Near the village of Agios Nikitas is Lefkada's longest stretch of shoreline, Kathisma Beach, prized for its idyllic natural setting, fine white sand, and glittering turquoise waters. Kathisma Beach draws crowds who come to sunbathe, swim, and participate in water sports. Rentals of lounge chairs and parasols are available. Tourists will also find a good choice of hotels nearby.
Surrounded by sheer cliffs and barren hillsides, Egremni Beach has a long sandy and pebbly shoreline and translucent waters. Egremni Beach is only accessible by boat.
How to Get to Lefkada Island: A bridge links Lefkada Island to the mainland of Greece, so it is possible to arrive here by car or taxi. There are also ferry connections to Ithaca Island and Kefaloniá Island from Lefkada Island.
7. Golden Sand Beaches of Páros Island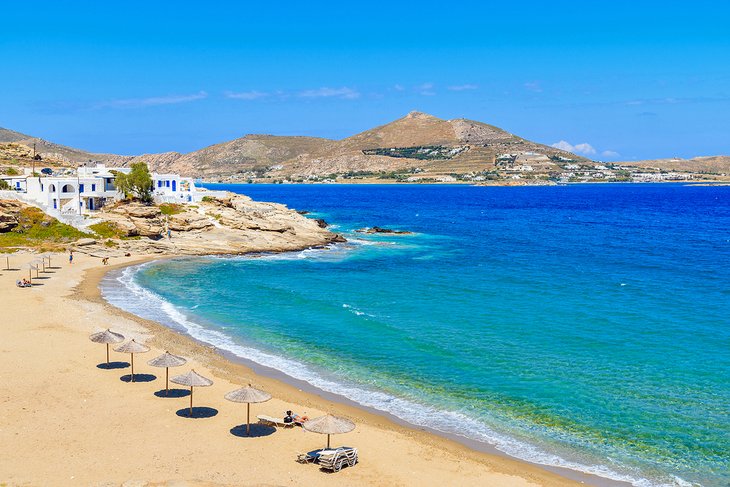 Páros Island is renowned for its splendid golden-sand beaches. Vacationers relish the fine golden sand and crystal-clear turquoise waters of the Santa Maria beaches, nestled in a bay near the traditional fishing village of Naoussa. Amenities at the Santa Maria beaches include sun bed and umbrella rentals, a scuba diving center, water sports facilities, and a camping area.
The most distinctive beach on the island, Kolymbithres is unique because of its granite rock formations. The beach is actually comprised of several small coves with sandy shores. A limited amount of facilities is available at Kolymbithres Beach, which is accessible by car or by boat.
Near the village of Písso Livádi, the popular Logaras Beach has a long sandy shoreline and is well-designed to accommodate tourists, with many restaurants and hotels in the area.
Another beach that draws crowds, Parasporos (next to a camping site) boasts a hip scene for sunbathing, as well as for nightlife.
The sandy Golden Beach and New Golden Beach are popular for windsurfing; both beaches have great facilities such as snack bars, water sports centers, and rentals of lounge chairs and sun parasols. There are many hotels and other accommodations near Golden Beach and New Golden Beach.
Trip Planning Tips: An excellent addition to an island-hopping itinerary, Páros Island is in the Cycladic island group along with Mykonos and Santorini. Ferry routes are available from Mykonos (less than a one-hour ferry ride), as well as from Athens (about a three-hour ride).
For a day-trip from Páros or to extend a vacation, travelers can take a five-minute ferry ride to Antiparos. This tiny island has wonderful beaches with pristine waters and a lovely village (Chora Antiparos), with typically Cycladic, small cubic houses and blue-domed churches.
8. Sámos Island: Beautiful Beaches with Crystal-Clear Waters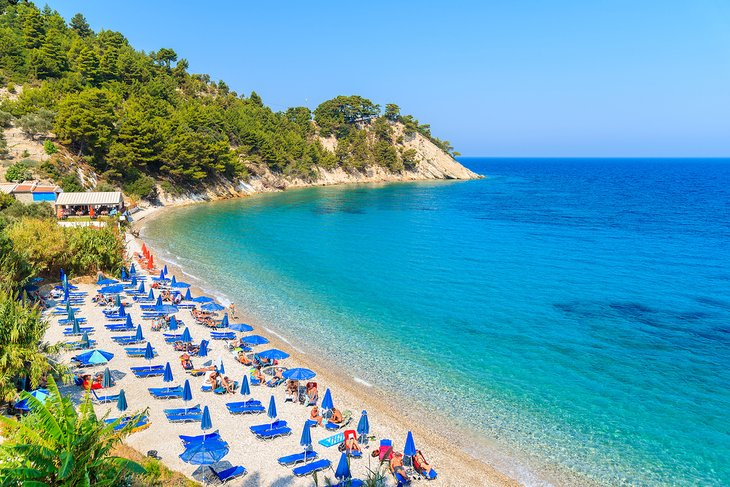 One of the most beautiful Greek Islands, Sámos dazzles visitors with its spectacular beaches and lush natural environment. The mountainous island is blanketed with pine forests and olive groves, while the sea is prized for its crystal-clear quality.
The Island of Sámos offers a wide range of beaches, from touristy beaches with superb facilities to secluded beaches in protected bays and quiet coves. Except for a few sandy beaches, most of the Sámos beaches have pebble shores.
Favorite sandy beaches include Psili Ammos, a long shoreline backed by steep cliff sides and pine trees, and Livadaki, a sheltered beach with shallow turquoise waters (almost like a swimming pool). Both beaches offer sun bed and parasol rentals. Psili Ammos has two tavernas near the beach. Livadaki also has showers, changing rooms, and beach volleyball courts.
Other popular beaches are Kokkari, with a sandy-pebbly shoreline and plenty of amenities; the family-friendly Mykali beach, with shallow waters that are ideal for children and safe for swimming; Lemonakia, surrounded by forested hillsides; and Tsamadou Beach, which boasts authentic Greek tavernas and beachside cafeterias.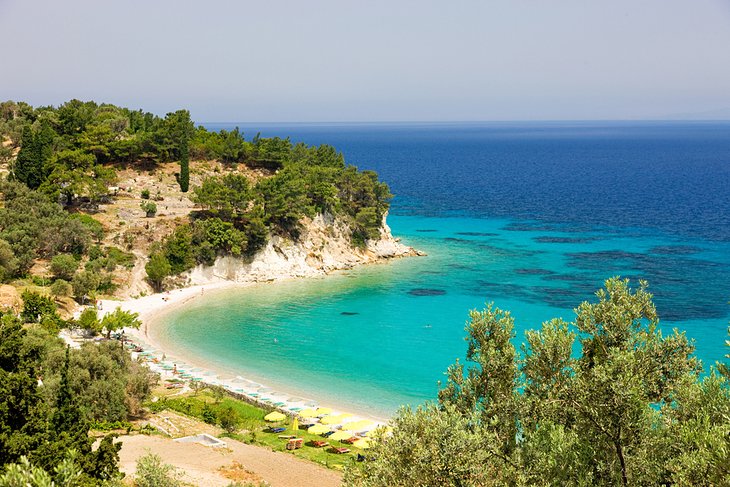 A highlight of visiting Sámos is its proximity to the coast of Turkey, giving travelers the chance to experience another culture just a short boat ride away. The Turkish seaside resort town of Kusadasi can easily be visited as a day trip by ferry service or on an organized tour.
Some organized tours include visits to both Kusadasi and the UNESCO-listed Roman ruins of Ephesus, the most important archaeological site in Turkey. Visiting Ephesus is an awe-inspiring experience, as it is considered one of the Seven Wonders of the ancient world.
How to Get to Sámos Island: The ferry ride from Athens to Sámos takes about 12 hours, whereas a flight from Athens takes only about one hour. Travelers on an island-hopping route can take advantage of the ferry option (about a five-hour ride) to and from Mykonos Island.
9. Folégandros: An Idyllic Island with Peaceful Beaches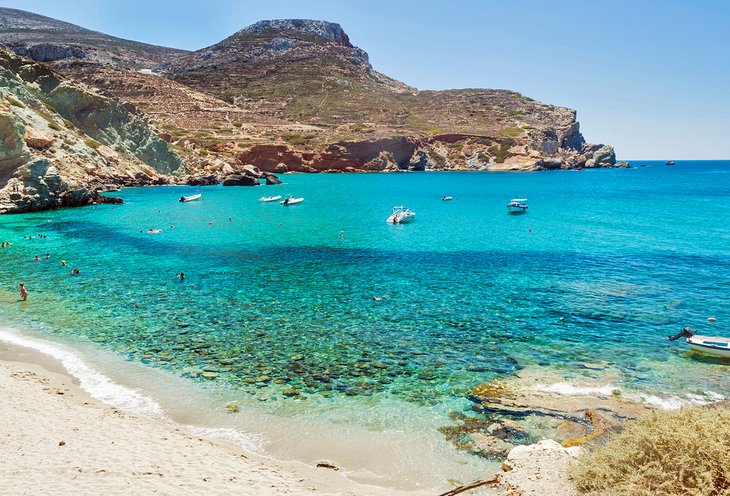 Folégandros Island is the perfect place to get away from it all, while basking in the sun on uncrowded beaches. The island has a lost-in-time quality, with a rural landscape and traditional whitewashed villages. In typical Cycladic style, the villages feature quiet tree-shaded courtyards, narrow streets, and bougainvillea-trimmed houses. A country road connects the island's three villages.
The pristine beaches of Folégandros Island provide a sense of tranquility. However, because the beaches are not over-developed for tourism, the facilities are very limited. Visitors should come prepared with snacks and beach gear.
Agali Beach is an alluring stretch of sandy shoreline surrounded by steep cliffs. During the summer, the beachside tavernas open for business. The family-friendly Karavostasi Beach has placid, crystal-clear waters that invite swimming and splashing around.
How to Get to Folégandros: In the Cyclades island group, Folégandros is found between Santorini and Páros islands. The ferry ride from Santorini takes less than an hour. From Páros, the quickest ferry route takes two hours and 30 minutes while a slower ferry takes nearly five hours. The ferry ride from Athens takes six hours (high-speed) or eight hours (normal ferry).
10. Fabulous Sandy Beaches of Ios Island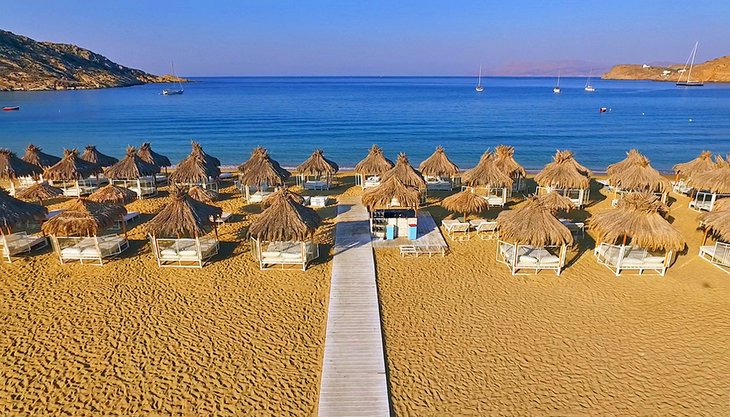 Dreamy beaches and quaint clifftop villages with whitewashed houses and narrow alleyways make Ios Island an enchanting place to visit. The nightlife and trendy beach scene draw young travelers seeking a lively vacation.
Ios Island has many fabulous sandy beaches, where calm turquoise waters gently lap up against picturesque shorelines. Visitors will find a wide variety of beaches, from quiet secluded coves to family-friendly spots and lively beaches with great facilities.
The most popular beach on the island, Mylopotas has a long sandy shoreline tucked into a sheltered bay. Mylopotas Beach is a favorite spot for swimming and windsurfing, thanks to its Blue Flag label indicating water quality. This well-equipped beach has several snack bars, cafés, and restaurants.
How to get to Ios Island: In the Aegean Sea's Cyclades island group, Ios Island is easy to reach by ferry from Athens, as well as from the islands of Santorini, Páros, and Crete.
11. Skiathos Island: Pristine Sandy Beaches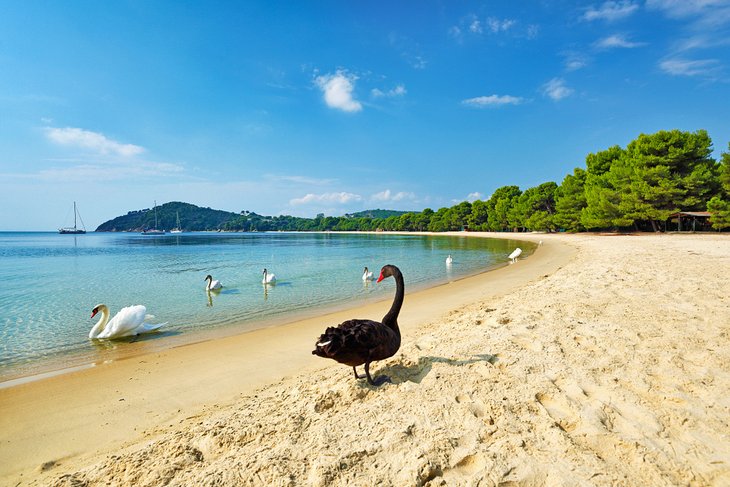 Some of the best beaches of the Greek islands are found on Skiathos. This idyllic island is covered with refreshing pine forests and ringed by a sparkling white sandy shoreline.
The island has dozens of spectacular sandy beaches featuring lush scenery and luminous azure waters. On the southern side of the island, the beaches include facilities, whereas the beaches of the northern side are unspoiled and secluded.
Koukounaries is a famous beach on the southern side of the island, with pillowy, fine-white sand and extensive amenities (snack bars, lounge chairs, umbrellas, and water sports equipment). Aselinos Beach, on the northern side, is a quiet, romantic spot with a shoreline of sand and pebbles.
Trip Planning Tips: The easiest way to arrive at Skiathos Island is by taking a 30-minute flight from Athens. Skiathos is connected by ferry routes to the Island of Skopelos (where the movie Mamma Mia! was filmed).
12. The Untouched Natural Splendor of Ithaca Island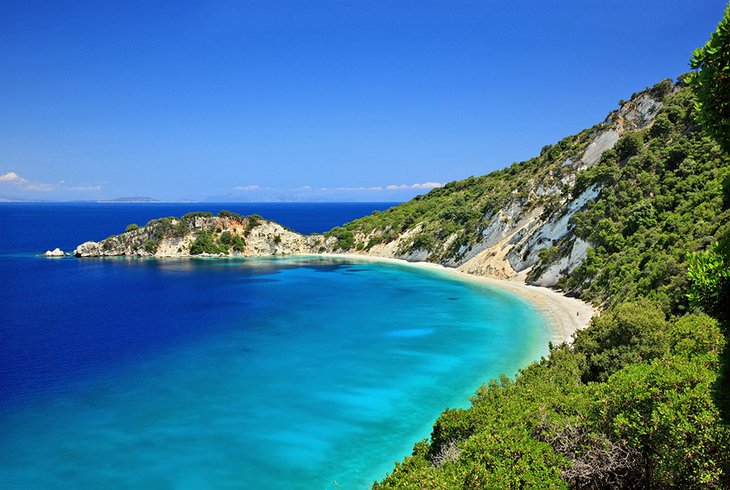 Ithaca offers an escape to a lush island paradise. Gold-sand beaches, pine-clad rolling hills, rugged mountains, tranquil coves, quaint fishing villages, and the crystalline splendor of the Ionian Sea await visitors. The stunning coastline sparkles when sunlight reflects off the emerald waters.
The beaches of Ithaca Island appeal to visitors seeking a relaxing experience in an untouched natural environment. The downside is that the island's beaches are generally pebbly (instead of sandy) and do not have any facilities.
Gidaki, Aetos, Dexá, and Skinos Bay are beautiful beaches with smooth pebble shorelines, splendid transparent waters, and luxuriant vegetation (but these beaches have very limited or no amenities).
The family-friendly Filiatró and Sarakiniko Bay beaches have tree-shaded shorelines and calm, shallow waters ideal for swimming. Both beaches have limited facilities. Sarakiniko Bay is a good snorkeling spot.
Great for families, Loutsa has a partially sandy shoreline and calm waters for easy swimming. Loutsa Beach does offer facilities, including a snack bar.
Trip Planning Tips: Ithaca Island does not have an airport, so it is best to combine a visit with an itinerary that includes other islands in the Ionian Sea, in particular Kefaloniá. It is a short (40-minute) ferry ride from Ithaca to Kefaloniá.
Map of Greek Islands for Beaches
More Related Articles on PlanetWare.com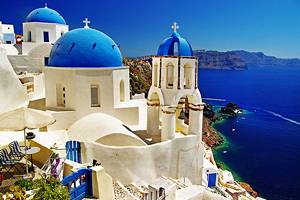 Athens and Greek-Island Hopping: Most travelers embark on a Greek island-hopping tour after visiting Athens to see some of Greece's top attractions like the Acropolis and the Acropolis Museum. Tourists can take a ferry from Athens (Piraeus) to one of the Greek Islands and then continue on an island-hopping itinerary.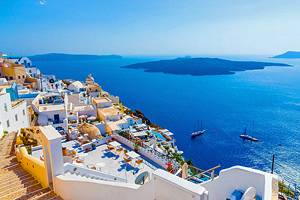 Other Must-See Islands: While the beaches are not a top draw, Santorini amazes visitors with its sensational sea views, jaw-dropping sunsets, and enchanting whitewashed villages. Several islands are easy day trips from Athens, including Aegina Island, which has one of the best-preserved ancient temples in Greece, and the car-free Hydra Island, where the main forms of transportation are by donkey or boat.