Greece in Pictures: 18 Beautiful Places to Photograph
The iconic images of Greece are irresistible to photographers: majestic ancient monuments, dreamy islands surrounded by deep blue waters, tiny villages of white-washed houses, and humble domed churches perched on hilltops.
The bright southern light of the Mediterranean makes the scenery of Greece especially photogenic. Adding a striking visual element are dramatic color contrasts, such as deep-pink bougainvillea draped across pale-painted buildings and sun-bleached marble ruins overlooking an azure sea.
1. Oia Village, Santorini Island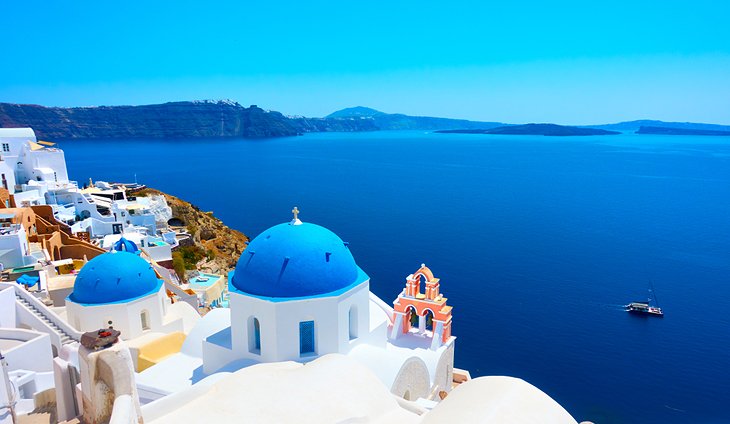 Santorini Island is so spectacularly photogenic that even beginning photographers can capture stunning images. In the charming village of Oia, cobalt-domed churches and whitewashed houses stand on slopes of the volcanic island's caldera, which plunge into the mesmerizing deep blue waters of the Aegean Sea. Oia village is also famous for its beautiful sunsets.
Accommodation: Where to Stay in Santorini: Best Areas & Hotels
2. Athens Acropolis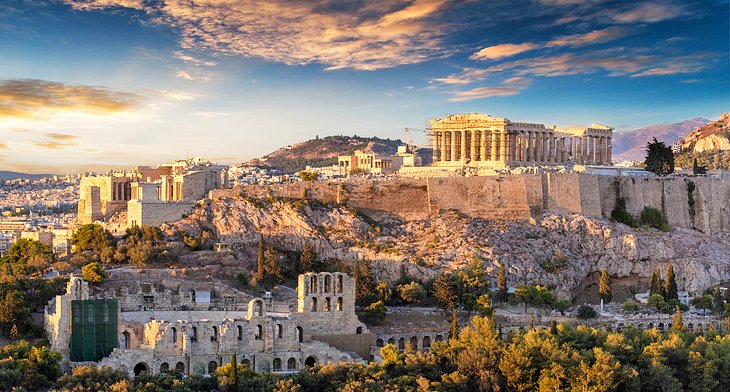 The Acropolis in Athens casts a spell of enchantment over modern-day viewers; its colossal ruins evoke the glory of ancient civilization. Perched at the summit of the Acropolis hilltop, the Parthenon is a magnificent classical-era temple that was the most sacred site of Greece in the 4th-century BC. A good vantage point for taking panoramic photos is from Philopappou Hill, directly across from the Acropolis.
Accommodation: Where to Stay in Athens: Best Areas & Hotels
3. Meteora Monasteries

For photographers, Meteora is one of the most magical places in Greece. Old monasteries perched on rock islands rising from the Plain of Thessaly are a spectacular site. They are built on the top of sheer cliff walls and make perfect subjects for photos.
4. Mykonos Island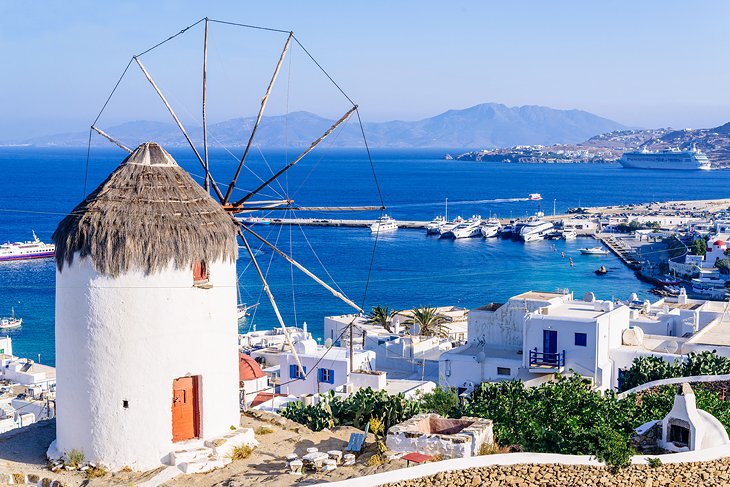 There are several photogenic spots on Mykonos Island, including the historic town, Chora Mykonos, with its narrow winding cobblestone streets and bougainvillea-trimmed whitewashed buildings. The waterfront area of "Little Venice" (also within the Chora Mykonos) and the island's emblematic windmills provide interesting seaside photo-ops.
5. Chania, Crete Island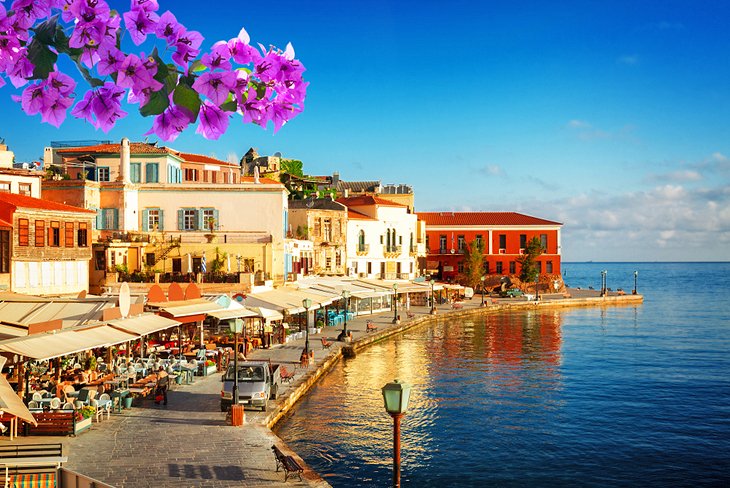 This alluring waterfront town on the Bay of Chania has an atmospheric harbor developed by the Venetians in the 13th century. Vibrantly painted houses and the outdoor terraces of seafood restaurants and cafés line the waterfront, which seems to glisten in the Mediterranean sunshine. This is one of the most popular destinations on Crete.
6. Village of Náoussa, Paros Island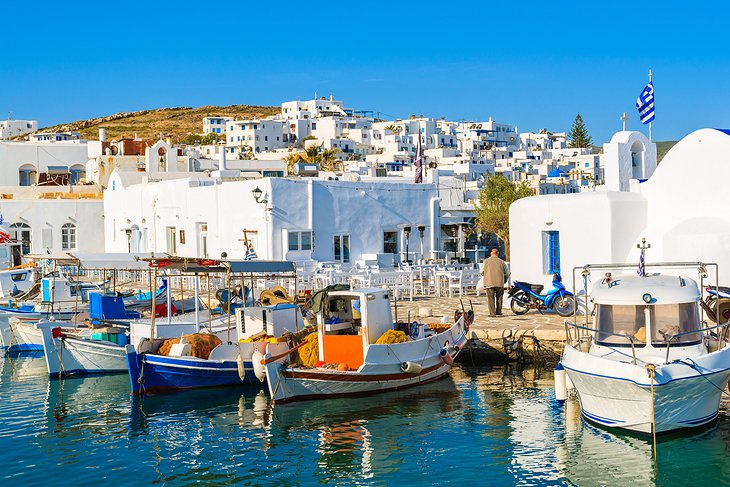 Photographers relish the sunny fishing port of Náoussa, with its simple Cycladic whitewashed houses and traditional Greek boats. Adding a sense of liveliness are the bustling waterfront restaurants and cafés that feature outdoor terraces.
7. Hydra Island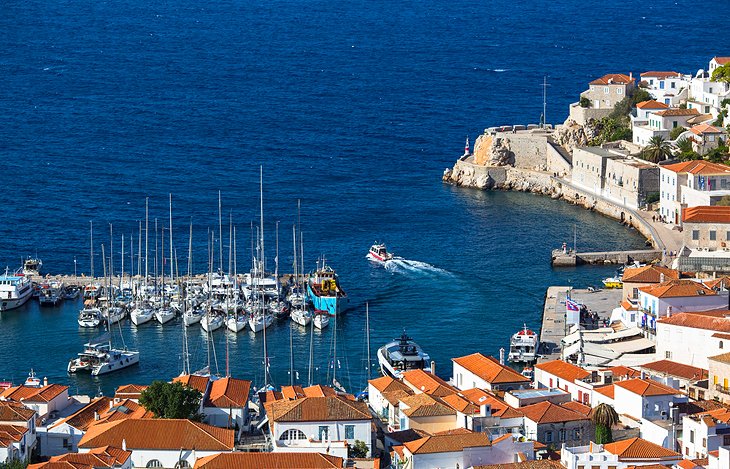 An impressive fortified harbor welcomes visitors to the car-free island of Hydra, about a 90-minute ferry ride from Athens and one of the top day trips. Hydra Island is a lost-in-time kind of place, where donkeys are still used for transportation. Stately old shipowner's mansions and red-roofed whitewashed houses cluster on hillsides sheltering the port, which sparkles in photos on sunny days.
8. Acropolis in Lindos, Rhodes Island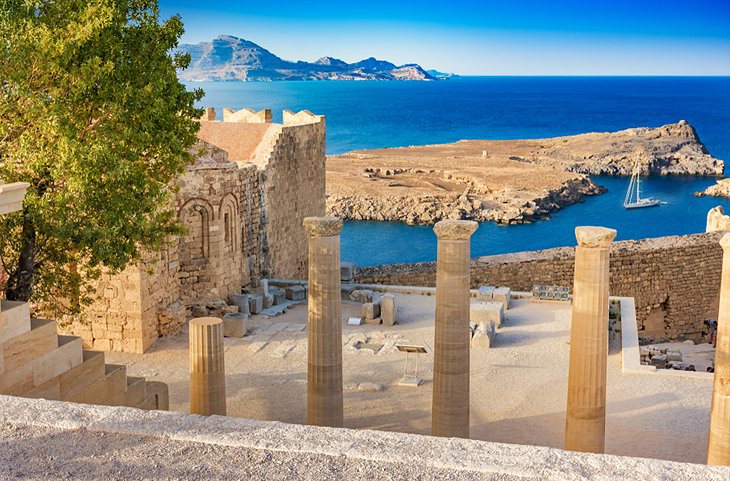 With its ancient ruins overlooking the sea, the clifftop Acropolis of Lindos is one of the most amazing sites to photograph in Greece. The Temple of Athena Lindia (Doric temple dating to the 4th-century BC) and columns of the Propylaea (staircase entrance to the sanctuary) pose for marvelous photos, with the Aegean waters glimmering in the background.
9. Corfu Town, Corfu Island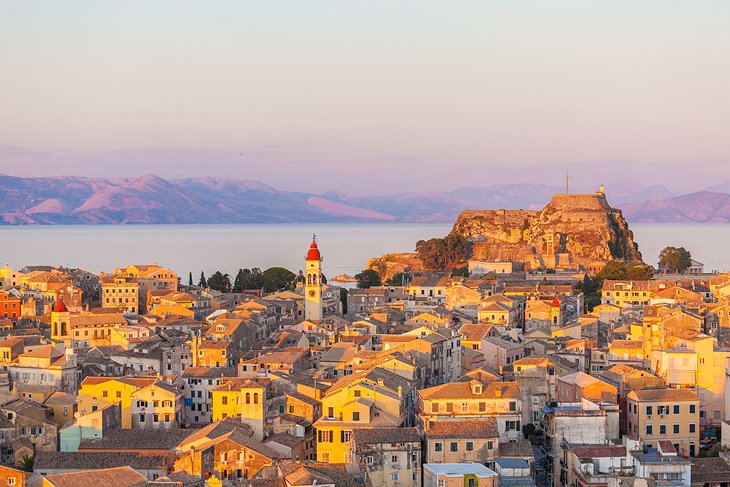 The UNESCO-listed Old Town of Corfu Town is renowned for its elegant architecture: Venetian mansions, 19th-century Neoclassical villas, and the French-style arcaded Listón promenade. However, the best photo-op of Corfu Town is from the vantage point of the New Fortress, which affords panoramic views of the city and its lovely seaside setting.
10. Delphi Archaeological Site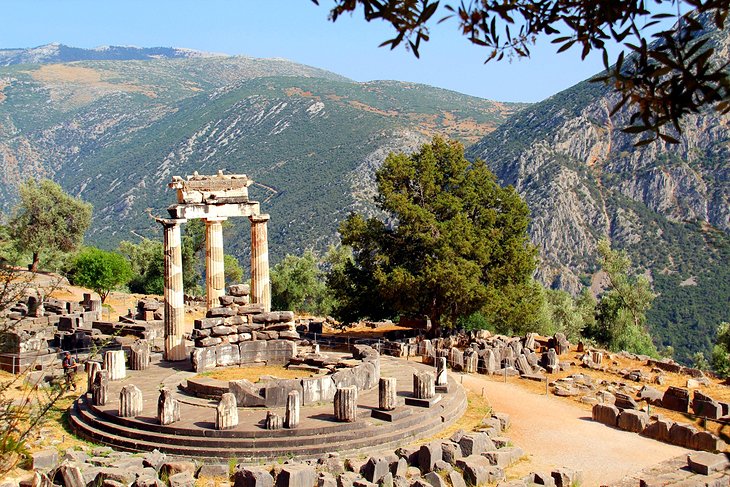 The archaeological site of Delphi stands on the slopes of Mount Parnassus overlooking a valley filled with olive groves. Delphi is designated as a UNESCO World Heritage site because of the importance of its 4th-century BC pan-Hellenic sanctuaries. With vistas of mountains in the background, the ruins of the Temple of Athena look especially splendid in photos.
Delphi is a popular day trip from Athens, but if you want to visit the site and enjoy the area, plan on spending a night.
11. Agios Nikolaos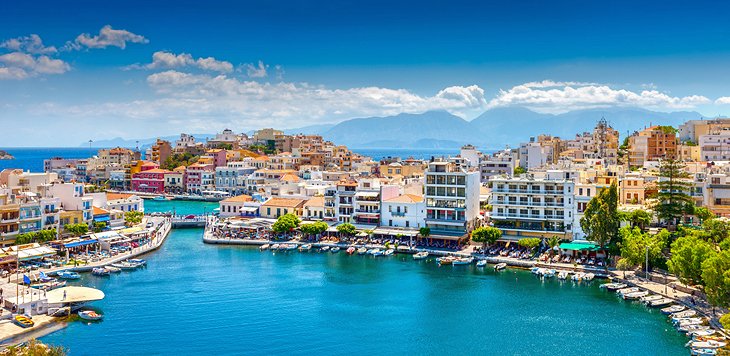 Another popular tourist destination on Crete is Agios Nikolaos. This small city has several popular sites for photographers. The beautiful port area looks out over Mirabello Bay to mountains on the far shore. Just inland from the port is the small but deep Lake Voulismeni, lined with restaurants and shops and backed by a cliff wall.
In the vicinity are some of Crete's most beautiful beaches, including the stunning Voulisma Beach. You can also find a number of family oriented resorts nearby.
12. Kokkari Port, Samos Island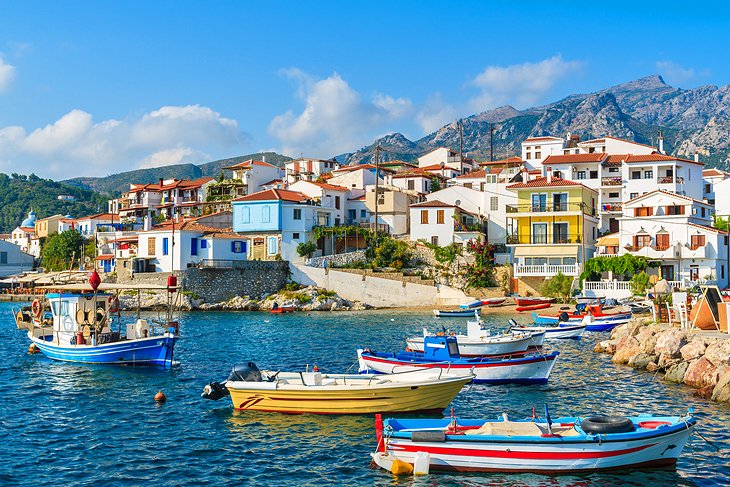 Surrounded by vine-covered rolling hills, olive groves, and pine forests, Kokkari on Sámos Island is an idyllic seaside town with an attractive port. Kokkari was originally a small fishing village, evidenced by the traditional Greek boats moored in the harbor. Nowadays Kokkari is a crowded resort destination during summertime.
13. Town of Chora, Folégandros Island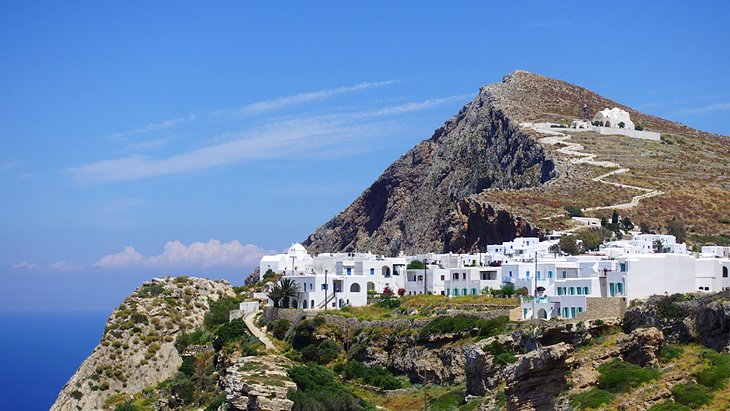 Folégandros Island's main town, Chora, offers wonderful spots to photograph at every turn: tree-shaded squares, narrow pedestrian alleyways, buildings trimmed in bougainvillea, and quaint whitewashed houses with blue-framed windows and doors. At the highest point of this medieval clifftop town is the Church of Panagia overlooking the Aegean. The steep uphill trek (a 15-minute walk) to the church rewards photographers with the breathtaking seaside panoramas.
14. Assos Village, Kefalonia Island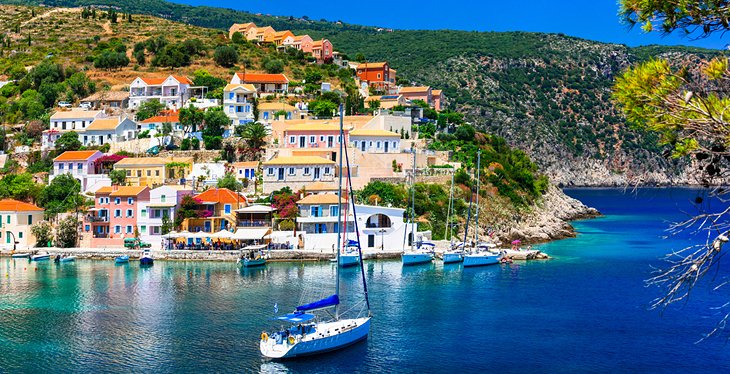 The seaside village of Assos resembles a watercolor painting. Its picturesque fishing port is tucked into a tranquil bay surrounded by verdant pine forests and lush vegetation. Pretty houses in eye-catching hues nestle on hillsides above the harbor, which is lined with seafood tavernas. Nearby, along the coastline, is the cliff-fringed Myrtos Beach, one of the most often photographed beaches in Greece.
15. Apella Beach, Kárpathos Island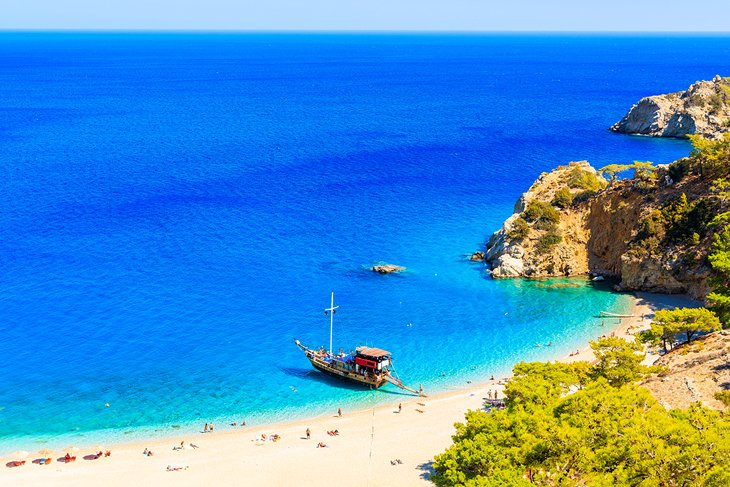 Apella Beach on Kárpathos Island seduces visitors with its golden-sand shore and crystal-clear, turquoise waters. Steep cliffs and rocky, pine-clad hillsides surround the beach, giving it a secluded feel.
16. Parga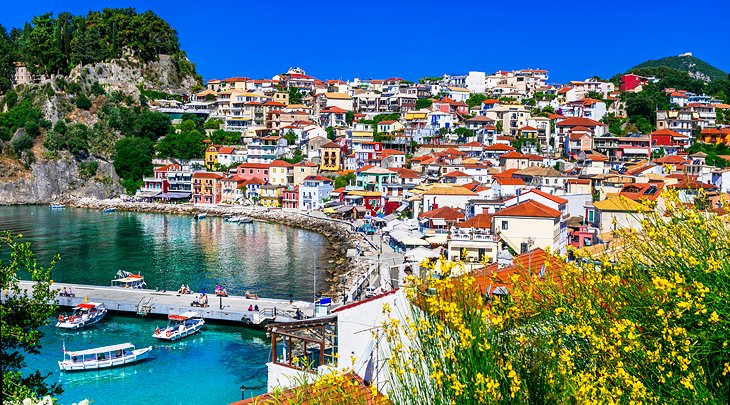 Parga boasts a photogenic waterfront backed by hillsides dotted with colorful houses. Other picture-perfect sights include the hilltop ruins of a Venetian castle and the white church in front of the town's port.
17. Village of Olympos, Kárpathos Island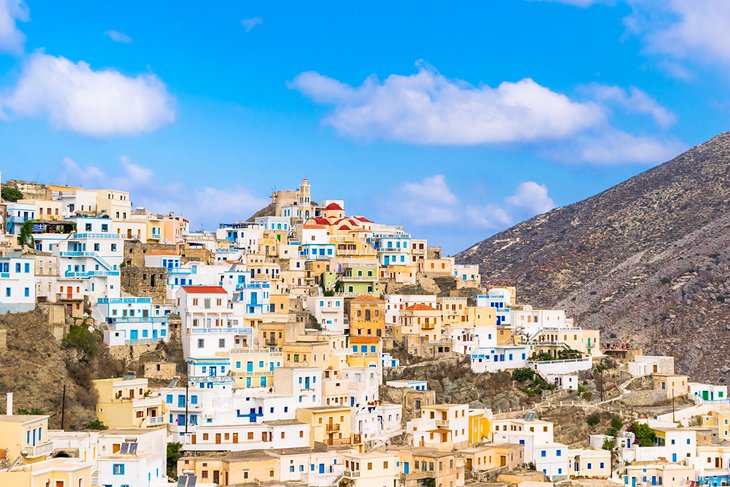 On the slopes of a mountain that drops off into the Aegean Sea, the dramatically situated village of Olympos was until recently nearly inaccessible. As a result, the village has retained an old-fashioned way of life. Women wear traditional costumes on religious feast days.
18. Agnontas Bay, Skopelos Island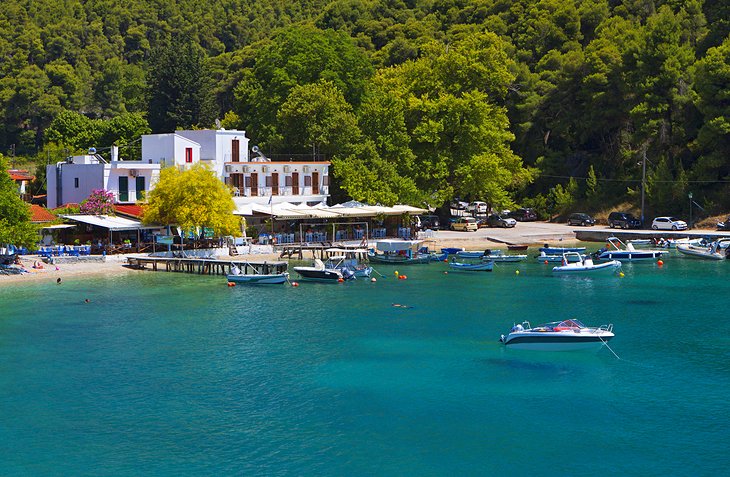 Agnontas is a quiet fishing village nestled in a postcard-perfect bay. The surrounding hillsides are covered with dense pine forests, while the serene emerald waters are truly dazzling. Agnontas Bay looks especially romantic at sunset.