7 Top-Rated Tourist Attractions on Corfu Island
The most important and most northerly of the Ionian Islands, Corfu (Kérkyra) lies off the coasts of Albania and the Greek region of Epirus. Its natural beauty, with gentle green hills in the south and rugged limestone hills in the north; its mild climate; lush Mediterranean vegetation; and lovely beaches make Corfu a popular tourist destination. The island's main source of revenue, in addition to tourism, is agriculture. From 1386 to 1797, a period that gave it much of its most beautiful architecture, Corfu was held by the Venetians. Then, along with the rest of the Ionian Islands, it was under the British from 1815 to 1864. Corfu Airport lies five kilometers south of Corfu Town.
1 Corfu Town
The island's lovely capital, Corfu Town, is a warren of cobbled alleys and elegant Venetian-era buildings, many now hosting informal seafood tavernas and souvenir shops at ground level. Centering on the Esplanade, an expansive green square, the old town is guarded by two imposing 16th-century fortresses. The waterfront incorporates a port, with regular ferries to Igoumenitsa on the Greek mainland and daily excursion boats to neighboring Albania.
2 The Achilleion
Just outside the village of Gastouri, 10 kilometers southwest of Corfu Town, this white Neoclassical villa was the summer escape of Sisi, Empress Elisabeth of Austria (1837-1898). A lover of beauty, Sisi immersed herself in Greece's mythical history and lush nature. You can see inside the grandiose villa and explore the gardens, which are filled with towering palm trees and Neoclassical statues and give you some idea of the idyllic world Sisi was seeking.
3 Kassiopi
In the northeast of the island, 36 kilometers north of Corfu Town, this traditional fishing village has retained its character despite its popularity. Overlooking a pretty harbor filled with wooden fishing boats, it offers a choice of seafood tavernas and cafés, which are popular with affluent Brits and Italians, some of whom have villas here. Calm and unhurried, it is especially noted for its numerous small coves with white pebble beaches and amazing turquoise blue sea. The best way to explore this stretch of coast is to hire a small boat. For amazing views hike up to the ruined Byzantine castle on the hillside behind the village.
4 Paleokastritsa
On the west coast, 25 kilometers northwest of Corfu Town, Paleokastritsa encompasses a glorious stretch of indented coast with six deep, curving bays sheltering lovely beaches, both of sand and pebble, extending to a crystal clear blue sea. It's popular with day trippers, so it does get busy in peak season. In the hills rising above the coast, you'll find another attraction - a 13th-century monastery with a courtyard garden, church, and small museum.
5 Glyfada
greece-corfu-island-glyfada
Considered by many to be the best beach on the island, Glyfada lies on Corfu's west coast, 26 kilometers west of Corfu Town and two kilometers south of the village of Pelekas. A blissful, long stretch of fine golden sand beach, it's lined with sunbeds and umbrellas and backed by hillsides covered with pine woods and olive groves. A couple of big hotels and apartments are in the area, and tourists will also find tavernas, cafés, and water sports facilities including jet skis, pedal boats, and banana boat rides. Facing west, it has amazing sunsets but does get very busy in summer, especially in August.
6 Corfu Golf Course
In the Ropa Valley, 17 kilometers from Corfu Town, this beautifully landscaped 18-hole golf course was designed by Donald Harradine. It incorporates natural elements such as the River Nafsika, as well as several lakes and meandering streams. From March to November, it enjoys warm sunshine and blue skies, plus a cool sea breeze. It's open daily with golf clubs for hire.
Address: Ropa Valley, Corfu 49100
7 Mount Pantokrator
In the north of Corfu, the highest point on the island, Mount Pantokrator rises 906 meters. A road leads all the way to the top, so you can drive up, though some people prefer to hike from the village of Perithia (the walking time is approximately two hours). At the top, the Pantokrator Monastery dates back to the 14th century, though its present appearance is mainly from the 19th century. The views from the summit are stunning, with Albania to the east, the Diapontia islands (Mathraki, Erracusa, and Othondi) to the north, and the islands of Paxos and Anti Paxos to the south. On a clear day, you can even see the southern tip of Italy some 130 kilometers away.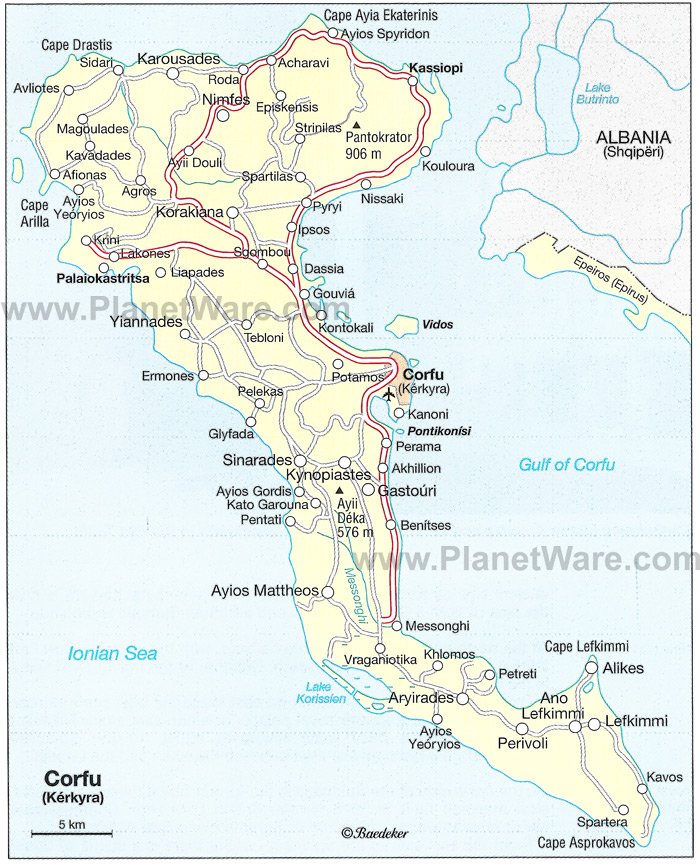 Corfu Map
Want to use this map on your web site?
Copy and Paste the code below:
More on Greece