10 Top-Rated Attractions & Things to Do in Corfu Town
Wandering the streets of the pedestrian-only UNESCO-listed old town, past terra-cotta rooftops and wrought-iron balconies, is a lovely way to pass an afternoon in Corfu Town. The capital of the island of Corfu (Kérkyra), the town sits in a stunning location on an eastern promontory, dominated by two sturdy fortresses and overlooking the sparkling turquoise waters of the Ionian Sea.
The elegant Italianate architecture is the result of the nearly four centuries that Corfu spent under Venetian rule (1401 to 1797). Later, Corfu spent a period under British command (1815-1864), which has added some extra peculiarities to its cultural heritage and also made it a mecca for British tourists, even today. James Bond fans may recognize the town from the film For Your Eyes Only (1981), as a few scenes were filmed here. There are many fantastic things to do and rewarding places to visit. Narrow down your options with our list of the top attractions in Corfu Town.
1. Old Fortress (Citadel)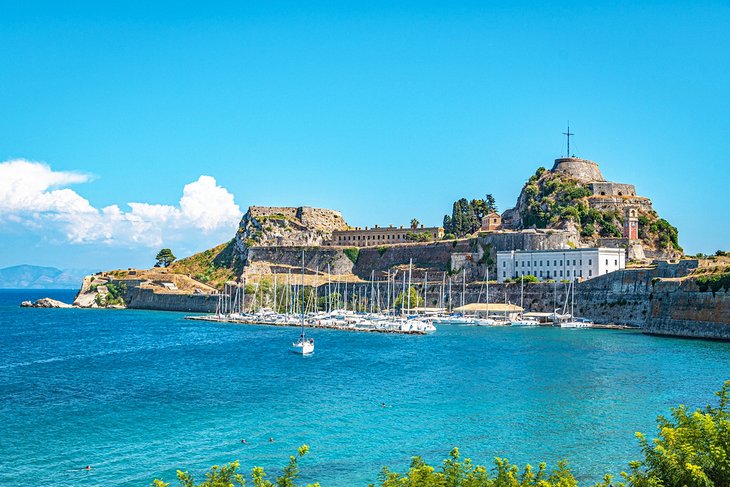 Built by the Venetians in 1546 on the site of an older castle, the magnificent Old Fortress lies on a small, rocky peninsula, immediately east of the old town. It is accessed off the Esplanade via a bridge that spans a moat, the famous contrafossa, which is some 15 meters deep and up to 40 meters wide.
Inside the fortress is a small church, in the style of a Doric temple, which the British constructed in the 19th-century. Make sure to walk to the highest point of the site, which is marked by a lighthouse, as from here you have magnificent vistas of the town and east across the sea towards Albania.
2. The Esplanade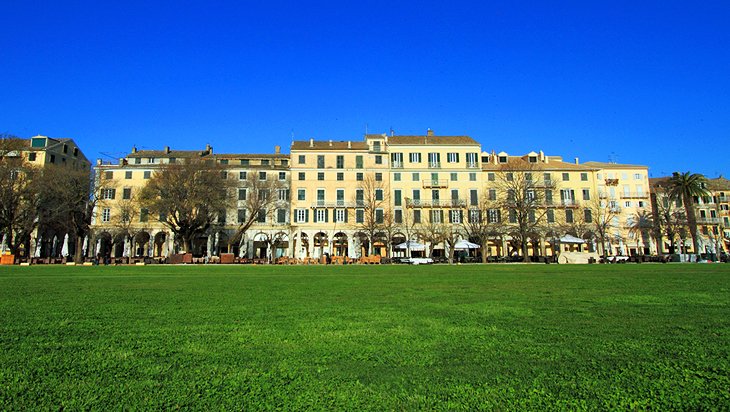 Between the tightly packed buildings of the old town and the Old Fortress, the Esplanade (Spianada) is a vast green space and claims to be the second largest square in Europe. Corfu's main public gathering space, it is overlooked by the arcaded Liston, built by the French in the 19th-century, and home to a row of pricey cafés that are ideal for people-watching. Locals play cricket (a game passed down to them by the British) on the carefully tended lawns of the Esplanade, and there is also a bandstand where brass bands occasionally play.
3. New Fortress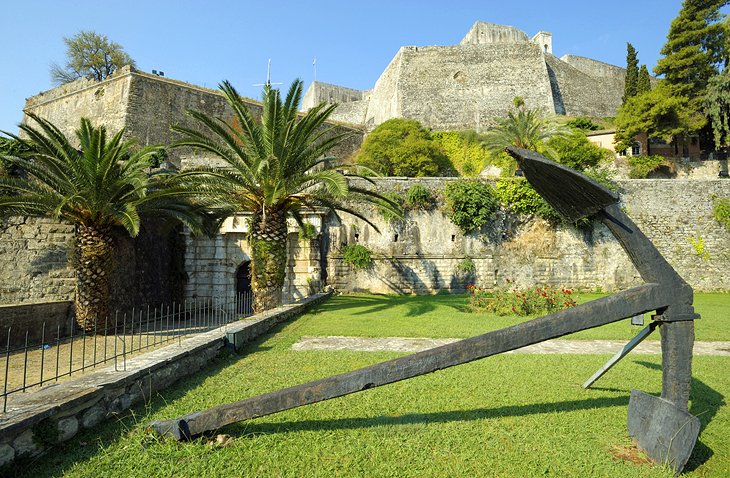 An uphill climb past the open-air market selling seasonal fruit and vegetables brings you into the massive New Fortress, built in 1577 by the Venetians to protect the city against the Turks, making it only a little "newer" than the Old Fortress. Once inside, you are free to wander through the empty stone halls and passages and, best of all, climb to the top for amazing views over the terra cotta rooftops of the old town and out to sea. The entrance ticket also covers a free drink at the small café.
Address: Plateía Solomou, Corfu Town (Kérkyra)
4. Church of St. Spyridon (Áyios Spyrídon)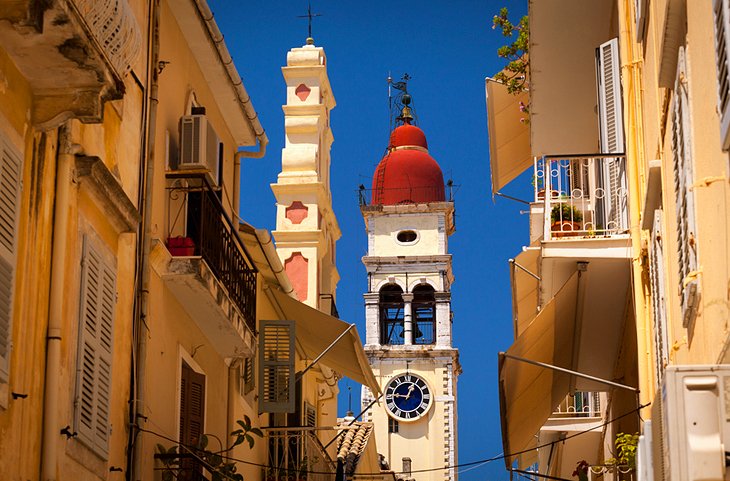 A haven of peace and tranquility, just off the arcaded Liston, this church is named after Corfu's patron saint, St. Spyridon. Built in 1589, its red-domed bell tower dominates the skyline from afar. Inside, in a low-lit side chapel decorated with moody frescoes, note a silver sarcophagus adorned with precious stones, enclosing the remains of St. Spyridon.
A shepherd from Cyprus, Spyridon lived in the second century AD, and before he died, he became a bishop and began performing miracles. Since his remains are in Corfu, locals believe that his miraculous intervention saved their island from catastrophe on several occasions. The silver casket containing his relics is paraded around town to mark important religious festivals, and in tribute to him, Spiros is the most popular boy's name on the island.
Address: Agios Spiridon, 49100 Corfu Town (Kérkyra)
5. Mon Repos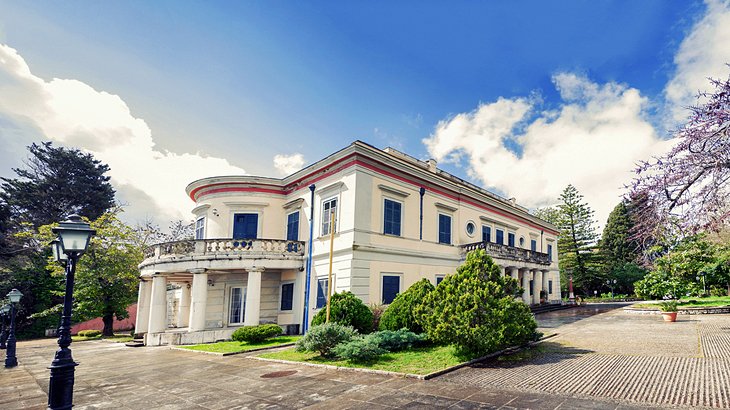 Set in a beautiful park and approached along a winding tree-lined avenue is the Neoclassical palace of Mon Repos, birthplace in 1921 of HRH Prince Philip, the Duke of Edinburgh. Built in 1831 for the British High Commissioner, it was later used as the summer home of the Greek royal family.
Sadly, the palace is falling into a state of disrepair, and the garden is overgrown in places. Besides being a tourist attraction, it is used to host conferences. You'll find it in the Kanoni area of town, a pleasant 30-minute walk from the center, and also served by public bus.
6. The Church of Saints Jason and Sosipater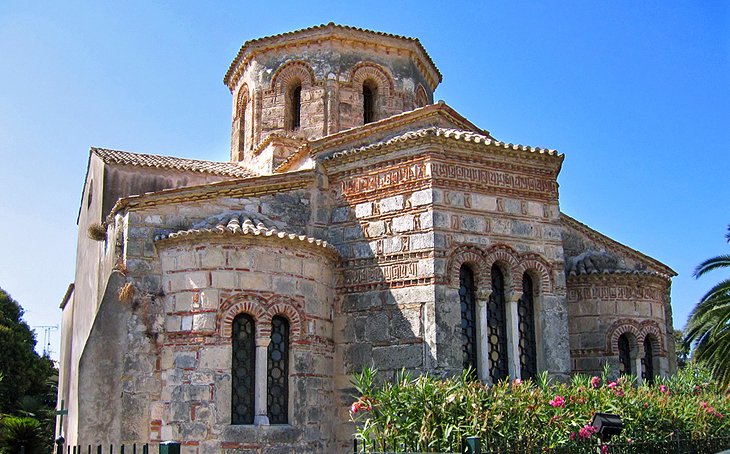 Close to Mon Repos, the tiny Church of Saints Jason and Sosipater is dedicated to two of St. Paul's disciples who brought Christianity to the island in AD 70. It is a typical example of 11th-century Byzantine architecture, based on a cross-in-square plan, and made of large blocks of stone, probably taken from nearby ancient buildings.
Originally, the interior was entirely covered in frescoes. Unfortunately, these were whitewashed in 1820, but some fragments of the paintings remain. However, there is an impressive 18th-century iconostasis (the screen between the nave and the altar) and some beautiful religious icons.
7. Pontikonisi (Mouse Island)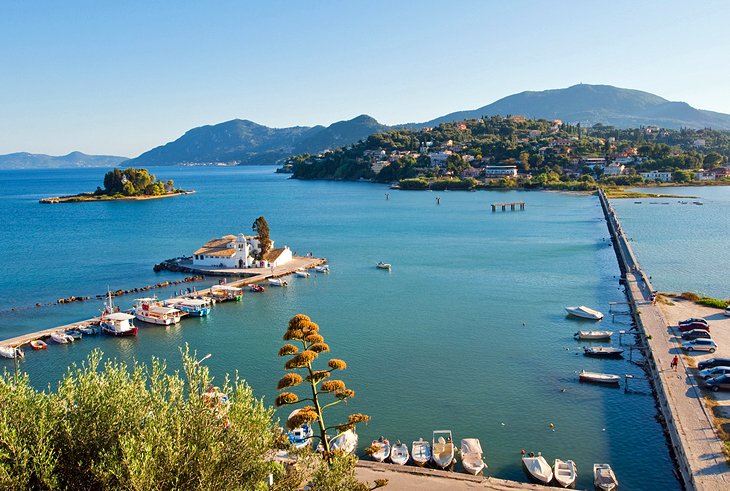 South of the center, off the southern tip of Kanóni, two small islets rise from the sea. On the nearer one, reached via a causeway, is the small 17th-century Monastery of Vlacherna, and beyond this is Mouse Island (Pontikonísi), crowned by a whitewashed Byzantine chapel and a cluster of cypress trees. A peaceful escape from the crowds, Pontikonísi is often featured on picture postcards. Catch a boat from Kanóni harbor to get here.
You can also pay a visit to the Vlacherna monastery, which served as a location for the James Bond flick For Your Eyes Only. It was a functioning monastery until 1980. Today it is used for celebrations, and serves as a tourist attraction. There is a small shop on the grounds selling trinkets and souvenirs. Animal lovers will notice a lot of cats and ducks hanging around and sometimes begging for snacks.
8. The Achilleion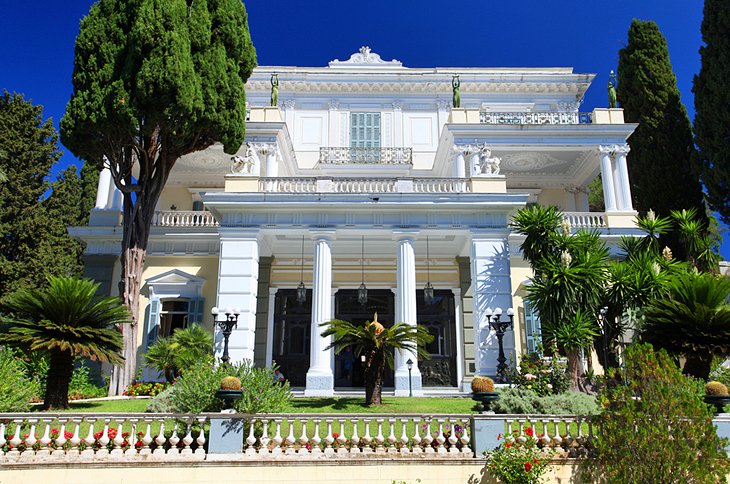 The Achilleion is about 10 kilometers from Corfu Town and is an impressive piece of architecture with a sad story. It was built in 1890 as a summer palace for the Empress Elisabeth of Austria, a tragic figure who was plagued by misfortune (her husband was unfaithful, and her son committed suicide) and was eventually assassinated in 1898. Often referred to by her nickname, Sisi, the empress had the villa decorated in pseudo-classical style, complete with grand, sweeping staircases and frescoes.
A state property since 1928, The Achilleion is open to the public. Inside, you'll discover period furniture, paintings, and even some of Sisi's clothes. Whatever you do, don't skip the garden area. It is a highlight of a visit and filled with 19th-century statues and superlative sea views. Reach this attraction by public bus from Corfu Town.
9. The Royal Palace: Museum of Asian Art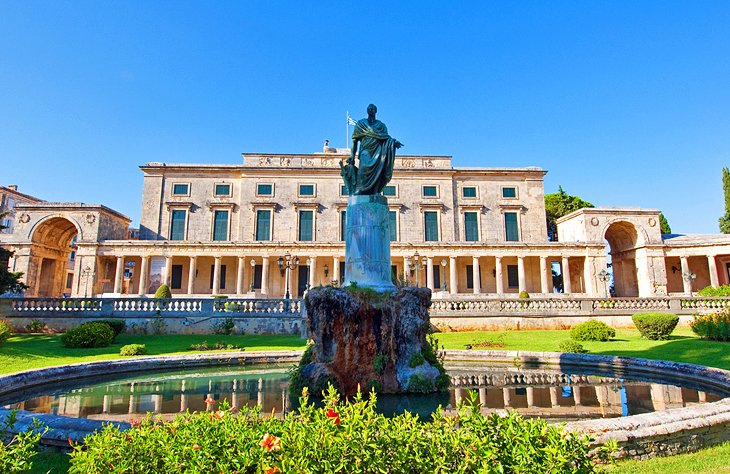 In a building that was commissioned in 1816 as the Royal Palace for the British Lord High Commissioner, the Museum of Asian Art is one of the top things to do in Corfu Town. Today, the Neoclassical mansion at the north end of the Esplanade is a remarkable museum.
The museum itself was founded in 1928 following a donation of Sino-Japanese art. Today it features an impressive collection of Chinese, Japanese, and Indian paintings; porcelains; and sculpture, dating from the Neolithic era through the 19th century.
This is the only museum in Greece dedicated solely to Asian art, and it has more than 15,000 pieces of art in its collection. Check out the permanent and rotating exhibits here. There's also a lovely courtyard café with fantastic views across the sea channel to Albania.
Address: Plateía Spianáda, 49100 Corfu Town (Kérkyra)
Official site: www.matk.gr
10. Casa Parlante
In a 19th-century mansion in the heart of the old town, Casa Parlante is a unique historical museum. It brings to life the lives of The Count and Countess, who called this manse home in the 1800s, by using robotic technology, animated figures, and even smells.
As you wander through the home, you'll feel like you are stepping back in time into a real life scenario: smell food cooking, listen to children playing music, or check out the headlines in a newspaper placed in a room with replica decor and furnishing from this era.
Map of Attractions & Things to Do in Corfu Town
Corfu, Greece - Climate Chart
Average minimum and maximum temperatures for Corfu, Greece in °C
J
F
M
A
M
J
J
A
S
O
N
D

14

5

14

6

16

7

19

9

24

13

28

16

31

18

31

19

28

17

23

13

19

10

15

7

PlanetWare.com
Average monthly precipitation totals for Corfu, Greece in mm.

132

137

99

61

36

15

8

18

76

147

180

180
More Related Articles on PlanetWare.com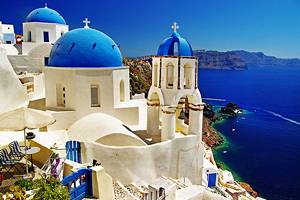 Around Greece: Corfu is just one of many wonderful attractions in Greece, which is home to stunning scenery, compelling history, and lots of gorgeous beaches. For help narrowing down your Greek vacation options check out our article on the Top-Rated Tourist Attractions in Greece. or look through our piece on the top Greek Islands.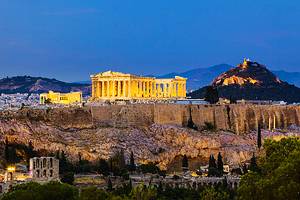 Athens: A trip to Greece often begins in Athens, and this city is a must-visit for history buffs. To find out more about what you need to see in Athens, our article on the Top-Rated Attractions & Things to Do in Athens breaks it all down.