10 Top-Rated Attractions & Things to Do on Zákynthos
Zákynthos (Zante) island truly offers something for everyone when it comes to things to do. Easy to access at just 16 kilometers off Peloponnese's west coast in the Ionian Sea, the geography here is stunning and varied. Steep cliffs plummet down to rocky shores with white pebble beaches and crystal-clear turquoise seas on the northwest coast, while to the south, you'll find golden-sand beaches and less rock formations. The island's central hinterland is also not lacking; it is a fertile plain overflowing with woodlands and olive groves.
This mix of beautiful scenery; good beaches; and access to an equally stunning underwater world, filled with hidden caves and colorful fish, which is perfect for snorkeling and scuba diving, has made Zákynthos one of the top tourist destinations in Greece.
Beyond the scenery, the island is also historically interesting. It was under Venice from 1484 to 1797, and Venetian influence can still be felt in the architecture, cuisine, and dialect. Unfortunately, few of its old buildings have remained, due to two devastating earthquakes, in 1515 and 1953.
Find out about the island's best places to visit with our list of the top things to do in Zakynthos.
See also: Where to Stay in Zákynthos
1. Shipwreck Beach (Navagio Beach)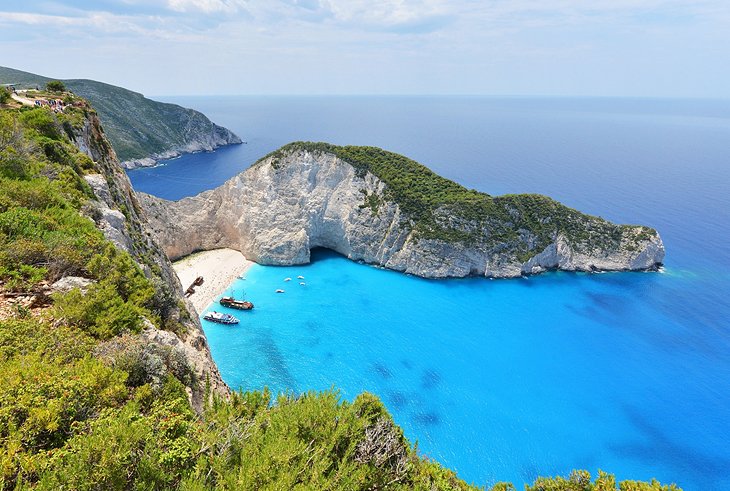 Probably the most photographed and, arguably, beautiful beach in all of Greece, Shipwreck Beach lies in the so-called Smuggler's Cove on Zakynthos' west coast. Made up of fine white pebbles backed by cliffs, the beach takes its name from the wreck of a contraband cigarette smuggling ship that washed up here in 1980.
The most special aspect of this beach is that it can only be accessed from the sea – grab a taxi-boat from the harbor at Agios Nikolaos, which is on the island's northeast coast, 32 kilometers from Zakynthos Town. You can also visit as part of an organized tour like this Shipwreck Beach day-trip excursion departing from Zakynthos Town.
2. Zákynthos Town (Zante Town)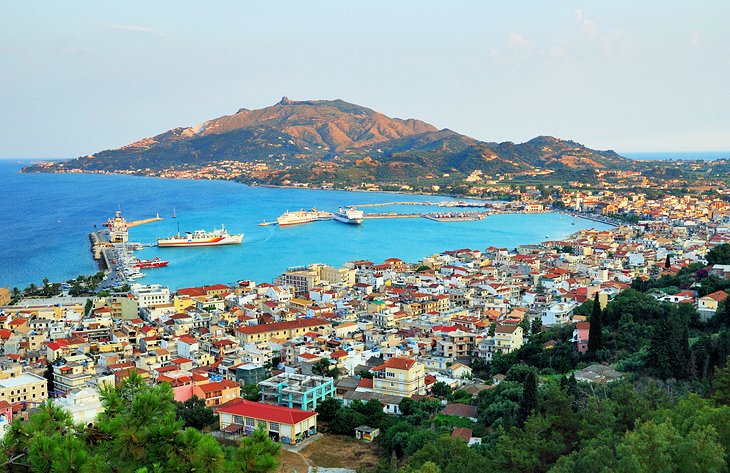 On the island's east coast, extending in a wide arc along the gently sloping shores of a bay, Zákynthos Town is the capital of Zákynthos. Many of its Neoclassical buildings were demolished by the 1953 earthquake, but its paved streets and squares, filled with bakeries, cafés, boutiques, and jewelry stores, are still a joy to explore on foot.
The town's main church, Agios Dionysios, which houses the relics of the town's patron saint, dates from 1708 and was reconstructed in 1954. For spectacular views over town and the port, go up to the village of Bohali (2.5 kilometers) to the ruined Venetian castle, set in a park with pine trees. This attraction was also largely destroyed by the earthquake, but you can still see the main gate (bearing the Lion of St. Mark, the symbol of Venice), the outer walls, and battlements.
3. Byzantine Museum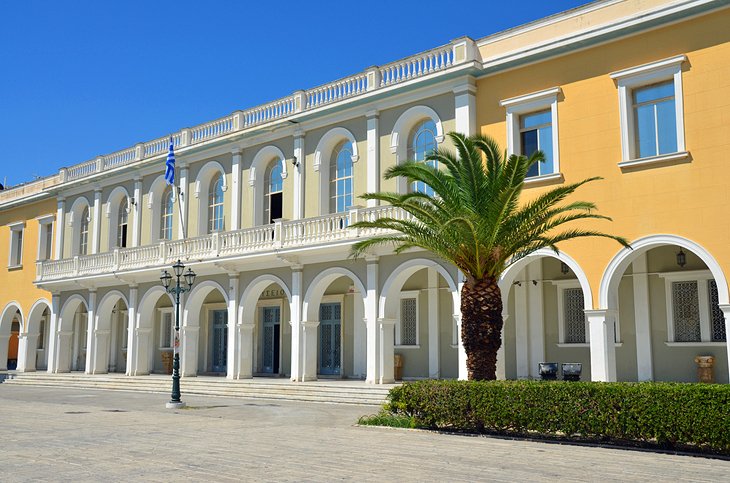 On the main square in Zakynthos Town, this purpose-built museum displays religious icons, frescoes, and sculptures from the island's churches and monasteries, dating from the 12th century onwards. You'll see Byzantine icons carved into wood and there are two rooms dedicated to 18th-century oil paintings. There's also a scale model of the town from around 1950, giving you some idea of how it looked before the devastating 1953 earthquake.
Address: Solomos Square, 29100 Zakynthos Town
4. Roma Mansion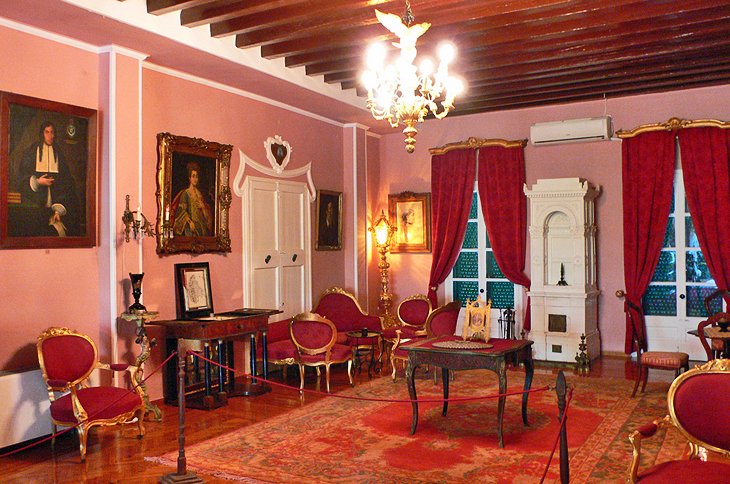 Built in the 1660s, this proud mansion is one of the few old buildings to have survived the 1953 earthquake, which wiped out most of Zakynthos Town. It is owned by the Roma family, who decided to renovate it and opened it to the public in 2007. Inside, you can see period furniture, paintings, and books, giving you some idea of how local aristocrats lived in the centuries prior.
Address: Louka Carrer 19, Zakynthos Town 29100
5. Blue Caves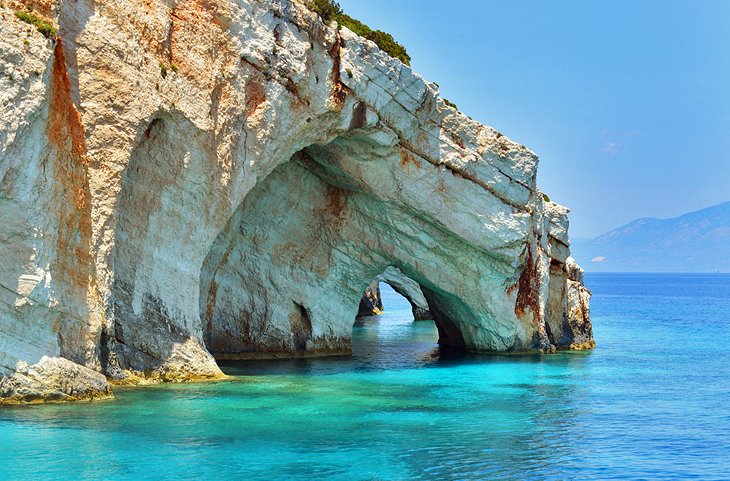 On the northern tip of the island, at Cape Skinari, you'll find the most spectacular so-called Blue Caves. Inside, the bright blue sea reflects the color of the sky, which is mirrored off the walls of the caves and creates an absolutely magical azure and sapphire light scheme. You can visit the Blue Caves in a small glass-bottom boat, which departs from Agios Nikolaos (on the northeast coast, 32 kilometers from Zakynthos Town), or as part of the longer round-the-island cruise from Zakynthos Town.
6. Keri Caves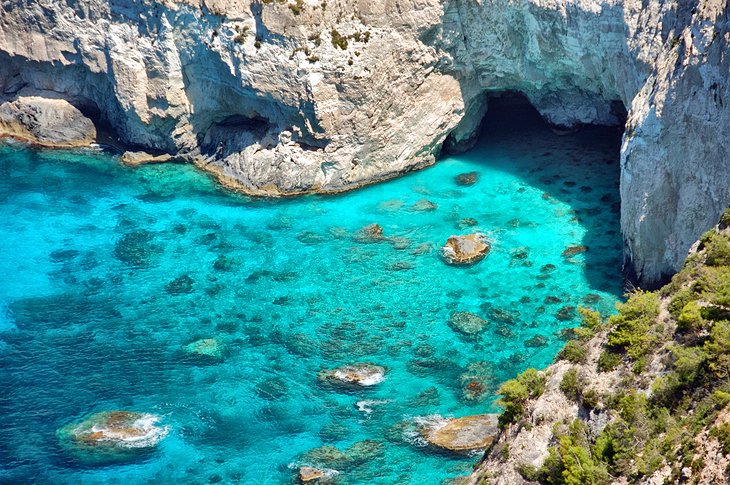 On the southwest coast, 14 kilometers from Zákynthos Town, close to the village of Kerí, a row of dramatic caves opens directly onto a crystal-clear turquoise sea, and exploring them with a mask and snorkel or scuba dive tank is one of the top things to do on the island – the lighting effects of the sun reflecting through the water and onto the cave walls makes for some amazing photos and video. It's possible to visit the caves as part of an organized excursion, or rent a boat and go independently.
7. Porto Limnionas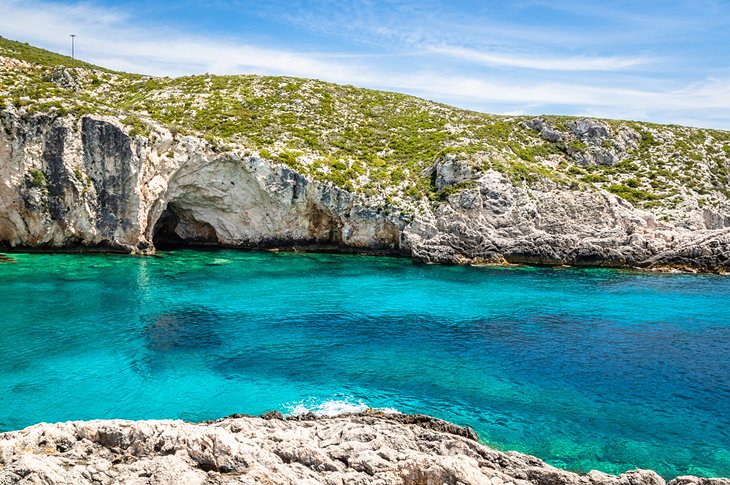 With crystal-clear, blue-green water set against a backdrop of cliffs and caves, Porto Limnionas is one of the top secluded swimming spots on the island. In a wild location down an only recently paved road, not far from the small village of Agios Leon, it is gaining in popularity each year, and in the height of summer can get crowded. Sun-loungers can be rented from two local restaurants with terraces fronting the sea, and once in the water there is good snorkeling, along with caves and even an underwater bridge.
8. Zakynthos National Marine Park in Laganás Bay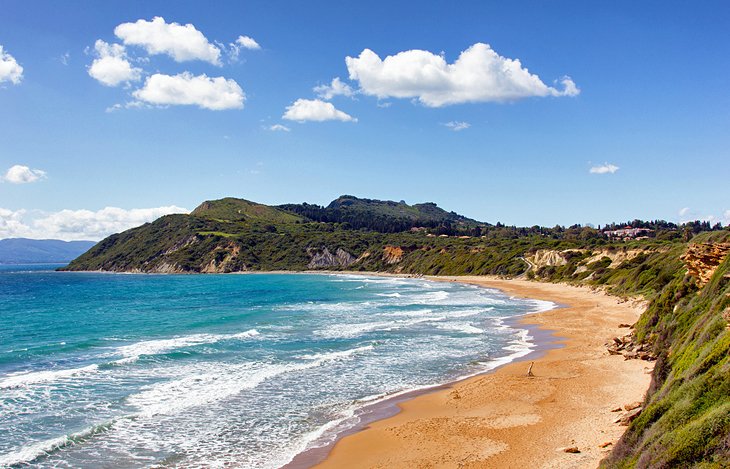 On the southeast coast, eight kilometers south of Zákynthos town, the wide bay of Laganás is home to several blissful stretches of sandy beach. Since the 1980s, it has been the island's top resort, with budget accommodation attracting young visitors in search of sea, sun, and fun.
This area is also the breeding ground for the loggerhead sea turtle, which is an endangered species, known for being very timid. An estimated 1,300 loggerhead turtles live around Laganas Bay and are protected in the Zakynthos National Marine Park, which was founded in 1999 to limit access to certain parts of the beach during the nesting season. To learn more, visit the park's exhibition center in Dafni, at the east end of Laganas Bay.
Official site: www.nmp-zak.org
9. Askos Stone Park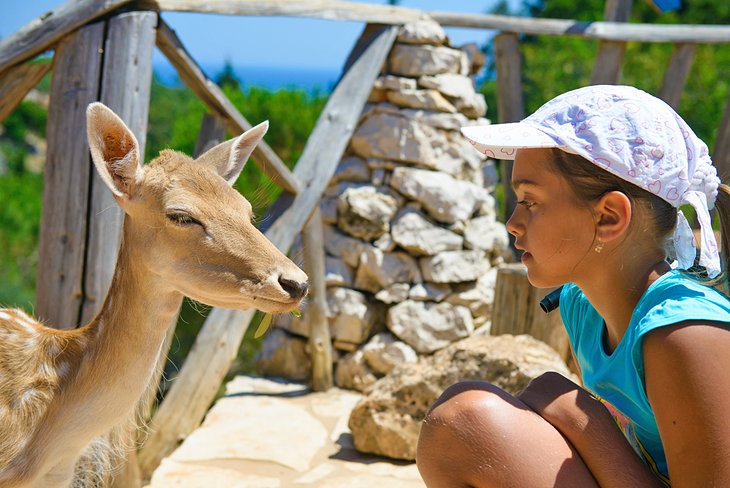 A must-do for animal lovers, Askos Stone Park is in the north of the island, close to the village of Volimes, 30 kilometers from Zakynthos Town. It's highly recommended for children – animals here include deer, raccoons, peacocks, and tortoises, as well as a pony, donkey, goats, and chickens. You get a map and a bottle of water with the entrance ticket, and there are attendants in the park who can explain where the animals are from and how to feed them.
10. Xigia Sulphur Beach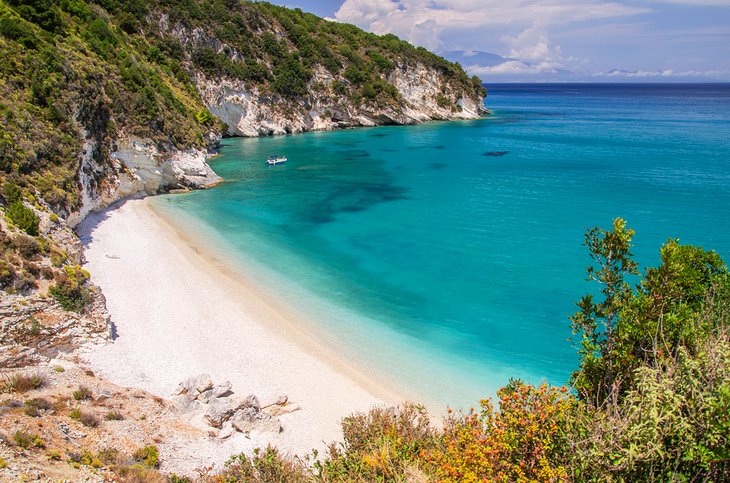 Xigia Sulphur Beach definitely has a bit of an eggy smell about it, but it's beautiful nonetheless. Located down a rocky incline (wear proper shoes), the white pebble sand beach is set within a secluded cove, protected on three sides by sheer cliffs. The water is quite beautiful here, especially around midday, when the sun is directly overhead and makes the pebbles gleam.
Stepping into the sea, you can feel the sulphur in the water and also in the mud it forms. Bathing in sulphur is believed to have therapeutic qualities, from helping to reduce muscle and bone pain to healing skin problems. The sulphur comes from a spring that can be seen in a small crack between the cliff walls. It oozes out as a milky white substance with a distinct odor, and turns the water around it a little cloudy.
The beach is located on the island's northeastern coast. It is actually comprised of a few different beaches in a row, but the one on the north end is the prettiest. It is easiest to access with a car, although you can attempt via a combination of public transport and then taxi, but this means changing buses twice if you're coming from Zakynthos Town.
Where to Stay in Zákynthos for Sightseeing
Luxury Hotels:
For five-star luxury steps from the beach, The Lesante Luxury Hotel &

Spa

in Tsilivi village is a great choice. It features inviting indoor and outdoor pools and a complimentary breakfast buffet.
If you're traveling with the family and looking for a luxe sleep with space to move around, check out Erietta Luxury

Apartments

. These are located just five minutes from Zakynthos Town.
Also try the Olea All Suite

Hotel

. It is a five-star property with a rustic-luxe vibe.
Mid-Range Hotels:
Balcony

Hotel

is a solid, good-value choice in the mid-range bracket. This family-owned property is just a short walk to the beach, comes with sea views, and serves an excellent breakfast.
Another top mid-range choice in the Kalamaki resort area is Hotel Venus &

Suites

.
Budget Hotels:
Contessa

Hotel

is a family-run, good-value option in Argassi. Breakfast is included, there are sea views, a rooftop restaurant, and an outdoor pool.
Another option in this price range is Athina

Apts

in Kalamaki. These air-conditioned apartments are near the beach and restaurants, and parking is free.
Tips and Tours: How to Make the Most of Your Visit to Zákynthos
Around Zákynthos by Boat: Spend a day exploring the best of this gorgeous island by boat with this Zakynthos Full-Day Sightseeing

Cruise

. The family-friendly tour stops at top attractions like Shipwreck Beach and the Blue Caves.
Day Trip to Kefalonia: Another excellent day trip option is this Kefalonia Island

Tour,

which takes you to the nearby isle, with pickup and drop-off from many of the Zákynthos resorts. The excursion includes visits to Kefalonia's famous Drogarati Caves and a row boat ride on an underground lake, among other adventures.
More Related Articles on PlanetWare.com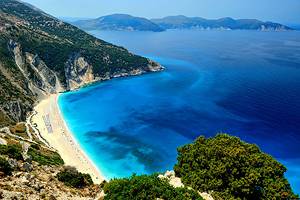 Greek Islands: There are thousands of islands in Greece, including Zakynothos' neighbor, beautiful Kefalonia, which is home to Myrtos Beach, one of the most photographed in the country. Read more with our article on the Attractions & Things to Do in Kefalonia. Another famous Greek Island to explore is gorgeous Santorini. For more on the island famed for its striking white architecture and stunning natural scenery, see our article on the Top-Rated Tourist Attractions on Santorini.