10 Top-Rated Attractions & Places to Visit on Kefalonia
With bewitching turquoise and cerulean blue waters lapping up against white pebble beaches, and pine-scented limestone mountains slashed by lush, green, fertile valleys, Kefalonia (Cephalonia) is the largest, and one of the most beautiful, of Greece's Ionian Islands. In the previous millennium, the island depended primarily on agriculture, but following the 2001 film Captain Corelli's Mandolin, based on the book by Louis de Bernieres and starring Penelope Cruz and Nicholas Cage, tourism has become increasingly important.
Almost all the island's towns and villages were devastated by a terrible earthquake in 1953, so there is little architecture of historical interest, with one notable exception: somehow the village of Fiskardo survived the large-scale destruction. However, there are still plenty of beautiful places to visit on Kefalonia. The airport lies nine kilometers south of Argostoli, which is the island's capital.
Plan your trip with our list of the top things to do on Kefalonia.
1. Fiskardo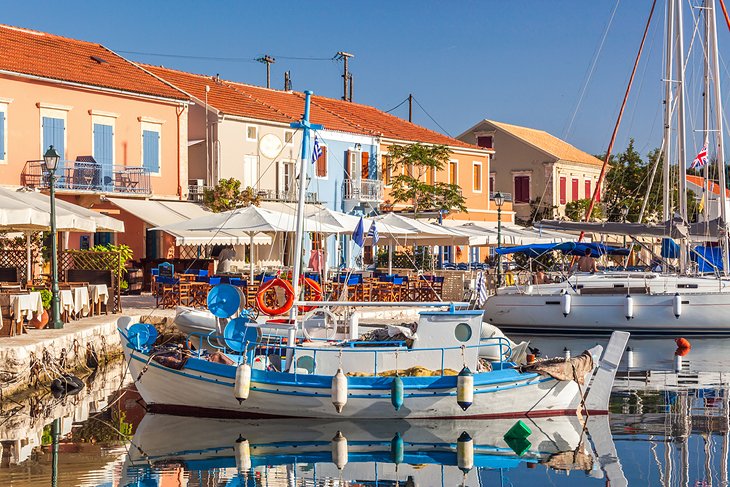 Unquestionably Kefalonia's prettiest village, Fiskardo lies on the northeastern tip of the island and is the only settlement to have retained its 18th-century Venetian-style architecture from before the earthquake.
Backed by a dense cypress glade and built around a sheltered bay, it is popular with sailing crews who moor up their yachts here on summer nights. Most of the houses around the harbor now host upmarket seafood eateries, cafés, and holiday homes.
2. Assos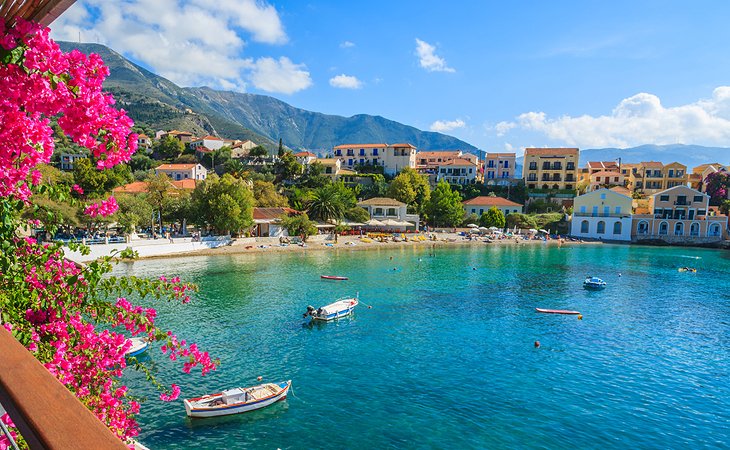 Ássos is a peaceful little village on the island's northwest coast, 10-kilometers from the popular village of Fiskardo. It is built on a causeway linking a hilly peninsula to the mainland. To reach it, you drive down a series of hairpin bends to where the village nestles in a quaint harbor, rimmed by seafood taverns.
The peninsula is capped by the ruins of a 16th-century Venetian castle, which you can walk up to for a closer look (allow about 40 minutes), and there are a couple of pebble beaches close to the village, where you can swim.
3. Myrtos Beach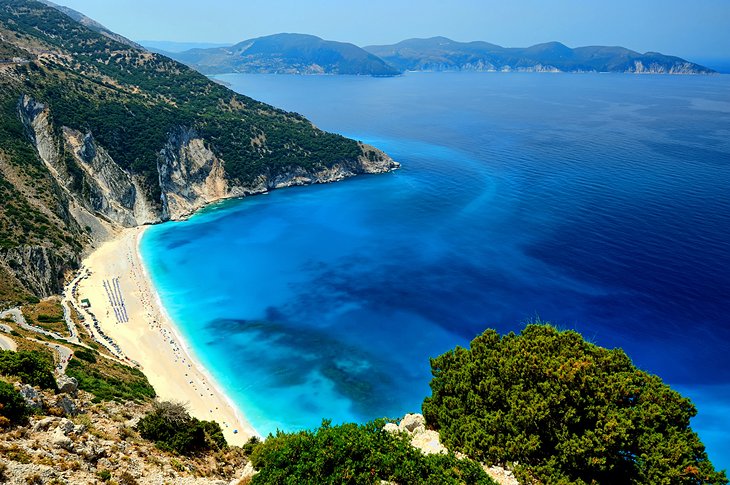 One of the most photographed beaches in all of Greece is on Kefalonia. On the island's northwest coast, near Assos, Myrtos is beautiful. The two-kilometer-long beach is backed by dramatic limestone cliffs and fringes an amazing turquoise-blue sea. It's made of smooth white pebbles that, from afar, resemble sand. The view from the road above is stunning.
The beach itself is a little wild — there's no natural shade from the afternoon sun, and the seabed shelves suddenly into deep water with strong currents, so you need to be a confident swimmer.
4. Argostoli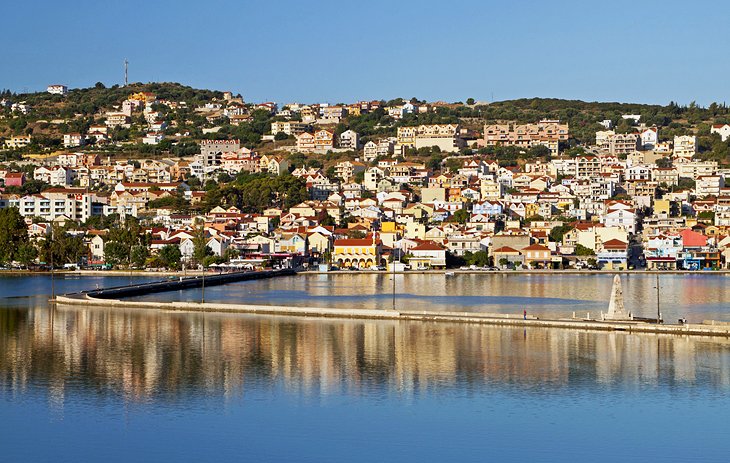 On a peninsula on Kefalonia's southwest coast is the capital city of Argostóli. Although its history predates the 1950s, the old town was almost completely obliterated in an earthquake in 1953 and was rebuilt in modern style, following the original town plan. As a result, today it is a picturesque place, with a palm-lined seafront promenade, where local fishing boats moor up.
While in town, check out the small archaeological museum, which displays finds from the Mycenaean, Hellenistic, and Roman periods.
5. Sámi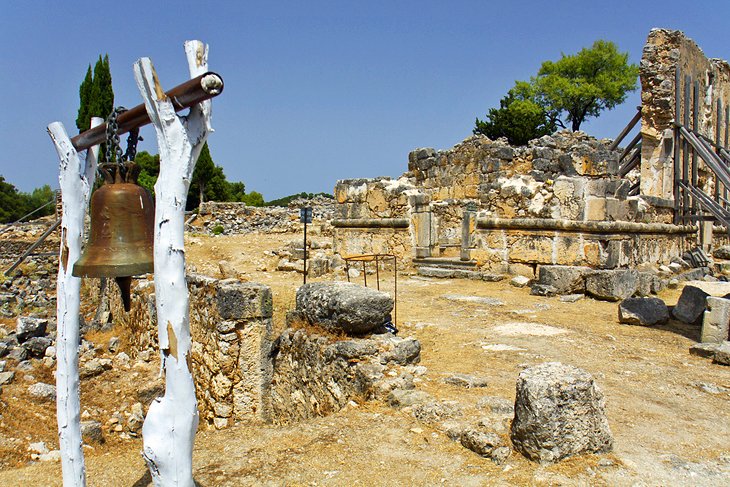 Located on the east coast, some 24 kilometers east from Argostóli, Sámi is the island's main port, served by regular ferries to and from Patras on the Greek mainland. The ancient town of Sami lay to the south of the modern town, on the slopes of the double-topped hill — the remains of the acropolis can still be seen, and from here, you have fine views down onto the bay.
6. Antisamos Beach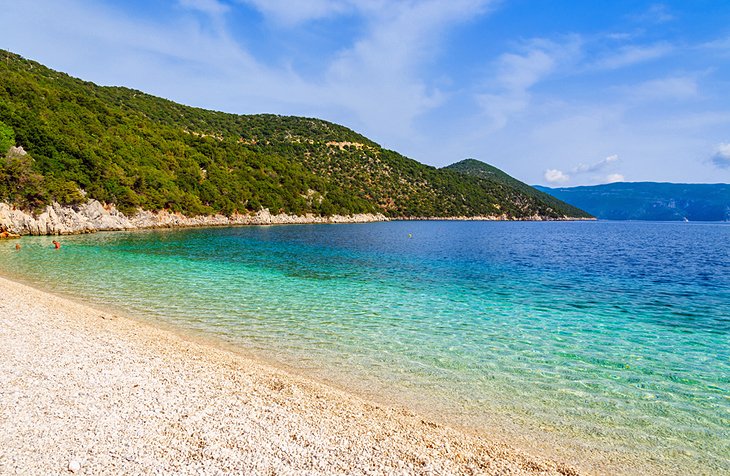 In a deep, curving bay on the east coast, three kilometers from the port town of Sámi, Antisamos is one of the most popular beaches on Kefalonia. Like Myrtos Beach, it is made up of white pebbles and backed by hills planted with pine woods.
It has limited facilities with just a taverna plus sun-loungers and umbrellas for hire. The sea is warm and clear and ideal for snorkeling, and the beach scenes in Captain Corelli's Mandolin were filmed here.
7. Boat Excursions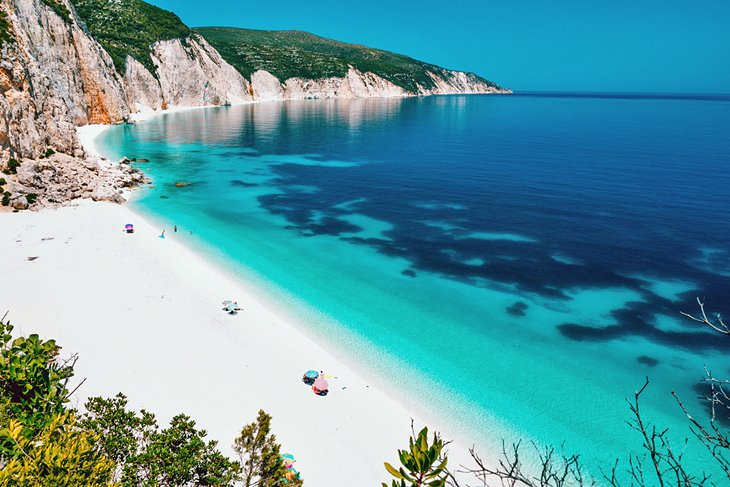 One of the favorite things to do in Kefalonia is to book a boat tour around the island for a half or full day. From deserted beaches to hidden coves, the island is filled with beautiful spots that will take your breath away.
There are numerous companies offering tour options, from glass-bottom boat excursions and full-day beach and village tours to snorkeling or scuba diving adventures. For diving, popular spots include Temple Cave; the Blue Lagoon; and the WWII shipwreck dive to see the Ardenia, which hailed from Italy.
8. Melissani Cave & Lake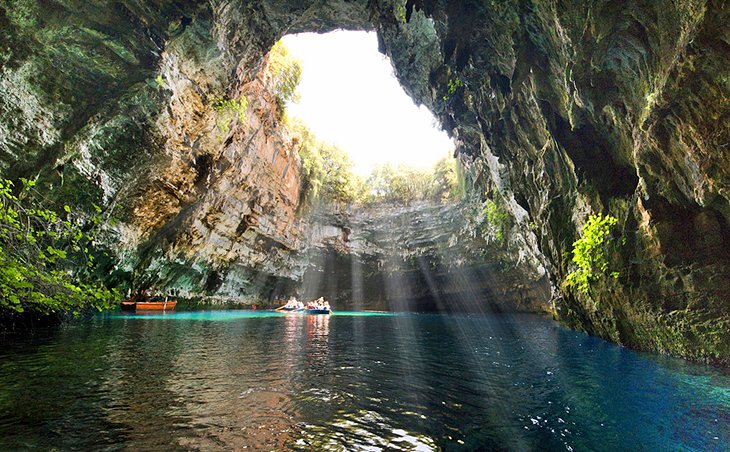 Northwest of Sámi, Melissáni Cave is home to an underground lake. To visit it, you walk down a flight of steps to a landing stage, then climb aboard a small rowing boat with an oarsman for a 15-minute trip around the lake.
The roof of the cave fell in years ago, and sunlight enters through the hole in the roof, creating amazing shades of blue-colored light on the cave walls. The best visual effects occur around noon, when the sun is overhead. Archaeological finds suggest that the cave may once have been used as an ancient place of worship.
9. Hiking, Biking, & Bird-Watching in Ainos National Park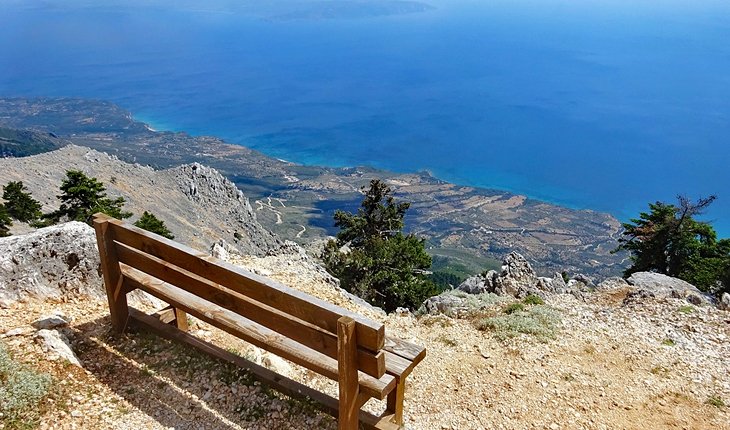 In the south of the island, the summit of Mount Ainos is the highest point in Kefalonia and rises 1,628 meters in elevation inside a national park.
The upper altitudes are covered in dense pine forests of the species Abies cephalonica (Kefallonian fir), which is endemic to Greece and has remained exceptionally pure here due to the isolation of the island.
The national park is ideal for hiking and mountain biking, and bird-watchers might spot woodpeckers, eagles, vultures, and hawks.
10. Drongarati Cave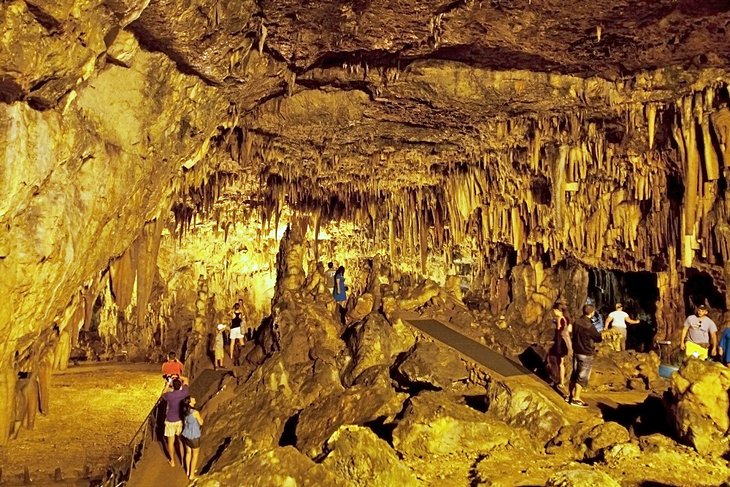 Southwest of Sámi, near the village of Khaliotata, the Drongaráti Cave is huge — 95 meters long and 45 meters broad at its widest point. To enter it, you walk down a long flight of steps to arrive in an eerily beautiful cavern, well lit and filled with magnificent stalactites and stalagmites.
The second chamber has outstanding natural acoustics and occasionally hosts concerts — American-Greek soprano Maria Callas is said to have sung here.
Map of Attractions & Things to Do on Kefalonia
More Related Articles on PlanetWare.com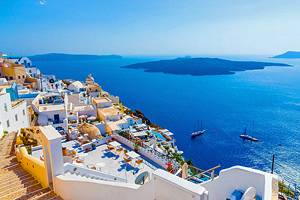 Greek Islands: Kefalonia is just one of 6,000 islands scattered off mainland Greece. Most visitors choose to explore more than one island on their holiday. Santorini is probably the most popular of all the Greek isles and lives up to its reputation as a heavenly vacation spot. For more on visiting, see our article on the Top-Rated Tourist Attractions on Santorini.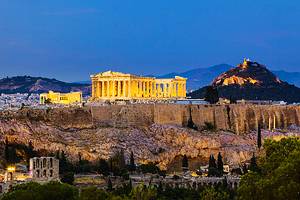 Athens: You can't visit Greece without exploring Athens, its capital city, and the heart of Ancient Greece. Filled with a millennia of history and culture, you should devote at least a few days to wandering this special city. For more, check out our article on Top-Rated Attractions & Things to Do in Athens.